Mellow yet with deep concentration – oven roasted garlic cloves enhances the flavor of everything!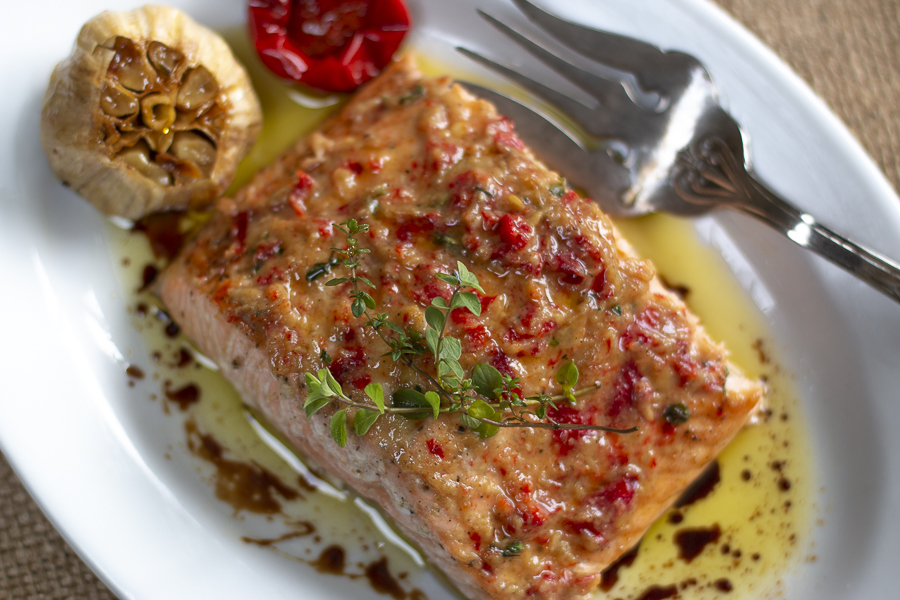 Recipes: How to Roast Whole Garlic Heads in Olive Oil
Mashed Roasted Garlic Cloves with Cherry Bomb
Peppers and Herbs
Topping of Roasted Garlic Cloves with Olive Oil –
Balsamic Reduction ~ Topping for Fish
I've got an amazing garlic stash! Just back from The Hudson Valley Garlic Festival where 100 growers sell their late summer harvest. At the second largest garlic festival in the country ~ dozens varieties of garlic was for sale, many varieties you will not find anywhere else. My favorite culinary fair hands down. Daren Carroll of Grá den Talún Farm sells 120 varieties of unusual heirloom varieties. I'm trying out his Red Rezen, Burgundy and Chinese Pink varieties!
Preparation is easy! Simple cut off the top 1/3 inch of each garlic head to expose the garlic, place in a baking pan, pour in some olive oil and aromatics (I used peppercorns, thyme & oregano branches and cored cherry bomb peppers.) Cover with foil, bake 45 minutes until tender and caramelized.

To use: Simply squeeze out the softened garlic from the papery skins and mash ~ will be a nice velvety consistency. Add some strained olive oil from the bottom of the pan, and a pinch of salt & pepper.
I chopped the cherry bomb peppers and added to the garlic.
Cherry Bomb Peppers sound spicy, right?… yet they are mild, similar to heat of jalapeño peppers.
Strain the olive oil from the bottom of the pan and keep refrigerated. Add to the softened cloves – or use the fragrant oil in cooking and salad dressings.
No sharp bite with Roasted Garlic ~ just soft golden cloves with a mellow aromatic flavor. The cloves will just fall out of their papery skins… just give a little squeeze. Has a nice thick and creamy consistency, and buttery-mouthfeel – yet no fat.
Perfect for schmearing on everything!
So Versatile! Mashed Roasted Garlic Cloves can be added to so many dishes ~ see below "Uses." The Olive Oil from the roasted garlic can be drizzled on anything… makes a great Dipping Sauce for Bread!
A few Nutritional Benefits to mention:
The sulfur compounds in garlic act as antioxidants and also promote the formation of another antioxidant called glutathione, which is produced by the body.
Consumption of roasted garlic may offer some protection against cancer. Aside from the antioxidants present in garlic, the sulfur compounds it contains also act directly on carcinogens and toxins, helping the body remove them before they can cause damage.
Boosts the Immune System – I always add garlic to my Chicken Soup!
Studies have shown garlic to Lower Bad Cholesterol Levels, Improve Brain Function, Reduce Blood Pressure and Boost the Immune System.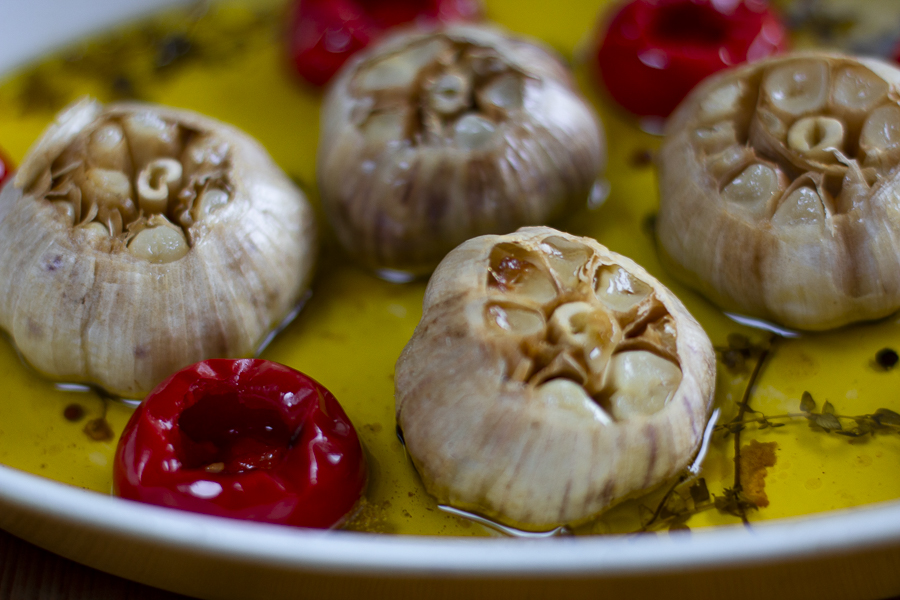 So Many Uses!
Add softened cloves TO:
Any sauce to thicken and flavor
Mayonnaise for a sandwich topper
Roasted Warm Vegetables
Chicken Soup (it's awesome!)
A dip for bread; add olive oil and aromatics like fresh cracked pepper, hot chile flakes and herbs.
A baked potato
Mashed Potatoes – perfect for Thanksgiving!
Topping for homemade pizza
Gravy – lends great flavor and no fat
Hummus and other healthy dips
Hope you got inspired!
Karen
See RECIPE: How to Roast Whole Garlic Heads in Olive Oil and How to Use It