24 Best Ever A Zest For Life Citrus Recipes
Winter is the time for fragrant, juicy, vibrant citrus — now at their peak. I choose a variety to blend the complex flavors.
Before Winter Ends – Take Advantage of a Multitude of Citrus to Brighten Every Recipe!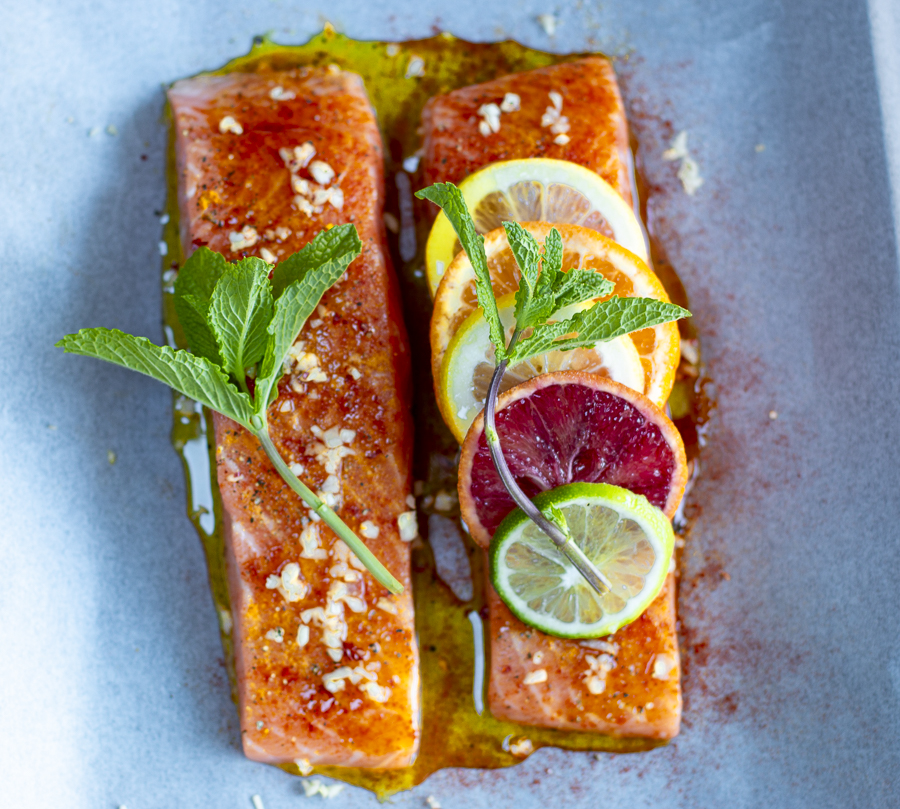 Slow cooked Salmon with a Tart & Zesty Multi-Citrus Salsa is an easy meal cooked in a Parchment Package.
Produces tender salmon with a sauce baked in!
Boost your senses with citrus fruits ~ and enjoy the taste, smell and brightness citrus fruits have to offer.
Make the season bright this year with the freshest jewel toned citrus.
A great way to beat the "Winter Blahs" – add citrus juices, rind and flesh into your recipes (you might use less salt)!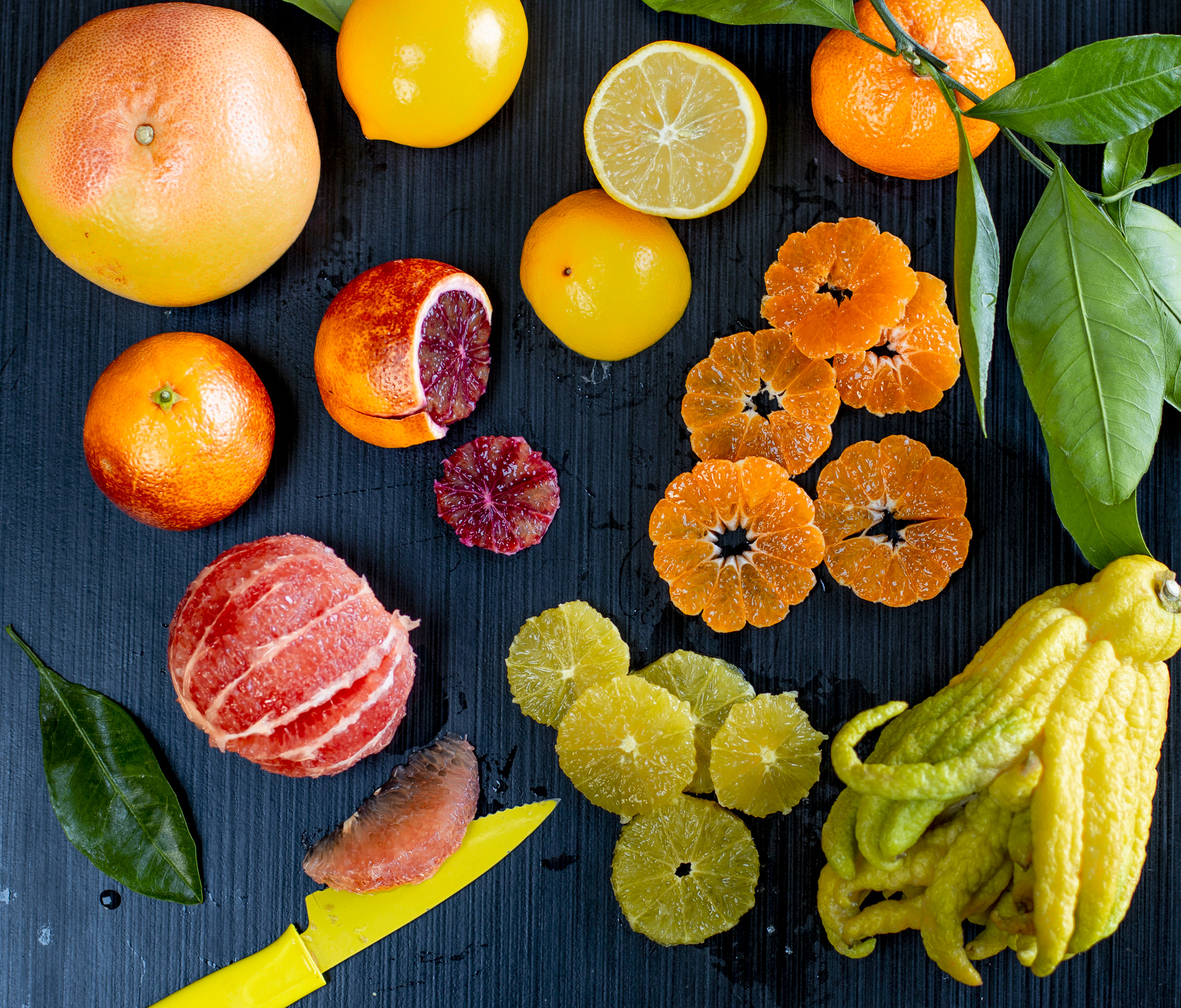 What beautiful citrus to work with! I'm using Satsuma Mandarins, Clementines, Navel Oranges, Ruby Grapefruit, Blood Orange and Buddah's Hand. Meyer Lemons for the Vinaigrette and Preserved Lemons.
Sweet, brightly colored citrus fruits bring a burst of sunshine onto every recipe. But citrus fruits are not only flavorful and pretty — they're also good for you.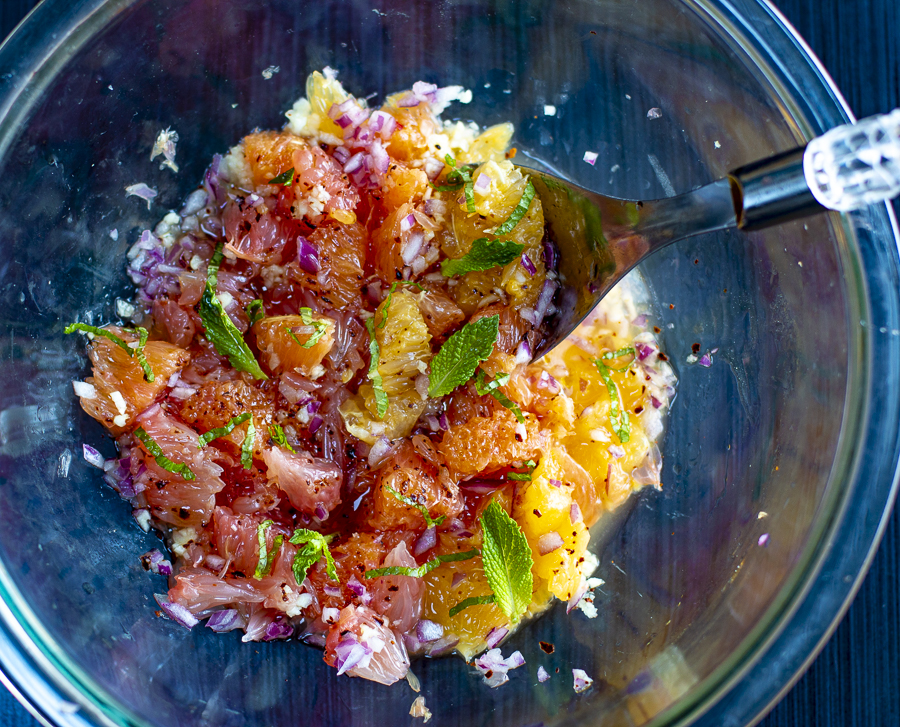 The citrus is cut into segments, then coarsely chopped with a minimum of ingredients; a touch of honey, garlic, red onion, fresh mint and aleppo pepper for heat.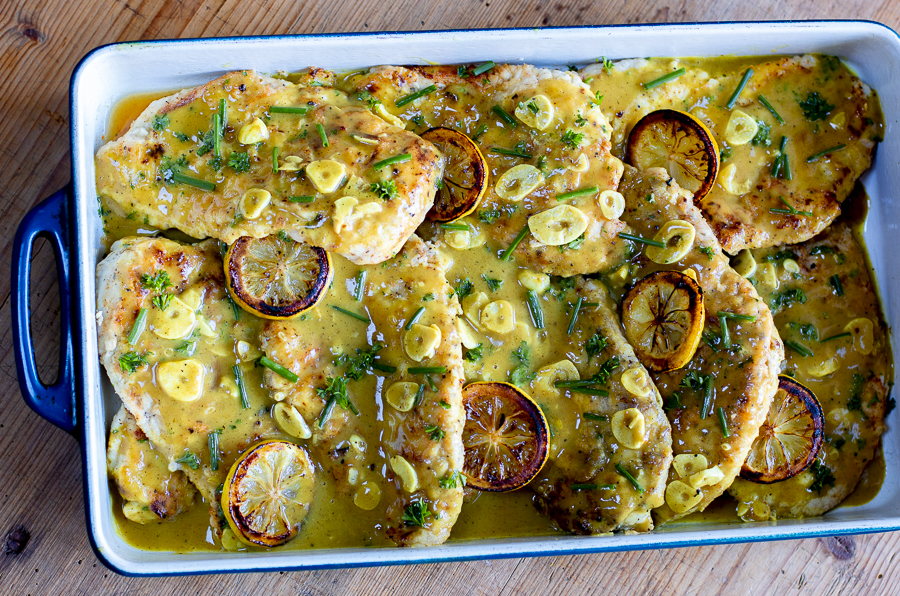 In the style of French "Francaise" ~ this is an updated version, a recipe every cook should master!
Lemony Delicious ~ my families favorite dish! Tender chicken in a zesty luscious sauce, lightened-up.
Did you Know? Health Benefits of Citrus Fruits:

Citrus Fruits are loaded with vitamin C. In fact, one orange provides more than a full day's supply of vitamin C! Vitamin C is one of the most powerful antioxidants acting as a scavenger to neutralize harmful elements naturally occurring within the body and helps fight cell and tissue damage that could lead to disease.
Vitamin C supports your immune system, which plays a role in maintaining healthy skin, bones and blood vessels. Vitamin C also improves absorption of iron when consumed with plant-based sources of iron, such as beans, lentils, leafy green vegetables, tofu and blackstrap molasses.
They contain fiber, which can help lower cholesterol and assist with digestion and elimination, according to the World Cancer Research Fund and American Institute for Cancer Research.
Citrus fruits and their products are recognized as an important food in the human diet, not only because of their vitamin C contents, but also because of their pleasant aroma, appealing color, and a balance taste of sweetness and tartness.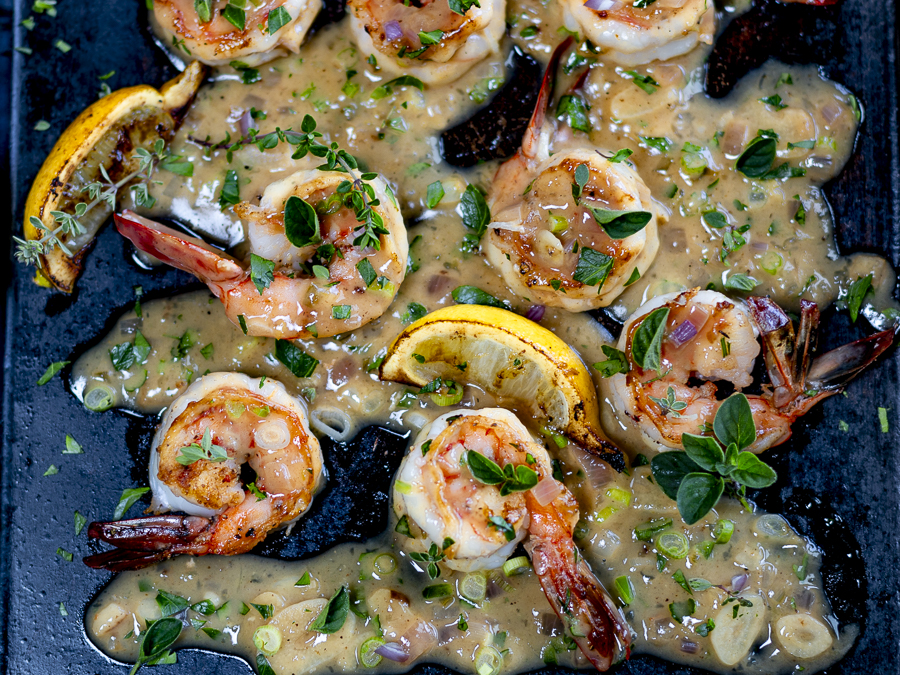 All the buttery, garlicky and lemony flavor with a sprinkling of fresh herbs in a lighter sauce you can make in minutes!
A quick recipe for everyday with TONS of flavor.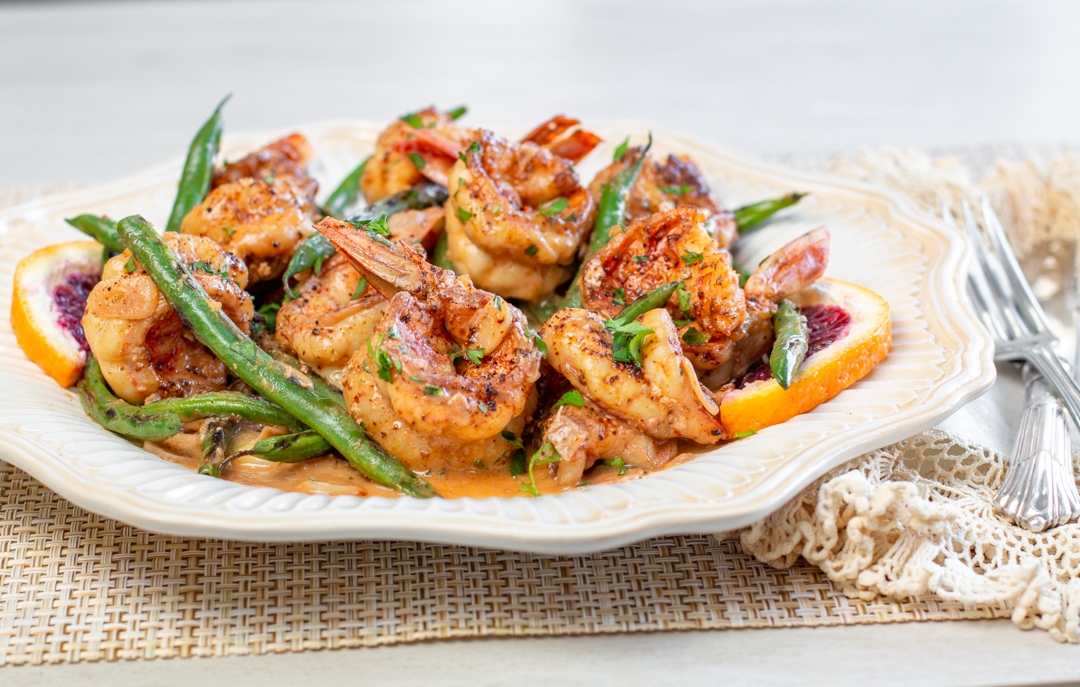 A Simple Skillet Dish with Big ZESTY Flavors – perfect for a weeknight meal, special enough for company. Meaty and silky Jumbo Shrimps – dusted with Chili Seasoning are tossed with plenty of Blackened Green Beans and a Zesty Blood Orange Butter Sauce.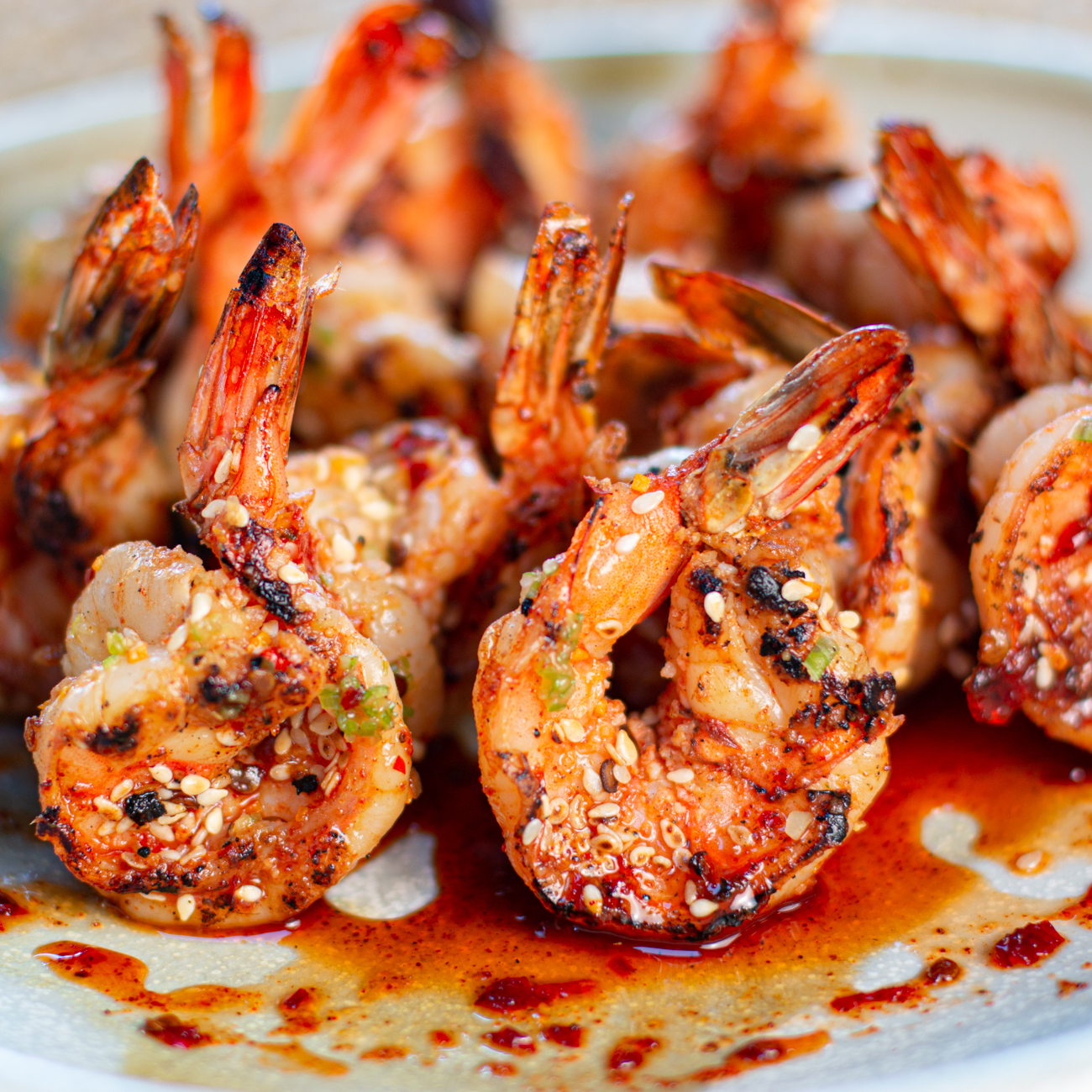 An easy and pungent marinade transforms Shrimp with intense flavor. Simply Grilled in a cast iron skillet. See Citrus Chili Glaze in the recipe! I'm loving the shrimp coated with sesame seeds – extra crunch!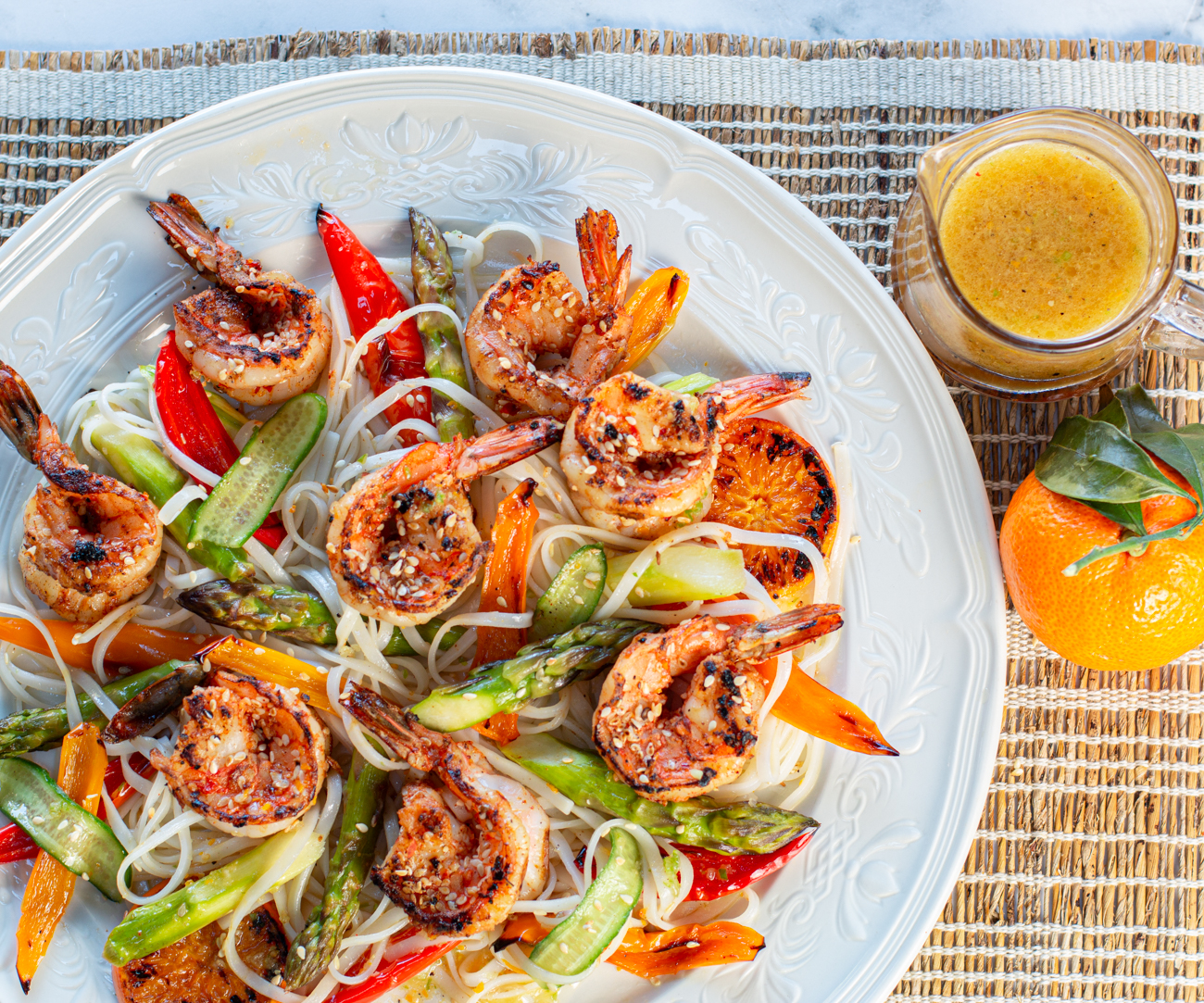 For a Light Spa Salad – Serve Spicy Citrus Chili Shrimp over rice noodles (gluten free), Raw & Roasted Veggies ~ tossed with my Spa Asian Orange- Sesame Vinaigretteand finish with toasted Sesame Seeds. Orange Juice and Rind are included in the marinade and the Orange Sesame Vinaigrette.
Cajun Seasoning Enlivens Red Fish – Blackened in Minutes in a Cast Iron Skillet. Glazed with a Browned Butter Pan-Sauce with Garlic, Many Summer Herbs and Lemon Slices. MY RECIPE has all the flavor – yet not using all the butter of typical recipes.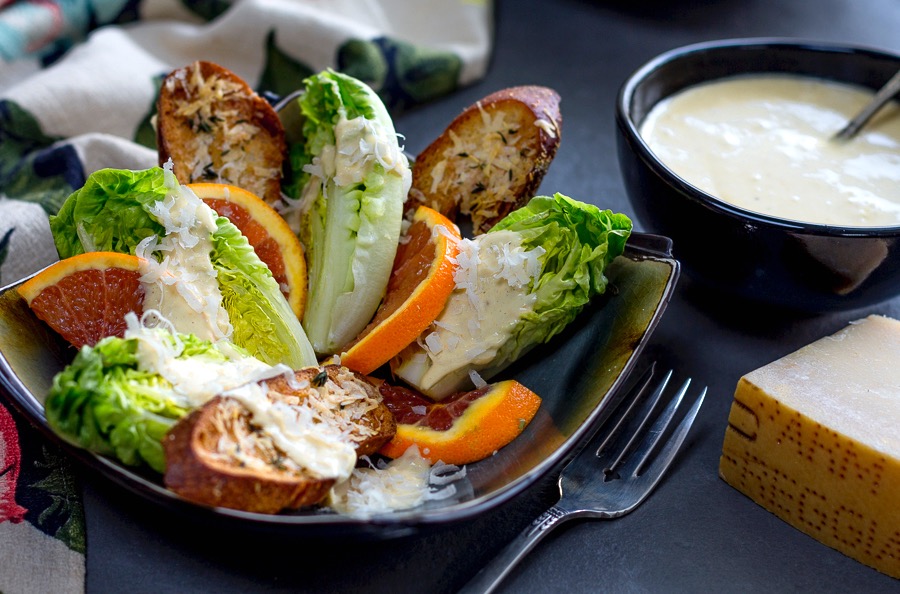 It's Winter Citrus Season – these low acid, sweet Cara Cara navel oranges entice a Caesar-style dressing with zest! A Wonderful – Simple Salad with crunch and a daily dose of garlic.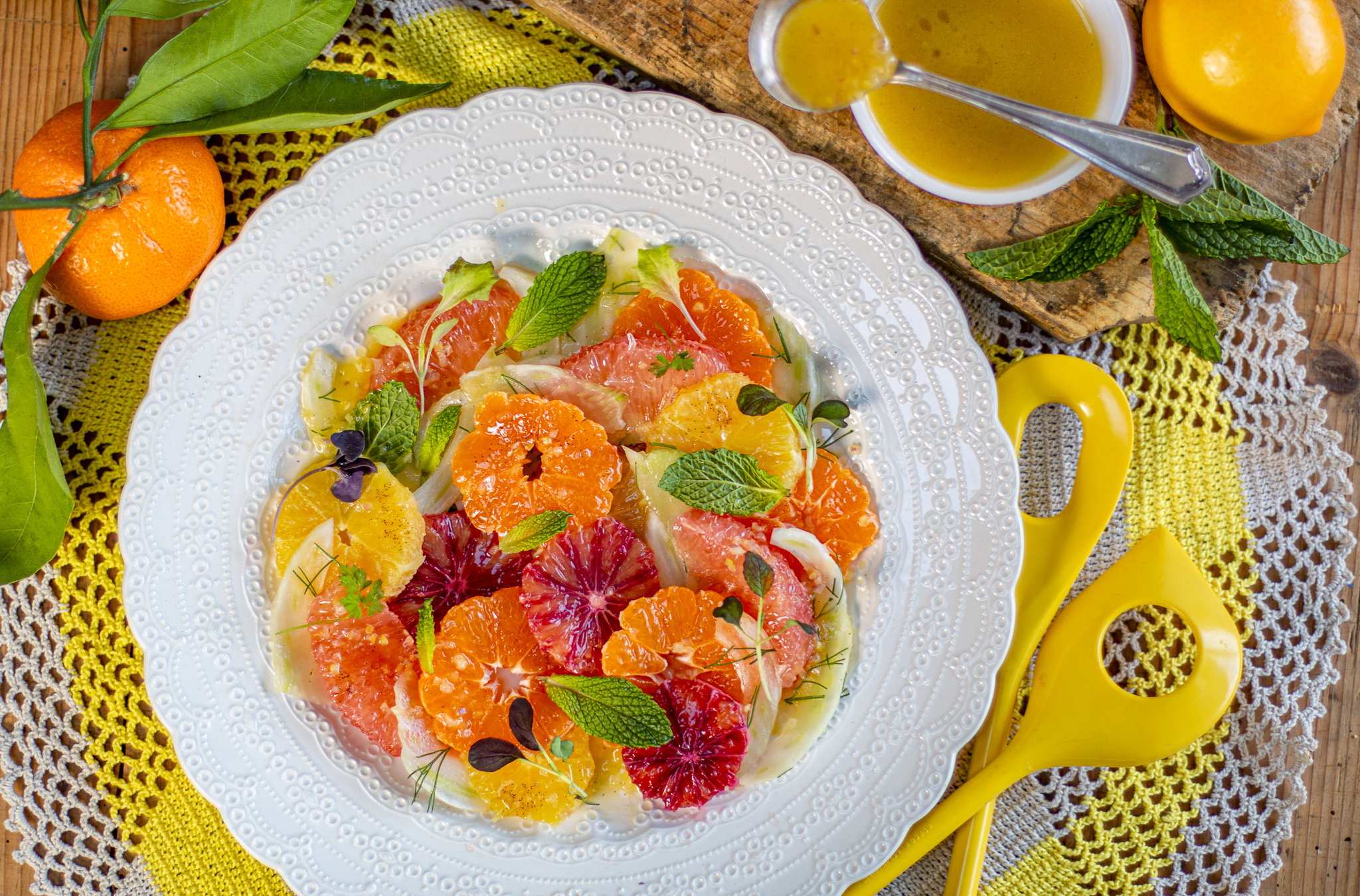 I'm combining many types of Citrus and teaming them with Shaved Fennel and Mint.
Drizzling on top with a delicious Citrus Vinaigrette with Vanilla Beans.
Refreshing and light – a ray of sunshine in Winter!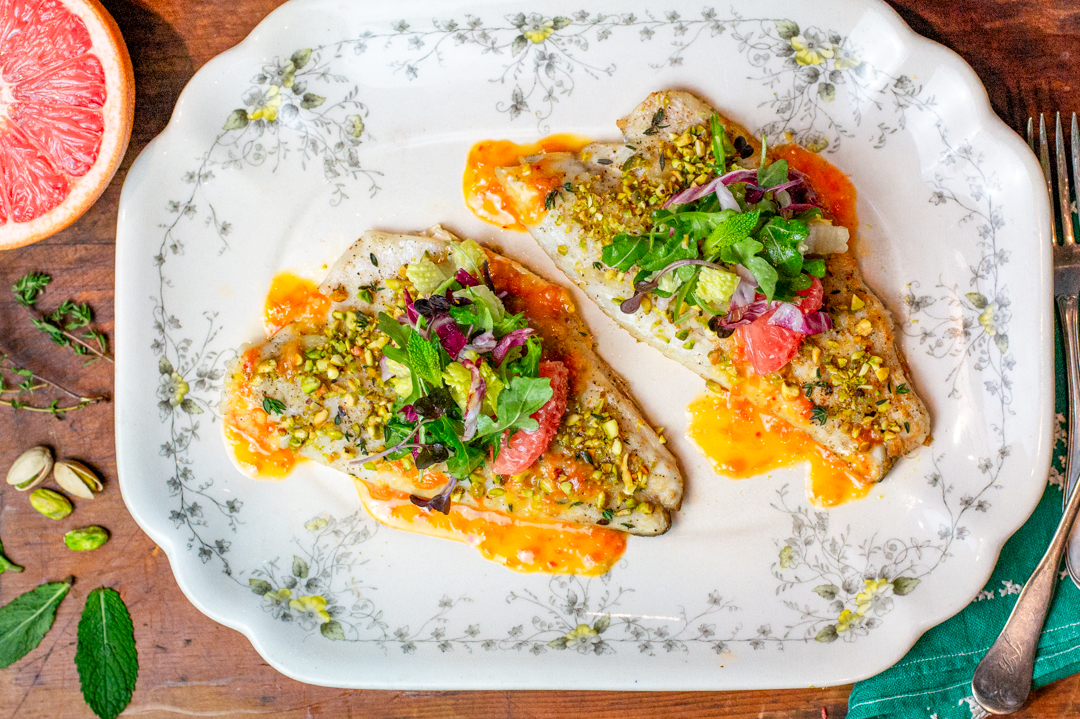 A Restaurant Quality meal you can make at home!
Featuring Pistachio Crusted Fish with a Grapefruit-Butter Sauce and Composed Grapefruit Salad
Can use other firm fish filets.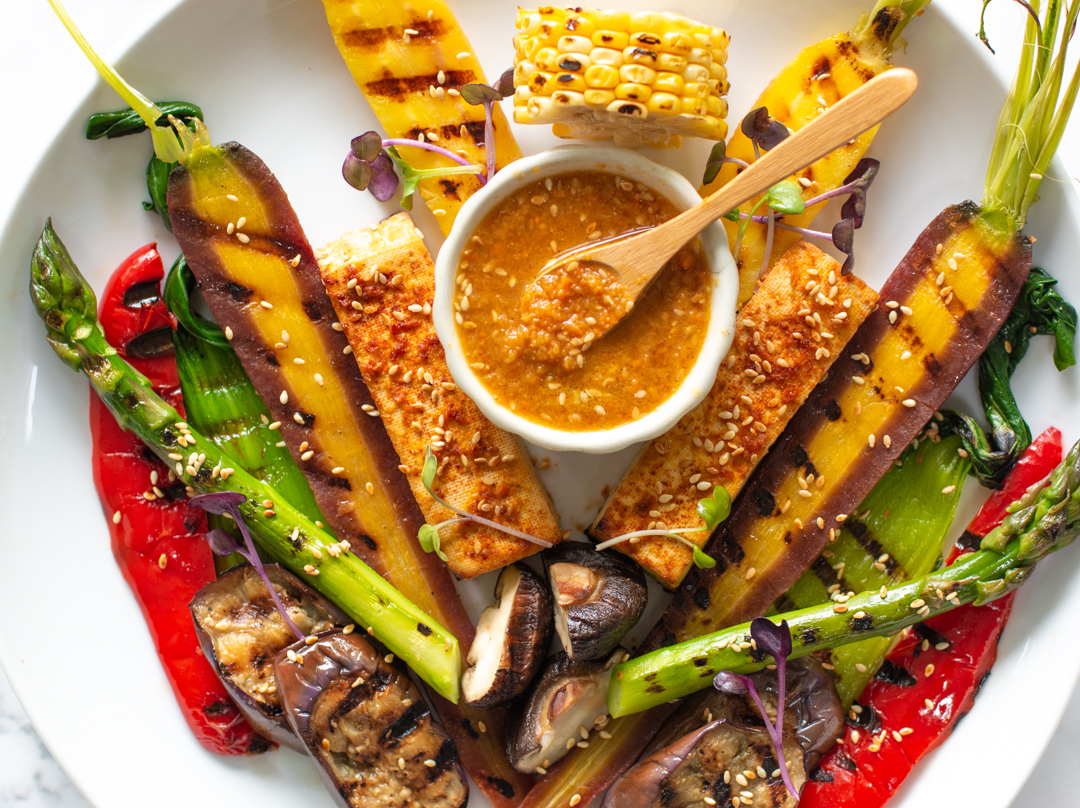 This fresh No-Cook Ginger-Sesame Sauce is amazing for dipping grilled meats, vegan proteins and vegetables… and it also makes for a nice salad dressing (for that add a little neutral oil.) Just blitz in a food processor and you'll have a cup of heavenly Ginger-Sesame Sauce (with a definite lemony tang)!
There is nothing better than a Fattoush Salad with seasonal, glistening vegetables! Pita bread is toasted in the oven with olive oil and Za'atar seasoning and tossed into the salad. Finish with a Zesty Lemony Sumac Dressing.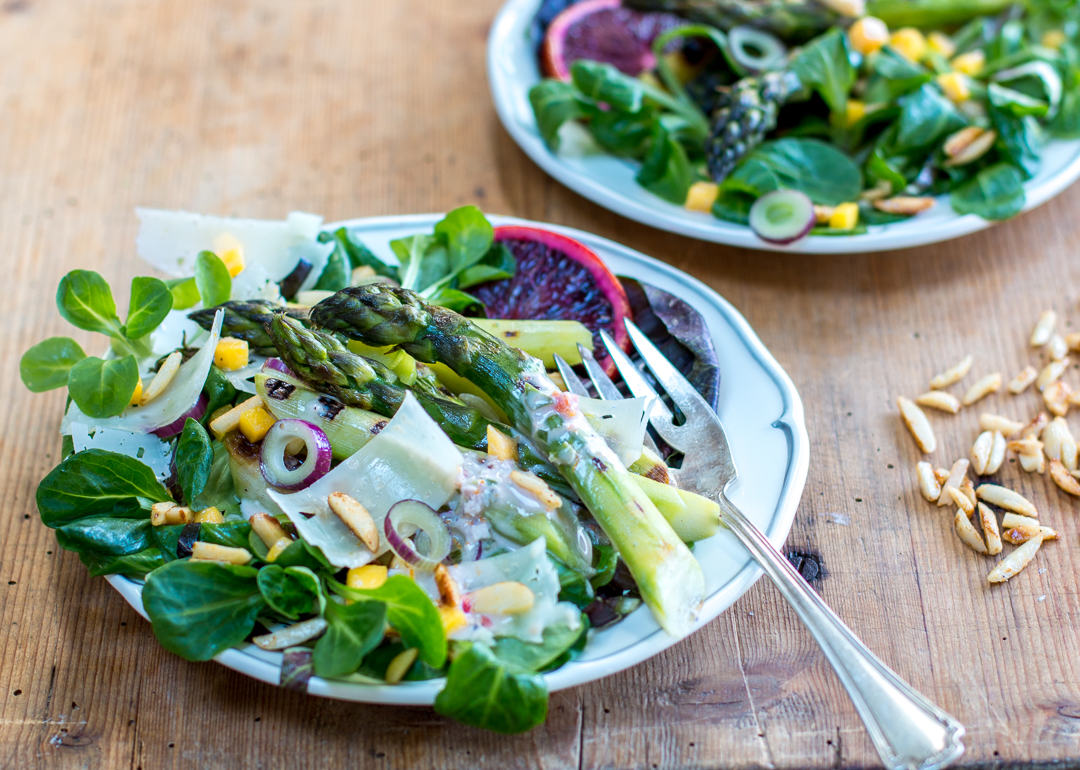 I'm looking forward to Spring and a bevy of fresh asparagus! 
The perfect Restaurant Quality Spring Salad! Choose fat asparagus and cook indoors in a grill pan – or outdoors in warmer weather.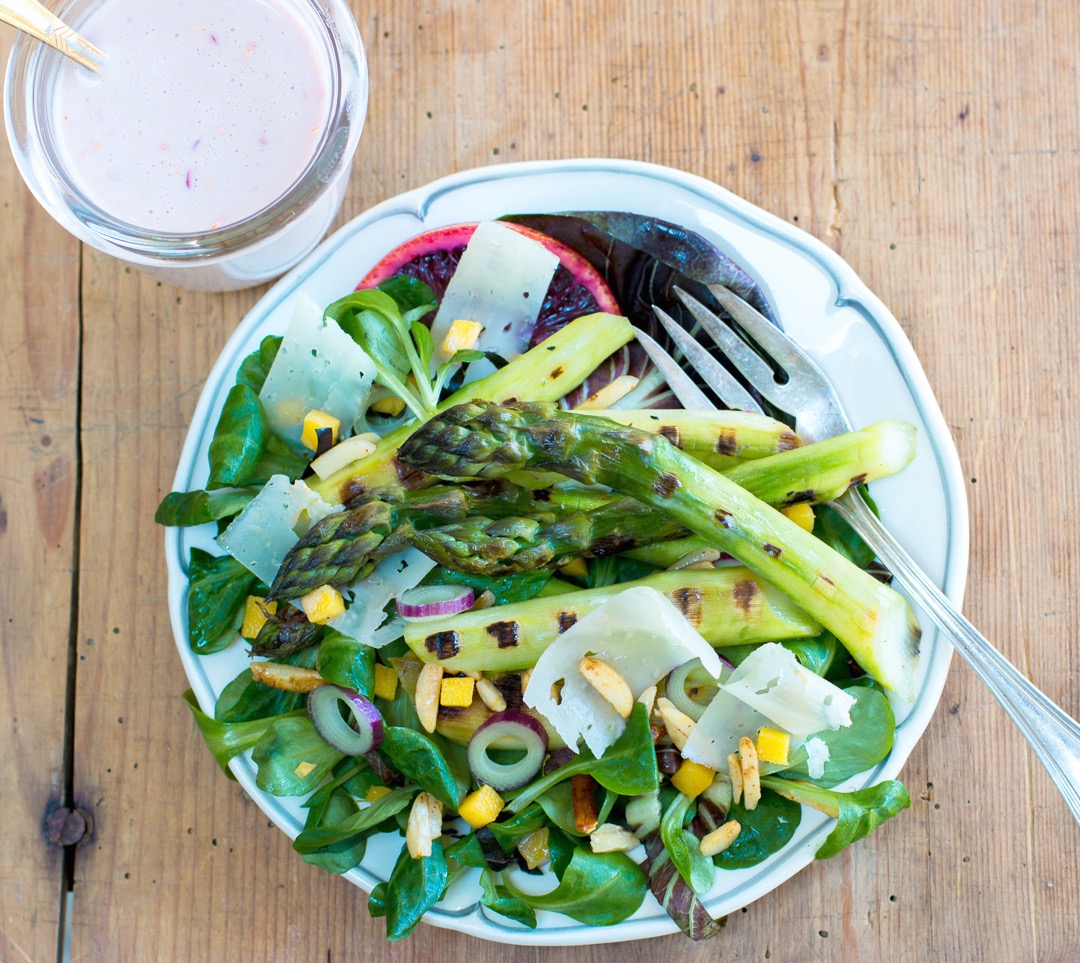 A Zesty Citrus Dressing – adds a great tang and balance to your favorite salads – and a wonderful color.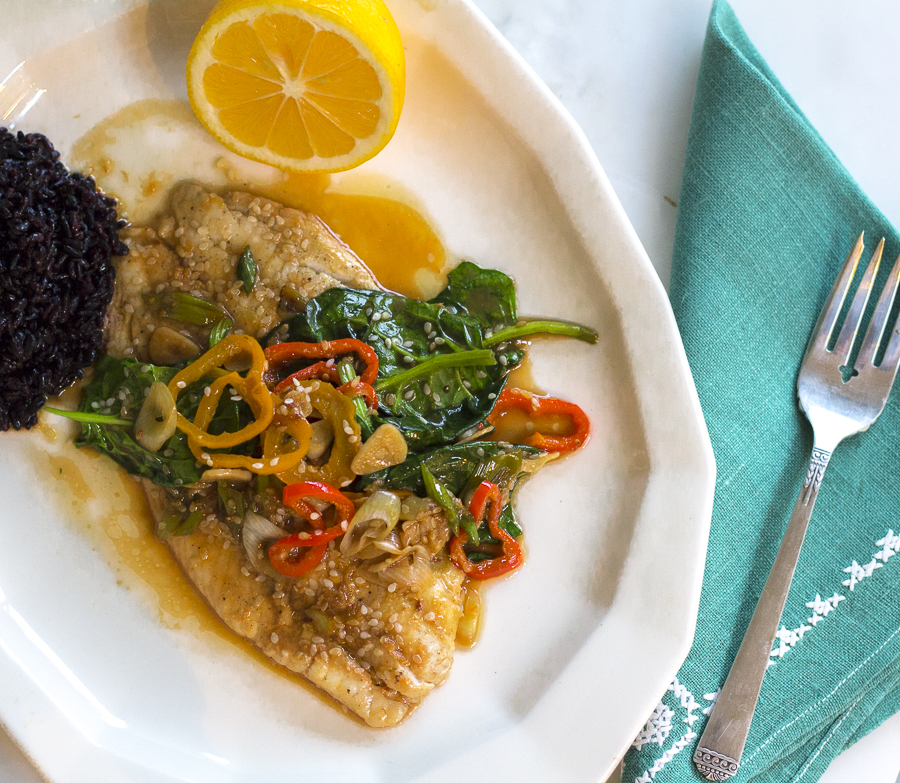 I am sharing one of my all-time favorite recipes: Sizzling Flounder. Simple Asian flavors surround this healthy, light and delicious dish – a must try for my readers.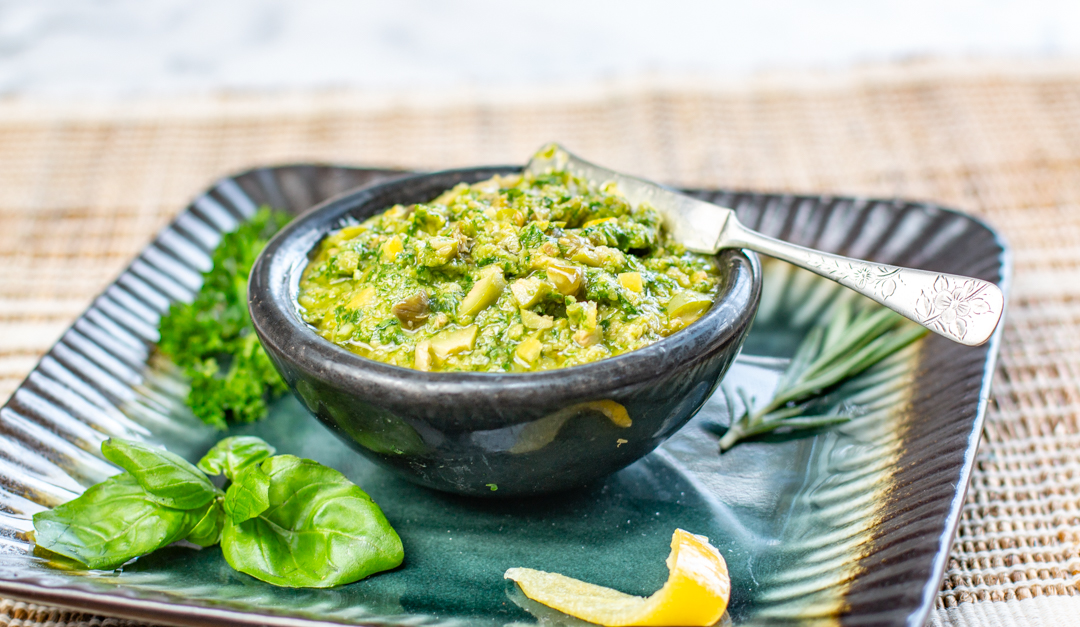 This delicious Mediterranean Tapenade gets a Flavor-Boost from Lots of Green Herbs and Preserved Lemons. A fabulous Condiment to Savor.
Serving Suggestions are endless! (I'm giving you 14…)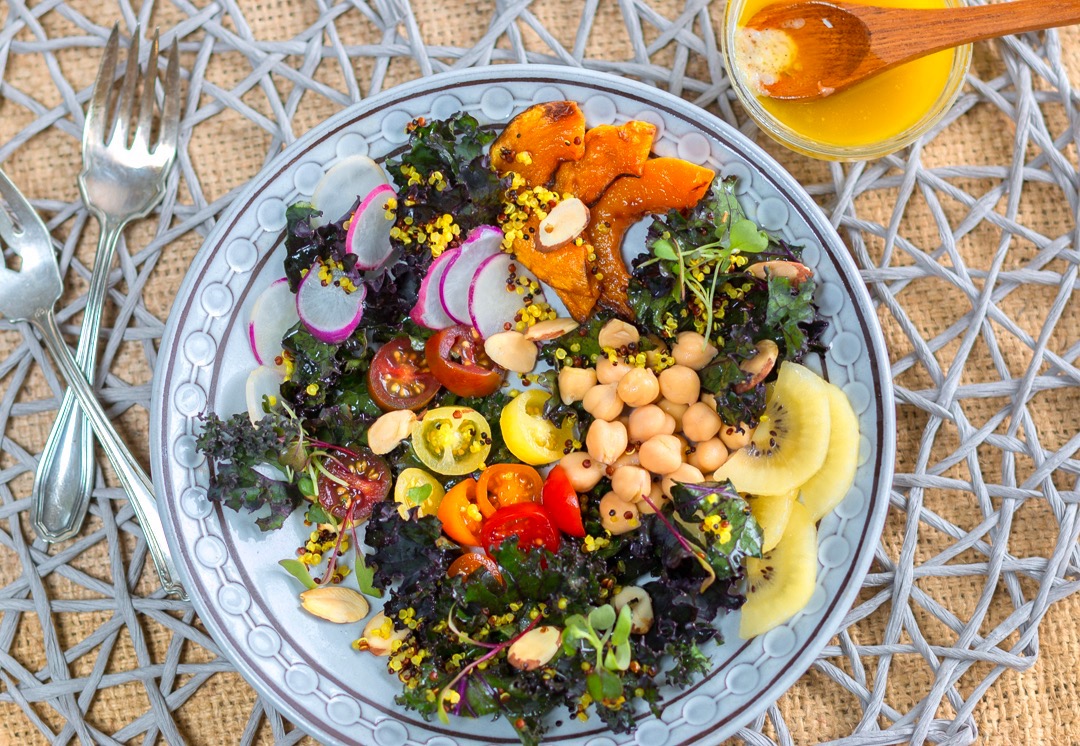 Healthful, good-for-you ingredients with amazing flavors. Say "YES" to more plant-based foods in your regime.
Lemony Extra Virgin Olive Oil Dressing with Many Uses:  A zesty and healthy dressing you whisk and refrigerate. Drizzle on lettuces, composed salads and serve on the side of roasted vegetables or fish.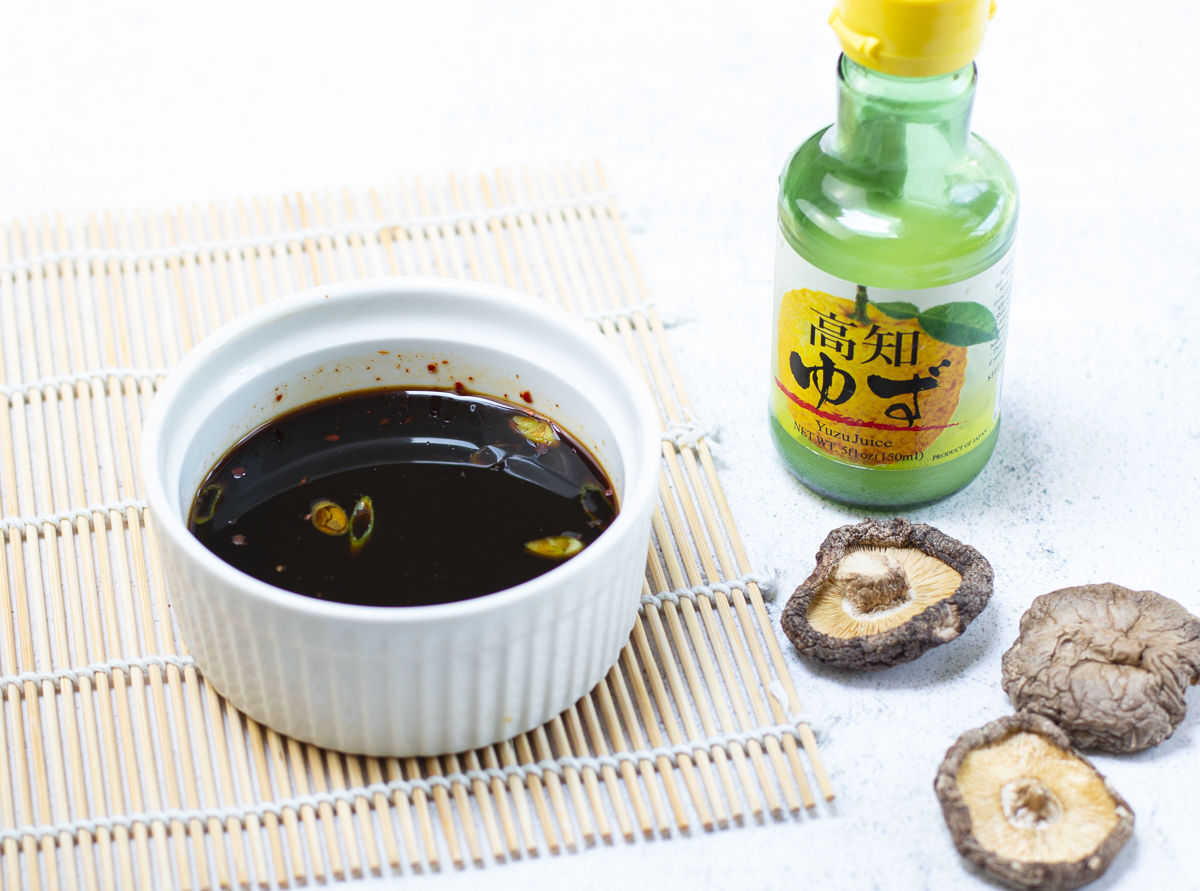 Citrusy Ponzu Sauce can be made ahead of time – adds flavor and Zest to all!
See all my Make Ahead Sauces, Salsas and Condiments for easy-breezy meals!
Commercial Ponzu sauce has many chemical additives, so why not make your own?
Yuzu juice is available in Asian shops ~ and well worth sourcing! A citrus fruit of East Asian origin with a heavenly complex sour flavor… but not bitter sour.
See how to use it here: Seared Scallops with Karen's Ponzu Sauce
A Zesty & Crunchy Granola Loaded with Almonds, Pecans and Natural Orange Rind.
Such an addictive flavor using Orange Oil for added flavor (yes a recipe for that too!)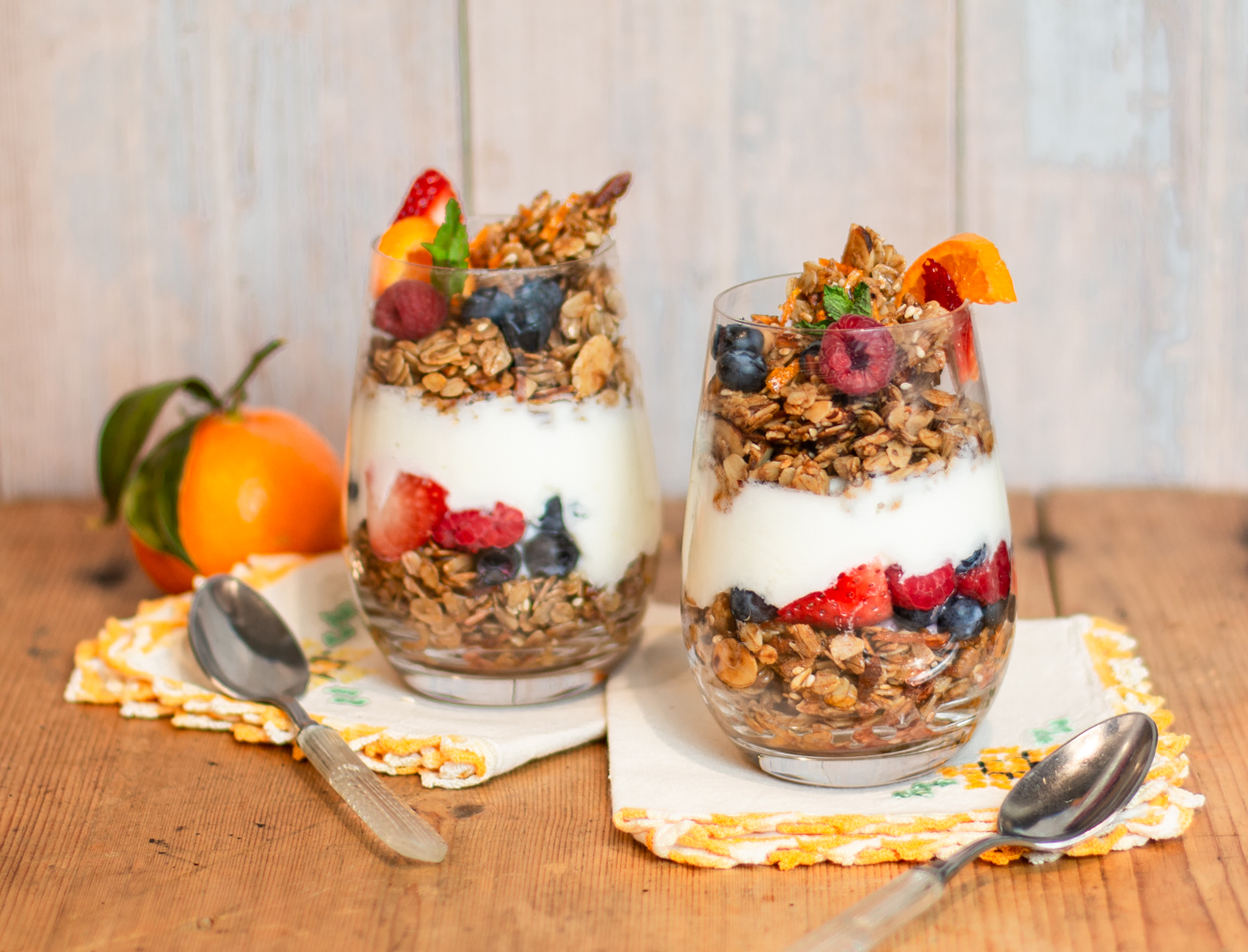 Light and crunchy with lots of zesty flavor! Here is your go-to recipe with healthful ingredients.
Crisp and not-too-sweet – these biscotti are the ultimate snack, dessert and great for gift giving!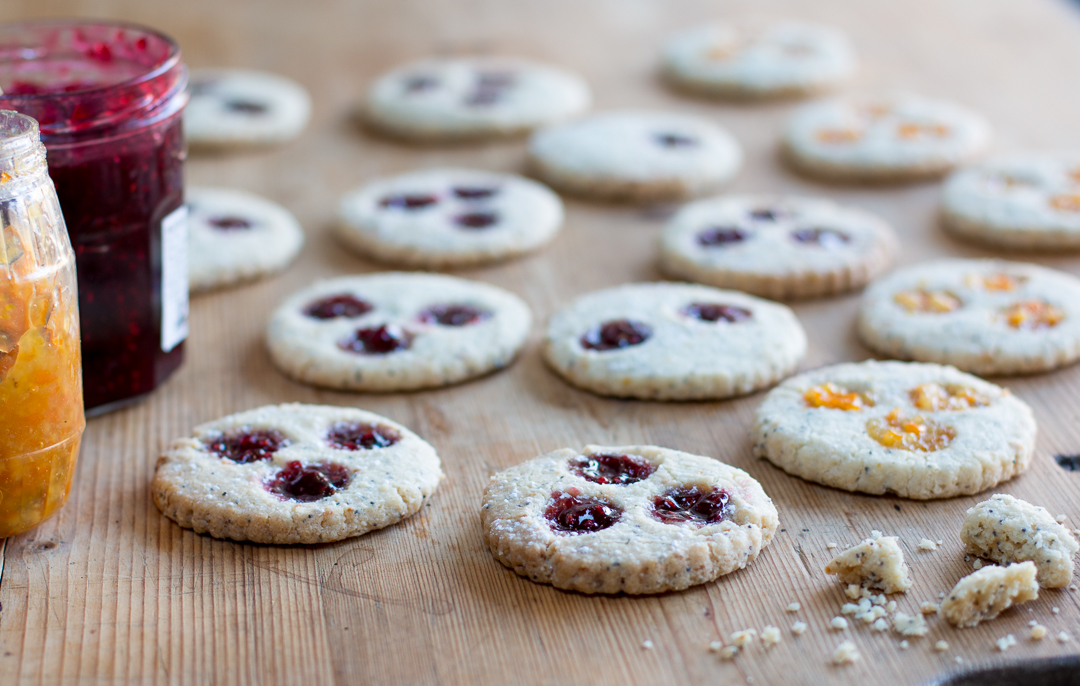 Ever wanted to explore Vegan Baking? These cookies pack flavor and crunch… and yes – a little zesty!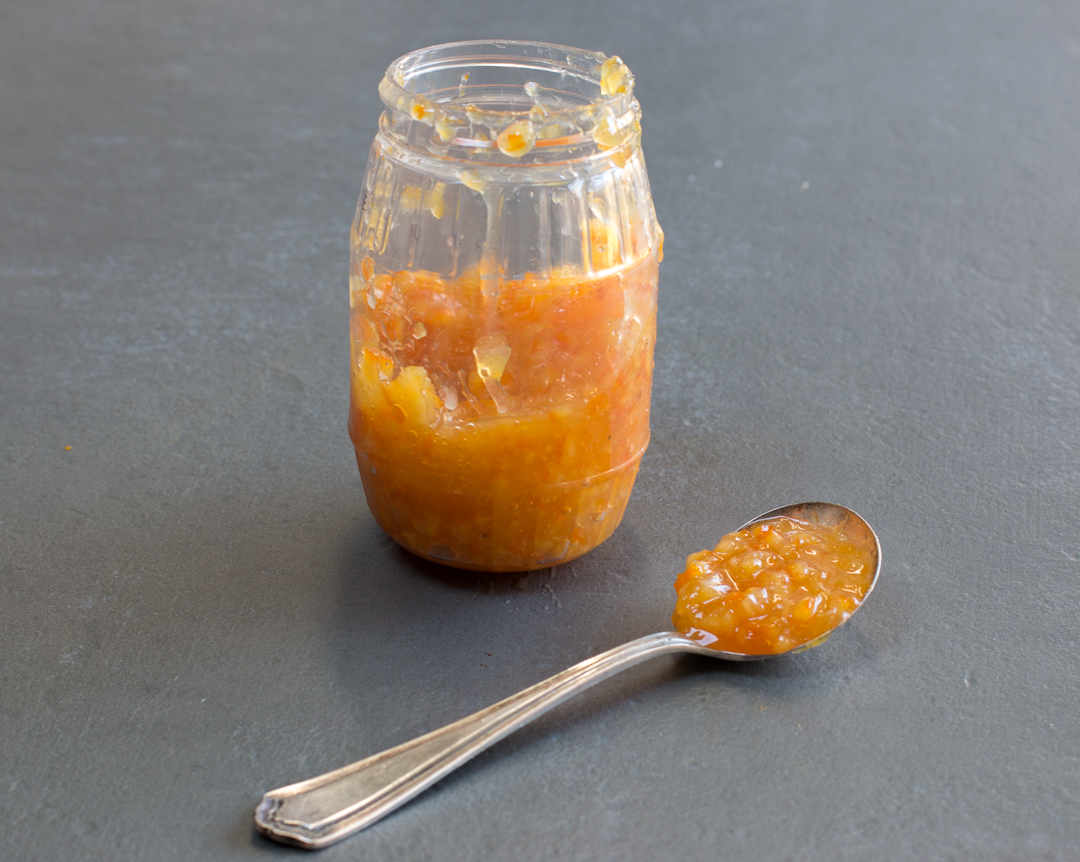 Wonderful to have on hand – make now when Clementine Oranges are in season and plentiful. Three ingredients stirred together and cooked for 30 minutes until jammy. I've used some in the Linzer cookies above.

Meyer Lemons are perfect for preserving! With their thin skins, bright lemony-color and fragrant flesh they have a sweeter, more floral taste. These beauties will pickle in their own juices.

Preserved Meyer Lemon Vinaigrette and How to Use It
Tangy, Mellow and Zesty! A Fabulous Full-Of-Flavor Vinaigrette with many uses beyond salads.
Need more inspiration? – See all the RECIPES in the Category: ZESTY CITRUS RECIPES 
Enjoy these wonderful A Zest For Life Citrusy Recipes!
Which ones will you make…love? Comment below. 
Karen
A Note From Me: 
As you can see – I love cooking with citrus fruits…love the bold flavor and vibrant happy color they lend to food.
"ZESTY" can describe something that is is fun and exciting, and food that is highly flavored and pleasing to the sense of taste.
Those who have A Zest For Life ~ they live their lives with a lot of flavor and gusto.
Salmon in Parchment with Multi-Citrus Salsa
It's Citrus Season! Slow cooked Salmon with a Tart & Zesty Multi-Citrus Salsa is an easy meal cooked in a Parchment Package. Produces tender salmon with a sauce baked in.
Print Recipe
Pin Recipe
Rate this Recipe
Ingredients
2

pounds

salmon filet, skin removed 

cut into 4 even pieces

4

teaspoons

extra virgin olive oil 

1/2

teaspoon

 smoked paprika

1/4

teaspoon

turmeric

1/4

teaspoon

cracked black pepper

1

teaspoon

 fresh garlic

peeled and minced 

1/4

teaspoon

sea salt

20

slices

assorted citrus 

(see note)

2

tablespoons

citrus juice

(will have from Multi Citrus Recipe)

4

stems

 fresh mint 

1

recipe

Multi-Citrus Salsa  

(see recipe)
Instructions
Preheat oven to 300 degrees. Make 2 parchment packets – 2 pieces of salmon in each. (If serving for a party, can make 4 packets to present to each guest.) Cut 2 pieces of parchment paper – 17″ wide (the roll width) x 17″ long. Season the salmon with seasonings; smoked paprika, turmeric, cracked black pepper and sea salt.

Place the paper on a rimmed sheet pan, place 2 seasoned salmon pieces in the center. Top the fish with a portion of minced garlic and 2 teaspoons of olive oil. Drizzle 1 tablespoon of citrus juice in each packet. Add and 5 slices of citrus in a row on each. Repeat with the other 2 pieces of salmon, making another packet.

Top each piece of salmon with 5 citrus slices and a stem of mint. Bring up the edges of parchment and fold over to enclose, tuck in the sides to create a packet, repeat with the other.

Cook the fish, in a slow 300 degree oven; 2 packets on each rimmed tray for 15 minutes, until just cooked through. Timing will depend on the thickness of your fish. Can peak inside a packet, and feel the salmon – should be just firm. The fish will continue to cook out of the oven, especially in it's parchment package if not opened immediately.

Citrus Slices: You will need 20 thin slices of citrus; 5 slices on each piece of salmon. I used: blood orange (gorgeous color & sweet!), lemon, limes and clementines. Use what you like or have on hand.
Notes
This recipe may not be reproduced without the consent of its author, Karen Sheer.
Nutrition Facts
Salmon in Parchment with Multi-Citrus Salsa
Amount per Serving
% Daily Value*
* Percent Daily Values are based on a 2000 calorie diet.
Karen Sheer