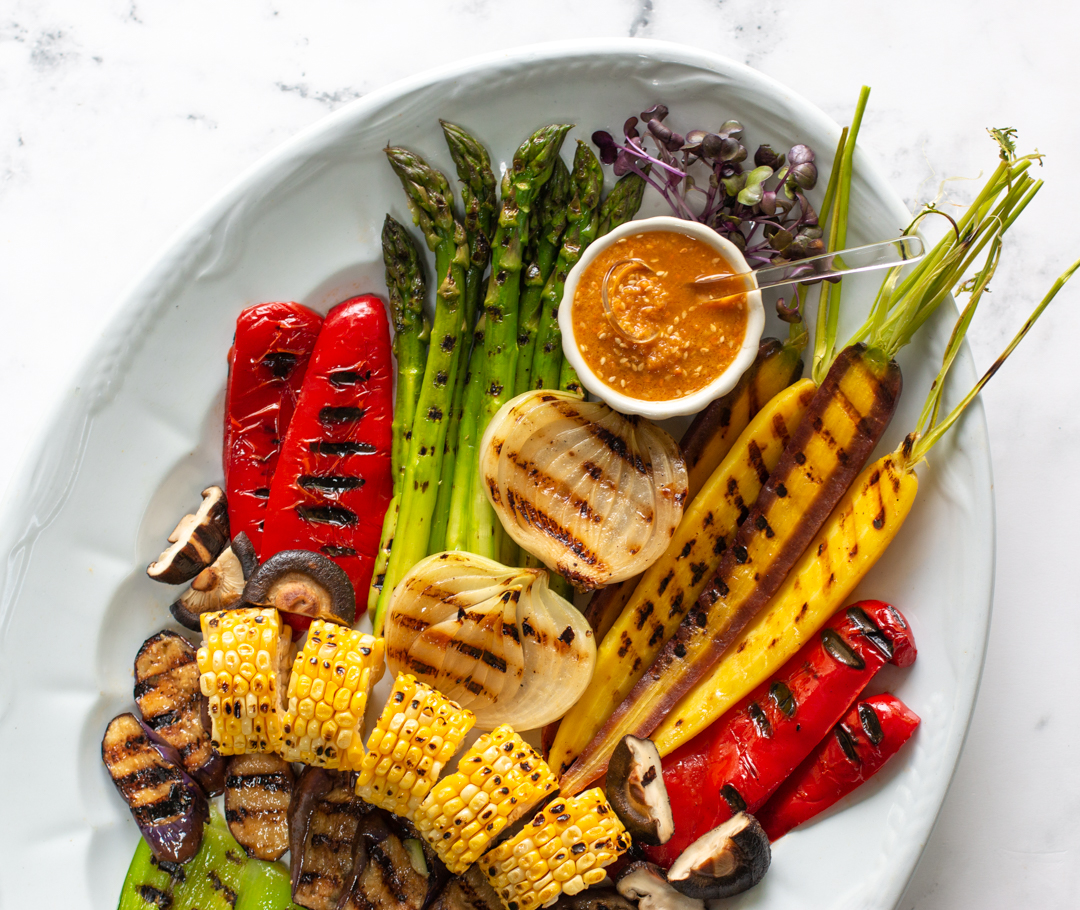 Karen's Ginger-Sesame Sauce – and what to do with it!
For Dipping, Slathering and Basting – THE Sauce that makes all taste better.
Packed with flavor, very low in calories & fat – ginger lends a naturally spicy kick…and a multitude of healthy benefits!

Ginger-Sesame Sauce for Dipping & Beyond – tangy with a roasted note and slightly sweet 
It's super easy to make! Add DRY ingredients to a food processor – pulse. Then add your WET ingredients and pulse until desired consistency – I like it with some texture.
This Asian-inspired sauce is a redux of that famous ginger sauce recipe at Benihana's restaurant – yet lightened up with less sodium and adding carrots and roasted sesame seeds.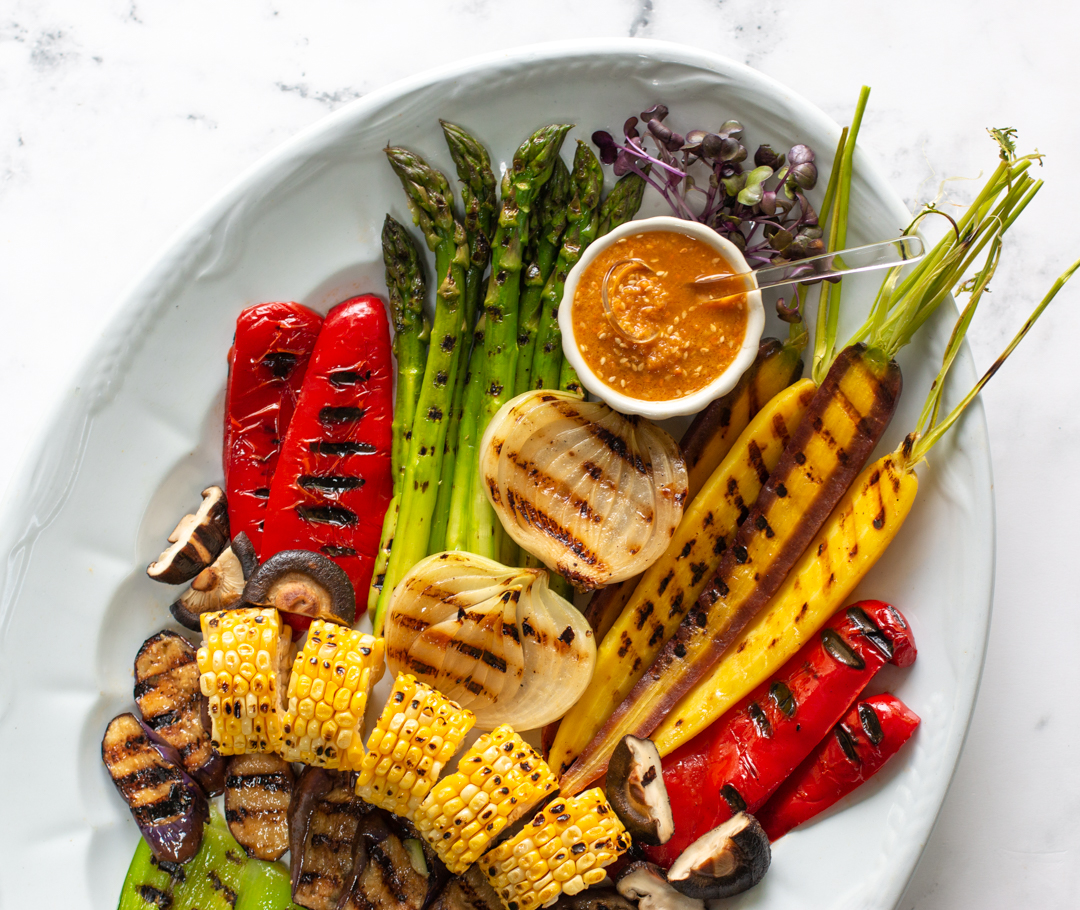 I've used: Heirloom Carrots, Asparagus, Bok Choy, Sweet Onion, Japanese Eggplant, Shiitake Mushrooms, Fresh Corn and Red Peppers. Garnished with Spicy Purple Radish Sprouts.
Grill Vegetables you love, or have on hand. Make it colorful!
YUM – Grilling vegetables causes their natural sugars to caramelize.

Serving Suggestions:
As Side, Dipping & Basting Sauce for all your grilled cooked proteins
Spoon over Hibachi-Cooked Vegetables for and instant flavor-boost (Use a cast iron skillet or outdoor grill for the veggies.
Baste Tofu with the Ginger-Sesame Sauce and roast in a hot oven – sprinkle with roasted sesame seeds
Make a salad dressing! Add Ginger-Sesame Sauce to a blender and add either a neutral oil or a good quality mayonnaise and puree until smooth.
Use a Stir-Fry Sauce – add a splash of sherry and sesame oil
Add to cooked rice with some thinly sliced scallions – or use a base for rice or quinoa

Use the Ginger-Sesame Sauce over fried eggs… or add to deviled eggs for an Asian flair
Ingredients for the Ginger-Sesame Sauce
DRY Ingredients: Ginger, Sweet Onion, Carrots (for natural sweetness), Garlic, Coconut Palm Sugar & Toasted Sesame Seeds (adds a nice toasted flavor.)
WET Ingredients: Soy Sauce (I use Gluten Free Tamari), Rice Wine Vinegar, Fresh Lemon Juice and Pure Toasted Sesame Oil.
Just blitz in a food processor and you'll have a cup of heavenly Ginger-Sesame Sauce!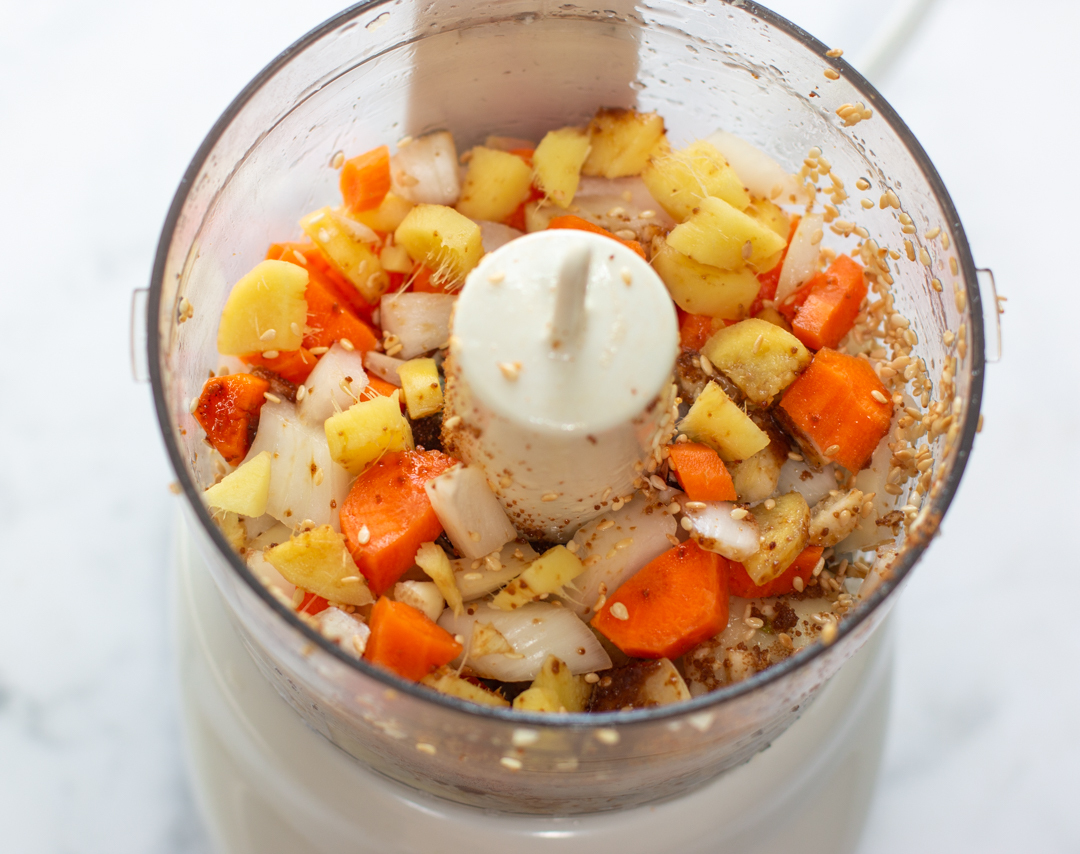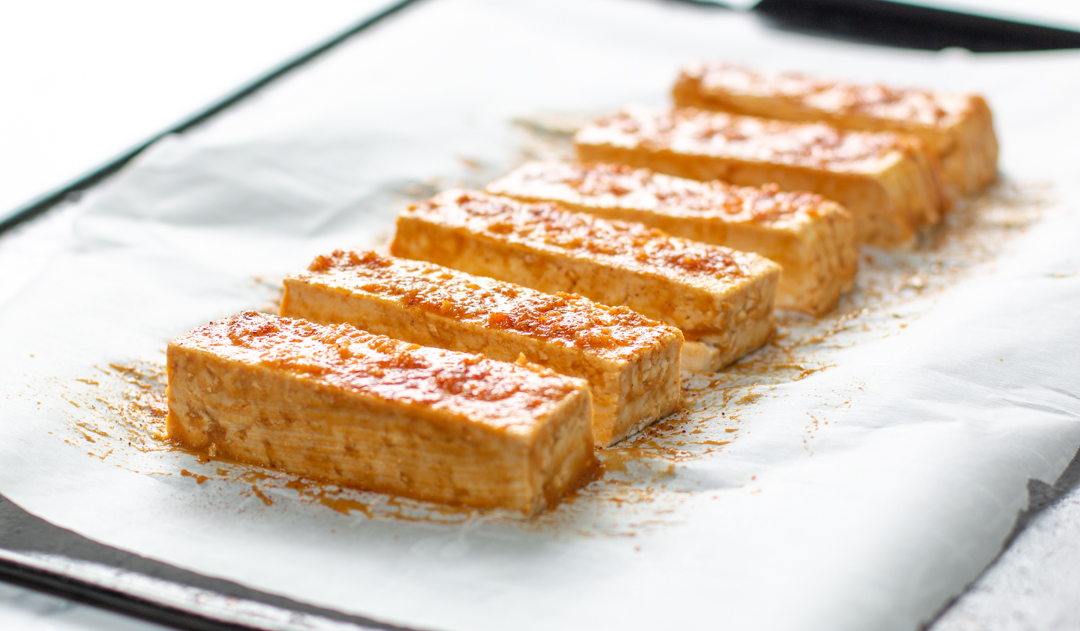 Tofu doesn't need to be boring or tasteless!
To make:
Weight tofu 15 minutes – give it a pat with paper towels and cut into 6 lengthwise rectangles.
Add to a parchment lined baking sheet and brush all over with the Ginger-Sesame Sauce.
For extra heat I sprinkle the tops with smoky Chipotle Powder. Bake at 4oo degrees for 15 minutes.
Sprinkle with Toasted Sesame Seeds while warm.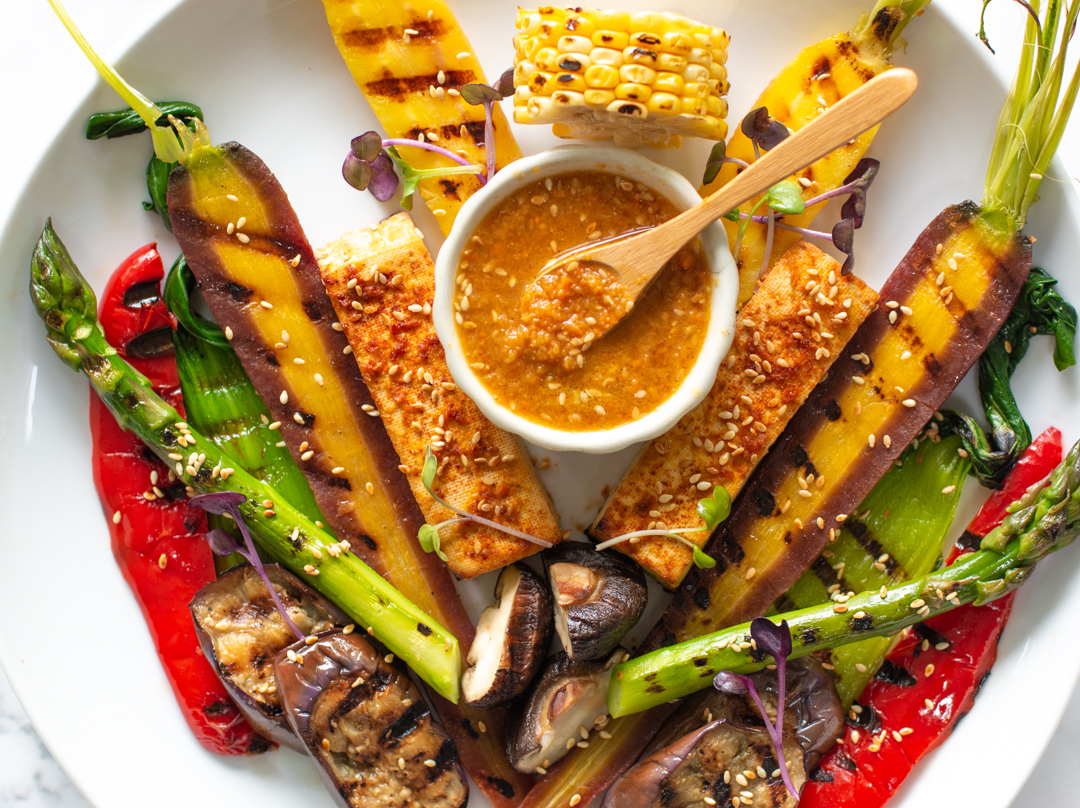 This fresh No-Cook Ginger-Sesame Sauce is amazing for dipping grilled meats, vegan proteins and vegetables… and it also makes for a nice salad dressing (for that add a little neutral oil.)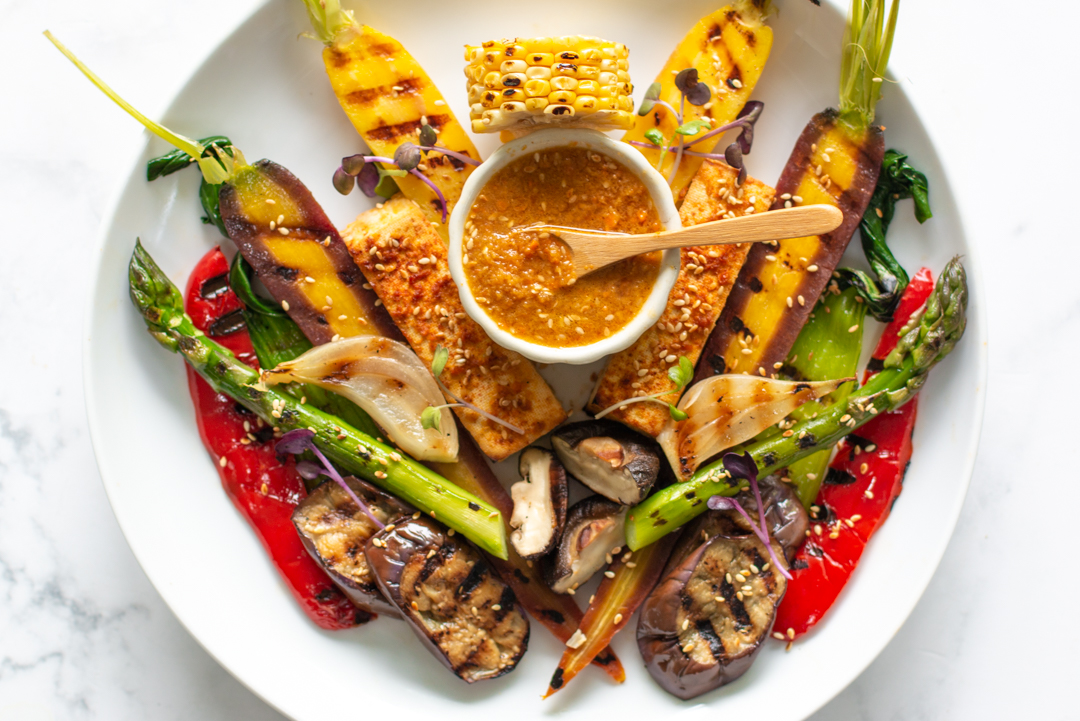 Health Benefits of Ginger: which are loaded with a lot of antioxidants and other health benefits
First… what is it?
Ginger is a flowering plant, indigenous to China, and grown in India and other parts of the world, including Hawaii. The ginger root (commonly just called ginger) is harvested and used as a spice, side dish, natural remedy, and for flavoring.
Historically, Jamaicans popularized ginger root after it made its way to Europe in the 1500s as part of the spice trade. Today, ginger is available all year, supplied by overlapping growing seasons across the globe. China, Brazil, and Thailand are among the top exporters, and top importers include Japan, the United States (mostly Hawaii), and the United Kingdom.
I love the flavor and sharp-tang and pleasantly spicy "kick" of the root.
Ginger is said to have anti-inflammatory, antibacterial, and antiviral properties.
The flavorful root's history runs deep as both a cooking spice and a medicine.
Some research indicates that ginger may improve digestive health, reduce inflammation, and relieve stomach pain, a popular home remedy for nausea, among other benefits.
Ginger root comes from the Zingiber officinale plant, and it has been used in Chinese and Indian medicine for thousands of years!
One of the most common ways to consume ginger is in tea. To make ginger tea, you add pieces of chopped or sliced ginger to water and steep it.
Ginger works well in stir-fries, soups, and curries. You can even add ginger to desserts or smoothies.
A daily shot of ginger juice is one of the most convenient ways to consume ginger. You can make them at home using a juicer.
The U.S. ginger crop is mainly grown in Hawaii.
Did you know?
Turmeric comes from a flowering plant of the ginger family! … called Curcuma longa.
Though turmeric can be classified differently from the gingers, its roots or rhizomes appearance is very identical to a common ginger.
Enjoy this amazing little sauce!
Karen
Karen's Ginger-Sesame Sauce
For Dipping, Slathering and Basting - THE Sauce that makes all taste better. Packed with flavor, very low in calories & fat - ginger lends a naturally spicy kick...and a multitude of healthy benefits! A No-Cook sauce - just Blitz in a food processsor.
Servings:
16
makes one cup
Print Recipe
Pin Recipe
Rate this Recipe
Ingredients
Dry Ingredients:
2 1/2

tablespoons

fresh ginger

peeled and coarsely chopped

1/2

cup

sweet onion

like Vadalia, peeled and coarsely chopped

1/4

cup

fresh carrots

peeled and coarsely chopped

1 1/2

teaspoons

fresh garlic

peeled and coarsely chopped

1 1/2

teaspoon

coconut palm sugar

or light brown sugar

2

teaspoons

toasted sesame seeds*
Wet Ingredients:
6

tablespoons

soy sauce

I use Gluten Free Tamari

1 1/2

tablespoons

rice wine vinegar

I use organic

1

tablespoon

fresh lemon juice

1

teaspoon

pure toasted sesame oil

use more to taste if you like
Instructions
Add all DRY ingredients to a food processor (I use a 3 cup one) - remember to toast the sesame seeds! Pulse until the ingredients are coarsely ground.

Add all WET ingredients and pulse the sauce until it still has some nice texture - do not over process.

Taste for seasonings. If you desire a richer sauce - add sesame oil or roasted peanut oil by the teaspoon.
Notes
* Toast sesame seeds in a small skillet over low heat, stirring until golden, remove to a small bowl. 
SERVING SUGGESTIONS: Serve an accompaniment to sautéed or grilled tofu, chicken, fish, vegan proteins and vegetables. Makes all taste wonderful!
Store the sauce in a clean glass jar and refrigerate for up to 3 weeks. 
This recipe may not be reproduced without the consent of its author, Karen Sheer.
Nutrition Facts
Karen's Ginger-Sesame Sauce
Amount per Serving
% Daily Value*
* Percent Daily Values are based on a 2000 calorie diet.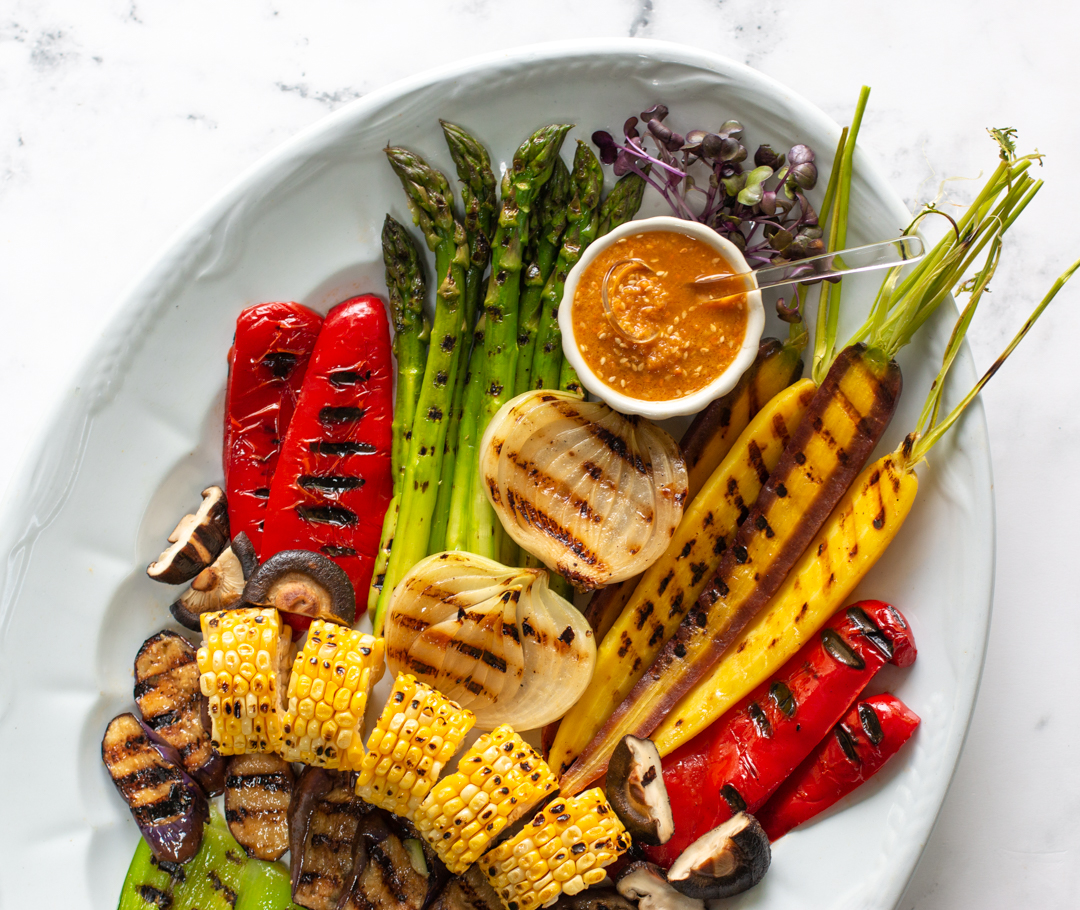 Karen Sheer