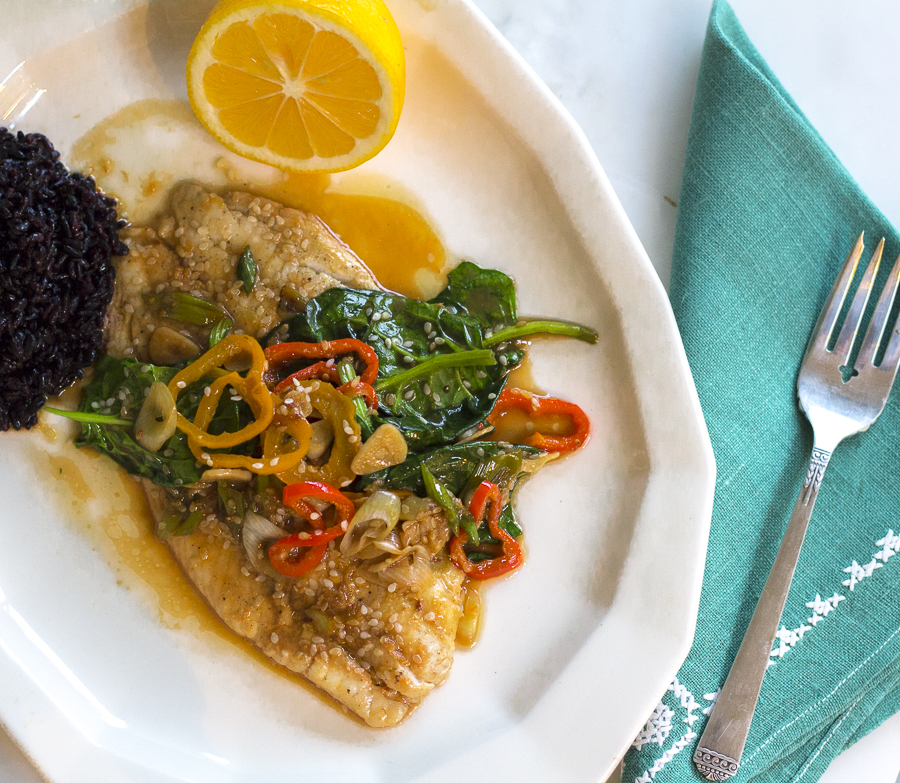 Sizzling Flounder with Soy, Lemon and Sesame
To commemorate Chinese New Year, I am sharing one of my all-time favorite recipes: Sizzling Flounder. Simple Asian flavors surround this healthy, light and delicious dish – a must try for my readers.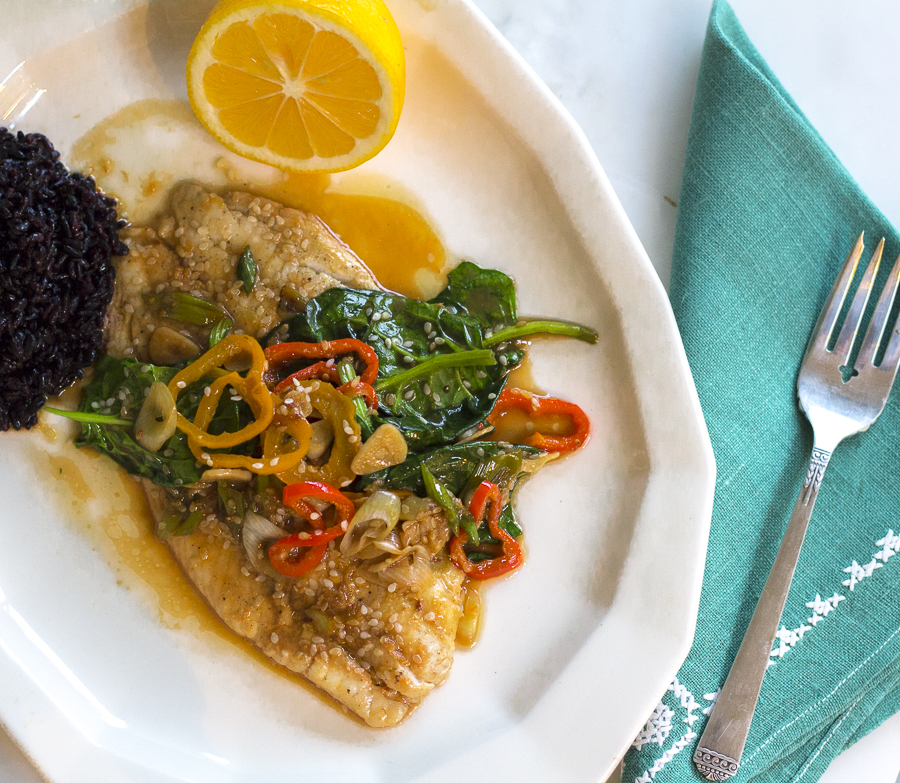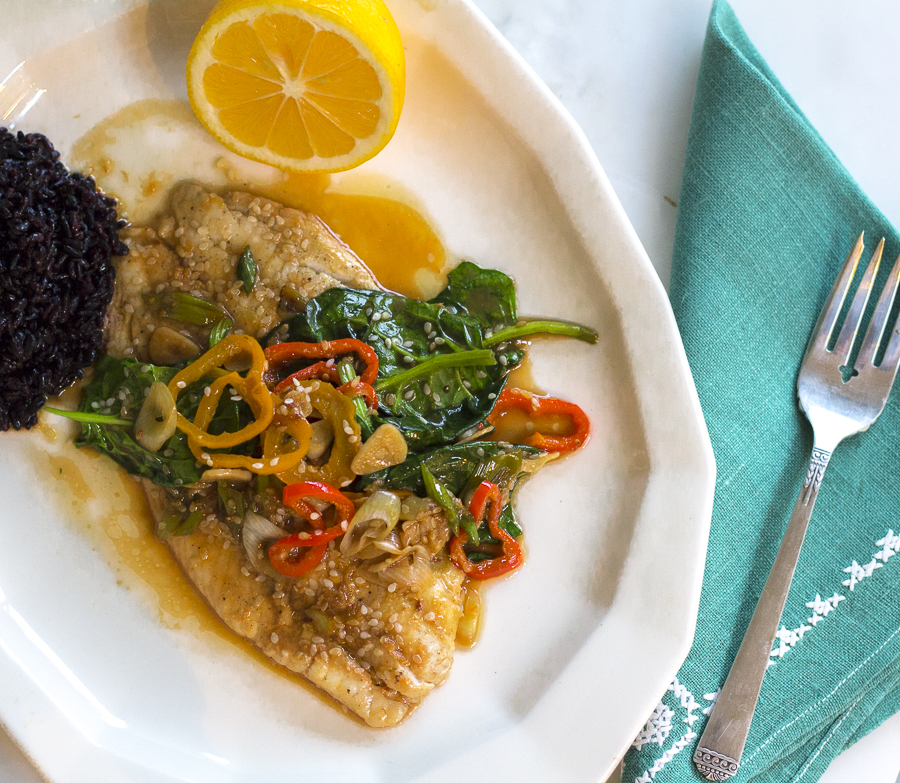 Ingredients
4 large flounder fillets, washed and dried, about 6 ounces each
2 tablespoon sesame seeds, toasted, divided
¼ teaspoon salt and pepper
1 teaspoon lemon rind, grated fine
½ cup vegetable broth, or chicken broth
4 large scallions, sliced thinly
½ cup multi colored peppers, thinly sliced (can use baby peppers, slice in rings)
1 tablespoon peanut oil
5 cloves garlic, thinly sliced
2 tablespoons fresh ginger, minced
⅛ teaspoon hot pepper flakes (a little more if you like spicy)
1 cup spinach leaves, washed and dried
¼ cup fresh lemon juice
3 tablespoons soy sauce, I use tamari sauce*
2 tablespoons sesame oil
Instructions
1
Season the fish fillets evenly with salt and pepper, 1 T. sesame seeds and lemon rind.
Put 1/2 cup of broth in a 12″ skillet (or one to hold the four fillets), and bring to a boil. Place the fish in the pan (the broth will not cover the fish ), cover it and poach over a bare simmer until it just flakes, about 5 minutes until just firm, do not over cook.
2
With a slotted spatula, remove the fish to a platter (or baking dish if you want to gently reheat the fish), reserving the broth. You will have have about 1/3 cup of strained broth.
3
In a stick proof skillet, add the peanut oil and over high heat, sauté the peppers, scallion, and 1 T. sesame seeds. Cook for only 2 minutes, until tender-crisp, then add the spinach. Keep stirring until the spinach has just wilted. Turn the heat down to low and add the garlic, ginger and hot pepper flakes, stir one minute to blend the flavors.
4
Add to the skillet: lemon juice, soy sauce, and the 1/3 cup reserved broth. Simmer for just one minute. Pour over the fish and set aside.
When ready to serve the fish:
Heat the sesame oil in a small skillet until almost smoking, then immediately pour over the fish. Will sizzle!
What makes the sauce "sizzle" is the hot oil contacting the lemon – soy broth.
5
* tamari sauce has a richer, milder, more complex taste than regular soy sauce.
6
For a Gluten-Free recipe: choose gluten-free tamari sauce – the rest of the ingredients are naturally gluten-free.
Use organic ingredients –
See BLOG for photos, I have used: Organic Toasted Sesame Oil, Expeller Pressed Roasted Peanut Oil (much richer labor then regular peanut oil), and Gluten- Free Tamari Sauce (can use soy sauce too.)
This recipe may not be reproduced without consent of its author, Karen Sheer
Karen Sheer