Pistachio Crusted Branzino with Grapefruit Salad
A Restaurant Quality meal you can make at home!
Featuring Pistachio Crusted Fish with a Grapefruit-Butter Sauce and Composed Grapefruit Salad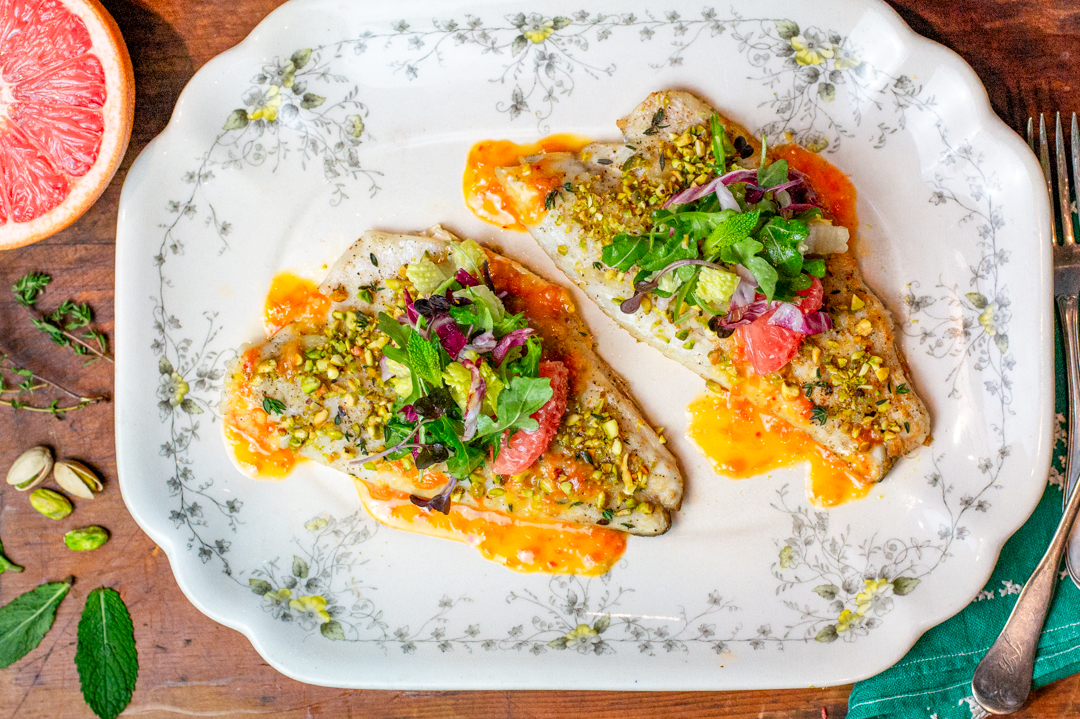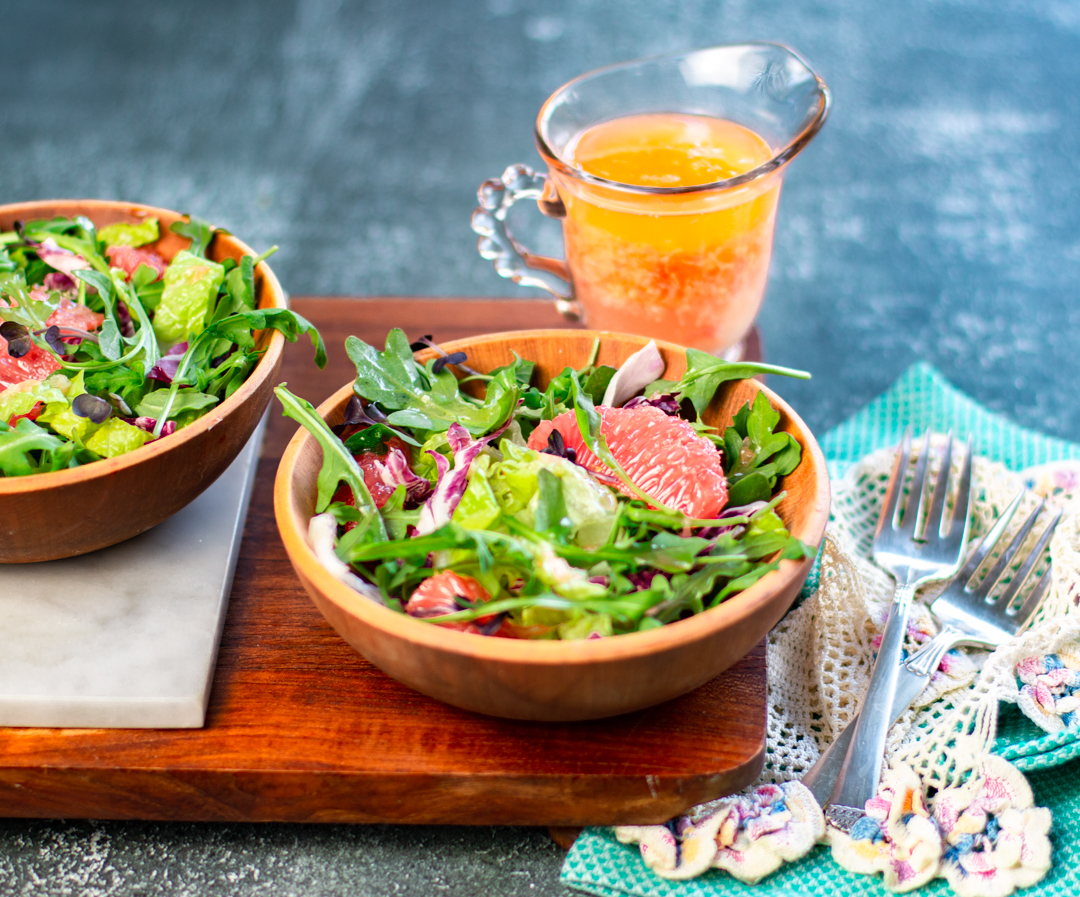 Try it on top of the pistachio-crusted fish.. or by itself!
"Suprême" refers to the classic culinary technique of removing the flesh of citrus from the pith ~ the layers in between citrus segments.
Cut away the grapefruit peel with a small sharp knife to serrated knife. Go a layer deeper and remove all white pith, revealing  just the ruby red grapefruit. Next, cut between each membrane section to release the grapefruit segment. Place each segment on a plate and continue with all segments. Each grapefruit is unique ~ I had 11 segments. 
Beurre Blanc:
Somewhere in the early 20th century a chef by the name of Clémence Lefeuvre, in a village nearby Nantes, France, was supposedly making a béarnaise sauce for fish. Somehow she forgot to include the eggs and serendipitously created a beurre blanc. The new sauce was a hit and a classic was born!
The creamy mashed, softened garlic is added to the top of the fillets so the pistachios will adhere and stay in place.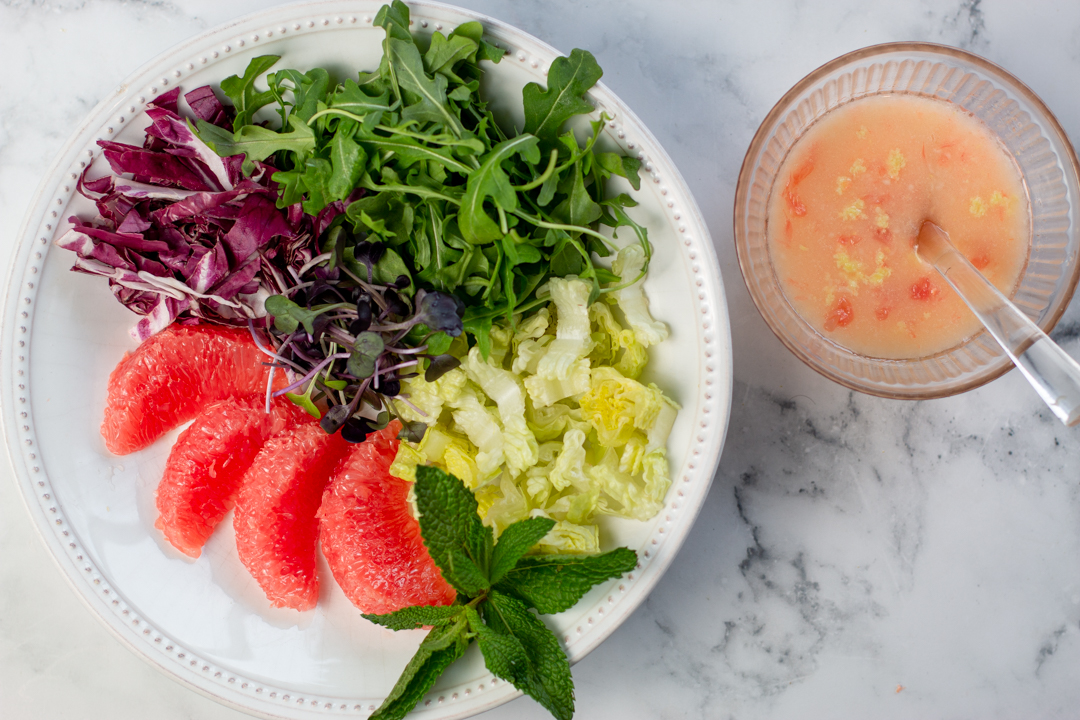 You do not need a culinary degree to make a restaurant-quality meal at home!
Gathering great quality ingredients is a must, and mastering a technique from a well written recipe is a plus.
Fish is a wonderful main course to make – its rewards are pretty immediate – a fish fillet takes only minutes to prepare.
I like to choose accessories like a beautiful vintage platter, colorful plates to set the ambience.
We all "eat with our eyes" ~ so even at home, at mid-week, the dish needs to have some visual appeal!
Colorful ingredients rack up extra nutrition – this dish certainly excels on that front.
Yes – You can use another fish fillet!
Other good choices would be ~ Red Snapper, Black Sea Bass, Striped Bass or Rainbow Trout.
These fishes are firm enough to stand up to grilling in the pan.
See my Category: Zesty Citrus Recipes 

for more exciting, zesty recipes! 
Enjoy this dish, for a weeknight meal or special occasion… maybe Valentine's Day! 🙂
Karen
Pistachio Crusted Branzino with Grapefruit Salad
A Restaurant Quality meal you can make at home! Featuring Pistachio Crusted Fish with a Grapefruit-Butter Sauce, Composed Grapefruit Salad with a Ginger-Grapefruit Vinaigrette. Naturally gluten-free. Easily doubled.
Print Recipe
Pin Recipe
Rate this Recipe
Ingredients
For the Pistachio Crusted Fish:
2

whole

branzino fish fillets

or red snapper* - 3/4 pound

few

pinches

sea salt & freshly cracked pepper

I use Himalayan pink salt

4

cloves

softened garlic

mashed (see recipe below)

2

tablespoons

shelled pistachios

coarsely chopped

1/2

teaspoon

fresh thyme leaves

coarsely chopped

1 1/2

teaspoon

neutral oil

such as safflower oil
Grapefruit Butter Sauce:
2 1/2

tablespoons

cold unsalted butter

divided, I use organic

3/4

teaspoon

fresh grated ginger

1/2

teaspoon

grated or minced garlic

1

big pinch

red pepper flakes

I use Szechuan chili flakes

3

tablespoons

red grapefruit juice

freshly squeezed

1/4

teaspoon

pure cane sugar

1/8

teaspoon

sea salt

I use Himalayan pink salt
Instructions
Start the Grapefruit Butter Sauce:
Start with the butter sauce ~ Melt 1 tablespoon butter in a small non-reactive 1 cup heavy pot. Add ginger, garlic and chili flakes. Bring to a simmer and turn off to blend flavors. (Will finish sauce after fish cooks.)
Pistachio Crusted Fish:
Salt and pepper both sides of the fillet. Leave to stand 20 minutes at room temperature (helps so the fish does not curl while cooking.)Add 1 1/2 teaspoons oil to a skillet and raise heat to medium- high. Add fish, skin side UP and cook one minute until a touch golden.

Turn the fillets over, press down with spatula for a few seconds so the fish does not curl.

Quickly add the mashed softened garlic - and smooth over both fillets. Top evenly with pistachios and press down to adhere. Sprinkle thyme on top.

Cook until the fish is firm and cooked through, about 4 minutes. I did not need to cover as the fish was not too thick.
Finish Grapefruit Butter Sauce:
Heat the butter sauce in the pot, bring to a simmer. Add the grapefruit juice, sugar and sea salt. Reduce over low-medium heat until reduced by half.

Take off heat - add the remaining 1 1/2 tablespoons cold butter and swirl in with a fork. Taste for seasonings.
Finish and Enjoy:
Place each fillet on a dinner plate. Pour butter sauce a bit on top and around.

Top with a supreme grapefruit slice - or top with a portion of my Grapefruit Salad with Ginger-Grapefruit Vinaigrette.
Nutrition Facts
Pistachio Crusted Branzino with Grapefruit Salad
Amount per Serving
% Daily Value*
* Percent Daily Values are based on a 2000 calorie diet.
Karen Sheer