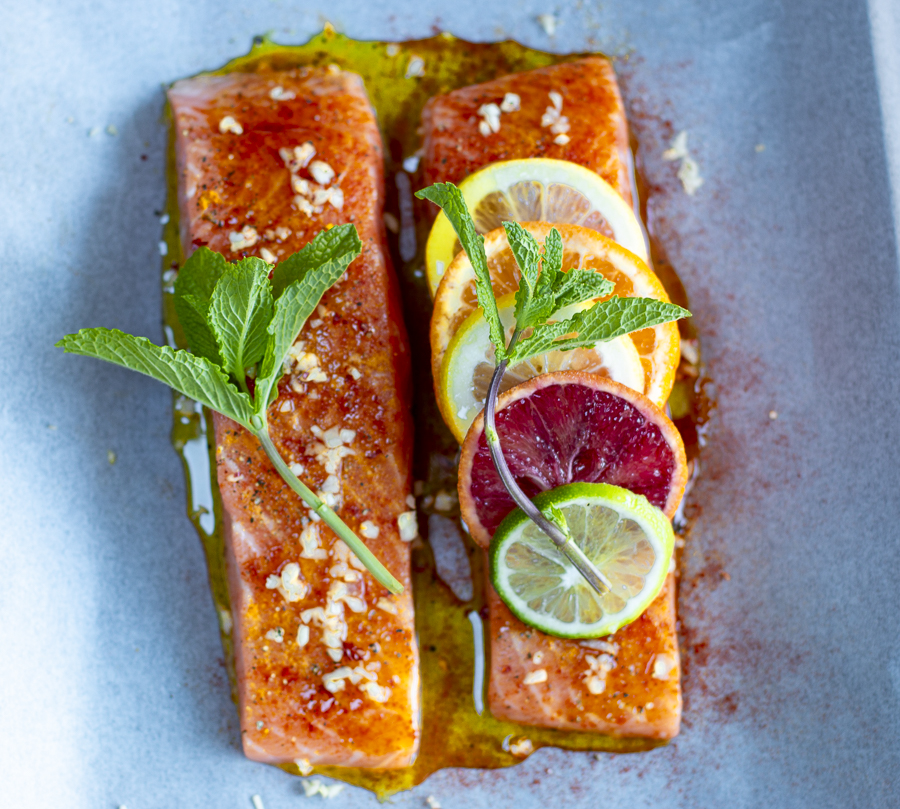 Salmon in Parchment with Multi-Citrus Salsa
It's Citrus Season! Slow cooked Salmon with a Tart & Zesty Multi-Citrus Salsa is an easy meal cooked in a Parchment Package. Produces tender salmon with a sauce baked in.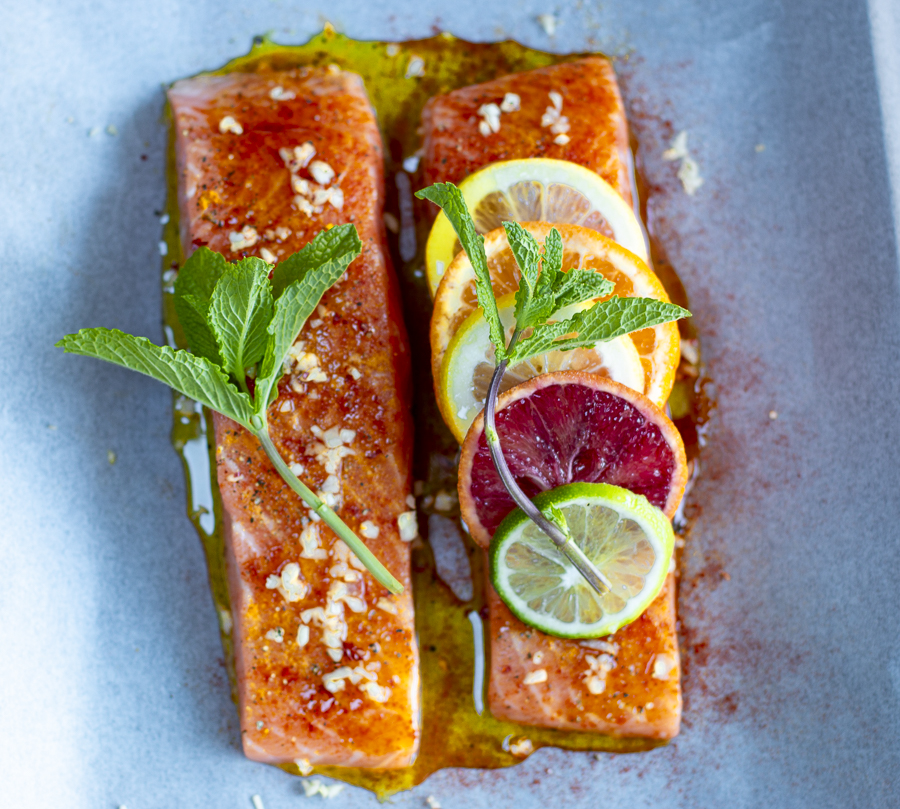 Fresh Mint offers a bright, fresh flavor!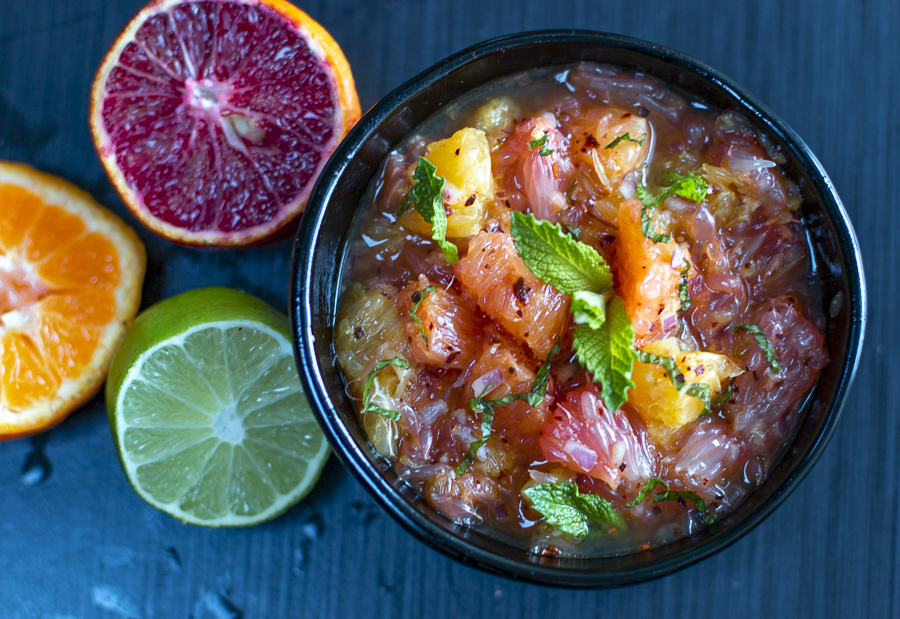 A seriously easy recipe ~ I've laid out all the steps how to create a parchment package with seasoned salmon, citrus slices and fresh mint sprigs. And – easy clean-up!

Winter is the time for fragrant, juicy, vibrant citrus — now at their peak.
I choose a variety to blend the complex flavors.
For the Citrus Salsa I'm using Honeybell Tangelos (close to minneolas), Pink Ruby Grapefruit and Blood Oranges for their burst of deep magenta color and extra natural sweetness.
The citrus is cut into segments, then coarsely chopped with a minimum of ingredients; a touch of honey, garlic, red onion, fresh mint and aleppo pepper for heat.
MINT Pairs wonderfully with citrus!
A bunch of mint can brighten flavors year-round, and especially in the winter months. Mint's infusion of rich, fragrant and flavorful notes adds a burst of refreshment to citrus and this Citrus Salsa!
Mint is used medicinally to aid digestion and relieve indigestion. I'm a big tea drinker, and love a cup of mint tea drinking a cup of peppermint tea after your meal may help.
Peppermint contains 40% menthol while spearmint contains less than 1% menthol. This means peppermint is going to have a more intense "minty" flavor that spearmint.
There are over 600 varieties of mint ~ peppermint is the most common one you see in grocery stores. Pineapple Mint and Chocolate Mint are varieties I search for when planting my herb garden.
These flavors and fragrances don't last long and is why I chop and add them to the dish just before serving.
Cooking "en papillote" doesn't have to be a fancy method of cooking reserved just for fussy entertaining.
It's great for weekday meals, especially since the clean up is a breeze.
Food is simply enclosed in a packet of parchment paper and then cooked in the oven.
Aleppo pepper has a moderate heat level of about 10,000 on the Scoville scale, with some fruitiness and mild, cumin-like undertones.
Enjoy this wonderful recipe,
Karen
Salmon in Parchment with Multi-Citrus Salsa
It's Citrus Season! Slow cooked Salmon with a Tart & Zesty Multi-Citrus Salsa is an easy meal cooked in a Parchment Package. Produces tender salmon with a sauce baked in.
Print Recipe
Pin Recipe
Rate this Recipe
Ingredients
2

pounds

salmon fillet

skin removed

4

teaspoons

extra virgin olive oil

1/2

teaspoon

smoked paprika

1/4

teaspoon

turmeric

1/4

teaspoon

 cracked black pepper

1

teaspoon

fresh garlic

peeled and minced

1/4

teaspoon

sea salt

20

thin slices

citrus

(see note)

2

tablespoons

citrus juice

 (will have from Multi Citrus Recipe)

4

stems

fresh mint

1

recipe

Multi-Citrus Salsa
Instructions
Preheat oven to 300 degrees. Make 2 parchment packets – 2 pieces of salmon in each.(If serving for a party, can make 4 packets to present to each guest.) Cut 2 pieces of parchment paper – 17″ wide (the roll width) x 17″ long. Season the salmon with seasonings; smoked paprika, turmeric, cracked black pepper and sea salt.

Place the paper on a rimmed sheet pan, place 2 seasoned salmon pieces in the center. Top the fish with a portion of minced garlic and 2 teaspoons of olive oil. Drizzle 1 tablespoon of citrus juice in each packet. Add and 5 slices of citrus in a row on each. Repeat with the other 2 pieces of salmon, making another packet.

Top each piece of salmon with 5 citrus slices and a stem of mint. Bring up the edges of parchment and fold over to enclose, tuck in the sides to create a packet, repeat with the other.

Cook the fish, in a slow 300 degree oven; 2 packets on each rimmed tray for 15 minutes, until just cooked through. Timing will depend on the thickness of your fish. Can peak inside a packet, and feel the salmon – should be just firm. The fish will continue to cook out of the oven, especially in it's parchment package if not opened immediately.

Remove from the oven. To serve, open the packets and place the salmon and all its juices on individual plates. Top with a portion of Multi Citrus Salsa and garnish with small mint leaves.

Citrus Slices: You will need 20 thin slices of citrus; 5 slices on each piece of salmon. I used: blood orange (gorgeous color & sweet!), lemon, limes and clementines. Use what you like or have on hand.
Notes
Multi-Citrus Salsa (see recipe) 
This recipe may not be reproduced without the consent of its author, Karen Sheer.
Nutrition Facts
Salmon in Parchment with Multi-Citrus Salsa
Amount per Serving
% Daily Value*
* Percent Daily Values are based on a 2000 calorie diet.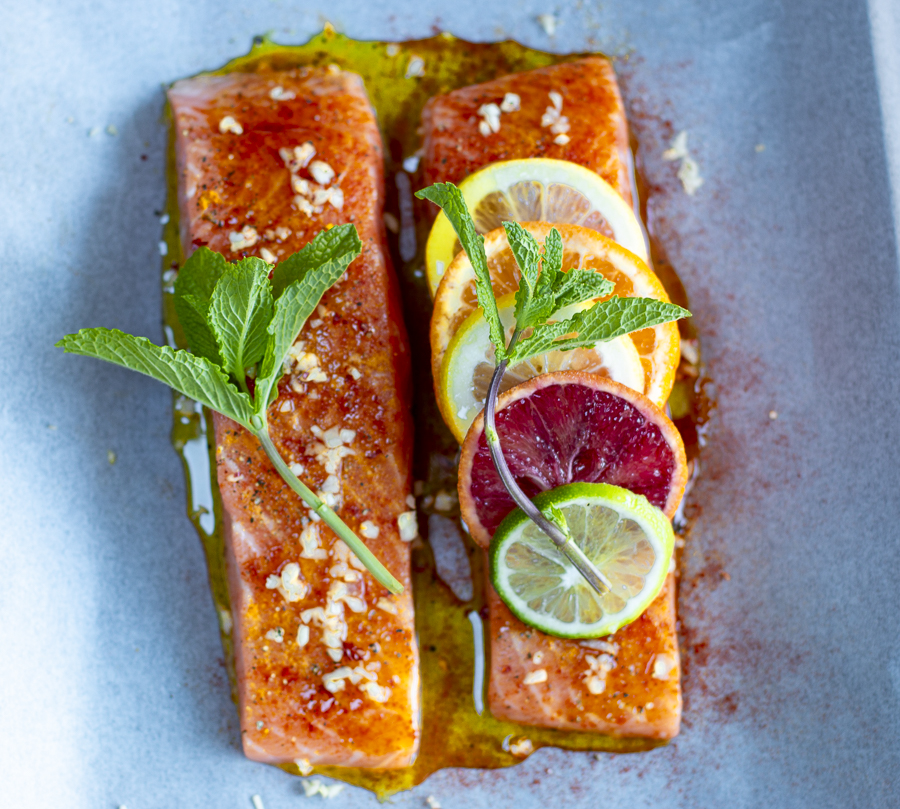 Karen Sheer