Fabulous Fattoush ~ A Middle Eastern Salad with Vegetables and Toasted Bread
There is nothing better than a Fattoush Salad in Summer with seasonal, glistening vegetables! Pita bread is toasted in the oven with olive oil and Za'atar seasoning and tossed into the salad. Finish with a Zesty Lemony Sumac Dressing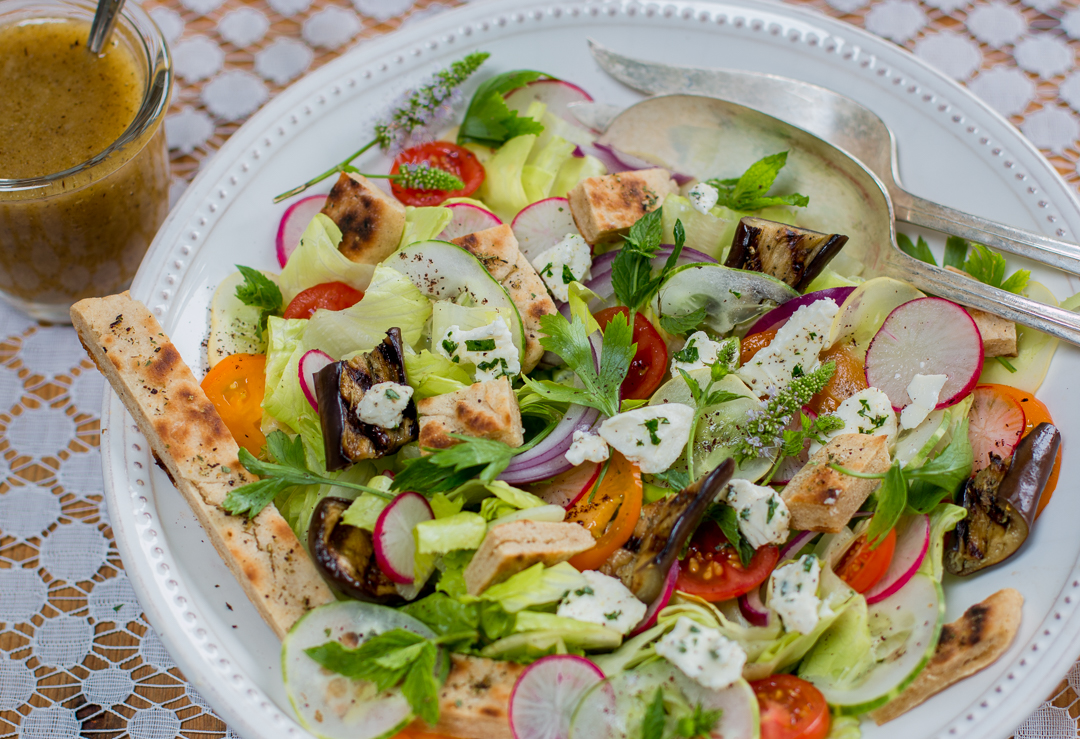 This is a  wonderfully, healthy salad you can tailor to your taste… toss in fresh farmers' market seasonal ingredients and make it your own!
Ingredients
4 cups romaine lettuce, use the hearts if desired
½ cup fresh radishes, very thinly sliced
½ cup cucumbers, very thinly sliced (I used Persian cucumbers & White cucumbers)
1 cup summer tomatoes, use different colors, some sliced, some in wedges
¼ cup fresh parsley, tender leaves and stems
¼ cup fresh mint, small leaves
¼ cup red onion, or red scallion, very thinly sliced
1 cup grilled baby eggplant, sliced 1″ pieces (optional)
½ cup feta cheese, (I used an Israeli type) crumbled or sliced
2 medium fresh pita breads, cut or torn into 1″ pieces
2 teaspoons extra virgin olive oil, (extra for the eggplant)
2 teaspoons Za'atar seasoning* (see note)
1 recipe Zesty Sumac & Lemon Dressing
Instructions
1
Salad Overview:
Wash Lettuce. Clean and slice vegetables.
Grill eggplant if using, cool
Make Pita Croutons.
Make Salad dressing.
2
Eggplant:
Slice to medium, slender eggplants in half. Brush liberally with extra virgin olive oil, season with salt & pepper.
Grill over medium heat until strong grill marks form. Turn over with tongs, turn heat down to low.
Cook until the flesh is tender. remove to a plate. Toss in 1 teaspoon of Za'atar seasoning. Add a drizzle of olive oil if desired.
Cool. Cut into 1″ pieces.
3
Pita Croutons: (Can use a rustic bread if preferred.)
Preheat oven to 375 degrees.
Cut pita into 1 1/2″ pieces, add to a rimmed baking sheet to hold.
Drizzle in 2 teaspoons of extra virgin olive oil, run in well. Toss with 1 teaspoon Za'atar seasoning.
Bake in oven about 5 minutes until the edges are golden, but not too crisp inside. Set aside.
4
Make the Zesty Lemon – Sumac Dressing (can be made a head of time.)
5
Final Salad:
Wash and dry the lettuce. Trim ends, cut each in 1/4/s lengthwise, then slice a 1″ wide.
Place in a large bowl.
Add radishes, cucumbers, parsley and mint.
Top with eggplant, pita croutons and finally feta cheese.
Drizzle dressing all around and mix in. Let the dressing sit for a few minutes to distribute its flavor.
Sprinkle with extra Sumac seasoning if desired. (Has a nice tart flavor and pretty color.)
Serve and enjoy!
6
*Za'atar Seasoning is an intensely aromatic and ancient spice blend and condiment with eastern Mediterranean spices. Fabulous rubbed into poultry, mix with olive oil for a delicious spread – use with bread, dips, hummus, vegetables, meat, salad dressings and salad.Try my recipe, or purchase in a better grocery store.
See BLOG for many more photos and information.
This recipe may not be reproduced without the consent of its author, Karen Sheer.
Karen Sheer