Skillet Chili-Shrimp and Blackened Green Beans with Blood Orange Butter Sauce
A Simple Skillet Dish with Big ZESTY Flavors – perfect for a weeknight meal, special enough for company.
Who doesn't love a quick Shrimp Sauté?
This dish boasts tons of flavor with Chili Seasoning, Blackened Green Beans and a delectable French Style Butter sauce a-la "beurre blanc."
BUT lighter…lightened-up with just a few tablespoons of butter.. not sticks!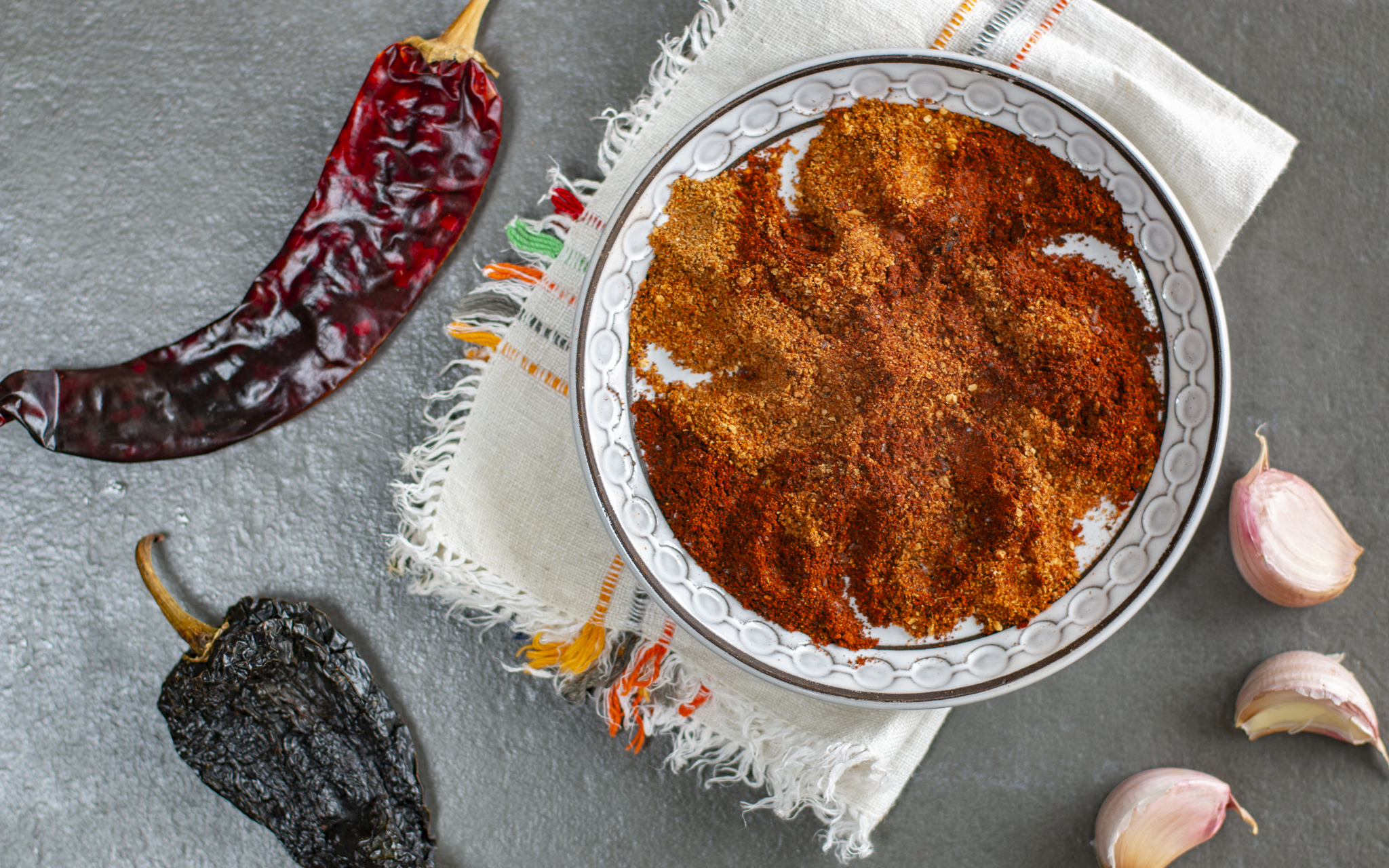 Use the kick of chili peppers with complementary spices to create a lively, brightly colored blend –  salt free.
Mildy spicy ~ you grind it fresh ~ better than stir-bought!
A Blend of Guindilla Chiles, Pasilla Negro Chiles and spices – simply ground in a spice grinder or clean coffee bean grinder with easy to find chiles.
Used as a spice to add pungency or piquancy and flavor to many dishes.
Super- simple! Cut a blood orange in half, heat in microwave one minute, cool slightly and squeeze the juice – you will use 1/4 cup.
Blood Oranges, compared to navel oranges taste less acidic, slightly sweeter, and have hints of raspberry and strawberry. They are in season in winter and early spring, from about December through April.
I can not resist the juice of these bright colored blood oranges with their fiery deep crimson color and just tart enough essence.
Blood oranges are full of anthocyanins, a type of antioxidant. These are the pigments that give them their dark red color. And – another benefit is its high dose of the vitamin C and its ability to shore up your immune system. "Moro" is  most popular variety sold in the US ~ a common orange variety grown since the 18th century in the Mediterranean; notably Sicily.
How to pick a good one?
Choose one that is heavy for its size – has more water content, a sign that it is juicy.
I'm using jumbo shrimp ~ 10 -12 size… that's 10 – 12 per pound. A luxury – sweet, glossy and meaty.
If using smaller shrimp – watch cooking time so they are not overcooked; shrimp cooks quite quickly.
Beurre Blanc:
I have re-imagined this classic French sauce.
All the flavor with a fraction of the butter… fat!
This thick, rich, creamy sauce is made with a reduction of white wine, shallots, garlic and freshly squeezed blood orange juice – with cold butter swirled in until emulsified.
It has a slightly sweet, tangy flavor that goes especially well with poached fish, shellfish, and asparagus. This versatile sauce was popularized in the 1960s and 1970s by French chefs looking to brighten up their dishes with tart sauces instead of more traditional, roux-heavy sauces.
While there are many theories about its origin, the most popular one suggests that it was invented in the early 20th century by chef Clémence Lefeuvre in a small village near the city of Nantes in France, when she forgot to put eggs into the Béarnaise sauce she was making for fish. The new sauce was a hit with her customers, and the classic beurre blanc was born.
Rich with butter, traditionally beurre blanc is similar to hollandaise. But unlike hollandaise, it classically starts with a heady blend of dry white wine, vinegar and shallot. These acidic ingredients contribute to the sauce in two ways: they help hold the emulsion together, and they give the pale yellow sauce a distinctive flavor.
In my recipe ~ 3 tablespoons are added to the reduction… that's all, and does create creamy, rich sauce without sticks of butter. Lightened-up, delicious, zesty and velvety.
Give this recipe a whirl in your kitchen – your new favorite one skillet dish!
Karen
Skillet Chili-Shrimp and Blackened Green Beans with Blood Orange Butter Sauce
Simple Skillet Dish with Big ZESTY Flavors - perfect for a weeknight meal, special enough for company.
Print Recipe
Pin Recipe
Rate this Recipe
Ingredients
1

pound

jumbo shrimp

I used 10-12 size

2

teaspoons

Karen's Homemade Chili Powder (mildly spicy)

(see recipe) or your favorite chili seasoning

1/2

pound

fresh green beans

washed, dried; ends snipped

1

teaspoon

neutral oil

such as expeller pressed safflower oil

2

teaspoons

unsalted butter

I use organic

2

teaspoons

fresh garlic

peeled, thinly sliced

2

pinches

salt & pepper

1/4

cup

dry white wine

1/4

cup

blood orange juice

(1 squeezed fresh)

2

tablespoons

shallots

peeled, minced

1/4

teaspoon

hot chili flakes

3

tablespoons

COLD unsalted butter
Instructions
Sauté Green Beans & Shrimp:
Shell and devein the shrimp. Add to a plate. Add chili powder; mix in - set aside.

Add 1 teaspoon oil to a 11"- 12" non-stick skillet, raise heat to medium-high. When hot, add green beans - let develop some color, then toss. Cook until tender-crisp and slightly blackened - remove to a clean plate.

Add 2 teaspoons butter. Add shrimp AND garlic, sauté until golden on first side, turn over with tongs and cook on the second side just until golden - Shrimp will NOT be fully cooked at this step. Season with a big pinch of salt & pepper.
Make the sauce in the skillet:
Push the shrimp to a side of the pan, add white wine, blood orange juice, shallots and chili flakes to the skillet. Cook over medium- low heat and reduce the liquid by half. Remove from heat, cool down one minute.

Cut the cold butter into tablespoons - and add the first tablespoon into the reduction with a fork - swirl to melt and incorporate. Finish the sauce with the last 2 tablespoons, one at a time. (Add more butter by the tablespoon if you like for a richer sauce.)

Add the shrimp and green beans into the sauce in the skillet and toss to warm all through. Taste for seasonings. Add more chili seasoning to taste.

Serve on a large platter or individual plates.

Garnish with chopped parsley and blood orange slices if you like.
Nutrition Facts
Skillet Chili-Shrimp and Blackened Green Beans with Blood Orange Butter Sauce
Amount per Serving
% Daily Value*
* Percent Daily Values are based on a 2000 calorie diet.
Karen Sheer