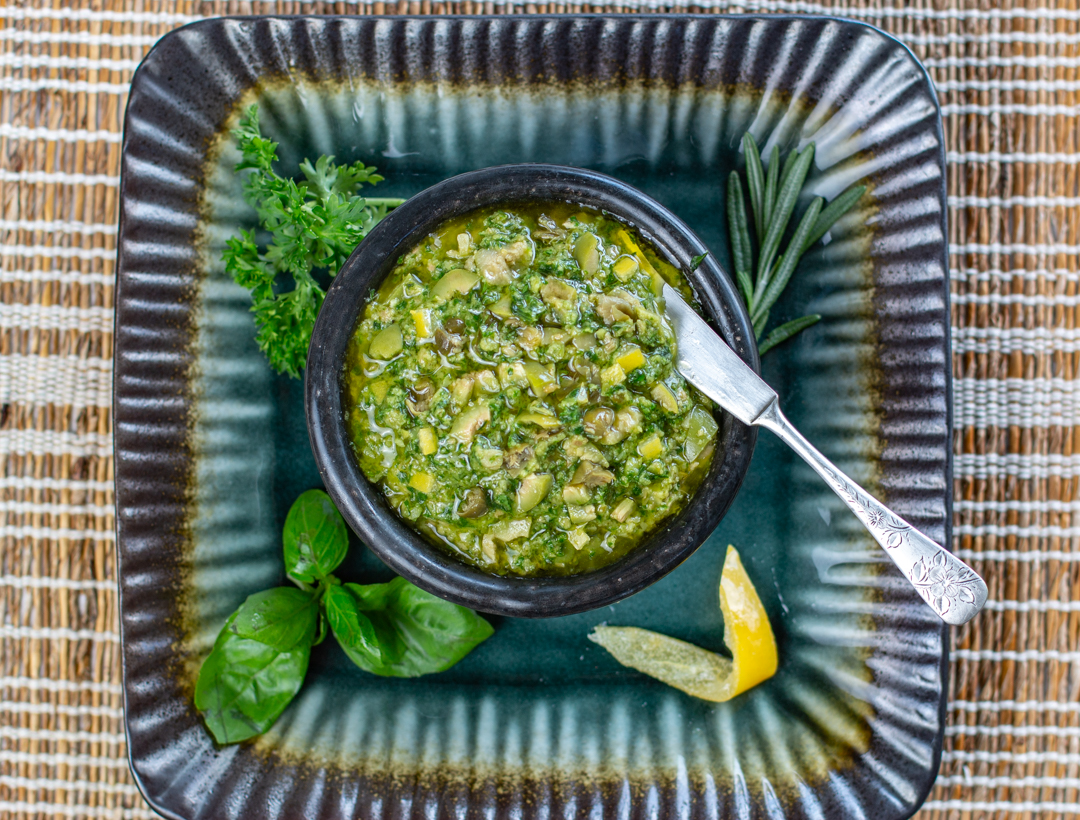 Herbal Olive Tapenade with Preserved Lemons – And What To Do With It
This delicious Mediterranean Tapenade gets a Flavor-Boost from Lots of Green Herbs and Preserved Lemons. A fabulous Condiment to Savor. Serving Suggestions are endless!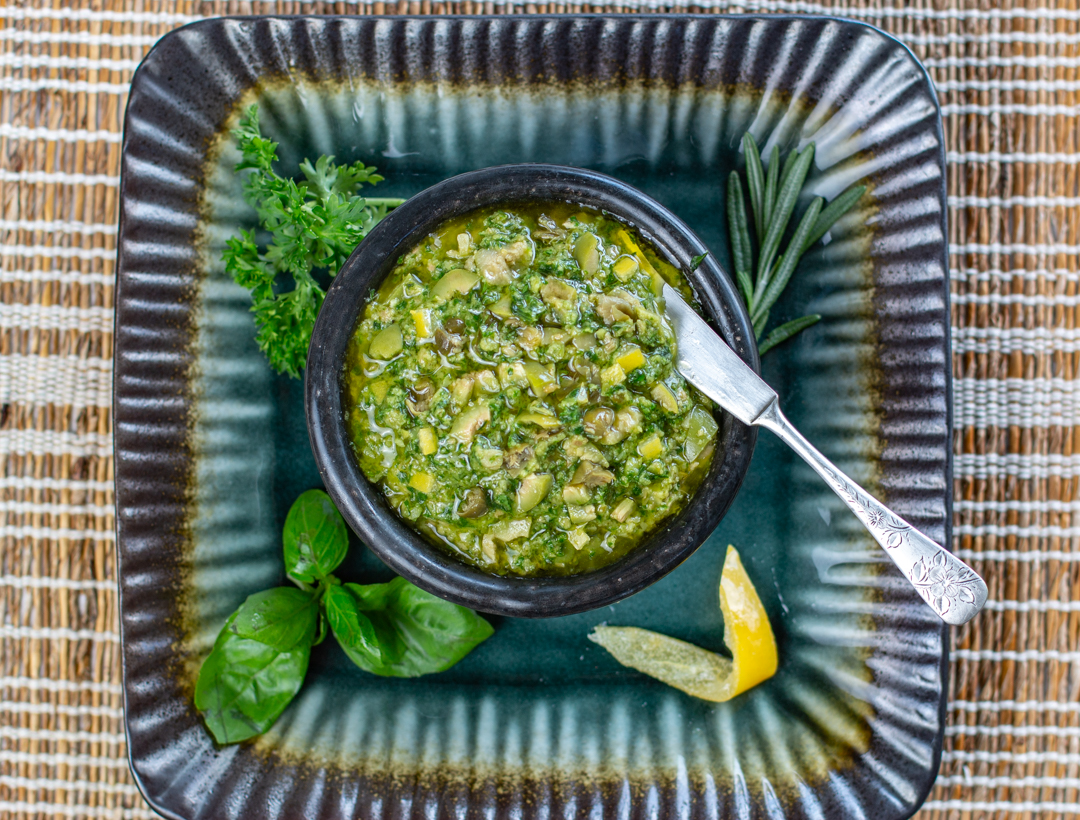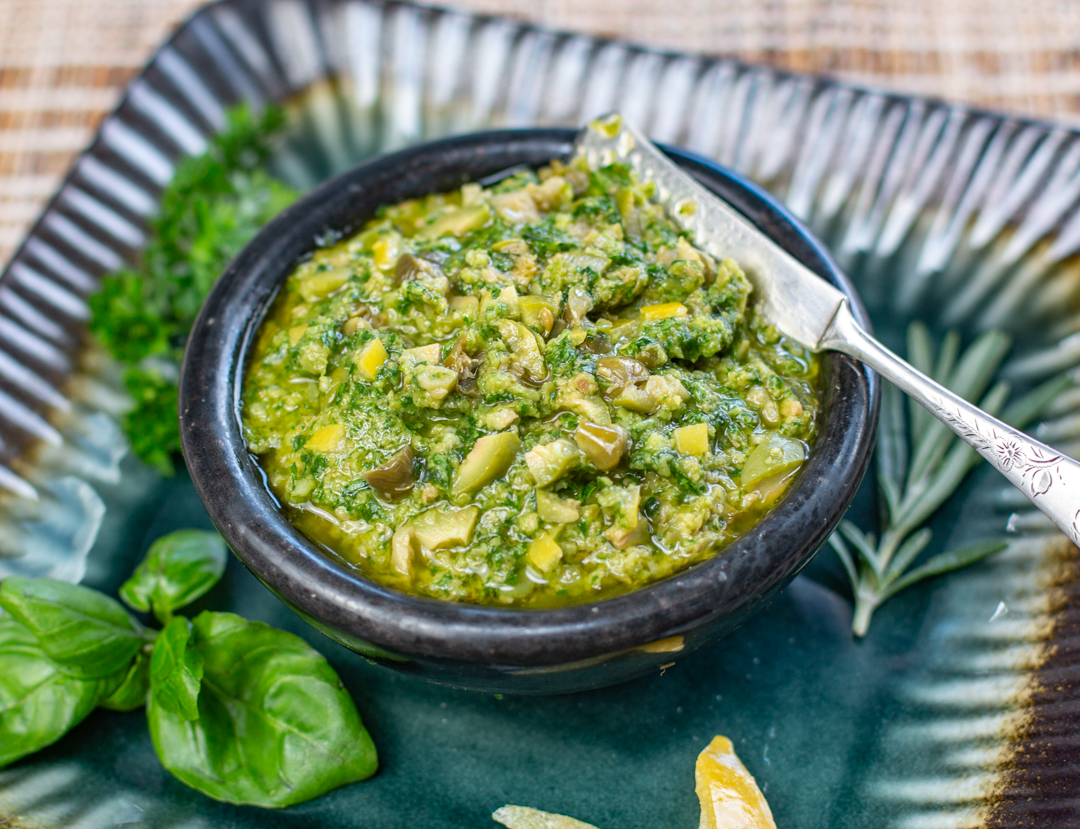 Easy to whip up in the food processor in seconds!
Tapenade is a classic French appetizer and the very essence of Mediterranean flavors, a savory, earthy olive spread with tangy and herbal flavor. It's an olive-based mixture of finely chopped olives and capers, olive oil, fresh garlic and preserved lemons.
Easily whirled in a food processor – or… chop by hand! 
We may think of tapenade as French, but this is a condiment with thousands of years of history and roots all over the Mediterranean. Still, our association of tapenade with the south of France.
Tapenade can be made with black or green olives, each having the distinct flavor of its key ingredient.
Typically anchovy are added, I have not used them, but feel free to do so.
Castelvetrano Olives: from Sicily with a bright green color and meaty texture, they are buttery, rich and delectable olives.
They have a mild, nuanced flavor that's both salty and sweet, making them appealing not only to olive aficionados, but also to those who shy away from stronger, brinier varieties.
Available at gourmet shops and online (purchase in glass jars.)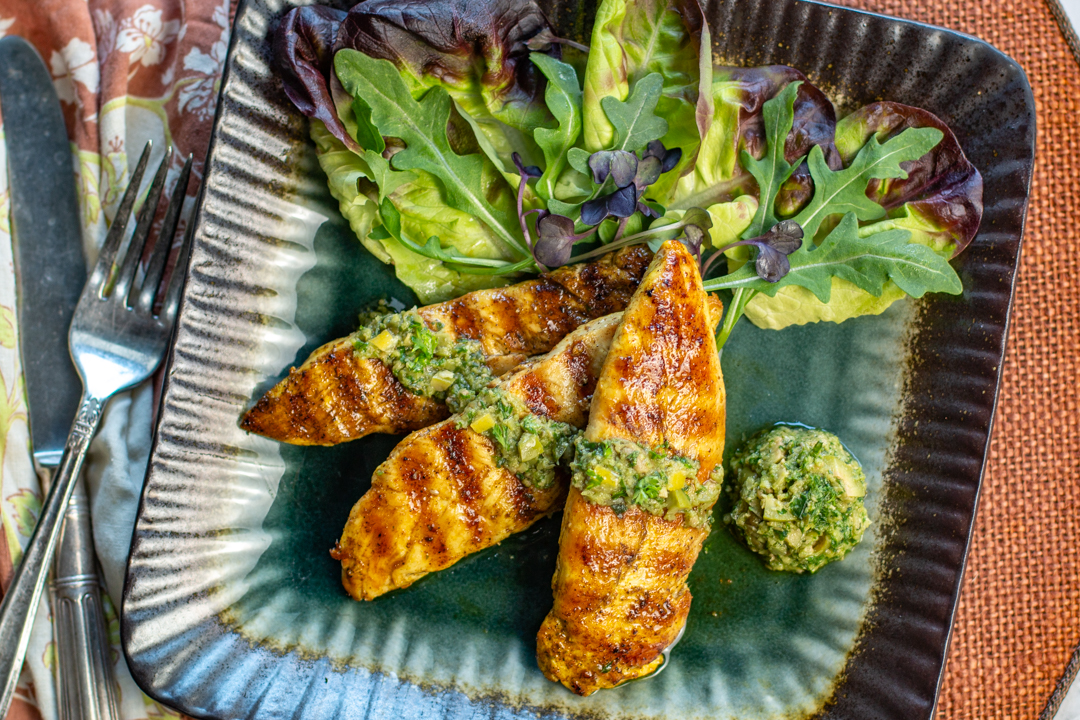 Preserved Lemons are heavenly and perk up all they touch with potent lemon flavor with very mild acidity and a salty tang. Easily found in gourmet shops or online.
See my recipe! Otherwise, add freshly squeezed lemon juice to taste on the recipe.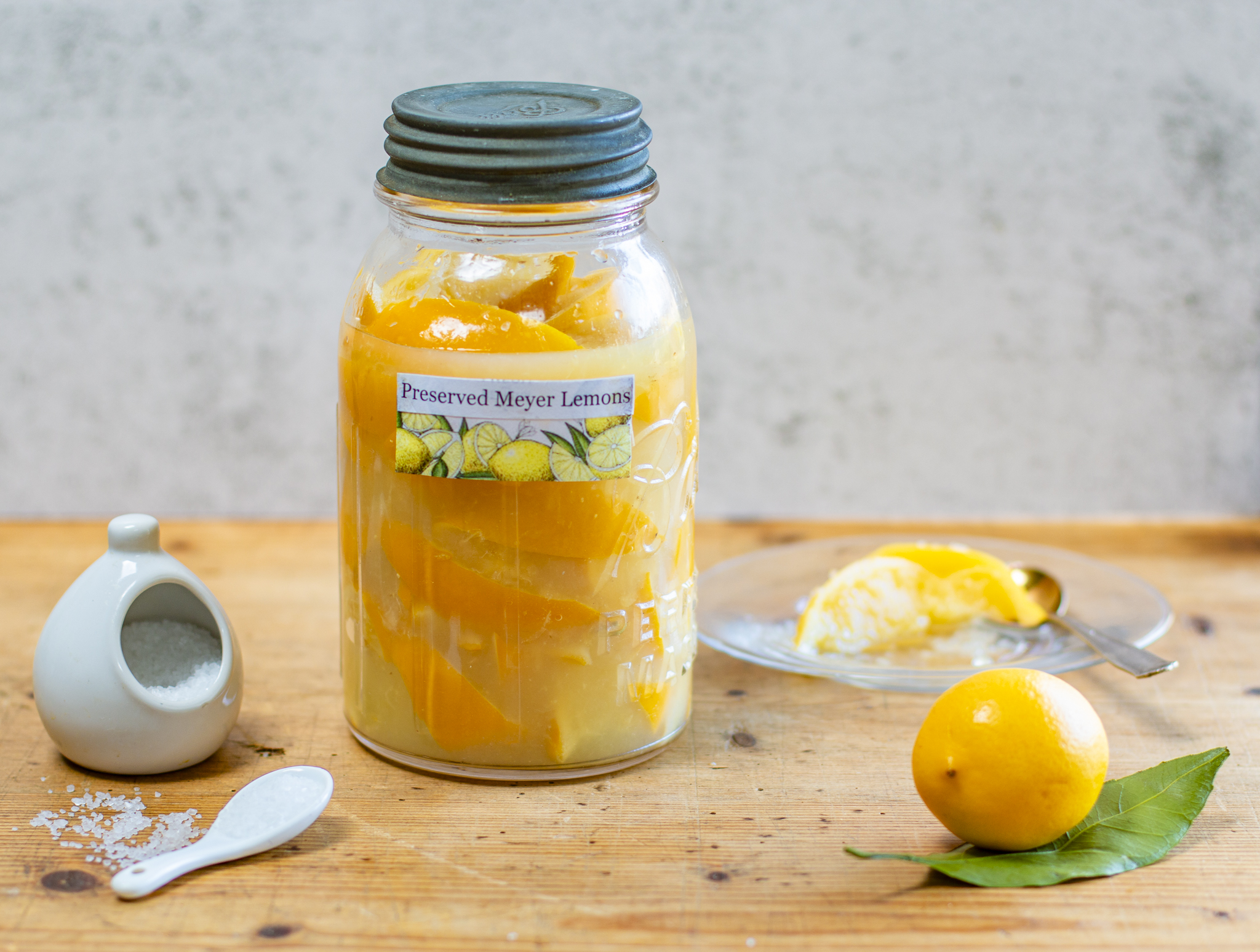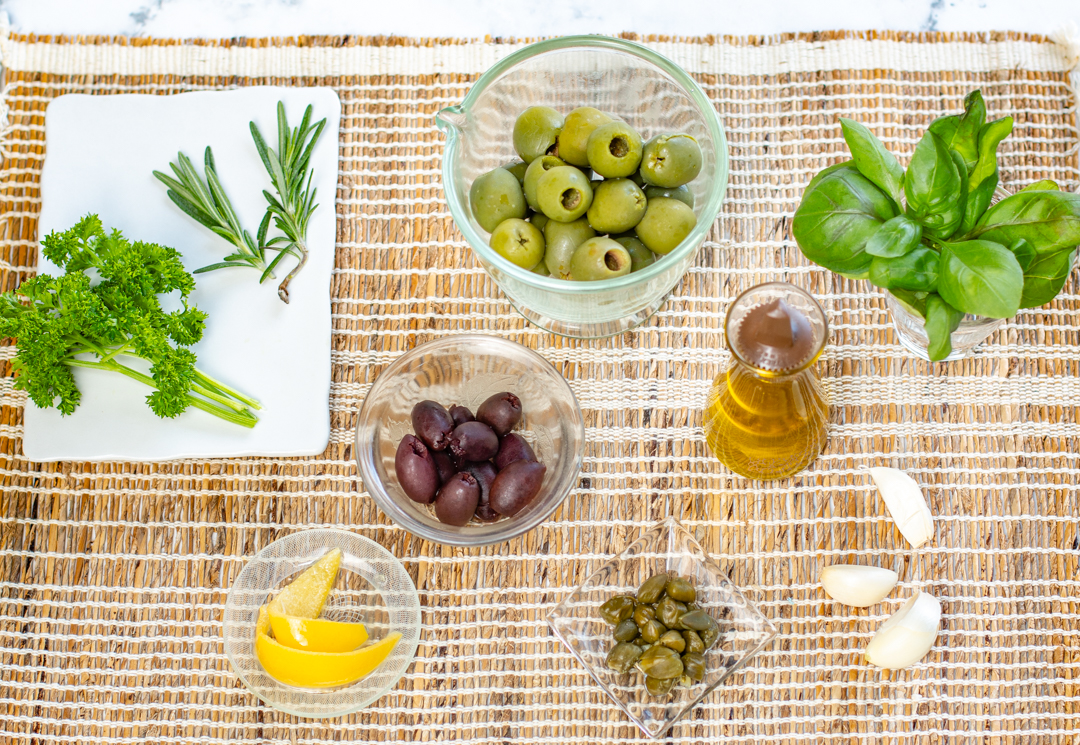 You would think the Tapenade is based on olives… but the word 'tapenade' actually comes from the Provençal word for capers ('tapenos'). Capers are salty, pea-looking buds that come from a shrub found in Mediterranean climates.
While the word and the tradition come from Provence, the first written recording of eating tapenade was made by Italians in the first century AD – certainly the Romans ate a lot of olive-based dishes and it's still prevalent in a lot of Italian cooking!
Endless Possibilities – What to do with Tapenade:
A good swap for Pesto
Makes a fabulous bruschetta ~ add to garlicky-oily toasted thick bread slices – add a basil leaf
Topping for your favorite protein; meat or vegan
Toss into warm pasta; drizzle extra evoo and grate some aged cheese
Serve over salads – such as ripe colorful tomatoes or beets
A great layer in sandwiches; tuna, egg, grilled cheese and grilled vegetables with mozzarella
A topping for warm sliced potatoes.
Quick dinner: spoon over fish fillets with tomatoes, evvo & herbs – bake
Add to hummus for a new flavor twist
Use as a pizza topping… really!
As a dipping sauce ~ add some tapenade to a dish of fruity evoo
Add some spice! Use your favorite fresh or dried chiles
Spoon some into your favorite stew for a flavor boost
Fabulous over a warmed goat cheese log ~ add your favorite crackers or bread
Just made this ~ Add goat cheese in an oval ceramic baking dish; top with tapenade and bake until the goat cheese has just started to melt. 
Condiments are one of the simplest ways to improve the taste of food, without the need for special culinary skills – all condiments are used with the intent of enhancing the flavor of a meal.
And many time the dishes are placed on the table for some extra zip topping.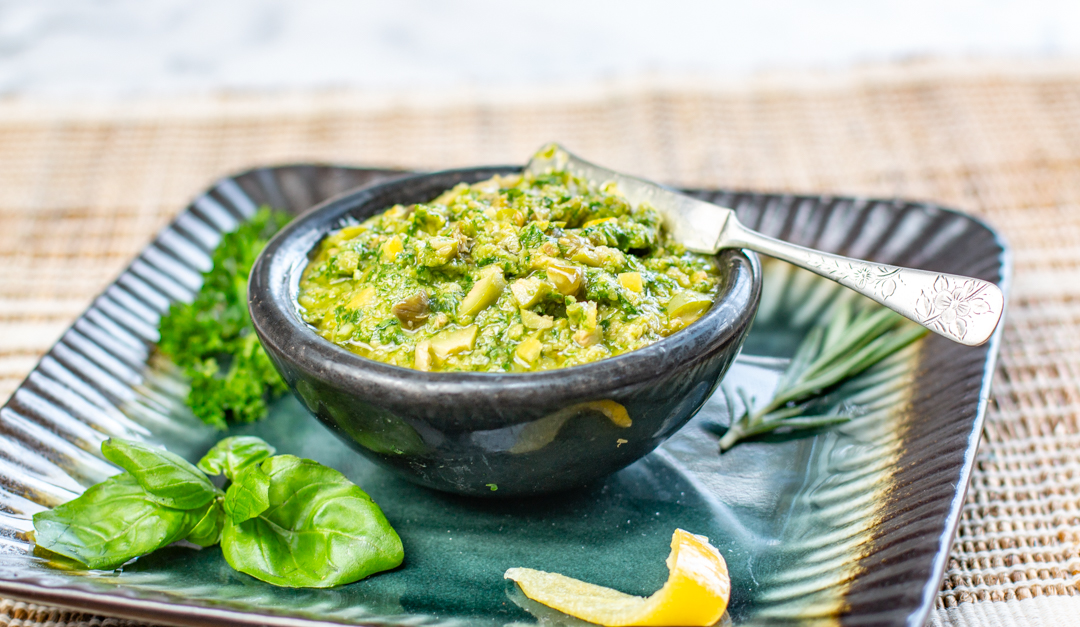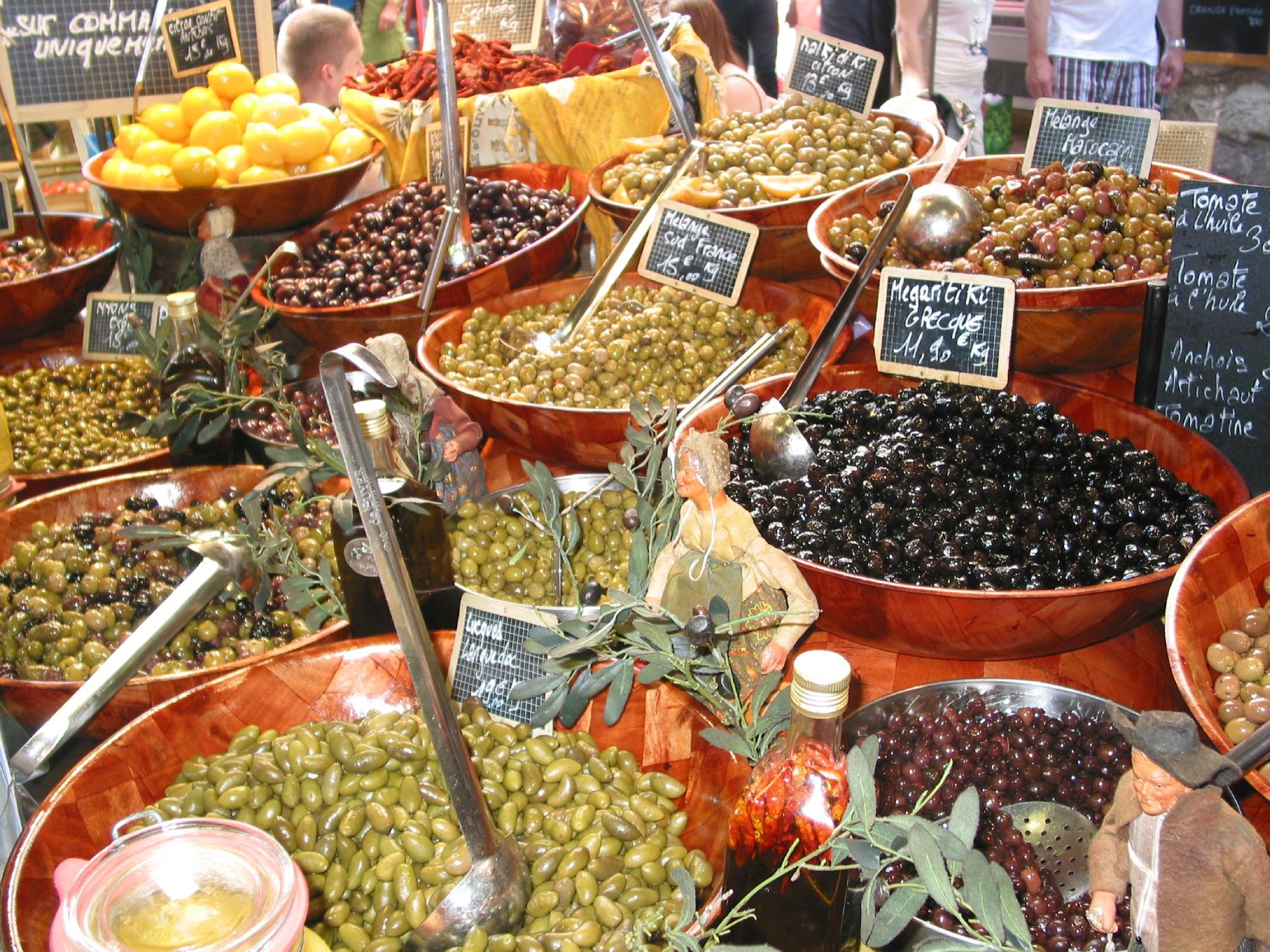 You'll find the most sought-after tapenades around all the major markets in Provence – the Marché Forville in Cannes, the Flower Market in Nice, and the daily market in Place Richelme in Aix-en-Provence. They're a perfect accompaniment to fresh bread and the local rosé wine, which is said to bring out the flavors.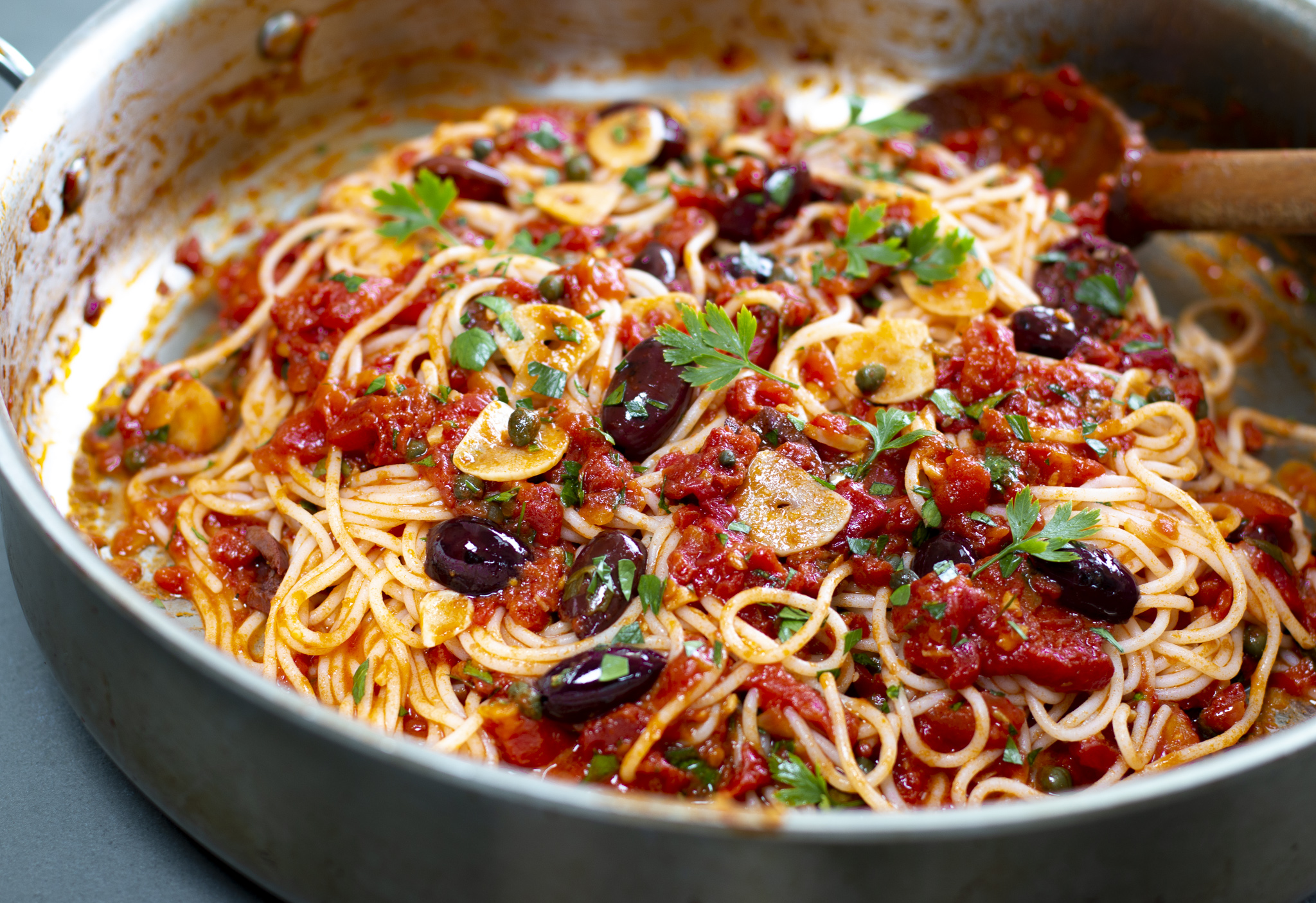 Loving Tapenade… so will you!
Karen
Herbal Green Olive Tapenade with Preserved Lemons
This delicious Mediterranean Tapenade gets a Flavor-Boost from Lots of Green Herbs and Preserved Lemons. A fabulous Condiment to Savor. Serving Suggestions are endless!
Servings:
8
servings; 1 1/4 cup
Print Recipe
Pin Recipe
Rate this Recipe
Ingredients
1

teaspoon

fresh rosemary leaves

2 1/2

teaspoons

fresh garlic

peeled, coarsely chopped

6

tablespoons

fresh parsley leaves

cleaned & dried; coarsely chopped

2

tablespoons

fresh basil leaves

cleaned & dried

1

tablespoon

extra virgin olive oil

(extra for drizzling)

2

cups

pitted Castelvetrano Olives*

1

tablespoon

capers

drained

1

teaspoon

preserved lemon rind**

rinsed and coarsely chopped
Instructions
Place first 5 ingredients in a small food processor. Pulse until all is coarsely chopped, not quite a puree.

Add pitted olives. Pulse to combine and chop - leave a little chunky!

Add the capers and preserved lemon rind. Pulse gently until incorporated and to your desired consistency. If preserved lemons are not available, substitute fresh lemon juice; start with 2 teaspoons. 

Place in a bowl to fit. Taste. Add a drizzling of 1 tablespoon of olive oil and stir in to your taste.

Place the Tapenade in a glass container with a tight seal. Use within 2 weeks.
Notes
Castelvetrano Olives: a Sicilian green olive famous for their green color, irresistible buttery-sweet flavor, and crisp, meaty texture. Easily available; purchase in glass. Or, use your favorite green olive (or black!) 
Preserved Lemon: mellow yet intensely lemony with a fruity bite. Make a batch, see my recipe; also easily purchased. Substitute fresh lemon juice. 
This recipe may not be reproduced without the consent of its author, Karen Sheer.
Nutrition Facts
Herbal Green Olive Tapenade with Preserved Lemons
Amount per Serving
% Daily Value*
* Percent Daily Values are based on a 2000 calorie diet.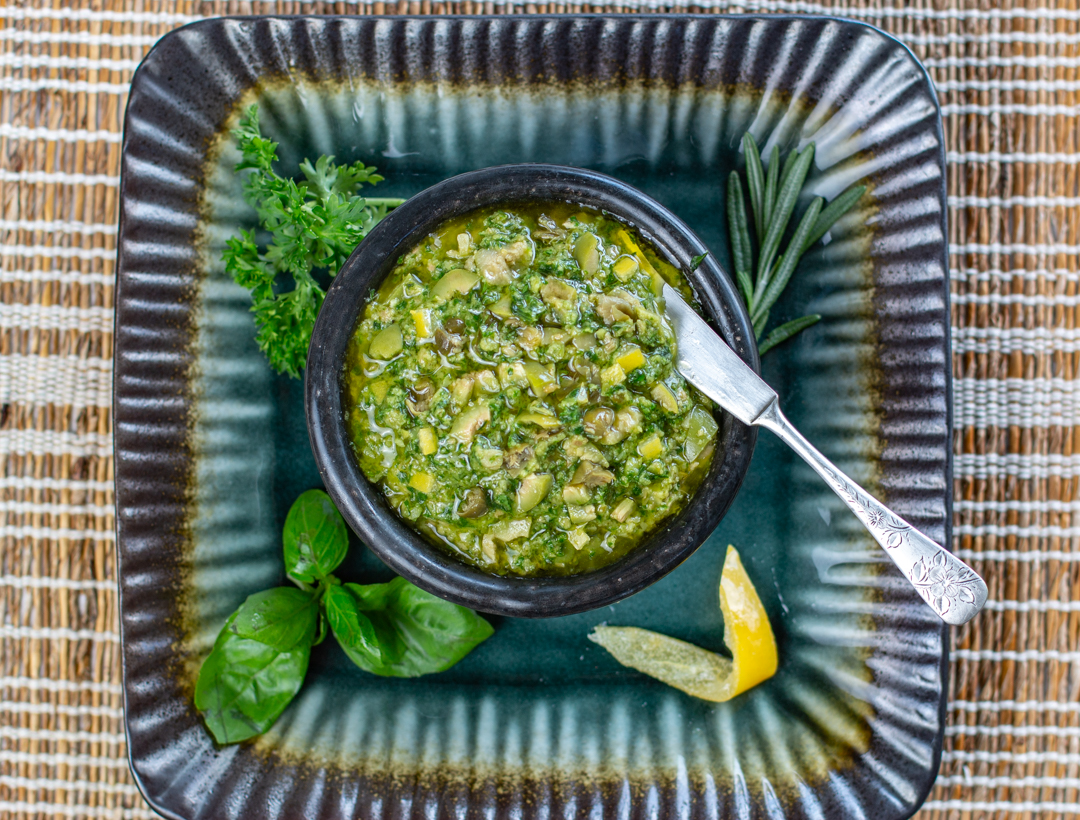 Karen Sheer