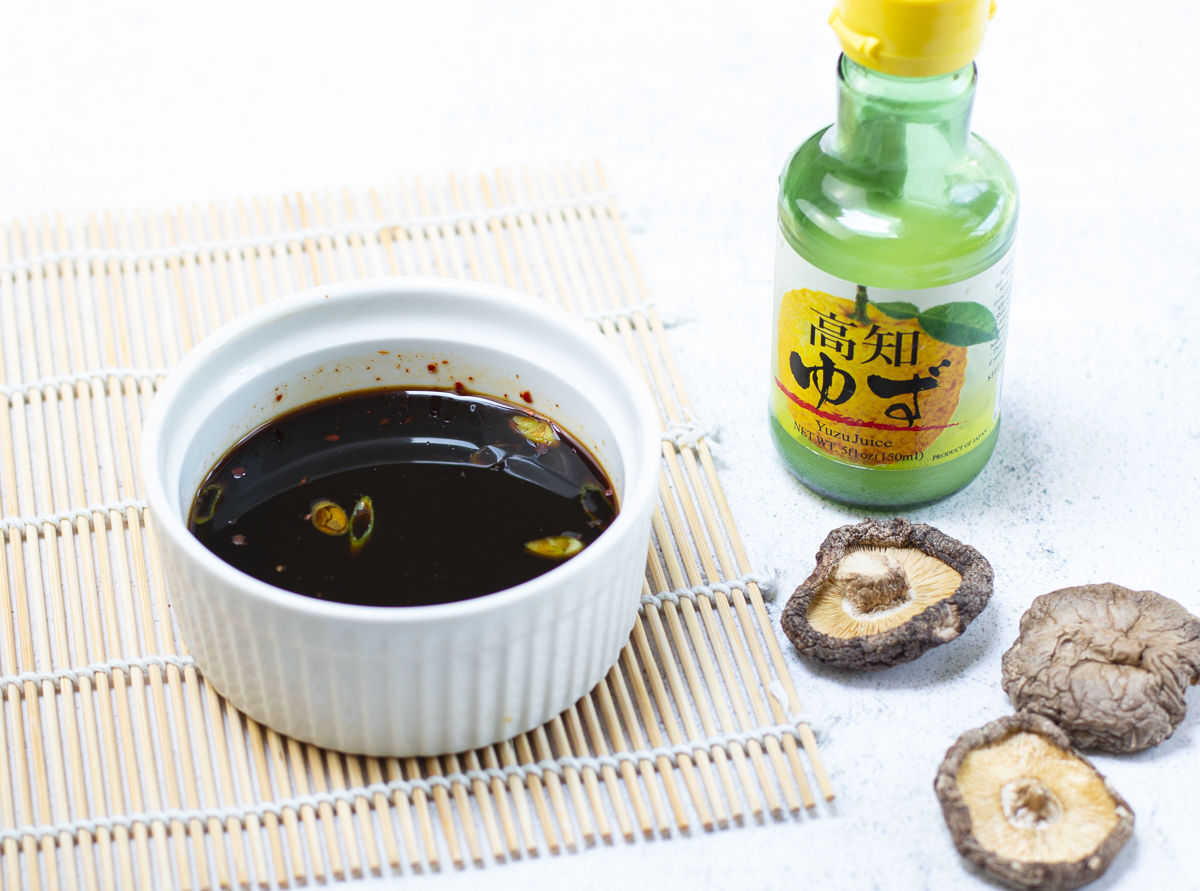 Karen's Zesty Ponzu Dipping Sauce
Citrusy Ponzu Sauce can be made ahead of time – adds flavor and Zest to all!
See all my Make Ahead Sauces, Salsas and Condiments for easy-breezy meals!

Ponzu is a citrus based sauce used in Japanese cooking.
Ponzu meaning "punch" – does just that… punches up flavor with Umami tastes and benefits.
It's incredibly fragrant ~ nothing tastes quite like it!
Commercial Ponzu sauce has many chemical additives, so why not make your own?
It's quick and fun – just need a few key ingredients to make it special.
There are many variations, as each cook creates their own brew.
I find the key ingredient to it's distinct citrusy flavor is Yuzu Juice.
Yuzu is a citrus fruit of East Asian origin with a heavenly complex sour flavor… but not bitter sour.
Ponzu Sauce can brighten up many meals. Make some – keep in the refrigerator and for, sprinkle and dip into it!
See all from my Category: Condiments For Flavor for inspiration! Makes the meal!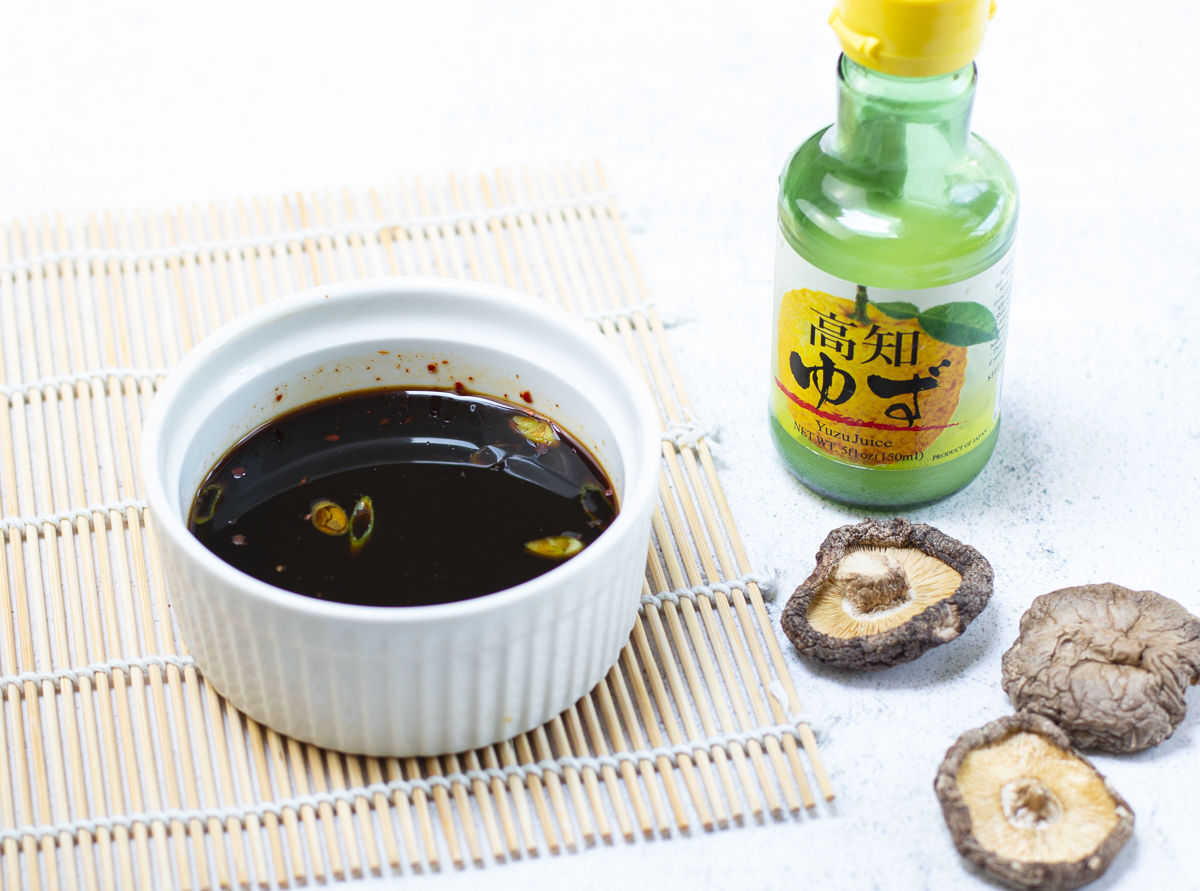 While the ingredients in ponzu sauce are healthy, it does contain a good dose of sodium.
Umami has a  "pleasant savory taste" – one of the five basic tastes, savory and oh-so-tasty!
The difference between shoyu and Tamari:
Shoyu is simply the name for the Japanese-style soy sauce which contains gluten. It is brewed with a mix of soy and wheat. A sweet, nuanced flavor.
Tamari is classically, it's made with only soybeans (and no wheat) – so if Gluten Free, use Tamari and read labels for wheat content.
What is Ponzu Sauce?
Simply put, Ponzu Sauce is a Japanese citrus sauce. A flavorful condiment and a zesty marinade, it is made from soy sauce, vinegar, citrus juice, sugar, and mirin. For the best flavor use fresh Japanese citrus juice: aromatic Yuzu!
The resulting flavor is full of depth that exhibits both tangy and floral-sweetness.
A little sauce that can delivers a flavor that encompasses a perfect balance of sweet, salty, bitter, and sour all at once!
How to Use Ponzu
A Finishing Sauce
Dipping Sauce for Dumplings and Steamed Vegetables
The perfect addition for over for Steamed Rice
Liven up Rice Dishes
Add Roasted Peanut Oil or Sesame Oil for a wonderful Vinaigrette
Add to your favorite Noodle Dishes
Drizzle over anything you desire a tart yet mellow extra flavor

 

Top steamed or grilled proteins; chicken, fish, tofu or raw oysters


As a dipping sauce for Sushi and Sashimi



A common ways to use ponzu sauce is as a dipping sauce for dumplings or steamed vegetables.
I have simply pan-seared Sea Scallops and some steamed veggies – and poured Ponzu over – sprinkling with some toasted sesame seeds.
It is the perfect finishing sauce.
Kikoman Ponzu: AVOID (too many preservatives!) Make your own! 
'SOY SAUCE (WATER, WHEAT, SOYBEANS, SALT), WATER, VINEGAR, SUGAR, SALT, BONITO EXTRACT (FISH), LACTIC ACID, LEMON JUICE, AUTOLYZED YEAST EXTRACT, NATURAL LEMON AND ORANGE FLAVORS WITH OTHER NATURAL FLAVORS, SODIUM BENZOATE: LESS THAN 1/10 OF 1% AS A PRESERVATIVE, SUCCINIC ACID. DISODIUM INOSINATE, DISODIUM GUANYLATE.
Other Fabulous Condiments that make a meal: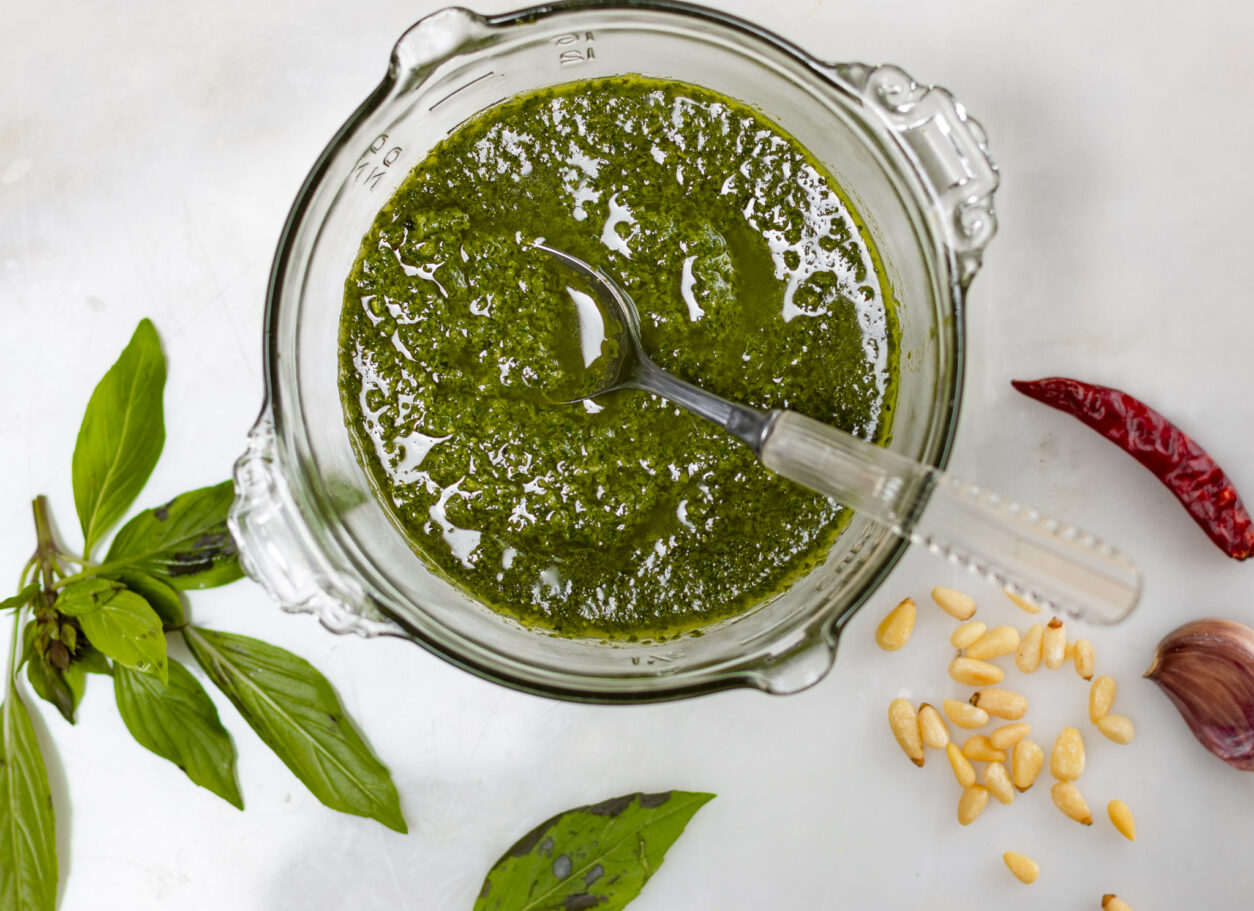 The flavor has a pronounced licorice essence and a little spicy kick. So many uses – see my list. Find this wonderful variety at farmers' markets. Makes a delicious and unique pesto!

Garlic Confit is a "must have" recipe for every cook. Luscious softened garlic surrounded by a blend of healthy oils. Use the cloves and garlic- infused oil for a subtle yet rich flavor. Mash a few cloves into sauces and vinaigrettes!
So much better than store-bought! Whisk these ingredients together – for a sauce… add some lemon juice for a dressing.
Seasonal Fresh Rhubarb is blended in a tangy & zesty Barbecue Sauce!
An easy Sauce & Glaze – terrific using on the grill and as a side sauce.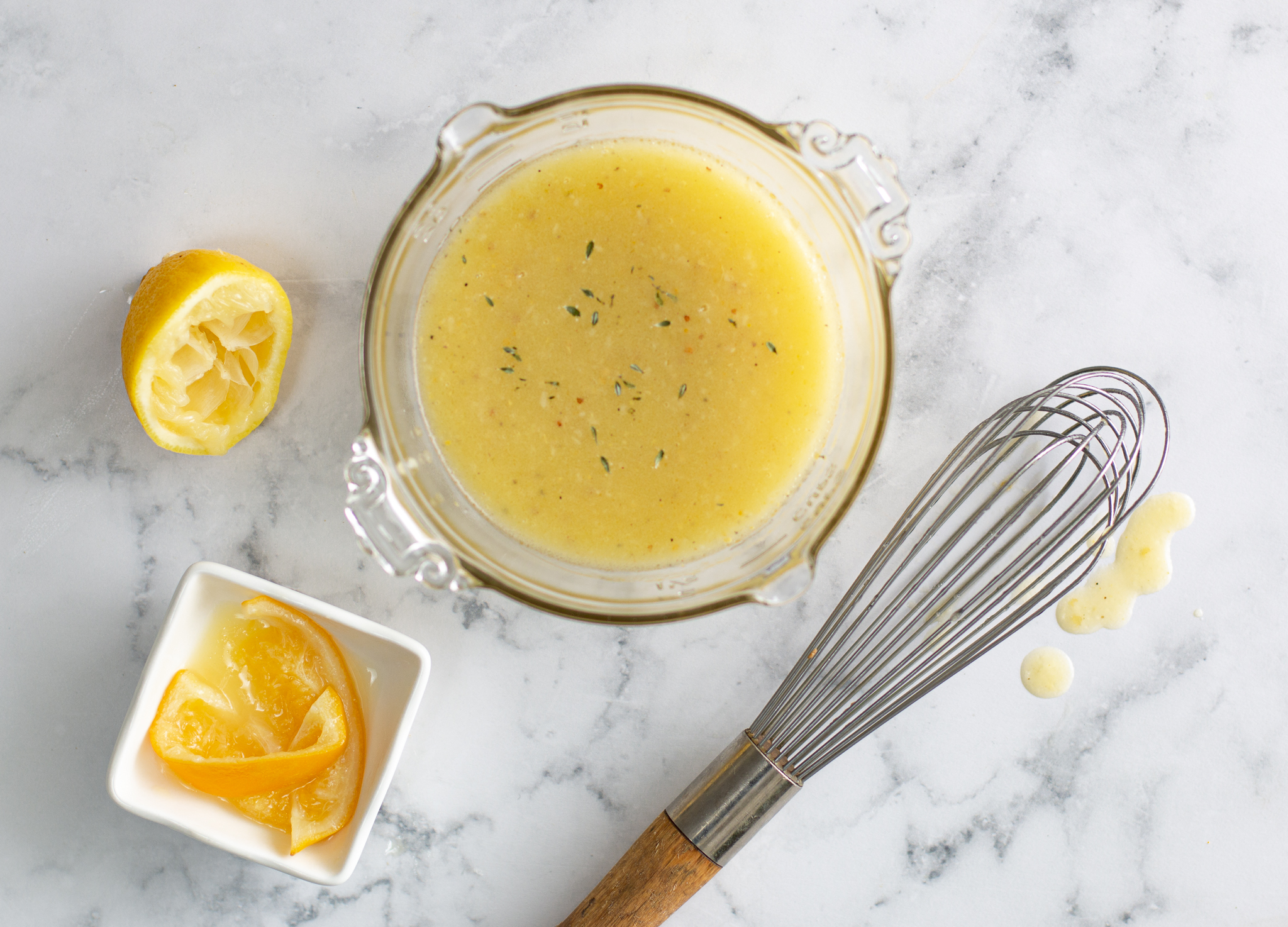 Tangy, Mellow and Zesty! A Fabulous Full-Of-Flavor Vinaigrette with many uses beyond salads.
Enjoy this Ponzu Sauce… and all my "Condiments for Flavor"
Karen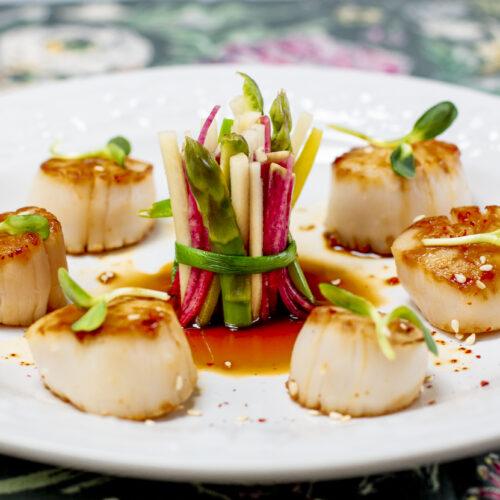 Karen's Zesty Ponzu Sauce
An updated cirtusy dipping and pouring sauce with tons of zesty flavor!
I find the key ingredient to it's distinct citrusy flavor is Yuzu Juice. Gluten Free Recipe.
Print Recipe
Pin Recipe
Rate this Recipe
Ingredients
6

tablespoons

gluten free tamari sauce

or Japanese shoyu sauce

3

tablespoons

rice wine vinegar

3

tablespoons

mirin

or sake (white wine in a pinch)

3

tablespoons

coconut palm sugar

1/2

cup

dried shiitake mushrooms

cut into 1/2" pieces (about 4 medium caps)

3

tablespoons

pure yuzu juice*

(no additives)

2

pinches

hot pepper flakes

I use Szechuan chili flakes-spicy

1

tablespoon

scallions

thinly sliced
Instructions
Add first 5 ingredients to a small non-reactive pot (tamari through dried mushrooms.)

Bring to a simmer, stir to dissolve the sugar - 30 seconds. Cover and take off heat to blend all the flavors.

Let stand 30 minutes.

Strain mixture into a small bowl with a fine mesh strainer, pressing down firmly on the mushrooms, discard mushrooms.

Wipe pot clean - add strained mixture.

Add Yuzu Juice and hot pepper flakes. Bring to a simmer to blend flavors- 30 seconds.

Remove from heat and cool - the Ponzu Sauce is ready! Add scallions before serving.

Recipe can easily be doubled. Refrigerate in a clean glass container in the refigerator.
Nutrition Facts
Karen's Zesty Ponzu Sauce
Amount per Serving
% Daily Value*
* Percent Daily Values are based on a 2000 calorie diet.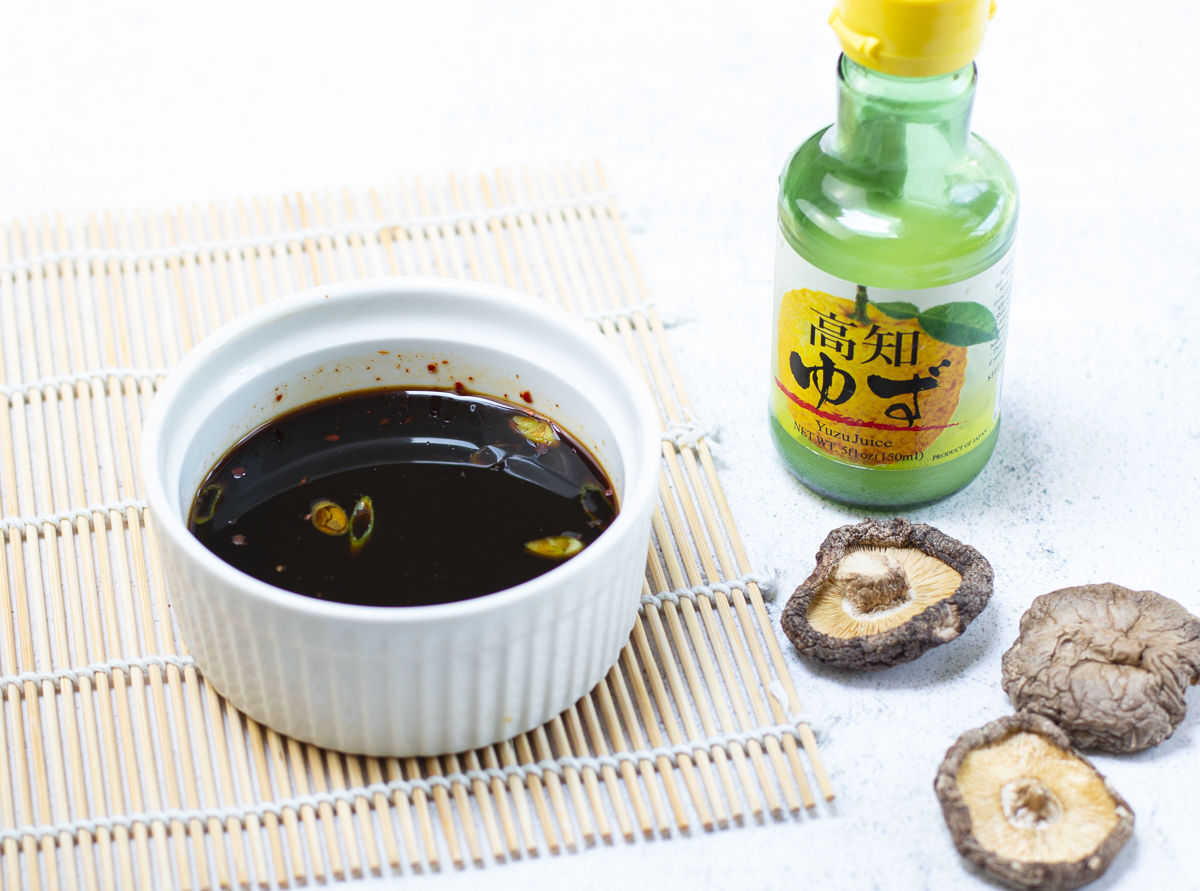 Karen Sheer