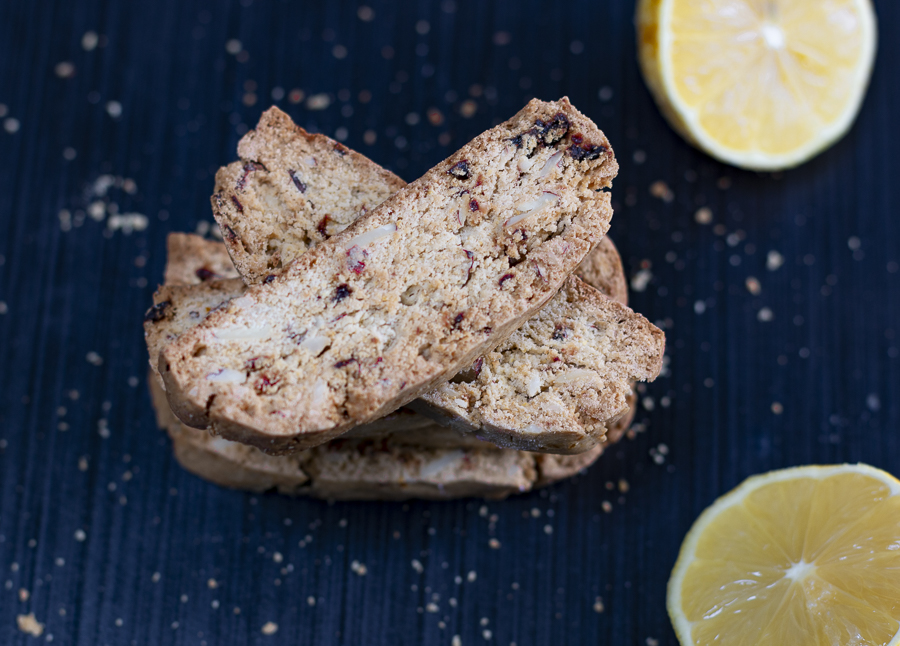 Lemon Biscotti with Dried Cherries and Almonds ~ Gluten Free
Light and crunchy with lots of zesty flavor! Here is your go-to recipe with healthful ingredients.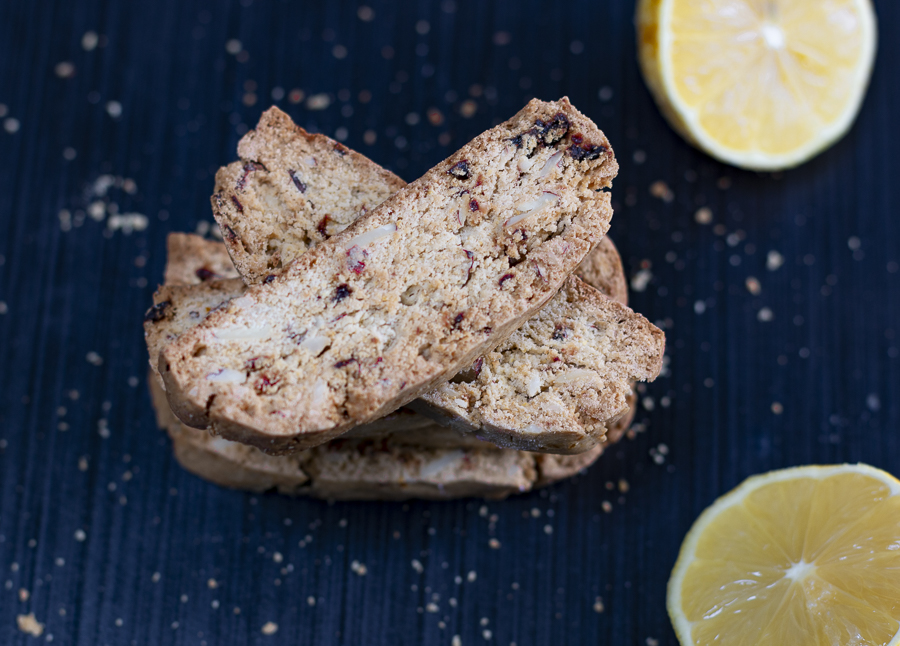 Crisp and not-too-sweet – these biscotti are the ultimate snack, dessert and great for gift giving!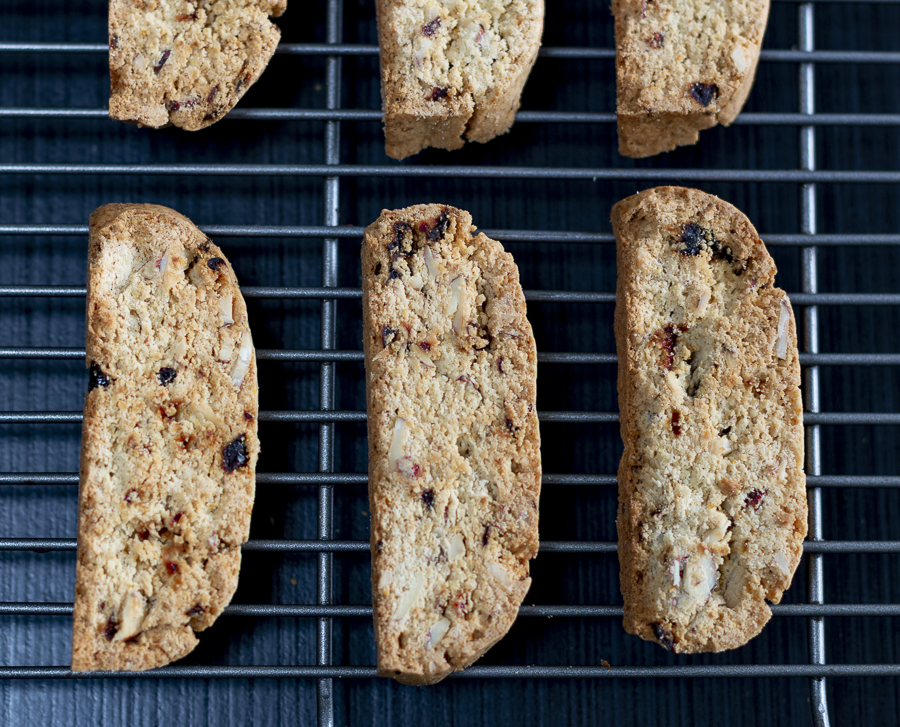 It's a good idea to flavor the dough itself – boring and bland is not an attractive combination in a biscotti! Made with healthful ingredients, you would never know they're gluten free.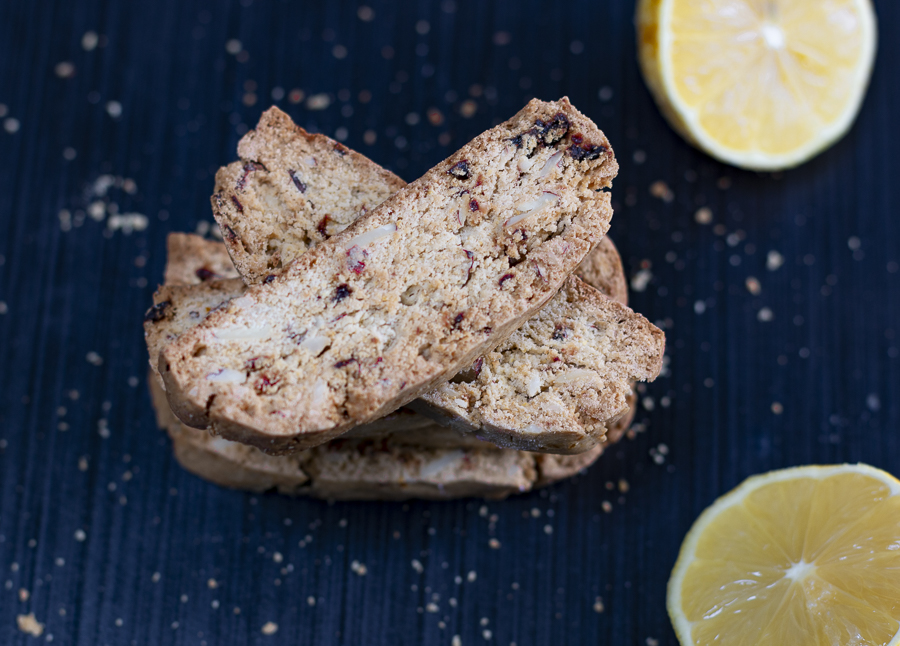 Ingredients
4 tablespoons unsalted butter, organic, room temperature
¾ cups pure cane sugar
1 tablespoon grated lemon rind
1 teaspoon minced meyer lemon rind* (can also use regular lemon)
2 large eggs, room temperature (I used pastured raised) 
½ teaspoon vanilla extract 
½ teaspoon almond extract (I used 365 degree brand)
¼ teaspoon sea salt 
2 tablespoon fresh lemon juice 
¾ cups super-fine almond meal 
¼ cup yellow corn meal, organic 
1 ½ cup all-purpose gluten free flour blend (I used Pamela's Artisan)
1 teaspoon baking powder
¼ teaspoon baking soda 
½ teaspoon xanthan gum 
⅓ cups dried sweetened sour cherries, chopped  
½ cup natural sliced almonds
Instructions
1
Preheat oven to 325 degrees.
2
In a stand mixer add butter, sugar and all lemon rind. Using the paddle, set to low-medium speed and blend for 1 minute. Scrape the bowl, and beat for one more minute until light and fluffy.
3
Add one egg – at low spead. When incorporated, add the next egg and blend well.
4
Add the rest of the ingredients and blend on low speed until incorporated – do not beat for long.
Scrape the bowl and beat until the dough just seems evenly distributed.
5
Line a baking pan with a silat liner of parchment paper.
Separate the dough into 2 – make two long logs with each potion of dough; about 4″ wide x 9″ long – spacing them a bit (these will not spread very much.)
6
Bake for 40 – 45 minutes until firm in the centers, and just golden around the edges.
Let cool for 10 minutes, then place one log on a cutting board.
7
After 10 minutes – slice into 3/4″ slices with a serrated knife on a slight diagonal. Gluten free dough is a little different kind of dough – do not let the logs stand until cool to cut – – they will crumble.
8
Place the sliced biscotti back on the baking tray – bake in oven until crisp and firm, and just a touch golden – about 25 minutes.
9
Cool and store in an airtight container. Stays fresh for about 4 weeks.
*Meyer lemon rind is soft. The best way to use it is to peel it, cut away the white pith and mince.
See BLOG for many more photos and information.
This recipe may not be reproduced without the consent of its author, Karen Sheer
Karen Sheer