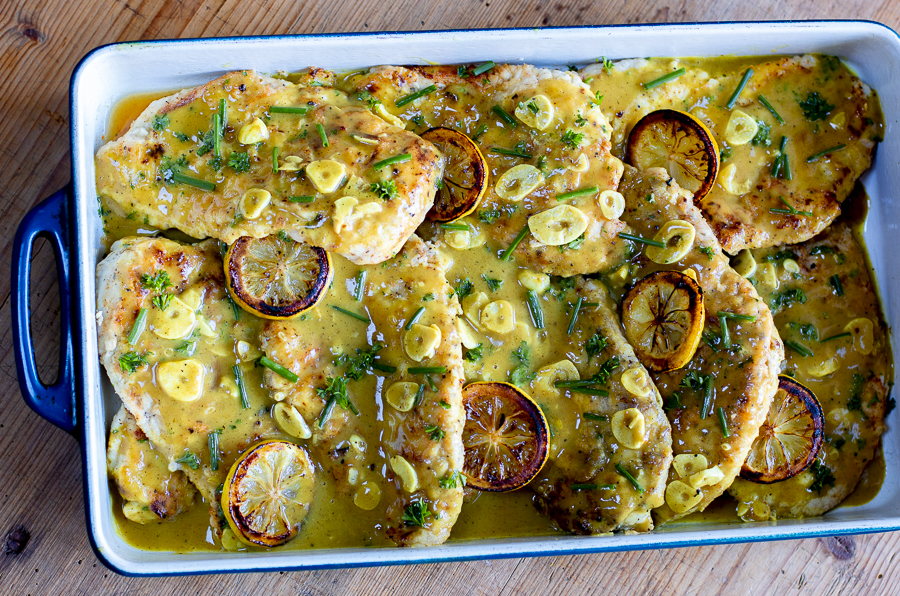 Karen's Weeknight Lemon Chicken
In the style of French "Francaise" ~ this is an updated version, a recipe every cook should master!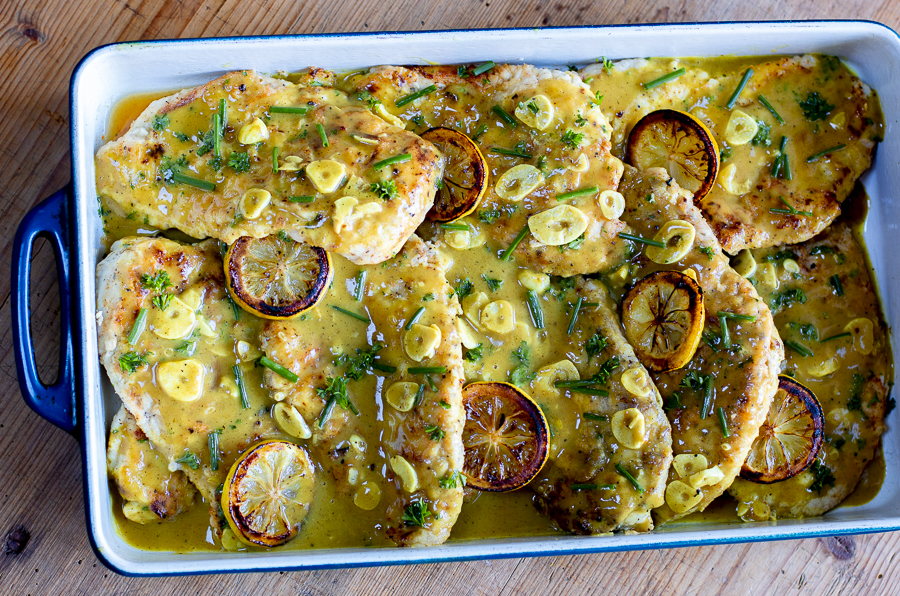 Easy to make gluten free and for Passover using matzo cake meal.
The chicken is very tender, coated with a zesty lemon butter sauce.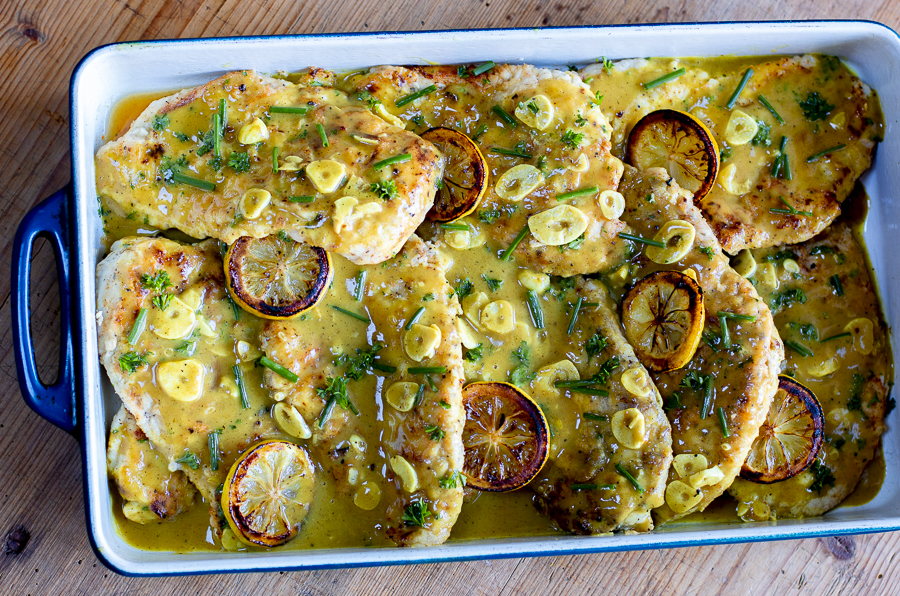 Ingredients
4 whole chicken breast halves, trimmed, about 6 oz. each (will cut each in half horizontally)
1 large egg 
½ cup milk (or milk substitute) 
½ cup rice flour (or matzo cake meal for Passover**) Rice flour is gluten free.
1 tablespoon unsalted butter
1 tablespoon neutral oil*
5 cloves fresh garlic, peeled and thinly sliced 
⅓ cup dry white wine
1  ¼  cups chicken stock (preferably homemade)
3 tablespoons fresh lemon juice  
3 pinches turmeric 
2 teaspoons corn starch – mixed with 1 tablespoon of water  
4 tablespoons unsalted butter**, cold
½ teaspoon sea salt
⅛ teaspoon fresh cracked black pepper (can use white pepper)
2 tablespoons fresh chives, cut ½" lengths
8 slices lemon (see below tips how to blacken)
Instructions
1
Preheat the oven to 350 degrees.
Sauté Chicken:
On a cutting board, lay the chicken breast flat, cut in half horizontally.
2
Whisk egg and milk in a medium sized bowl. Add the chicken pieces; you will have 8.
Combine well, cover and refrigerate at least 30 minutes (or up to 12 hours.)
3
Place the rice flour on a 8″ plate.
Add 1 T. oil and 1 T. butter to a large skillet, set heat to medium-high.
With tongs, remove a chicken breast from the egg mixture.
Dip the chicken in the flour, one side, then the other.
TIP: you do not need to totally coat.
4
Add to skillet, repeat with remaining chicken. (Depending on pan size; you can cook 8 at a time, or 4 at a time in 2 batches.)
Cook on first side until golden brown on bottom, then turn over with tongs.
(Add just a bit more butter and oil if necessary.)
Sprinkle with a few pinches of salt and pepper all over.
Cook on the second side until just golden – remove to an oven baking dish to fit; 9″ x 13″.
The chicken will not be totally cooked through – but will fully cook in the oven when the lemony sauce is added.
5
Make the Lemony Sauce, cover and bake:
Add 1 tablespoon of butter to the skillet, set to low heat.
Add the sliced garlic and sauté for a few minutes until softened and just a bit golden.
Add the wine, chicken stock, lemon juice and turmeric and bring to a boil, whisking.
6
Reduce to a simmer and cook 3 minutes to reduce slightly.
Raise heat to high, when bubbles, whisk in the cornstarch mixture** – will thicken, keep whisking!
7
Over LOW heat add the COLD butter with a whisk and combine swirling the butter into the sauce to emulsify – will flavor and slightly thicken the sauce.
Season sauce with 1/2 t salt and 1/8 t. pepper.
Pour over the chicken in the baking pan.
8
Cover tightly with heavy foil and cook until chicken is tender and cooked through, about 15 – 20 minutes.
Serve with Blackened Lemon and Fresh Cut Chives.
9
Blackened Lemons:
Heat a skillet, preferably cast iron with a little neutral oil.
Raise heat to medium- high.
Cut lemon slices 1/2″ thick. Add to skillet, press down.
Cook until VERY golden brown – do not move them around, let develop color!
Remove, and serve over chicken blackened side up.
Squeeze the juice from these lemons when eating – adds extra lemon essence!
* with concerns about gmo's and processing of oils, use a vegetable oil which has not been chemically treated, this is called "expeller pressed."
** I add a cornstarch slurry to stabilize the sauce, thicken – keeps the butter content lower.
** For Passover: Use equal amounts potato starch for cornstarch, and margarine for butter.
I recommend Mikoko's Creamery Vegan Butter and Earth Balance Buttery Sticks, they are Kosher, yet not certified Kosher for Passover.
See BLOG for many photos and information.
This recipe may not be reproduced without the consent of its author, Karen Sheer.
Karen Sheer