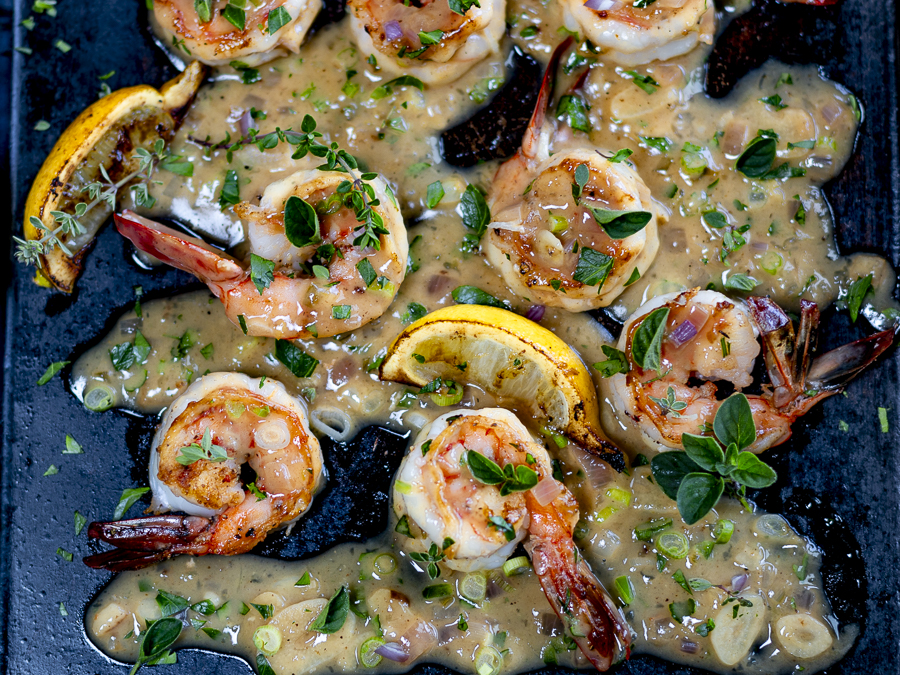 Weeknight Lightened-Up Shrimp Scampi
All the buttery, garlicky and lemony flavor with a sprinkling of fresh herbs in a lighter sauce you can make in minutes!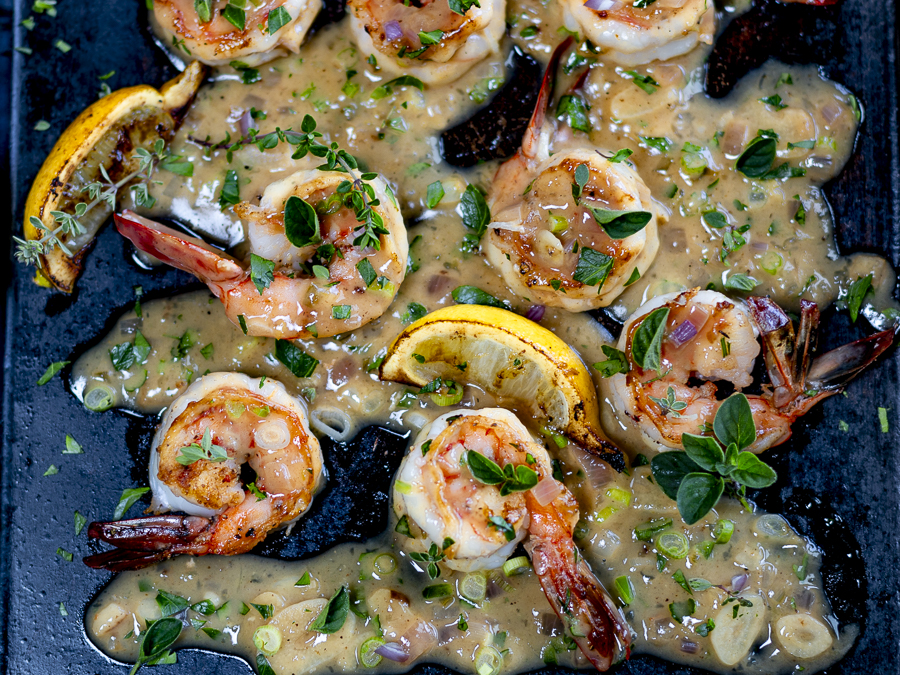 What's different about this recipe?
The sauce has been "lightened-up" ~ which means ALL OF THE FLAVOR with less calories and fat; less butter.
How did I accomplish this?
The quick answer is I have added a cornstarch slurry (equal amounts cornstarch and water) to the sauce to thicken – then swirled in a moderate amount, not too much of butter in the last step.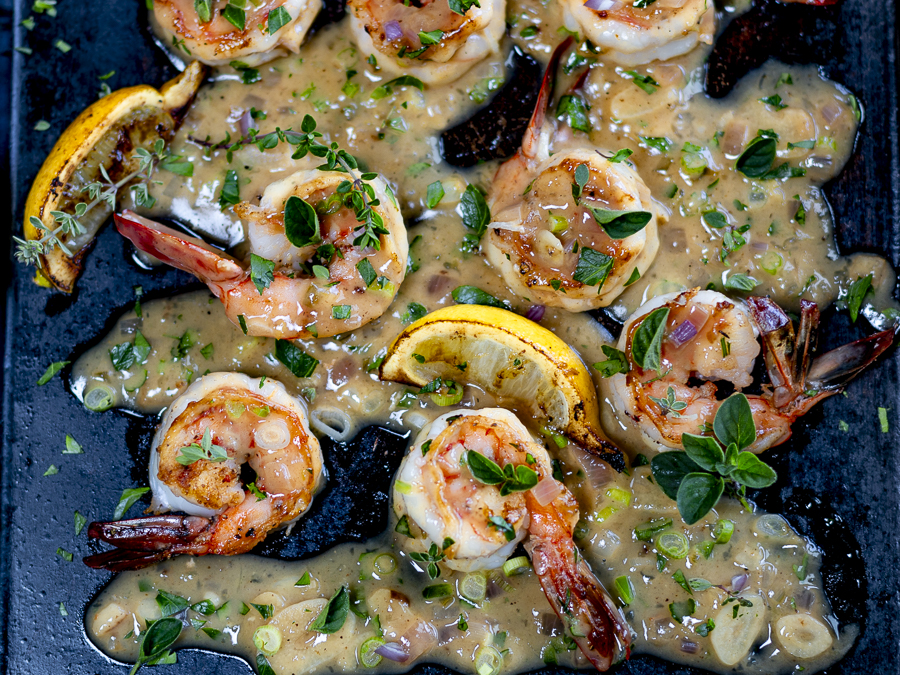 Ingredients
Ingredients
1 pound large shrimp, peeled and deveined, tail left on
1 ½ tablespoons extra virgin olive oil
½ tablespoon unsalted butter (I use Kerrygold brand*)
⅛ teaspoon freshly cracked black pepper
⅛ teaspoon sea salt
4 cloves garlic, peeled, thinly sliced
2 tablespoons shallots, peeled – small dice
½ teaspoon jalapeño, minced (can use a pinch of cayenne)
3 tablespoons fresh lemon juice
¼ cup white wine
1  ½ cups broth (chicken or vegetable) see note
1  ½ teaspoons cornstarch mixed with 1 ½ teaspoon water
3 tablespoons COLD unsalted butter (I use Kerrygold brand*)
Garnish/Herbs
1 teaspoon fresh thyme leaves
1 teaspoon fresh oregano leaves
2 tablespoons fresh parsley, minced
2 tablespoon scallions, thinly sliced
Instructions
1
Heat a 12″ skillet, add 1  1/2 tablespoons evoo and 1/2 tablespoon butter, set to medium-high heat.
2
Sprinkle shrimp with black pepper and add to the hot pan. Leave to brown nicely, do not move.
Turn over with tongs, after about two minutes. Turn heat down to medium and cook on the second side, about two minutes. Remove to a clean plate – sprinkle with 1/8 teaspoon sea salt.
3
Reduce heat to low – add garlic, shallots and jalapeño; stir one minute (with any brown bits in the pan.) Add lemon juice, wine and broth – bring to a boil, then reduce to a simmer for 3 minutes (to reduce slightly.) Bring back to a boil.
4
Add cornstarch slurry (cornstarch mixed with water) and QUICKLY stir up with a wire whisk – will thicken quickly.
Turn heat off and immediately swirl in a chunk of 3 tablespoons of butter with the wire whisk; and swirl in to incorporate and emulsify.
5
Add shrimp back to the pan with the three herbs and scallions. Taste for salt.
Serve as is, or over pasta or zucchini noodles.
6
*Kerrygold Butter: Just sweet cream – no "natural flavoring" unlike most US butters. Natural flavorings are unwanted chemicals/flavor agents.
7
Note: Vegetable broth: A good quick vegetable stock I like and used in this recipe: Better Than Bouillon Organic Seasoned Vegetable Base.
See BLOG more many more photos and information about this Scampi Recipe.
This recipe may not be reproduced without the consent of its author, Karen Sheer.
Karen Sheer