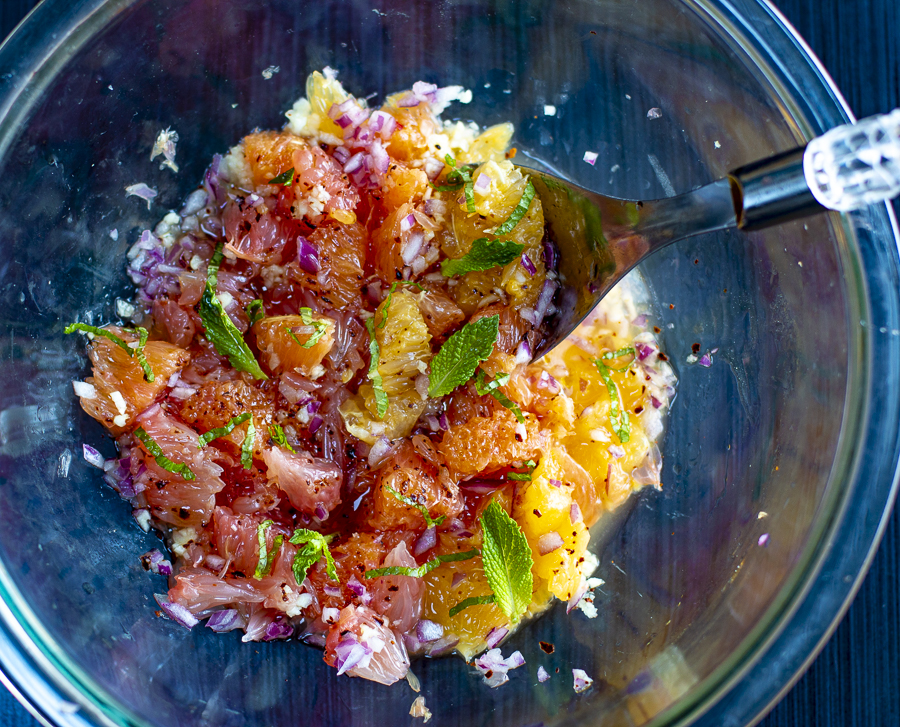 Multi-Citrus Salsa
A Zesty and Tart Salsa that uses in- season Winter Citrus. Colorful, light and tasty with a hint of sweetness and heat.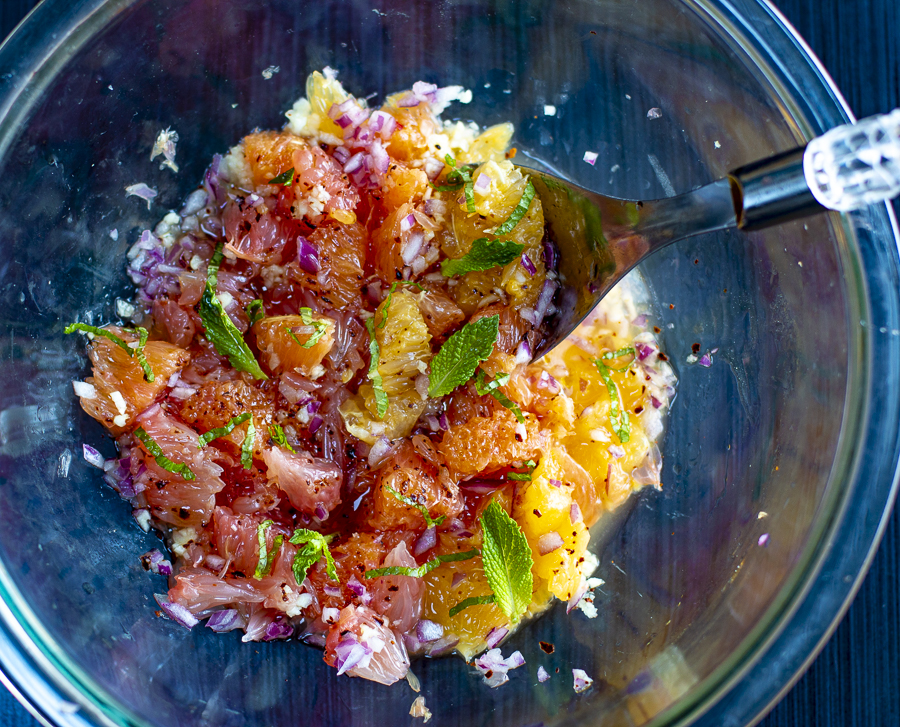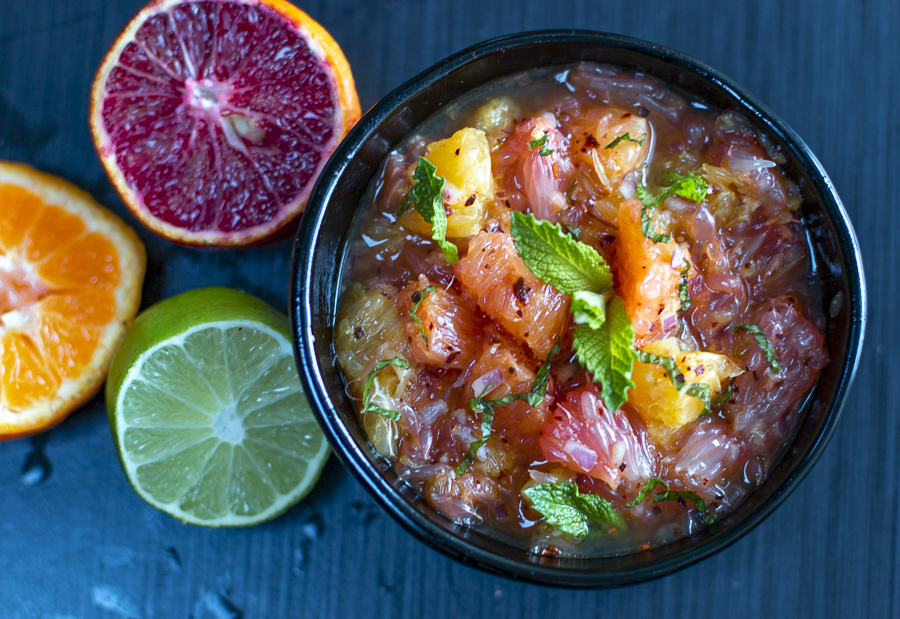 A delicious salsa using Blood Oranges, Pink Grapefruit & Honeybell Tangelo Segments with Chopped Mint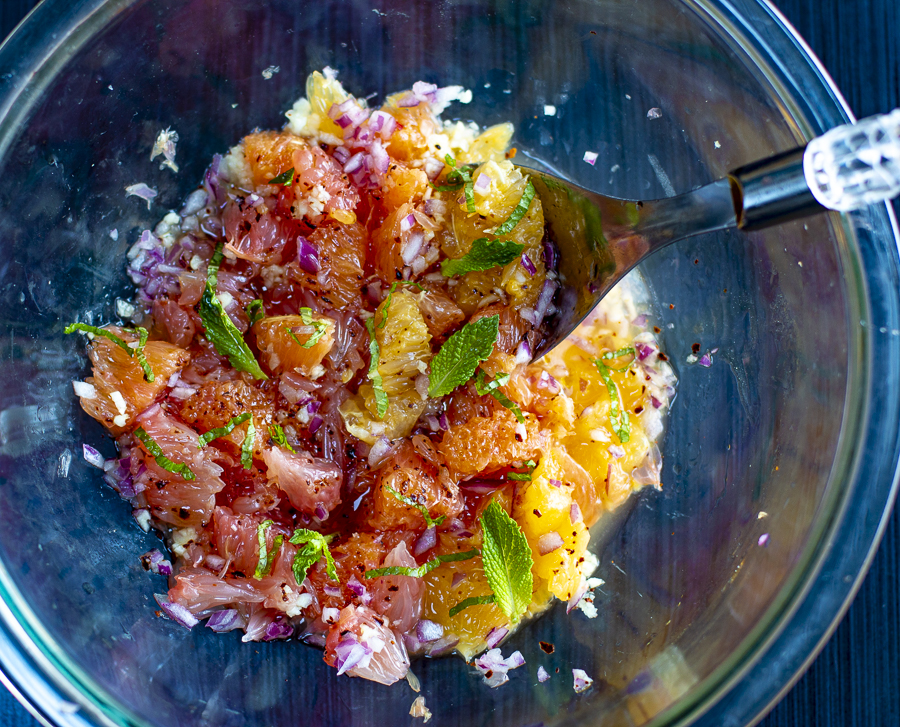 Ingredients
1 medium Red Ruby Grapefruitt
1 medium Honeybell Tangelo (or Minneola orange)
1 medium blood orange garlic cloves, peeled and minced
1 teaspoon fresh garlic, peeled and minced
1 tablespoon fruity extra virgin olive oil 
¼ teaspoon aleppo pepper* more if you like extra spicy
1 tablespoon red onion, peeled and minced
2 tablespoons fresh mint, very thinly sliced ½ teaspoon sea salt, more to taste
2 tablespoons small fresh mint leaves
¼ teaspoon sea salt 
2 teaspoons honey (can use pure cane sugar) 
Instructions
1
Supreme the oranges, catch all juices in a bowl underneath (see method below.)
2
Cut citrus segments in large chunks; add to a medium sized bowl.
Add remaining ingredients, except whole mint leaves and mix well.
3
Taste for seasonings – salt and heat (aleppo pepper.)
Let the flavors mingle on the counter for at least 30 minutes, or cover and refrigerate for later.
4
Before serving ~ add the whole mint leaves and toss.
5
Serve the Salsa over Salmon in Parchment with Multi-Citrus Salsa.
6
*Aleppo Pepper: These pepper flakes have an unique flavor! Adds color, mild heat, and a unique salty-raisiny flavor. Has a moderate heat level of about 10,000 on the Scoville scale.
Ancho chile powder or crushed red pepper flakes could be substituted.
7
How to Supreme an Orange:
Cut off the top so that the orange flesh is visible. It might be 1/2 an inch, or slightly more if the pith is especially thick.
Cut off the same amount from the bottom so that the orange sits flat.
Now cut from top to bottom curving the knife to the shape of the orange, taking off the rind and white pith, Repeat all the way around until all you have left is a bright orange, fleshy ball.
8
Over a bowl, to catch the juices: Next, cut in between the white sections, placing your knife as close to the white membrane as possible, and slicing to the core. If you follow the membrane, you'll see that you're cutting out wedges.
See BLOG for many more photos and information.
This recipe may not be reproduced without the consent of its author, Karen Sheer.
Karen Sheer