Karen's Natural Orange, Oat & Nut Granola
A Zesty & Crunchy Granola Loaded with Almonds, Pecans and Natural Orange Rind.
Such an addictive flavor using Orange Oil for added flavor (yes a recipe for that too!)
I LOVE making granola! I eat some every morning with yogurt and berries, yes – e-v-e-r-y-d-a-y!
See that is is citrus season right now – I wanted to take advantage of the harmonious balance of sweetness and acidity and add to my usual granola.
The granola is lightly sweetened with honey and coconut palm sugar and uses Orange Oil which you will make to enhance the "orange-flavor." Or – you can use extra virgin olive oil or an expeller pressed neutral oil.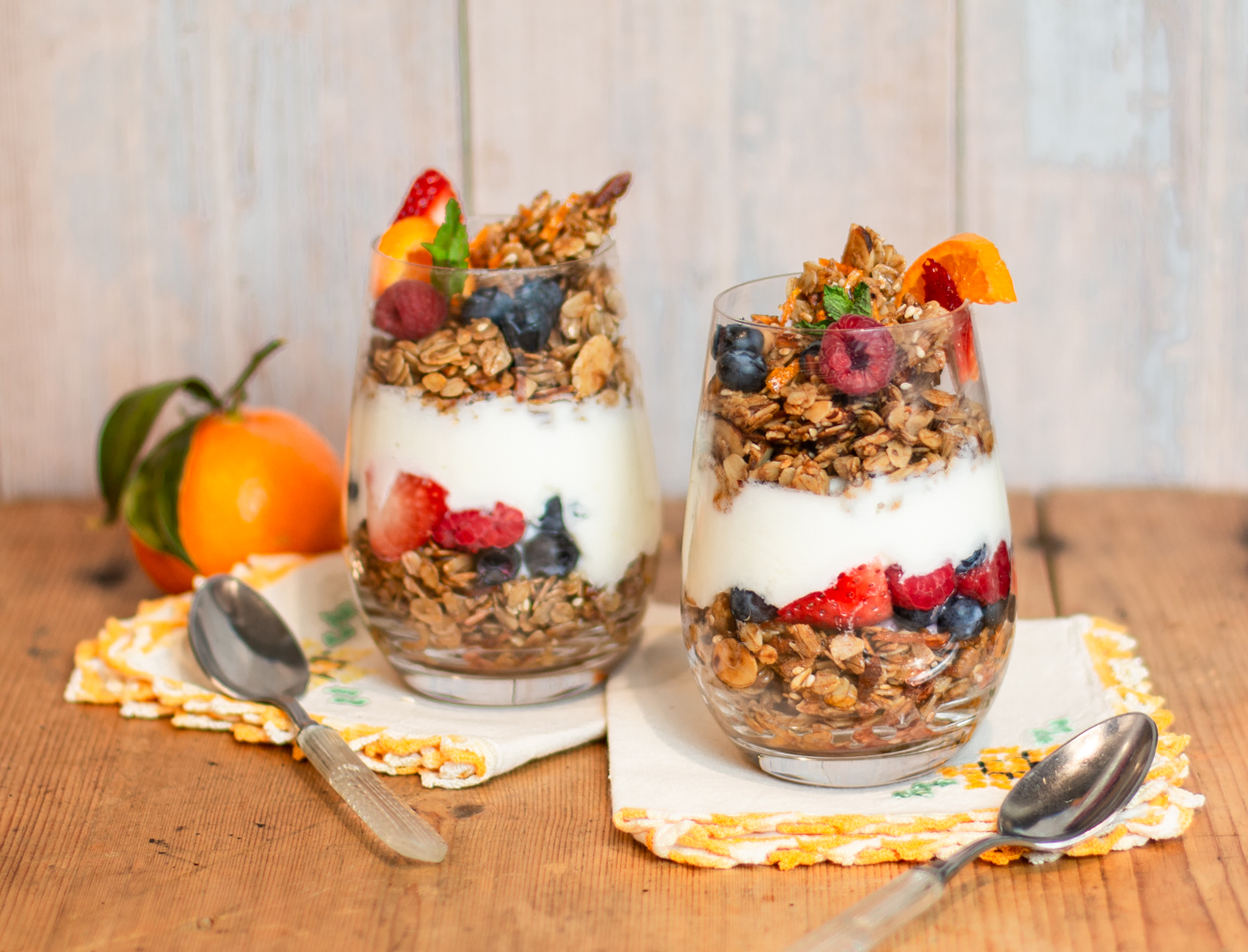 I like making the parfaits JUST BEFORE serving. That way, the granola stays fresh & crispy!
You might like it standing a bit – the granola soaks into the yogurt and the citrus flavor is enhanced.
Any Orange Citrus rind will do – I chose a Navel Orange.
They are easy to remove the rind with a peeler and have a nice thick wall.
Turn the peels over on a cutting board  – white pith side up and remove all the white pith with a serrated knife until you are left with just the orange rind, then cut into thin strips across – 1/2″ long.
Make Orange Oil; use rind too for the Granola:
Add -the peel of one large orange, in strips (all white pith cut away) to 2/3 cup oil; place in a small pan
Heat until a simmer, and cook 5 minutes covered
Uncover and let stand 3 hours to infuse
Use Orange Oil for the granola!
Cut the soaked orange into thins strips – add to the granola
A game changer – One Degree Gluten Free Sprouted Rolled Oats
Sprouted Oats are more easily digestible and boast more nutrients, these are organic & gluten free! 
How to make the GRANOLA:
Mix The dry ingredients with the orange rind in a large bowl
To a 2 cup pyrex measuring cup (or glass bowl) add Orange Oil, Honey, Coconut Palm Sugar, Pure Vanilla and Pure Almond Extract – microwave 30 seconds to warm – ADD to large bowl and mix
Add to a parchment lined 10 x 15 rimmed baking sheet (called a jellyroll pan) – SMOOTH the granola in a even layer
Bake at a low 325 degrees – we do not want the orange rind to burn for 15 minutes, or until golden
Remove from oven – toss up with a spatula, flatten and bake for 5 – 7 minutes more until all golden
Let stand for 20 minutes then break up – will have nice big pieces of granola – crumble if you desire
I use a 10 x 15″ rimmed Jelly Roll Pan for the granola.
I MUST SAY – I use this pan for everything! Roasting veggies, small batch of cookies, cooking tofu cubes, roasting chicken pieces… anytime you need a non- reactive pan (this one is steel) that is a little smaller in size – this is your pan! (I do NOT use Teflon coated baking pans or non-stick)
Let cool for 20 minutes, will still be slightly warm – slide a metal spatula underneath and granola will be in large pieces.
Why I LOVE This Granola!
A nice natural tasting orange flavor (I do not eat anything with "natural flavorings" ugh-chemicals.)
Bakes up in chunks… I love it that way! Ok to pinch into smaller pieces or crumble
Not too sweet! And – uses just enough oil to bind together
Great for a snack – grab by the handful!
Makes a pretty impressive and delicious Parfait…with yogurt & berries
Gluten & Dairy Free
Can be used for a pie crust! See this recipe: Karen's Granola for Snacking & Pie Crust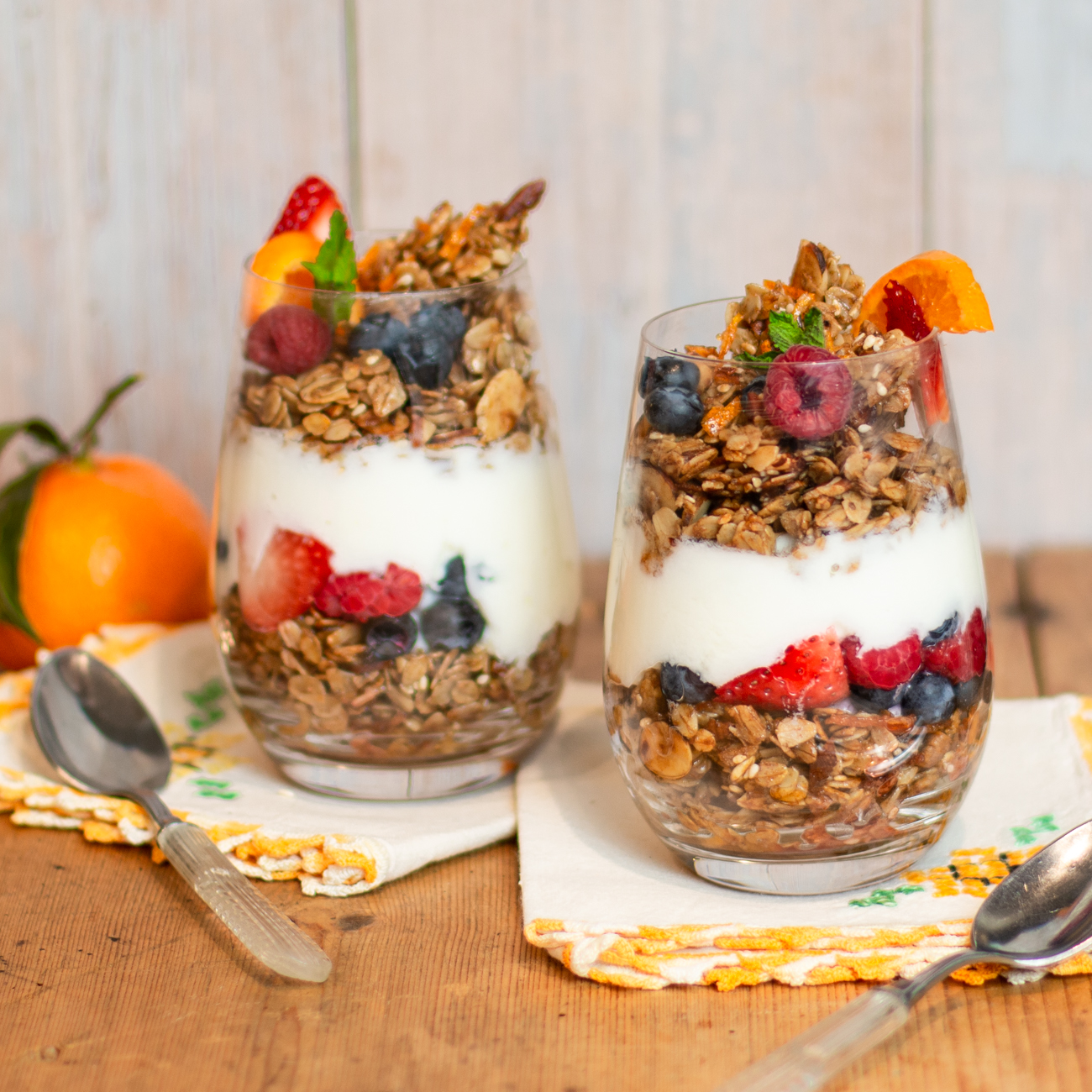 Make parfaits using glassware you have. These are simply stemless wine glasses!

Use smaller glasses if you are just having a nosh or breakfast – yet these big ones above surely show off the beautiful layered granola, yogurt & berries.
Also see my COLLECTION of ZESTY CITRUS RECIPES here… dozens to choose from!
Enjoy the simple pleasure of Homemade Granola!
Let me know that you think! 
Karen
So many uses!! Traditional Uncoated True Jelly Roll Pan, 15-Inch by 10-Inch
.
Karen's Natural Orange Oat & Nut Granola
A Zesty & Crunchy Granola Loaded with Almonds, Pecans and Natural Orange Rind. Such an addictive flavor using Orange Oil for added flavor (yes a recipe for that too!)
Servings:
14
1/4 cup servings - makes 3 1/2 cups
Print Recipe
Pin Recipe
Rate this Recipe
Ingredients
Into the Big Bowl
2

cups

rolled oats

I use gluten free "sprouted"

1/3

cup

pecans

1/3

cup

natural sliced almonds

1

teaspoon

cinnamon

1/2

teaspoon

ground ginger

2

tablespoons

sesame seeds

2

pinches

sea salt
The Rest: to be Warmed
1/4

cup

Orange Oil (see recipe)

(not extract) can use olive or vegetable oil

2

tablespoons

raw honey

2

tablespoons

coconut palm sugar

1/2

teaspoon

pure vanilla extract

1/4

teaspoon

pure almond extract
Instructions
Make Orange Oil with Orange Rind
Add the peel of one large orange, in strips (all white pith cut away) to 2/3 cup oil; place in a small pan.

Heat until a simmer, and cook 5 minutes covered.

Uncover and let stand 3 hours to infuse. Drain the orange rind - cut into thin slivers, will be about 1/2" in length. Use 2 tablespoons for granola - leave remainder rind in oil for another recipe.
Make the Orange Granola:
Preheat oven to 325 degrees. Line a 10" x 15" jelly roll pan with parchment paper.

Add first 7 ingredients in a large bowl, toss with a rubber spatula to combine.

Add the next five ingredients to a pyrex measuring cup, or glass bowl. Microwave 30 seconds just to warm (can also warm on the stovetop.)

Add this wet mixture to the large bowl and mix very well with the rubber spatula.

Spread the granola onto the pan and smooth into a single layer. Press the down with a metal spatula - this insures the granola sticks together nicely, so it will be in nice big chunks.

Bake for 15 minutes to until nice and evenly golden. Remove from oven, stir up and press again with a metal spatula.

Bake for an additional 5-7 minutes until golden (do not let get too dark, will be bitter.)

Let rest for 20 minutes until cooling, but a bit warm. Break up the granola enlarge pieces... or crumble if you like.

Store in an airtight container and enjoy! Will last at least 1 month... but it will not last that long!
Notes
This recipe may not be reproduced without the consent of it's author, Karen Sheer.
Nutrition Facts
Karen's Natural Orange Oat & Nut Granola
Amount per Serving
% Daily Value*
* Percent Daily Values are based on a 2000 calorie diet.
Karen Sheer