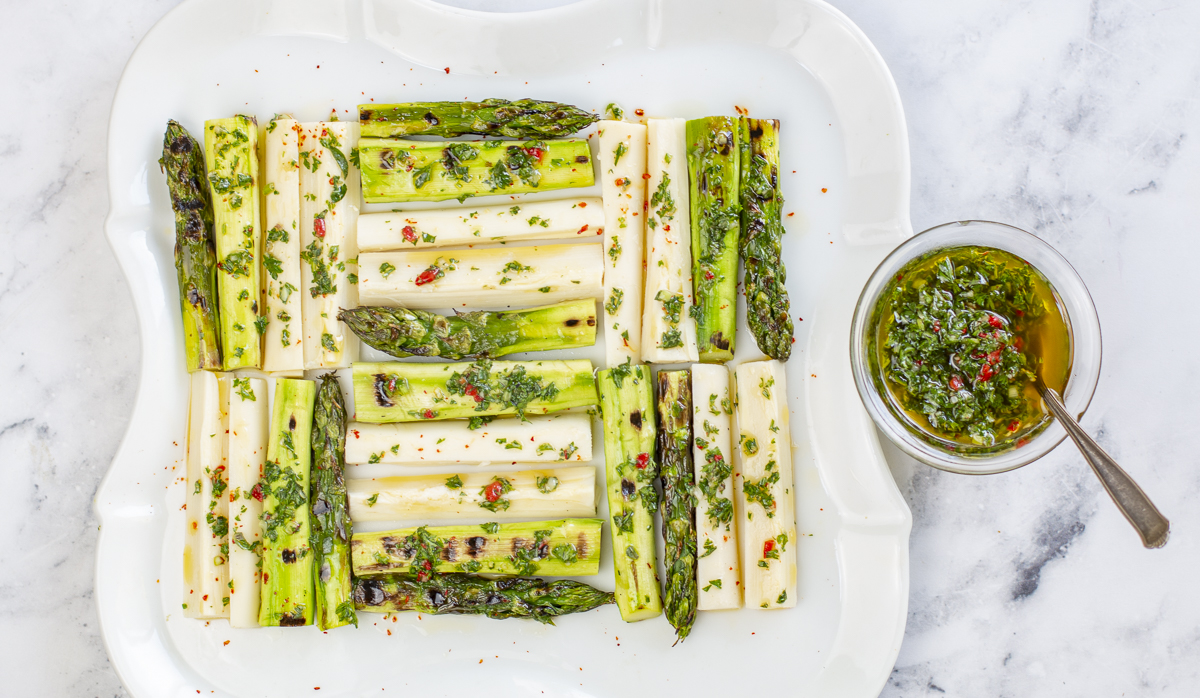 25 Inventive Spring Recipes – to Get You Cooking!
I'm all about Cooking with the Seasons!
Get ready to take on Spring with my FAVORITE RECIPES including lightened-up options, creative first courses, tempting main courses and must-make desserts that. Celebrate this season's bounty with 25 well-tested recipes!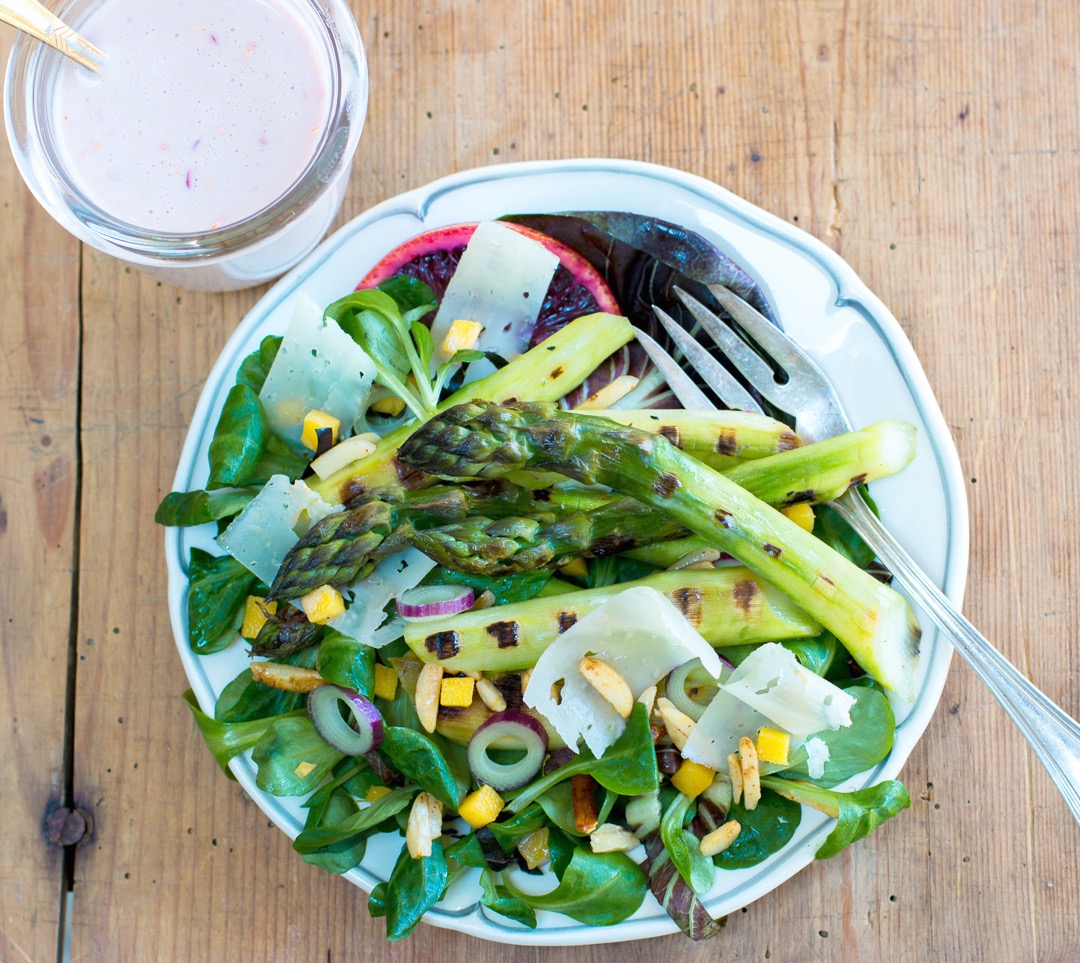 Let's start here – time to uncover the grill and savor these fat asparagus in this restaurant quality salad!
You'll love the Blood Orange Buttermilk Dressing – simply whisk all ingredients together for a creamy, yet light dressing with a gorgeous pink hue from the deep ruby colored blood orange… yes a zesty flavor!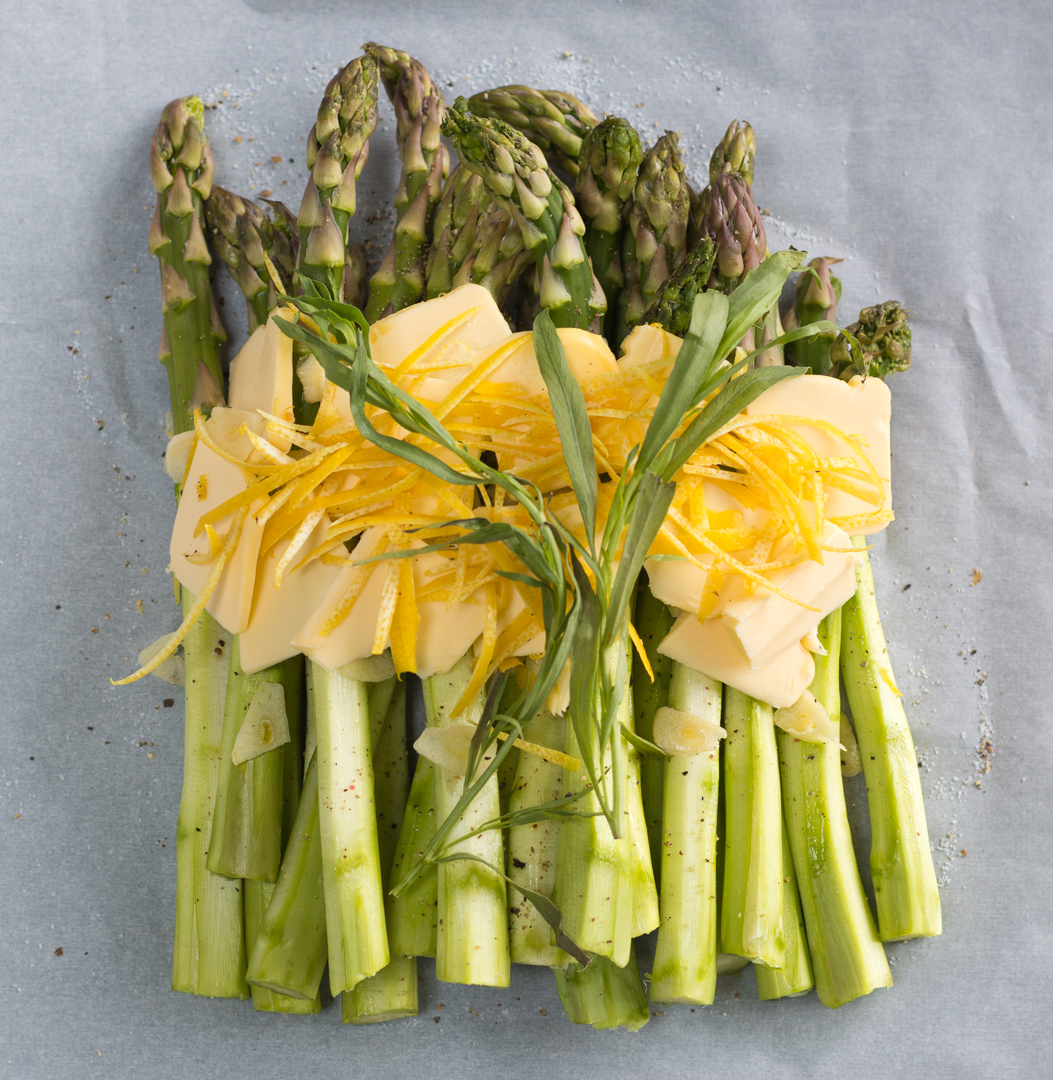 Spring Asparagus Spears are cooked in Parchment Paper with Lemon Rind, Garlic, Tarragon and Butter ~ an easy method with delicious results! I love adding roasted Jerusalem Artichoke slices and Fresh Peas and serve over Pasta.
A bright green velvety-creamy (yet no cream) delicious Spring Asparagus Soup.
Light yet hearty with fresh flavors.

Short brown rice make a creamy risotto and gets a boost of color from a bounty of Spring Vegetables. The green vegetables I have used are: kale, scallion, leek, asparagus, jalapeños, peas and tarragon.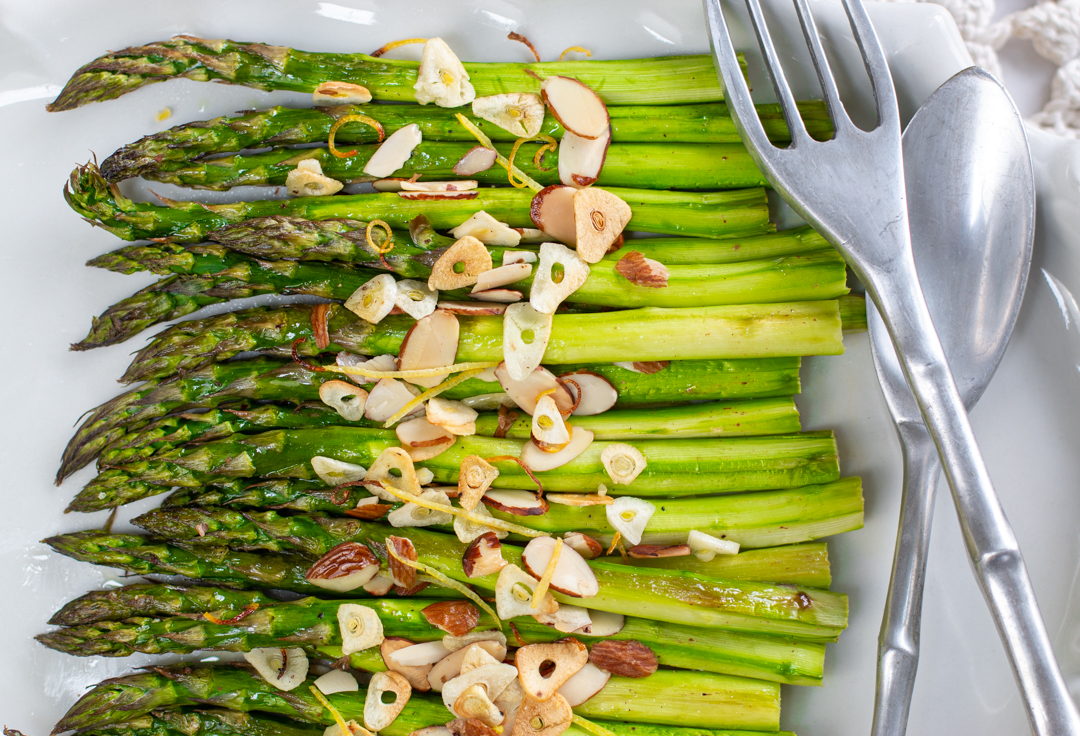 Spring has finally arrived! Easy roasted asparagus is done in just 10 minutes. Roasting heightens the vegetable's flavor – and the toppings add a nice crunch and some nutty & zesty flavor! Look for 'Just-Picked" soon at a Farmers' Market near you.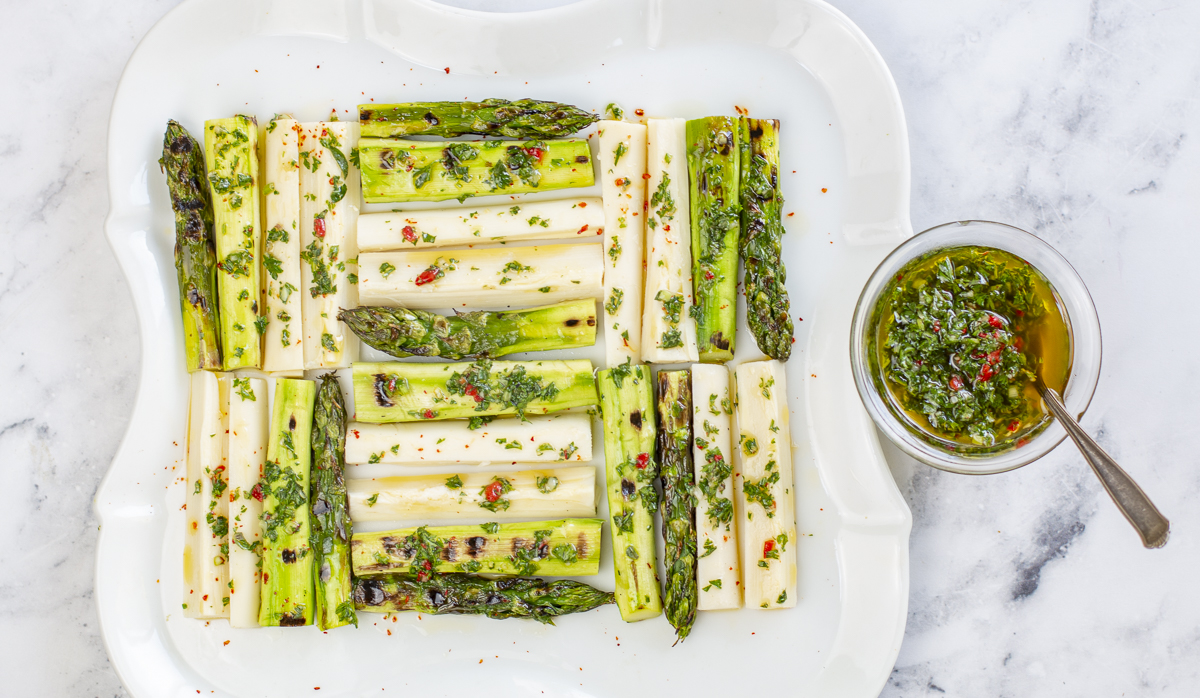 A creative and healthy stunning salad with my master Chimichurri sauce/condiment.
To make – cut the asparagus and hearts of palm the same lengths – add to a platter in a "quilted pattern" and spoon over some Chimichurri.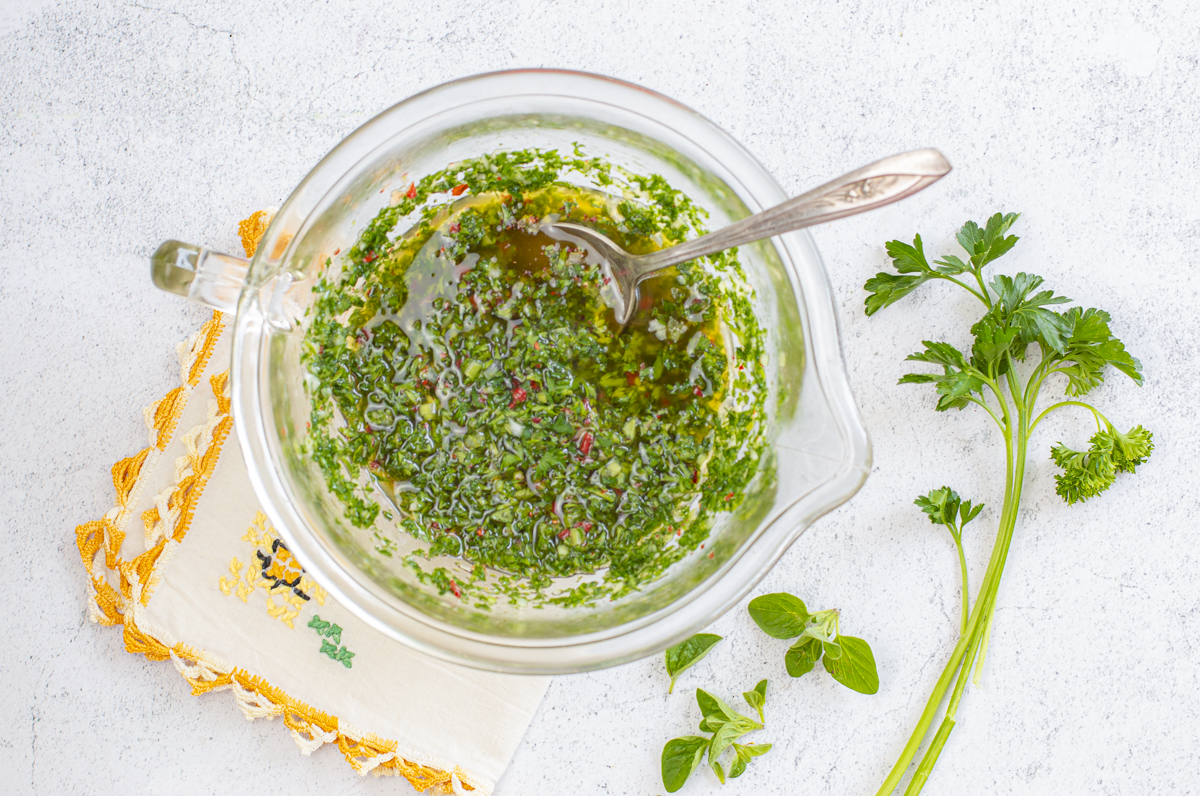 This classic Argentinian Sauce takes only minutes to make and the perfect little sauce/condiment to pair with all your grilling specialties. You simply chop and stir all the ingredients together.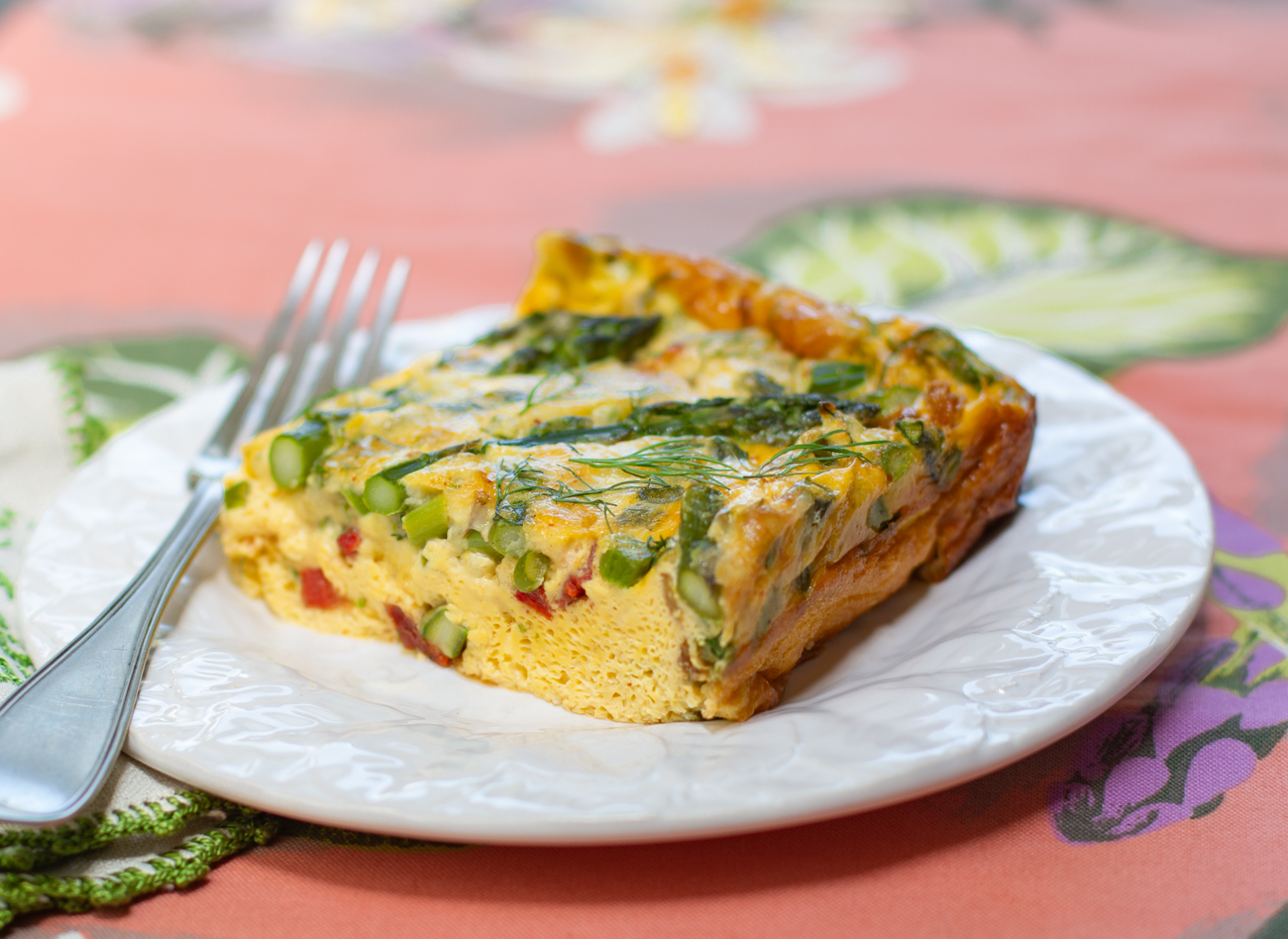 A light and flavorful casserole that is layered with vegetables, cheese, eggs & herbs.
Baked until puffy with a creamy-like texture – a meal in itself!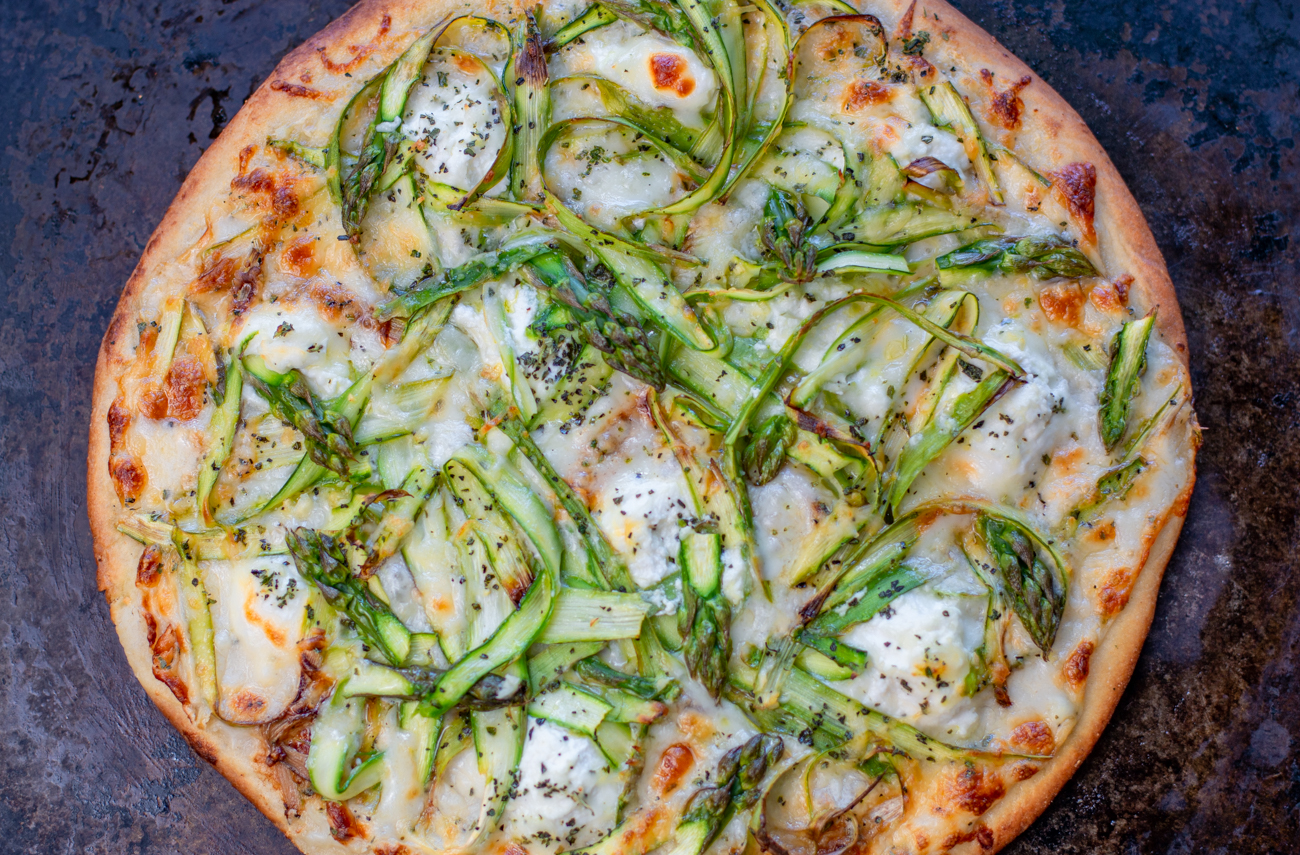 Asparagus adds a veggie element and texture to the Perfect White Pizza!
Make 2 pizzas loaded with flavor with wonderful Shaved Asparagus with Garlic, a White Sauce underneath and Three Cheeses. See my pizza dough recipe too!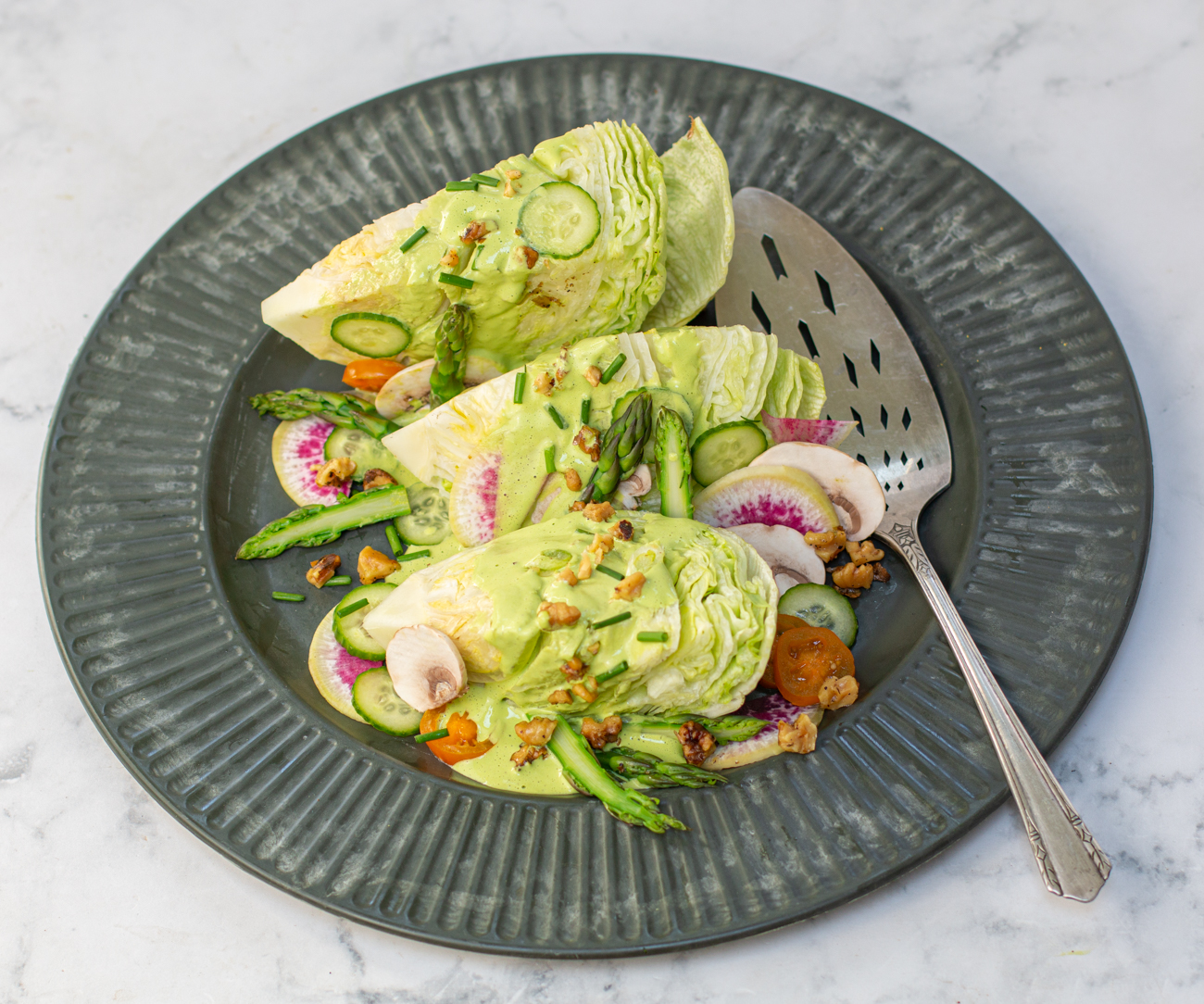 A Light and Flavorful EASY Blender Dressing with a Gorgeous Green Hue!
Uses Four Fresh Herbs; Thai Basil, Mint, Parsley & Dill.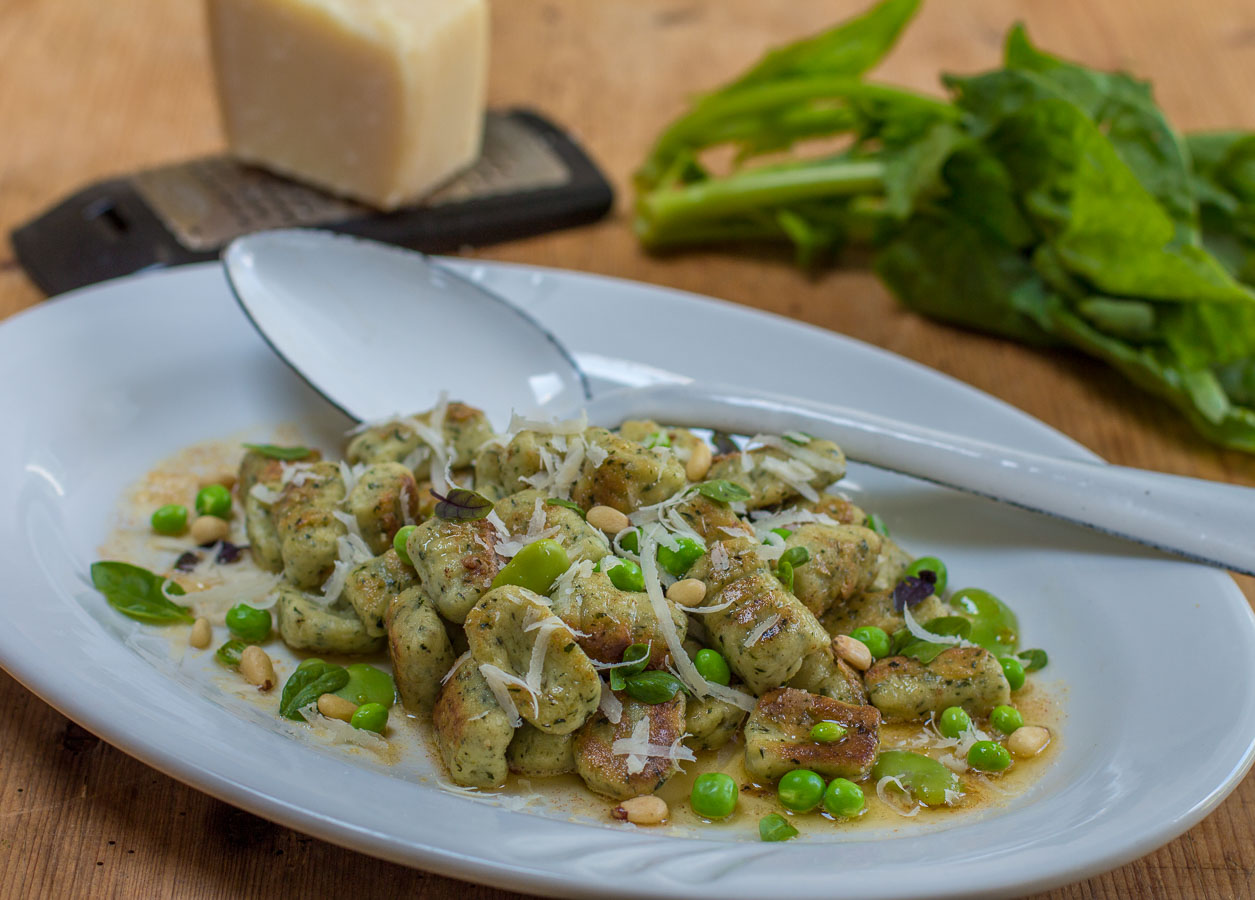 A light an airy super-flavorful gnocchi speckled with Spinach – delectable!
Makes about 150 gnocchi, serves 8 – 12. See notes about how to freeze some.
Adorn with my Brown Butter Sauce and Garlic Scape & Basil Pesto.
A quick blender soup with a good handful of mint – Scallion Kimchee adds a hit of mellow heat.
Loads of peas add a gorgeous color along with leeks, scallions, garlic, potatoes, mint, dill and vegetable broth.
Ah… Spring Artichokes! Steamed in a flavorful broth, then baked with deliciously spiked Cornbread Crumbs. What a simple delicacy – in season, large fresh artichokes, perfectly cooked. What's not to love? From the leaves to the heart, artichokes are simply delicious.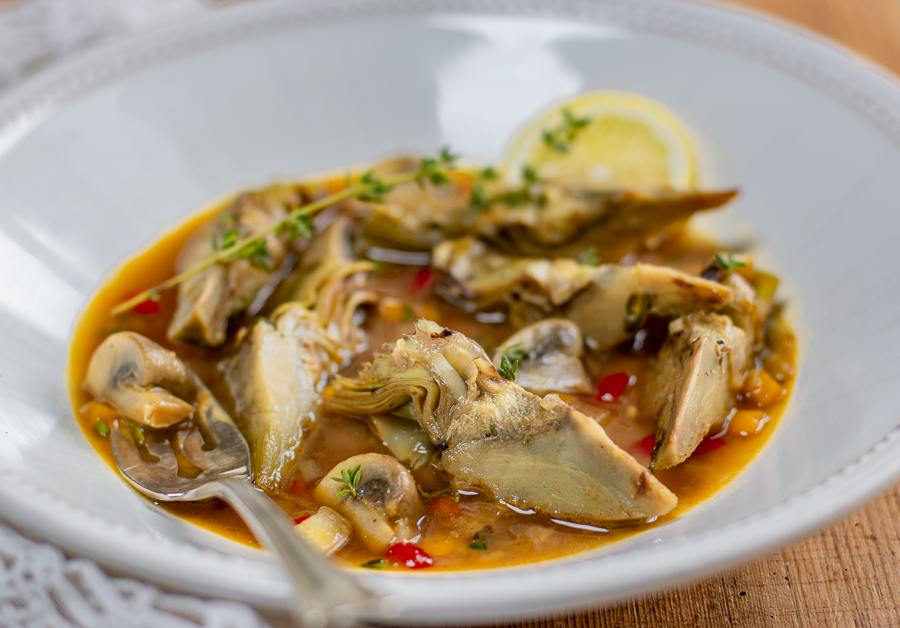 A French version of an antipasto-style vegetable preparation with intense zesty flavors. Learn how to prepare fresh seasonal artichokes! Quartered Artichokes are lightly browned in olive oil and an aromatic court bouillon, then cooled and served lacquered with the broth which is assertive with wine and lemon juice.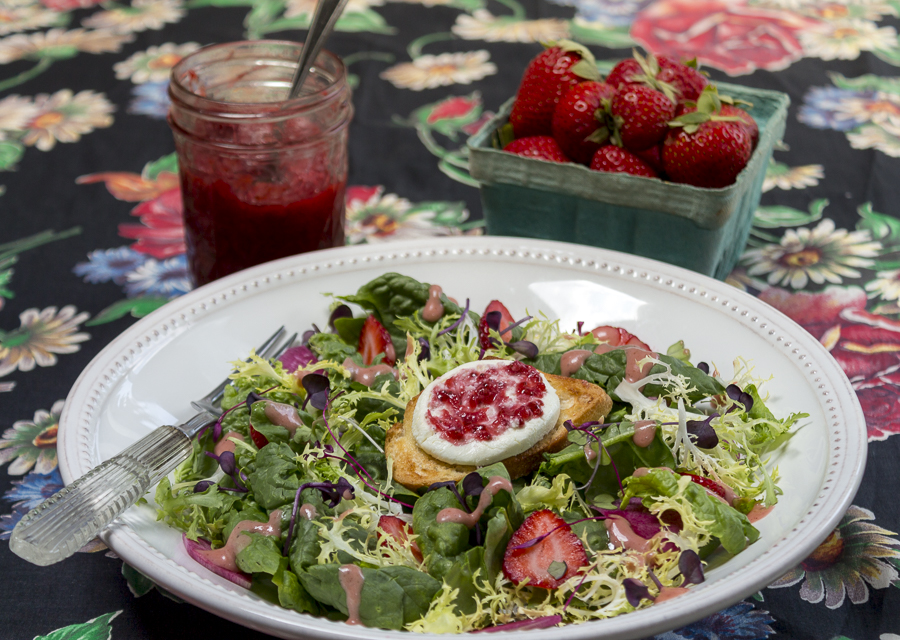 It's Strawberry Season and I've created three recipes: 30 Minute Strawberry Jam, Spinach & Frisee Salad with French Baguette topped with Goat Cheese and Strawberry Swirl, and a zesty Strawberry Vinaigrette.
I've reinvented a classic french salad where a slice of garlic rubbed baguette slice is topped with goat cheese (baked until warmed through) and sits on top of greens with a vinaigrette dressing.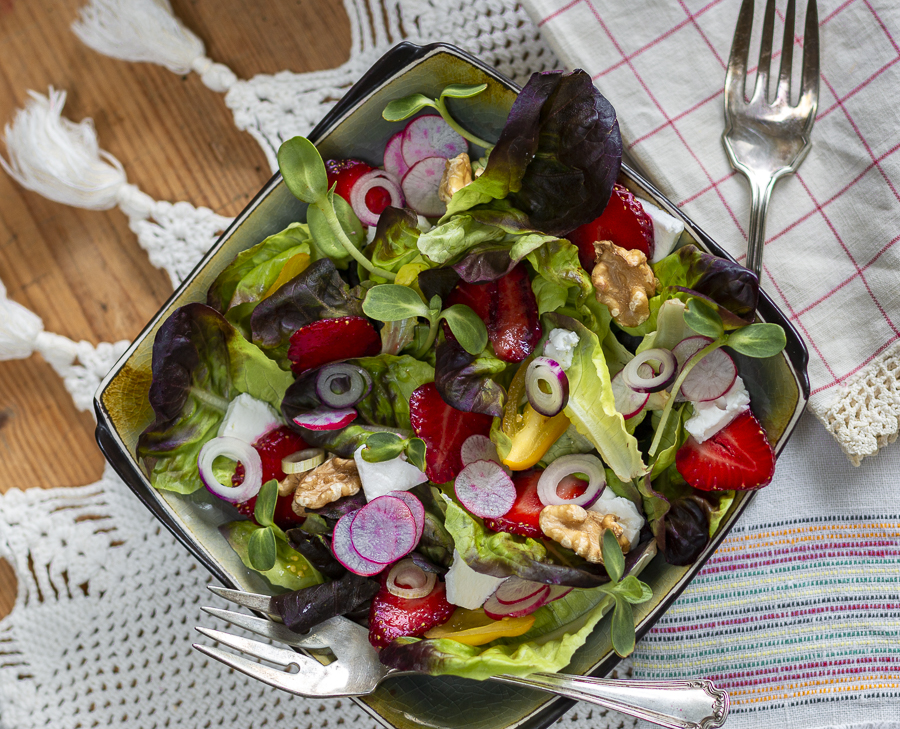 Seasonal Lettuces and Vegetables team with the Juiciest Strawberries with the perfect Zesty Maple-Walnut Vinaigrette. Delicious flavors and textures – sweet & savory.
These individual crisps are bursting with strawberries and an almond lace cookie top. Totally crunchy! If I do say so myself – these crisps are genius… not loaded with sugar with a top layer that cracks – like Crème Brûlée! See recipe for Coconut Whipped Creme.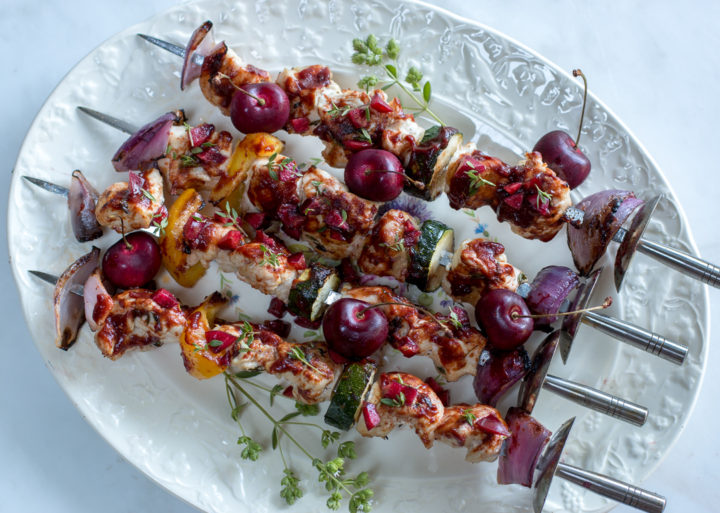 A fabulous Basting and Dipping BBQ Sauce to make During Cherry Season! A gorgeous color with Fresh Cherry Flavor. Wonderful with Chicken & Veggie Kebobs. Homemade barbecue sauce is vibrant, velvety, flavorful and full-bodied.

These nachos is very satisfying and craveable. Fresh Cherry Salsa adds tart-sweet and spicy notes – addicting!! Fresh Cherry Salsa includes diced Charred Jalapeño, Tomato, Onion and Basil.
My favorite Spring fruit: Rhubarb!!
See all recipes in this category: My Love of Rhubarb
Technically a vegetable, but is legally considered a fruit.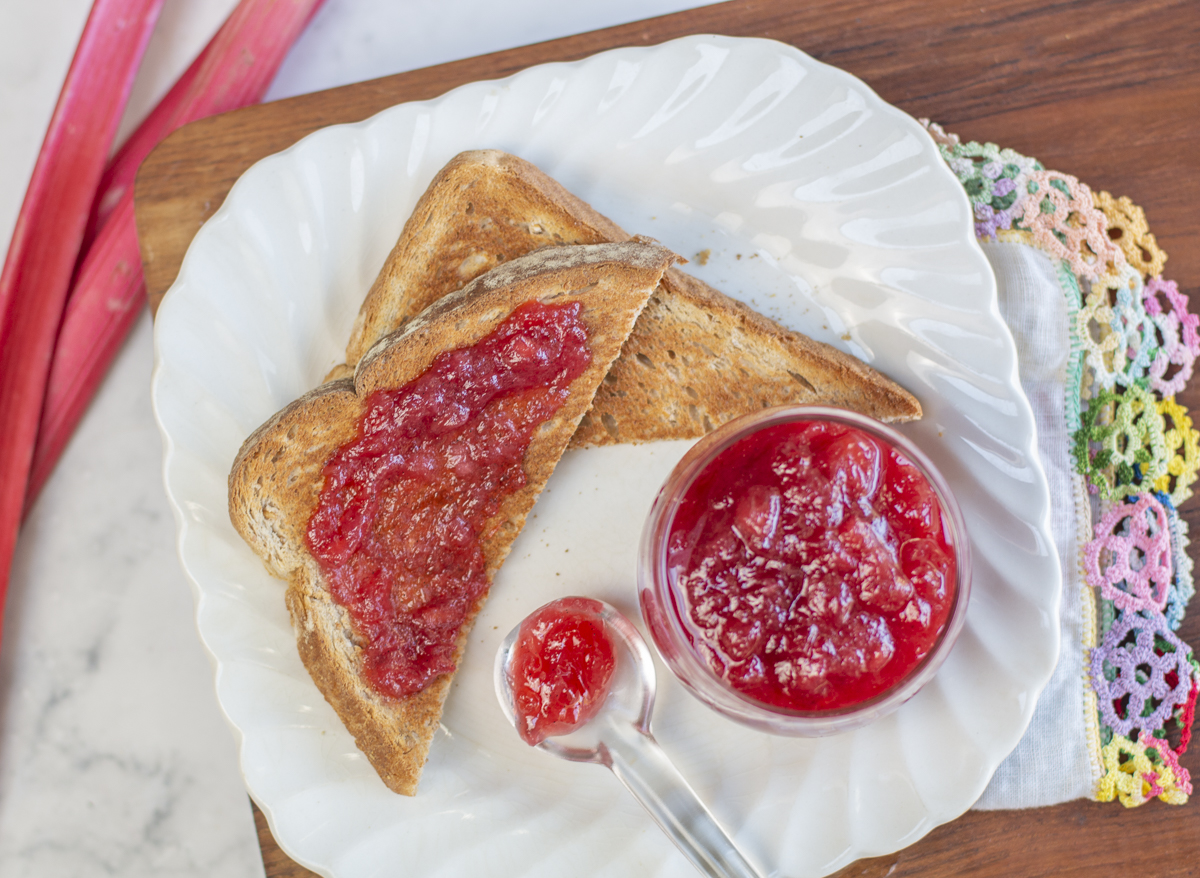 Spring Rhubarb cooks into a delectable jam!
I add a little chopped apple for balance and I love the lingering vanilla bean aroma.
These vibrant pink to crimson stalks are tart with a flavor all their own.
I find the taste to be intoxicating.
Seasonal Fresh Rhubarb is blended in a tangy & zesty Barbecue Sauce!
An easy Sauce & Glaze – terrific using on the grill and as a side sauce.

My favorite Spring Meal!
Perfectly cooked Salmon with a luscious Rhubarb Vanilla Bean Sauce and a Spring Vegetable Salad. See my Rhubarb Vanilla Bean Jam too!!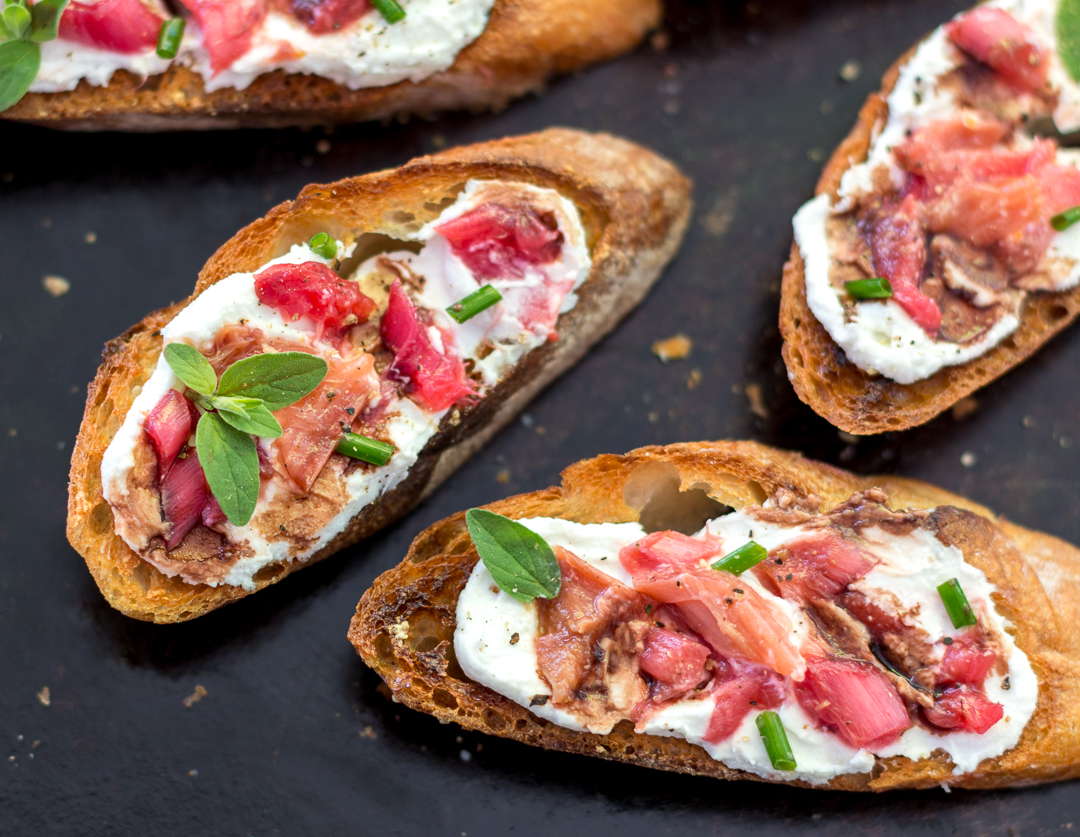 Three Rhubarb recipes come together in this marvelous, fresh salad with a Savory Bruschetta. Enjoy as is or serve the Rhubarb and Goat Cheese Bruschetta over a salad with Rhubarb & Shallot Vinaigrette – Homemade Rhubarb Vinegar.
As summer fruits are still ripening, taste the marvelous, special flavor of Rhubarb in this easy to make (promise!) fruit tart. Can add a handful of Raspberries too!
The shortbread cookie crust stays firm when cooked, and crumbles like a cookie when cut into… perfection!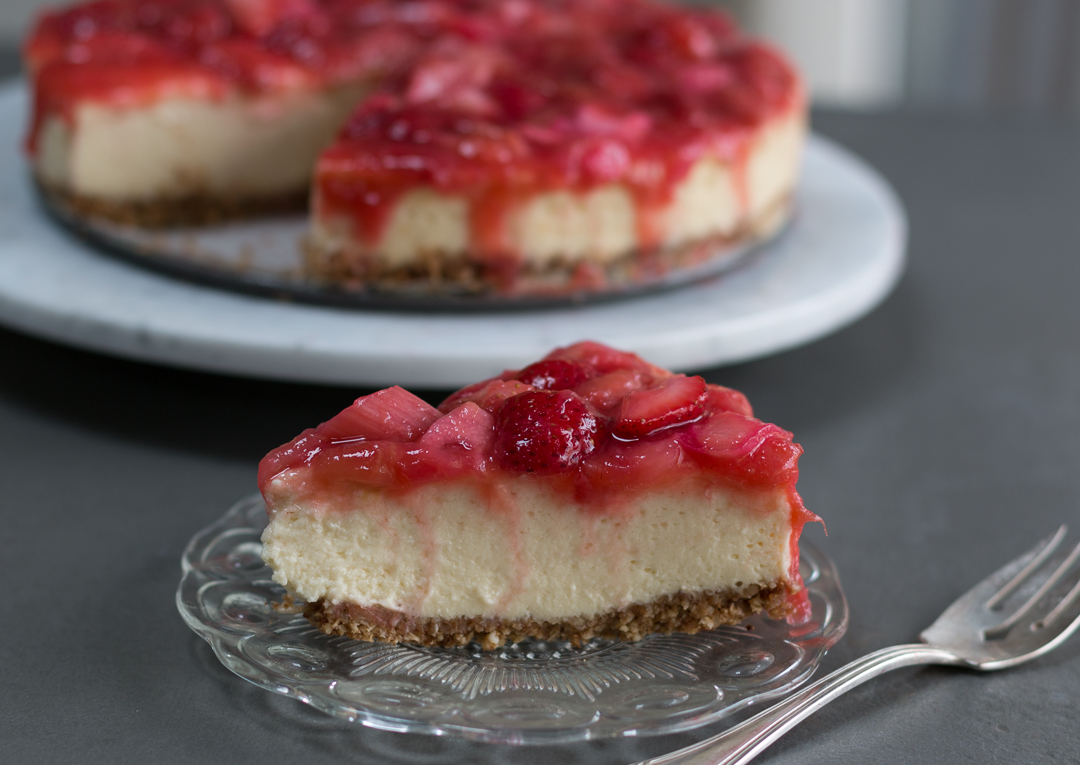 You'll fall in love with the lighter texture of this amazing cheesecake. A simple topping with luscious Spring Rhubarb and Strawberries add just the right tart-sweet flavor and gorgeous color! NO cream cheese – all cottage cheese! See the fruit topping.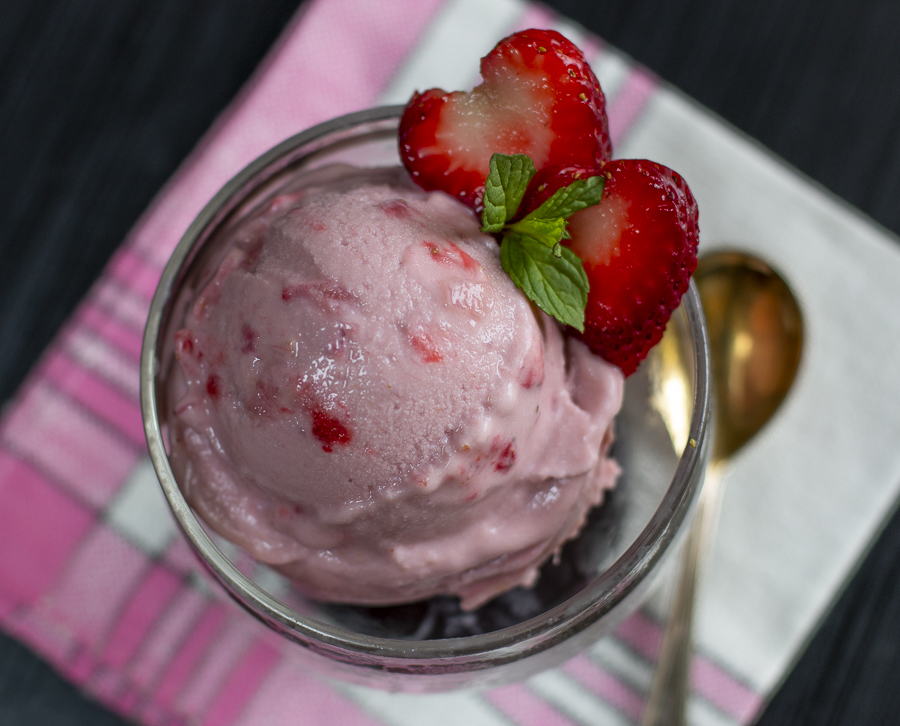 I'm a rhubarb fanatic! Perfectly blended into a fabulous creamy dessert. It's sweet-tart flavor and gorgeous pinky hue sets off the sweeter strawberries.
Impressive Just Spring Vegetables to look out for are:
Asparagus, Spinach, Artichokes, Carrots (you all know I can not pass up a bunch of colorful Heirloom ones!), Morels, Ramps, Leeks, Radishes, Cabbage, Fiddlehead Ferns, Greens, Herbs, Scallions, Fava Beans, Snow Peas,  Garlic Scapes, Broccoli, Baby Lettuce, Fennel, Green Beans, Endive, Vidalia Onions, Chives and Green Garlic.
Spring Fruits: Rhubarb, Strawberries, Apricots and Cherries.

Spring is a season of great promise – more sunshine and crops-a- sprouting!
I'm getting excited ~ because Spring is when nature really loves to show off!
Spring is when many of farmers' markets open outdoors selling everything from garden plants to just-cut asparagus to garlic scapes. You just can't beet the flavor! I always enjoy chatting with the farmers and talking about current crops, and what's going into the soil.
My favorite thing about shopping the farmers market? There's no choice but to cook (and eat) with the seasons.
Make the most of fresh, seasonal ingredients and try some new recipes – you will learn new techniques too to add to your repertoire.
It's been a long, cold winter! Yes, spring has sprung, and we get a bounty of new vegetables, fruits and herbs in season to cook with. here's what to look for at your local store or farmers market
There are many fruits and vegetables now becoming available. In the next weeks I will be exploring the riches of  many Spring ingredients and how to use them.
Hello Spring!
Tell me what you think! 
Karen
Grilled Asparagus & Hearts of Palm Salad with Chimmichurri
A creative and healthy stunning salad with my master Chimichurri sauce/condiment
Print Recipe
Pin Recipe
Rate this Recipe
Ingredients
7

jumbo

asparagus

or a few more if not jumbo, trimmed and peeled

6

large

hearts of palm spears

cut in half lengthwise

2

teaspoons

neutral oil

such as expeller pressed safflower

3

pinches

salt & freshly cracked pepper

4

tablespoons

Chimichurri sauce

see my recipe
Instructions
Make the Chimichurri.

Add asparagus to a plate to hold - add one teaspoon of oil and the seasonings.

Heat grill to meadium- high and grill the asparagus until nice grill marks form; turn over. Close grill and cook on the second side until just cooked through but tender-crisp.

Add cooked asparagus to the plate, cool

Cut hearts of palm in half lenthwise - cut asparagus the same lengh.

On a platter arrange in a "quilted pattern" (see photo) and top with a few tablespoons of Chimichurri.

Best to add Chimichurri when asparagus is still a bit warm to grab the flavors.

Enjoy!
Notes
This recipe can not be reproduced without the consent of its author, Karen Sheer.
Nutrition Facts
Grilled Asparagus & Hearts of Palm Salad with Chimmichurri
Amount per Serving
% Daily Value*
* Percent Daily Values are based on a 2000 calorie diet.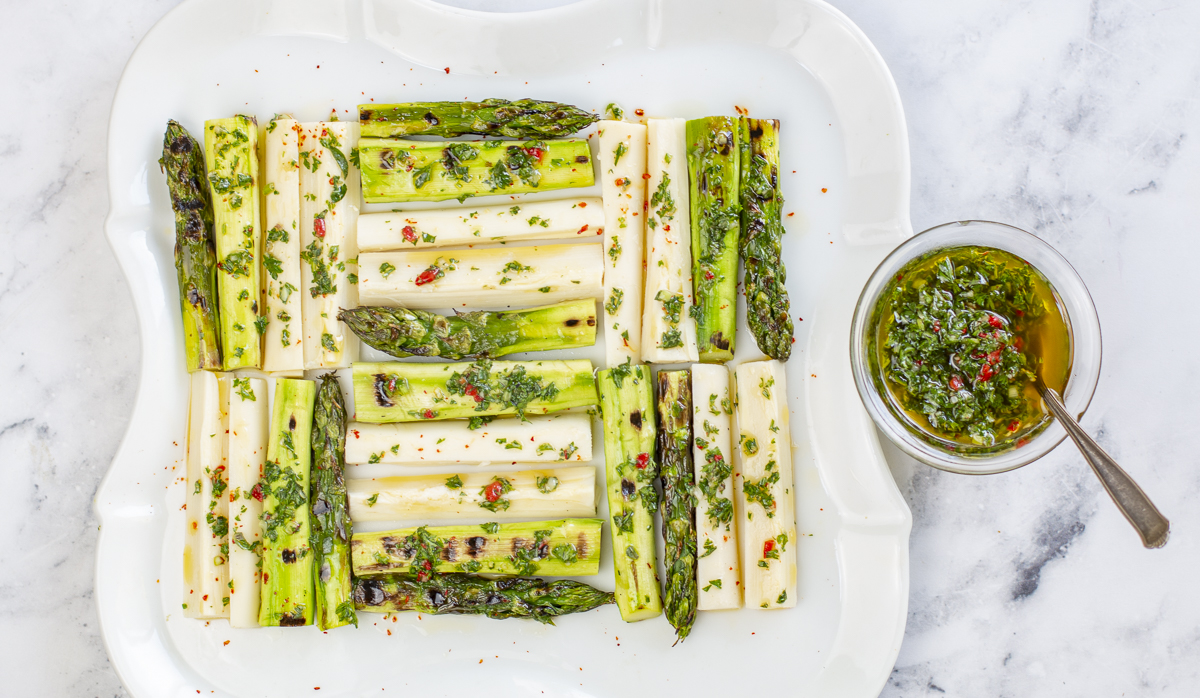 Karen Sheer