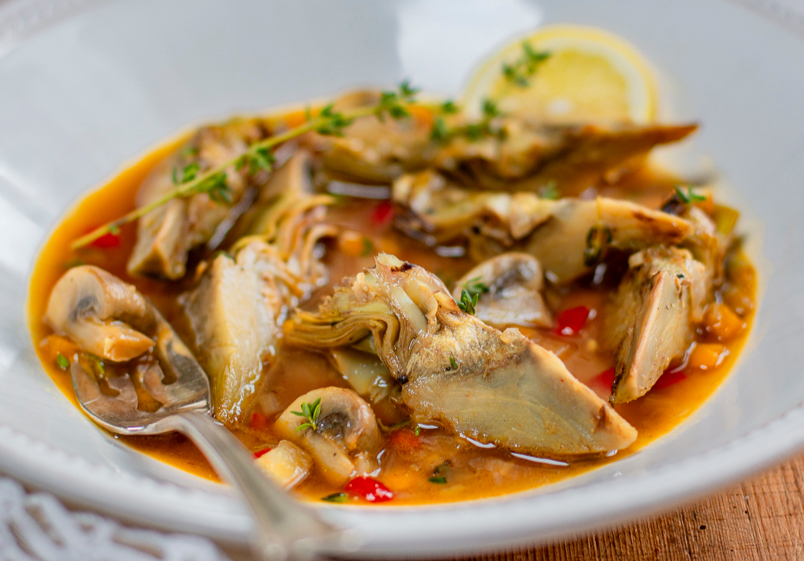 Artichokes à la Grecque
Spring Recipe: the French version of an antipasto-style vegetable preparation with intense zesty flavors. Learn how to prepare fresh seasonal artichokes! 
Vegetables à la grecque is a French dish ~ vegetables are typically slightly pickled in a broth of vegetable stock and wine. I'm swirling in a little butter and serving with fish; great over pasta too! A beautiful recipe for Artichokes!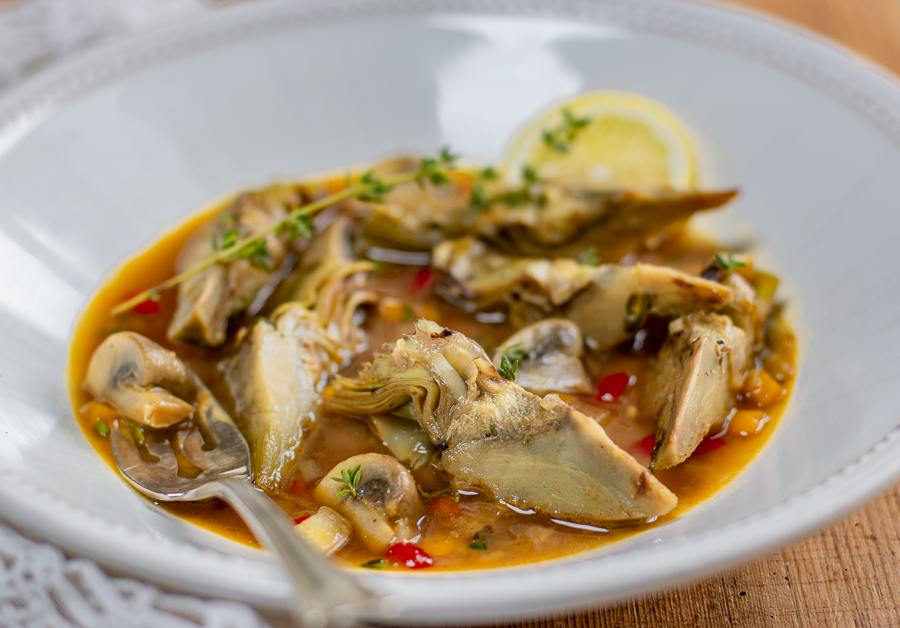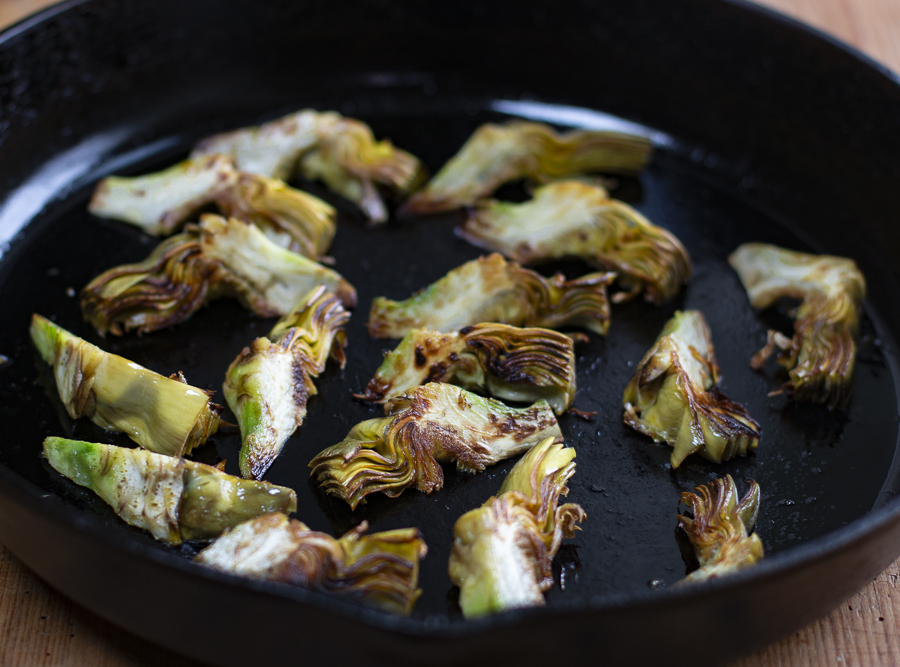 Enjoy alone warm, cold out of the fridge or as a sauce over fish.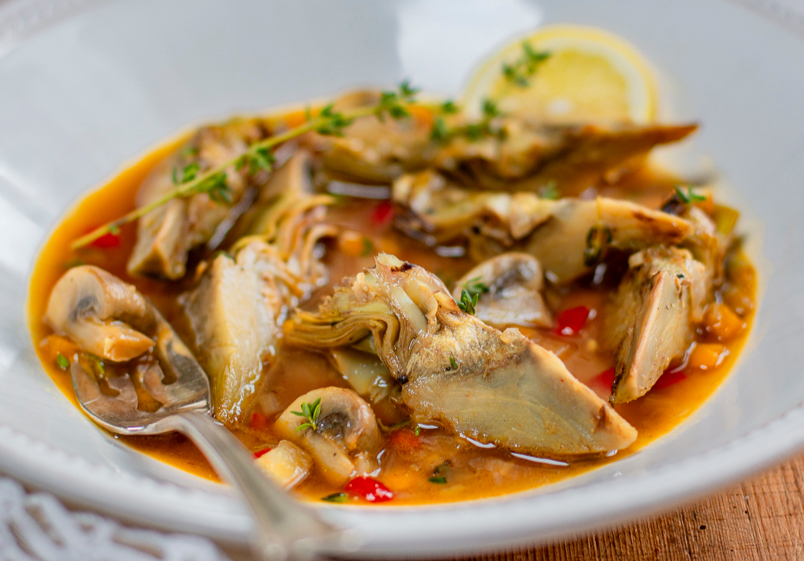 Ingredients
4 medium sized globe artichoke 
lemon water for artichokes
4 tablespoons extra virgin olive oil, divided 
1 cup onion, ½″ dice ½ cup 
⅓ cup shallots, peeled, diced ⅓"  
6 medium button mushrooms, cleaned, quartered 
3 – 4 cloves garlic, peeled, thinly sliced 
¼ cup colored peppers, ¼" dice (red & yellow)
2 bay leaves 
1 teaspoon fresh thyme leaves 
 1  ¾ cup vegetable broth* (can us chicken broth) 
½ cup dry white wine 
6 grates freshly ground black pepper
¼ teaspoon sea salt
1 tablespoon fresh lemon juice
2 tablespoons unsalted butter, organic; use if making into a sauce** 
sea salt to taste
Instructions
1
Prepare and Quarter the Artichokes:
Have ready a large bowl filled with water and juice of one lemon.
Cut stem to 1/2″ long. Trim with a sharp small knife.
Snap off and discard tough outer leaves. Dark leaves will be discarded leaving the lighter green leaves intact.
Cut off and discard the top 1/3 of the artichokes. Cut them in quarters.
Remove the fuzzy choke (which covers the hearts) of the artichoke with a sharp spoon and discard.
Drop the artichoke quarters in the lemon- water ~ which stops discoloration.
Proceed with preparing the next 3 artichokes
2
Sauté the Artichokes:
Heat a 10″skillet with 2 tablespoons extra virgin olive oil.
Drain and pat dry the artichoke quarters.
Raise heat to medium, add artichokes. Let develop some color underneath, then turn with tongs. Cook until golden all over. Remove to a plate.
3
Make Broth/Sauce:
Add last 2 tablespoons extra virgin olive oil to the pan.
Over low – medium heat add; shallots, mushrooms, garlic, peppers, bay leaves, and thyme leaves.
Give a stir and cook for 3 minutes to soften.
Add the vegetable broth, wine, pepper, salt and lemon juice. Bring to a boil, then reduce to a simmer. Cook for 5 minutes, then add the artichokes and cover.
Simmer on low heat until the artichokes are tender; 10 minutes. Taste for salt.
Eat the vegetable as is — or refrigerate and eat the artichokes cold.
4
To use as a Sauce:
Swirl in cold butter to the vegetables and broth until emulsified.
Great over pasta too! I served with Cod Fillet.
* Try Better Than Bouillon Organic Vegetable Base.
See BLOG for many photos and information.
This recipe may not be reproduced without the consent of its author, Karen Sheer.
Karen Sheer