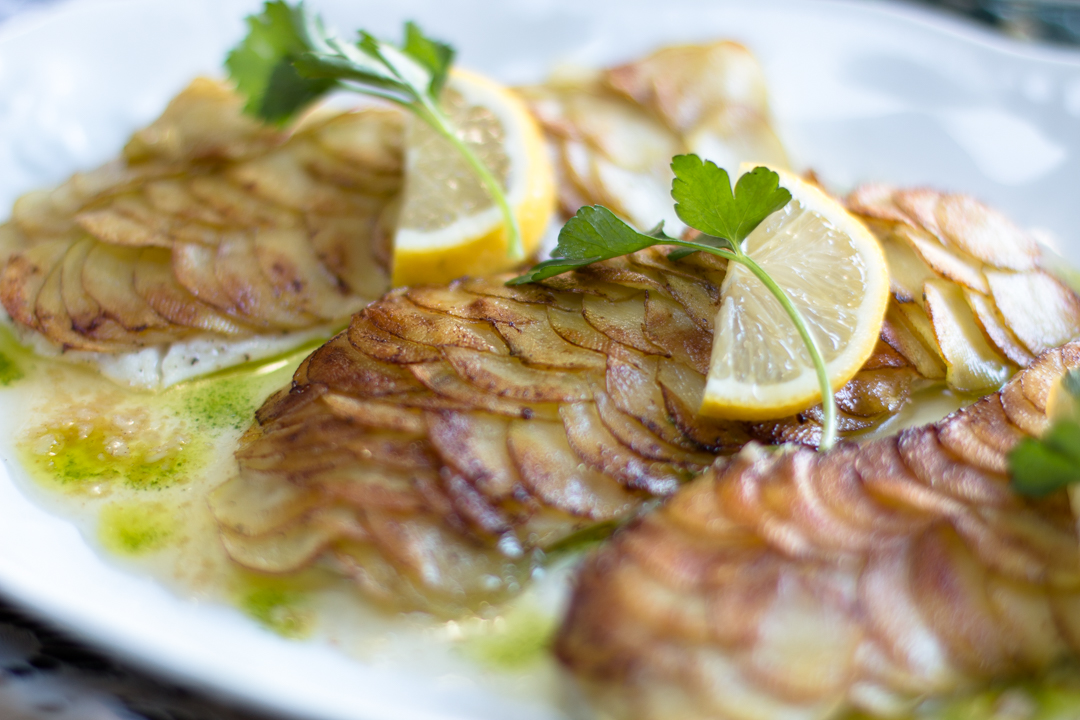 Potato Scaled Fish – Inspired by Paul Bocuse
An elegant way to prepare fish – try my foolproof recipe to cook this classic dish. Paul Bocuse, the father of French gastronomy inspired the dish… I have added a wonderful Brown Butter-Garlic Drizzle with Parsley Oil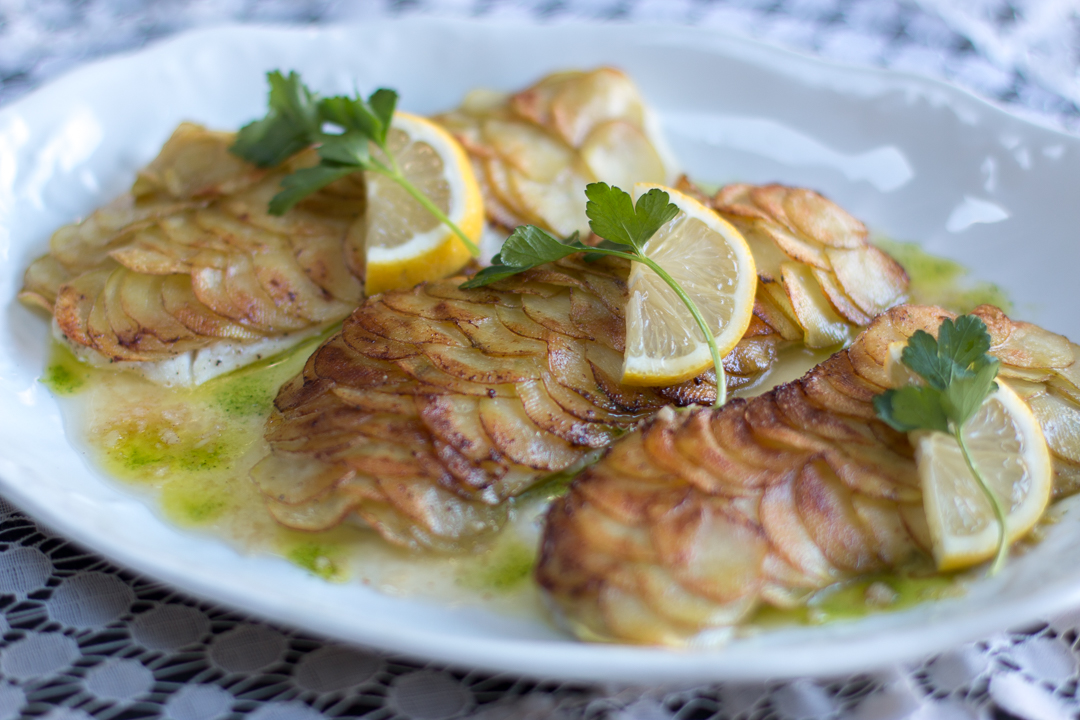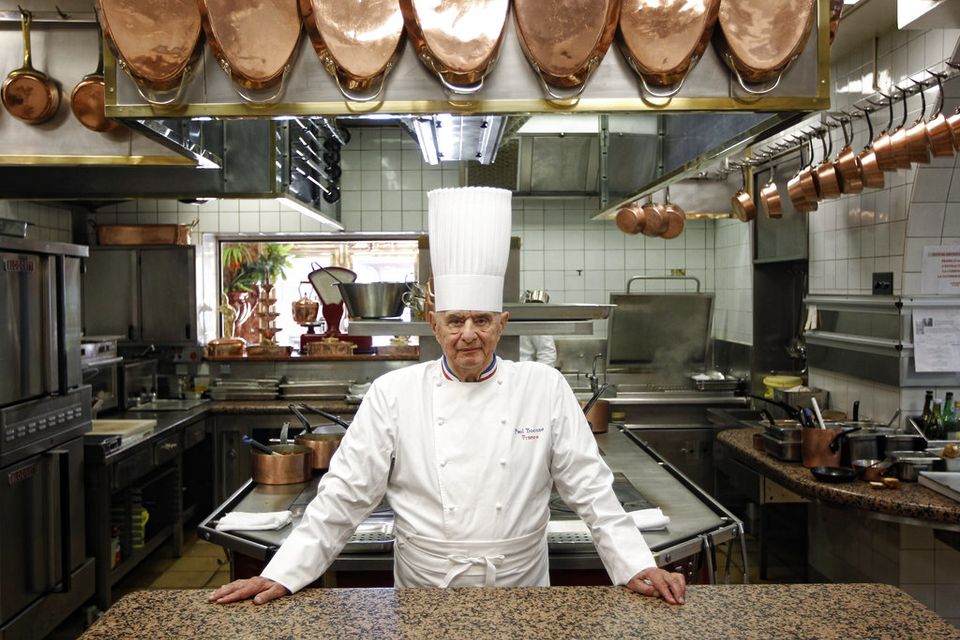 Yes – you can learn how to prepare this Classic French Dish, for you, your loved ones or company. Big rewards, wonderful flavor… not too much butter!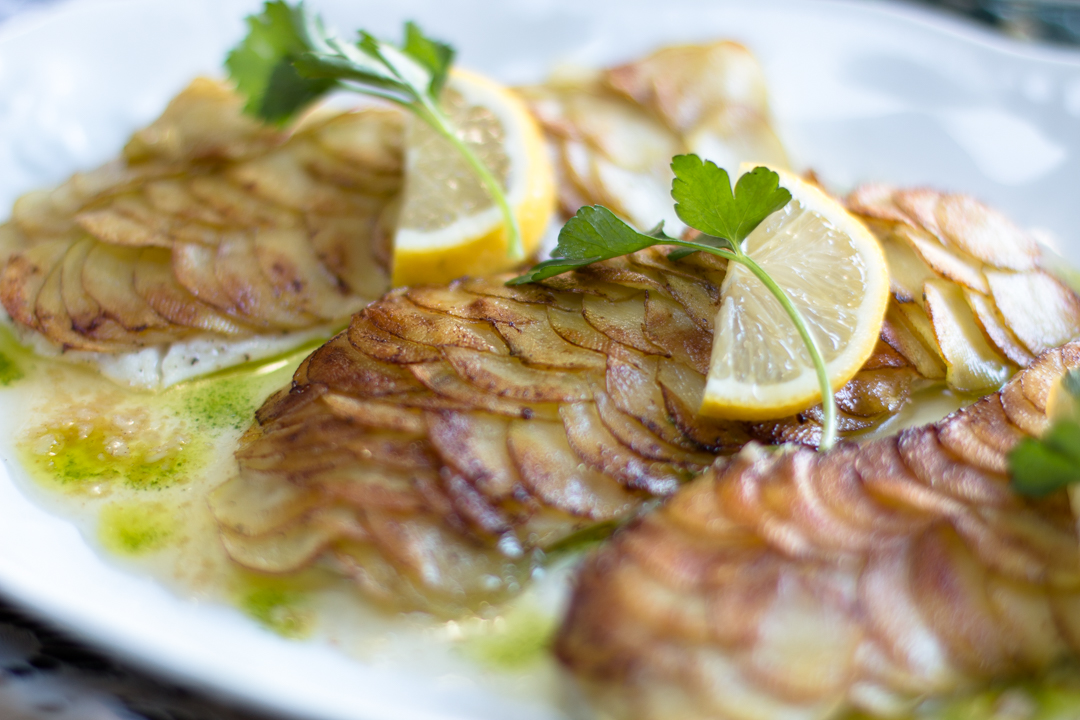 Ingredients
1 pound Black Sea Bass Fillets, use the freshest fish you can buy 
2 tablespoons clarified butter* (see recipe)
4-6 large fingerling potatoes, scrubbed, I used 3 large 5″ ones
few pinches salt & pepper
2 tablespoons unsalted butter (for the browned-butter sauce)
½ teaspoon fresh garlic, minced
1 tablespoon Parsley Oil** see recipe
2 large lemon wedges
Instructions
1
The recipe: The method is simple – just needs a little time to get it right! Here is the recipe step-by-step so you can achieve great results.
2
Make the Clarified Butter and Parsley Oil.
If not making Parsley Oil, add a few teaspoons of fresh chopped herbs to the browned butter garlic sauce.
3
On a large plate or cutting board – arrange 3 pieces of parchment paper, a little larger than the fish. Place a fillet on each piece. This makes it super-easy to invert each fillet into the pan!
Season with salt & pepper all over.
Set a steamer basket in a pot to fit, add water, and bring to a boil.
Slice the fingerling potatoes very thinly using a mandoline, then scatter them in the steamer and cover.
Steam for just 3 minutes until partially cooked and sticky. Sticky is good… that will help them stick to the fish.
Remove the cover – place next to the fish on the counter.
4
Brush the fillets with a smear of clarified butter.
Add the potatoes in tight rows to mimic the scales of fish.
Brush all over the potato scales with a little clarified butter. (Use a total of 1 T. clarified butter in this step.)
Refrigerate for 30 minutes until cold and firm.
5
To cook: Preheat oven to 350 degrees.
Melt remaining 1 tablespoon of clarified butter into a large stick proof skillet or seasoned cast iron skillet.
Heat to medium – high. Add fillets, potato side down one at a time, remove the parchment paper.
Gently press down on each fillet.
Cook for 3 – 5 minutes until the potatoes are golden and crusty.
Have a rimmed baking tray ready. Quickly remove the fish from the skillet with a large spatula – inverting, potatoes side up.
Finished cooking the fish throughout until done inside – this will depend on the thickness if the fish.. mine was done in 5 minutes. Remove fish to individual plates and spoon some Brown Butter Garlic Sauce on the plate, drizzle with Parsley Oil.
Serve with a large wedge of lemon & enjoy!
6
*How to Clarify Butter: (butter that has been cooked to remove any water and solids.)In a small saucepan, melt 2 T. unsalted butter over medium-low heat.
As the butter melts, skim off the white foam that rises to the top.
Once the butter is melted and the foam is skimmed (this will take about 5 -7 minutes), the milk solid sediment will be at the bottom of the pan with a layer of golden liquid on top. Carefully pour the top layer – the clarified butter into a bowl.
7
Easy Browned Butter Garlic Sauce:
Melt 2 T. unsalted butter in a small skillet. Let the butter melt and cook, stirring often, until it's nutty and browned, 3 to 5 minutes – stirring occasionally and skimming foam as necessary. Take off heat. Wait one minute until it has cooled slightly.
Add 1/2 t. minced garlic and stir well.
Add a pinch of salt and spoon around the fish. Add some Parsley Oil for a wonderful flavor.
If not using Parsley Oil, you may add some fresh chopped herbs to the browned butter garlic sauce.
8
**Parsley Oil:
Use 1/2 cup packed, cleaned fresh parsley leaves.
Blanch in boiling water for 30 seconds, will be bright green.
Add to a small bowl of ice water to totally cool.
Strain and dry well in a few changes of paper towels.
Add the parsley, 1/3 cup extra virgin olive oil and a pinch of salt to the carafe of a blender.
Blend on low speed to high for at least one minute.
Strain the oil in a with a mesh strainer into a small bowl.
(You can use some to the parsley (what you strained out to add more body to the oil.)
Store extra in a clean glass container in the refrigerator, use within a few weeks.
9
About Fish:
The fish must be fresh! Buy from a fishmonger you trust. Don't be embarrassed to ask "when did it come in?" I bought my fish out in eastern Connecticut at Sea Well Seafood in Mystic. They sell what comes off the boats… everyday.
If you are unsure when the fish has been filleted – purchase a whole fish and ask to fillet it for you.
~ I chose Black Sea Bass Fillets – a firm white fish with a pleasant, sweet flavor. Enough body to hold up under the potato scales without flaking. You can also try halibut (which is thicker) and remove the skin.
See BLOG for more photos of how to prepare and some history of chef Paul Bocuse.
This recipe may not be reproduced without the consent of its author, Karen Sheer.
Karen Sheer