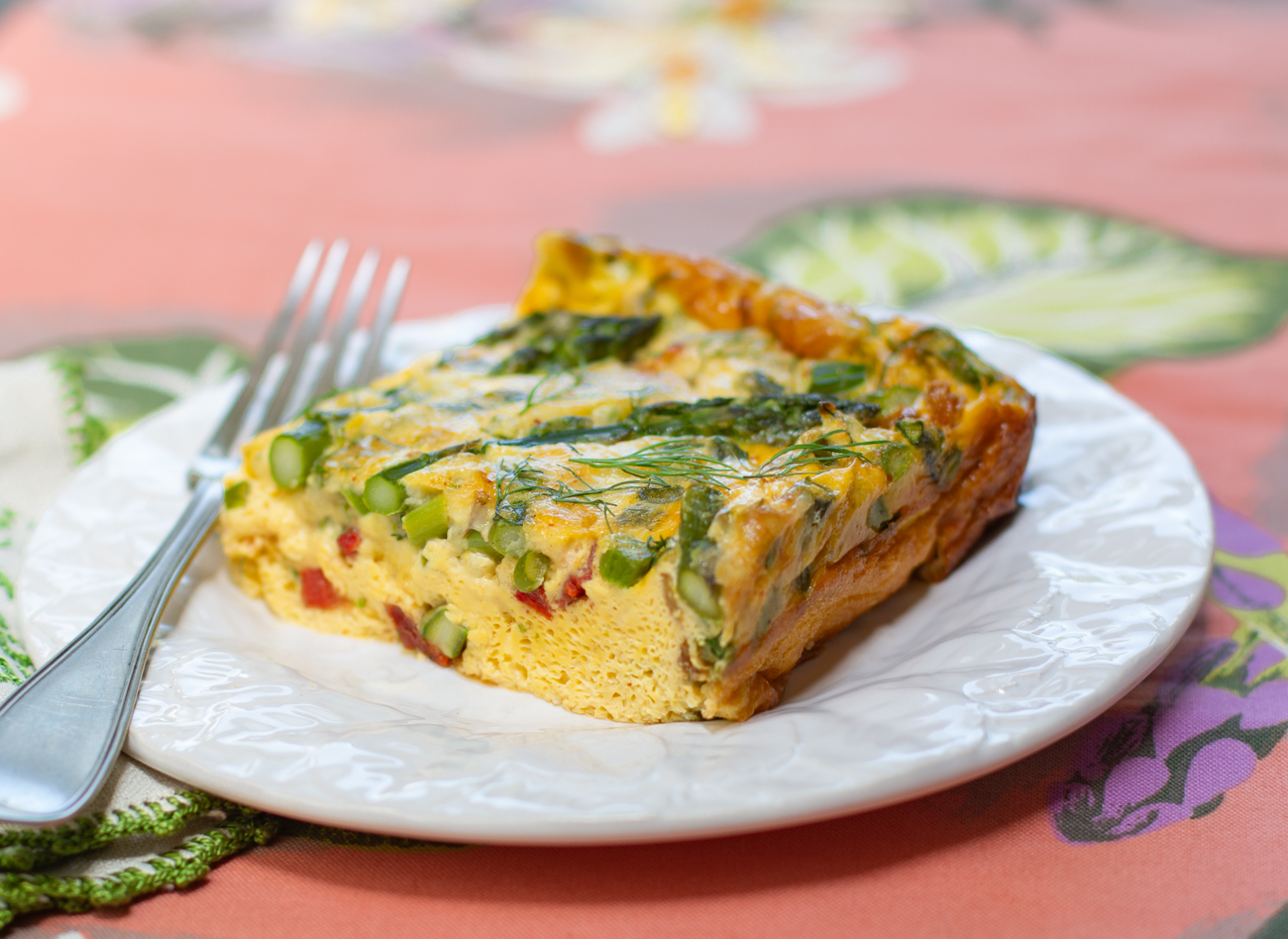 Asparagus Frittata with Roasted Peppers & Dill
A light and flavorful casserole that is layered with vegetables, cheese, eggs & herbs.
Baked until puffy with a creamy-like texture – a meal in itself!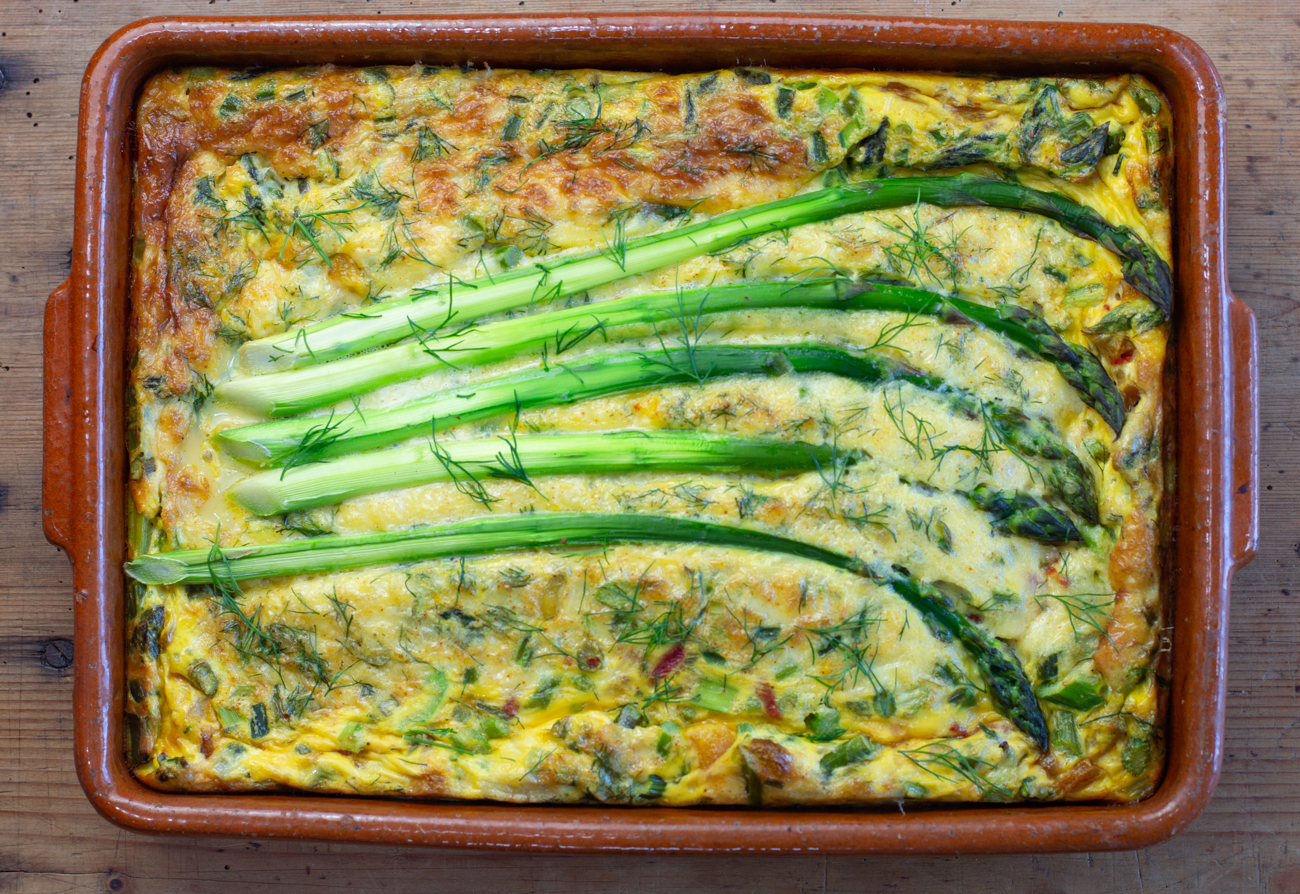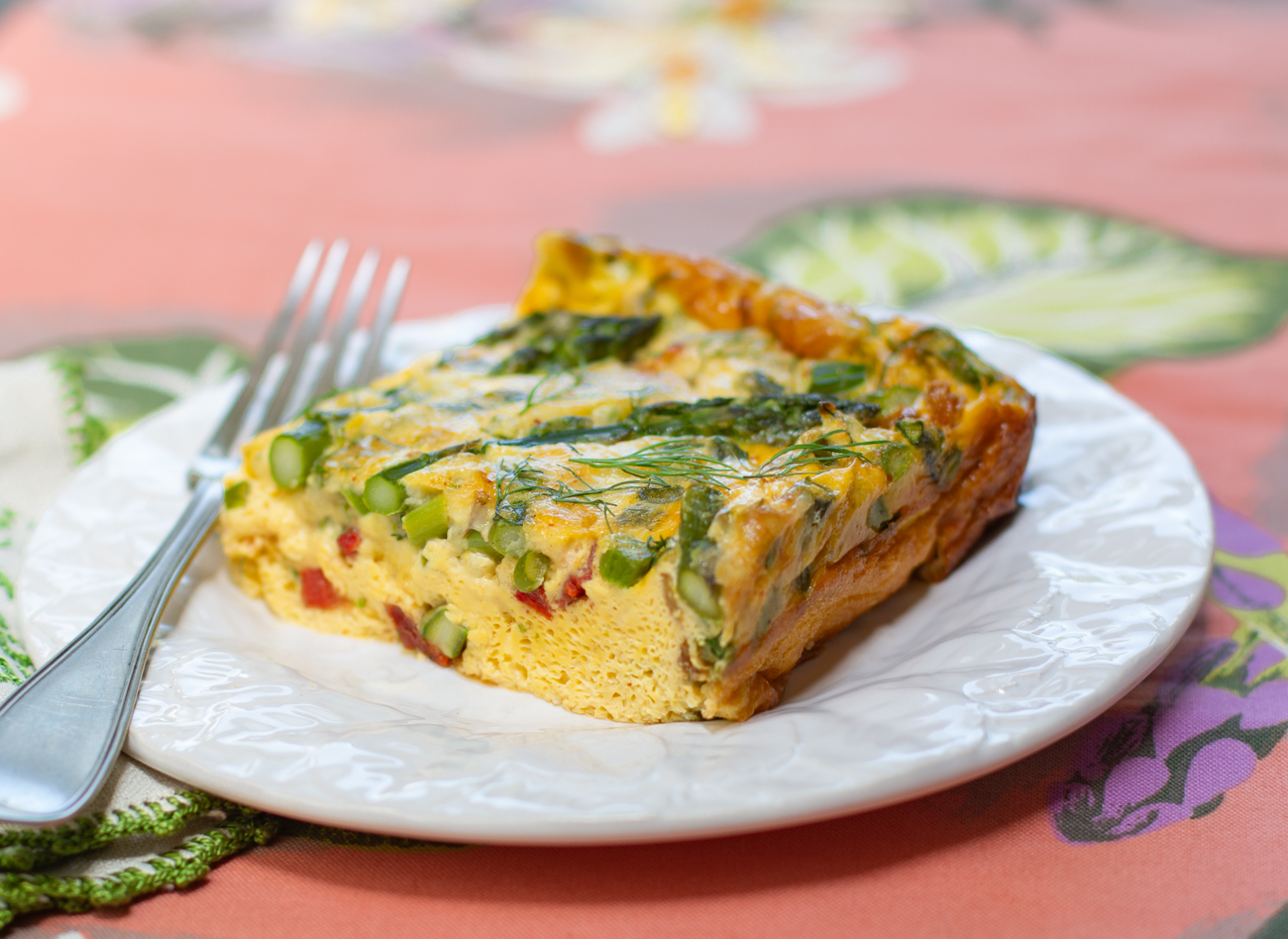 A light dish – with a very creamy consistency with beautiful layers & color contrasts.
Serve as a meal with a seasonal salad – for lunch – for brunch – for breakfast !
Reheats well, although exceptional right out of the oven!
The Italian word frittata derives from friggere and roughly means "fried".
I am calling this casserole recipe a "frittata" although it resembles more is a crustless quiche. A Frittata – the eggs and mix-ins are first cooked in a skillet until almost set, then placed in the oven or broiler.
I use Pasture Raised Eggs for their exceptional flavor and orange hued yolks.
I like whole milk – gives a nice custardy-texture… no heavy cream necessary!
Garlic Scapes are in season now (they are are the shoots that grow out of the ground from hard-neck varieties of garlic shoots of spring garlic) ~ find at your local Farmers' Market (or substitute scallions or even leeks.) Available late Spring – early Summer.
I roast my own Red & Yellow Roasted Peppers – I prefer the flavor over jarred with preservatives.
I love this aged cheddar from Trader Joes – or use your favorite!
The Method:
Peel asparagus stalks if fat (I did)
Steam asparagus save 5 nice ones for the top – roast red & yellow peppers (I prefer rather than jarred.)
Sauté chopped veggies with garlic scapes (or scallions) with chopped garlic
Add the veggies to the bottom of a casserole
Top with the egg mixture
Top with grated cheese
Bake for 15 minutes and add the 5 asparagus spears – they will not sink!
Bake until puffed, cooked through and browned around the edges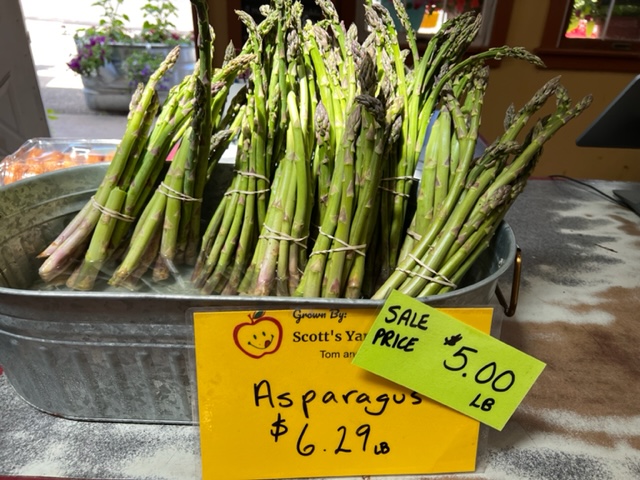 Enjoy this frittata – naturally gluten free too!
Karen
Asparagus Frittata with Roasted Peppers & Dill
A light and flavorful casserole that is layered with vegetables, cheese, eggs & herbs. Baked until puffy with a creamy-like texture - a meal in itself! 
Print Recipe
Pin Recipe
Rate this Recipe
Ingredients
The Egg Mixture:
14

large

eggs

I use pasture raised

1

cup

whole milk

1/2

teaspoon

sea salt

1/8

teaspoon

cayenne pepper
The Vegetable-Cheese Filling:
1

teaspoon

extra virgin olive oil

1

pound

fresh asparagus

fibrous ends snapped off

1/2

cup

roasted red peppers*

large dice, I make my own see recipe

1/2

cup

roasted yellow peppers*

large dice

1/2

cup

garlic scapes

coarsely chopped (can use scallions)

1/4

teaspoon

sea salt

1

big pinch

freshly cracked black pepper

2

cups

aged cheddar

coarsely grated

3

tablespoons

fresh dill

coarsely chopped
Instructions
Prepare the vegetables: Peel the asparagus if they are fat - about bottom halves (I did). Wash them well and steam for 3 minutes until bight green, yet still firm. Place in cool water to stop from cooking further.

Save 5 asparagus spears for the topping; slice the rest into 1/4 inch lengths.

Add evoo to a ten inch stick proof skillet. Raise heat to medium-low, add the sliced asparagus, red & yellow roasted peppers, garlic scapes and garlic. Sauté for 3 minutes until all is flavorful and garlic is soft. Sprinkle with 1/4 teaspoon salt and a big pinch of pepper - sir in, remove from heat.
Finishing & Baking the Frittata:
Preheat the oven to 400 degrees.

In a large bowl whisk all Egg Mixture Ingredients until well mixed.

Coat your baking dish with some butter (can use oil.) Add the vegetables on the bottom. Pour the egg mixture over. Add the grated cheese in an even layer. Top with fresh dill.

Bake the frittata for 15 minutes (set your timer!) Carefully open the oven door and place the reserved asparagus spears decoratively on top. They should not sink - the frittata will be partially baked!

Continue to bake for 15 - 20 minutes more until well puffed, golden brown around the edges, and you see no raw egg. Feel gently with your fingers for all around firmness. Turn off oven, open oven door. Take out in 5 minutes to a cooling rack.

Delicious right out of the oven... reheats very well, and can freeze any extra as well. Can add extra fresh dill to the top if desired.
Notes
To Roasted Peppers: I prefer freshly roasted to jarred! Roast peppers directly over a gas flame, tuning with tongs until blackened all over. Place in a papper bag until well cooled; remove charred skin, rinse quickly, seed and chop. 
This recipe may not be reproduced without the consent of its author, Karen Sheer.
Nutrition Facts
Asparagus Frittata with Roasted Peppers & Dill
Amount per Serving
% Daily Value*
* Percent Daily Values are based on a 2000 calorie diet.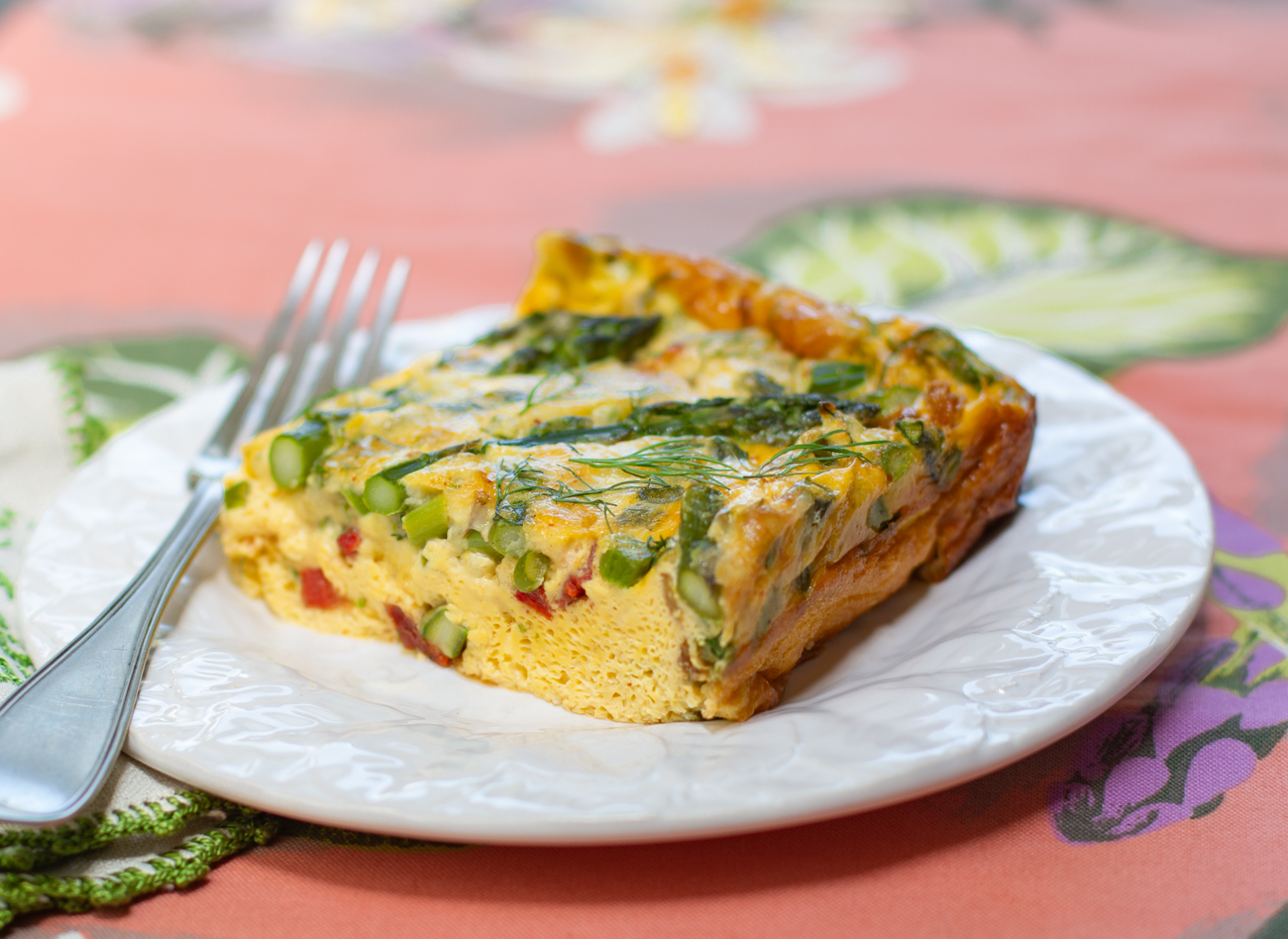 Karen Sheer