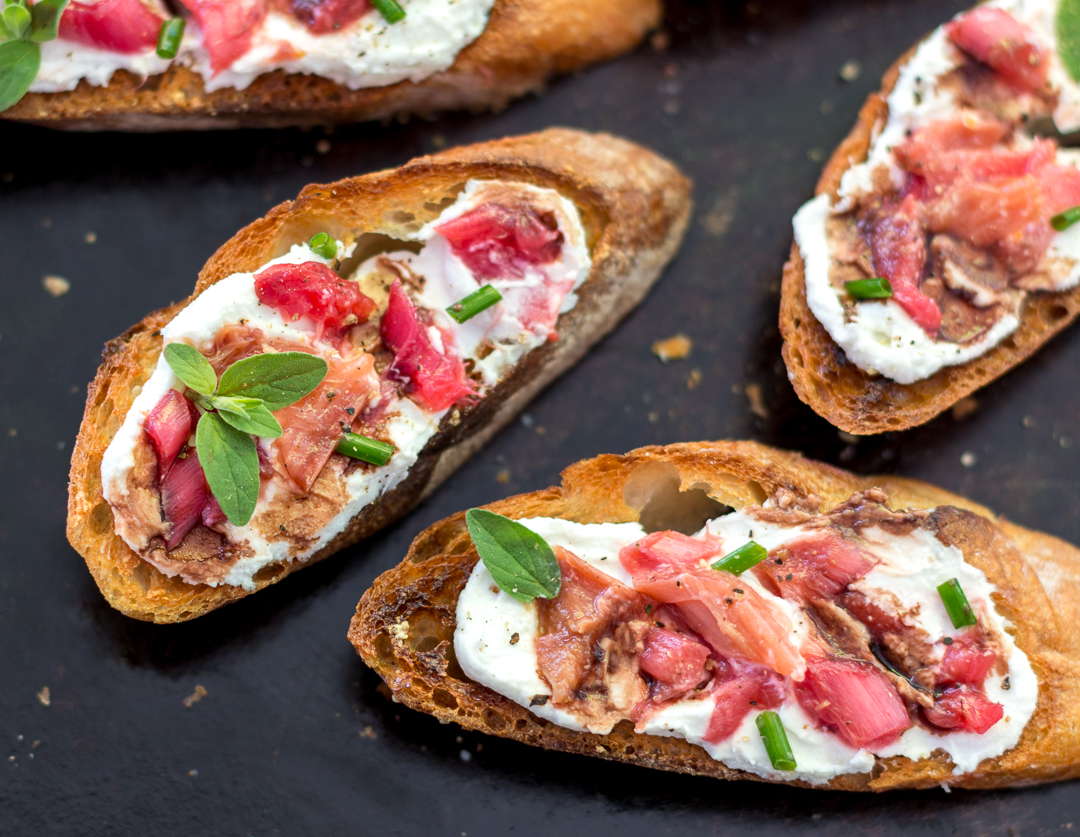 Rhubarb and Goat Cheese Bruschetta Over a Salad with Rhubarb & Shallot Vinaigrette
Three Rhubarb recipes come together in this marvelous, fresh salad with a Savory Bruschetta. 
Rhubarb is one of those flavors that is deliciously addicting – Tart to the taste ~ an incredible ingredient to cook as the crimson color and heady perfumy scent stands out.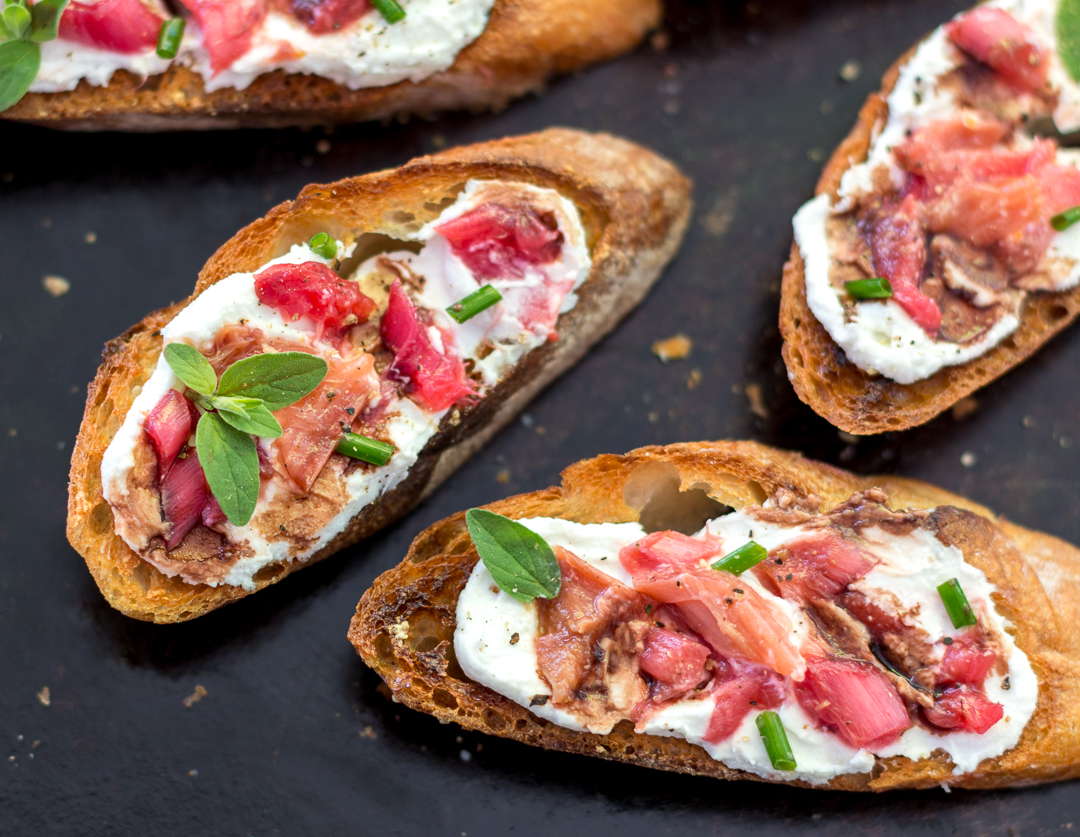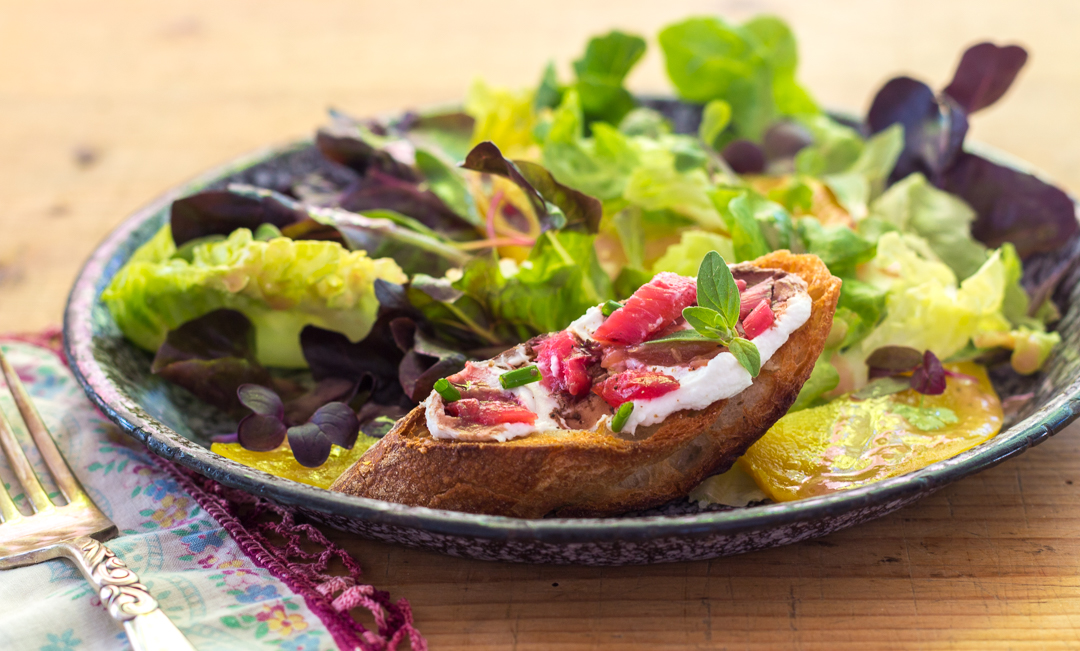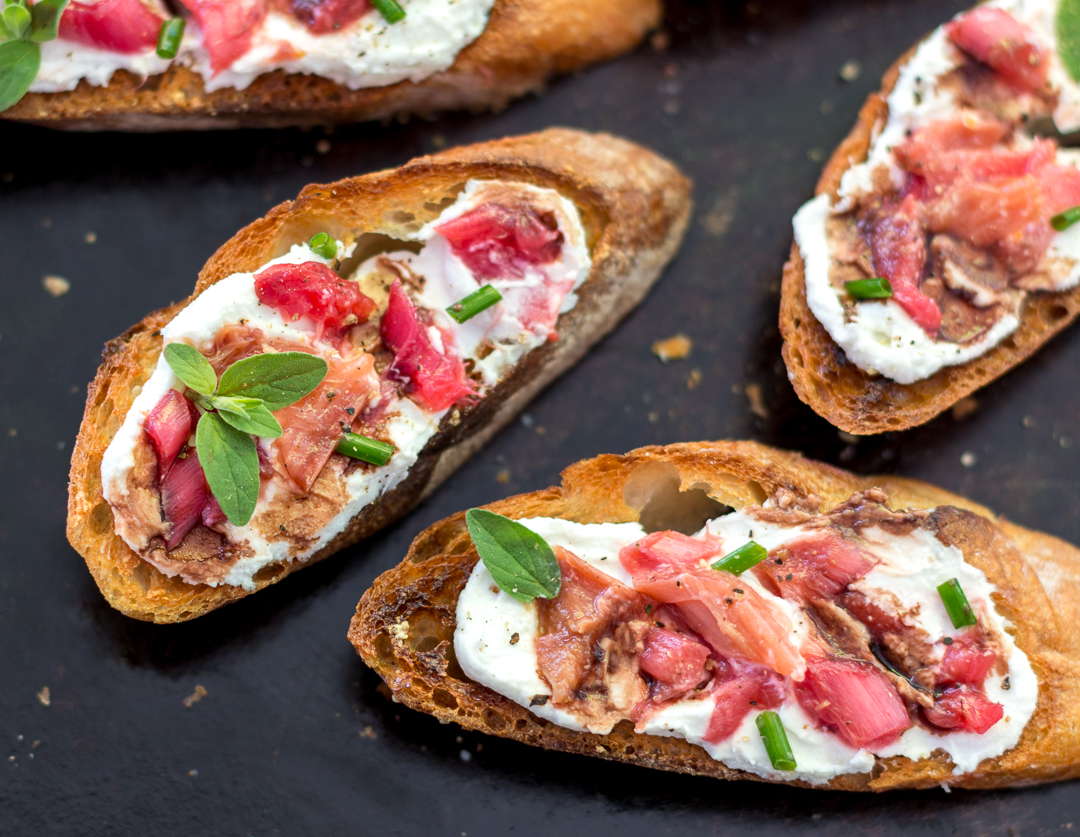 Ingredients
1 recipe Rhubarb & Shallot Vinaigrette
1 recipe Rhubarb & Goat Cheese Bruschetta
2 medium rhubarb stalks, choose bright colored ones
1 teaspoon neutral oil*
3 teaspoons pure cane sugar, divided
2 tablespoons fresh orange juice
¼ pound creamy goat cheese, room temperature
12 slices french baugette, about ½" sliced on the diagonal 
2 teaspoons extra virgin olive oil
1 small clove fresh garlic, peeled
1 pinch sea salt
2 teaspoons Pomegranate Molasses, at healthfood or better grocery stores
chopped fresh chives and oregano leaves, for garnish
6 cups assorted organic greens, see suggestions below
Instructions
1
Steps in this Recipe:
Homemade Rhubarb Vinegar (make ahead)
Rhubarb & Shallot Vinaigrette (make ahead)
Roasted Rhubarb
Rhubarb & Goat Cheese Bruschetta
2
Make the Rhubarb Vinegar and Rhubarb & Shallot Vinaigrette.
3
Roasted Rhubarb:
Cut rhubarb into 2″ pieces on the diagonal. Add to a bowl to fit with 2 teaspoons of sugar, rub in.
In a large skillet (I used my cast iron one) add 1 t. oil, raise to medium heat.
Add the rhubarb in an even layer. Do not move them.
Let cook and get a little golden (roasted) – about 3 minutes, turn over with tongs.
Lower heat to low, continue to cook until still bright pink, yet softened, about 2 minutes.
Rhubarb should still be firm. Add 2 t. sugar and orange juice. Let bubble up, give a quick stir and remove from heat. Let cool.
4
Rhubarb & Goat Cheese Bruschetta:
Preheat the broiler, 4″ from rack.
Brush 12 baguette slices with olive oil.
Broil until golden on top. Remove from oven. While still warm – rub garlic clove all over the warm bread to flavor it, discard excess garlic.
5
Add 1 – 1 1/2 tablespoons of softened goat cheese (depends on size of slice) over each baguette toast.
Gently slice the Roasted Rhubarb and add a portion on top the goat cheese, gently pressing it in.
Drizzle with a little Pomegranate Molasses.
6
Garnish with chopped fresh chives and fresh oregano. Grind a little black pepper over each.
Serve at room temperature or reheat in a 350 degree oven until just warmed through.
The Bruschetta is wonderful served with a Green Salad drizzled with Rhubarb & Shallot Vinaigrette
7
For the salad:
Add 1 cup of fresh torn lettuces onto each salad plate. Add desired ingredients: I chose red oak leaf lettuce, bibb lettuce, microgreens and sliced golden beets.
Drizzle with Rhubarb & Shallot Vinaigrette. Add a piece of Rhubarb & Goat Cheese Bruschetta on the side of the plate and serve. Serve extra Bruschetta on the side.
* with concerns about gmo's and processing of oils, use a vegetable oil which has not been chemically treated, this is called "expeller pressed."
This recipe may not be reproduced without the consent of its author, Karen Sheer.
Karen Sheer