Rhubarb and Shallot Vinaigrette
Description
This Zesty Vinaigrette dresses up greens with an essence of Rhubarb. Make these delectable Bruschettas to serve with the salad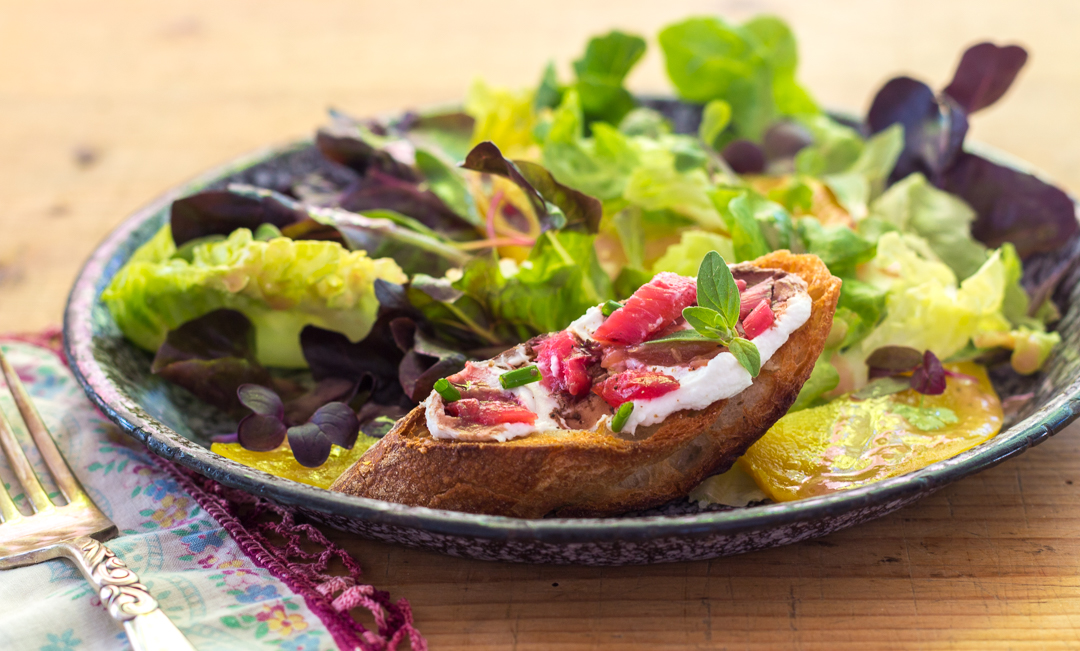 Ingredients
½

 

cup

 

neutral oil*, divided

⅓

 

cup

s shallots, peeled and coarsely chopped

1

 

tablespoon 

fresh garlic, peeled and coarsely chopped

2

 

pinches 

ground cloves

⅛

 

teaspoon 

Italian seasoning

2

 

pinches 

freshly cracked black pepper

2

 

teaspoons 

pure maple syrup

¼

 

cup 

Rhubarb Vinegar (see recipe)
Method
Make the Rhubarb Vinegar.
Pour the oil in a glass measuring cup. Take out 2 tablespoons and add to a small skillet with the shallots.
Turn the heat to medium and cook the shallots, stirring until they are just golden around the edges.
Remove from heat. After 1 minute, add the garlic, cloves, Italian seasonings, pepper and maple syrup.
Add this mixture to a small food processor or a blender. Process until finely chopped and creamy.
Add the Rhubarb Vinegar, swirl to incorporate.
Slowly – add the remaining oil in a slow stream until emulsified.
Option: add 1 T. roasted rhubarb to the dressing.
Great with: Rhubarb and Goat Cheese Bruschetta Over a Salad with Rhubarb & Shallot Vinaigrette.
Store Vinaigrette in a clean glass container in the refrigerator.
* with concerns about gmo's and processing of oils, use a vegetable oil which has not been chemically treated, this is called "expeller pressed."
This recipe may not be reproduced without the consent of its author, Karen Sheer.