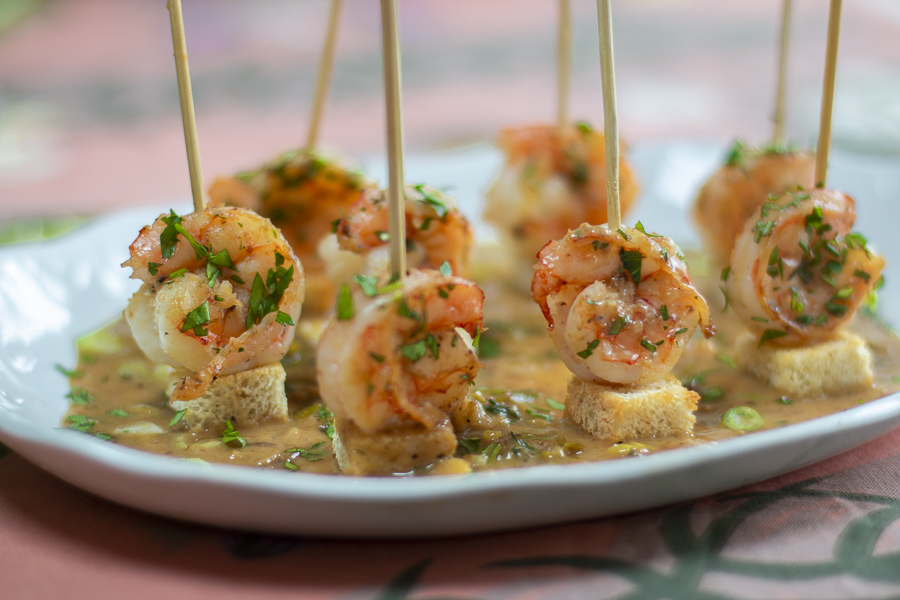 Skewered Shrimp Scampi Appetizer
Sautéed Shrimp in a Hearty Garlic Herbal Butter Sauce Skewered with a Cube of Sourdough Bread to Soak up the Flavors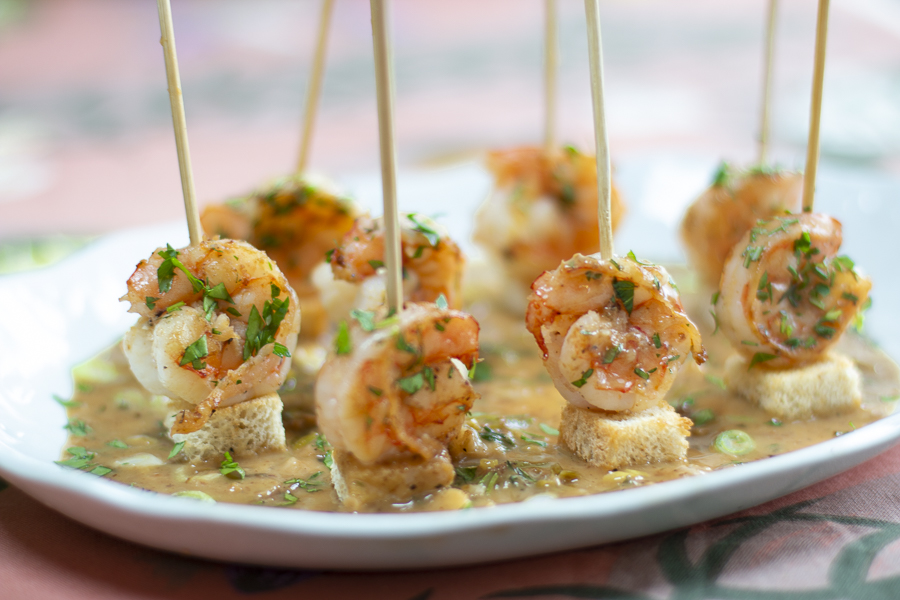 A Simple Scampi Sauce – I've added a boost of flavor with fresh herbs, scallions and jalapeño.
The perfect Holiday or Party Appetizer!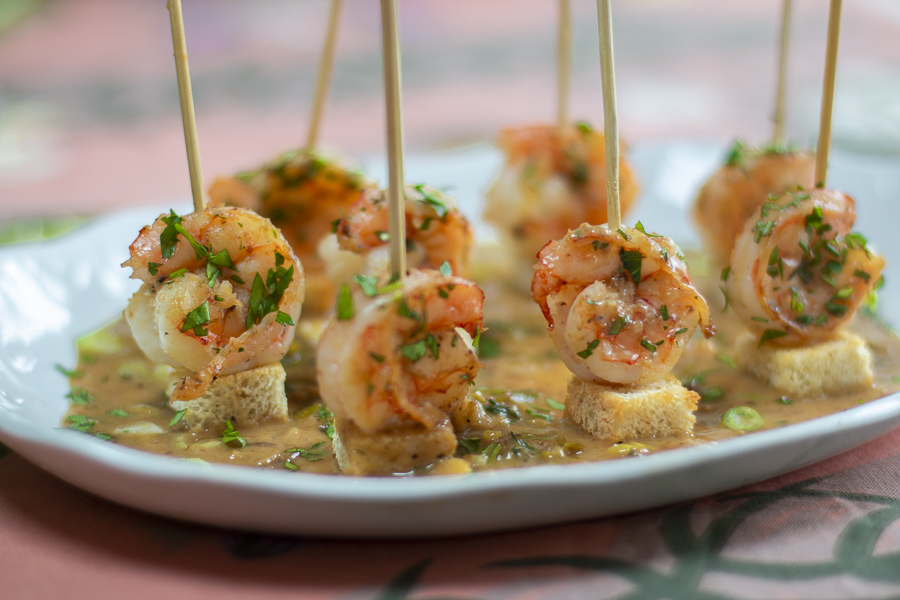 Ingredients
1  pound raw shrimp, I used Florida Pink Shrimp, fresh not frozen, about 15 per pound 
1  ½ teaspoons garlic, peeled, finely grated 
2 teaspoons extra virgin olive oil 
6 grates freshly cracked pepper  
1 teaspoon fresh thyme leaves
2 cups sourdough bread cubes: 1″ x ½" crusts removed  
2 tablespoons extra virgin olive oil   
3 medium cloves fresh garlic, peeled, sliced thinly 
1 teaspoon jalapeño
½ cup dry white wine 
3 tablespoons fresh lemon juice
¼ cup scallions, white & light greens, thinly sliced on the diagonal  
1 tablespoon fresh rosemary leaves, lightly chopped
1 tablespoon fresh thyme leaves, lightly chopped 
6 tablespoons cold unsalted butter, I used organic   
¾ teaspoon sea salt 
2 tablespoons fresh parsley leaves, lightly chopped (for garnish)        
Instructions
1
Clean and devein shrimp, remove tail. Add to a bowl with 1  1/2 teaspoons grated garlic, 2 teaspoons olive oil, 6 grates of cracked pepper and 1 teaspoon thyme leaves. Cover, refrigerate 20 minutes.
2
Sourdough Bread Cubes:
(Look for thick sliced bread, or cut from a loaf.)
Place the bread cubes on a rimmed baking tray to fit. Place in a preheated 350 degree oven and toast for 5 – 7 minutes until lightly golden around the edges. Do not crisp until hard, just lightly golden. Set aside.
3
Shrimp and Scampi Sauce:
Heat a 12 – 14″ skillet with 2 tablespoons olive oil – set heat to medium-high.
Add the marinated shrimp. Let lightly brown on first side – do not stir! Cook for one minute.
Turn the shrimps over with tongs, let lightly brown on second side – do not stir! Cook for one minute.
Remove shrimps to a plate. Shrimp should be just cooked through.* Will have brown bits in the pan.
4
Add 2 tablespoons of olive oil, raise heat to low-medium.
Add sliced garlic and jalapeño. Stir one minute.
Add white wine and lemon juice. Bring to a boil, stirring for one minute – stirring up all browned bits, until slightly reduced.
Add scallions, rosemary and thyme – stir.
5
Add cold butter, 2 tablespoons at a time – swirl in, using a fork. Continue with the rest of the butter (6 tablespoons in all) until the sauce has emulsified. Do not raise heat, as the sauce could "break." Stir in sea salt.
6
Skewer the Bread Cube and Shrimp:
Using a 4″ skewer, add a bread cube and shrimp on top, continue until all are used. (Extra bread cubes can be served on the side to soak up more sauce.)
7
Hint: the skewers will lie flat on the sauce – do not let the skewer extend too far below the bread.
8
To serve:
Add warm sauce on a serving platter. Add Bread/Shrimp Skewers on top. Garnish all over with chopped parsley.
9
Making ahead of time:
Reheat sauce, if too thick add a tablespoon more of lemon juice or hot water.
*Slightly undercook shrimp. Before serving, gently reheat the shrimp in a stick proof skillet until just heated through.
Make skewers – add on top of the warm sauce on a platter, garnish with chopped parsley.
10
Serve with plenty of napkins and small plates on the side.
This recipe may not be reproduced without the consent of its author, Karen Sheer.
Karen Sheer