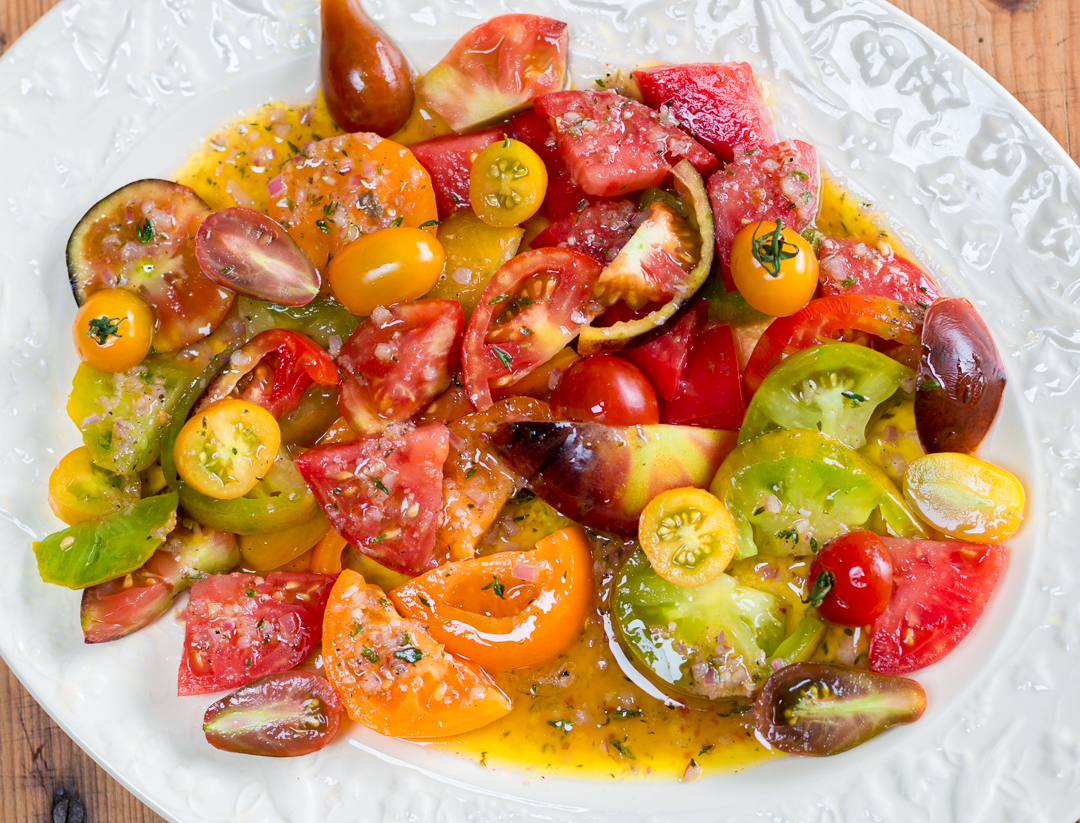 Crazy for Heirlooms – 24 Tomato Recipes to Cook Now!
Summer is my favorite season – and Heirloom Tomatoes are my best-loved fruit (botanically.)
See ALL the Recipes: Salads, Soups, Condiments, Fresh Tomato Sauce, Risotto and More!
Salads Featuring Heirloom Tomatoes: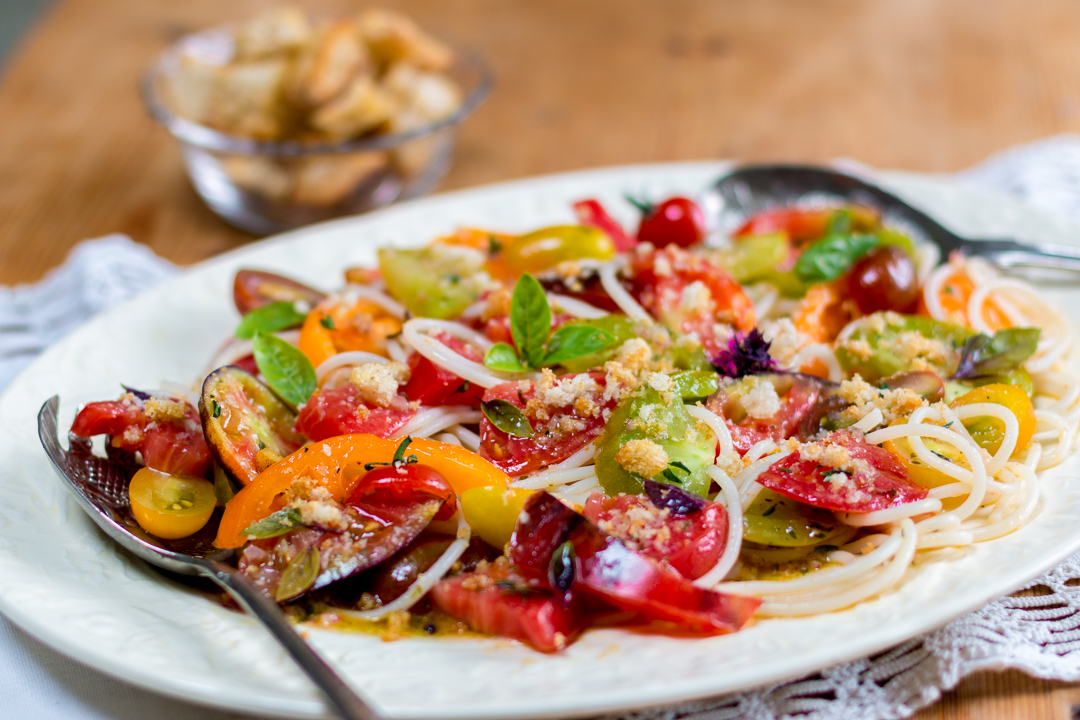 Heirloom Tomatoes are at their peak right now – take advantage of their superior taste and beautiful hues. A wonderful summer pasta salad – best served at room temperature.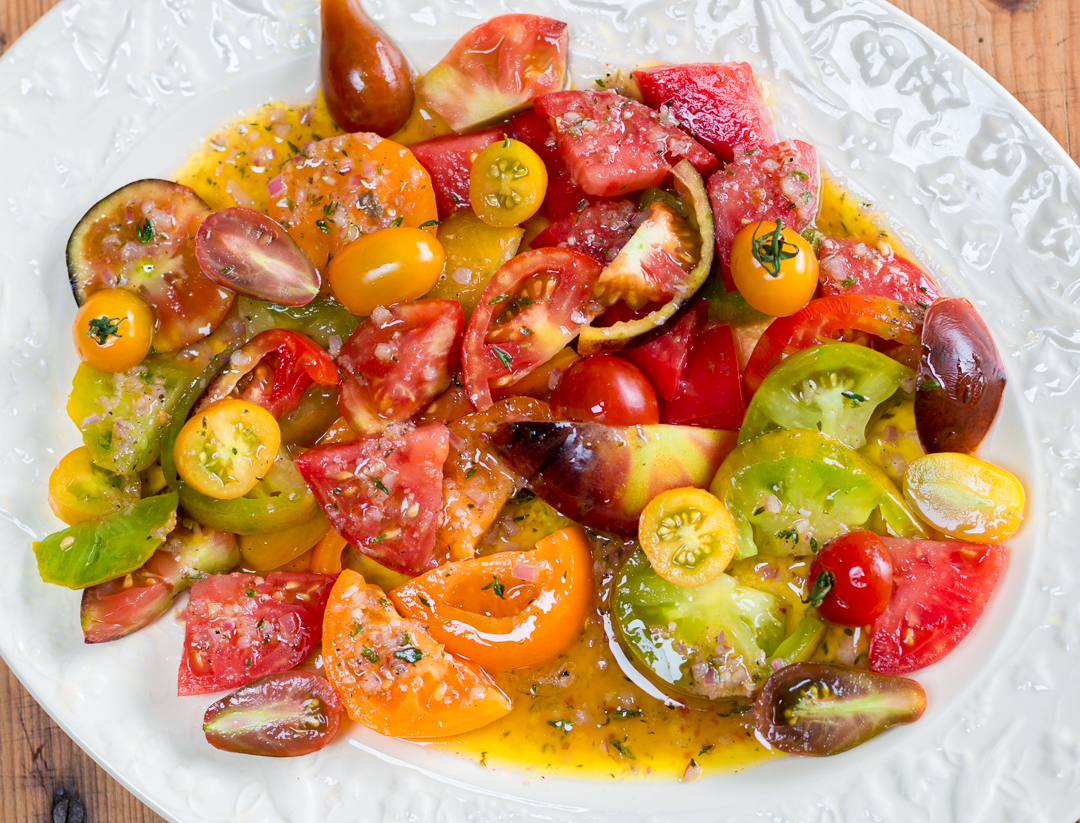 Choose a variety of colors and flavors of Heirloom tomatoes. Marinate them in my Shallot-Thyme Vinaigrette ~ toss with warm pasta ~ add grated aged cheese ~ top with crispy breadcrumbs ~ lastly dot with basil leaves. Serve at room temperature.
Check out your local Farmers' Market… meet the farmers who grow tomatoes, and sample the many varieties – I'm sure you will discover your favorite ones!
I praise the superior flavors of heirlooms – "older" varieties that come in an assortment of shapes, sizes and colors.
See all the refreshing recipes using in-season tomatoes.
For this recipe, I'm using the finest ingredients with minimal preparation and skill. Just picked flavors of the smaller sized tomatoes, simply cut in half team with sliced cubes of French Feta – a goat's milk variety made in France which is slightly drier and tangier…. and creamier!
Toss some fresh-cut dill and ground pink peppercorns (dried berries) all over the feta and drizzle on a whisked, zesty Dill and Radish Vinaigrette. Done.
Tomatoes: From the tiniest of 'bite-sized' fruits, to small 'saladette' types, this is my wonderful category! A host of colors, coupled with a flavor spectrum that squeezes flavor into every little bite. Earthy nuances with lingering flavors.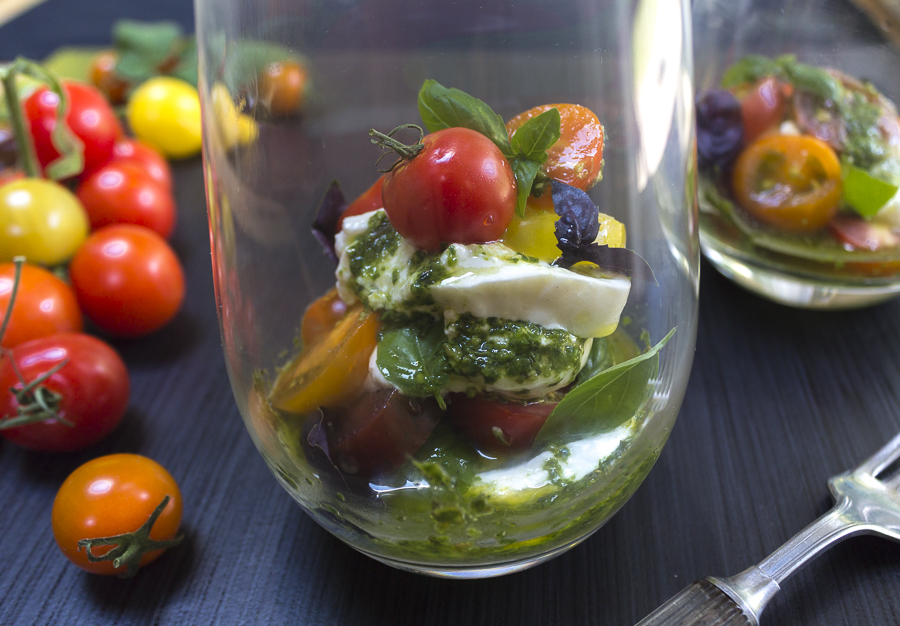 A "not-so fancy" tomato layered salad that looks fancy! 
Rich, buttery, creamy Burrata Cheese is sliced and layered with summer Cherry Tomatoes, Pesto Vinaigrette and Basil Leaves. Simply layer in a stylish glass – and lavish the bright flavors.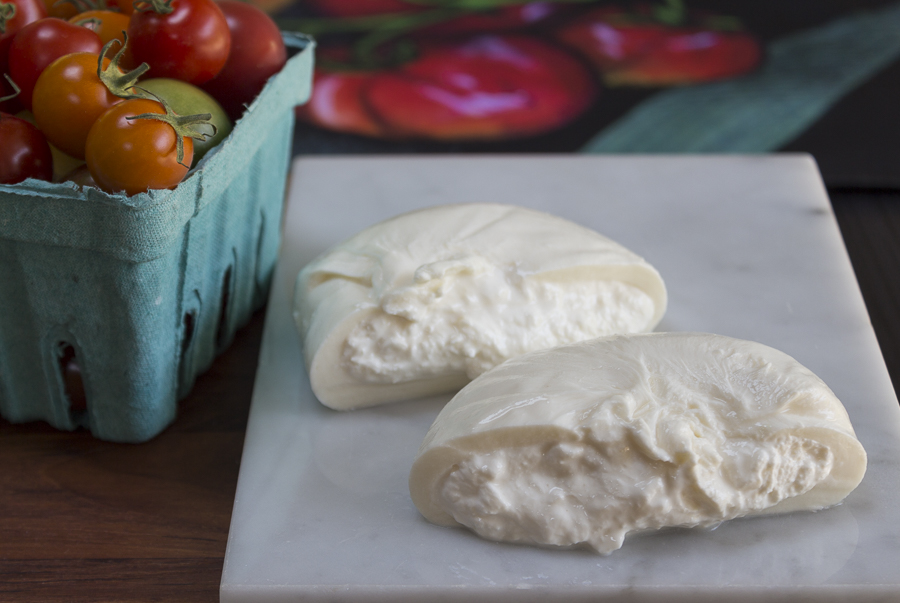 The wonderful interior of Burrata cheese! Mozzarella style on the outside, creamy ricotta texture on the inside.
Pairs so beautifully with summer tomatoes – the time is now to indulge in this fabulously creamy and exceptional cheese!
For Tomato Lovers! A simple and delicious sauce – serve over pasta with plenty of basil leaves.
Puréed Tomatoes team with sliced cherry & oblong Heirloom Tomatoes with Cooked Garlic Cloves in Olive Oil – a light and flavorful "No-Cook" Sauce! Italian Bronze Die Cut Girelle Pasta (bought at Wegmans Supermarket) – loving this spiral pasta… has some grooves that can grab the sauce.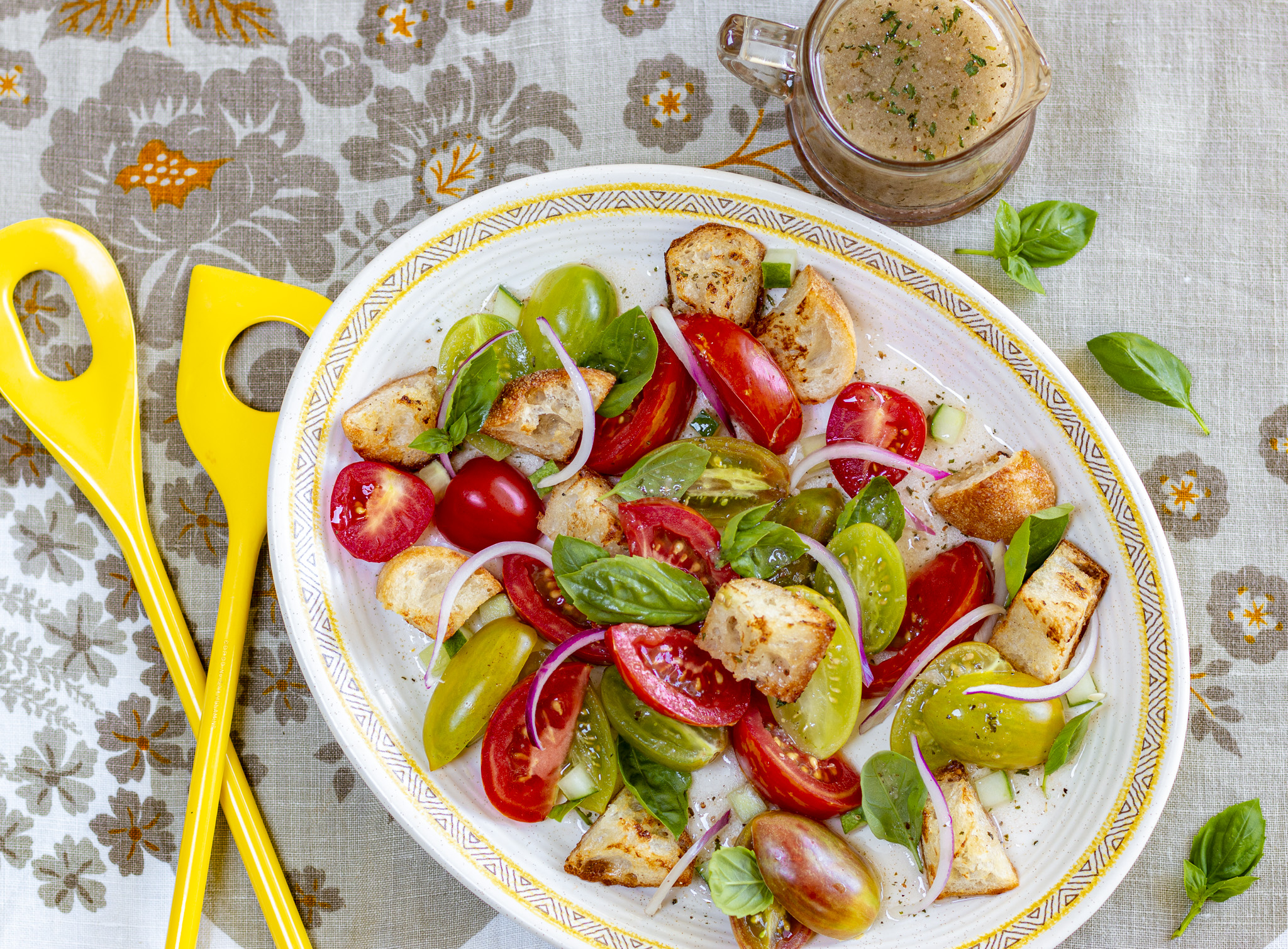 Featured this salad at my Leicht Cooking Class to rave reviews… we cut & tasted a dozen Heirloom Tomatoes!
Ripe Heirloom Tomatoes team with Garlicky Toasted Bread and Plenty of Basil Leaves. Top with my Zesty "Shaken" Italian Dressing and scatter some thinly sliced Red Onions and cubes of Cucumber.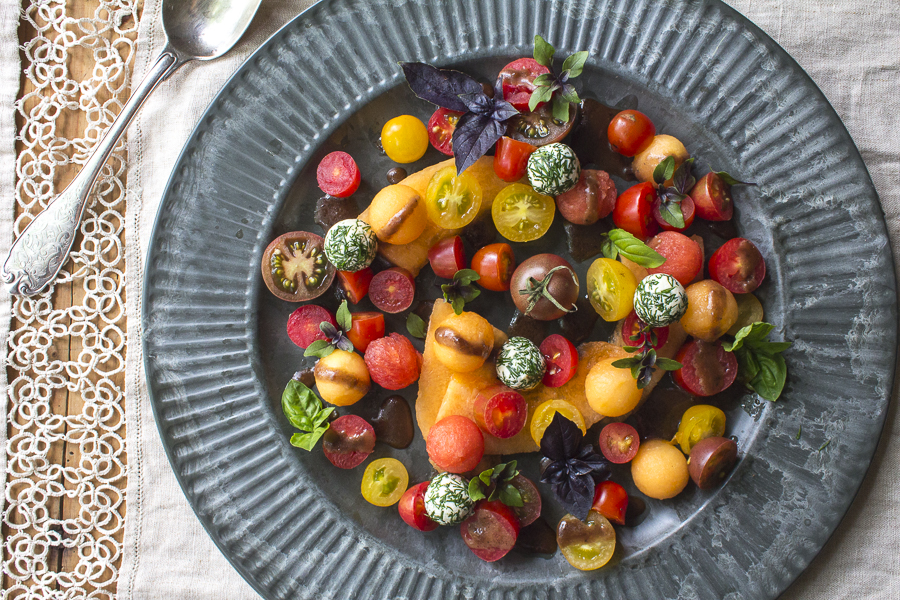 This summery salad has contrasting flavors and textures, a quite beautiful composition to behold. Choosing a mélange of colors results in a burst of visual interest – a true treat for the senses. Each bite yields a different, but complimentary taste.
I like pairing summer cantaloupe (mine from New Jersey) with juicy watermelon and heirloom multi-colored cherry tomatoes. For interest and tang – what's better than creamy, assertive goat cheese? I roll the cheese into little balls, just a little smaller than the melon balls – and simply coat them in fresh cut dill.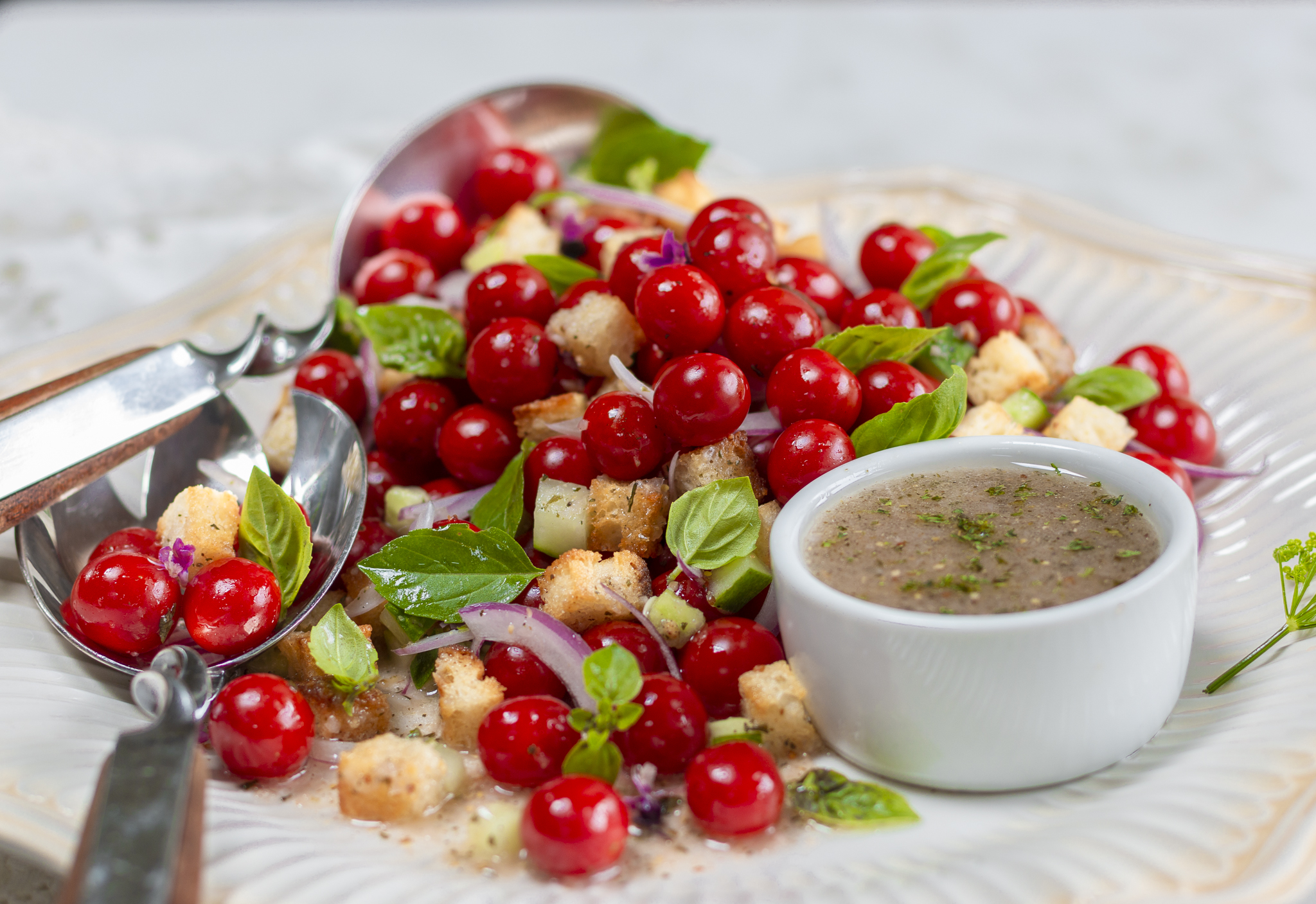 I do love the Panzanella salad above… this one uses miniature Candyland Tomatoes and Gluten Free Bread Cubes along with summer cucumbers & onions. Ripe Heirloom Tomatoes team with Garlicky Toasted Gluten Free Bread and Plenty of Basil Leaves. Top with my Zesty "Shaken" Italian Dressing and scatter some thinly sliced Red Onions and cubes of Cucumber.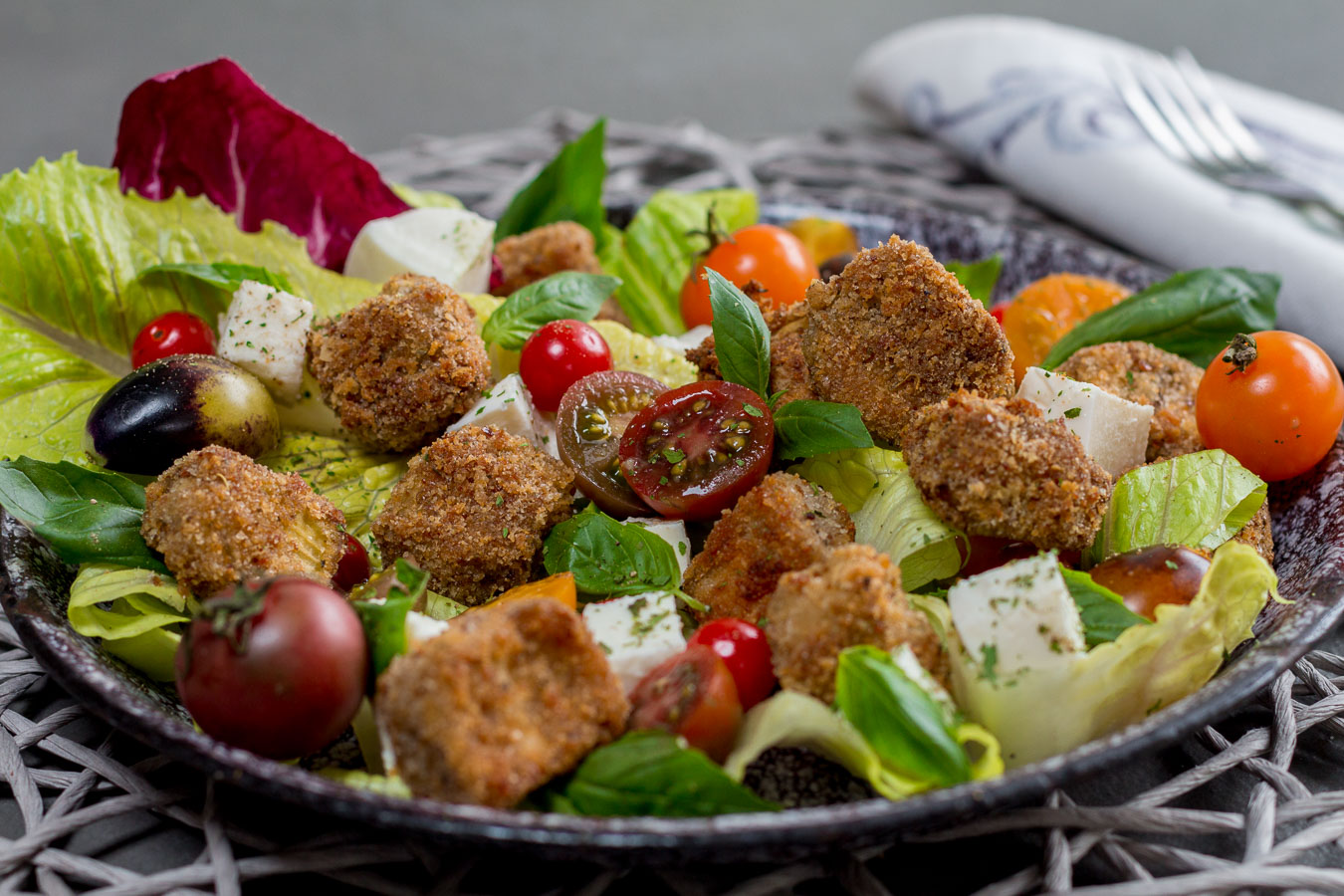 Crispy Eggplant roasted in the oven teams with Romaine, Mozzarella, Heirloom Tomatoes, a Zesty Dressing and plenty of Basil ~ a satisfying and interesting twist! Eggplant turns out crispy with a creamy, soft center. Not fried but oven-roasted with lots of flavor from the sourdough breadcrumbs, parmesan reggiano cheese and oregano.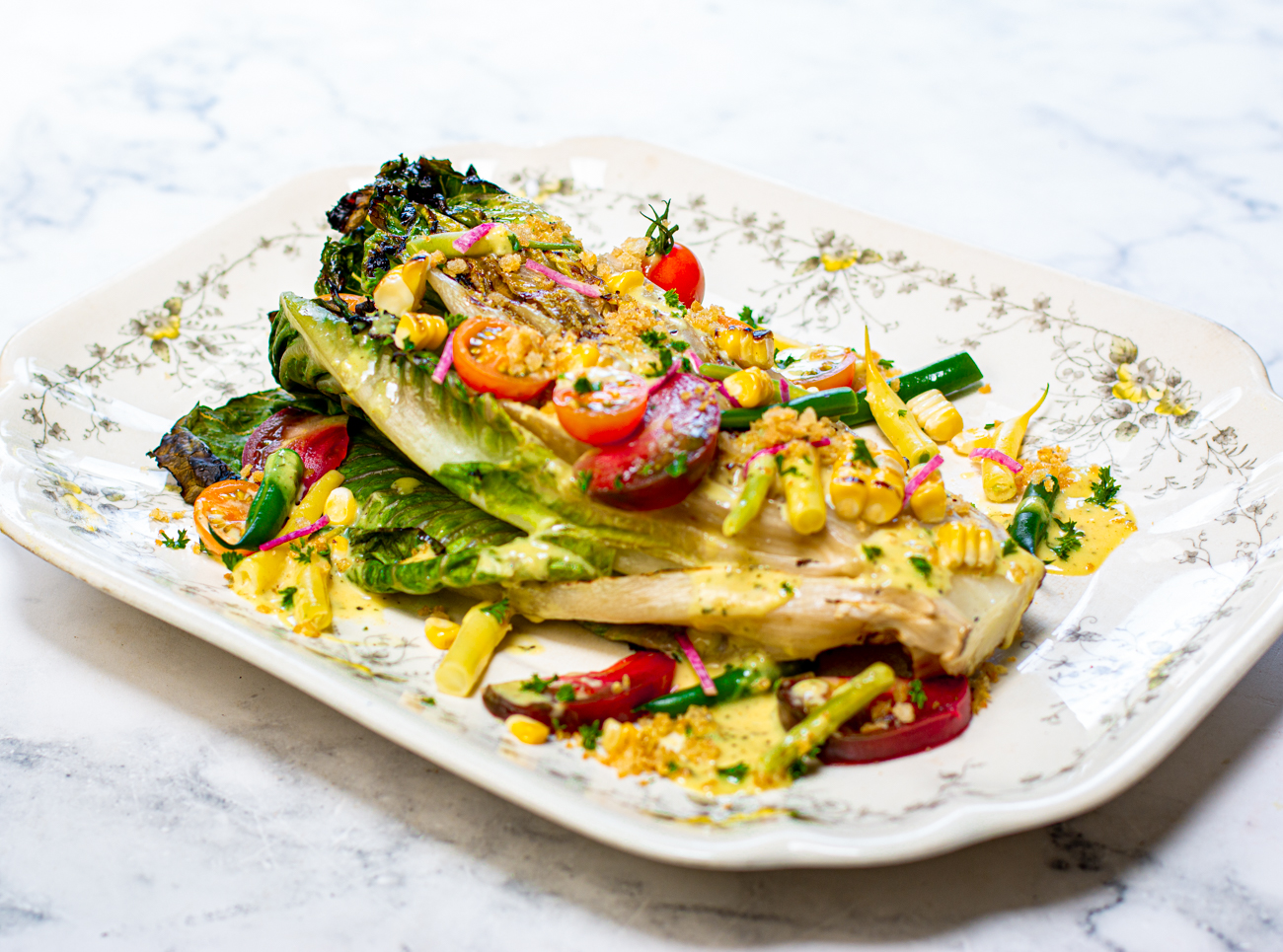 Crispy Romaine with a smoky essence – topped with Farm Fresh Veggies, Lemony Tahini Dressing and Garlic Sourdough Toasted Breadcrumbs. A brilliant technique! Romaine Lettuce halves are grilled until slightly charred offering a gently smoky essence. Lettuce remains crispy ~ add a bevy of veggies, dressing, and crispy breadcrumbs for extra crunch & flavor.
In the height of the Tomato Season – make this vinaigrette for many salads and for drizzling over roasted or grilled proteins and vegetables. Tomato Vinaigrette is creamy, assertive yet mellow  – I'm loving it over lettuce hearts. Made in a blender!  The method ~ remove seeds from tomatoes with your fingers, cut tomatoes in half and grate, discard the skins. Add all ingredients to the blender saving some the tomatoes to stir in for texture. Finished in a few minutes.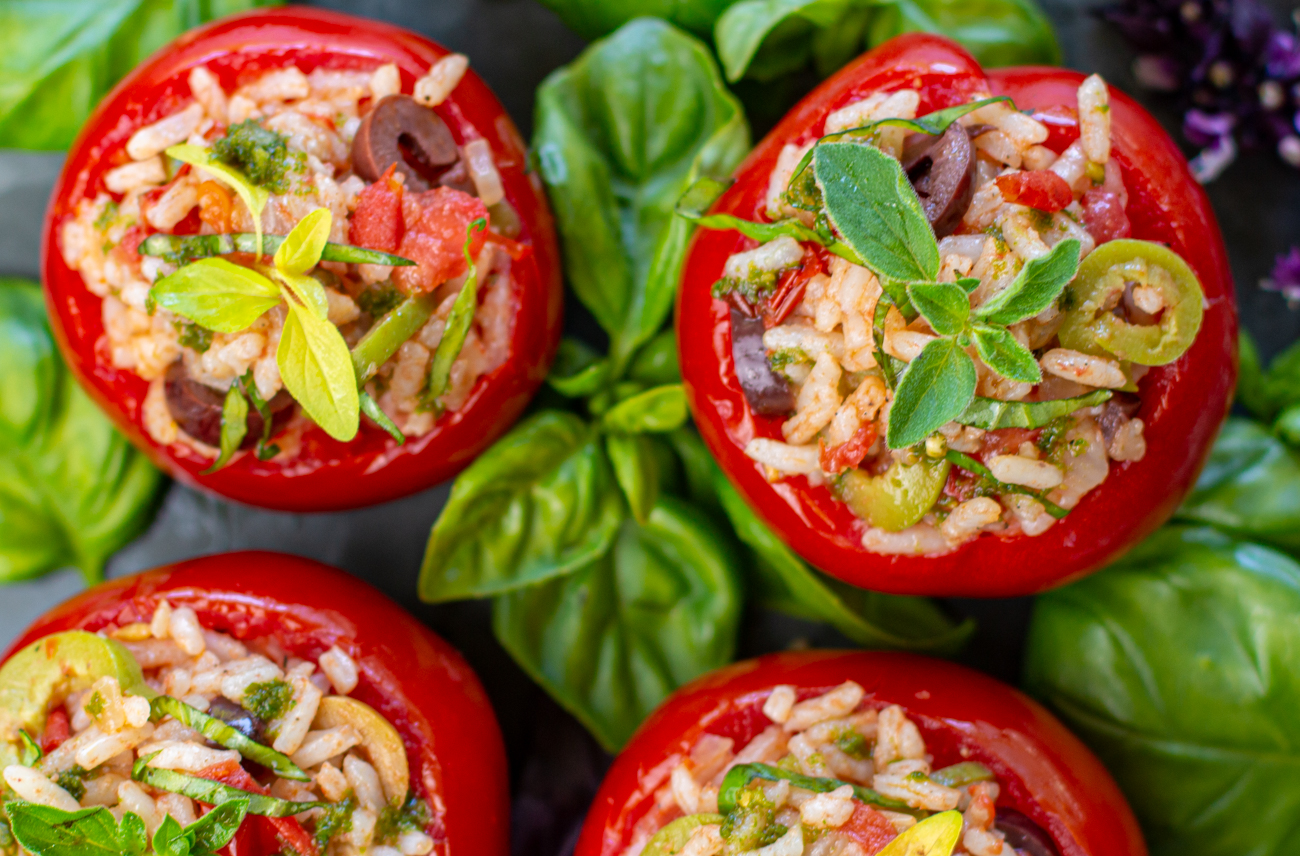 Intensely Flavored Rice Salad with Mediterranean Flavors: Olives, Onions, Garlic, Capers and Fresh Herbs – with a drizzle of Summer Pesto. Served Cold or Room Temperature. 
A wonderful side dish or light lunch! Terrific addition to Summer Meals & Picnics.
The typical supermarket tomato is ripe-red, firm to the touch and free of blemishes—as well as of flavor. Since at least the 1970s, U.S. consumers have lamented the beautiful but bland fruits that farmers breed not for taste but rather for high yield and durability during shipping.
Recently organic farmers and foodies have championed the superior flavors of Heirloom Tomatoes. A tomato's flavor depends not only on the balance of sugars and acids within the fruit but also on subtle fragrant compounds—many of which are lacking in the modern supermarket tomato. (Scientific American: source.)
An EASY Recipe to make now: Spanish-Style Grilled Bread with Tomato
Pan con Tomate: bread with tomato has never tasted so good! Grilled Garlicky Bread, Grated Heirloom Tomatoes with Topping Options I Love. Variation: Zucchini & Garlic topping! Method: so simple – grill bread, rub with fresh garlic, grate tomato and add, finish with flakey salt.Perfect as an appetizer, snack, or breakfast (a typical Spanish breakfast.)
My Favorite Summer Tomato Cool Soup:
THE Summer Soup to devour! Healthy and delicious ~ a lightened up version with personality, creaminess and flavor. Vegan.
My Cold Tomato Bead Soup with Basil is a take on the Andalucia region's famous soup: Salmorejo from Spain. The ingredients are few – ripe, dark red vine ripened tomatoes are a must.
The soup is made with just a few ingredients – so their quality is paramount! 
Dehydrate Summer Tomatoes!
Savor Summer and learn how to dehydrate all those fabulous tomatoes: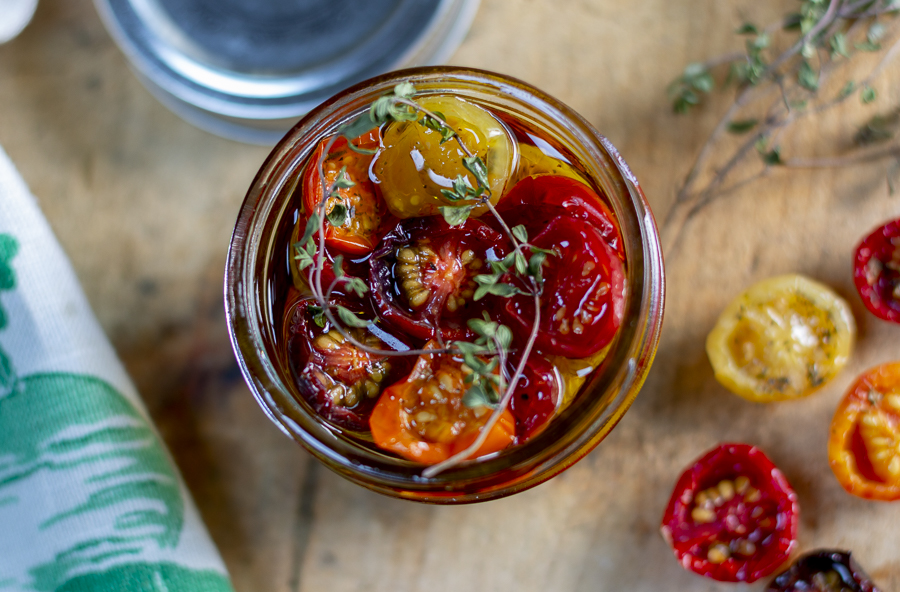 I save some for adding to many recipes ~ layer others in jars and cover with olive oil and thyme branches. See all my brilliant ideas for using them.
A refreshing burst of sweetness! Use them to top many of your culinary creations – toss into pasta dishes (even lasagne!), any sautéed chicken or fish dish, as a topping for sandwiches, the base for bruschetta, fold into a softened cheese for the ultimate dip or filling – as a filling for omelets and frittatas…
How to Make Fresh Tomato Sauce:
End of Summer / Early Fall Tomatoes are put to great use in a wonderful simmered sauce you can savor well into Fall and Winter. Make my wonderful Ground Turkey "Meat Sauce" with Fresh Tomato Sauce too!
Yes, I bought and peeled a case of tomatoes! For the recipe, I used 12 large, ripe tomatoes. "Seconds" Tomatoes are awesome! Fully ripe – just cut away any darkened spots and proceed. AND – they are soooo economical! I bought the entire case for $15. With heirloom tomatoes selling for about $5 a pound these were a steal!
Summer Risotto-Time: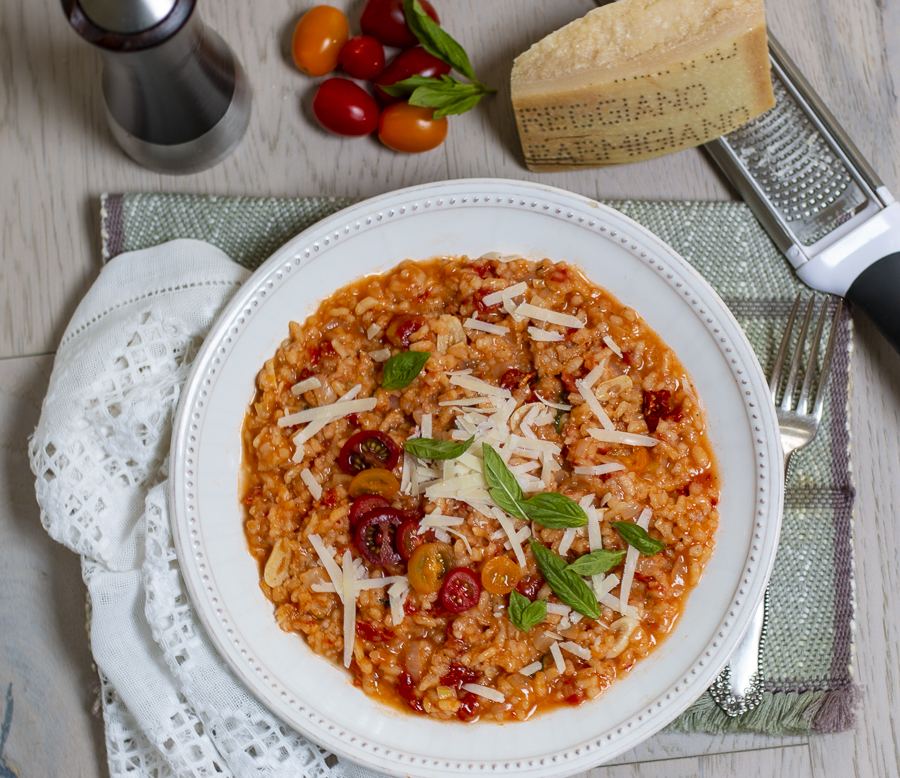 Delicious and Creamy!! I'm using Three Tomatoes – Peeled Plum Tomatoes, Sun Dried Tomatoes and Fresh Sliced Cherry Tomatoes. Risotto is a traditional Northern Italian dish, and a common way to cook rice in Italy. It's a creamy & tender mixture made from a starchy short or medium-grained rice. Stirred until creamy; releases the rice's natural starch. Read: The key to making the Best Risotto!
Recipes with Cooked Fresh Tomatoes: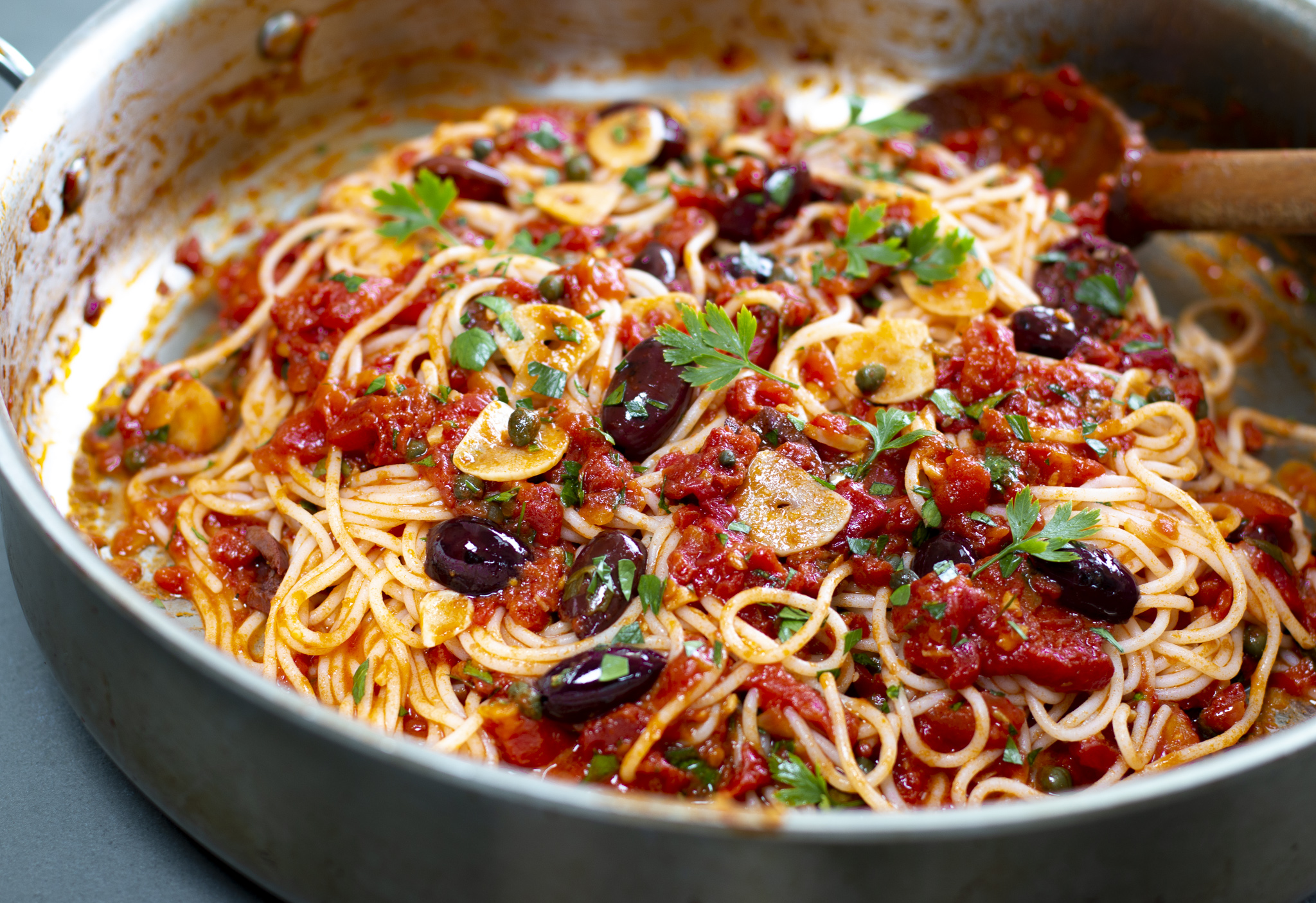 Tastes bright with fresh tomatoes – A vibrant sauce takes makes only minutes to prepare – this is one of my favorite dishes ~ Buon appetito! The sauce is cooked in a big skillet – pasta is folded in, then served.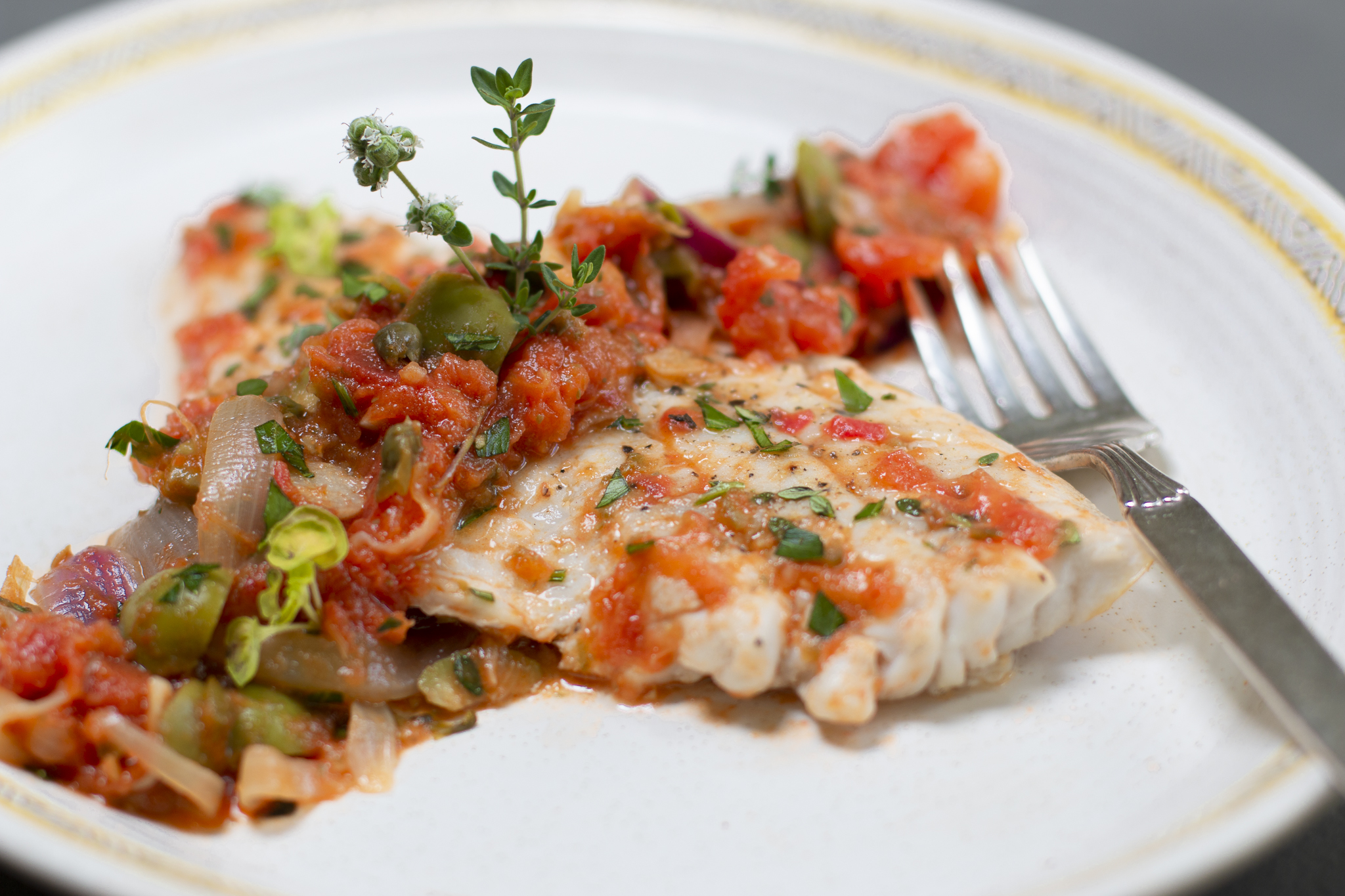 I've taken a classic dish and reworked it with Just Picked Local Tomatoes and have added Fresh Garden Herbs. The result – a lighter and aromatic dish bursting with flavor.
Recipe Overview: Skin, seed and chop the Garden Tomatoes. Make the Veracruz sauce in a 12″ skillet or a Dutch oven with a lid. Cook the Snapper in a skillet until lightly browned, but not cooked through. Add the Snapper to the sauce and cook, covered until cooked through and flavored by the sauce. Garnish with plenty of chopped Parsley.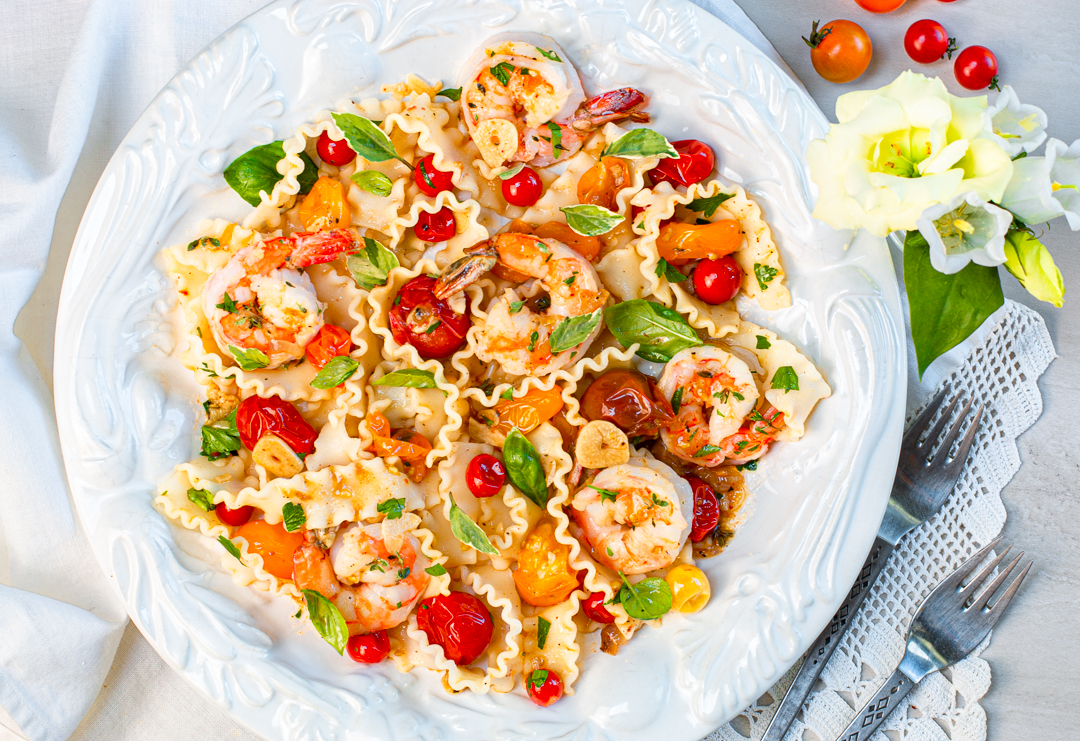 Create a Quick Sauce with Local Cherry Heirloom Tomatoes to Toss With Pasta and Shrimp.
Tomatoes "burst" – fall slightly apart with all of their natural sweet juices. And – DELISH without shrimp too! 
Yes – made with LOTS of Heirloom Cherry Tomatoes! Burst Heirloom Tomato Sauce in a skillet – its base: shallots and garlic – cherry tomatoes are added until they "burst." Finish with plenty of parsley and basil leaves.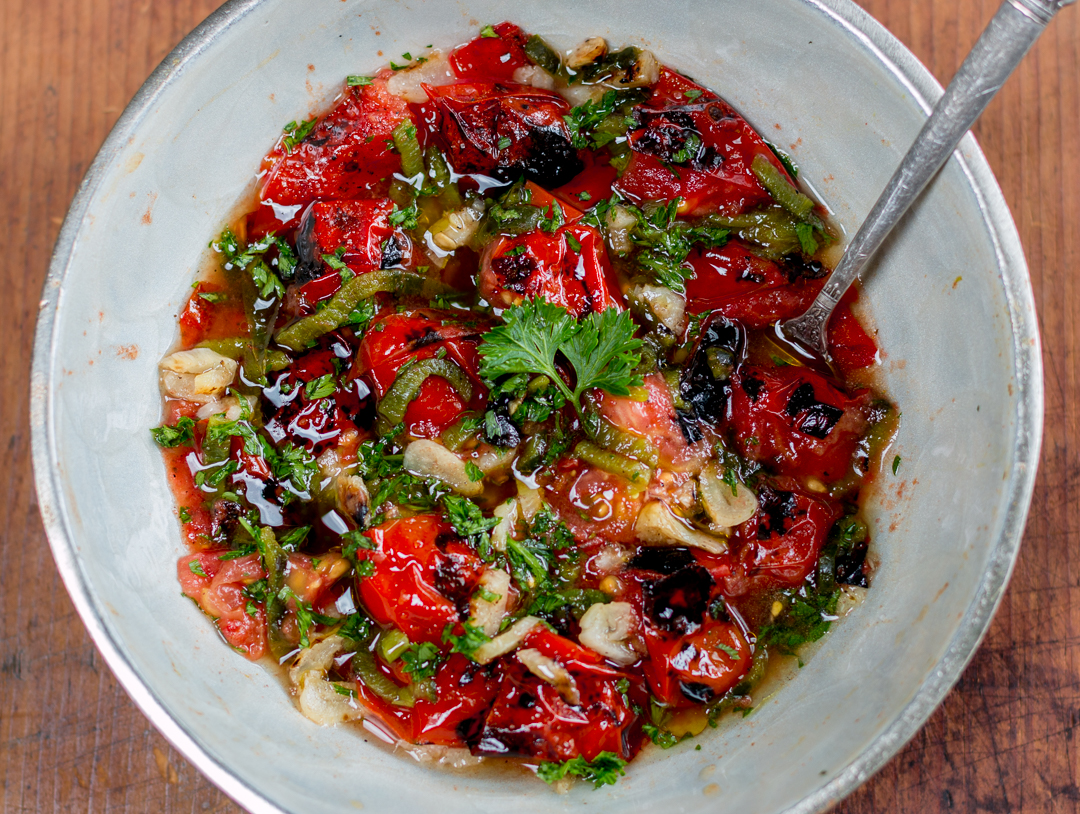 Learn how to Char Tomatoes over a wood fire to make the perfect light Summer Salsa. Pair with: Brining Chicken Breasts… insures a juicy interior.
Served chunky and loaded with fresh flavor.
Sliced Chicken Breasts (which have been brined then grilled) topped with Charred Tomato Salsa and Sourdough Bread for soaking up the juices.
Weeknight delicious! Distinctive Dukkah Seasoning gets a revamp with Lemon Essence. Roast all on one pan. Top with a simple Minted Herb-Yogurt Sauce and Mint Leaves. Great year-round recipe… Summer tomatoes would be perfect here!
Warm Tomato Soup: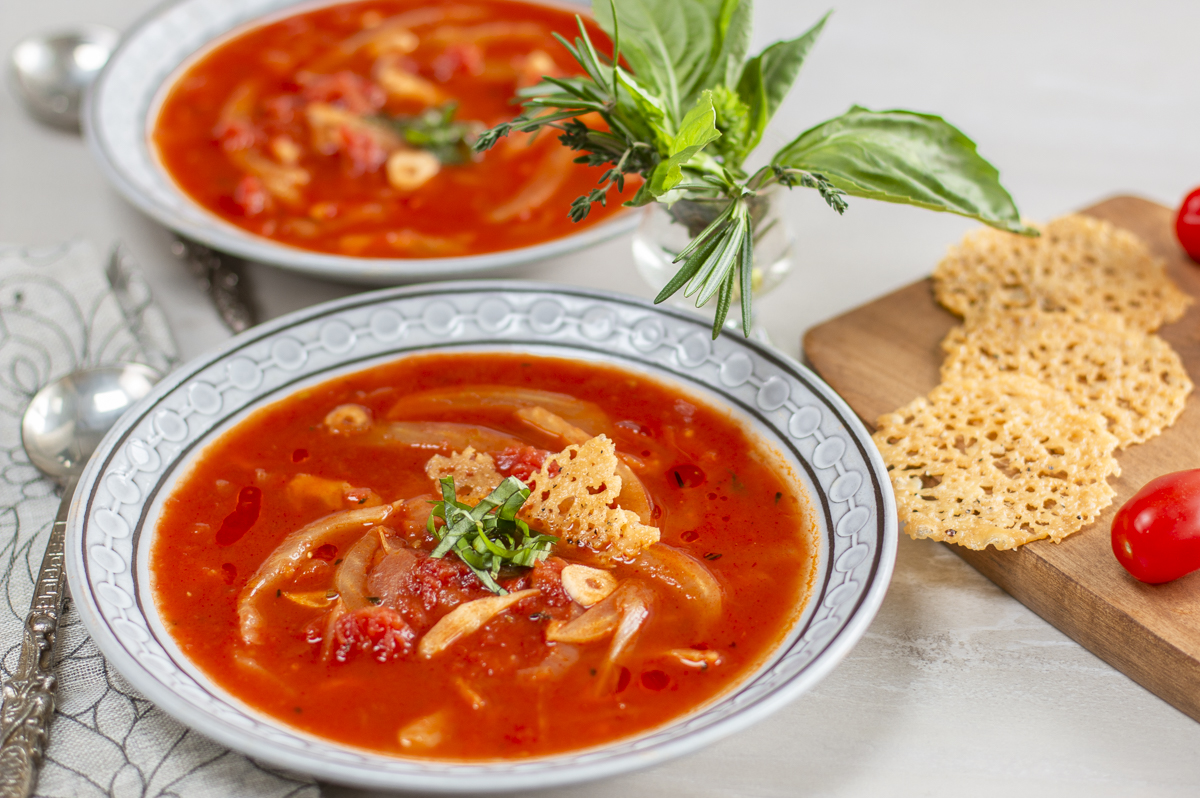 Use 2 pounds of Fresh Tomato for the soup in Summer. 
In the Mediterranean Tradition – the flavors here are a combination of mellow and bold.
Aromatic Basil and Fennel both have hints of anise (licorice) and team beautifully with sweet canned San Marzano Tomatoes (option.)
Tomato Refrigerator Condiments: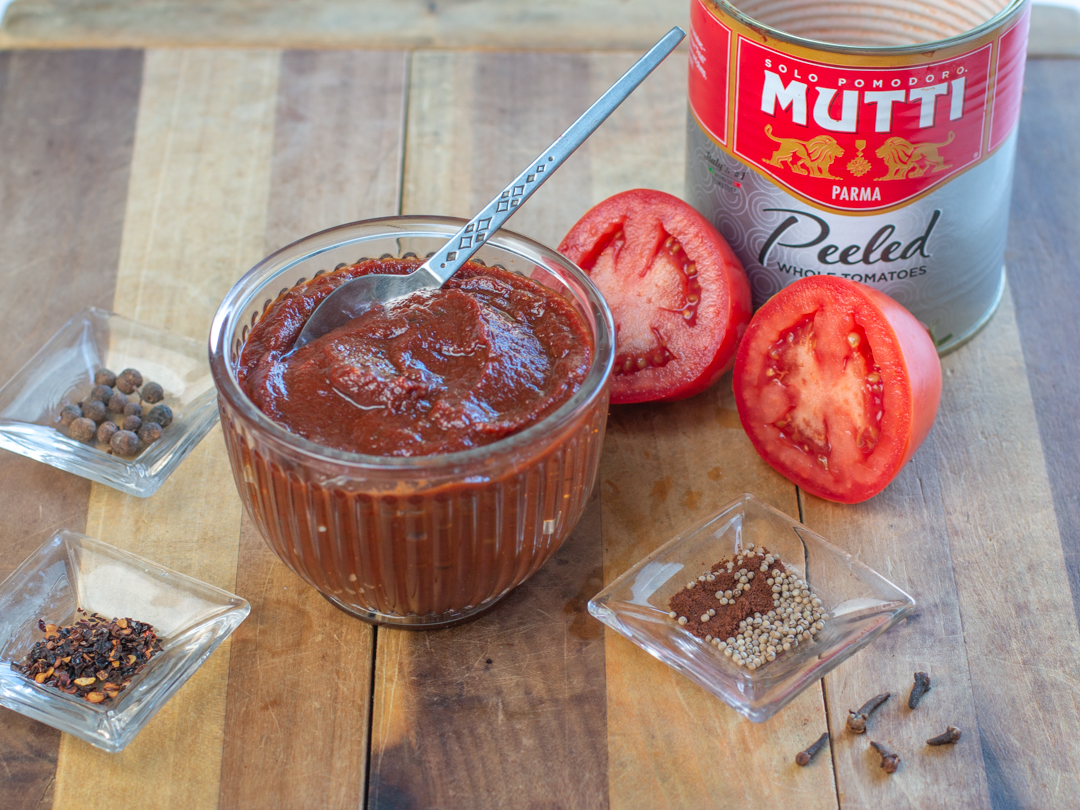 How to Make Homemade Ketchup Year-Round: Use Italian Canned Plum Tomatoes! A savory Ketchup – better than store-bought with intense roasted tomato, garlic and spices flavor. Dollop on a burger or dunk fries in it. OK… not fresh tomatoes – but so good… an honorable mention!

A Savory and Sweet Interesting Jam with Tomatoes and Shallots – not overly sweet and quite simple to make!
I'm using it to fill my Savory Cheese Shortbread Linzer Thins, has so many other uses.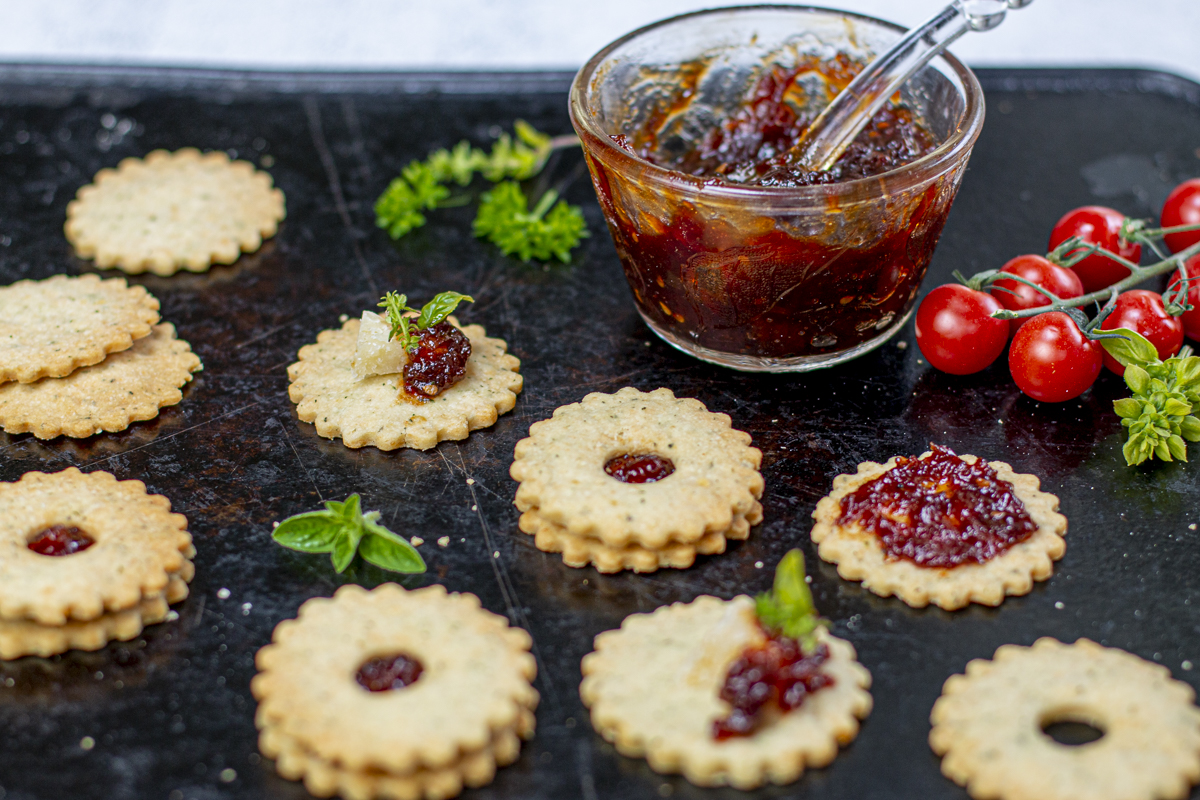 See recipe: Savory Cheese Shortbread Linzer Thins with Tomato Jam
A creative play on the beloved "Linzer Cookie"  – savory, cheesy melt-in-your-mouth shortbread sandwiched with Tomato Jam!
The perfect "cheese & tomato" appetizer that will wow you guests!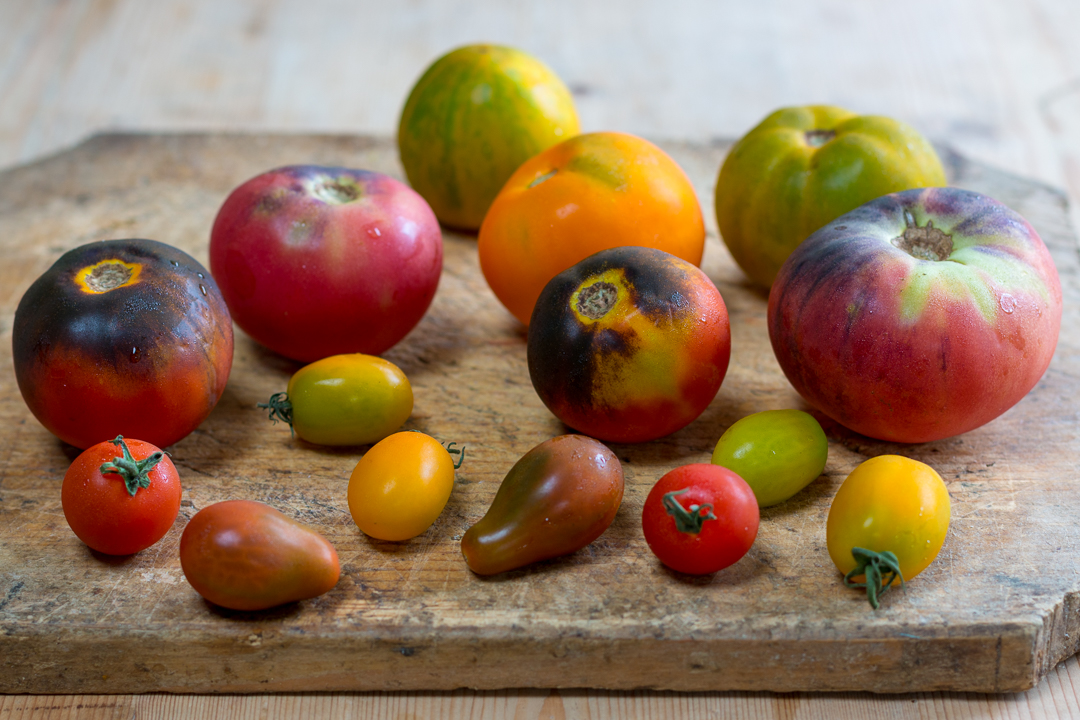 Heirloom plants are treasures that have been grown for generations from seeds gathered year to year, to preserve their exceptional flavor – as opposed to commercial crops that are prized for their durability, often at the expense of taste and nutrition.
These tomatoes can be quirky and odd in shape, in a rainbow of colors, that are as intriguing to look at as they are delicious to eat!
The rule of thumb for any kind of heirloom in the seed world is that something has to be at least 50 years old to be an heirloom.
Taste for yourself at a local farmers' market – There are more than 3,000 varieties of heirloom or heritage tomatoes in active cultivation worldwide and more than 15,000 known varieties!
We have officially 4 weeks remaining of Summer! Produce, Vegetables (and herbs) are at its peak of variety & flavor.
For Uptimal Health ~ Cook for Yourself!!
Here, in Connecticut – this year's production season of tomatoes was late… too much rain and not sufficient sunshine.
I got a hint of this searching for Heirloom Tomatoes, as they were about 3 weeks late to arrive at Farmers' Markets, so they will likely be available throughout the month of September ~ and that's a good thing!
Enjoy all the Tomato recipes!
Let me know what you think! 
Karen

Heirloom Tomatoes Over Pasta with Garlic Breadcrumbs and Shallot-Thyme Vinaigrette
Heirloom Tomatoes team with Gluten-Free Quinoa Spaghetti, Easy Shallot-Thyme Vinaigrette and Garlic Breadcrumbs. Delicious served at room temperature.
Print Recipe
Pin Recipe
Rate this Recipe
Ingredients
6

medium

Heirloom tomatoes

use different colors and shapes

1

recipe

Shallot-Thyme Vinaigrette

8

ounces

Spaghetti

I used a gluten-free Quinoa Pasta

1

thick slice

country bread

or choose a gluten-free variety, or sourdough (equal to ½ cup bread cubes)

2

teaspoons

extra virgin olive oil

1

medium

fresh garlic clove

peeled, finely grated

1

big pinch

sea salt

2

tablespoons

basil leaves

 green and purple

1/4

cup

aged gouda

shaved; or parmegiano reggiano
Instructions
Make Shallot-Thyme Vinaigrette.
Make the Garlic Breadcrumbs:
Heat the oven to 350 degrees. Cut bread into 1″ cubes. Add to a small baking dish with 2 t. olive oil, grated garlic and a big pinch of sea salt; mix in. Bake for 10 minutes, turning once or until golden, watch – can burn quickly. When cool, crush with your fingers.
Tomatoes: 
 Wash and dry tomatoes. Cut into wedges or thick slices, discarding the cores.

Add them to a large platter and toss with some Shallot-Thyme Vinaigrette – at least 1/4 cup.

Let marinate at least half an hour.Cook pasta as package directs – al dente. Drain, shake out excess water and combine with marinated Heirloom Tomatoes on the platter. HINT: The warm pasta will grab the flavors of the vinaigrette.
Finish the dish: 
Garnish with Garlic Breadcrumbs just before serving.

Top with basil leaves, and shavings of cheese, if using. Add some extra vinaigrette if desired, save the rest in a glass container in the refrigerator.
Notes
This recipe may not be reproduced without the consent of its author, Karen Sheer.
Nutrition Facts
Heirloom Tomatoes Over Pasta with Garlic Breadcrumbs and Shallot-Thyme Vinaigrette
Amount per Serving
% Daily Value*
* Percent Daily Values are based on a 2000 calorie diet.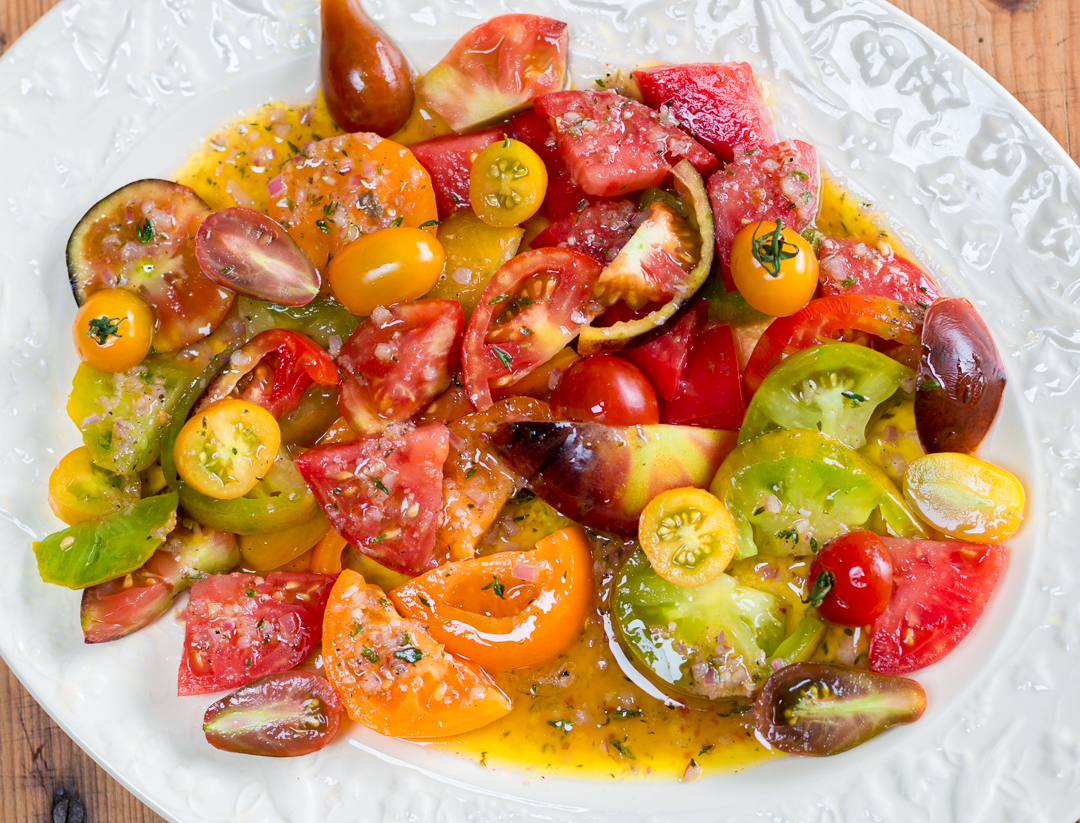 Karen Sheer