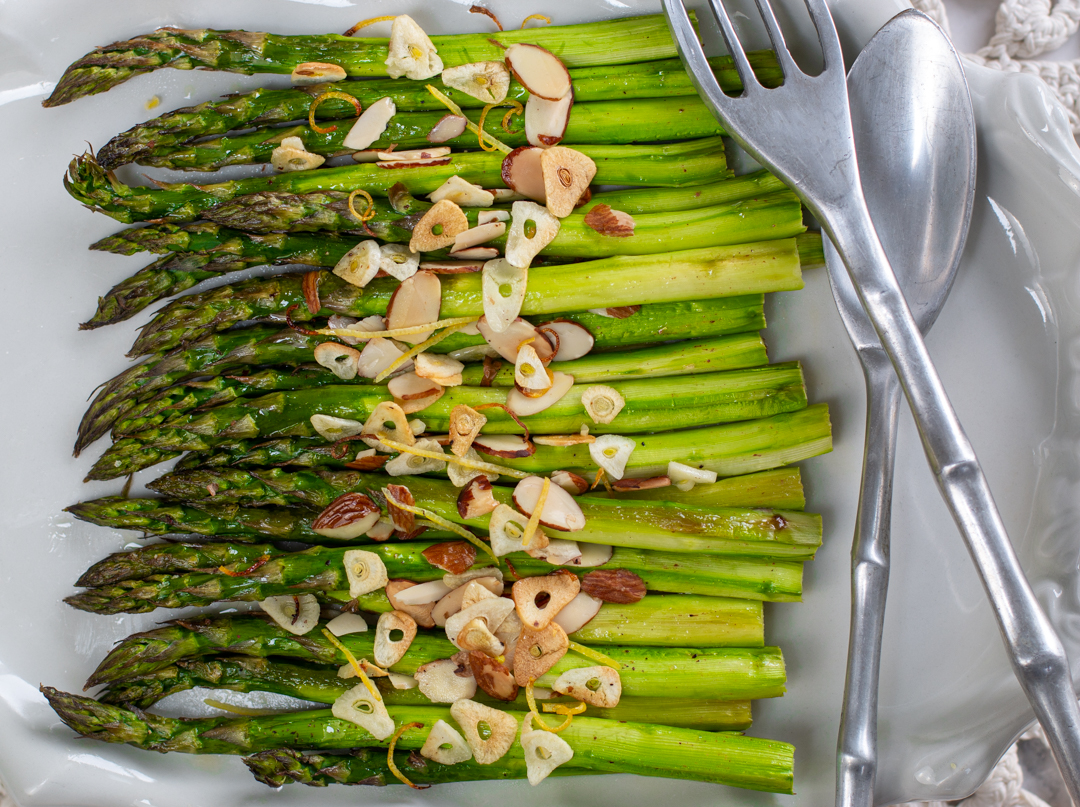 How to Simply Roast Spring Asparagus with Garlic, Almonds & Lemon
Spring has finally arrived!
Easy roasted asparagus is done in just 10 minutes. Roasting
heightens the vegetable's flavor – and the toppings add a nice crunch and some nutty & zesty flavor!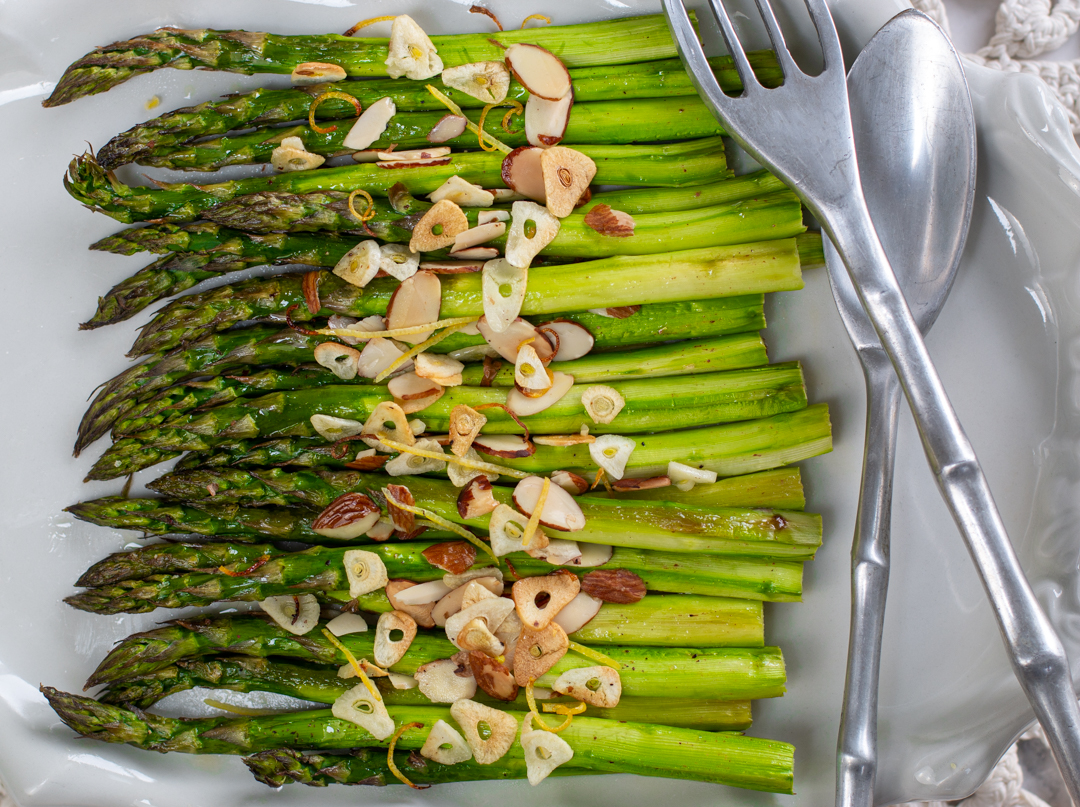 Roast the spears in a 400 degree oven simply with extra virgin olive oil, salt & pepper.
When almost done – add sliced garlic, sliced almonds and lemon rind to the pan and cook until all a touch golden… done!
Recipe is finished from start to finish in under 15 minutes.
Asparagus will make their yearly debut in April (in the Northeast) and last until June; yes a short season! – I'm using fabulous Organic Mexican Spears for now.
Any asparagus enthusiast will tell you that despite its year-round appearance in modern American grocery stores, it is far tastier grown locally and enjoyed in the spring.
So Many Ways To Prepare: roasted, steamed, sautéed, stir-fried, shaved into salads or seared on a grill.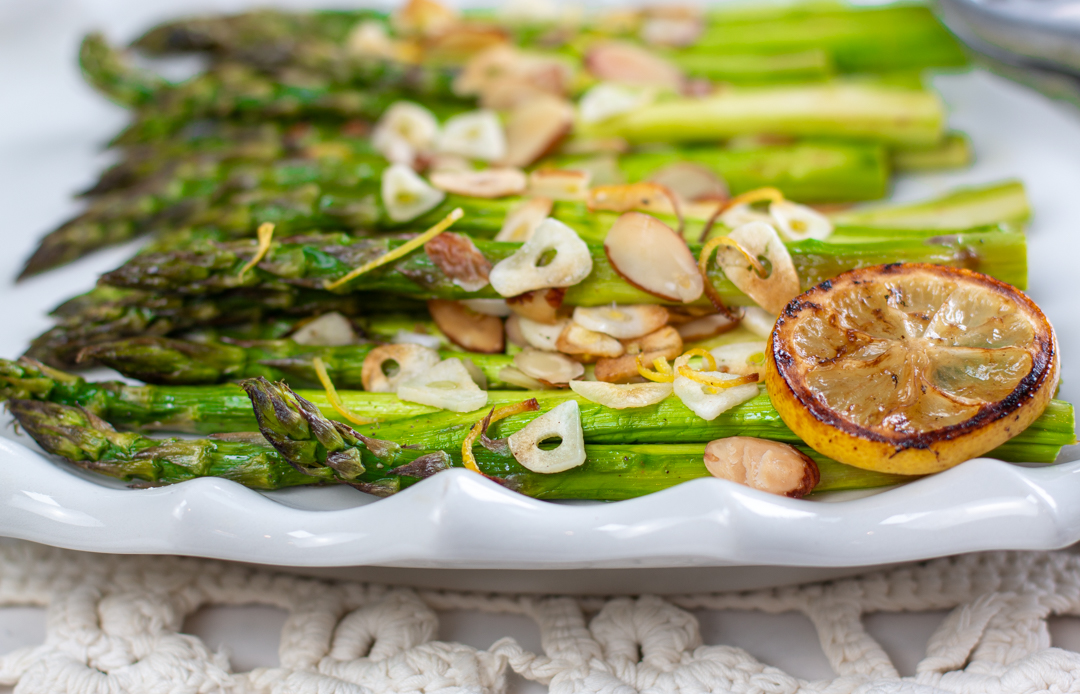 Asparagus sprouts in early spring and is one of the first signs of the new season. Visit your local Farmers' Market and taste that "just-picked" flavor!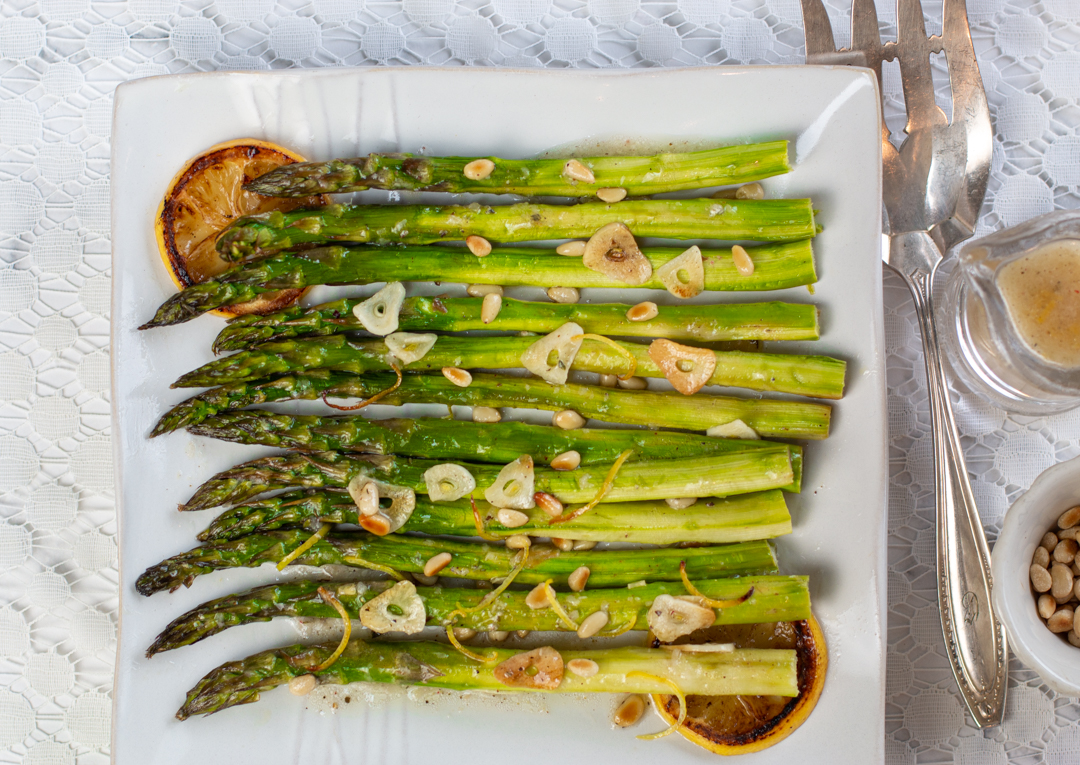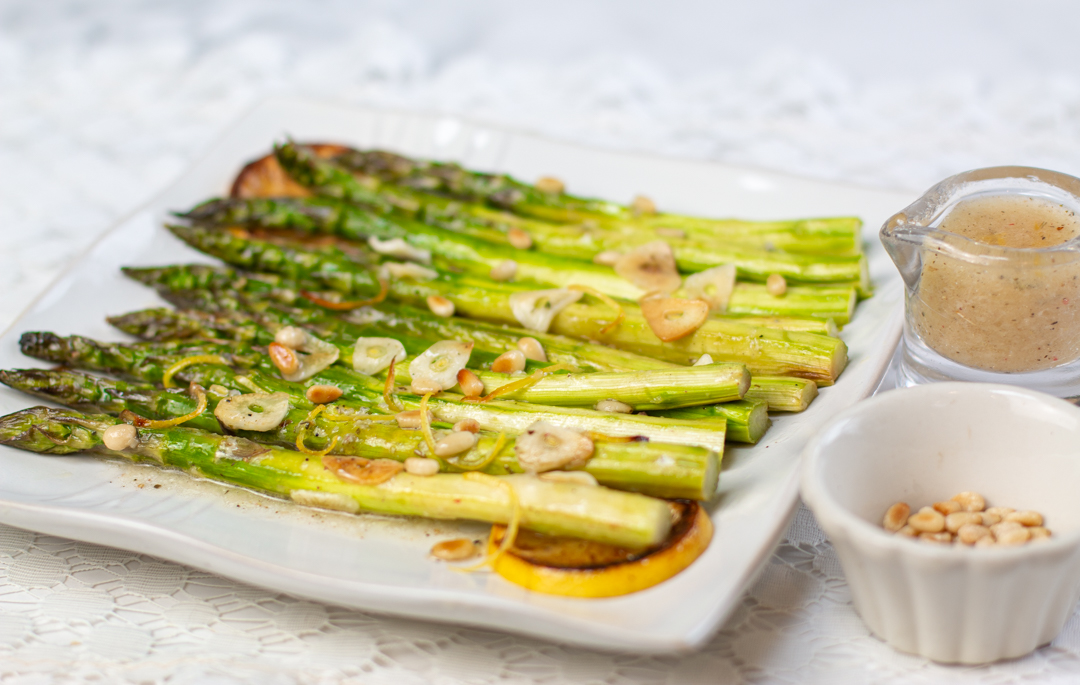 The most important thing — by far — about preparing asparagus is not to overcook it. It is delicious raw, shaved or sliced quite thin, steamed or roasted or grilled (which enhances its nutty flavor.)
Asparagus comes in green, white, purple and wild varities.
Select bright green spears with tight heads that seem crisp and firm, not soggy.
Asparagus size is a matter of preference: Choose thick spears for roasting and thinner spears for quick steaming. Check the tips and ends. Ultra-fresh asparagus tips might have a slightly purplish hue. The woody ends are always "snapped" off.
Asparagus season generally runs from April to mid-June and sometimes into July in the northern US, and starts earlier in more southerly climes (around February in California.)
Leave some room when roasting asparagus – they should not be tight in the pan.
Cook with the season!
Is there any season more anticipated than spring? As the weather warms (and the soil too!) Spring vegetables and fruit let us shrug off the heaviness and cold of winter.
Like most green vegetables, asparagus is good for you. This giant veggie is one of the most nutritionally well-balanced vegetables; among its healthful properties are folate, Vitamin C, B6, potassium, inulin (which is said to be "prebiotic" and is known to aid in digestion), anti-oxidant and anti-inflammatory properties and possibly anti-cancer effects.
Young Asparagus is delicious eaten raw!
Great Ideas for Serving Roasted Asparagus:
Add other nuts in place of almonds… think pine nuts or hazelnuts
Pairs beautifully with Salmon – add some on the side
Toss into pasta – with the garlic, almonds and lemon rind; fold in some browned butter
Use as a veggie topping for bruschetta
Wonderful with Eggs! Fold into a frittata, omelet or add to quiche
Add a vinaigrette to the recipe and serve cold or at room temperature. I love Preserved Meyer Lemon Vinaigrette
Garnish a Spring Soup with thinly sliced roasted asparagus
Use as a veggie pizza topping
Make a dipping sauce… how about Roasted Garlic Tahini?
Add some pesto to warm, cut potatoes – top with sliced roasted asparagus
Stir into your favorite risotto
Marinate the spears with you favorite vinaigrette
An interesting addition to an Asian stir- fry – or veggie fried rice
Also see: Salmon with Rhubarb Vanilla Bean Butter Sauce
Roasted Asparagus is a wonderful side dish.

Did you know?
The name for asparagus – a member of the lily family – comes from the Greek word meaning "shoot" or "sprout." Now widely cultivated throughout the world, this regal vegetable is believed to have originated 2,000 years ago in the eastern Mediterranean region, where it was prized for its unique texture and alleged medicinal and aphrodisiacal qualities.
Happy Spring!
Karen

How to Simply Roast Spring Asparagus with Garlic, Almonds & Lemon
Easy roasted asparagus is done in just 10 minutes with the toppings. Roasting heightens the vegetable's flavor - and the toppings add a nice crunch and some nutty & zesty flavor!
Print Recipe
Pin Recipe
Rate this Recipe
Ingredients
1 1/2

pounds

fat asparagus

4

teaspoons

extra virgin olive oil

1/4

teaspoon

sea salt

1/8

teaspoon

freshly cracked black pepper

4

medium

cloves garlic

peeled, sliced thinly

3

tablespoons

natural sliced almonds

1/2

tablespoon

lemon rind

julienned; thinly sliced 1" lengths
Instructions
Preheat oven to 400 degrees. Trim the asparagus's woody ends - "snap" the ends (about 1/4 of the bottoms), then trim straight. Gently peel the bottom half of the fat asparagus.

Rinse the asparagus and dry well. (Fresh local asparagus make have dirt in the tips, so soak these in water, then drain and pat dry.)

Add the asparagus to a rimmed baking pan, spacing them apart. Add 1 teaspoon evoo; salt and pepper - toss to coat. Place in oven and roast (convection if you have it) for about 7 minutes. Asparagus will look just a touch golden.

Remove from oven add remaining 3 teaspoons of evoo - drizzle over all. Add the sliced garlic, almonds and lemon zest. Mix in well - distribute the asparagus so they do not touch each other. Place back in the oven and roast for about 3 - 4 minutes more until garlic and almonds are a touch golden - watch carefully!

Taste for salt. Serve and enjoy... can also serve cold and at room temperature. Option: Add a squeeze of lemon juice and drizzle with some evoo.. or drizzle with your favorite vinaigrette.

Want to make it cheesy? Top with grated cheese of your choice and broil 6" from the heat source until bubbly.
Notes
This recipe may not be reproduced without the consent of its author, Karen Sheer.
Nutrition Facts
How to Simply Roast Spring Asparagus with Garlic, Almonds & Lemon
Amount per Serving
% Daily Value*
* Percent Daily Values are based on a 2000 calorie diet.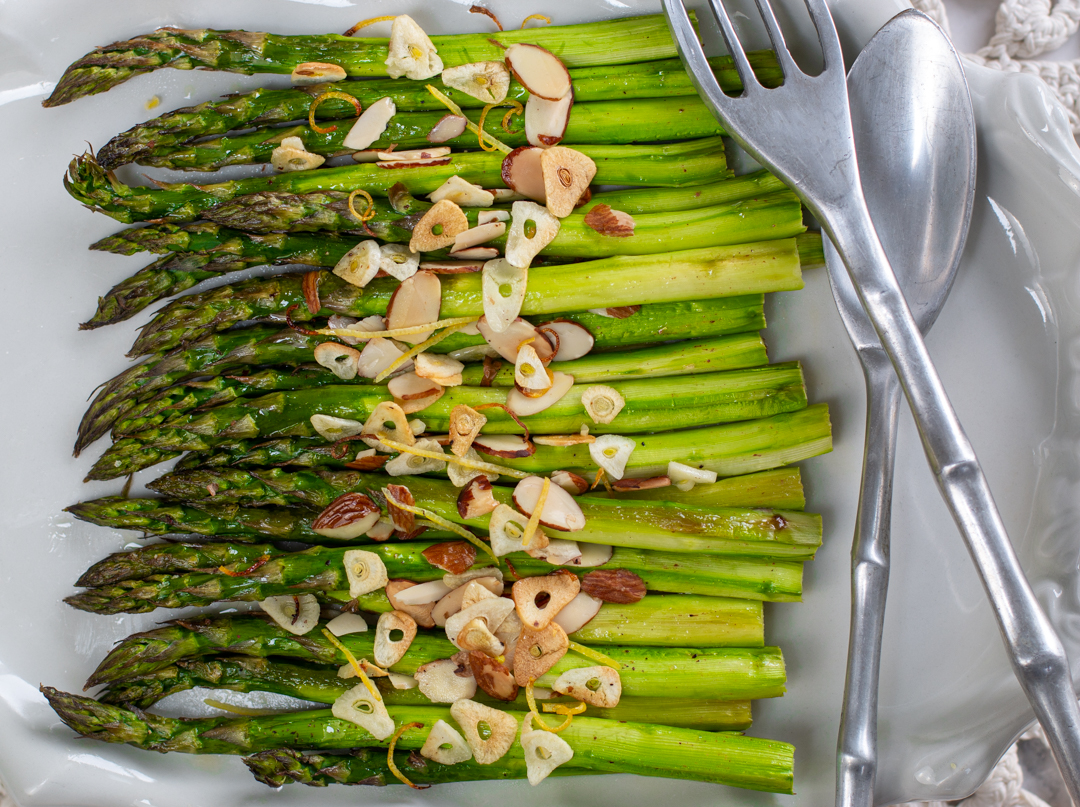 Karen Sheer