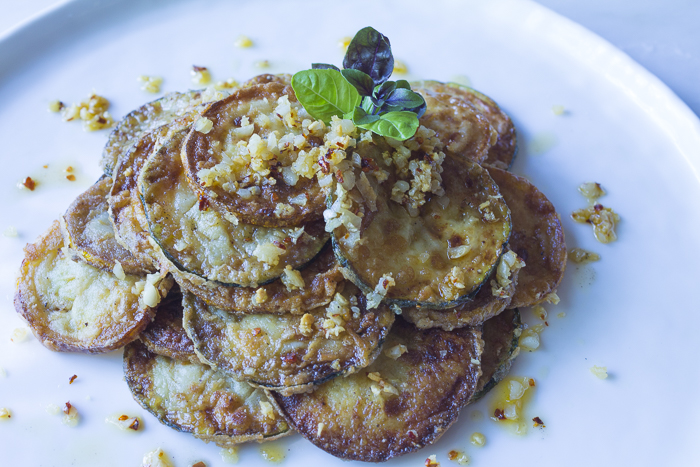 Fried Summer Zucchini with Garlic – Lightened-Up
A lightened-up Fried Zucchini Recipe inspired from the famous Il Mulino Restaurant in New York City. A healthier yet delectable version! My master recipe is Gluten-Free.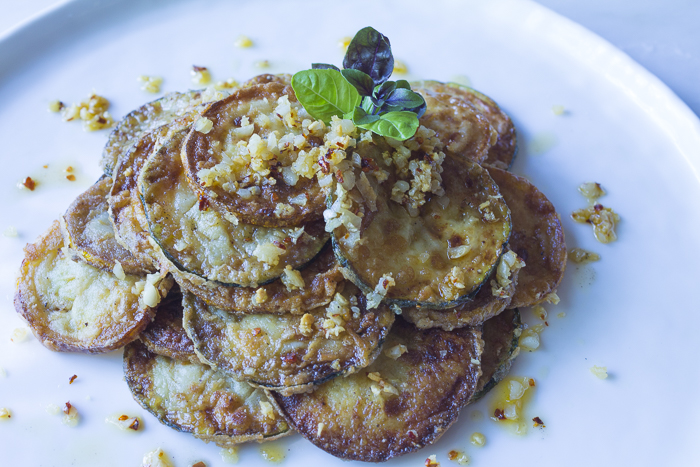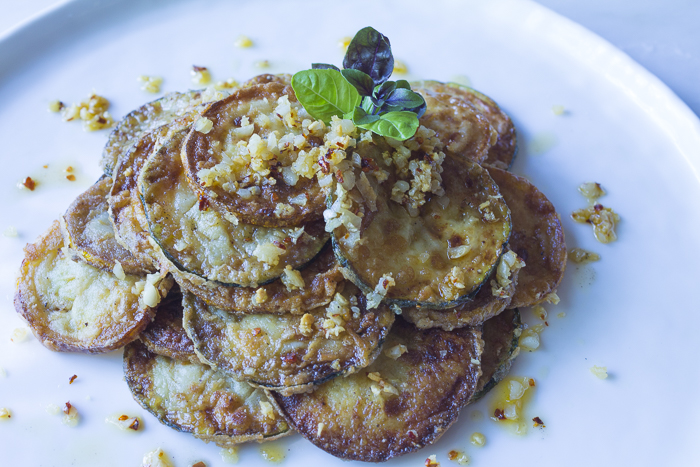 Ingredients
4 cups fresh zucchini, cleaned, about 2 large
2 large eggs
3 teaspoons fresh garlic, peeled and grated
½ cup gluten-free all purpose flour, or regular flour
½ teaspoon fresh cracked black pepper
½ cup extra virgin olive oil, use ¼ cup, then ¼ cup
2 tablespoons extra virgin olive oil
3 tablespoons fresh garlic, peeled, chopped coarsely
¼ teaspoon hot pepper flakes, or more if you like spicy
1 – 2 tablespoons sherry wine vinegar
½ teaspoon sea salt
Instructions
1
Slice the zucchini using a mandoline 1/8″ thick. Beat the eggs in a large bowl, add the 3 teaspoons of grated garlic, stir to combine.
Add the zucchini and toss well. Let marinate for 15 minutes.
Heat 1/4 cup of olive oil in a large skillet to medium-high heat, I use cast iron.
2
Place the flour in a medium sized bowl, add black pepper and mix in. Add zucchini slices – I use 15 at a time.
Coat each, then knock off any excess flour.
Add them to the hot oil and let color on the first side to a deep-golden brown. Turn over with tongs.
Cook on the second side until deep-golden brown, and cooked through.
Transfer them to a drying rack set over a large pan.
3
Continue cooking zucchini in batches of 15 pieces. Add the remaining 1/4 cup of olive oil when the pan seems dry.
Clean the pan with paper towels. Add 2 T. olive oil and set the flame to medium heat.
4
Add the garlic and let become golden brown, and a little crunchy. Add the hot pepper flakes and stir.
Place the fried zucchini in a large bowl.
Immediately add the cooked garlic mixture, sherry wine vinegar ( 1 – 2 tablespoons) and sea salt. Toss all very well and serve.
5
Other add in options: thinly sliced radicchio, small basil leaves, shaved parmigiano-reggianno cheese.
6
The fried zucchini can be reheated on a foil lined tray at a moderate temperature, 350 degrees, until it re-crisps.
This recipe can not be reproduced without the permission of its author, Karen Sheer
Karen Sheer