22 Spring Memorial Day Recipes with NEW: Shortcakes with Rhubarb, Blueberries and Coconut Whipped Cream
Fantastic, Healthy & Creative Recipes to Celebrate the Holiday with Friends & Family!
See NEW: Tender & Flaky Buttermilk Shortcakes are Split and Piled with Rhubarb and Coconut Whipped Cream with a touch of Blueberries for a Delicious Dessert.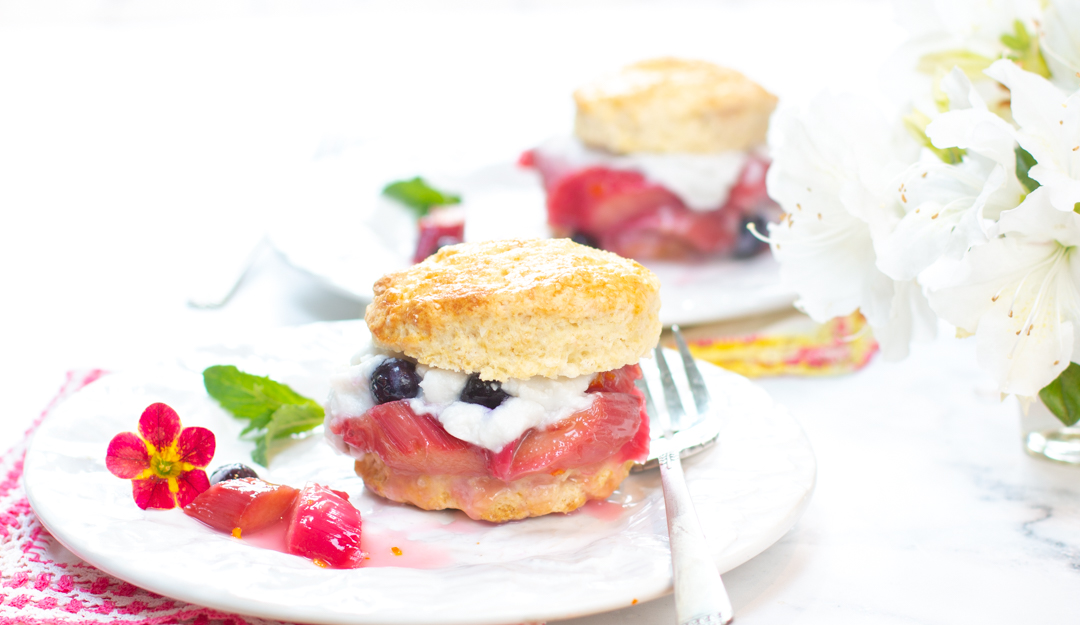 Nothing could be a more typical, totally American dessert than Strawberry Shortcake!
I've reworked the ingredients using Rhubarb and Blueberries. The perfect ending to your Memorial Day Celebration.
Let's Get Cooking!
Celebrate Memorial Day ~ a weekend filled with family visits, friend time and good eating.

What to Grill:
HAND-HELD
The Best Homemade Healthy Burgers brimming with Veggies and topped with addictive Maple Glazed Shallots… and a recipe for Homemade Ketchup with Canned Plum Tomatoes!

Make your own Ketchup! Will be the hit of your cookout!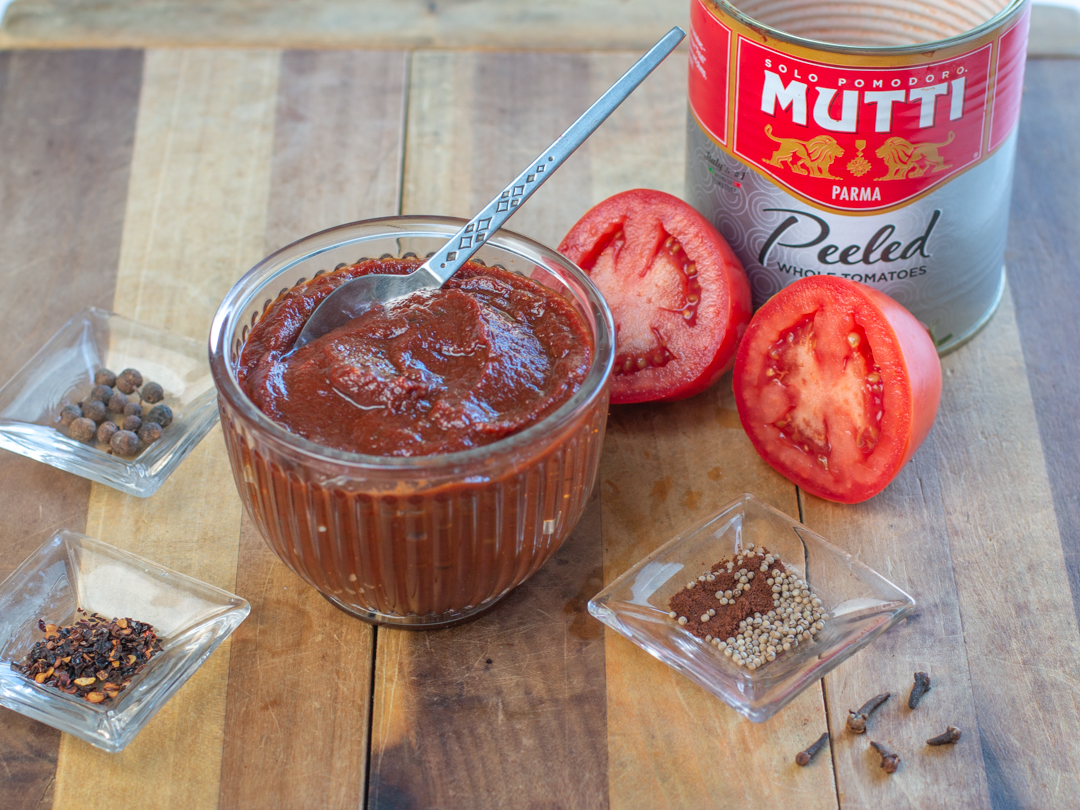 How to Make Homemade Ketchup Year-Round: Use Italian Canned Plum Tomatoes!
I love making my own ketchup, not too sweet with savory intense flavors. You can whirl it smooth or leave slightly chunky.

A Bun-less Recipe: The Ultimate Grilled Burger Wrapped in Lettuces with Onion and Heirloom Tomatoes ~ Homemade Ranch Dressing.
Pulse fresh chicken in a food processor, then add vegetables and seasonings for these amazing burgers.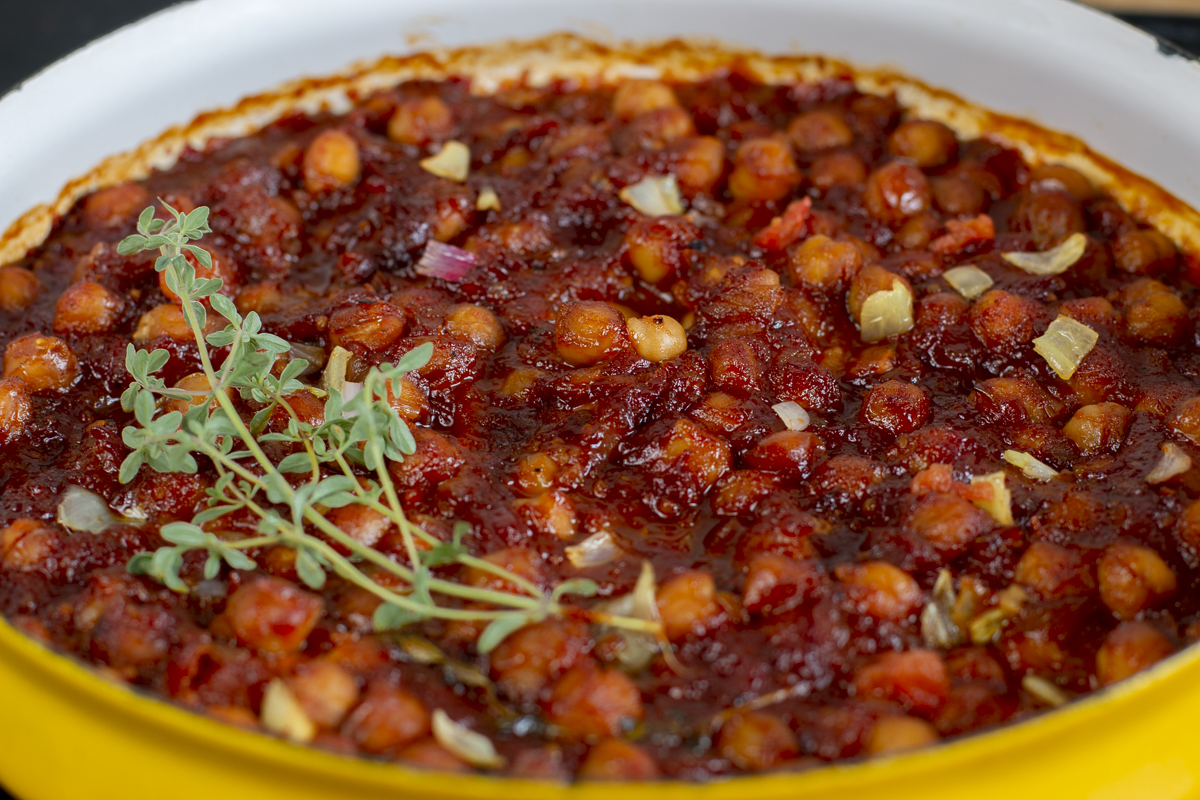 Tastes like the best homemade baked beans but better! More easily digested than all beans!
No barbecue feast or picnic is complete without them! Vegan, Vegetarian & Gluten Free. Any homemade baked beans are superior to canned! Skip the preservatives, chemicals and "natural flavors" most major companies add.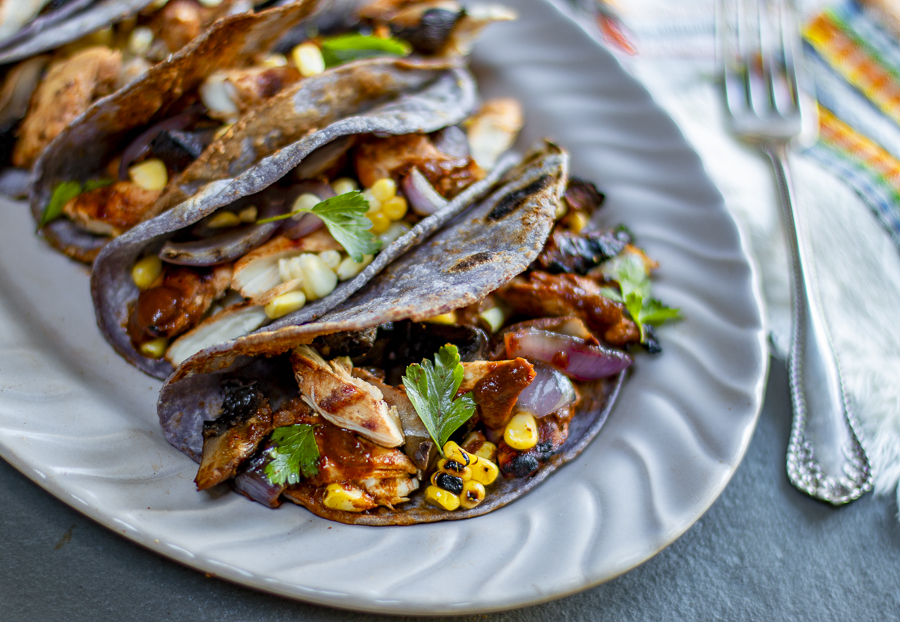 Delicious with Authentic Flavors!
Warm and Zesty Grilled Chicken & Vegetables are bathed in a Flavorful Chile Sauce.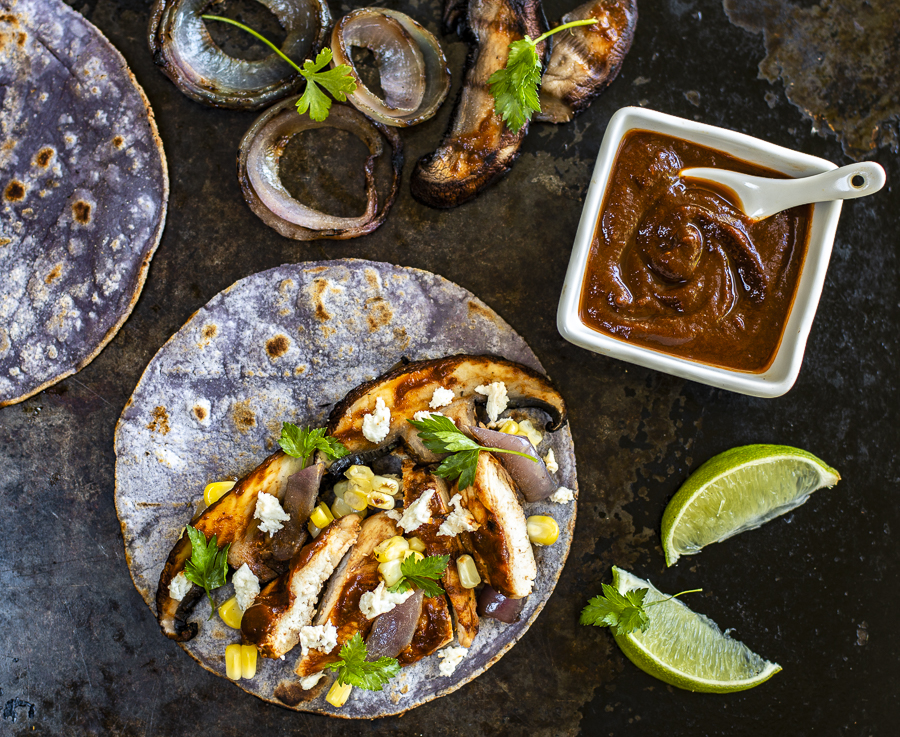 The Mulato Chili Sauce (from dried poblano peppers) comes to gather quickly after the chiles are toasted in a skillet; aromatics are added, and all gets a whirl in a blender. Lasts for a few weeks in the refrigerator – so you can create more tacos, or drizzle on anything!
OFF THE GRILL:
Elegant Roulades of Boned Salmon Steaks with a Pink Peppercorns Crust are Topped with a Delicious Basil & Macadamia Nut Pesto.
Can Grill any Salmon you like as well ~ Salmon Fillet or Salmon Steaks!
Make a quick Pasta Salad with extra Macadamia Pesto.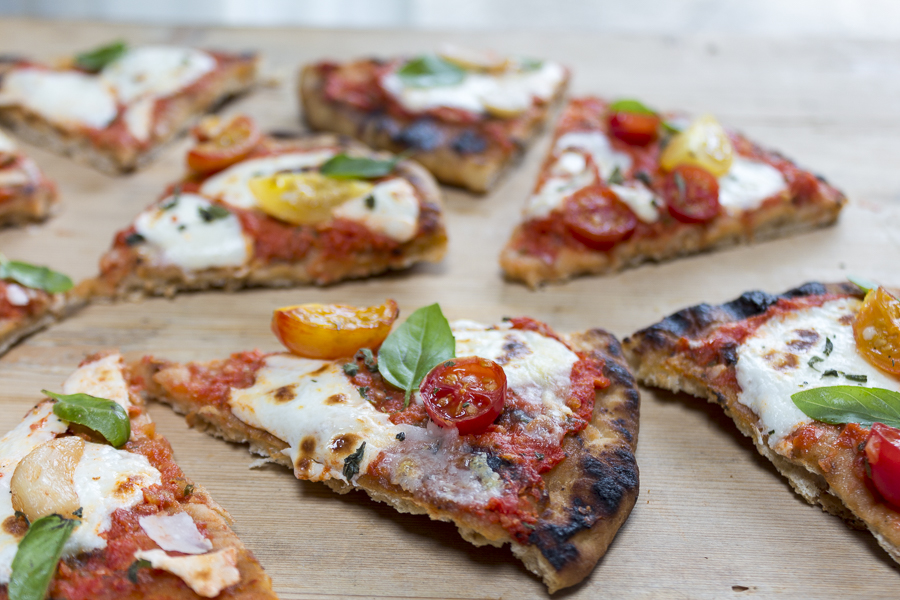 I LOVE making pizza at home. My Perfect Pizza Dough is easy and fun to make!
A smoking hot grill makes the most delicious pizza! The crispy crust lies underneath a garden-fresh tomato "raw sauce." Top with cooked sliced garlic, cherry tomatoes, fresh mozzarella and basil leaves … the possibilities are endless! Use any marinara sauce you like – I love the "raw sauce" with garlic if you have some nice, ripe tomatoes.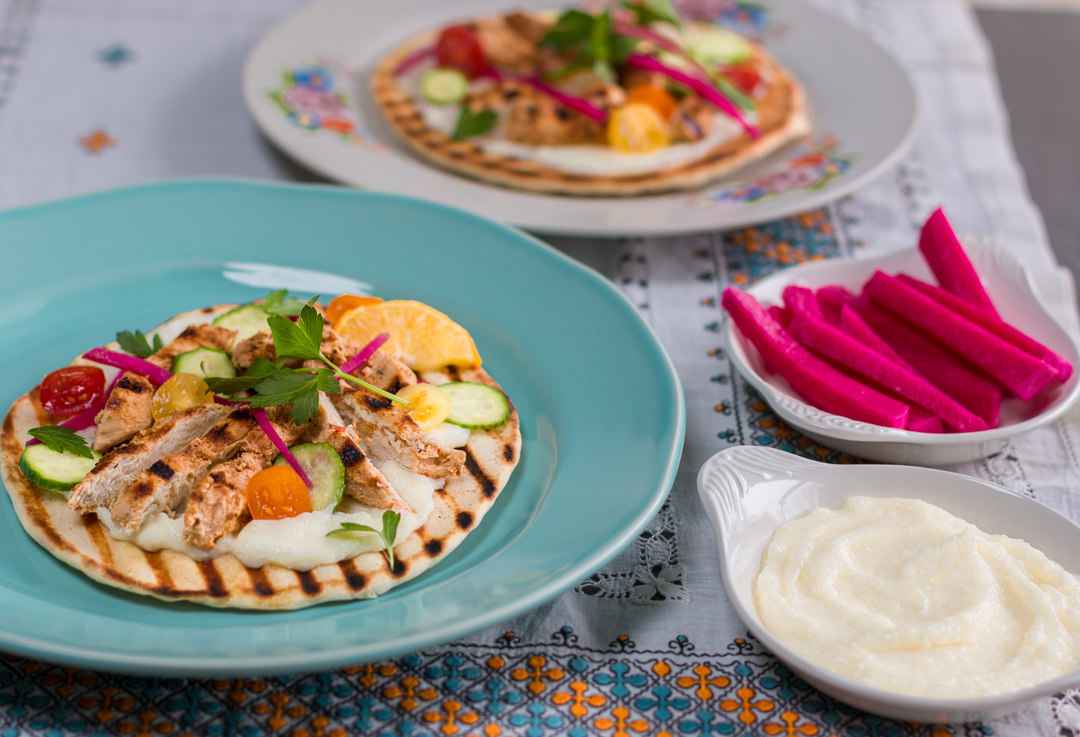 Delicious Yogurt Marinated Chicken, Lebanese-Style Garlic Sauce, Harissa Sauce and Pickled Turnips come together for the ultimate healthy Middle Eastern Feast at home.
Pictured: Lebanese Chicken on Pita Bread schmeared with Garlic Sauce and Pickled Turnips…extra on the side.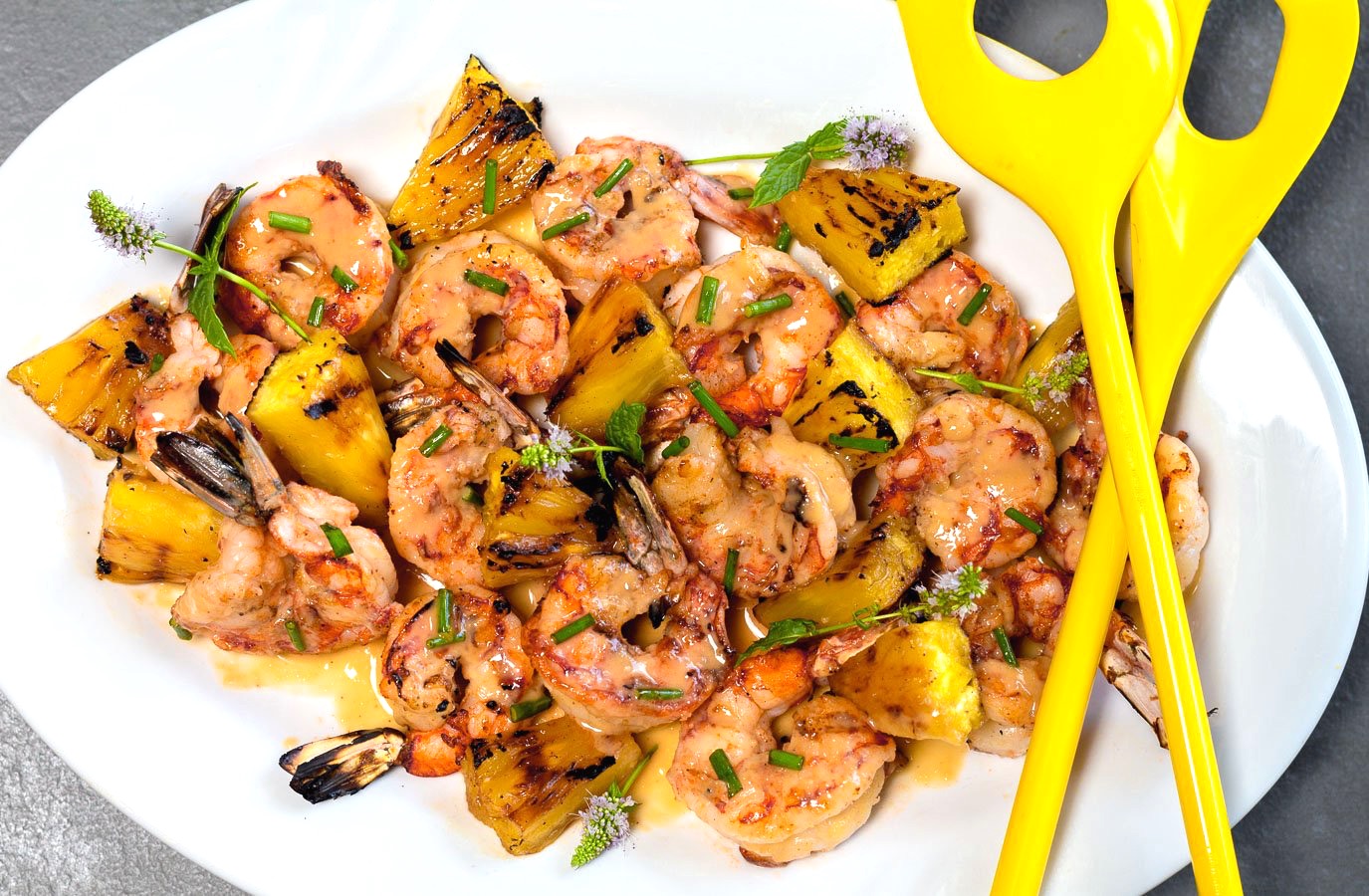 A Quick Healthy No Carb Dish Served Hot Off the Grill.
Make the Zesty Gingery-Miso Dressing ahead for a speedy recipe. Pineapple is wonderful grilled and adds natural sweetness to the dish.
SALADS & SIDES: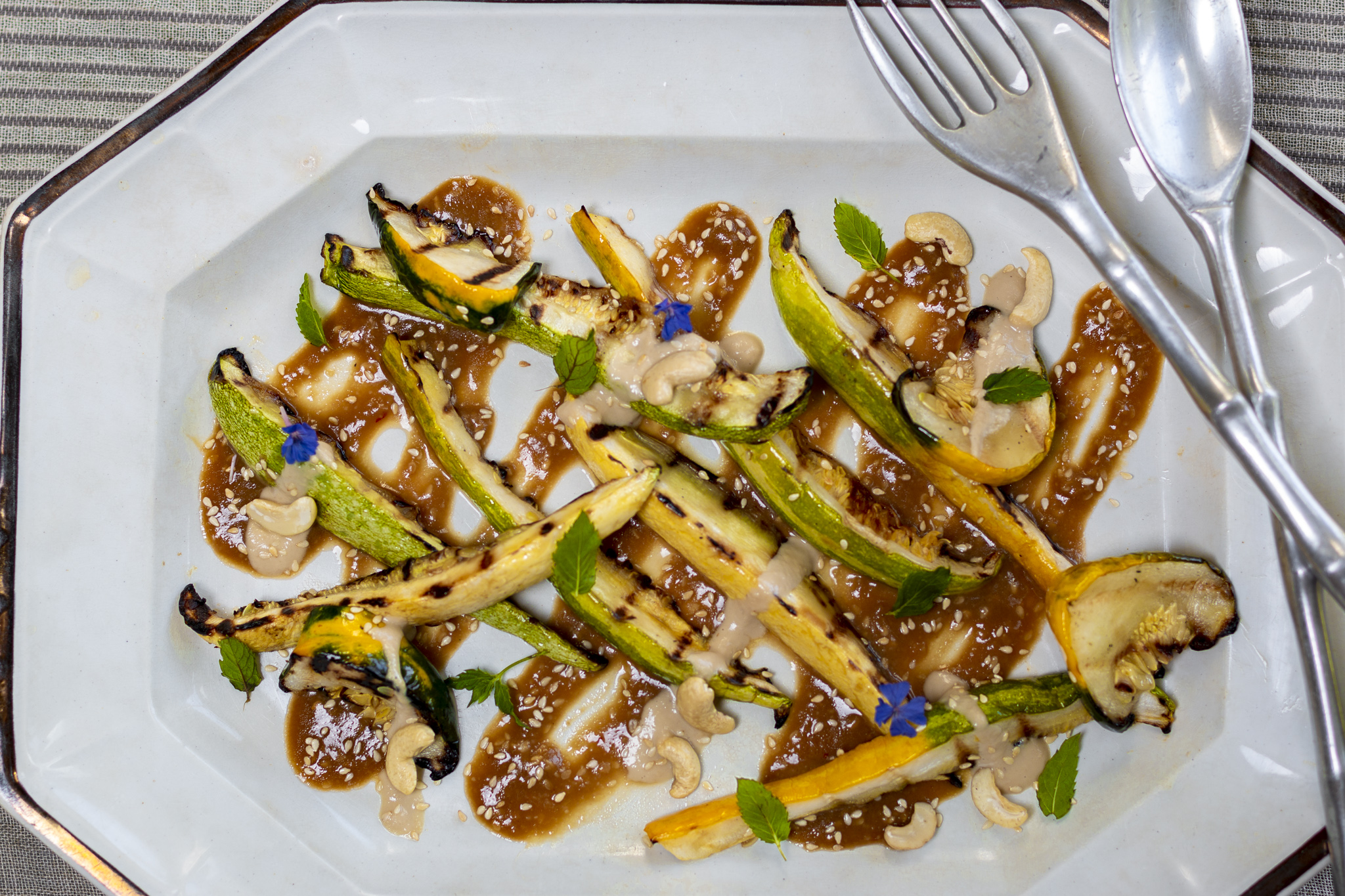 Zucchini & Summer Squash off the grill get jazzed-up with these Japanese inspired flavors.
My Japanese Style Miso Glaze is the perfect foil to add a splash of flavor!
No Mayo here! These steamed potatoes are naturally bright purple and team brilliantly with Olives, Scallions and Parsley with this Zesty Vinaigrette – goes with any offering off the grill – can make ahead of time.
Who would not indulge in this Potato Salad?
A light and ZESTY potato salad perfect to serve outdoors with your favorite Bar-B-Que favorites.
A quick and easy recipe… use just one bowl!
Colorful, Simple & Crunchy!
This Radicchio Salad has a nice sweet & bitter elements. Add Frisée lettuce, Watermelon Radish, Shaved Heirloom Carrots, Crispy Croutons with Grainy Mustard and Garlic and Karen's Grainy Mustard Vinaigrette with Shallots and Garlic. A flavor sensation!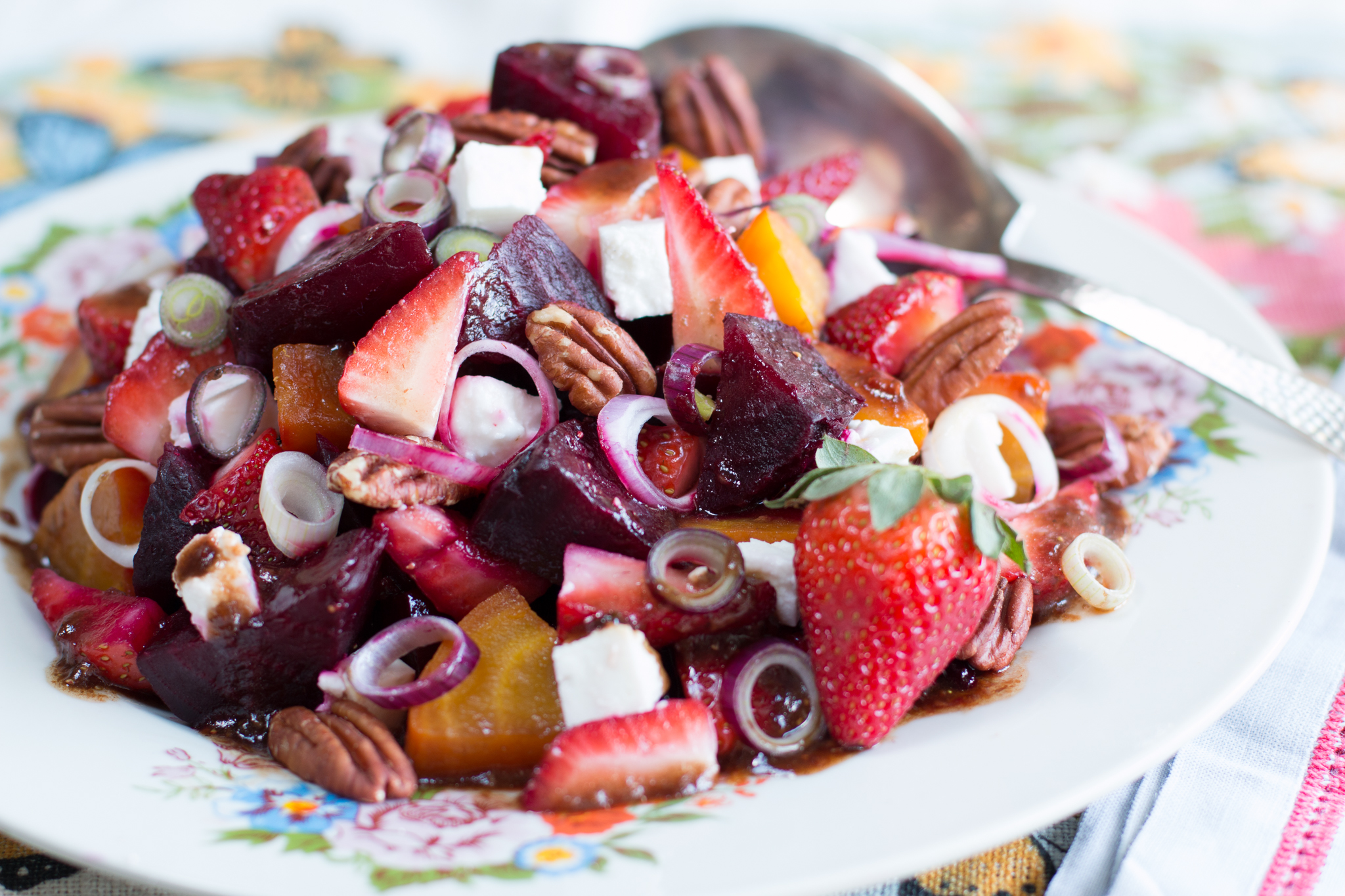 Because it's SPRING – and Strawberries are tasting fabulous…
This vibrant salad is crave-worthy and perfect for entertaining! Strawberry-Honey Balsamic Vinaigrette makes it special!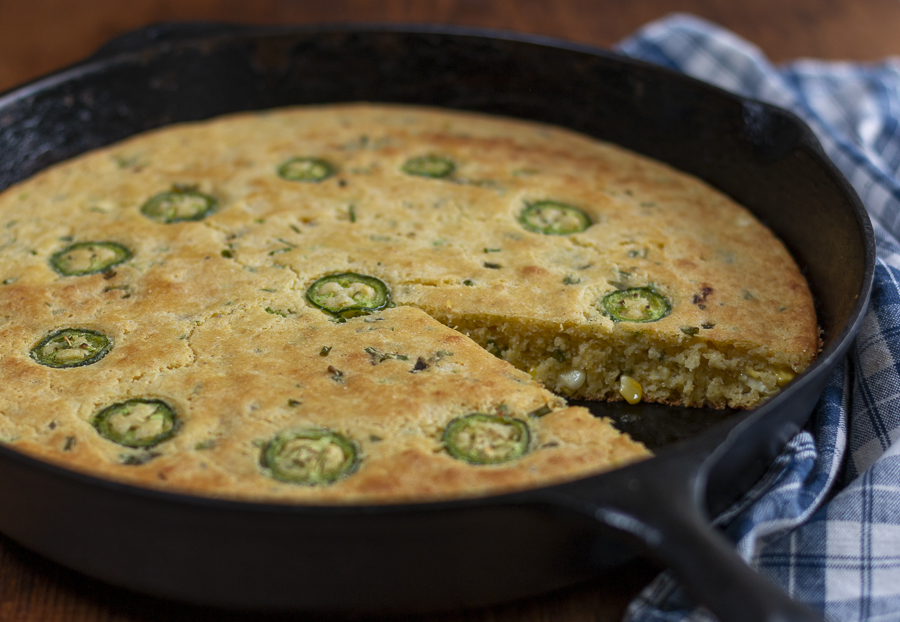 Gotta give me some Great Cornbread!
Crispy on the exterior, tender inside – this skillet cornbread is big on flavor! Additions include Jalapeños, Poblano Chiles, Chives and Fresh Corn. Gluten Free.
Also See my oven baked cornbread: "Karen's Cornbread"  
Baste corn with bursting flavor – cover with husk and grill outdoors. Add crumbled feta or cotija cheese to the grilled corn if desired.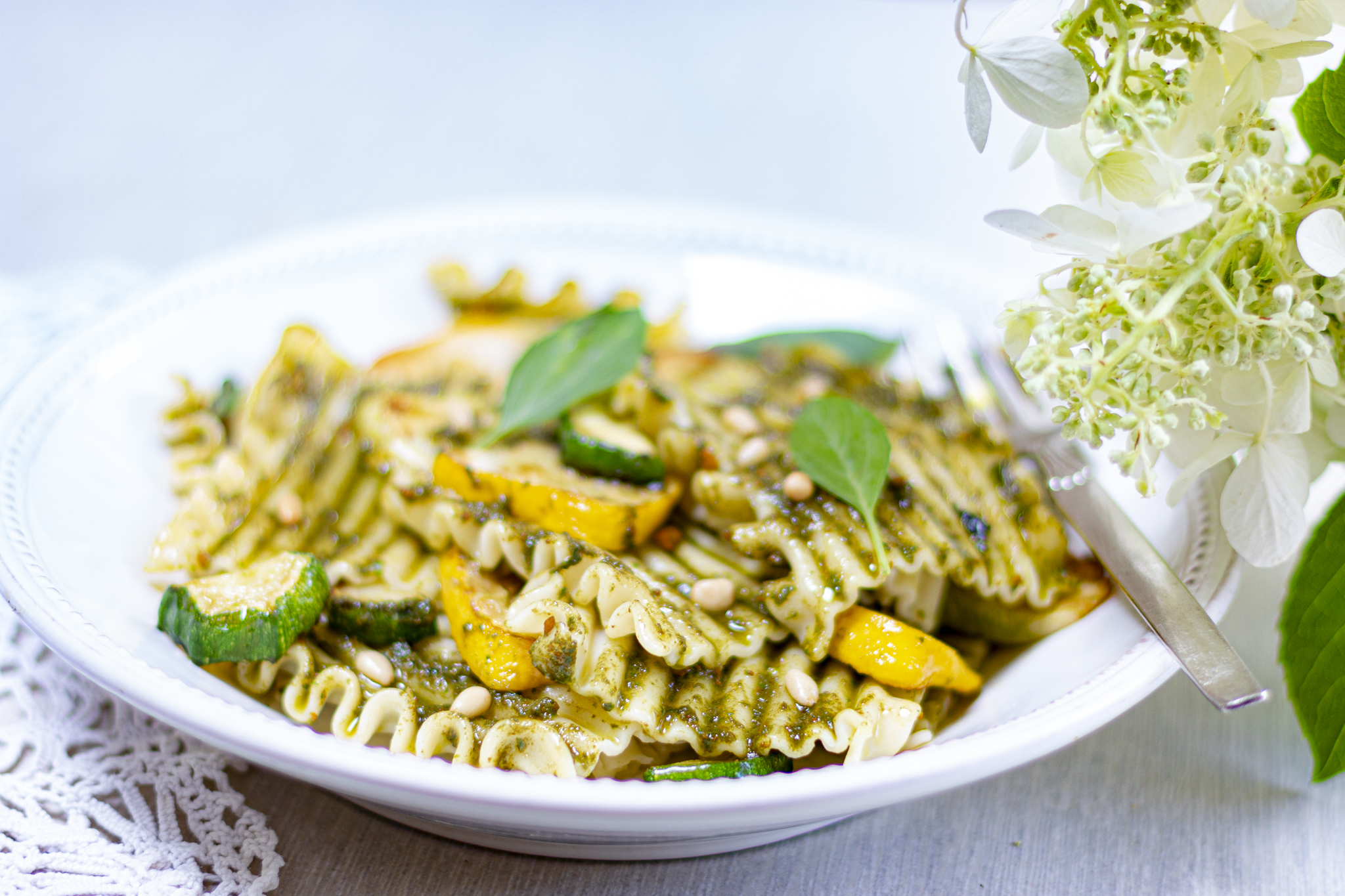 Serve this one warm or cold – a great addition to your celebration. I find Thai Basil at my local Asian Market. 
The flavor has a pronounced licorice essence and a little spicy kick. So many uses – see my list. Find this wonderful variety at farmers' markets. Makes a delicious and unique pesto!
DESSERT: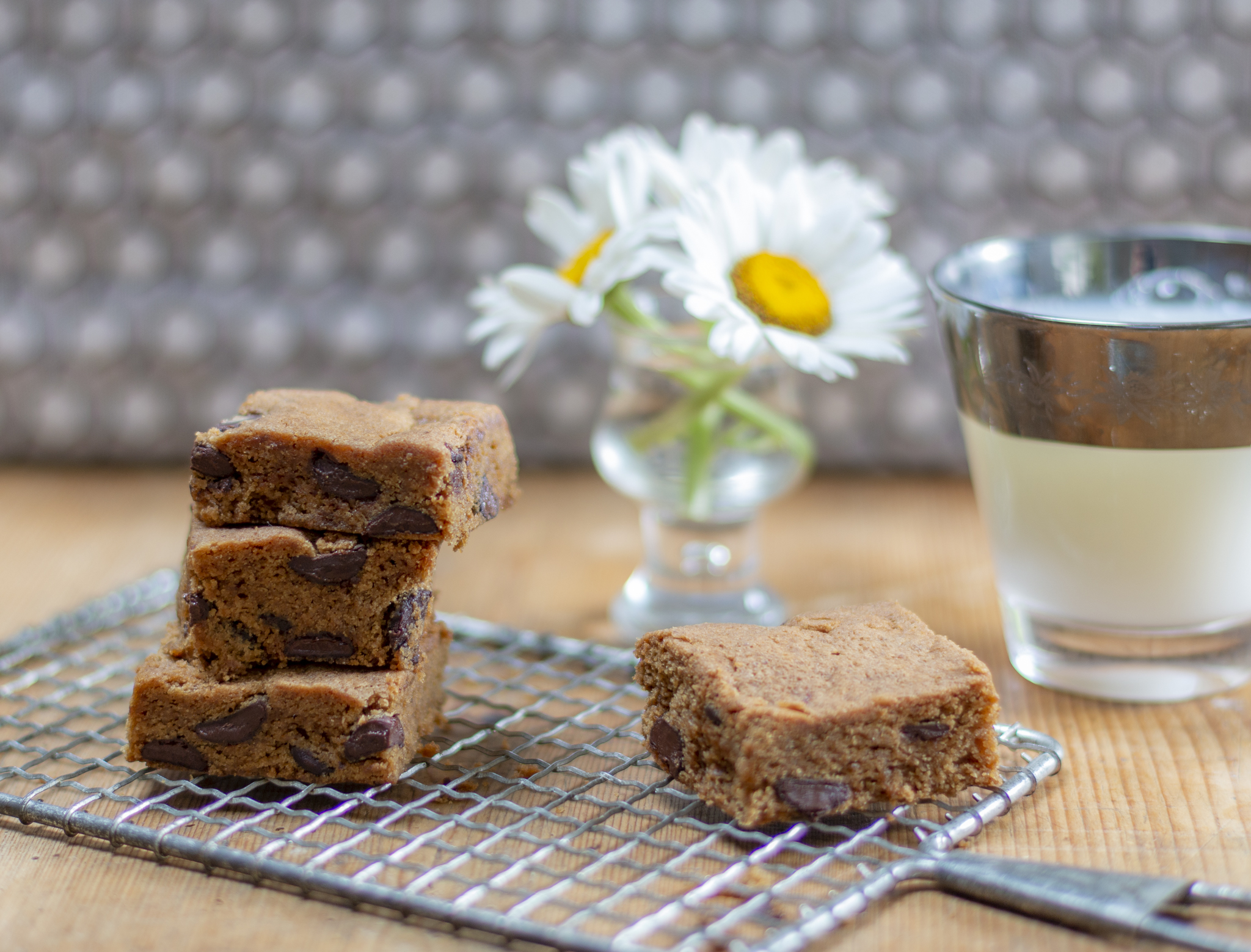 THE All American Dessert – A "Blonde Brownie" with a rich caramel- butterscotch like flavor dotted with chocolate chips. Can use regular flour too!
Baked in a pan – you cut them into squares or rectangles. Simple to make and a family favorite of mine!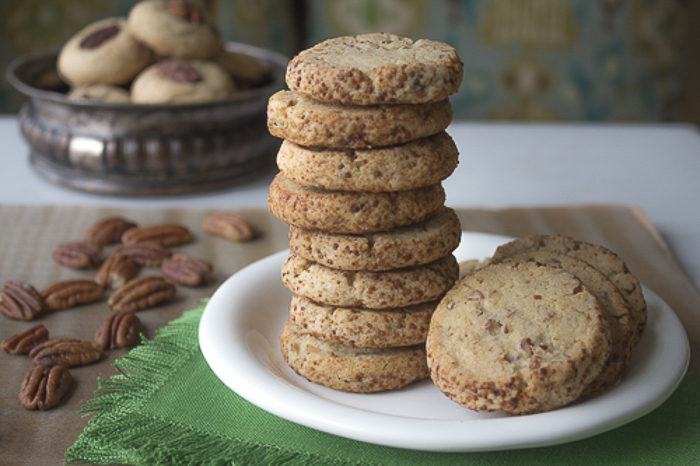 Homemade delectable Pecan Sandies with Baked Maple Pecans. Forget store-bought and use the best ingredients for a real treat. An American treat invented in 1955.
Blueberries are tasting delicious right now in Spring!
This frozen yogurt is Homemade Creamy Deliciousness!
I'm loving it with chunks of sugar cookies – great with or without!
New recipe: Rhubarb Shortcakes with Coconut Whipped Cream and Blueberries ~ all will devour this dessert!!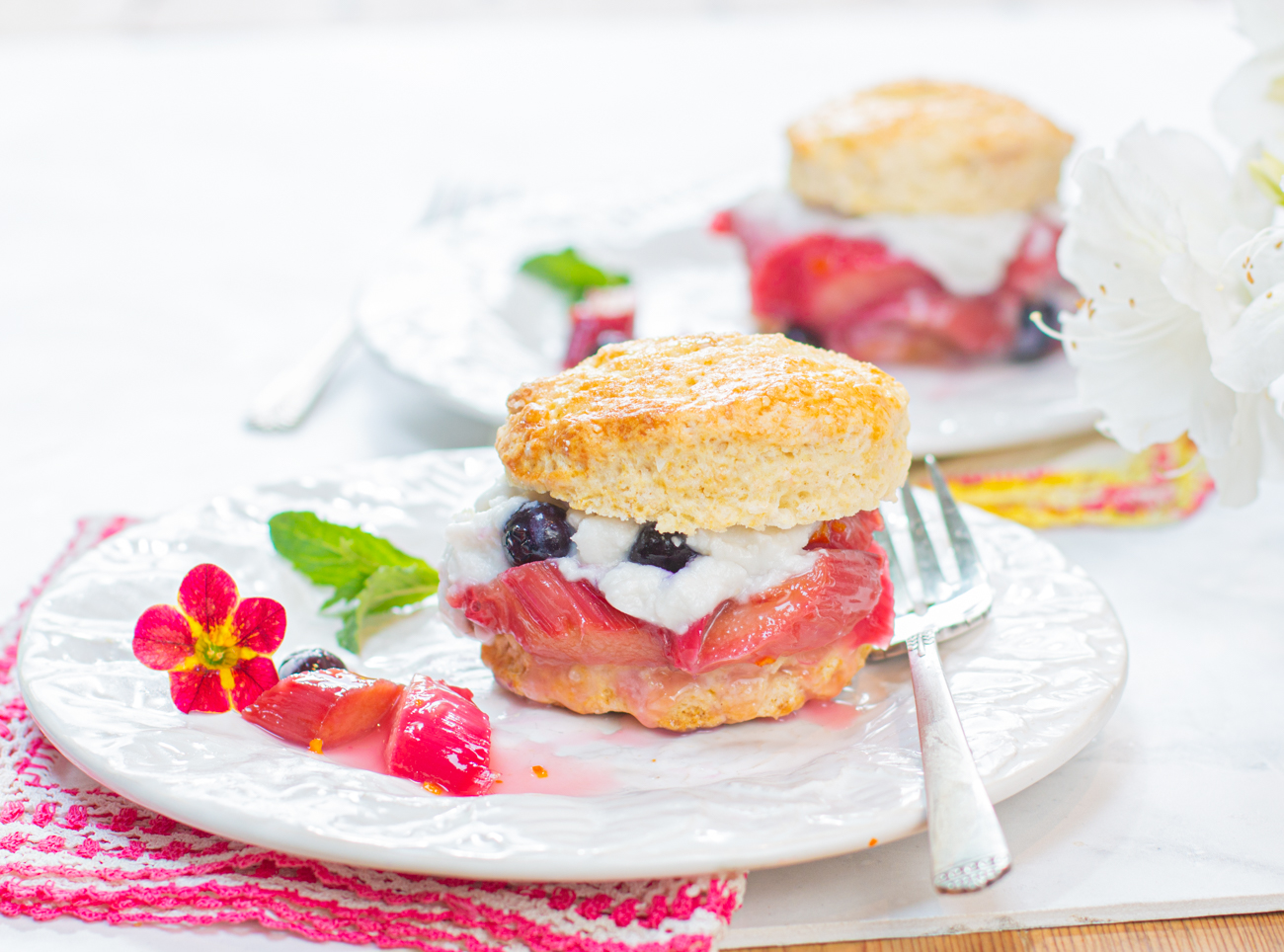 There are 4 components for this Luscious Dessert:
Buttermilk Short Cakes
Cooked Rhubarb in Syrup
Cooked Blueberries with Syrup (these will be an accent)
Coconut Whipped Cream
You can use regular whipped cream ~ I happen to love the coconut variety.
Cook Rhubarb in the syrup until just softened ~ to keep the fruit's bright color. The syrup will be used on top of the bottom biscuit lending great flavor and sauce.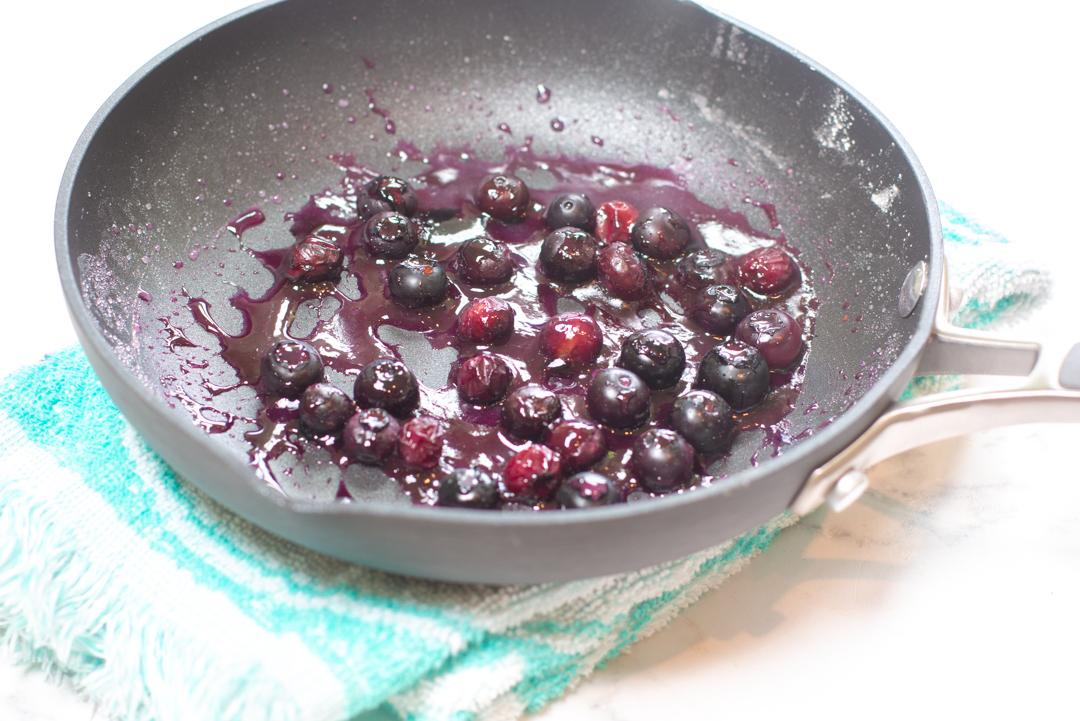 I find it fun and relaxing to make Shortcake Biscuits!
After a few turns in the bowl – this light dough is rolled, stamped (with a cookie or biscuit cutter), brushed with an egg wash, sprinkled with sugar – and into the oven they go.
Your kitchen will smell heavenly!! These rise nicely – golden outside and soft and pillowy inside. Cut them in half before building with the toppings.
Make the rhubarb, blueberry and coconut cream fillings as the shortcakes bake.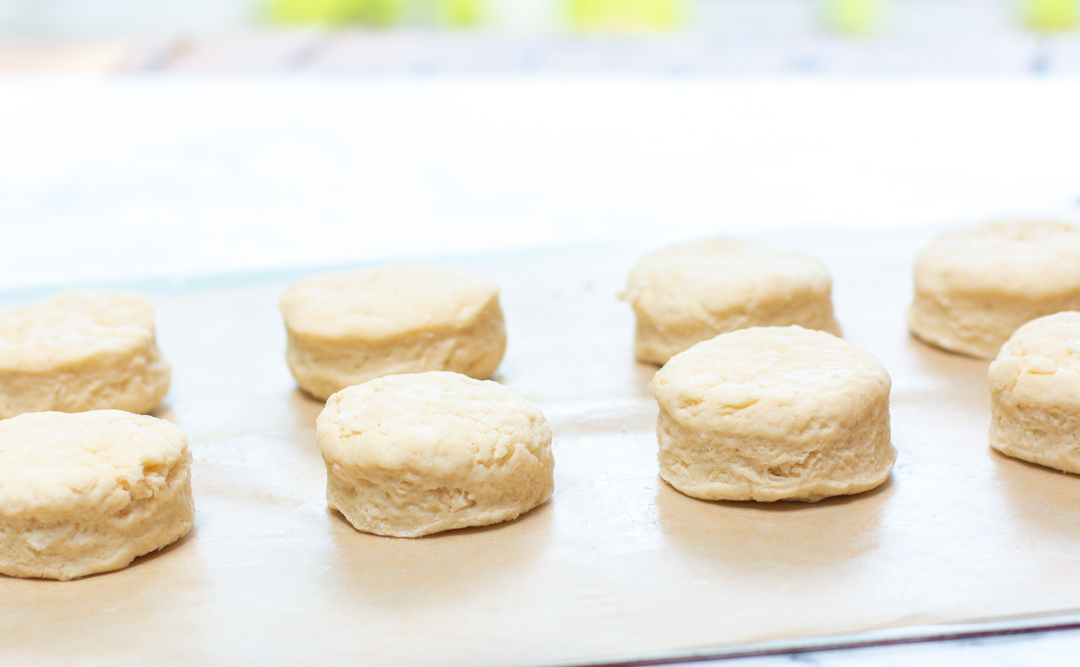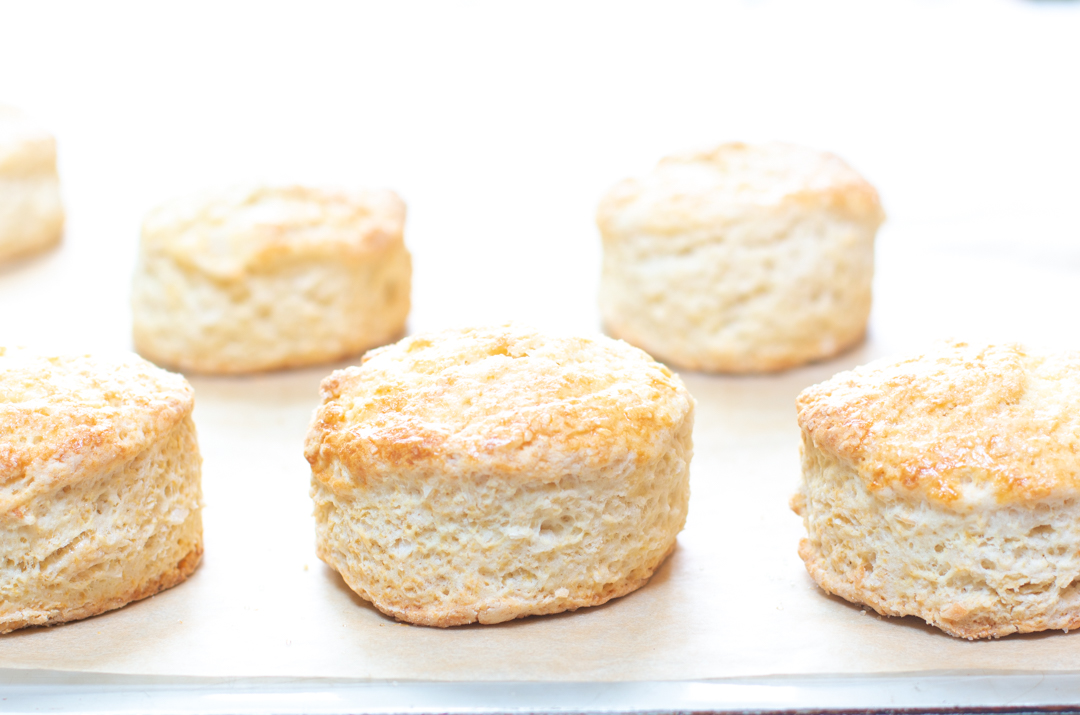 Did you know?
It is believed, the first shortcake recipe ever recorded: "Strawberry Shortcake" – was first appeared in print in a Rochester, NY periodical in 1862. Enjoy this most delicious dessert!
Memorial Day means remembrance for those who fought for our freedom and country.
Enjoy the celebration,
Karen
Shortcakes with Rhubarb, Blueberries and Coconut Whipped Cream
For Memorial Day and Beyond! Tender & Flaky Shortbreads are Split and Piled with Rhubarb, Rhubarb Syrup and Coconut Whipped Cream with a touch of Blueberries for a Delicious Dessert!
Print Recipe
Pin Recipe
Rate this Recipe
Ingredients
The Buttermilk Biscuits:
1

cup

flour

I use organic

1

cup

pastry flour

can use cake flour

1

stick

unsalted butter

I use organic

3

tablespoons

pure cane sugar

(2 teaspoons extra for sprinkling on top)

1

tablespoons

baking powder

I use aluminum free

1/4

teaspoon

baking soda

3/4

teaspoon

sea salt

1/4

cup

unsweetened flakes coconut

chopped fine (option but I love)

3/4

cup

buttermilk

1/2

teaspoon

almond extract

1

large

egg

for brushing tops (will not use all)
Rhubarb Filling:
2

cups

fresh rhubarb

cut on diagonal 1" lengths

1/4

cup

filtered water

1/2

cup

pure cane sugar

3/4

teaspoon

orange rind

minced or finely grated

2

teaspoons

tapioca starch

(can use 1 t. cornstarch)
Blueberry Filling (for an accent):
1/3

cups

fresh blueberries

2

teaspoons

filtered water

1/2

teaspoon

tapioca starch

(can use 1/4 t. cornstarch)

1/2

teaspoon

fresh lemon juice
Coconut Whipped Cream
3/4

cup

coconut cream*

(the thick portion in the can) See note!

3

tablespoons

confectioner's sugar

1/2

teaspoon

pure vanilla extract
Instructions
The Buttermilk Biscuits:
Add parchment paper to a cookie sheet, lightly butter, set aside. Preheat oven to 400 degrees.

Cut the butter into 8 pieces - lay on waxed paper and freeze for 15 minutes while you prepare the ingredients.

In a large bowl add both flours, baking powder, baking soda, sea salt and chopped coconut (if using.) Mix together. Combine wet ingredients; buttermilk and almond extract (save egg for topping).

When butter is very cold (frozen 15 minutes) add all to the flour bowl. Using a pastry cutter - cut the butter until a coarse meal, finer then "pea" sized.

Add HALF of the buttermilk mixture and combine with a dinner fork until slightly combined. Add second half of the buttermilk mixture and mix until most of it is combined with the flour.

Bring the mixture together with your hands until it is sticking together (work quickly - your hands are warm, do not overwork.

Place the dough on a large lightly floured cutting board and knead gently until cohesive.

Roll gently to 3/4 inch thick. Cut with 2" cookie or biscuit cutters - cut straight down, do not twist! Will have 8 biscuits (can gently re-roll and use all dough.)

Add to parchment paper, Whisk egg. Brush the tops and sprinkle with remaining 2 teaspoons of sugar. (Will have extra egg.)

Bake in the center of the oven for about 14 - 15 minutes. For best flavor, let develop a good golden color. Cool on wire rack.
Make the Rhubarb Filling:
While the Biscuits cook, make the 3 following accompany recipes.

Add water, sugar and orange rind to a non-reactive 2 quart pot. Bring to a boil, reduce to a simmer and stir to dissolve the sugar. Add the sliced rhubarb and tapioca starch and stir well. Let the rhubarb stew and soften for about 4 minutes - and still a bright color! Remove from heat - rhubarb will continue to cook. (Overcooked will be mushy.) You will have a good amount of "sauce" to add to the biscuits.
Blueberry Filling:
Add all blueberry ingredients to a small 6" skillet. Bring to a boil then lower to a simmer. Sit until sugar is dissolved and blueberries are just cooked. Take off heat. Let cool. Add extra water if you need more syrup around the blueberries.
Coconut Whipped Cream:
Add thick coconut cream to a cold bowl (I freeze 5 minutes.) Add confectioner's sugar and vanilla - with a balloon whisk - whisk well until thick and creamy. Place in the refrigerator until needed. (Can be made ahead of time and re-whipped.)
Prepare layered the Rhubarb Biscuits & enjoy:
Cut biscuits evenly in half horizontally. To individual plates - place the bottom of the biscuit, top with some rhubarb AND the syrup (adds ton of flavor!)

Dot with a few blueberries. Top with a dollop of Coconut Whipped Cream and add the top of the biscuit. Add a mint sprig in the plate and enjoy!
Notes
*
Coconut Whipped Cream: Refrigerate the can 24 hours before using. Scoop out the thick coconut cream on top - save coconut water for another recipe.
This recipe may not be reproduced without the consent of its author, Karen Sheer.
Nutrition Facts
Shortcakes with Rhubarb, Blueberries and Coconut Whipped Cream
Amount per Serving
% Daily Value*
* Percent Daily Values are based on a 2000 calorie diet.
Karen Sheer