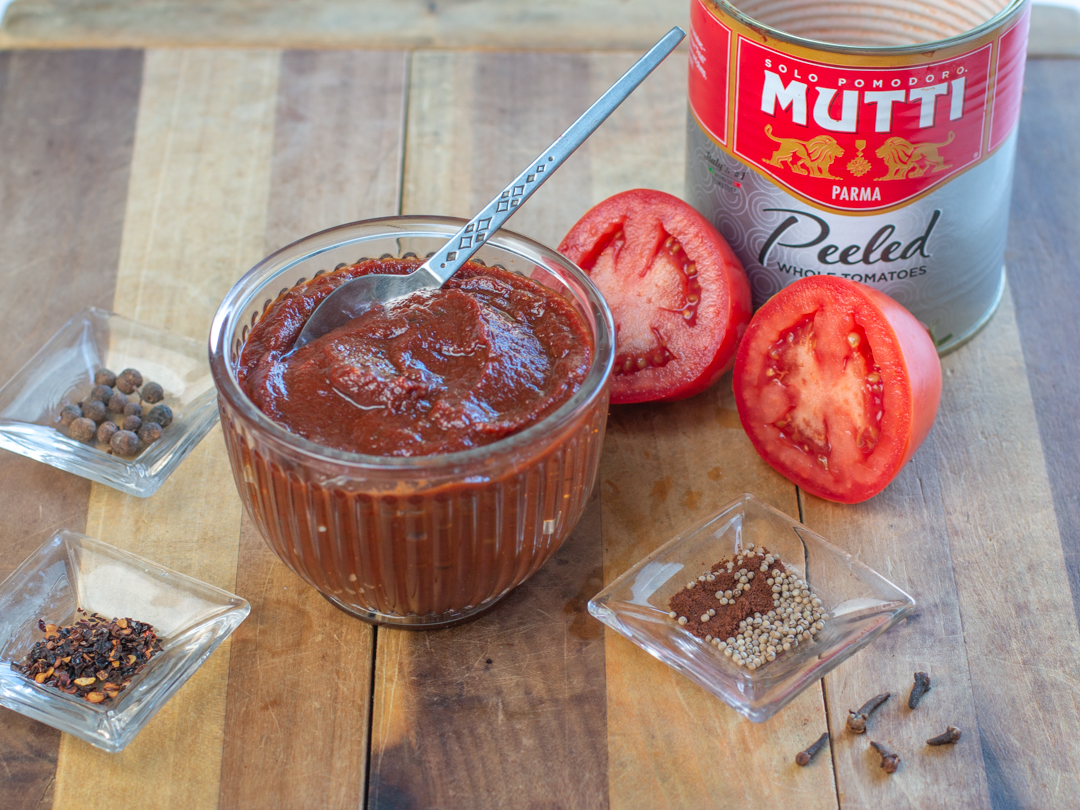 Karen's Roasted Tomato Ketchup
How to Make Homemade Ketchup Year-Round: Use Italian Canned Plum Tomatoes!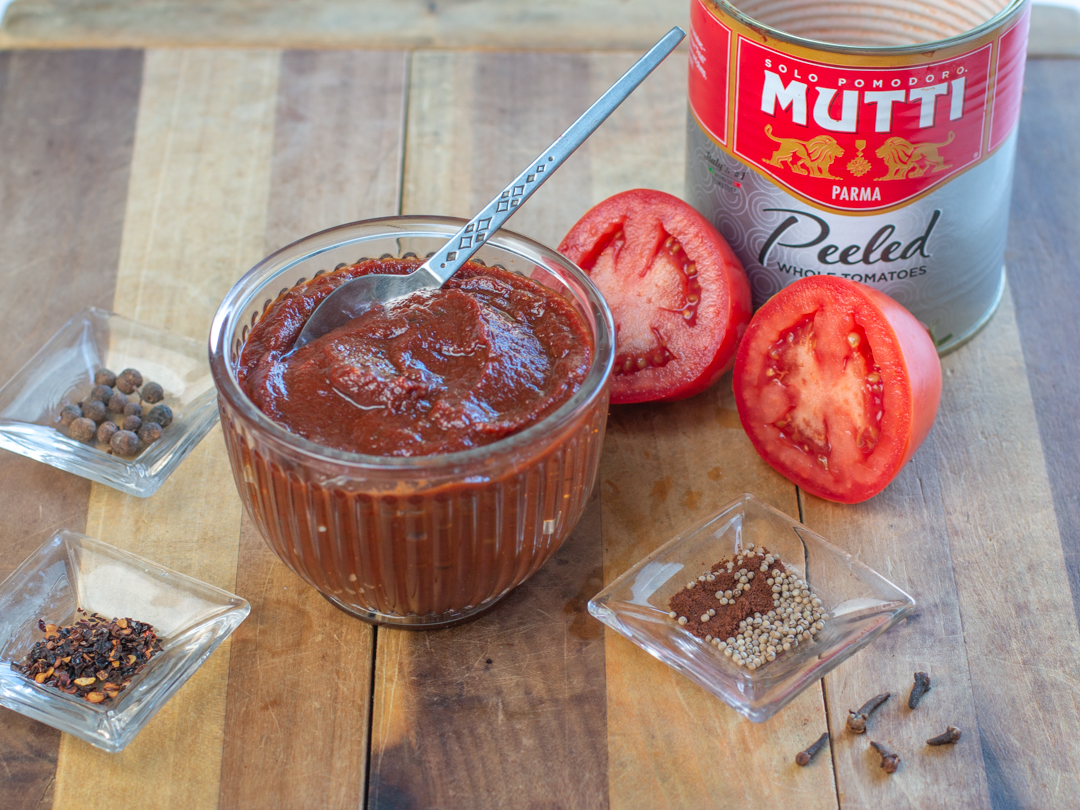 I just couldn't wait for ripe summer tomatoes ~ so I created this recipe using the best quality canned tomatoes.
I love making my own ketchup, not too sweet with savory intense flavors. You can whirl it smooth or leave slightly chunky.
The First Step: Roasting the plum tomatoes in a hot oven (keeping the puree for later) lends enormous full-bodied flavor!
Sauté the ketchup base, start with sliced garlic, seasonings and then reserved puree. Cook down then add the roasted tomatoes; simmer 1 1/2 hours until thickened. Simply pulse until smooth in a food processor, or use a food mill.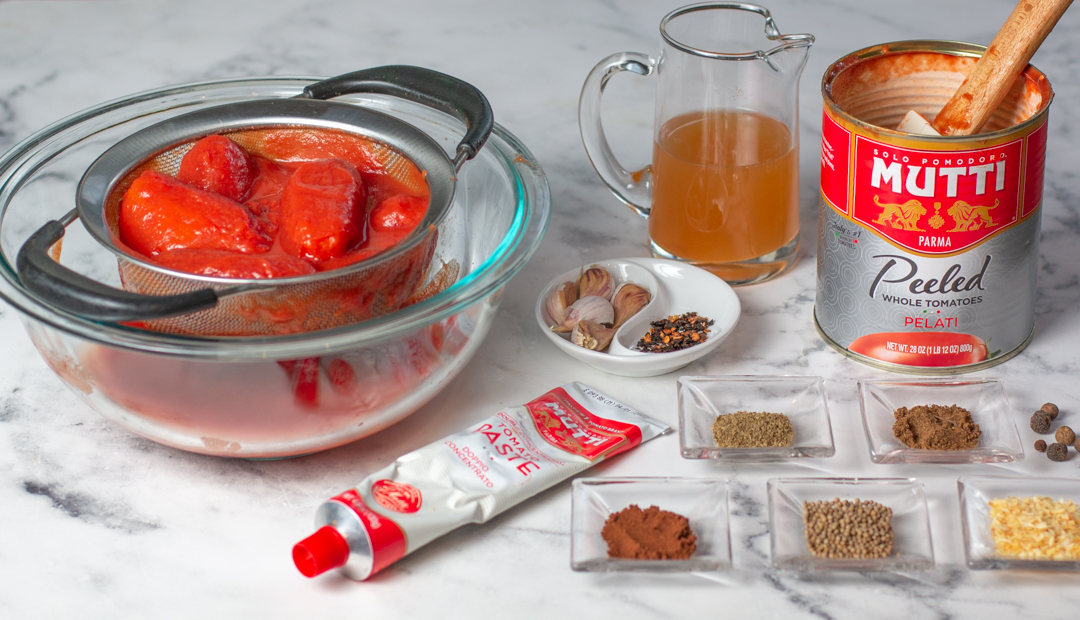 Canned Plum Tomatoes are the primary ingredient – so choose wisely!
Did you know MOST canned tomatoes contain Calcium Chloride and or Citric Acid (even some organic varieties)?
Neither ingredient is desirable – they are chemical additives… so buy an Italian product!
Use: One 28 ounce can Italian Peeled Whole Tomatoes (ingredients only tomatoes & tomato juice*), Tomato Paste, Apple Cider Vinegar, Light Brown Sugar, Fresh Garlic, Dried Onion Flakes, Chipotle Flakes, Cloves, Allspice, Celery Seed, Yellow Mustard Seeds and Sea Salt.
Please do not use canned tomatoes with "natural flavoring" they are chemicals too – look for an Italian brand.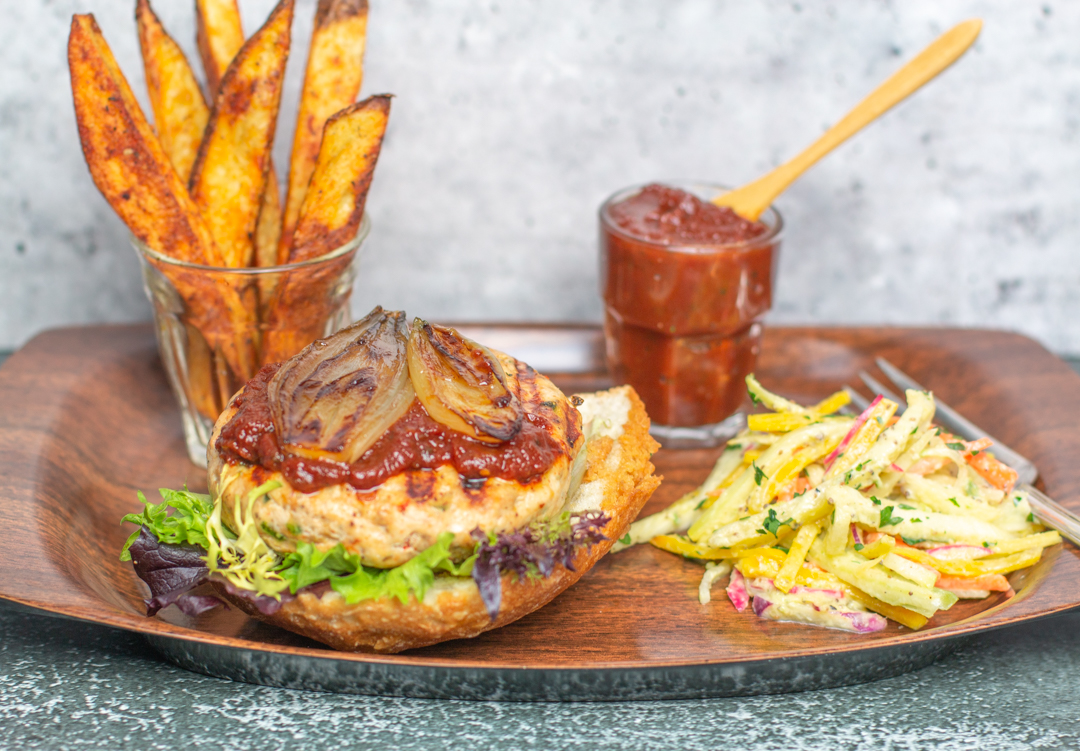 Enjoy this timeless recipe,
Karen

Karen's Roasted Tomato Ketchup
A savory Ketchup - better than store-bought with intense roasted tomato, garlic and spices flavor. Dollop on a burger or dunk fries in it.
Servings:
24
2 T. servings; makes 1 1/2 cups
Print Recipe
Pin Recipe
Rate this Recipe
Ingredients
28

can

Italian plum tomatoes with puree*

(one without "natural flavoring")

1

tablespoon

extra virgin olive oil

1

teaspoon

extra virgin olive oil

1 1/2

tablespoon

fresh garlic

peeled, thinly sliced (from 5 small cloves)

1 1/2

teaspoon

dried onion flakes

1/4

teaspoon

chipotle flakes (these are smokey)

or chili flakes

1/2

teaspoon

ground cloves

1/2

teaspoon

ground allspice

1/2

teaspoon

celery seed

1

teaspoon

yellow mustard seeds

1/3

cup

coconut palm sugar

or light brown sugar

2

tablespoon

light brown sugar

1

teaspoon

sea salt
Instructions
Add the opened can of plum tomatoes in a sieve over a medium sized bowl. Gently squeeze the juice and seeds out of the plum tomatoes, not breaking them up too much.

You will have 1 1/2 cups of juice/puree to add to the pot; set aside.

Preheat oven to 400 degrees.

Line a half sheet pan with parchment paper. Add the plum tomatoes, I broke them in half lengthwise. Brush with 1 tablespoon of olive oil - place in oven to roast. Cook for 20 - 20 minutes until just golden around the edges.

While the tomatoes roast, start the ketchup base. In a heavy non-reactive pot, add 1 teaspoon olive oil and the garlic. Cook for 2 minutes, stirring over low heat until just golden around the edges.

Add the spices; onion flakes, chipotle flakes, cloves, allspice, celery seed and mustard seed.

Stir over low heat 1 minute to toast the spices. Add the sugar, stir well. Add the 1 1/2 cups reserved tomato juice - bring to a boil, stir well; cover and set the heat to a low simmer. Cook until tomatoes have roasted.

Roast the tomatoes for 20 - 22 minutes until they are dry and a touch golden around the edges. Remove from the oven and carefully add them to the pot. Give a big stir, cook over a low simmer for 1 hour and 15 minutes until reduced a little and flavorful.

Uncover and cook for 5 minutes over a bare simmer. Cool slightly.

Puree the ketchup in a food processor or pass through a food mill (as I did!)

Cool, then refrigerate in a glass airtight container. Use within 3 weeks.
Notes
* Plum Canned Tomatoes I used: Mutti brand; Canned Peeled Whole Tomatoes - Ingredients: Whole Peeled Tomatoes, Tomato Juice (non-GMO, no natural flavorings.)
This recipe can not be reproduced without the consent of its author, Karen Sheer.
Nutrition Facts
Karen's Roasted Tomato Ketchup
Amount per Serving
% Daily Value*
* Percent Daily Values are based on a 2000 calorie diet.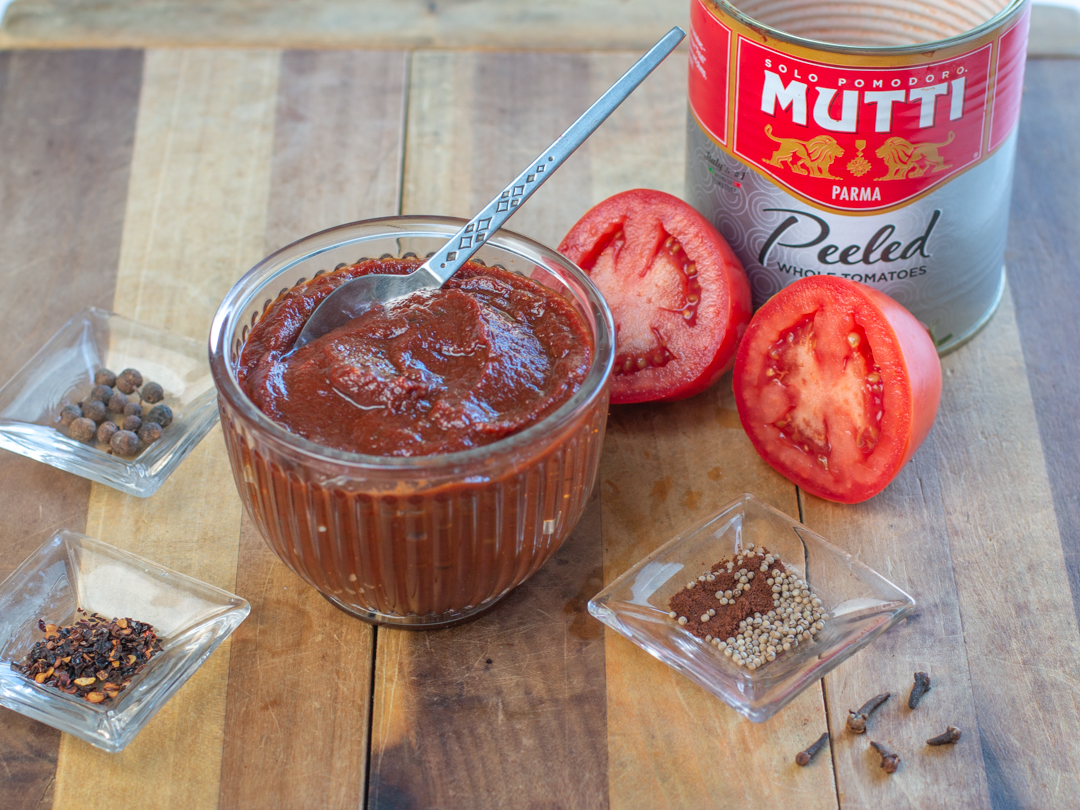 Karen Sheer