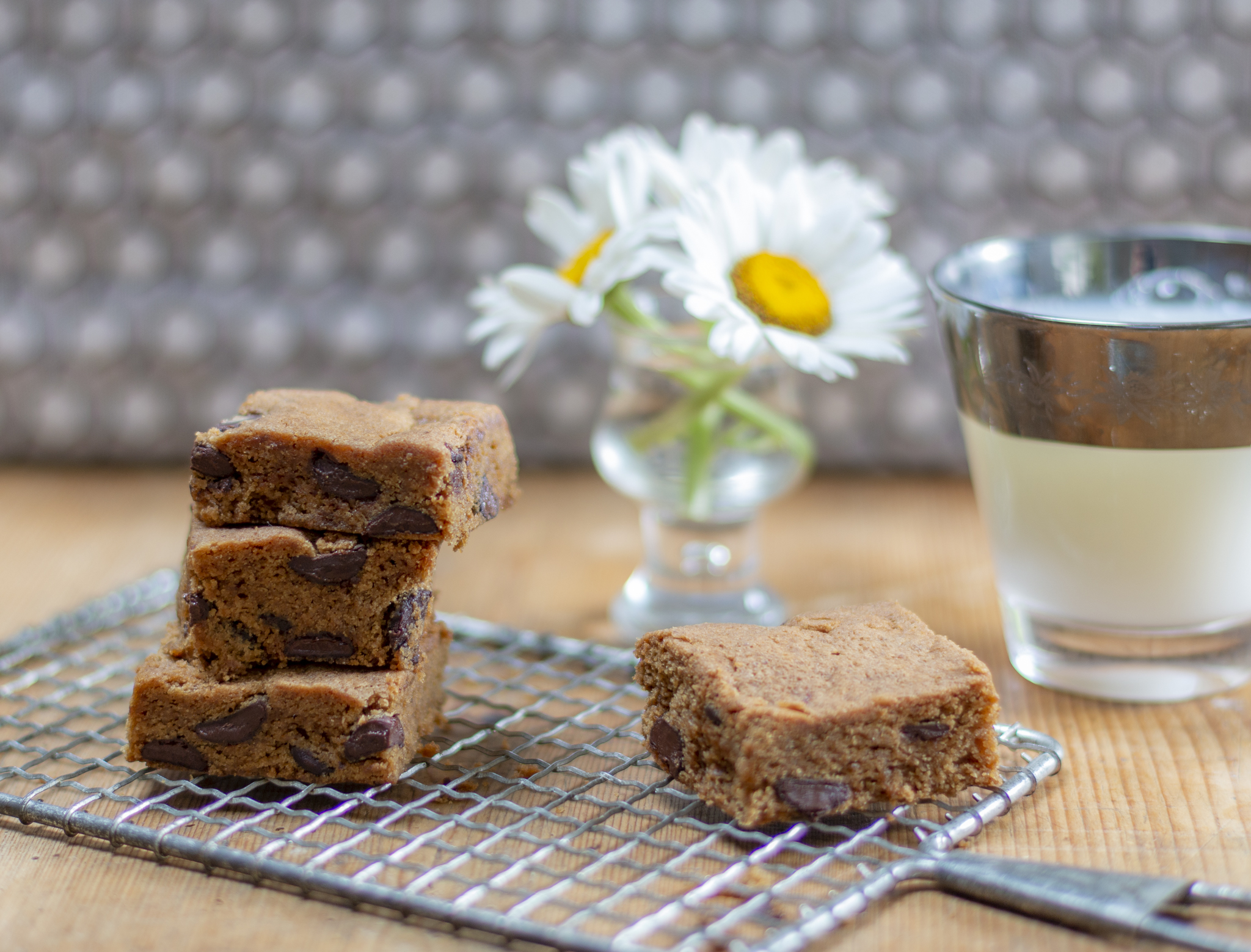 Karen's Best Blondies – They're Gluten Free
A "Blonde Brownie" with a rich caramel- butterscotch like flavor dotted with chocolate chips.
Baked in a pan – you cut them into squares or rectangles. Simple to make and a family favorite of mine!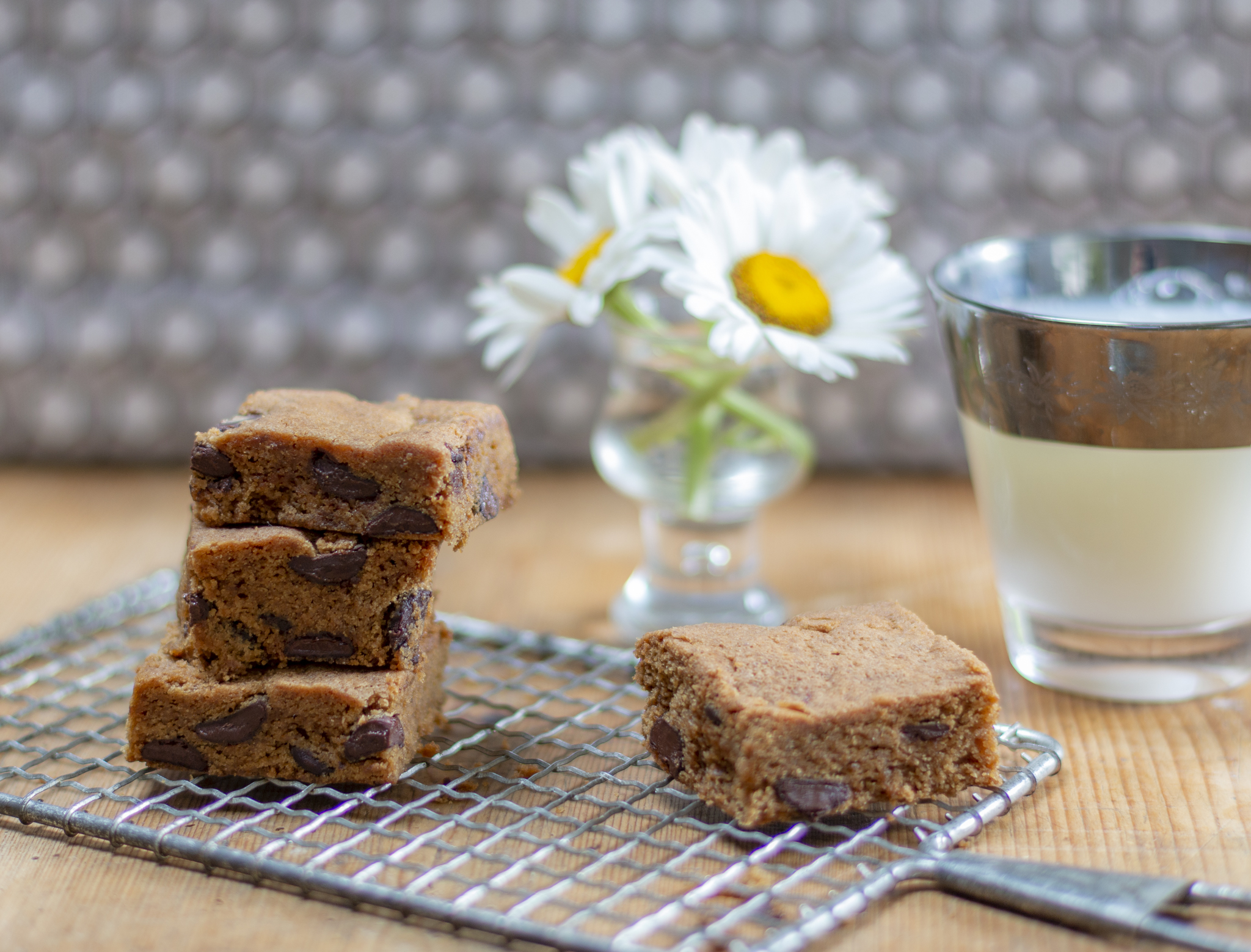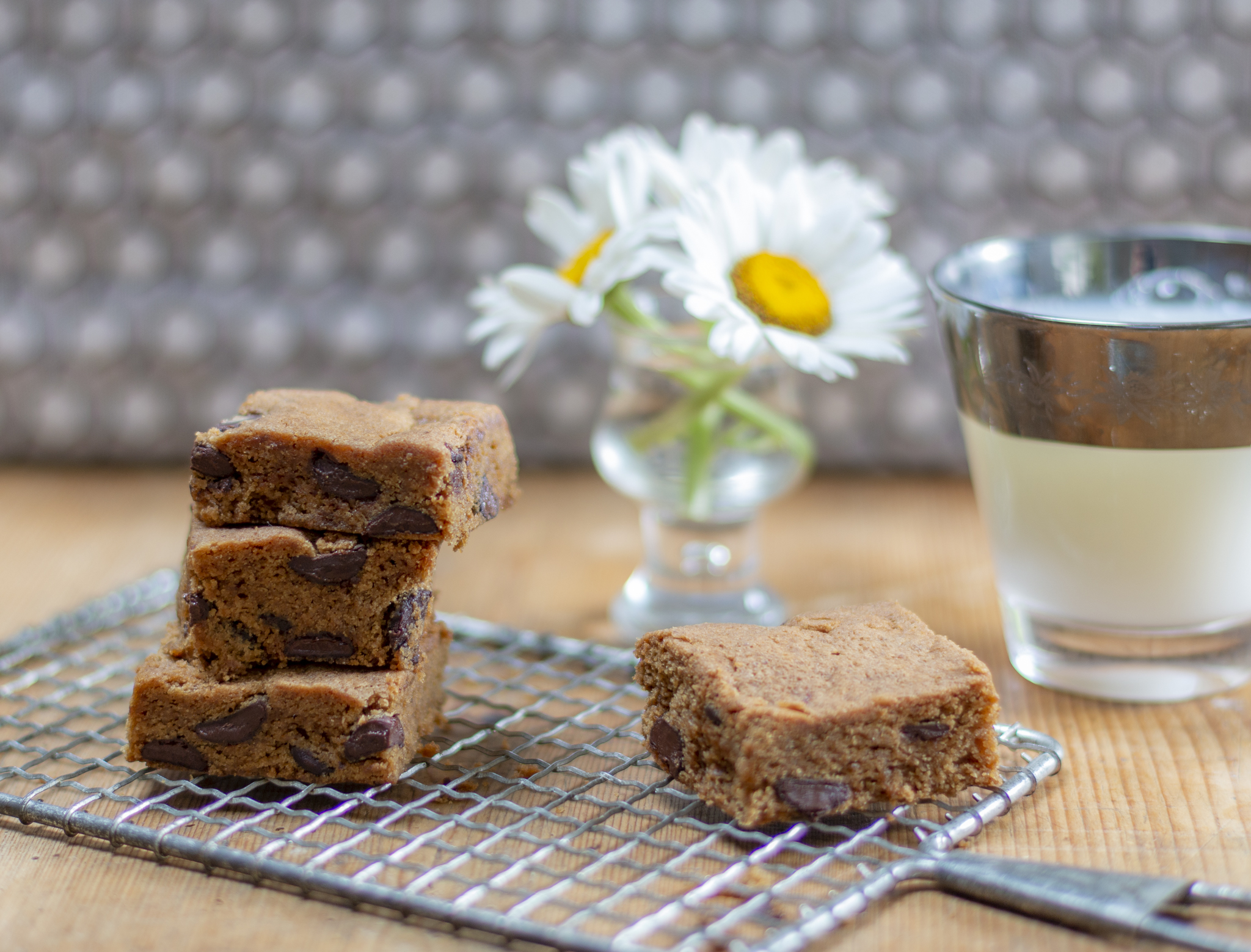 Ingredients
1 stick unsalted butter, softened
(½ cup, I use organic)
1 cup light brown sugar
(I use organic, can also use coconut palm sugar)
1 large egg, room temperature
(I use pasture raised)
1  ½ teaspoons pure vanilla
¼ teaspoon sea salt
1 cup all purpose gluten free flour blend*
(I use King Arthur 1 to 1) divided
1 teaspoon baking powder
¾ cups dark chocolate chips
I like Guittard's 63% cocoa baking chips
Instructions
1
Line a 8 inch square baking pan with parchment paper with extended sides
(for easy lift out.) Butter lightly.
Preheat the oven to 350 degrees.
2
Add the softened butter to the bowl of your stand mixer.
Add the brown sugar, use the paddle and cream at medium speed for 2 minutes until light and fluffy.
Scrape the sides with a rubber spatula.
3
Add the egg and beat in over low speed until well mixed in. Scrape the sides of the bowl.
Add vanilla, salt, 1/2 cup of flour and baking powder.
Mix on low speed until just mixed.
4
Add the remaining 1/2 cup of flour and chocolate baking chips.
Mix slowly until just mixed through.
5
Using a rubber spatula, place the dough into the prepared pan and smooth the top.
Bake for about 23 – 25 minutes, until the center is slightly puffed and seems somewhat firm but not hard.
The blondies are wonderful slightly undercooked.
6
When cool, lift the blondies out of the pan and cut into 16 squares, or desired shape.
Store in an airtight container.
(These also freeze well!)
*With great results – you can use regular flour in this recipe (omit baking soda!)
Need the perfect 9″ x 13″ baking pan? I LOVE THIS ONE!
This recipe may not be reproduced without the consent of its author, Karen Sheer.
Karen Sheer