Skillet Jalapeño Cornbread
Description
Mildly spicy and full of flavor! Additions include Jalapeños, Poblano Chiles, Chives and Fresh Corn. Gluten Free.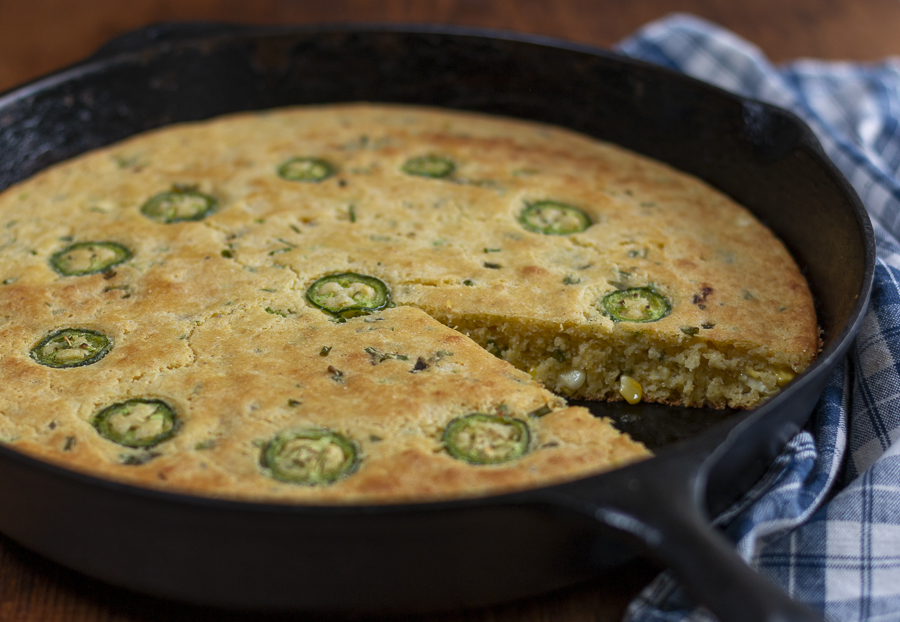 Ingredients
1 1/3  cups fresh buttermilk

9 tablespoons unsalted butter, melted (one tablespoon is for brushing on top)
3 large eggs, room temperature
1/2 cup pure cane sugar

1 3/4 cups organic yellow cornmeal  

1 cup all-purpose gluten free flour blend (or regular flour)
1 1/4 teaspoons sea salt
1 tablespoon baking powder
1 teaspoon baking soda
1 large jalapeño, 3 tablespoons minced / 12 thin round slices (for top)
3 tablespoons poblano chile*, minced, see roasting directions (can use canned diced green chiles)
3 tablespoons fresh chives, minced
1 large ear fresh corn, kernel removed with a sharp knife
See recipe for Honey Butter (below)
Method
Mince the jalapeños, roast poblano chile and mince (see below) and mince the chives – set aside.
Heat the oven to 375 degrees. Coat a 12″ cast-iron skillet with one teaspoon of neutral oil, place in oven for 10 minutes.
Make the batter:
In a large bowl add the wet ingredients: buttermilk, melted butter and eggs. Mix to combine with a whisk.
Add the dry ingredients: sugar, cornmeal, flour, sea salt, baking powder and baking soda. Mix gently just to combine with a rubber spatula. Do not over mix. Add the jalapeños, poblanos, chives and corn kernels.
Remove the skillet carefully from the oven, set on the stove top.
Quickly pour the batter in the pan and smooth the top. Place the 12 thin cut jalapeños decoratively on top.
Brush with reserved one tablespoon of butter over the top of the cornbread.
Bake in the oven for 30 minutes. Cornbread will be cooked through and nicely browned on top.
Cool slightly, cut into wedges and enjoy! Serve with Honey Butter.
This corn bread is delicious warm out of the oven.
Reheats beautifully too. I often cut wedges and place well wrapped in the freezer for another time.
*Roasting a Poblano Chile: Place the chile over a gas flame, turn with tongs until blackened all over.
Place in a paper bag, fold to seal. Let stand until cool, about 10 minutes. Remove the charred exterior with a paper towel, seed and mince.
Honey Butter: Mix equal parts of room temperature whipped butter with honey. Use immediately or refrigerate and scoop with a cookie scoop next to each wedge of cornbread.
See BLOG for many more photos and instructions.
This recipe may not be reproduced without the consent of its author, Karen Sheer
Notes
Makes one, 12″ skillet cornbread
Can also cook in a 9″ x 13″ baking pan if you do not have a cast iron skillet.