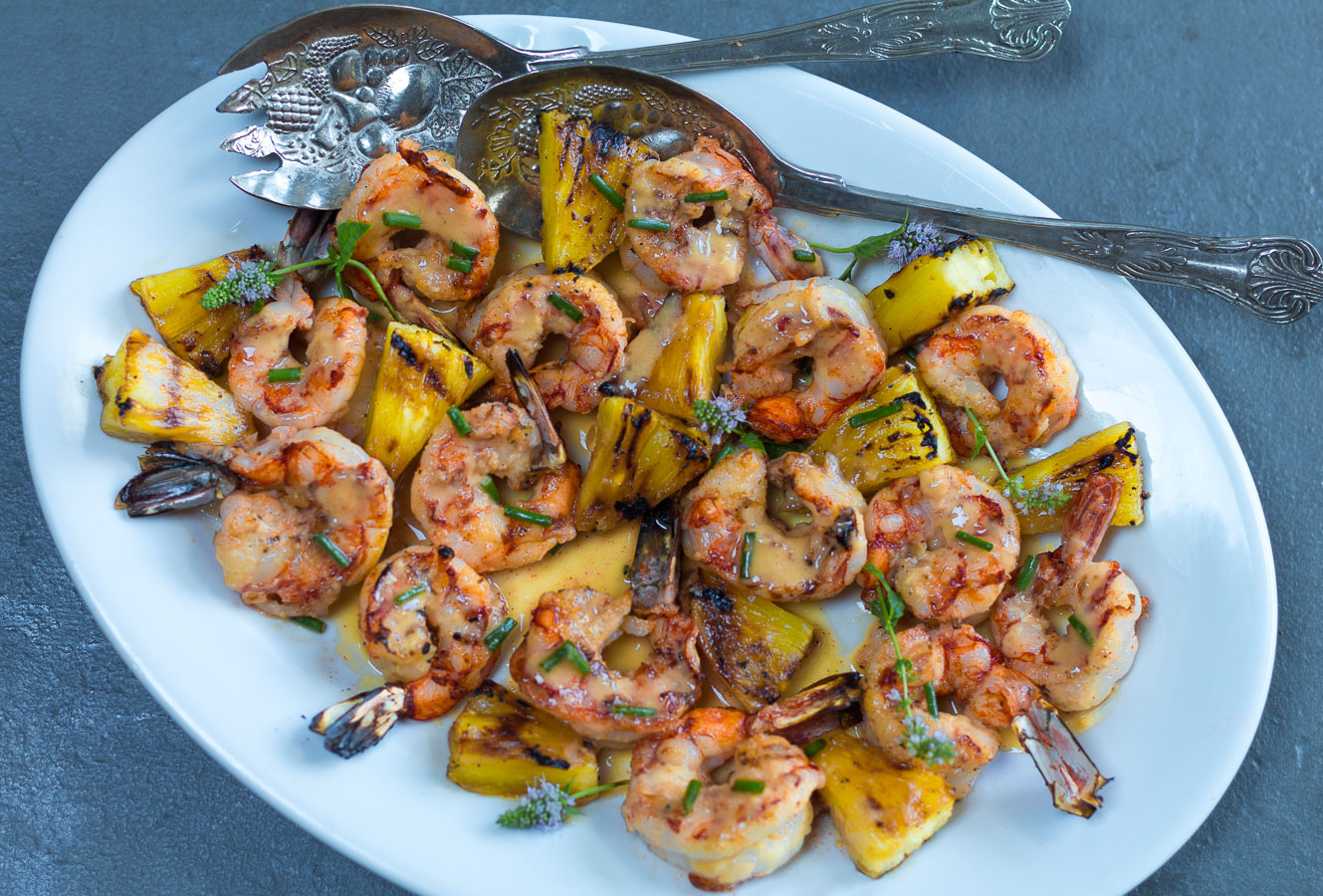 Grilled Shrimp & Pineapple with Gingery-Miso Dressing
A Quick Healthy Summer Meal Served Hot Off the Grill. Make the Zesty Gingery-Miso Dressing ahead for a speedy recipe. Pineapple is wonderful grilled and adds natural sweetness to the dish.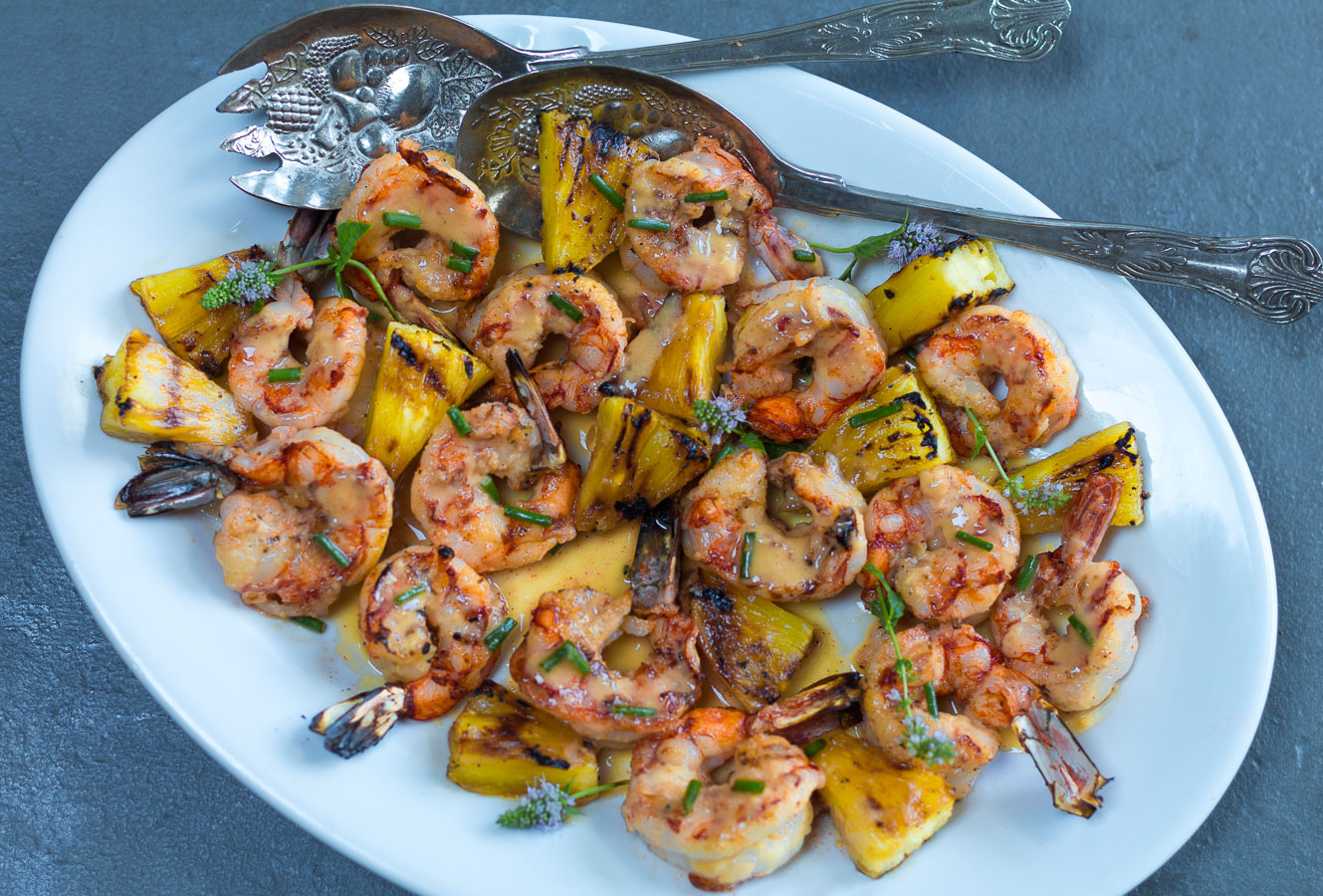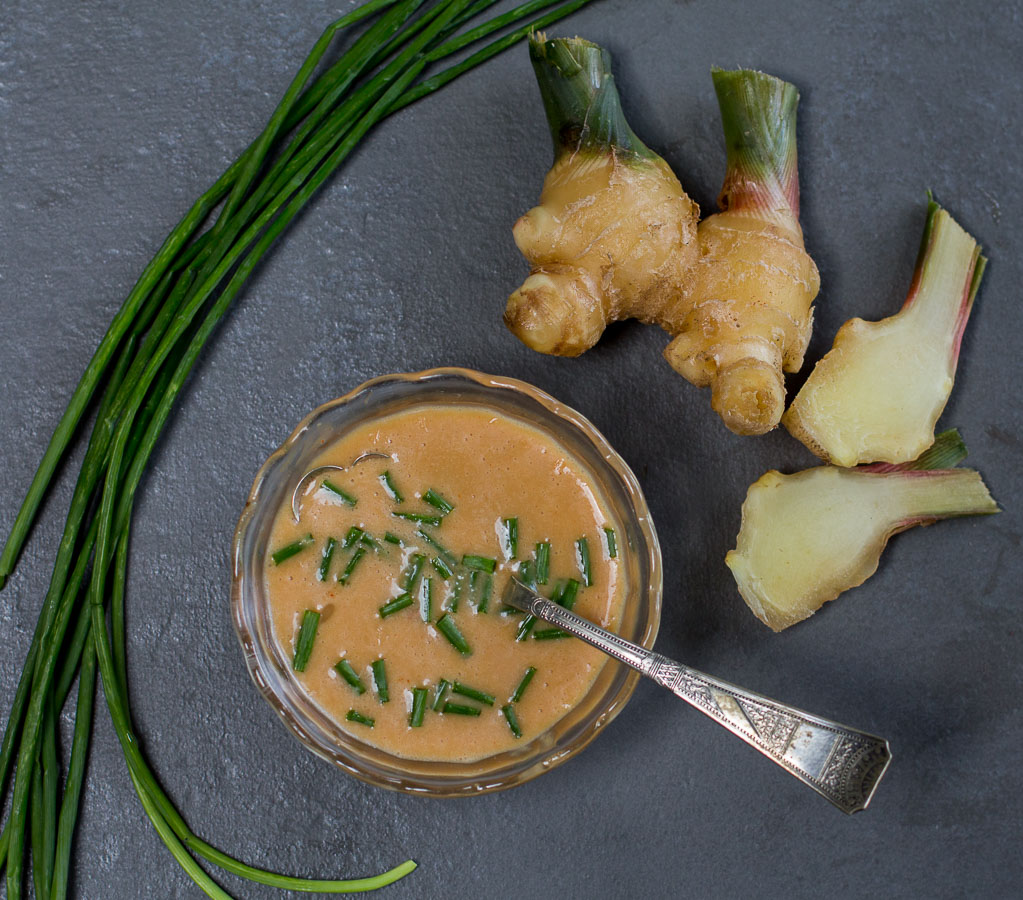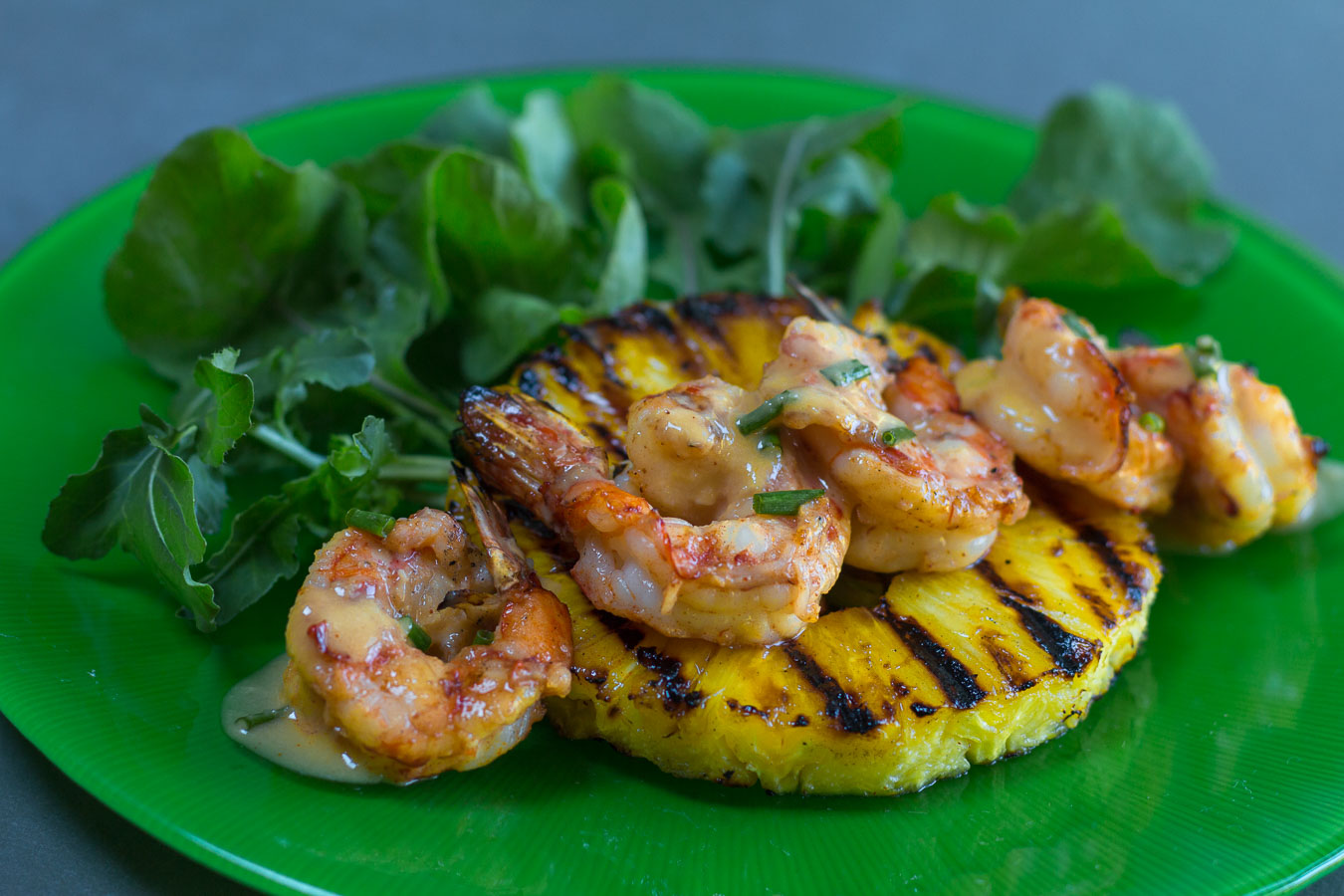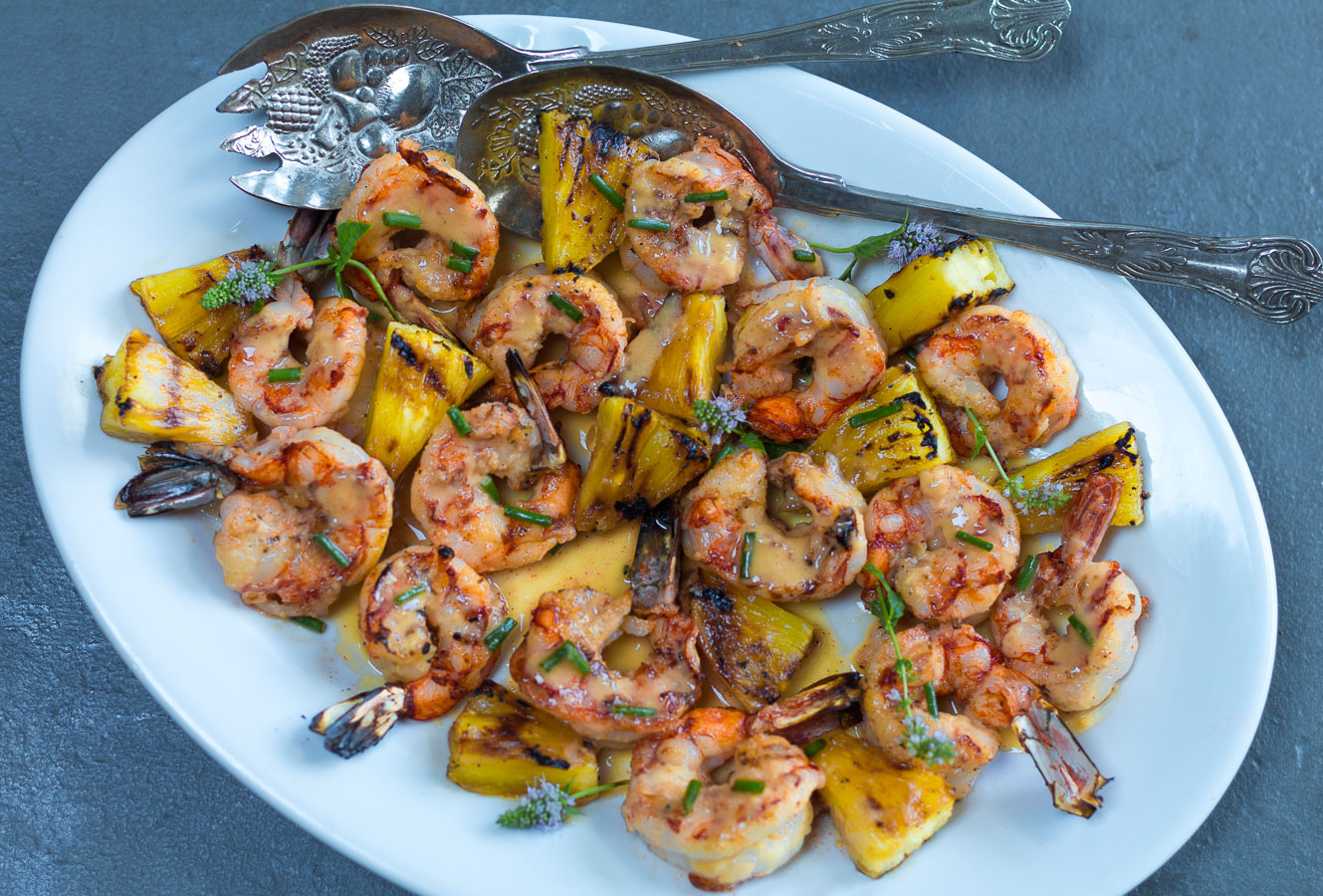 Ingredients
1 ¼ pound fresh shrimp*, 16/20 size or U 15
3 slices fresh pineapple, about ½" slices, cored and peeled (round shape)
2 tablespoons roasted peanut oil**, divided (can use sesame oil too)
1 teaspoon fresh ginger***, grated fine or minced
⅛ teaspoon chipotle powder, can use cayenne or smoked paprika
2 teaspoons raw honey 
3 tablespoons fresh chives
Instructions
1
Make the Gingery-Miso Dressing and set aside, can make a few days ahead.
2
Peel and devein shrimp leaving the tails on. Wash and dry very well.
Place them on a plate to hold, rub in 1 T. of roasted peanut oil, 1 t. ginger and 1/8 t. chipotle powder. Cover and refrigerate until ready to grill.
3
Place the three slices of pineapple on a plate to hold (see photo.)
Combine honey and remaining tablespoon of peanut oil in a small bowl, brush on both sides of the pineapple. (If honey is firm, microwave until it is liquid.)
4
Set grill to high. Brush the grates with a little neutral oil.
When very hot, add the pineapple slices in one area, and the shrimp on another.
5
Cook the pineapple about 3 minutes with the hood closed on both sides, turning over once, until strong grill marks form, and pineapple is cooked through – remove to a clean plate.
6
Add the shrimp to the grill with long tongs. Close the hood. Cook until shrimp is very golden, turn over and cook until shrimp is crisp and just white in color inside. The shrimp will feel firm and no longer an opaque color inside, Do not overcook!
Remove them to a clean plate, and immediately add 3 tablespoons of Gingery-Miso Dressing and toss well. Cool.
7
To serve:
2 choices here:
~ Serve the shrimp over a large whole slice of pineapple with shrimp on top.
Tuck Fresh Arugula Leaves under the pineapple and spoon some extra dressing around – garnish with fresh-cut chives.
~ Cut the pineapple into triangles, toss with the shrimp, spoon some extra dressing around – garnish with fresh-cut chives.
Serve some steamed brown rice on the side or your favorite grain, such as couscous or quinoa.
I like to serve the dish at room temperature.
8
Some New Ingredients I Love:
* Use fresh, Gulf Shrimp (never frozen, if available.) Here, I have used Wild Argentine Red Shrimp – sweeter than regular shrimp with a flavor and texture like lobster.
They cook quicker than other shrimp, mine were frozen and defrosted.
Look for fresh, unfrozen Shrimp too; Gulf Shrimp is available chemical-free – locally I've seen a nice variety from Florida.
** I love Lovira Roasted Peanut Oil. It's non-GMO and milder than Sesame Oil. Find in Health Food Shops or Better Grocers.
9
*** Hawaiian Ginger can be found at many farmers' markets from July through November.
It has does not have a fibrous texture, which makes it an ease to use. When harvested this young, it has no well-formed outer skin and appears white & pink, not the typical yellow color. This "baby ginger" is harvested after only 4-6 months of growth. Enjoy this special ginger: the flesh is firm, succulent, fragrant, peppery and sweet. Any ginger will do in this recipe.
This recipe may not be reproduced without the consent of its author, Karen Sheer.
Karen Sheer