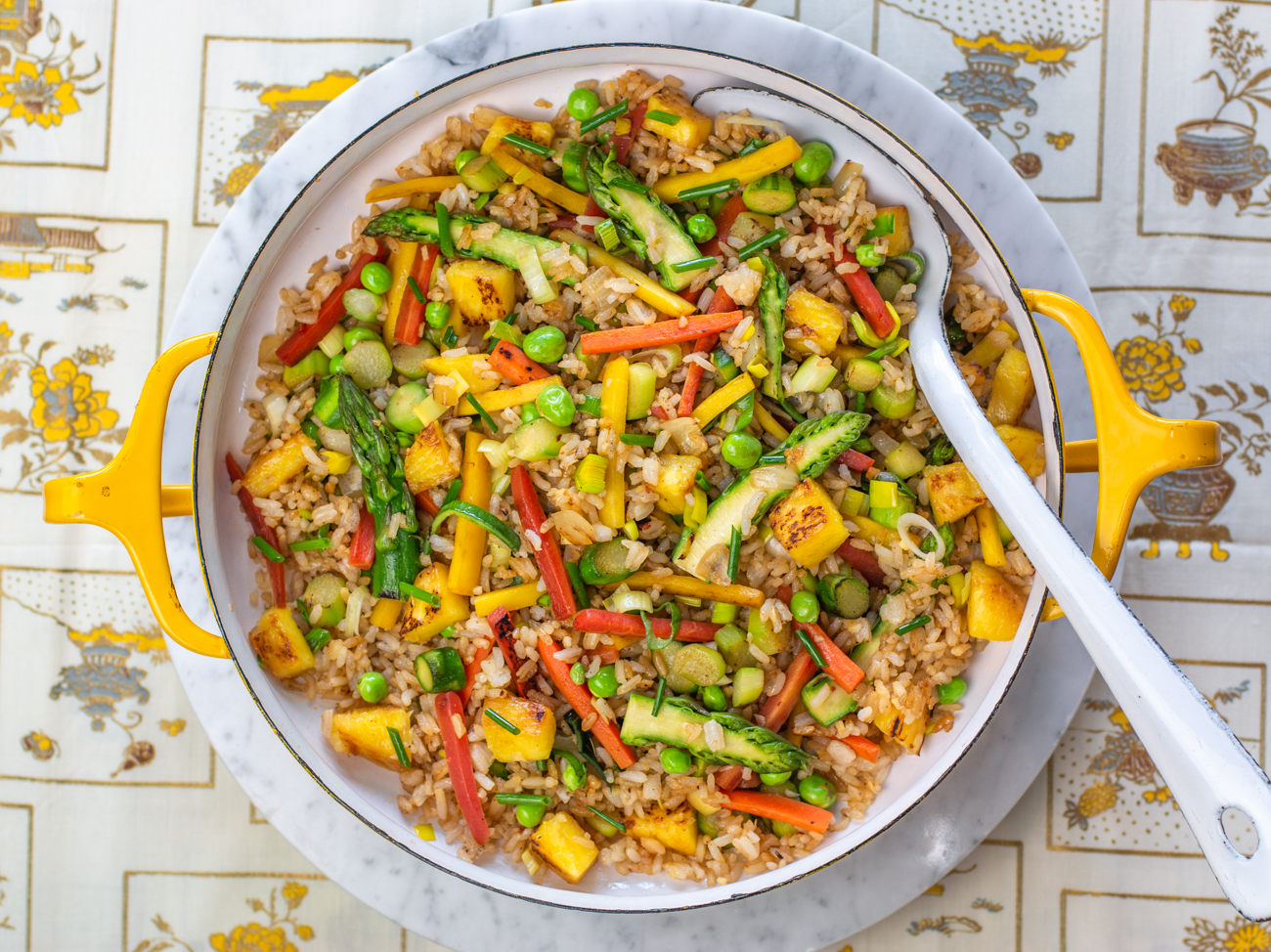 Karen's Spring Vegetable Fried Rice
Tossed with my favorite in-season Spring Veggies for a wonderfully healthy dish that's delicious and fun to make.
My method teaches the art of stir-frying – perfectly crisped rice with tender-crisp vegetables and Asian aromatics.
Spring Veggies: I'm using Fat Asparagus, Fresh Peas (from the pod), Onions, Scallions, Leeks, Multi-Colored Heirloom Carrots, and Fresh Chives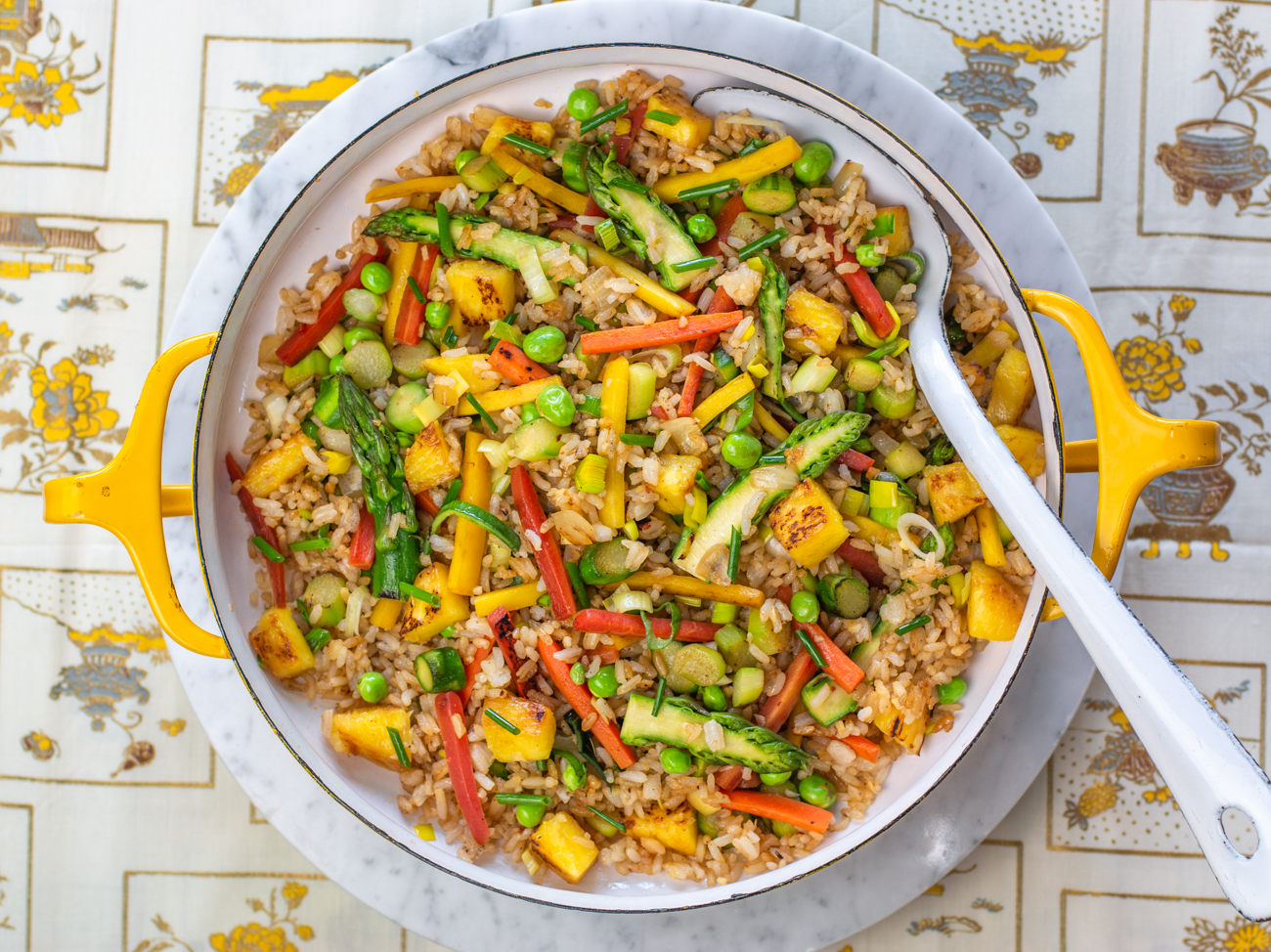 An essence of ginger & garlic lingers – top with Spring fresh chives for a bite of Spring. 
An Adaptable Recipe!
It's early Spring – I have used the vegetables that are available – AS MUCH VEGGIES AS RICE!
Called "fried rice" yet not deep fried – oil used for flavor and crisping while stir-frying.
Other Spring Vegetables you can include in the Stir-Fry:
Spring Garlic
Artichokes
Asian Greens
Sugar Snap Peas
Garlic Scapes
Artichokes
Ramps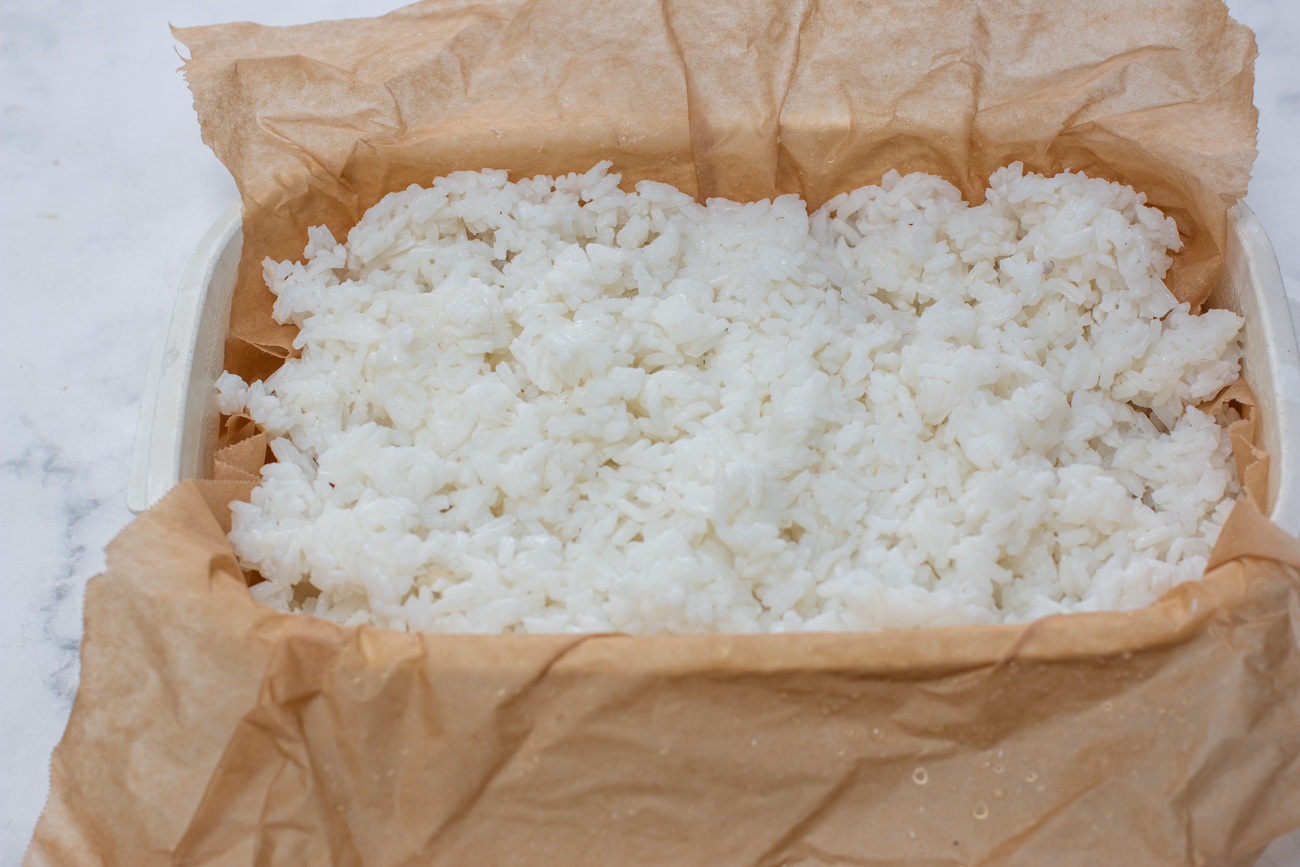 Why Use Day Old Rice?
Day-old rice's excess moisture has either been absorbed by the grains or evaporated away, which is what you want when making fried rice.
The dry rice will absorb oil, which will be flavored by aromatics; garlic, ginger, scallions…
THE METHOD:
Stir Fry Veggies first until tender crisp, remove to a plate

Wipe pan clean; cook the Fresh Pineapple, letting it become lightly golden

Clean pan – add COLD cooked, day-old Rice in hot peanut oil until crispy 

Add aromatics, stir-fry & toss together

Add the veggies and pineapple back into the pan, stir all together 

Ready to serve! Garnish with Fresh cut Chives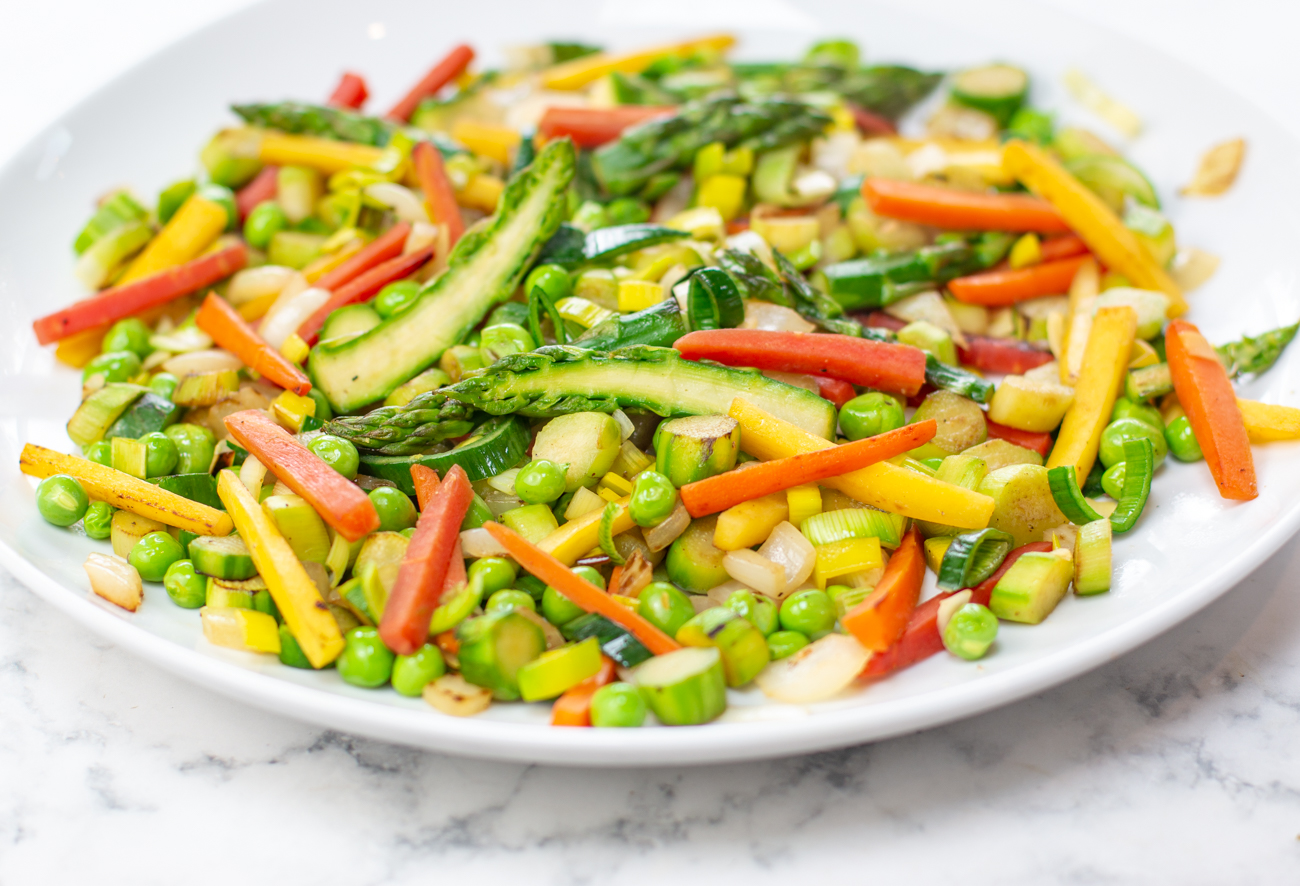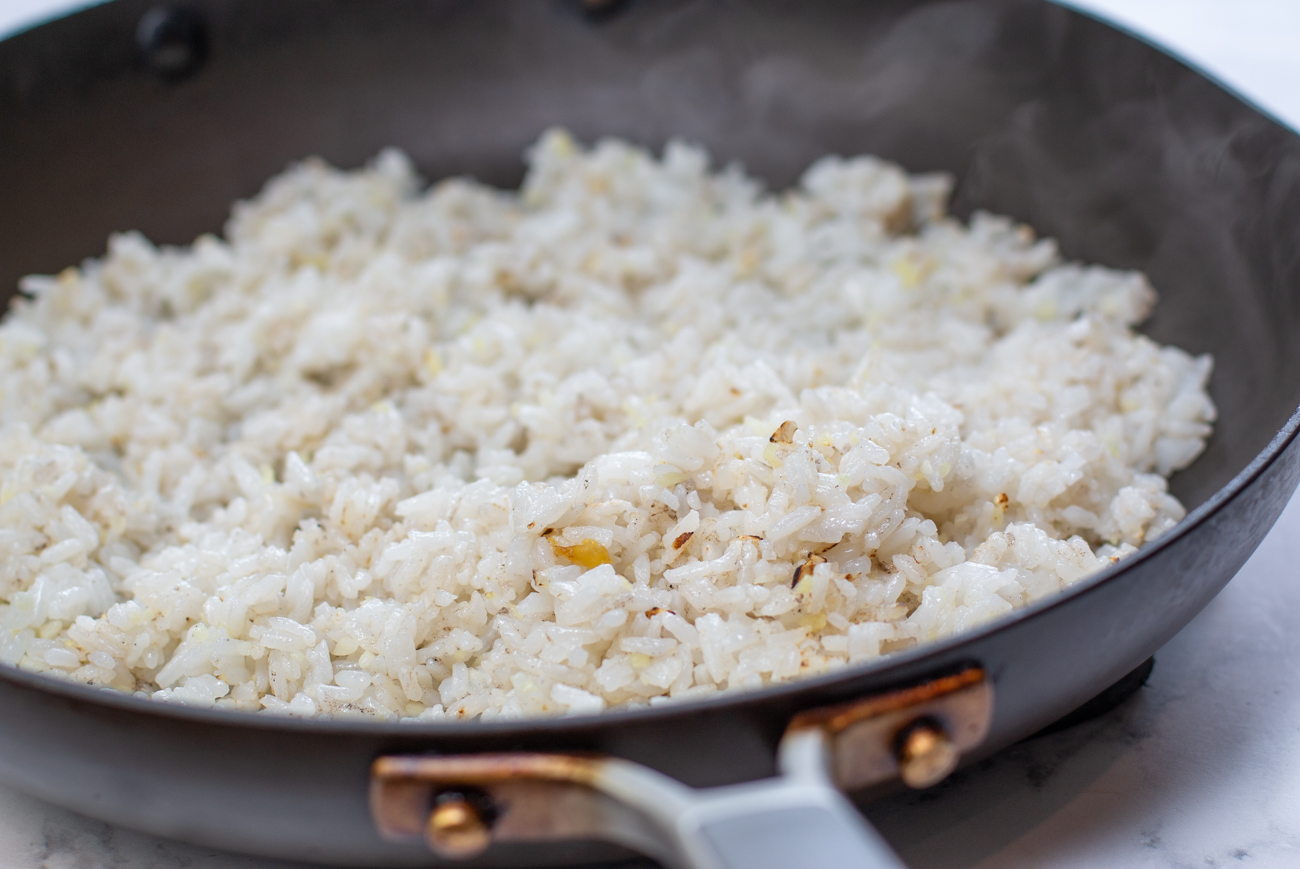 What really is FRIED RICE?
"Fried rice" like one eats in Asian restaurants is made with leftover cooked white rice cooked in oil in a wok or large heavy-bottomed pan. It is a great way to use up leftover rice. Take the rice out of the white paper take-out carton (or from the pot you have cooked it in), place in a container with a good seal and refrigerate.
Make Your Own!
Chinese fried rice from a restaurant is high in sodium and fat, depending on how much salt, soy sauce, and oil the chef uses to make it.
Restaurants may add much soy sauce (can be very salty and contains wheat), oyster sauce (many times includes MSG) , and fish sauce (contains fish; anchovy, not vegan) and even butter.
So – try low sodium soy sauce, gluten free tamari sauce and try coconut aminos like I do in this recipe.
WHY? Coconut aminos has a milder, sweeter flavor, and less sodium than soy sauce. Soy sauce has a richer flavor, and about three times as much sodium as coconut aminos. Lastly – coconut aminos are soy, wheat- and gluten-free! By the way – liquid aminos (such as Braggs brand) contains soy and is higher in sodium.
Choosing your own condiments you will have control of your ingredients! 
How to Choose the Best Peanut Oil:
One of the major appeals of peanut oil is that it has a higher smoke point than many other oils. Its unique composition qualifies it as a "good" fat.

Expeller-pressed oil is an oil that has been extracted with a screw press. A screw press, or expeller press, is a machine that presses nuts and seeds through a cavity and uses intense pressure and friction to extract oil. There is no heat added during this extraction process, as heat is already created through the friction that occurs when the seeds are pressed. Oils are then removed from the seeds. GOOD TO KNOW: The moment when high heat is introduced into the process, this is when the oil loses all of its antioxidants and vitamins.
When did fried rice first originate?

The first written records of fried rice were during China's Sui Dynasty (589–618 CE.)
Why is vegetable fried rice considered healthy?

If made properly, vegetable fried rice contains very little oil, lots of vegetables, and only enough flavoring ingredients to flavor and season. (Low salt soy is available for those that worry about sodium.) Season with a little soy sauce, coconut aminos, ginger and garlic (sesame oil too if you like), and you have a tasty, well-flavored, dish with quickly cooked veggies that retain their nutrients. Maybe add a few peanuts or cashews for extra crunch!
Other add-ins you might like:
Thai Basil – tear and add in the final stir-fry.
Scrambled Eggs: cook whisked eggs in a small amount of peanut oil – chop up on a cutting board; add to the fried rice.
OR cook eggs like a thin omelet; flip over – remove to a plate, roll up and slice thinly, add to the fried rice.
Add stir-fried proteins like chicken, shrimp to tofu
Add a dash of sesame oil at the end if you like

The finished Fried Spring Rice with Vegetables served in individual bowls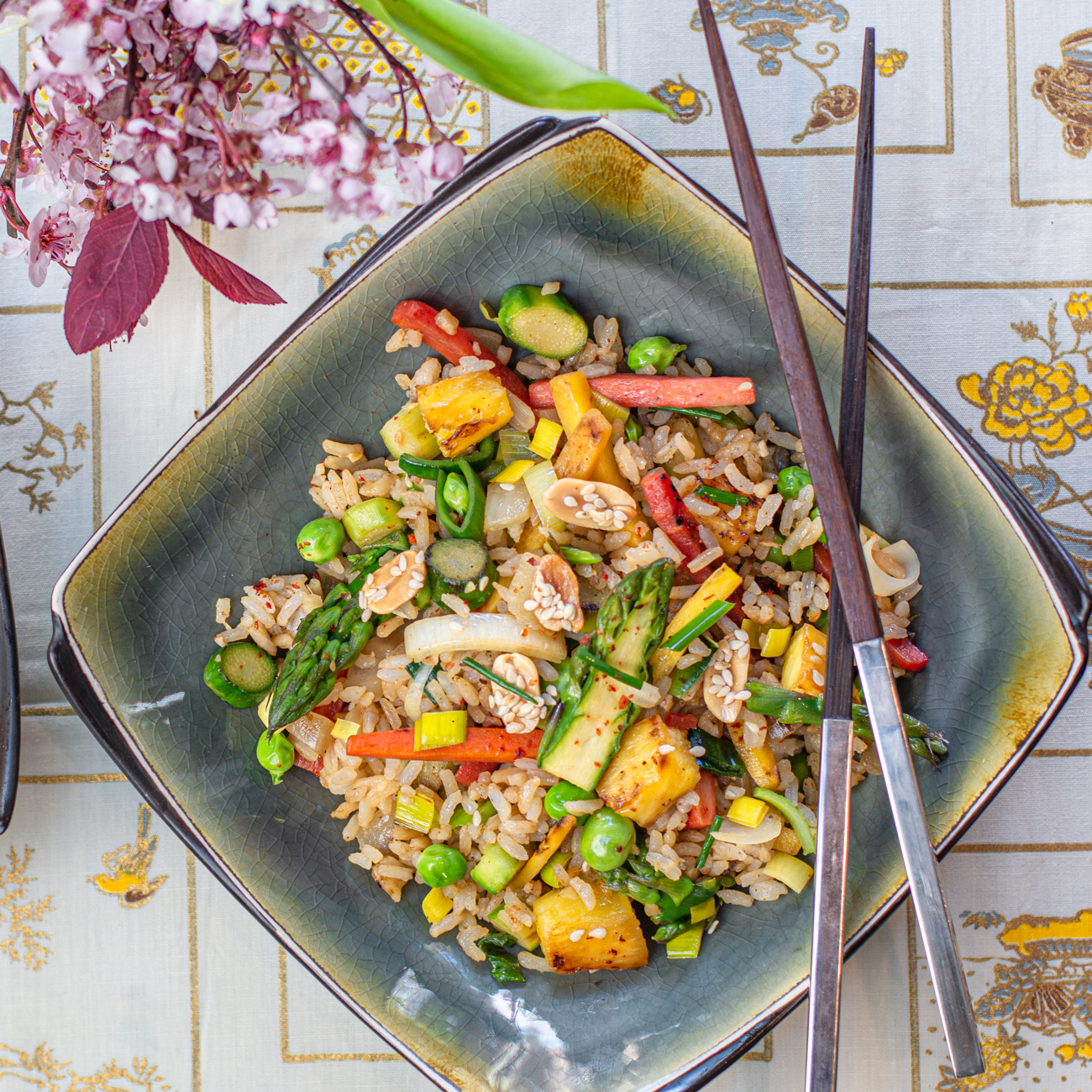 Some Hints:
You can use white rice (jasmine rice or Basmati) or brown rice, and preferably long-grain rice… what I have used.
For optimal results, the best "variety" is cold, leftover rice. Room temperature or warm rice is hard to crisp!
Chilling cooked rice lets the structure tighten back up so that when you throw it in the pan to cook, it crisps up instead of steaming, getting mushy, and sticking. Cold, day-old rice is best.
No wok… no worries! I "stir-fried" in my stick proof Calphalon pan 12 1/2″ wide; 2″ high sides. Can also use your seasoned cast iron pan.
Enjoy this recipe
Tell me what you think!
Karen

Karen's Spring Vegetable Fried Rice
Tossed with my favorite in-season Spring Veggies for a wonderfully healthy dish that's delicious and fun to make. My method teaches the art of stir-frying - perfectly crisped rice with tender-crisp vegetables and Asian aromatics.
Print Recipe
Pin Recipe
Rate this Recipe
Ingredients
3

cups

cooked long grain rice

(One day old refigertanted best!)

2

teaspoons

peanut oil

divided; please use expeller pressed
The Vegetables:
1

cup

carrots

mixed colors: large matchstick shape

3/4

pound

asparagus

large stalks trimmed and peeled; cut stalks 1/3"; tips in half vertically

1/2

cup

onion

peeled 1/3" dice

1/2

cup

leeks

cleaned; cut 1/4" half moon shape

1/3

cup

fresh peas (shelled from pod)
The Rest:
3/4

cup

fresh pineapple

cut into 3/4" chunks

1/2

teaspoon

peanut oil

please use expeller pressed

2

tablespoons

peanut oil

please use expeller pressed

1 1/2

tablespoons

fresh ginger

peeled; minced

3

teaspoons

fresh garlic

peeled; minced

1

tablespoon

soy sauce or gluten free tamari sauce

1

teaspoon

liquid coconut aminos*

2

teaspoons

rice vinegar

1/2

teaspoon

pure cane sugar

(optional, but I like)

2

pinches

hot pepper flakes

(I use Szechuan chili flakes)

1/4

cup

fresh scallions

cleaned; sliced thinly
Garnish:
2

tablespoon

fresh spring chives

cut 1/4" lengths

1

tablespoon

thai basil

torn (optional)
Instructions
Stir-fry the Vegetables:
In a wok or large stick proof skillet add ONE teaspoon peanut oil; set to medium- high heat. Add carrots and stir fry 2 minutes. Add the asparagus stalks & tips, and onion. Stir fry 2 minutes (will just be lightly colored.)

Add NEXT teaspoon of peanut oil - then the leeks and fresh peas. Cook stirring just one minute. remove from heat to a clean plate. Season with a pinch of salt & pepper.
Cook the Pineapple:
Wipe pan clean - add 1/2 teaspoon peanut oil to the pan. Set heat to medium- high. Add the pineapple, mix in. DO NOT stir-fry; let get golden underneath, turn over until golden (total time 2 minutes) - remove to the vegetable plate.
Cook Rice; Season & Finish the Dish:
Clean the pan. Add 2 tablespoons of peanut oil and set to medium-high heat. When very hot - add the cold cooked rice, give a big stir - then LEAVE to get crispy and a little golden. Add the ginger & garlic - stir up rice and cook until crispy (3 minutes total time.)

Add 1 T. soy sauce, 1 teaspoon aminos, rice vinegar, sugar and chili flakes - give a big stir until all incorporated, cook stirring 1 minute. Add scallions; toss, remove from heat. (Add a drizzle of sesame oil if you like.)
To Serve:
Taste for seasonings. Add the Vegetables and Pineapple to the Rice mixture; toss together.

Garnish with chopped chives and Thai basil (if using.)

Add sesame peanuts (recipe below) if you desire.
Notes
Sesame Peanuts: Add 1/3 cup roasted peanuts and 1/2 teaspoon peanut oil to a small skillet. Cook over medium heat adding 1 teaspoon raw sesame seeds. Stir until the seeds are lightly golden in color. Add a pinch of sea salt - remove to a plate. 
* Liquid Aminos contains soy and is higher in sodium.
This recipe may not be reproduced without the consent of its author, Karen Sheer. 
Nutrition Facts
Karen's Spring Vegetable Fried Rice
Amount per Serving
% Daily Value*
* Percent Daily Values are based on a 2000 calorie diet.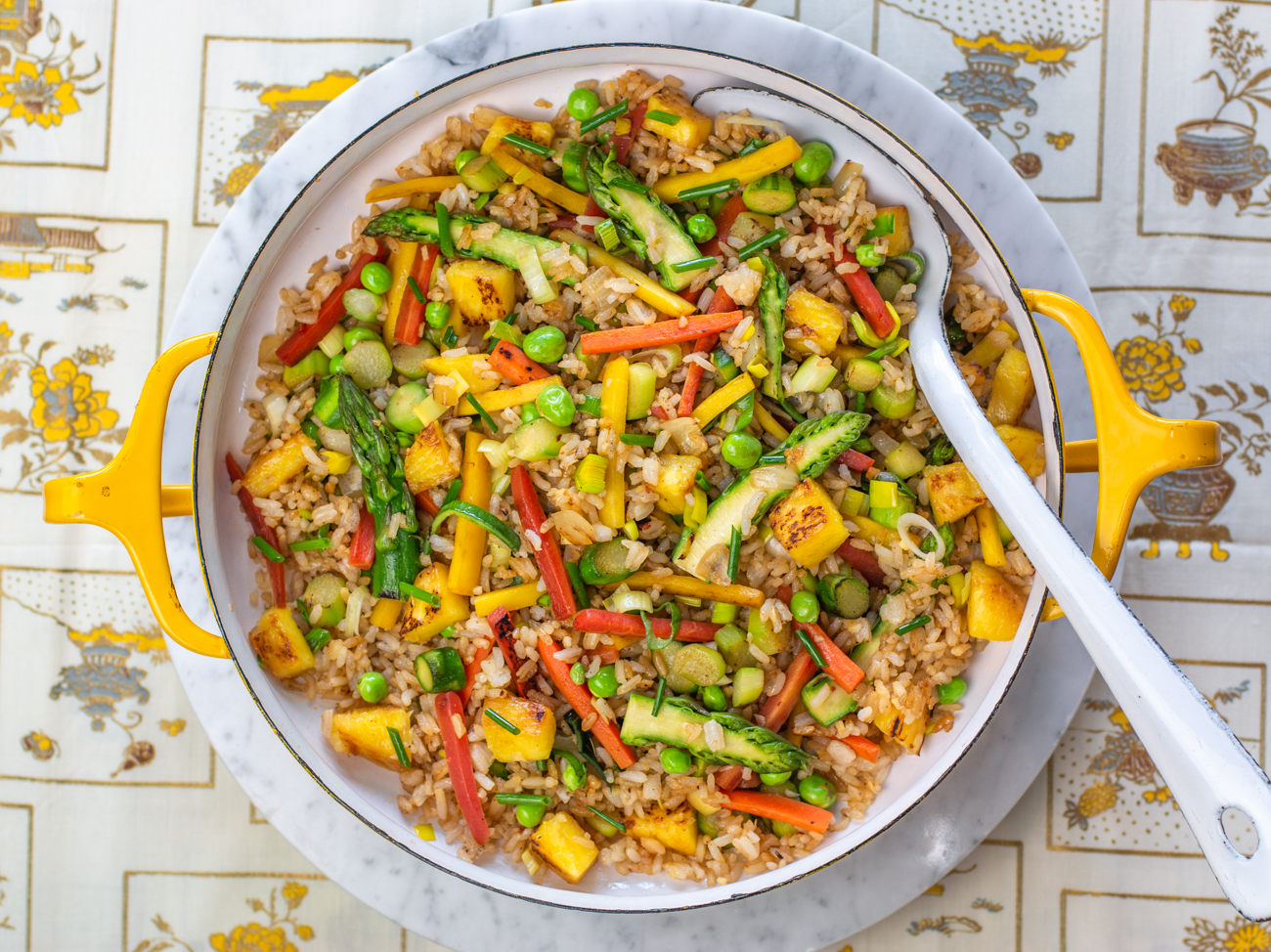 Karen Sheer