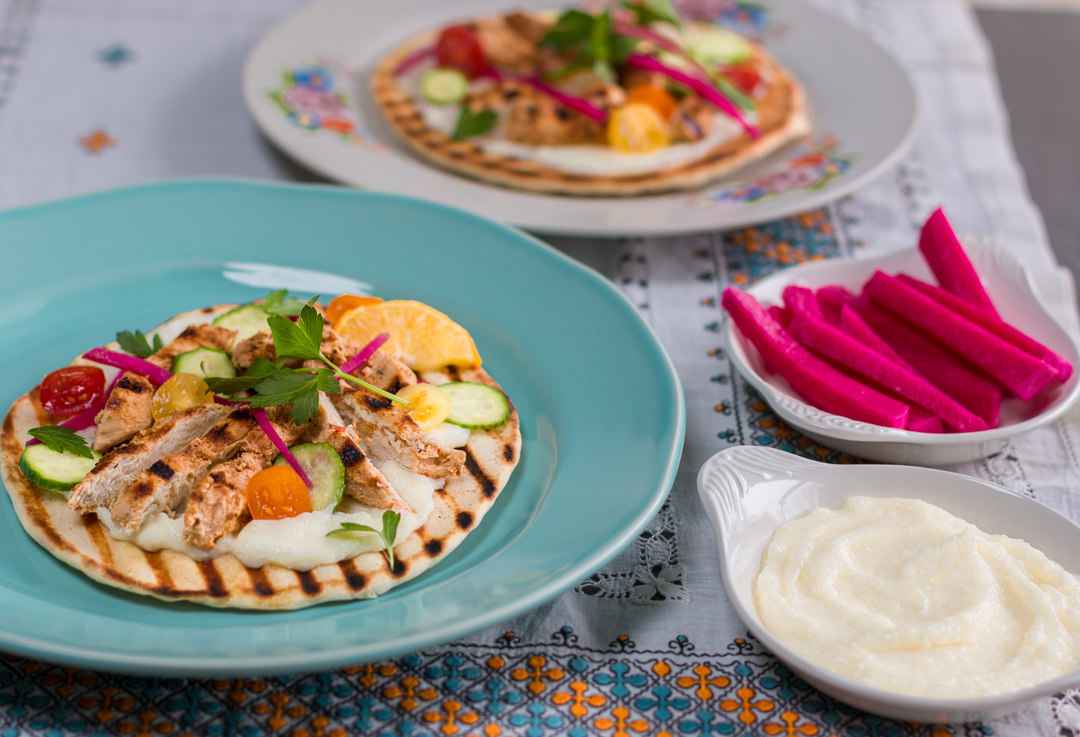 Grilled Lebanese Chicken with Yogurt & Spices
Yogurt Marinated Chicken, Lebanese-Style Garlic Sauce, Harissa Sauce and Pickled Turnips come together for the ultimate Middle Eastern Feast at home.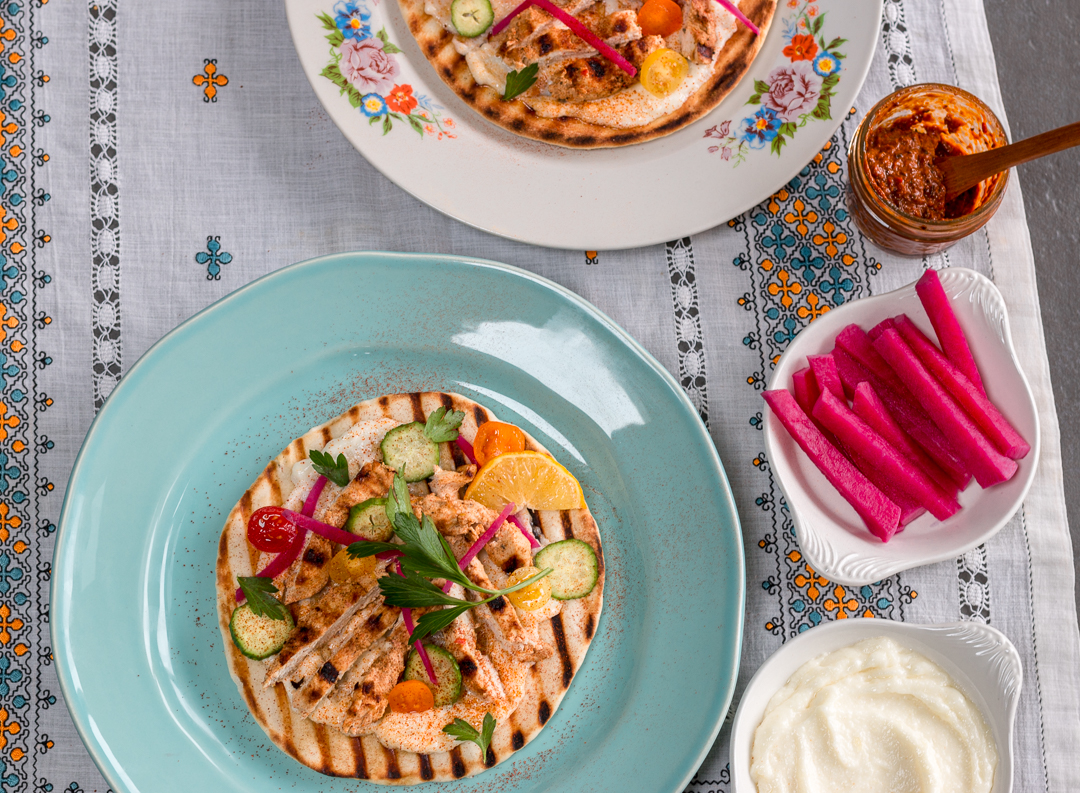 Here is my version of a similar dish: Shish taouk or tawook (chicken kebab) – a Lebanese staple. It is quite a common chicken bbq dish in virtually every Middle Eastern country, and a popular street-food. The secret is in the marination. Spices and flavorings may vary quite a lot.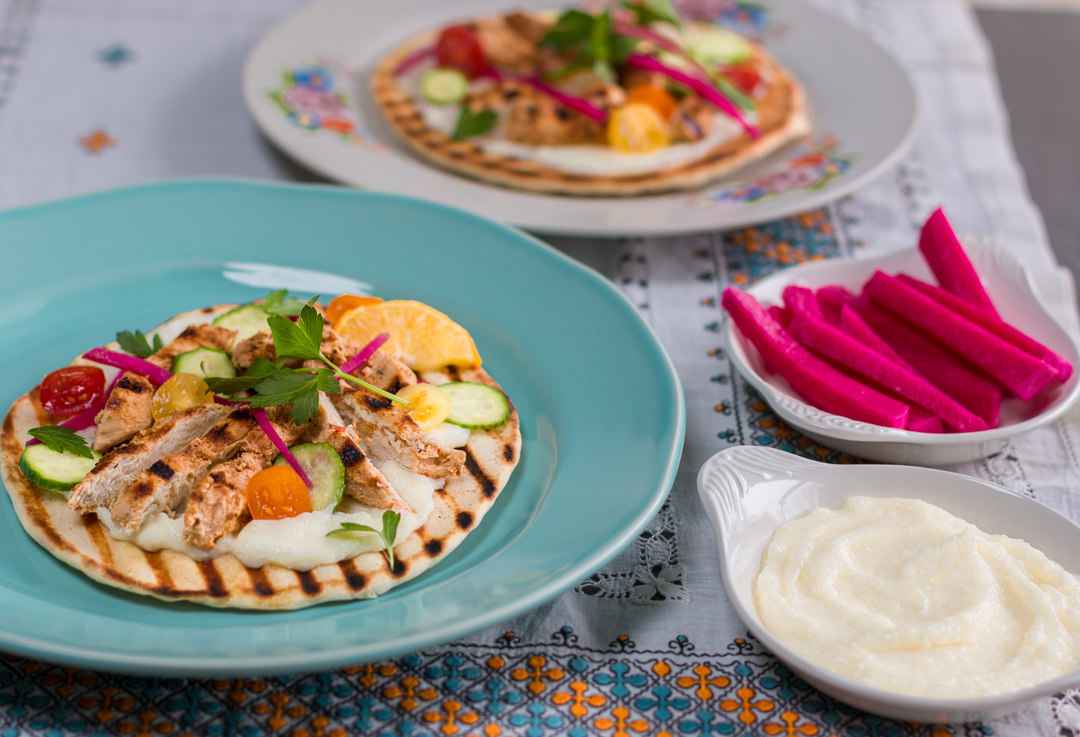 Ingredients
1 ½ pounds chicken breast halves, skinless and boneless
½ cup plain yogurt, your favorite variety
2 medium fresh garlic cloves, peeled, finely grated
2 teaspoons fresh ginger, peeled, finely grated
½ medium lemon, rind, finely grated
¼ cup fresh lemon juice
1 ½ tablespoons extra virgin olive oil
1 tablespoon harissa sauce, see recipe
¼ teaspoon freshly cracked black pepper
⅛ teaspoon sea salt
See other ingredients below
Instructions
1
Make Harissa sauce (see recipe) or purchase a nice quality one.
2
Soak 6 large bamboo skewers in water for at least 1 hour.
3
Mix all marinade ingredients together in medium sized bowl.
4
Wash and dry chicken. Slice each breast on the diagonal to make about 1″wide strips.
Add to bowl, mix in well. Cover tightly and marinate in the refrigerator at least 4 hours, or overnight.
5
To grill: Heat an oiled outdoor grill or an indoor grill pan to medium- high heat.
Thread chicken on the skewers.
6
Scrape off most of the marinade and add to the oiled grill.
Cook until strong grill marks form, turn over with tongs and cook on the second side until golden and cooked through.
7
To serve:
Serve the chicken over grilled pita breads with a hearty schemer of a Lebanese-Style Garlic Sauce.
Top the chicken with slices of pickled turnip, cucumbers, tomatoes and parsley.
8
Other ingredients:
4 large pocketless pita breads – crisped on a grill
One recipe Lebanese-Style Garlic Sauce (see recipe)
Pickled Turnips (see recipe) sliced thinly
9
1 small Persian cucumber, thinly sliced
12 small, colorful tomatoes, sliced
2 tablespoons chopped parsley
10
Serve with extra Lebanese Garlic Sauce, Harissa Sauce and Pickled Turnips on the side.
See BLOG for many photos and more how-tos.
This recipe may not be reproduced without the consent of its author, Karen Sheer
Karen Sheer