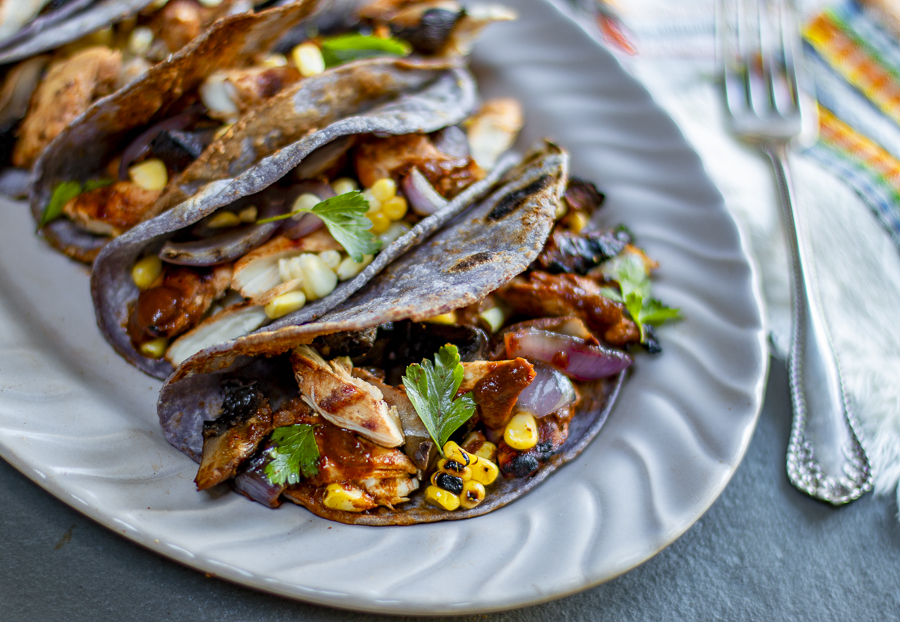 Chicken and Veggie Tacos with Mulato Chile Sauce
Delicious with Authentic Flavors!
Warm and Zesty Grilled Chicken & Vegetables are bathed in a Flavorful Chile Sauce.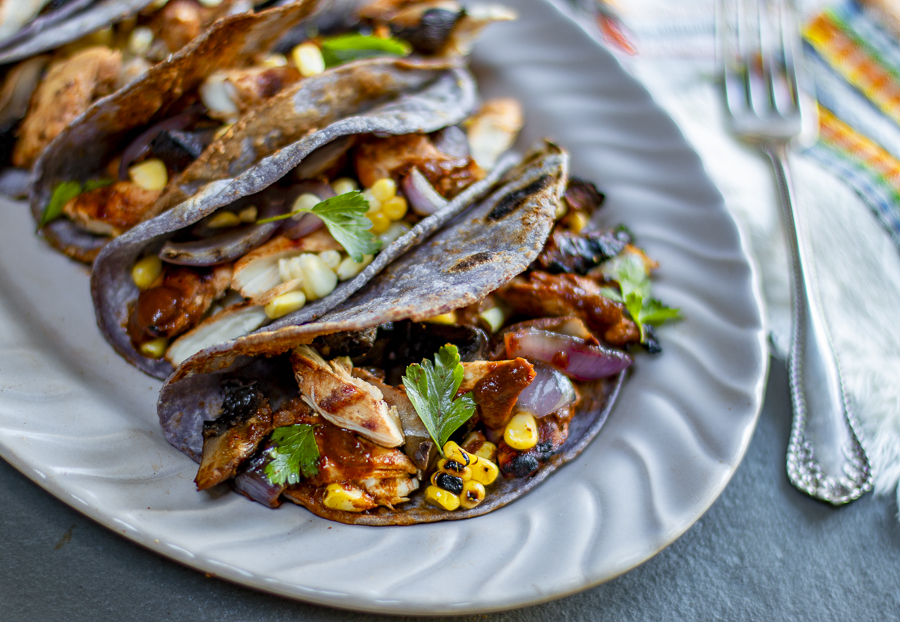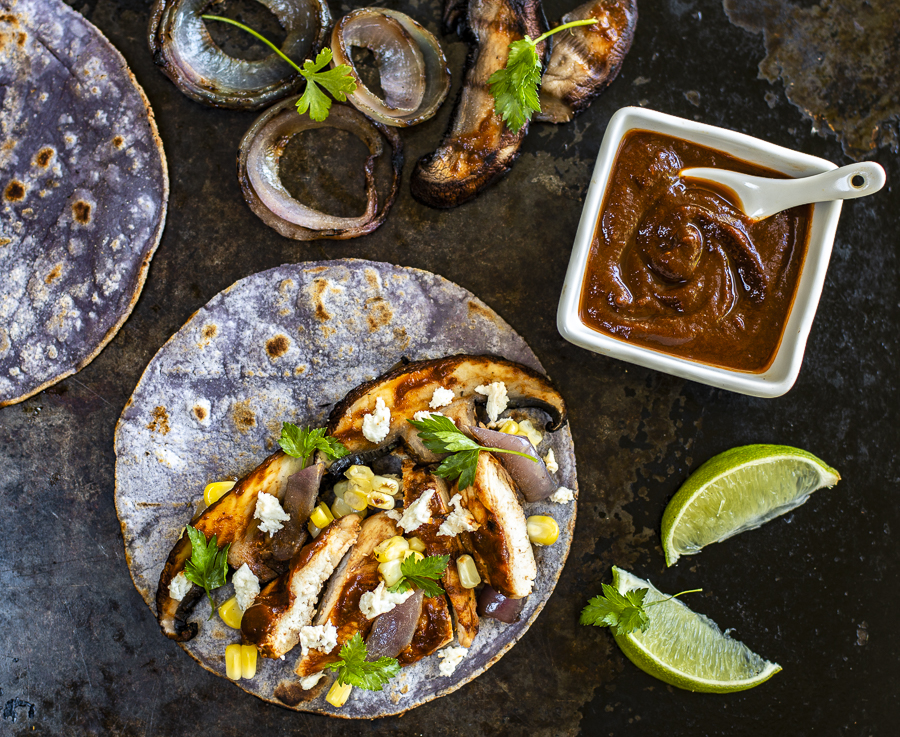 Filling ingredients: Marinated chicken tenderloins, portobello mushrooms, red onions, fresh corn and cotija cheese.
Experiment with ingredients you have on hand or love!
The flavor profile of Mulato chiles is a bit sweet with hints of smoky chocolate, licorice, cherries and coffee.
They add add low-moderate heat to your dish with robust flavor. Ancho Chiles (slightly milder) and Guajillo Chiles (slightly spicier) are good substitutes.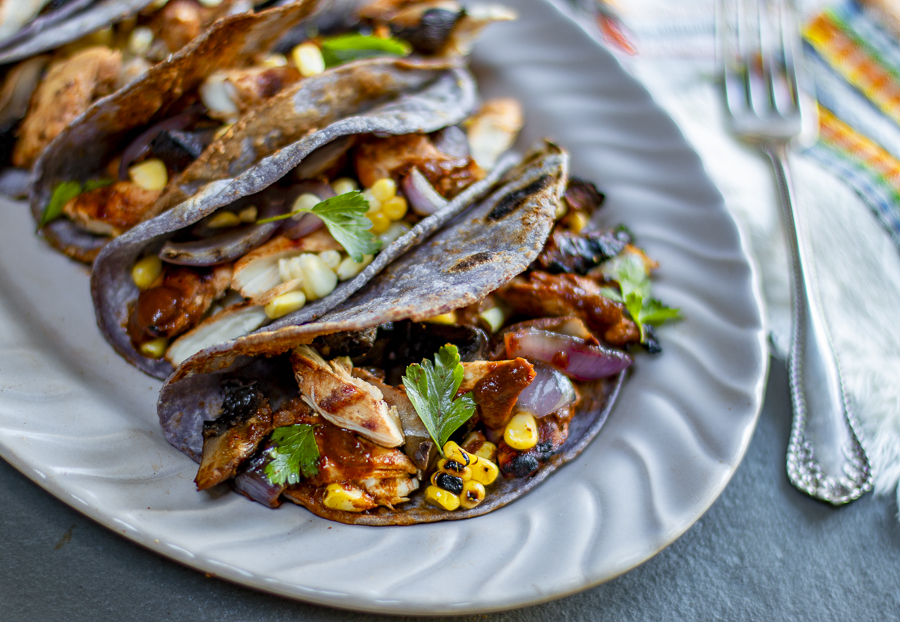 Ingredients
1 pound chicken tenderloins, tendons removed 
1 recipe Mulato Chile Sauce (will use up to ½ cup)
2 teaspoons fresh lime juice
2 medium portobello mushrooms, wiped clean, ends trimmed
1 medium red onion, peeled 
1 large ear fresh corn, stripped and cleaned of silk 
½ cup cotija cheese 
2 tablespoons cilantro or parsley, cleaned dried; coarsely chopped
6 – 8 , 6″ corn tortillas (I used blue corn tortillas) makes 6 extra- stuffed tacos or 8 smaller ones
Instructions
1
Make Mulato Chile Sauce (can be made days prior… it's delicious.)
In a medium sized bowl, add chicken, 2 tablespoons of Mulato Chile Sauce and lime juice, mix to coat – cover and refrigerate to marinate for at least 1 hour, or up to 4 hours.
2
Add the below to a large plate:
Cut mushrooms into 3/4″ slices.
Cut peeled red onion into 1/2 slices rounds.
One ear fresh corn.
Drizzle all with 1 tablespoon of extra virgin olive oil, 2 pinches each sea salt and freshly cracked pepper and seasoning of you choice..
(Could be 1/2 t. smoked paprika, or salt free chile seasoning.)
3
Heat grill to medium- high and oil the grates.
Grill chicken, turning until nice grill marks form, turn over and grill until golden and cooked through.
Grill cut mushrooms & onion and whole corn, turning until grill marks form, turn over until cooked through, buts still juicy.
The corn should be slightly charred all over, bright yellow and just cooked.
Remove to the plate.
4
Sprinkle a little sea salt on the chicken and veggies.  Steam the tortillas – see below.
5
To Fill & Eat:Lay out the steamed tortillas.
Slice or shred the chicken into large bite-sized pieces.
Top on one side of each tortilla.
Cut mushrooms and onions into bite-sized pieces.
Cut corn kernels from the cob.
Add veggies over the chicken.
Drizzle with a little Mulato Chile Sauce on each!
Dot each taco with crumbled Cotija Cheese.
Garnish all with the chopped cilantro or parsley…
Fold & Enjoy!!
Serve with extra Mulato Chile Sauce on the side.
6
Other Filling Ideas:
Choose any meat or vegan protein to grill and add to your tortillas.
Be creative and think Swordfish, Shrimp, Tofu or Tempeh.
Choose vegetables the are fresh or your favorites!
7
Other Add-ons:
I love drizzling with extra Mulato Chile Sauce!
Guacamole
Lime Wedges
Sliced Cabbage or Radishes
Sour Cream to Greek Yogurt
Sliced Jalapeños
Chopped Colorful Heirloom Tomatoes
8
Heating Tortillas: Warming tortillas prevents them from cracking and breaking.  Steaming: Wrap tortillas in a clean kitchen towel; put them in a vegetable steamer  over boiling water – steam  them  for one minute. Turn off heat and let them stand, covered, for  5 – 10 minutes.   In The Microwave: Wrap a stack of tortillas in a damp, clean kitchen towel (or paper towel); microwave on moderate power for 20 to 30 seconds.
See BLOG for many photos and information.
This recipe may not be reproduced without the consent of its author, Karen Sheer.
Karen Sheer