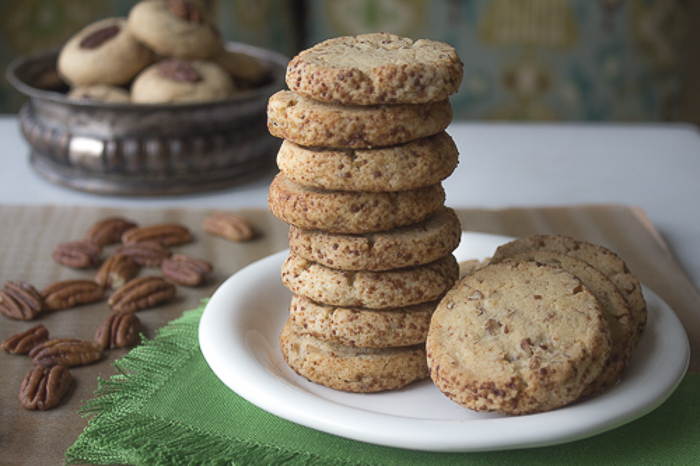 Karen's Pecan Sandies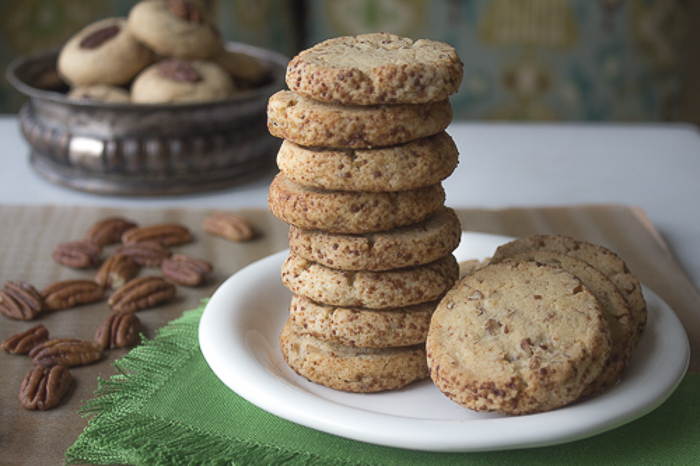 Homemade delectable Pecan Sandies with Baked Maple Pecans. Forget store-bought and use the best ingredients for a real treat.
Cut from a cylinder roll of dough.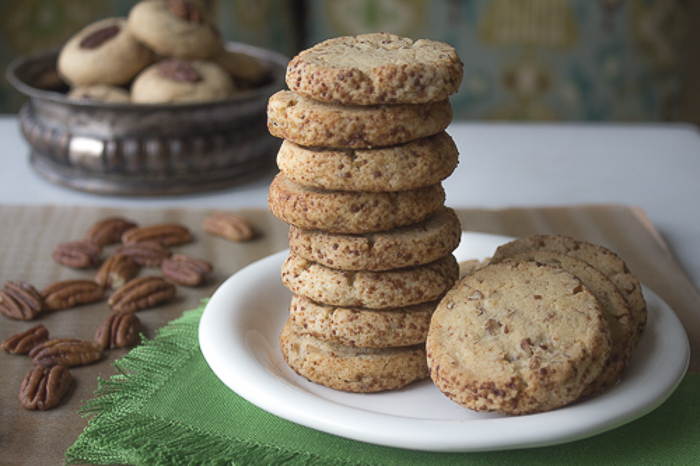 Ingredients
1 cup pecan halves
1 tablespoon unsalted butter
1 tablespoon pure amber maple syrup
1 tablespoon coconut palm sugar, or natural light brown sugar
1 pinch sea salt
1 stick unsalted butter, softened, just a little
¼ cup shortening (Spectrum Organic preferred)
½ cup sugar
½ cup confectioner's sugar
½ teaspoon sea salt
1 teaspoon vanilla
¼ teaspoon almond extract, pure, not artificial!
1 large egg
½ teaspoon cream of tartar
½ teaspoon baking soda
1 ¾ cups flour
¾ cup pecans, toasted and finely chopped (from baked maple pecans)
Instructions
1
Make the Baked Maple Pecans:
In a small skillet, heat the butter and coconut palm sugar over low- medium heat stirring until the sugar has dissolved.
Take off heat, add maple syrup, a pinch of salt and the pecans, stir well to coat.
Spoon the pecans onto a rimmed sheet pan lined with parchment paper into a singly layer.
Bake in the center of the oven for about 10 minutes, stirring up once after 5 minutes, until coated well, but not darkened. Remove to harden. Will have 1 1/4 cups.
2
When cool, chop only 1 cup of them (I use a mini food processor, pulsing 10 times) coarsely. Will have about 1/4 cup remaining to snack on (full recipe for dropped version, below.)
3
For Rolled and Cut Pecan Sandies:
In a stand mixer, Add the next 7 ingredients (butter through almond extract.) Cream until light and fluffy, about 1 minute.
Add the egg, cream over low speed until incorporated. Add the cream of tartar, baking soda, flour and the 1 cup of chopped baked pecans.
Mix on low speed until well combined.
Cut two pieces of waxed paper, about 10″ and add 1/2 of the dough to each. Roll into a cylinder – each 11 1/2″ wide.
Place on a sheet pan and refrigerate for 1 1/2 hours or longer, until very firm.                                Preheat the oven to 350 degrees.
4
On a clean cutting board, scatter 1 T. of coconut palm sugar. Unwrap one dough, roll evenly in the sugar. Repeat with the other cylinder.
5
Cut each roll into even 1/2″ thick round cookies, about 22 each roll. Repeat with remaining roll if desired*.
Place a silpat sheet or natural parchment on two cookie sheet pans.
Add cookies to each and cook at 350 degrees for 12 minutes until just golden around the edges and underneath. Will crisp a bit as they cool.
Cool on wire racks and enjoy you efforts!
6
*Hint: Bake one roll, save the half in the freezer (well wrapped) for another time.
7
For Dropped Pecan Sandies with a Pecan on Top:
In the dough – use 3/4 cups of the chopped cooked nuts, reserving 1/2 cup for decoration.
Line a rimmed baking pan with parchment paper. Form the cookies into rounds with a 1  1/2″ medium cookie scoop. Press a pecan halve gently into the center. Bake for about 12 minutes until puffed and just golden on the bottom. Makes about 18 cookies for half, 36 for whole recipe.
Notes:
Ingredients I favor for this recipe, non gmo:
Organic Butter
Organic Coconut Palm Sugar
Organic Spectrum All Vegetable Shortening
Organic Natural Cane Sugar
Organic Confectioner's Sugar
Organic, Cage-Free Eggs
Hodgson Mills Naturally White Flour, non gmo varified
Karen Sheer