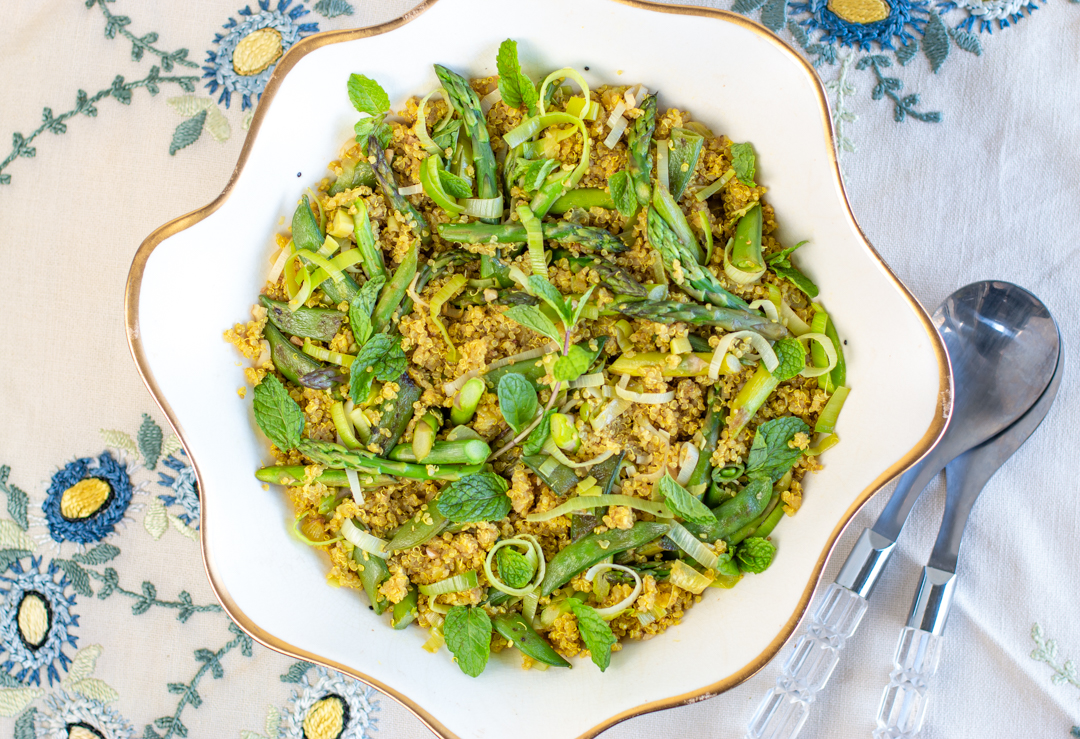 Passover 2022 Recipes plus NEW: Quinoa Pilaf with Asparagus, Sugar Snap Peas & Mint
Healthful and Hearty Passover Recipes you can make with confidence.
Brighten up the holiday with some creative, colorful and healthy dishes ~ from Soup to Dessert.
Find all the inspiration you need here to plan a Passover menu that you and your guests will love.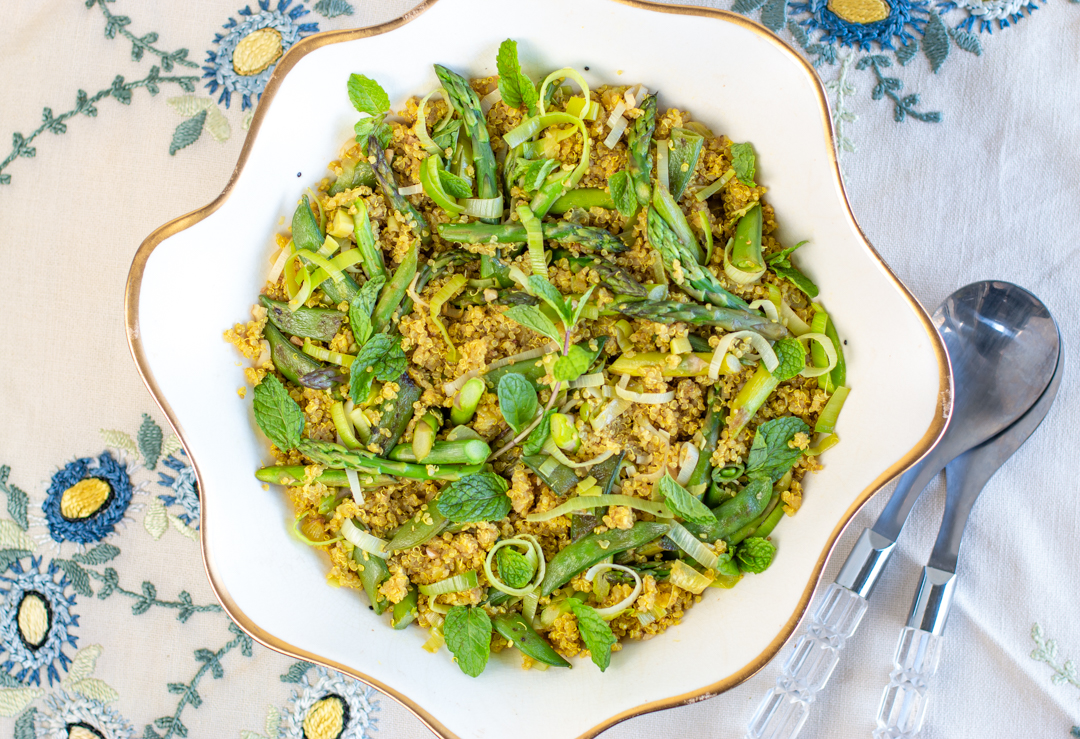 A Big Batch Side-Dish (serves 12) That Pairs Well With All Your Passover Main Courses.
Fluffy Quinoa with Onions, Leeks and  Spring Veggies, adorned with Fresh Mint – all will love!
NEW! Karen's Mosaic Carrot Kugel with Dill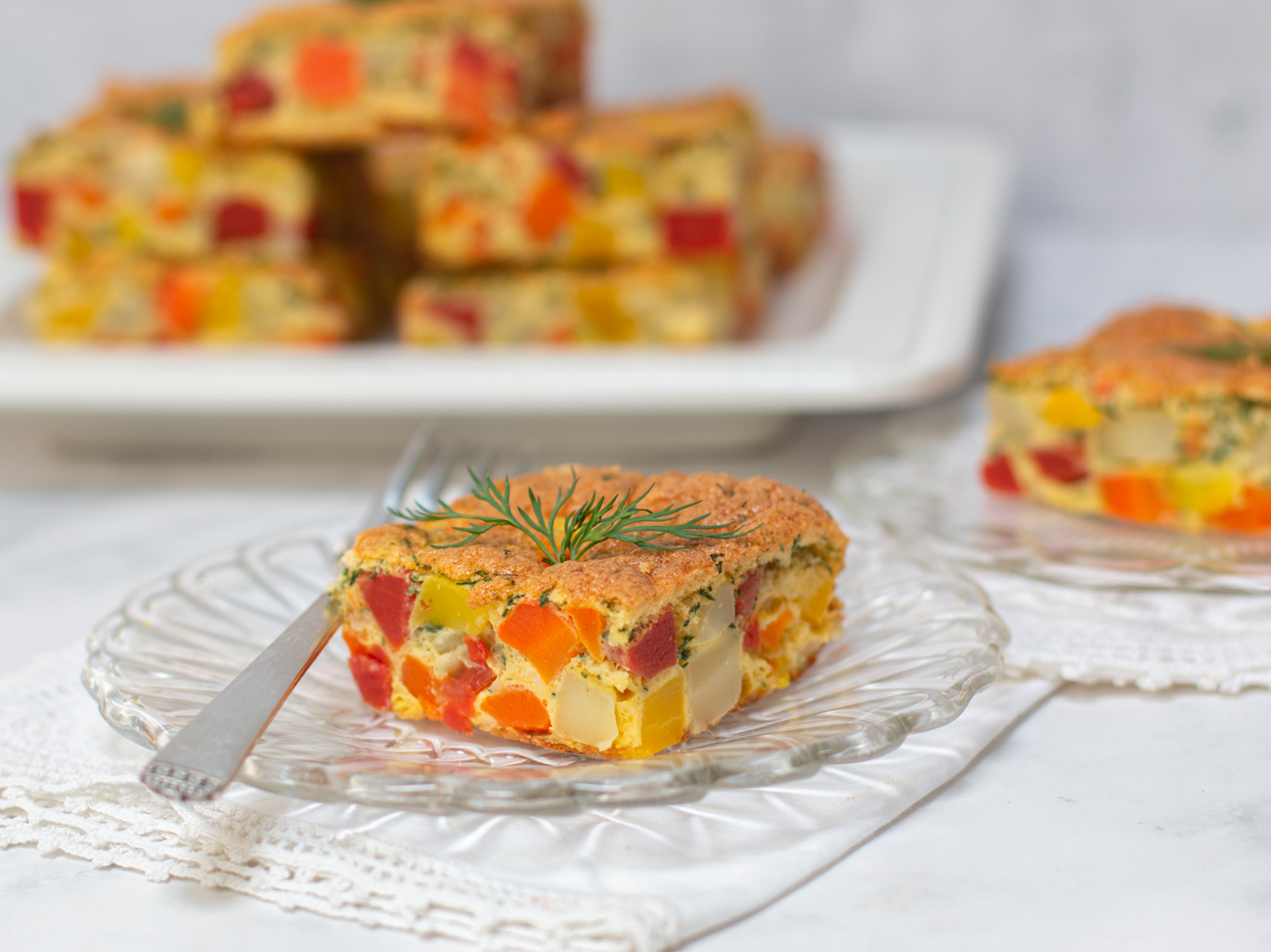 WOW-Factor! A light soufflé-like kugel studded with colorful carrots that creates a mosaic look that's stunning!
A pretty simple recipe that produces a delicious & gorgeous kugel casserole – you cut in squares.
The texture is light and airy – eggs surround the carrots (that are cubed 1/2″) – dill is added for flavor and color contrast.
The Soup:
Perhaps the most beloved, of all Passover dishes – Matzo Ball Soup is traditionally served at the beginning of the Seder meal. Make my Gluten-Free Matzo Balls, all will enjoy the soup – they are delicious!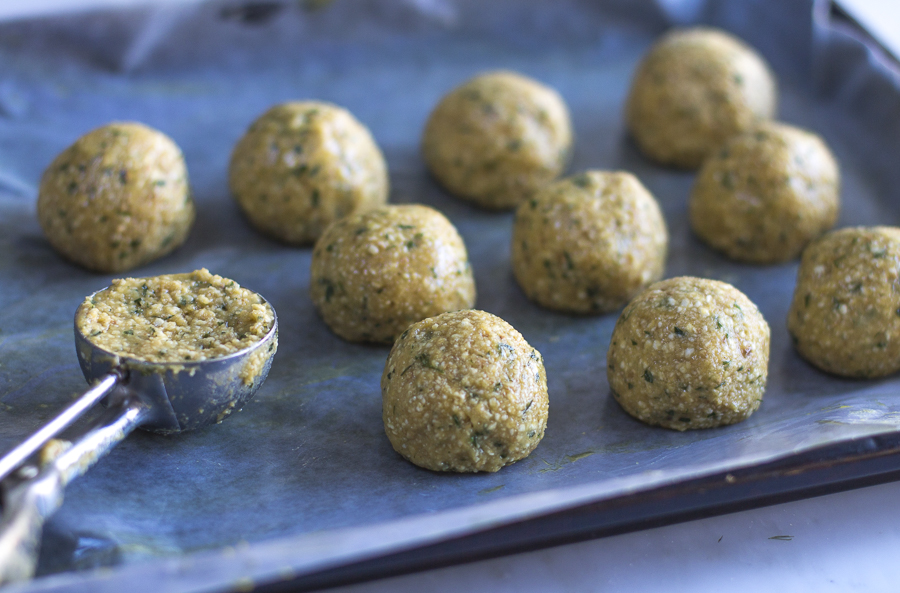 Make these for the Passover holiday (or year-round!) all will enjoy, they are delicious, fluffy and tender.
Matzo Ball Soup with Large and Mini sizes with Spring Vegetables~ For Vegetarian serve with Vegetable Broth.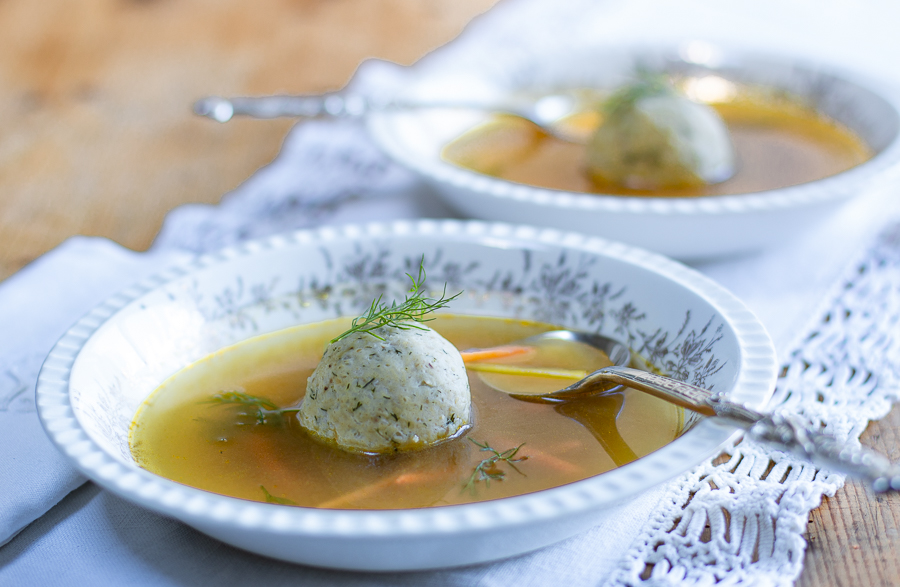 My foolproof recipe for tender and tasty Matzo Balls for Passover or anytime!
The Matzo Balls sit in a rich chicken broth with julienned carrots and fresh dill sprigs.
Main Course: (Got Brisket? ~ Add some Chicken & Fish main courses to the mix!)
This recipe has what you are looking for! Roast succulent pieces of chicken, seasoned perfectly with the addition of allspice – with hints of cloves, cinnamon and pepper. Chock full of ingredients – as you can see! Brimming with Colorful Heirloom Carrots, Shallots, Prunes and Garlic and the most delicious Balsamic-Rosemary Sauce… or should I say gravy?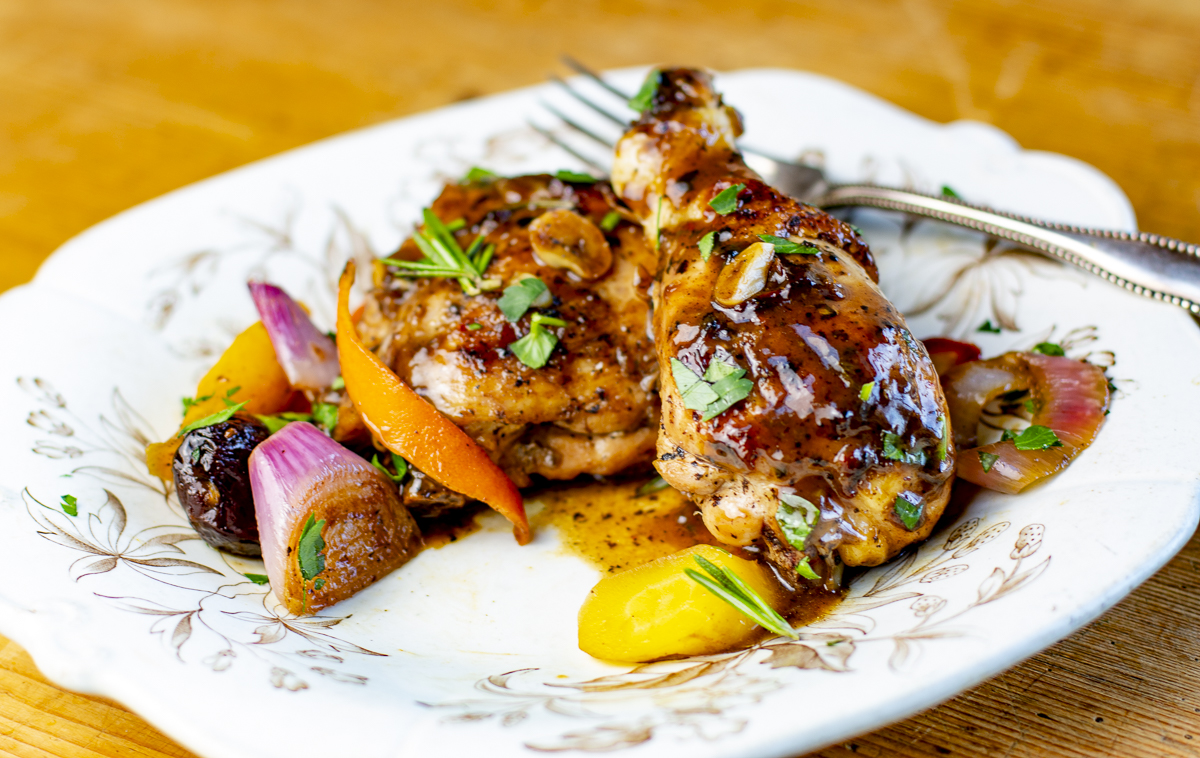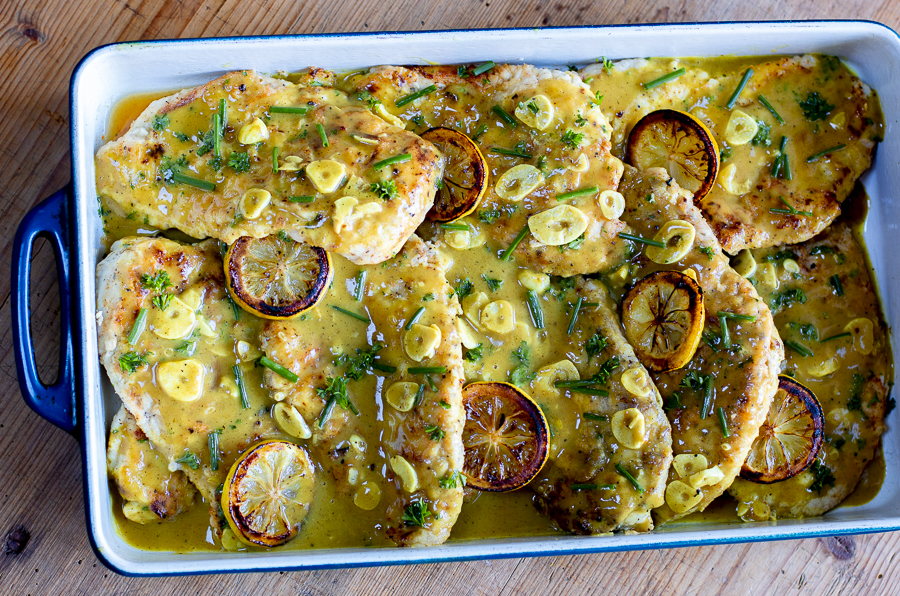 Easy to make gluten free and for Passover using matzo cake meal.
The chicken is very tender, coated with a zesty lemon butter sauce. (Can use vegan butter and matzo cake meal to coat.)
In the style of French "Francaise" ~ this is an updated version, a recipe every cook should master!
Ok – a little modern for the Seder table… lovely flavors and perfect for the eight days of Passover. (Recipe contains yogurt – can try a vegan yogurt too.)
Healthy and Oh-So Colorful! A Zesty But Light Sauce enriches many recipes and perfect with my Grilled Chicken Skewers.
One of my favorite and most flavorful way to cook salmon – is on a cedar plank.
Quickly stir up Gremolata topping: Lemon Zest & Juice, Olive Oil, Pistachios, Tarragon, Lavender and Garlic.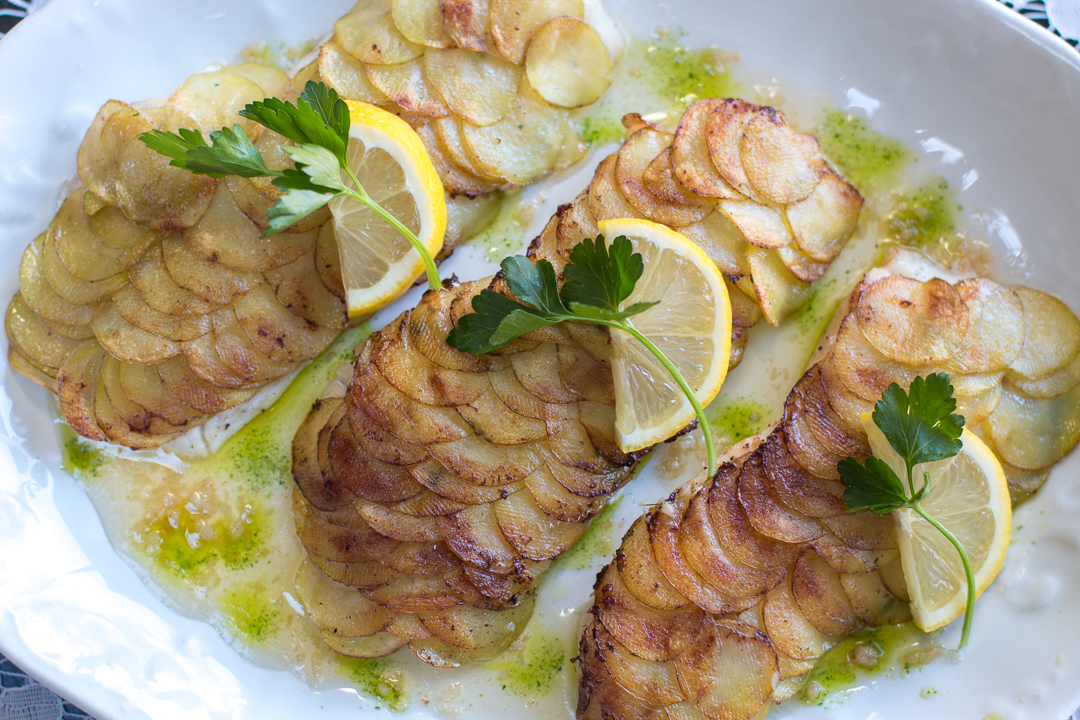 An elegant way to prepare fish – try my foolproof recipe to cook this classic dish. Paul Bocuse, the father of French gastronomy inspired the dish… I have added a wonderful Brown Butter-Garlic Drizzle with Parsley Oil.
I chose Black Sea Bass Fillets – try any firm fish fillet. (Can use vegan butter.)

Sensational Sides: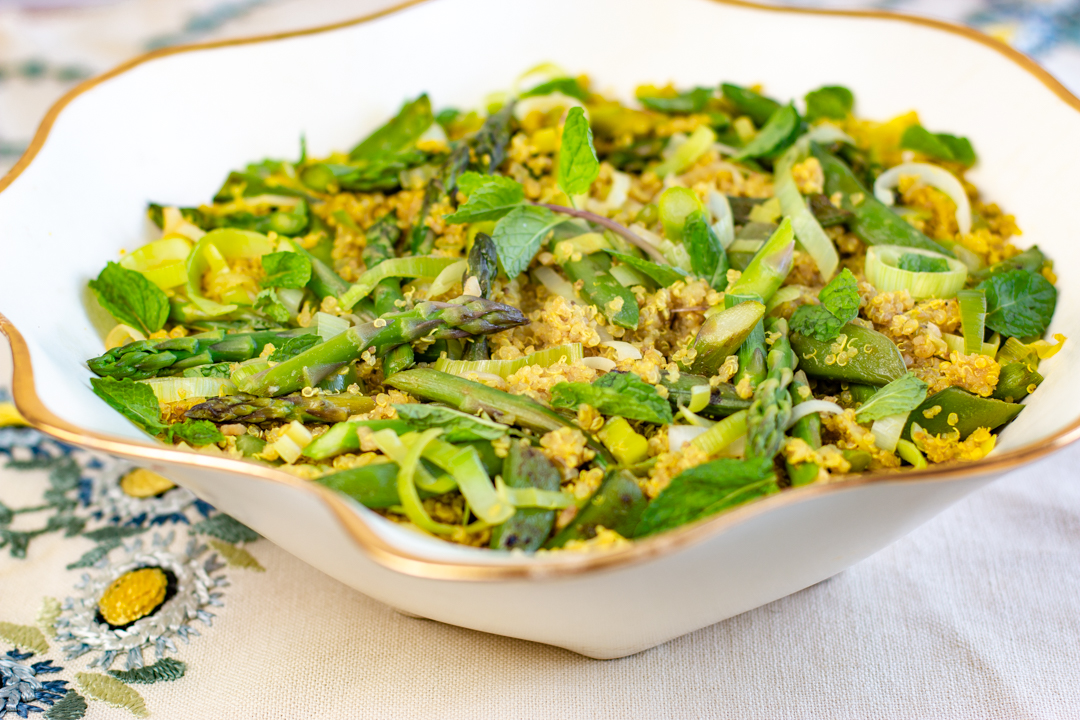 A nice healthy addition to your Seder and the next 8 days!
Can also use your favorite vegetables.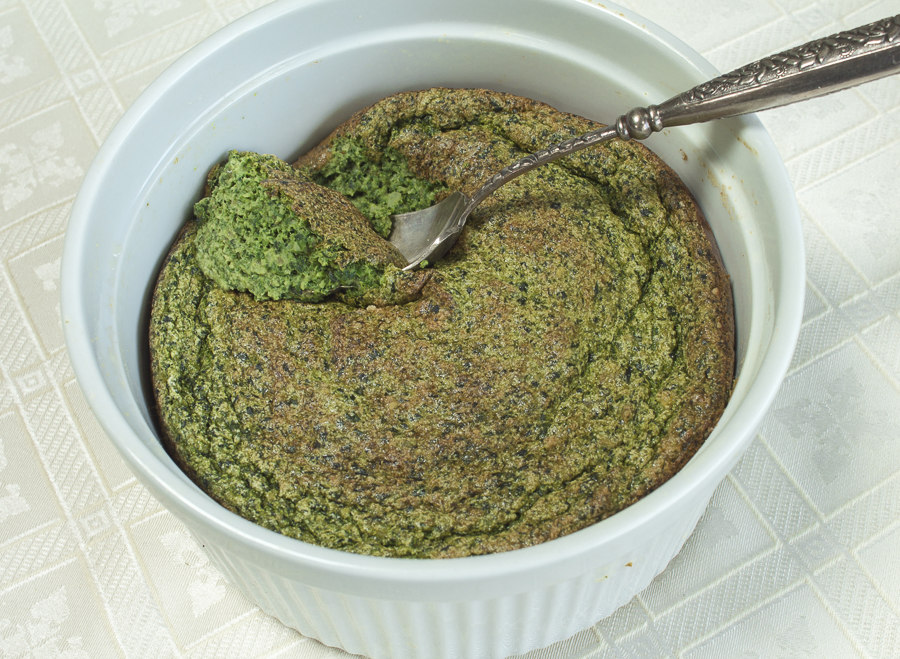 You have got to make this!
A healthy and light Passover Side Dish (not heavy!) – a flavorful addition to your Seder table.
A light, colorful and healthy side dish for year-round too! – Vegetarian, gluten-free and dairy-free.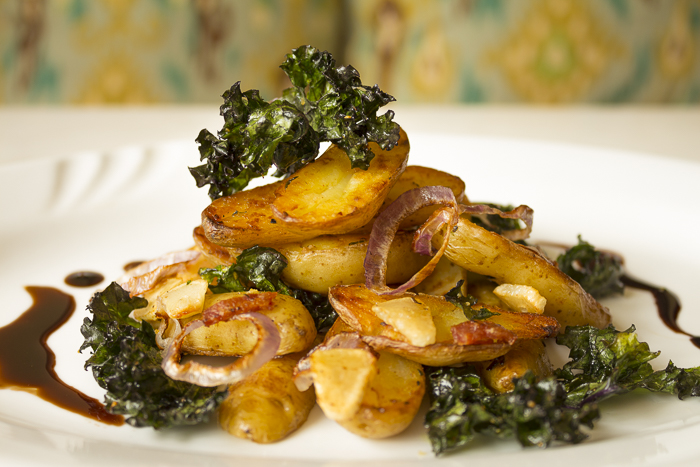 If the weather's good – make this one outdoors! The ultimate grilled potato side dish. Perfectly seasoned with caramelized shallots and garlic… and kale that comes out crispy! Can also cook in the oven.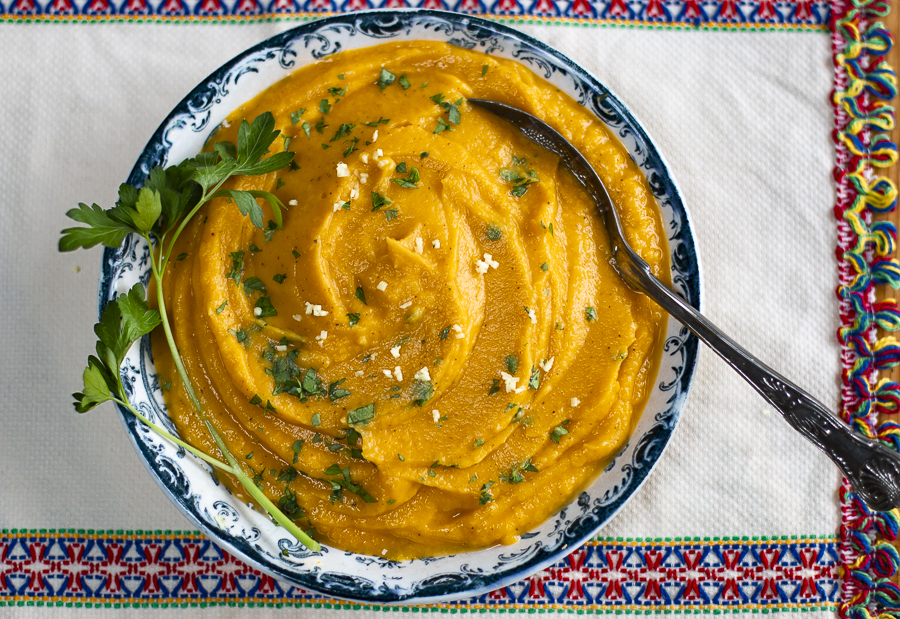 I serve this side-dish year round!
Delicious and creamy – chock full of nutrients  Simple to prepare, just 3 main ingredients! – plus salt & pepper and parsley.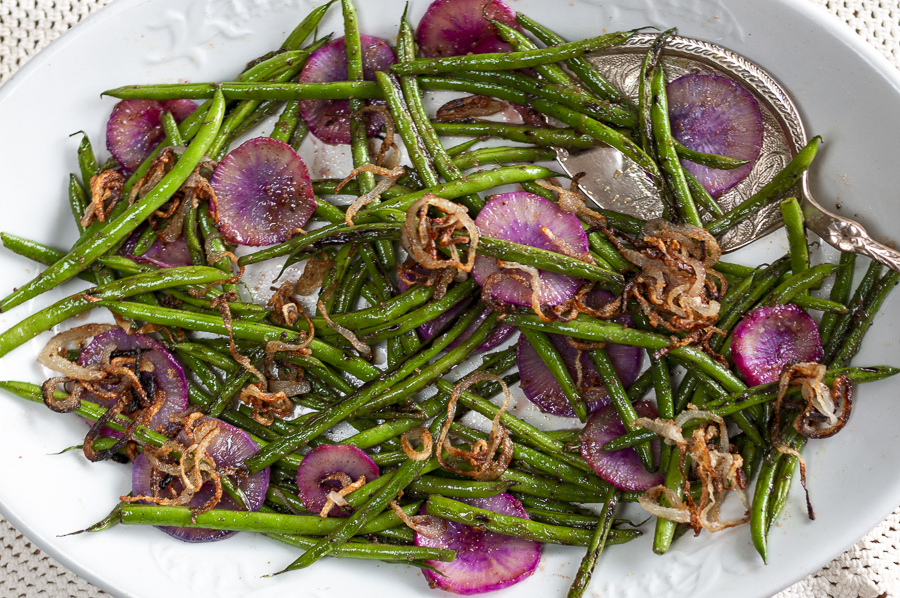 Beautiful flavors and colors ~ the radishes take on a magenta hue when cooked.
Sauté Haricot Verts in a hot skillet to blacken the edges. Add Sliced Radishes and a quick stir in of Miso, Lemon Juice and Pure Maple Syrup. All tastes delicious with Pan-Fried Shallot Rings on top!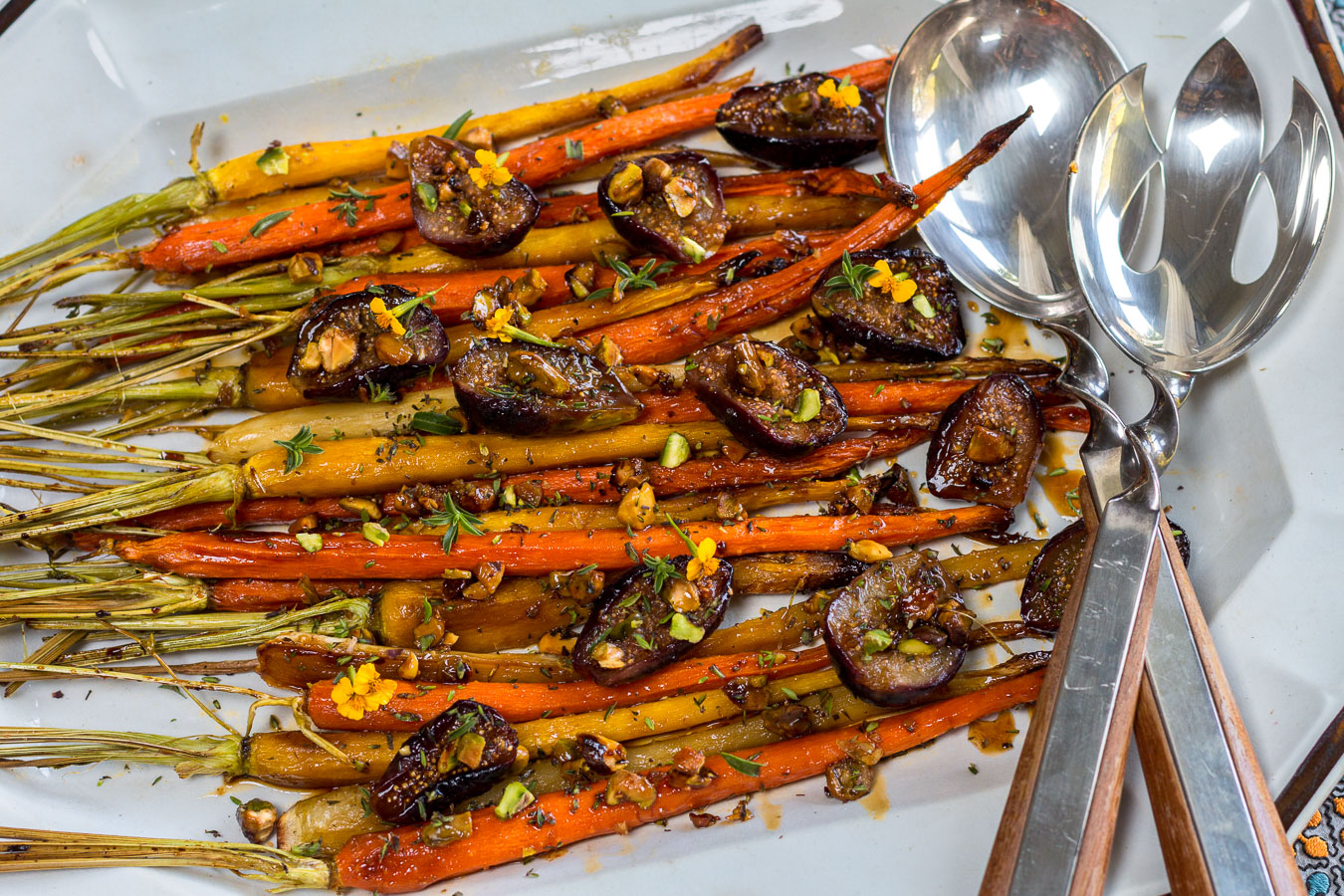 Carrots caramelize with the figs with a delectable just-sweet-enough glaze…  all roasted in one pan.
A Vegan recipe.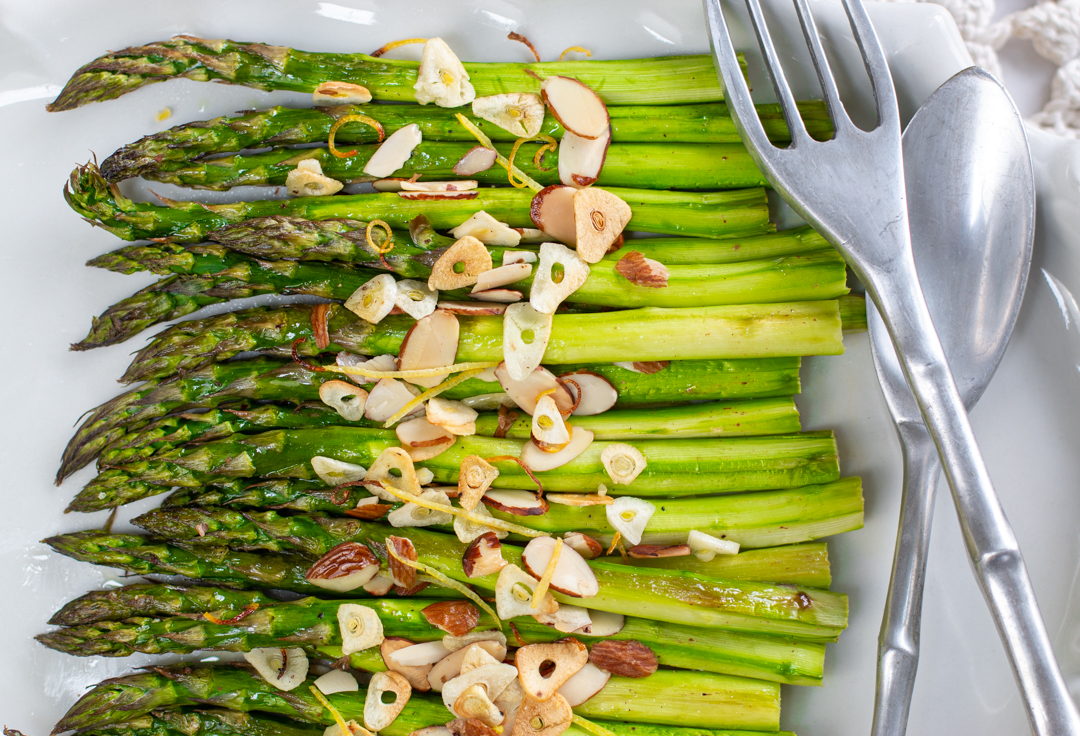 Easy roasted asparagus is done in just 10 minutes.
Roasting heightens the vegetable's flavor – and the toppings add a nice crunch and some nutty & zesty flavor!
How about a Salad?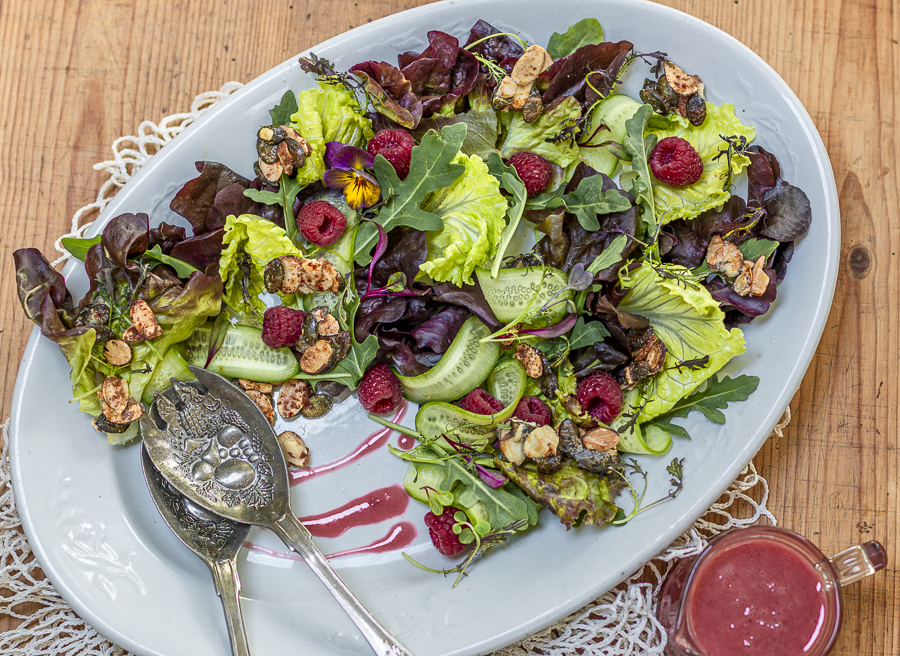 I'm happy when a Creative salad is served on the Passover Buffet!
Crispy, Crunchy & Sweet ~ a brilliant, colorful, healthy salad… make place at your Thanksgiving table for this treat! Make the dressing ahead and adorn with my Nut and Seed Crunch (see recipe.)
To Start:
The perfect Latke recipe, crispy on the outside, tender inside. Serve with my homemade pink applesauce.
Easily adaptable for Passover ~ use Matzo Cake Meal in place of flour.
A luxury at Passover – gravlax can be made days ahead and sliced when you need it. Who can resist this? 
Gravlax is quite simple to prepare – brined with Vodka, Citrus Juices, Grated Beets, Dill, Sugar, Salt and Pepper. Weighted down, the gravlax is ready in two days – slice when ready to enjoy.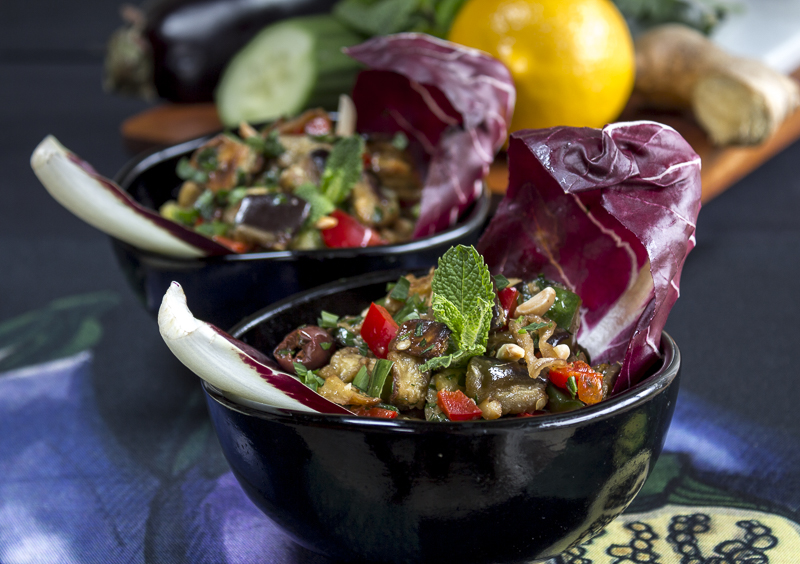 Perfect served with matzo as an appetizer! Snack on the entire week! 
Caramelized Roasted Eggplant teams up with Peppers, Cucumbers, Olives, Parsley, Mint, Toasted Almonds, Crispy Shallot Rings and a Zesty Meyer Lemon-Ginger Dressing – A Healthy Mediterranean Twist!
Snack on This:
Prepare yourself for the crispiest, crunchiest, most delectable granola you've ever had.
Kosher for Passover and gluten-free, too!
Dessert Time:
Bakery-style bars from my kitchen to yours – the base of the bars is a short crust made with matzo cake meal, it's a fine grind.
Who can resist tangy, zesty lemon bars? These are that good… especially at Passover – they taste just like the real deal. Adding sweet and colorful pistachio nuts adds a little interest and sophistication. Top with my Candied Lemon Rind for a final touch.
My favorite Macaroon with a crispy exterior with a chewy and tender interior.
A beloved dessert at Passover ~ also for anytime… A fabulous year-round Gluten Free Cookie. The honey gives them a little more golden color while baking.
There's something nice about ending a big meal with a dessert infused with mint!
This Vegan Ice Cream is Creamy, Delicious and Refreshing!! A natural "Ice Cream" that's irresistible!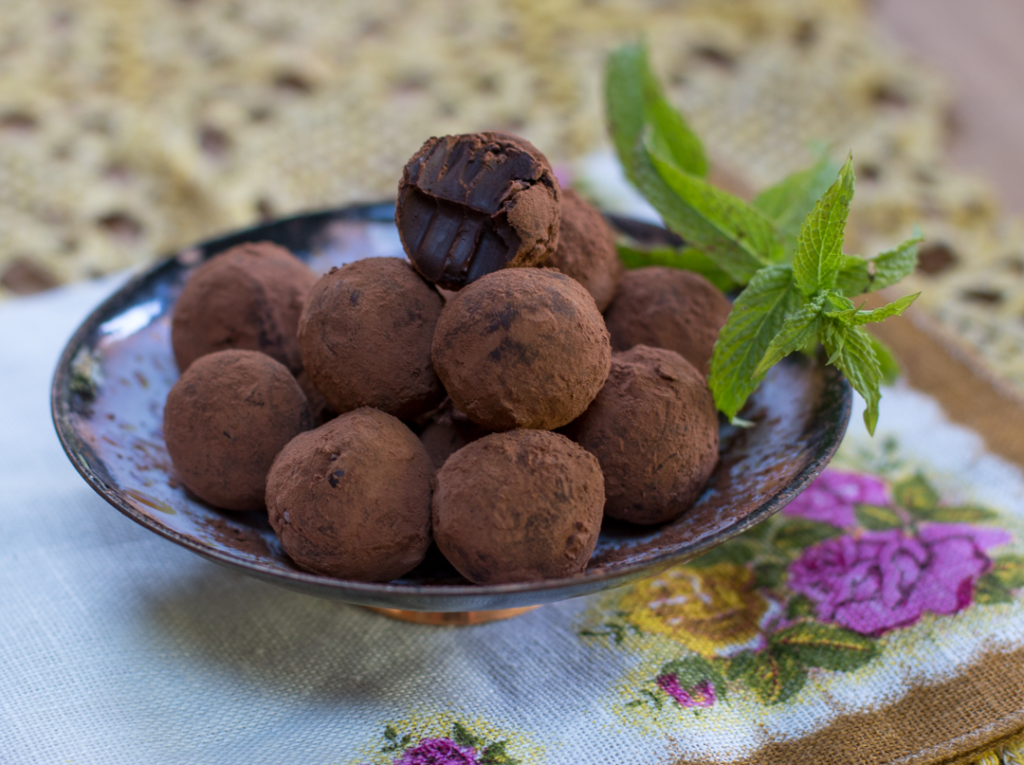 These delectable, creamy truffles are truly all-natural with Fresh Mint from my garden.
Coconut Milk swaps in for heavy cream for a lighter, vegan treat. Cacao nibs adds a little crunch.
Happy Passover to all!
Karen

Passover Quinoa Pilaf with Asparagus, Sugar Snap Peas & Mint
The perfect Side-Dish for all you holiday main courses.
Print Recipe
Pin Recipe
Rate this Recipe
Ingredients
2

cups

white quinoa

Kosher for Passover if needed

1

tablespoons

extra virgin olive oil

1

whole

large onion

3 cups peeled and thinly sliced

1/4

teaspoon

ground turmeric

3 1/2

cups

vegetable broth*

1

tablespoon

extra virgin olive oil

3/4

pound

fresh asparagus

trimmed, cleaned and dried

1 1/2

cups

sugar snap peas

strung, cleaned and dried

1

cup

leeks

whites & light greens, cleaned well; thinly sliced

2

tablespoons

fresh garlic

peeled and minced

2

pinches

sea salt & pepper

1/4

cup

fresh mint leaves
Instructions
Make the Quinoa with Onions:
Rinse quinoa in a fine mesh colander, set aside. Add 1 T. evoo to a heavy 3 quart pot. Raise heat to medium low. Add the sliced onion and sauté until softened and just a touch golden; about 10 minutes. Add turmeric, stir in. Add the broth and bring to a boil.

Add the rinsed quinoa to the pot, give a big stir; cover and lower to a bare simmer. Cook until the broth is absorbed and the quinoa is tender, 12 - 15 minutes.
Cook the Vegetables for the Pilaf:
As the quinoa cooks - cut each asparagus spear into 3 even pieces - slice on the diagonal. Cut large sugar snap peas in half, leave smaller ones whole.

In a 12" skillet (I used ceramic non-stick) add 1 T. evoo and raise heat to medium. Add the asparagus and sugar snaps. Cook, stirring until they start to turn a brighter green, about 3 minutes. Add the leeks, garlic, salt & pepper and stir in and cook 1 minute more. Add 1 tablespoon water and cover the pan. Cover for just 2 minutes until the vegetables are cooked through, yet still bright green and tender-crisp. Uncover immediately.

Fluff the quinoa and uncover.

Add quinoa to a large serving bowl or casserole dish to fit. Add the vegetables and all the mint. Give a stir and serve. Garnish with sprigs of mint if desired.
Notes
*Use homemade vegetable broth or try Better than Bouillon Organic Vegetable Base.
The Pilaf can be gently reheated in a microwave oven on "reheat setting", or in a 350 degree oven, covered, until just warmed. Add extra mint on top when serving.  
This recipe can not be reproduced without the consent of its author, Karen Sheer.
Nutrition Facts
Passover Quinoa Pilaf with Asparagus, Sugar Snap Peas & Mint
Amount per Serving
% Daily Value*
* Percent Daily Values are based on a 2000 calorie diet.
Karen Sheer