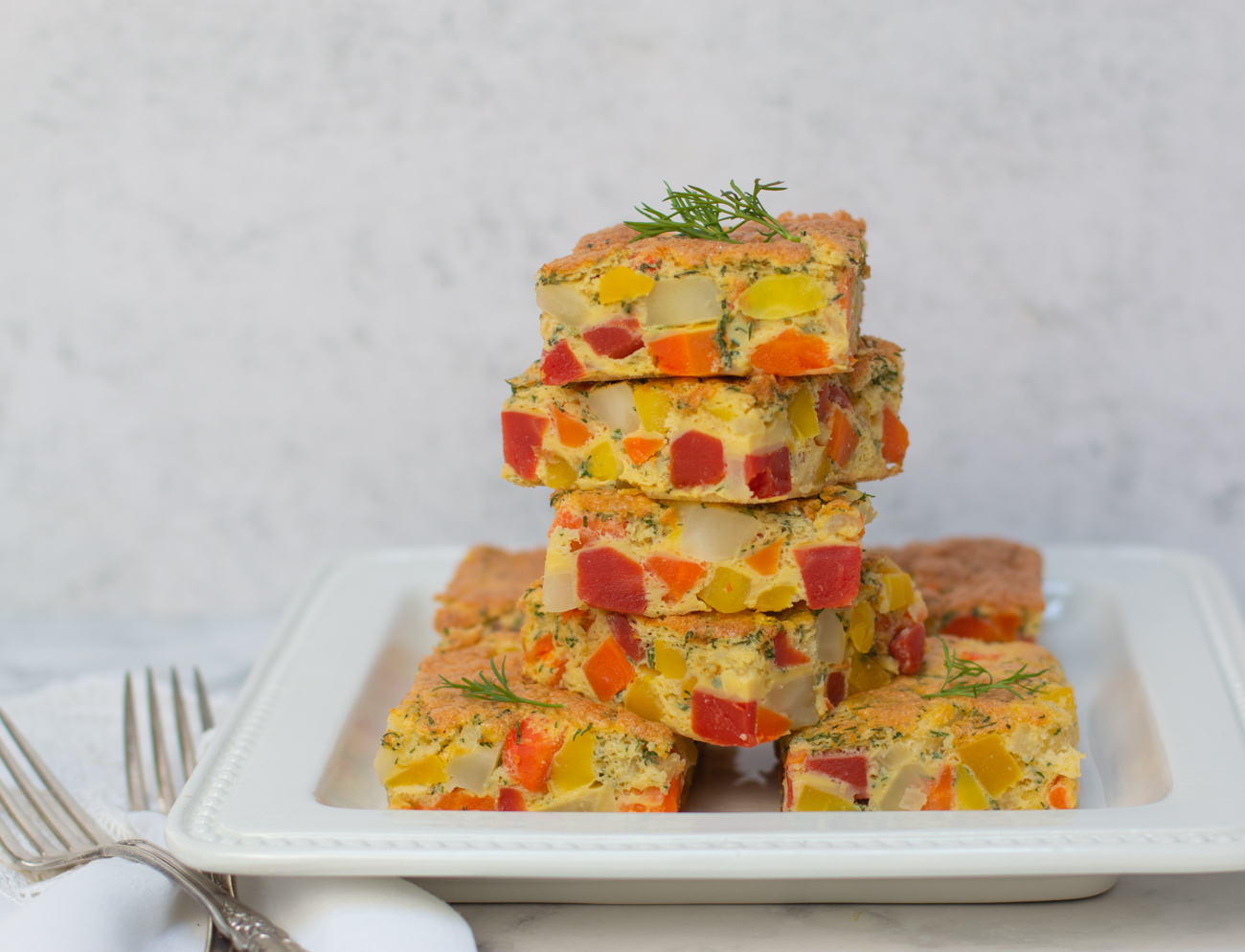 Karen's Mosaic Carrot Kugel with Dill
A Delicious Veggie Side-Dish for Passover, Easter or anytime!
A light soufflé-like kugel studded with colorful carrots that creates a mosaic look that's stunning!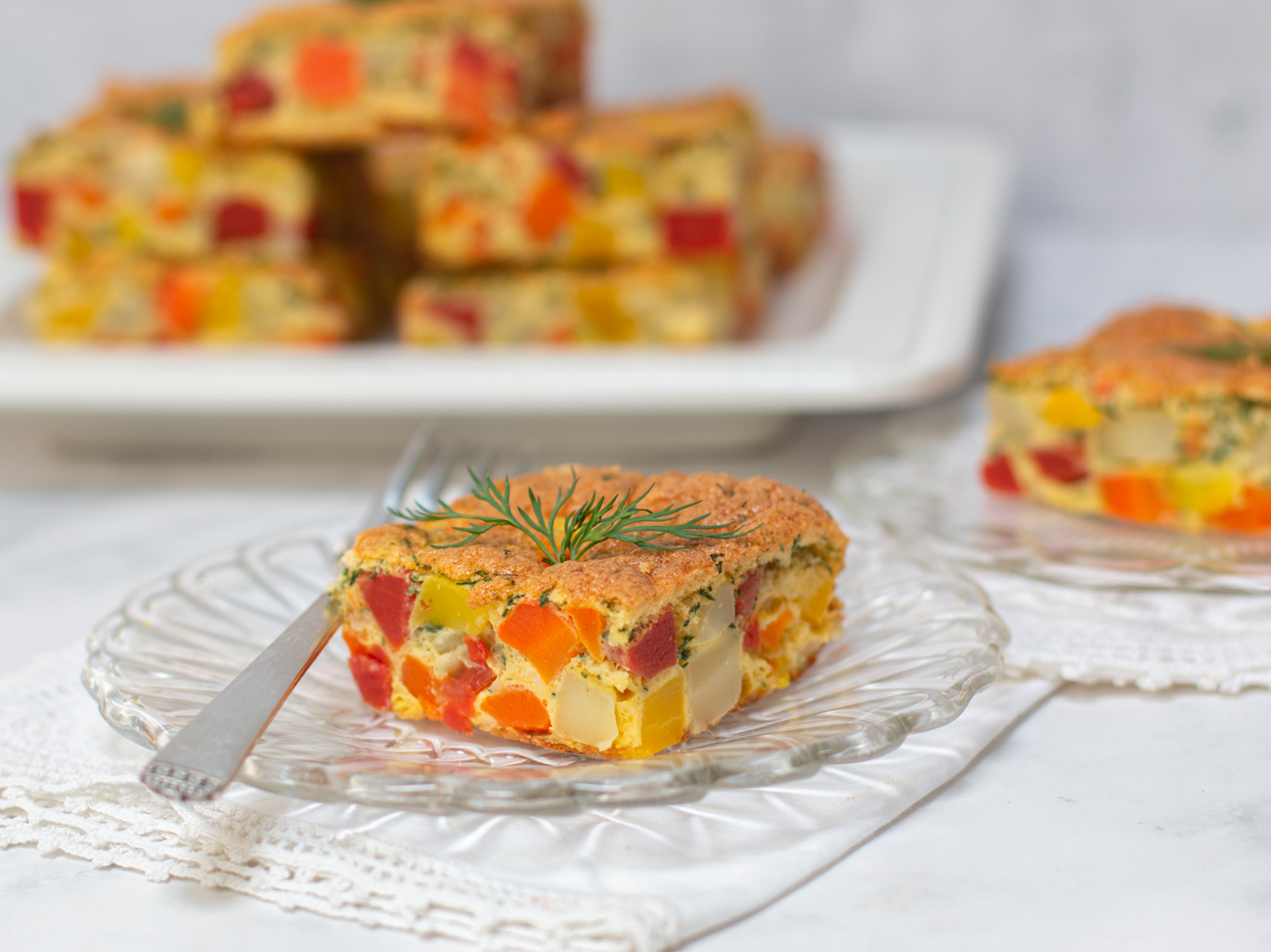 WOW-Factor! A pretty simple recipe that produces a stunning kugel casserole – you cut in squares.
The texture is light and airy – eggs surround the carrots (that are cubed 1/2″) – dill is added for flavor and color contrast.
Quite simple to prepare – gather Colorful Heirloom Carrots; they are naturally sweet and can be found in a plethora of colors.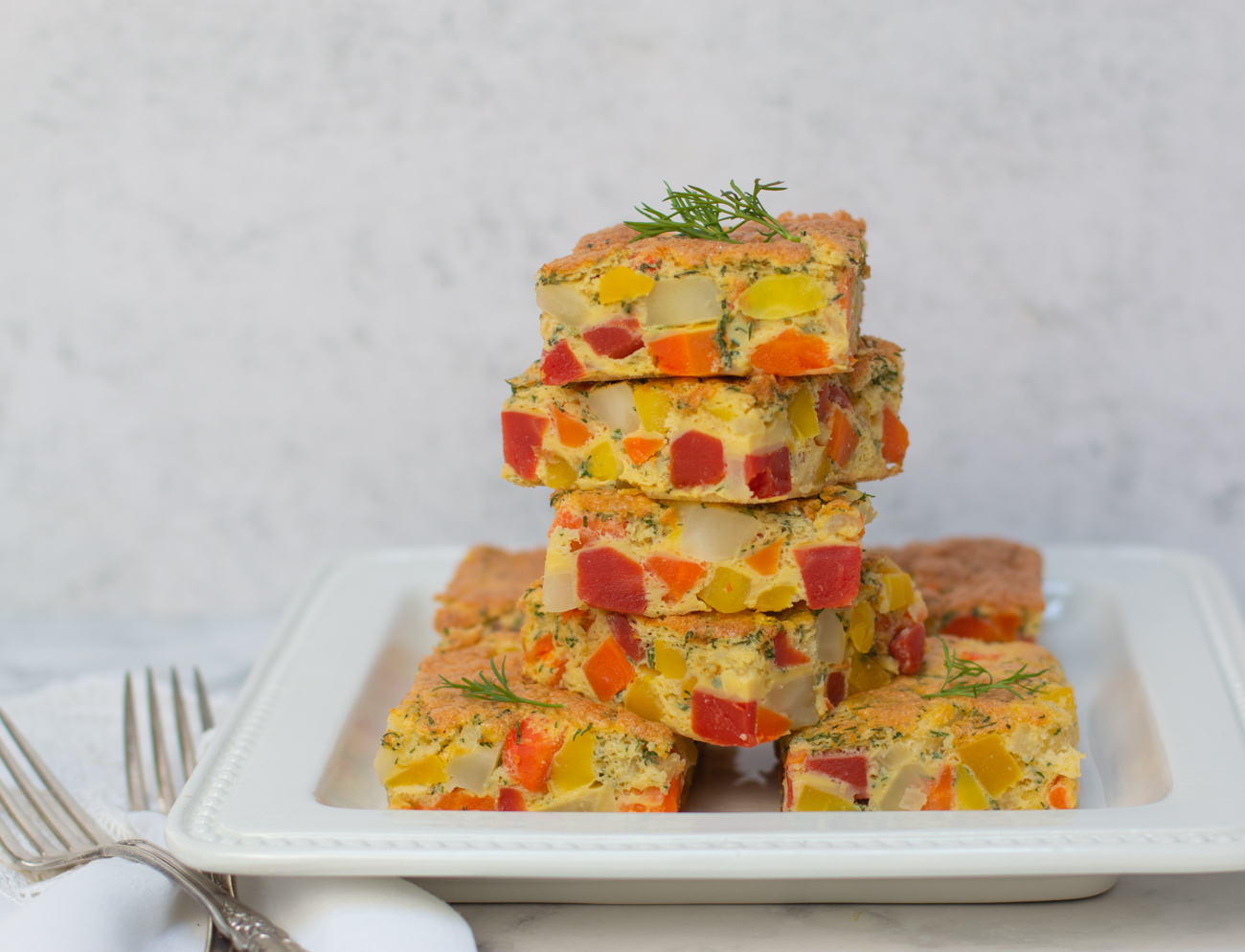 A beautiful way to serve the Carrot Kugel – stack the warm squares up high.

If you are serving this dish for Passover – it's Parve (contain neither dairy nor meat ingredients) and Gluten Free.
The perfect side-veggie accompaniment to the Seder meal. It's loaded with carrots – 3 1/2 pounds!
So – What's a KUGEL?
A Kugel is a baked pudding casserole – with noodle kugel being the most popular.
Traditionally an Ashkenazi dish, Jewish Noodle Kugel is loved by everyone lucky enough to taste this delicacy.
This traditional Jewish side dish is typically served during Shabbat and Jewish holidays. Chabad says that kugel resembles manna from heaven, which nourished the Jews
Can be sweet or savory! My Carrot recipe is savory
Derived from the German word for sphere
Originally, kugel was a very savory dish. It is said to be originated in Germany in the 12th century
There are too many varieties of kugel to count!
A kugel is believed to bring good luck and blessings
Even if you're not Jewish, I highly recommend trying kugel!!
It can be served either as an appetizer or a side dish accompanying a meal. I think it is also the perfect brunch or lunch dish


My kugel is custardy – some egg whites are beaten and added to the mixture to create a light and airy Kugel – not typically heavy!

How this recipe came to be:

I wanted to create a Kugel that was light, brimming with veggies without Matzo Meal. There is enough matzo included in many Passover Seder recipes (matzo balls – gefilte fish.. and matzo itself!)
So ~ I started with some beautiful multi- colored carrots (which are now easy to find), and used 3 1/2 pounds which filled the 9 x 13 pan by more than half. Four Eggs whites need to be whipped to add lightness. Freshly chopped dill adds a color contrast and flavor. Just 1/3 cup potato starch adds stability to the kugel so it sets properly.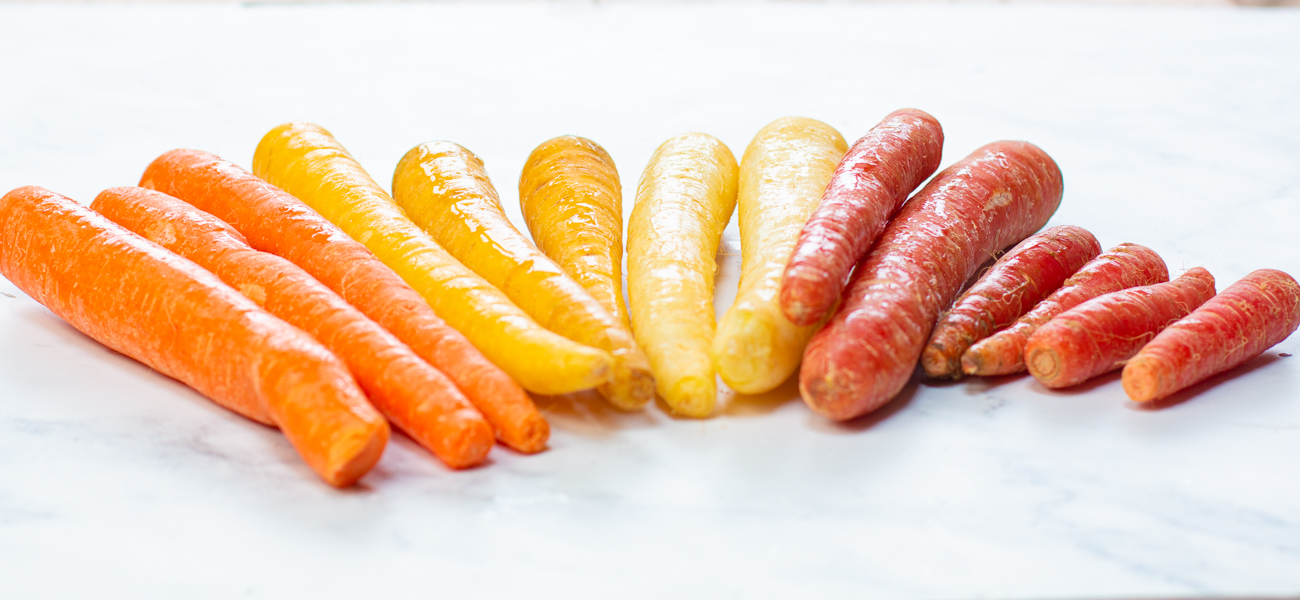 A Rainbow of Nutrition and Taste:
It is encouraging that we are starting to see more heirloom varieties returning to the marketplace, because these beautiful colors don't just brighten up your party platter or recipes, the same compounds that give each carrot its unique color also offer us some pretty sweet nutritional benefits.

With only 41 calories in 1/2 cup, this delicious food is packed with health benefits
Orange carrots are well known for their beta-carotene content, while yellow carrots contain another carotene called lutein. Red and purple carrots provide additional carotenes, all of which can help prevent cancers and heart disease when we regularly consume these colorful foods
They're high in fiber and rich in potassium, vitamin C, and vitamin K. However, each individual color contains a specific set of phytonutrients (antioxidants) which offer slightly different nutritional benefits. 
They're a great source of vitamin A.  1/2 cup of carrots contain a mere 41 calories.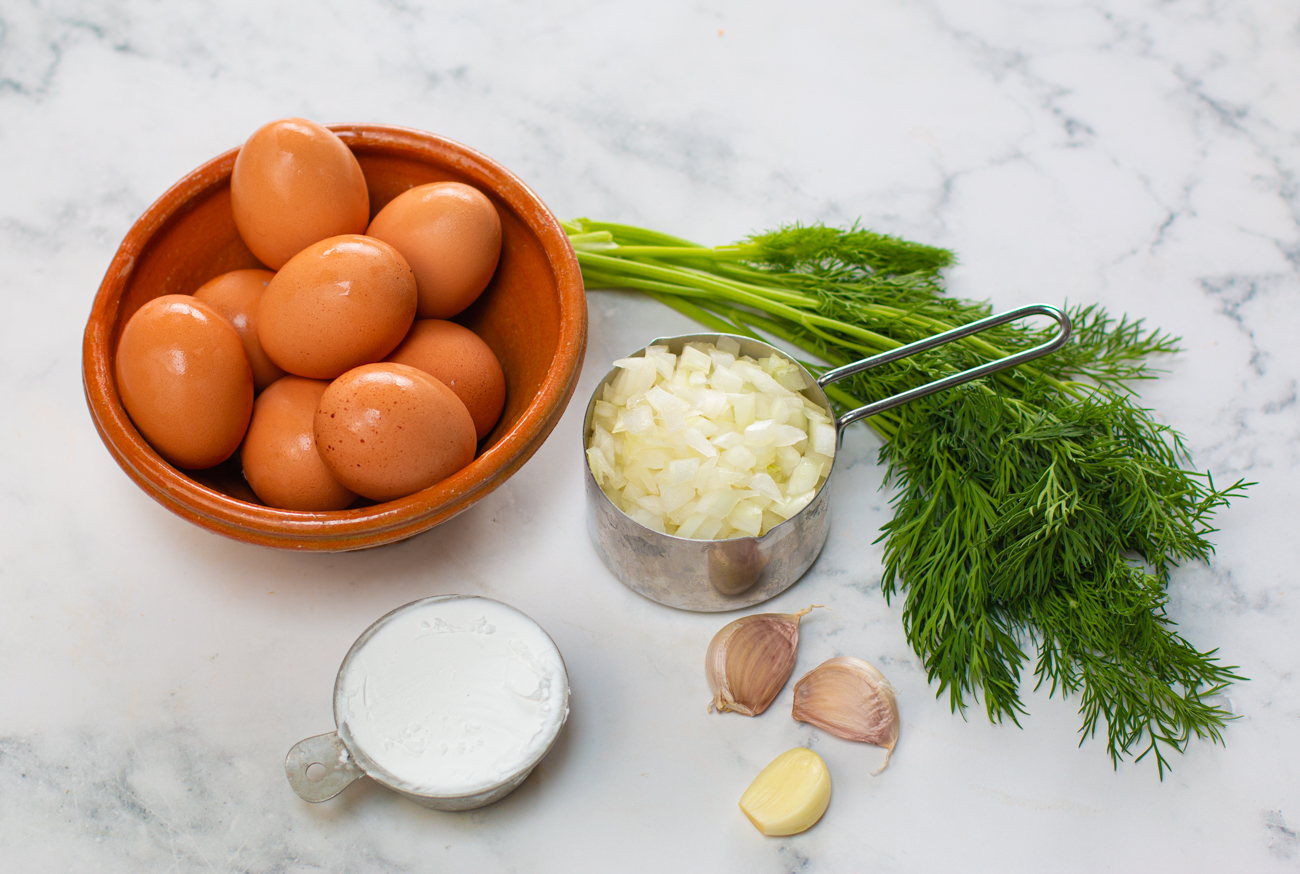 You will use 3 1/2 pounds carrots (almost 7 cups diced) – about 12 large. I use 3 orange, three yellow, three white and three red.
Other ingredients: eggs (I use pasture raised with their gorgeous orange yolks), sweet onions, garlic, oil, dill and potato starch.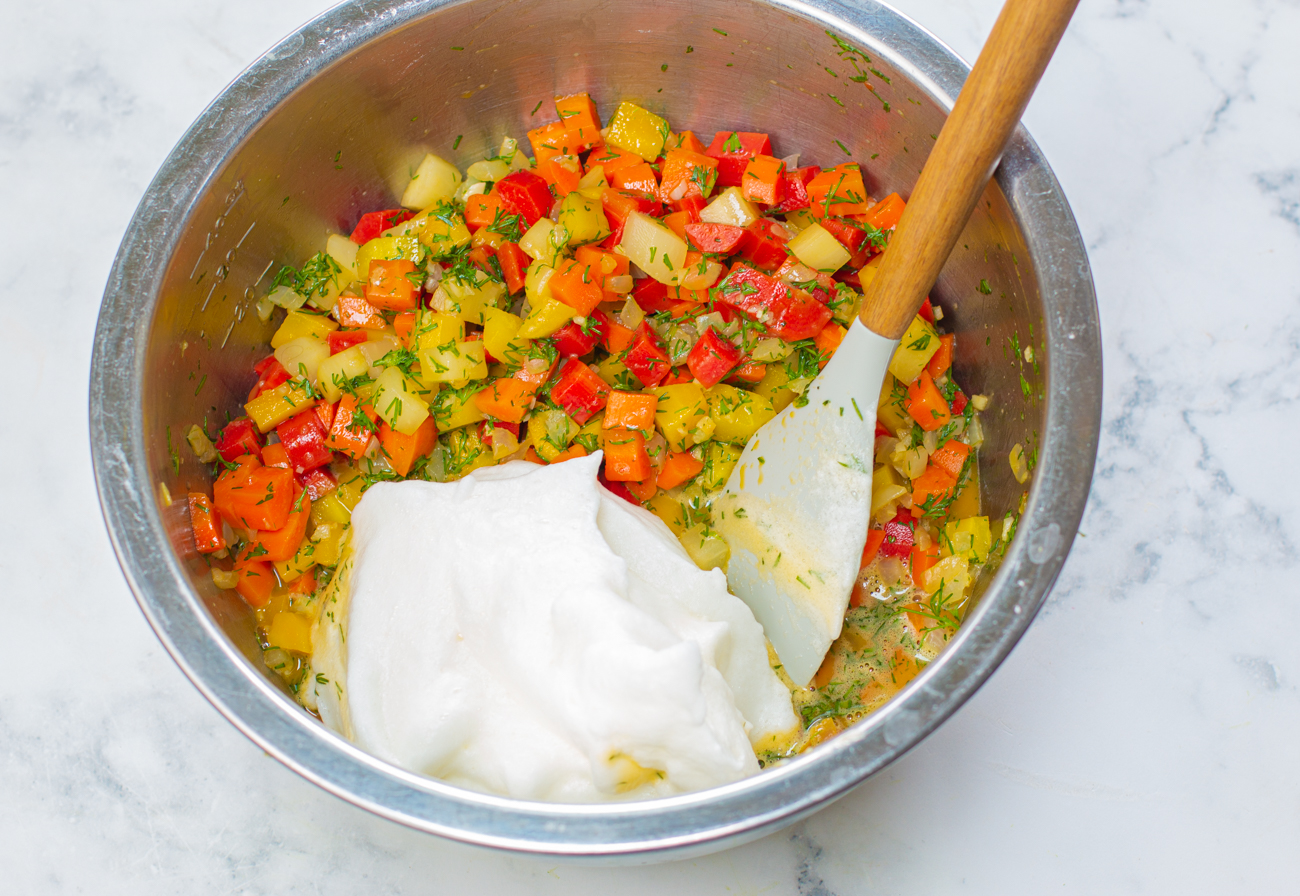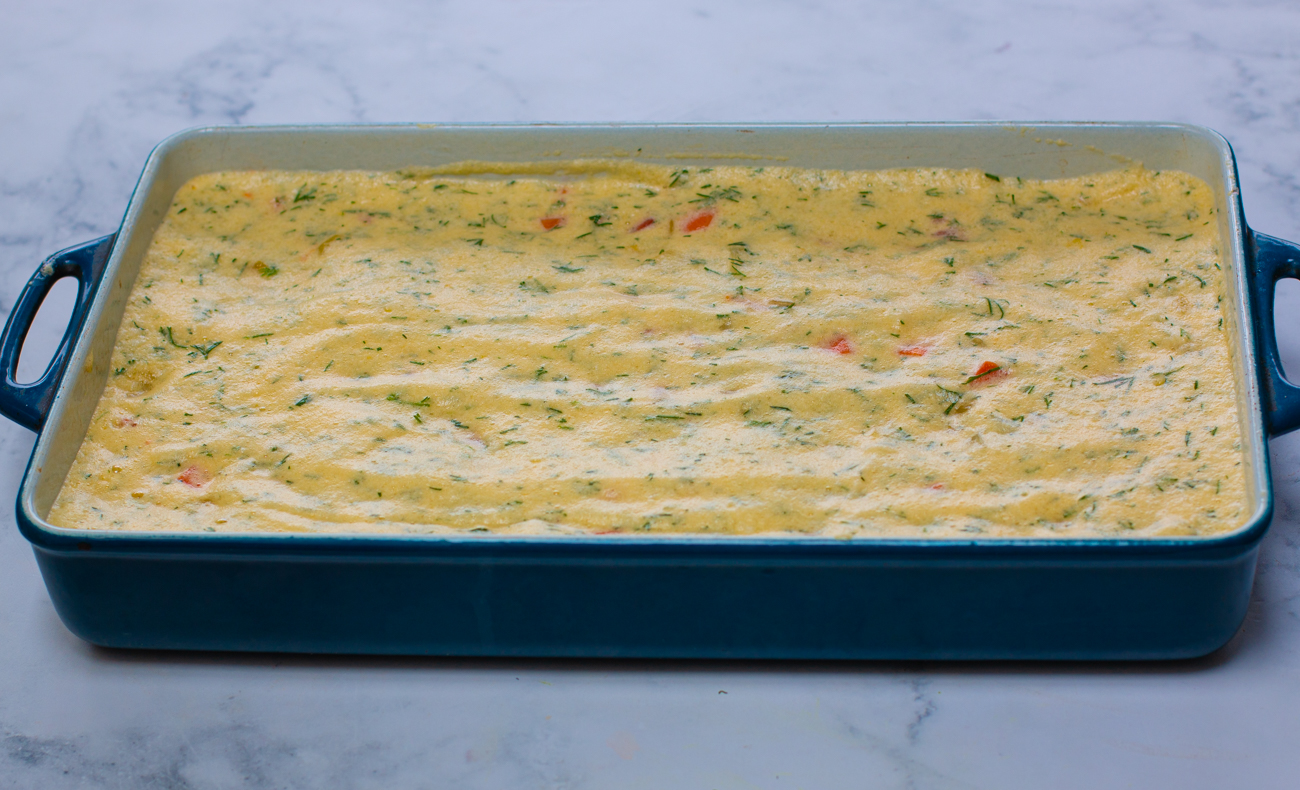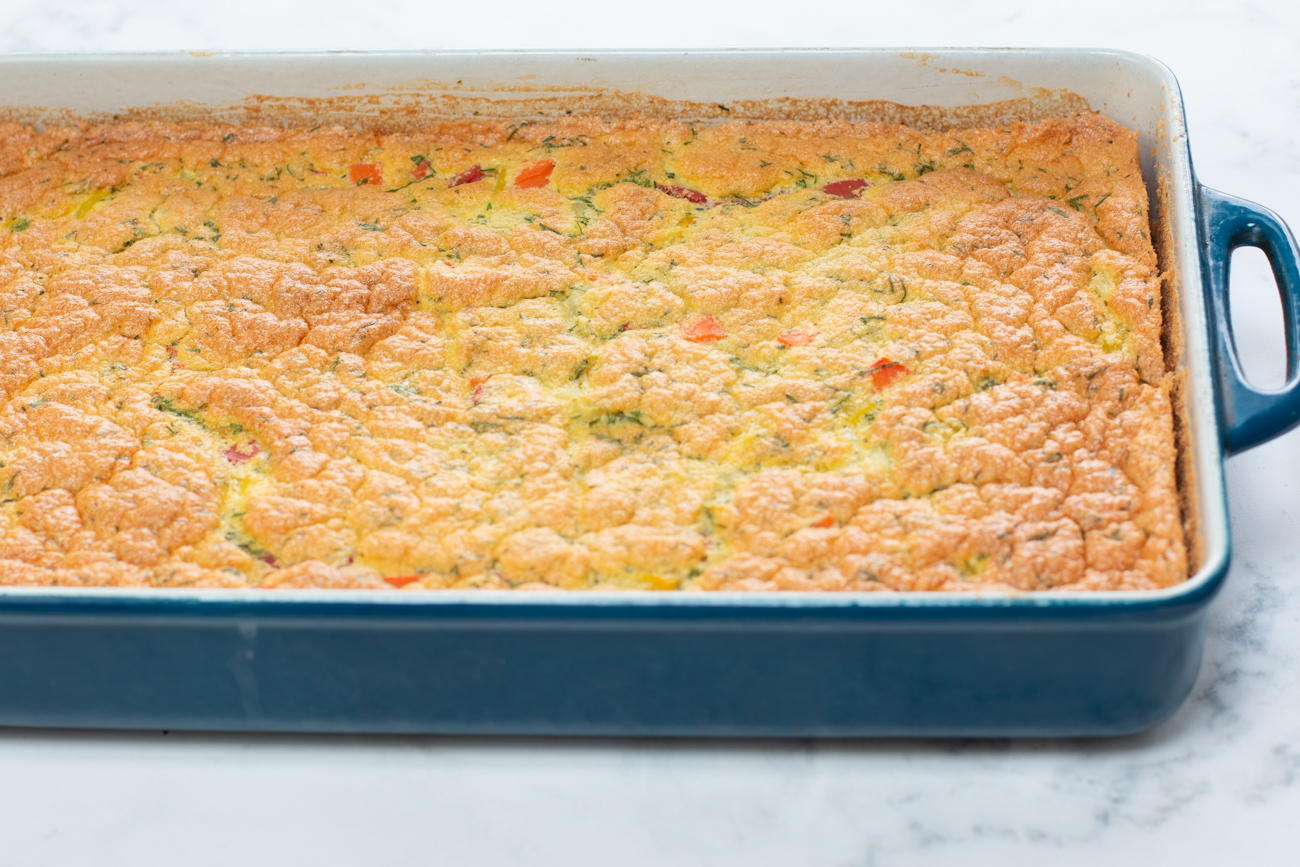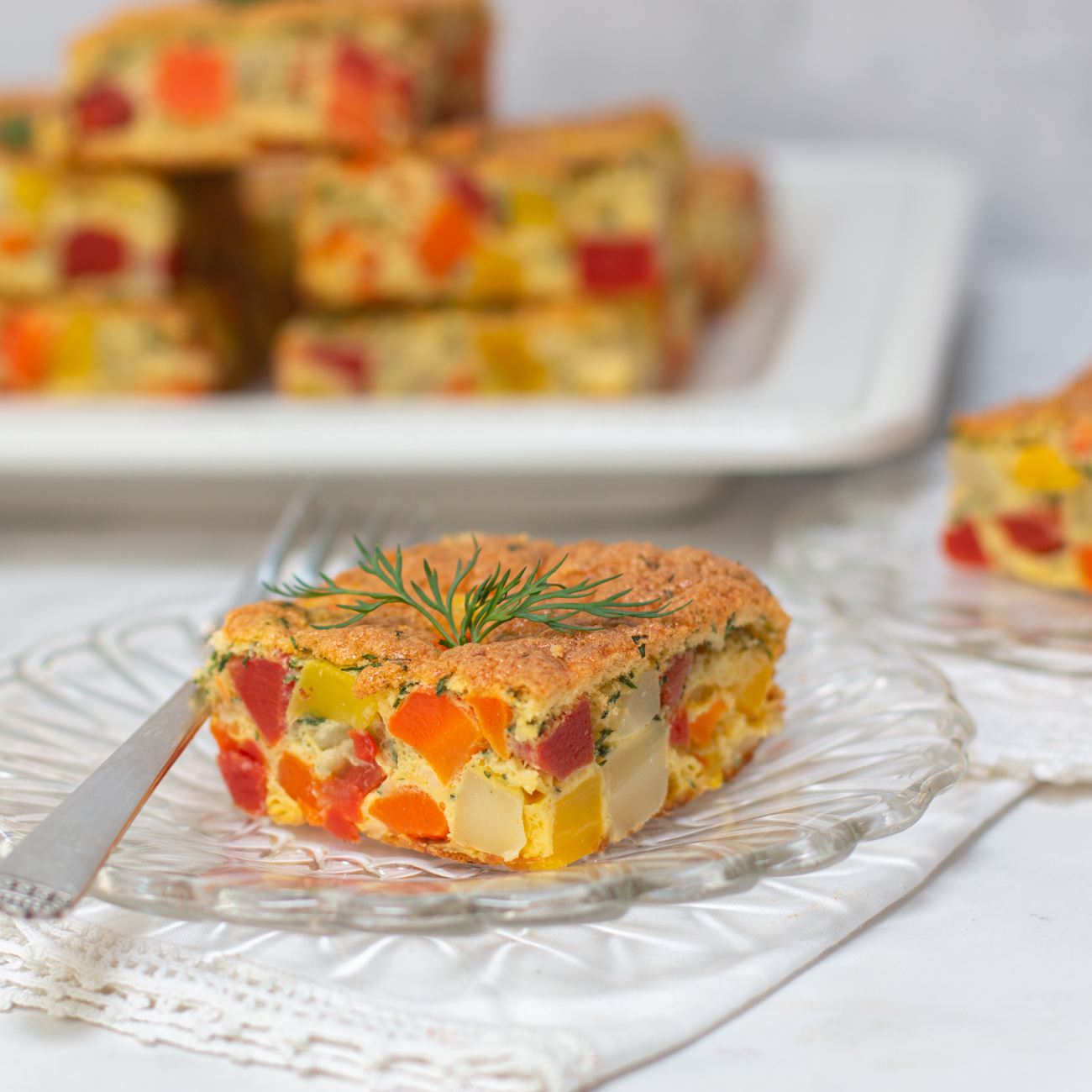 Enjoy this special Kugel!
Let me know hat you think!
Karen
Karen's Mosaic Carrot Kugel with Dill
A Delicious Veggie Side-Dish for Passover, Easter or anytime!A light soufflé-like kugel studded with colorful carrots that creates a mosaic look that's stunning!
Print Recipe
Pin Recipe
Rate this Recipe
Ingredients
3 1/2

pounds

heirloom multi-colored carrots

about 12 large; orange, white, yellow & red

2

teaspoons

neutral oil

1

cup

sweet onion

(such as Vadalia) peeled: small dice

1

tablespoon

minced fresh garlic

(can cut down ids you like)

8

large

eggs

I use pastured raised (4 you will separate)

1/3

cup

potato starch

1

teaspoon

sugar

(can omit, but I like)

2

tablespoons

neutral oil

1 1/4

teaspoon

sea salt

1/2

cup

chopped fresh dill
Instructions
Preheat oven to 350 degrees. Oil a 9" x 13" baking pan. Grease liberally with oil.

Peel and cut carrots into a 1/2 inch dice - try to make uniform sizes. Steam carrots over simmering water in a steamer basket for 5 minutes. Carrots will be only very partially cooked. Remove from steamer and cool.

In a 8 inch skillet, add 2 teaspoons oil, set heat to low. Add onions and garlic and cook, stirring until softened, 5 minutes: do not brown.

In large bowl add FOUR eggs, the onion mixture, potato starch, sugar, 2 tablespoons oil, sea salt and dill. Mix with a wire whisk until smooth.

Separate the next 4 eggs one by one. Add yolk into the large bowl - the whites in the bowl of a stand mixer. Whisk in egg yolks into the large bowl of ingredients. Whip the egg whites until soft peaks form.

Add the cooled partially steamed carrots to the large bowl. Stir all together with a rubber spatula. Add the egg whites in 2 additions. Use under-over strokes and blend gently until the whites have just been incorporated.

Pour the mixture into the prepared pan and smooth the top. Bake in the oven 20 minutes. Cover now with foil (will be lightly browned.) Cook another 10 minutes until set and cooked through. Cracked the door open 6" and leave to cool 30 minutes. Tale out of oven and cool completely.
Serving:
Cut into 15 squares. Can easily be reheated - 325 degrees covered until just warmed through. Can also be frozen, cut. Defrost in the refrigerator, then continue as above.
Notes
This recipe mayn't be reproduced without the consent of its author, Karen Sheer.
Nutrition Facts
Karen's Mosaic Carrot Kugel with Dill
Amount per Serving
% Daily Value*
* Percent Daily Values are based on a 2000 calorie diet.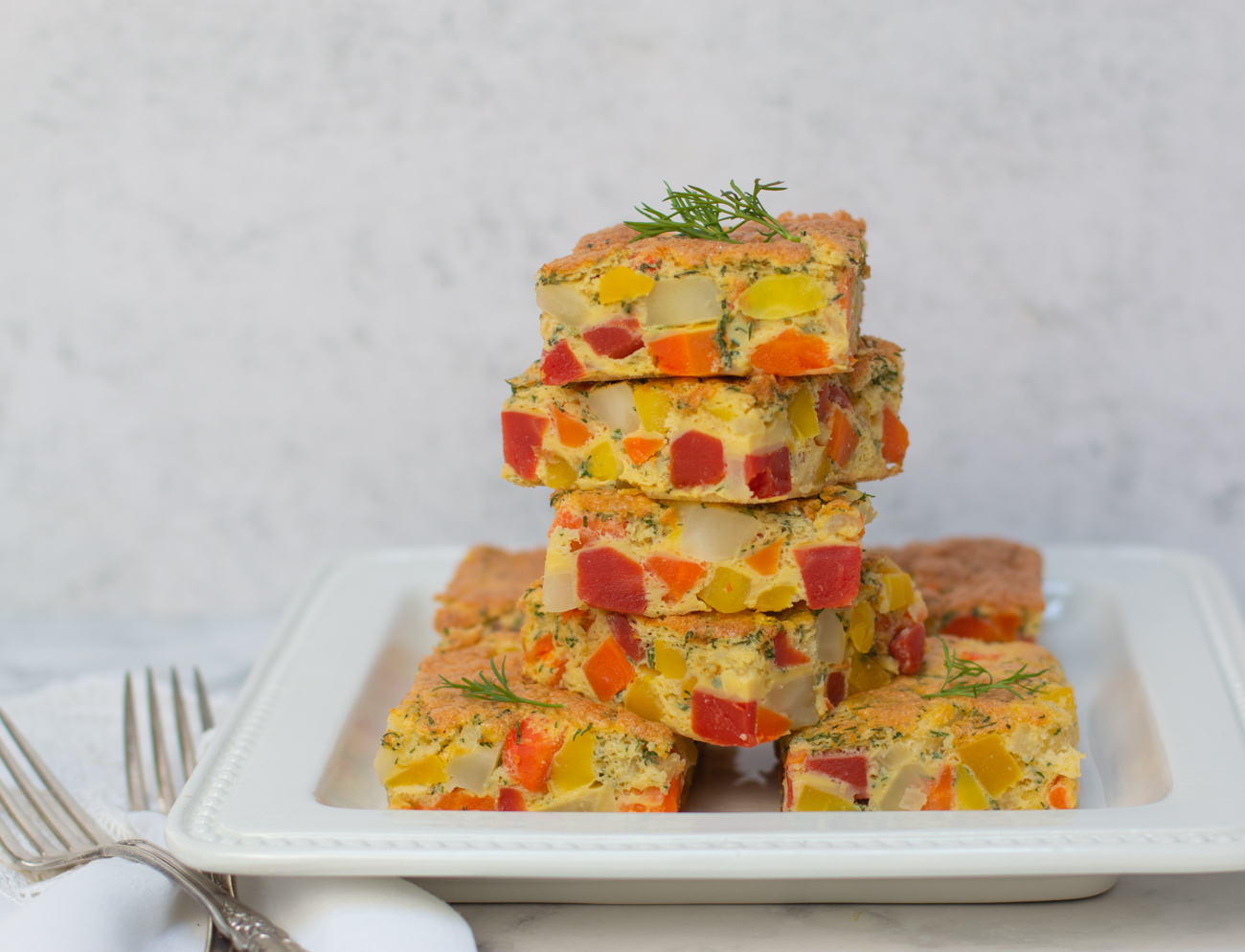 Karen Sheer