Cedar Planked Salmon with Pistachio-Tarragon & Lavender Gremolata
Cedar Planked King Salmon is an Easy Summer-Time Dish with a lush, smokey essence ~ the Flavorful Gremolata takes only minutes to prepare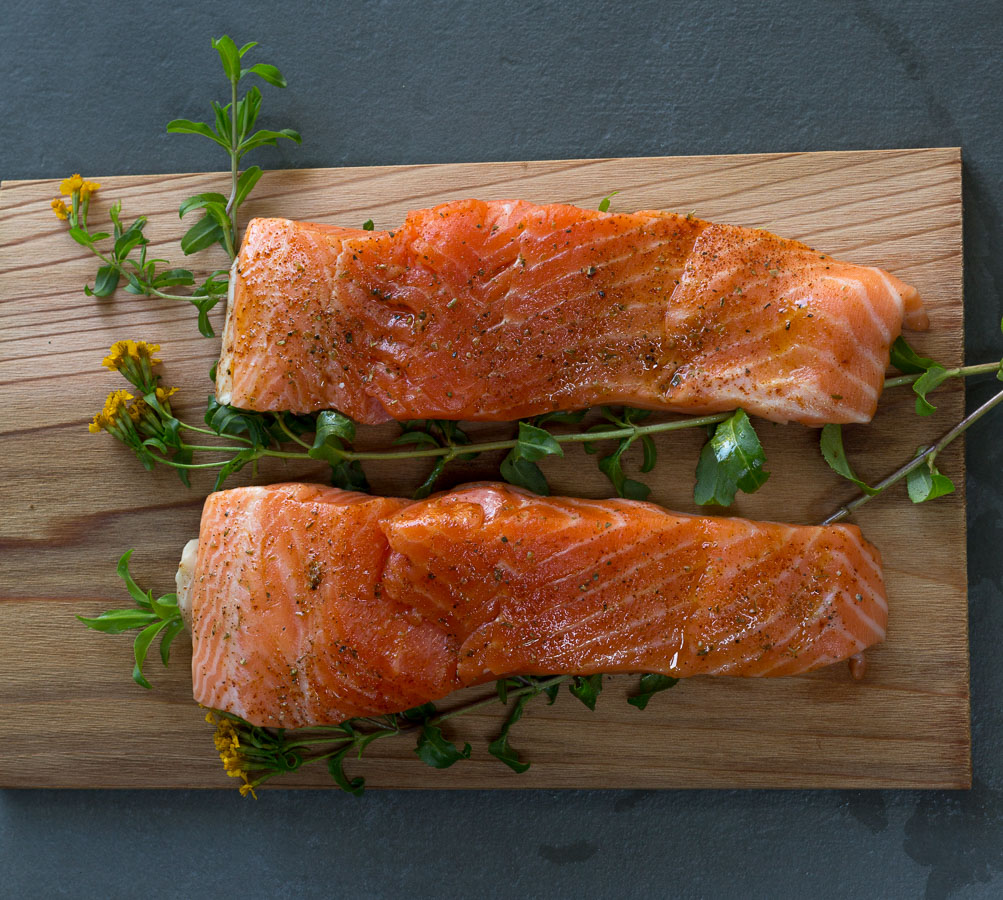 Ingredients
1 pound Organic King Salmon, skin removed
1 Cedar Plank for grilling, soaked*
a pinch of seasoning, chipotle powder, sea salt and pepper
2 teaspoons extra virgin olive oil
4 large fresh tarragon sprigs
1 recipe Pistachio-Tarragon & Lavender Gremolata, see recipe
Instructions
1
*Soak the cedar plank in warm water for at least 6 hours (weight down in the sink.)
3
Prepare and Cook Fish:
Gently wash and dry the fish. Cut into 2 equal portions, place on a plate to hold.
Drizzle a small amount of extra virgin olive oil on each, sprinkle with chipotle powder (or smoked paprika), salt and pepper.
Set grill to medium- high heat. Dry the plank, brush with a little oil.
When grill is hot, 350 – 375 degrees is perfect, add plank to grill, oiled side up.
After it warms upon 5 minutes, add the tarragon sprigs, then the salmon (skin side down) and place on the grill and close it.
4
Look from time to time – it's okay for the plank to scorch… but not fire up!. Simply blow out the flames, or use a water squirt bottle.
Cook at 350°F – 375°F until firm and just cooked through, 15 – 20 minutes (depending on thickness.)
Do not overcook. The plank imparts a nice smokey flavor.
5
Remove the fish to plates with a spatula, and cover it with the Pistachio-Tarragon & Lavender Gremolata.
Serve with lemon wedges if desired.
6
Hints for cooking with a cedar plank:
The plank must be pre-soaked prior to direct grilling. It is recommended to soak the plank for two to six hours, but soaking overnight will ensure complete saturation.
Have a spray bottle of water on hand to extinguish any flames I just blow them out..)
Check briefly every 5 minutes for flare-ups. If a flare-up does occur, reduce the heat slightly.
Close the lid and cook at 350°F – 375°F for about 15 to 20 minutes.
Keep the BBQ lid closed to capture the smoke and retain the heat (checking is ok!)
7
King Salmon (Chinook Salmon):
Fresh mainly in the summer and early fall, though the timing varies by area and fishery.
Has a pronounced buttery, rich taste. They are the most highly prized salmon in the culinary world.
The meat is almost always red, never pink. Assertive flavor, but not overwhelmingly fishy.
See BLOG for more photos and information.
This recipe may not be reproduced without the consent of its author, Karen Sheer.
Karen Sheer