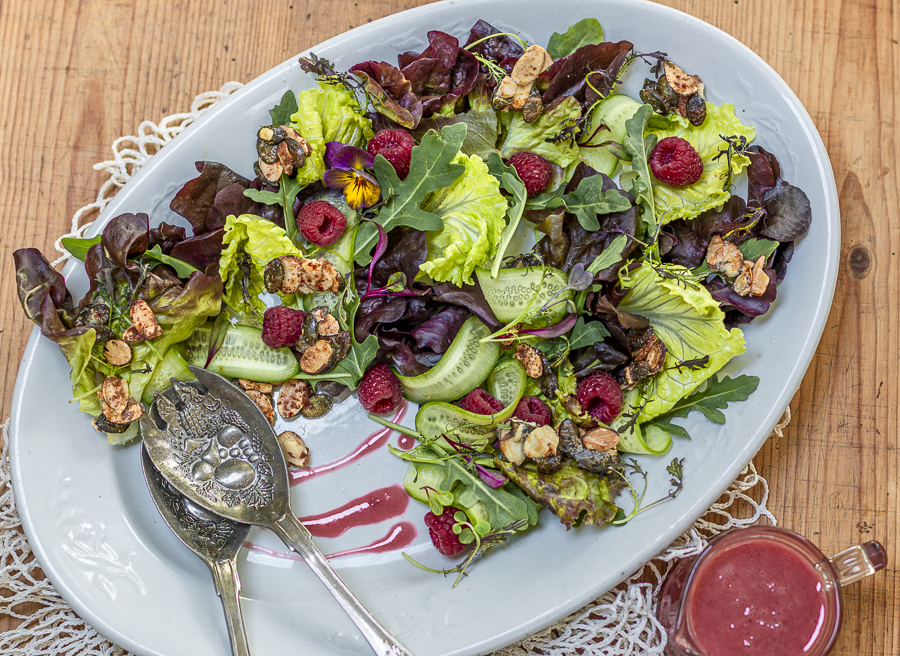 Raspberry Crunch Salad with Raspberry-Almond Oil Vinaigrette
Crispy, Crunchy & Sweet ~ a brilliant, colorful, healthy salad… make place at your Thanksgiving table for this treat! Make the dressing ahead and adorn with my Nut and Seed Crunch (see recipe)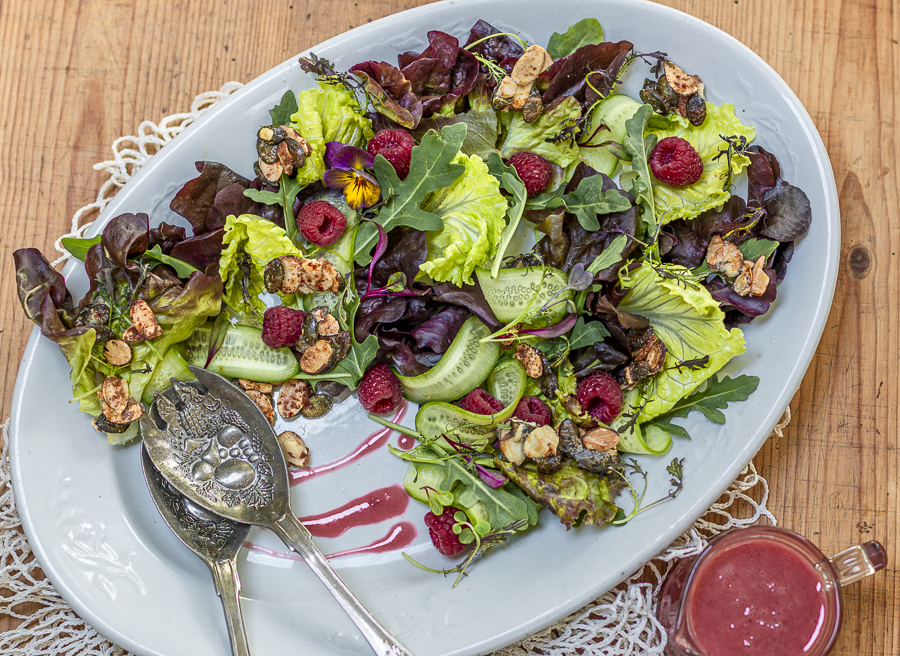 This recipe is included in The Salad Gazette from the great minds at The Devil Wears Salad in Australia. The salad is on page 34, under "Weekend Entertaining." They love salads with vibrant colours, distinctive flavours and sensory contrasts – and so do I!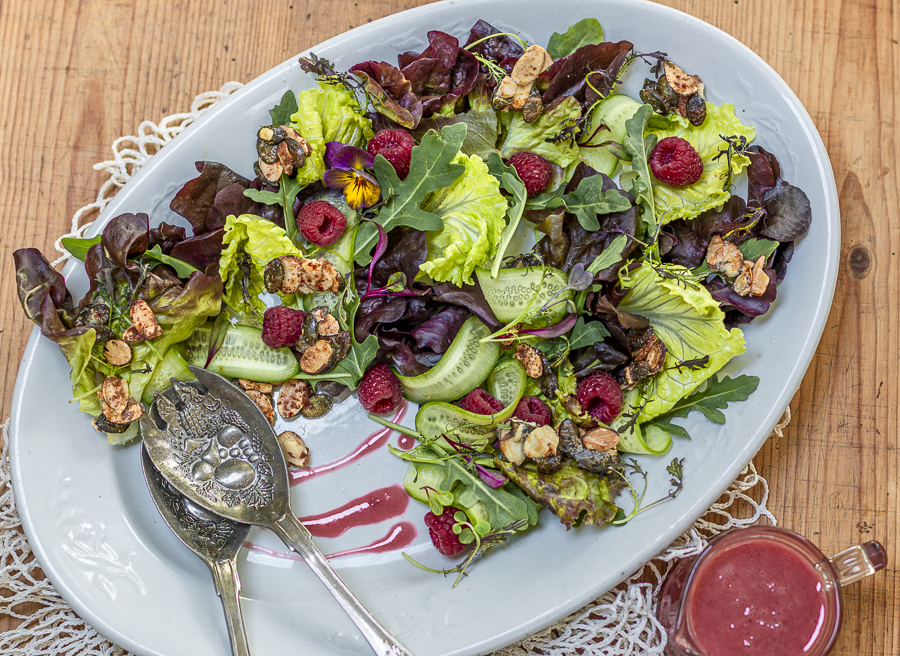 Ingredients
The Salad Ingredients:
4 cups red leaf lettuce, washed, dried and torn (also try red romaine)
2 cups arugula leaves, washed and dried
1 cup mixed petite sprouts, organic
½ cup thinly shaved cucumbers (use a vegetable peeler)
½ cup fresh raspberries
1 recipe: Nut and Seed Crunch (see recipe)
1 Recipe: Raspberry-Almond Oil Vinaigrette
Raspberry-Almond Oil Vinaigrette 
2 tablespoons raspberry purée (see note)
1 tablespoon shallots, peeled, coarsely chopped
2 teaspoons garlic, peeled, coarsely chopped
3 tablespoons red wine vinegar
⅛ teaspoon sea salt
1 teaspoon pure cane sugar
¼ cup neutral oil such as sunflower (expeller pressed)
2 tablespoons almond oil
Nut & Seed Crunch
⅓ cups natural sliced almond
⅓ cups pepitas
½ of a large egg white
⅛ teaspoon sea salt
1 teaspoon coconut palm sugar (can use pure cane sugar)
2 pinches aleppo pepper (or cayenne)
Instructions
1
Make Raspberry-Almond Oil Vinaigrette.
Make Nut & Seed Crunch.
2
To Prepare Salad:
Layer lettuce, arugula and sprouts on a platter or a salad bowl.
Cut cucumber into 2 1/2 inch lengths and shave thinly (I used baby cucumber poppers.)
Add them to the salad followed by the raspberries.
3
Drizzle with 1/3 cup of Raspberry-Almond Oil Vinaigrette and gently toss.
Garnish with the Nut & Seed Crunch and serve.
(I used organic ingredients where available.)
4
Raspberry-Almond Oil Vinaigrette:
Method:
Make the Raspberry Purée.
In a 4 cup food processor (can use a blender) add the Raspberry Purée, shallots, garlic, red wine vinegar, sea salt and sugar. Let stand to macerate 10 minutes.
Blend the ingredients until smooth; one minute. Measure the neutral oil. Slowly stream in to make an emulsified dressing. Add the almond oil, pulsing until emulsified.
Store the dressing in a sterile glass container in the refrigerator for up to 3 weeks.
Makes: 2/3 cups. Enough for 2 salads.
5
Note: Raspberry Purée Recipe:
Place a small fine sieve over a bowl to fit and press down on solids with a small spoon or rubber spatula. The purée will be in the bowl, discard seeds in sieve.
6
Nut & Seed Crunch:
Preheat oven to 350 degrees. Line a small rimmed baking pan with parchment paper.
Add 1/2 egg white to a small bowl; whisk until white is very creamy. Add the nuts and seeds, stir to coat. Pour onto prepared pan, smooth to an even layer. Sprinkle with sea salt, sugar and pepper. Bake for 10 – 12 minutes until crispy and just golden around the edges. Cool.
Break into 1 inch pieces and top the salad. Makes enough for two salads… great for snacking too!
These recipes may not be reproduced without the consent of its author, Karen Sheer
Karen Sheer