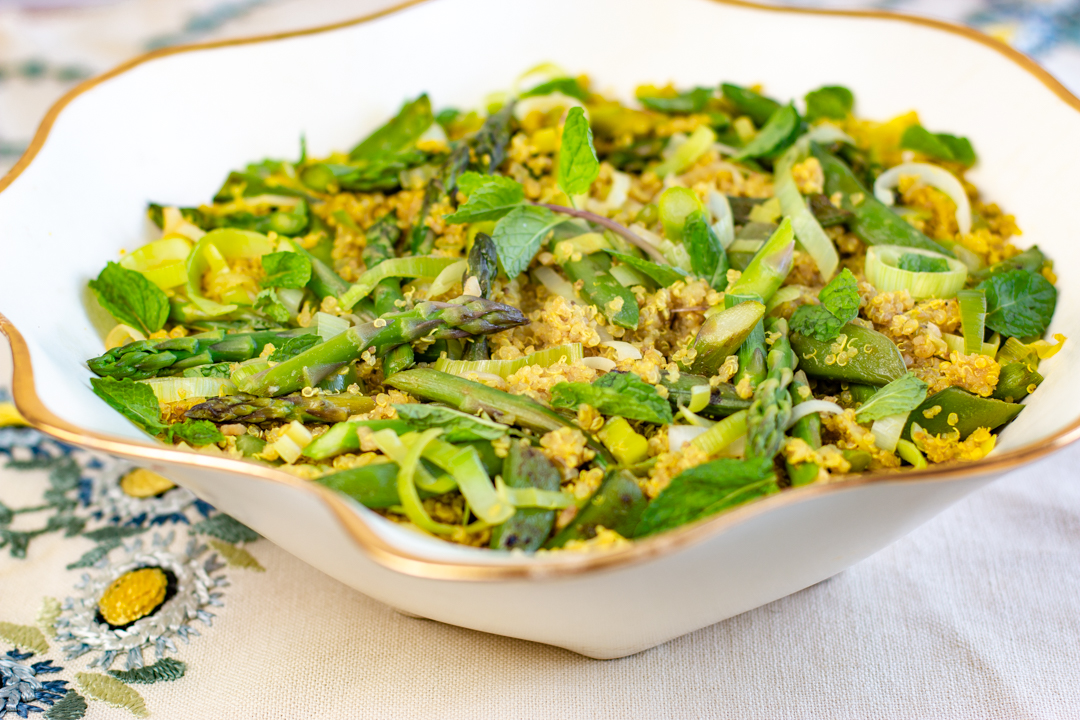 Passover Quinoa Pilaf with Asparagus, Sugar Snap Peas & Mint
A Big Batch Side-Dish That Pairs Well With All Your Passover Main Courses.
Fluffy Quinoa with Onions, Leeks and  Spring Veggies, adorned with Fresh Mint – all will love!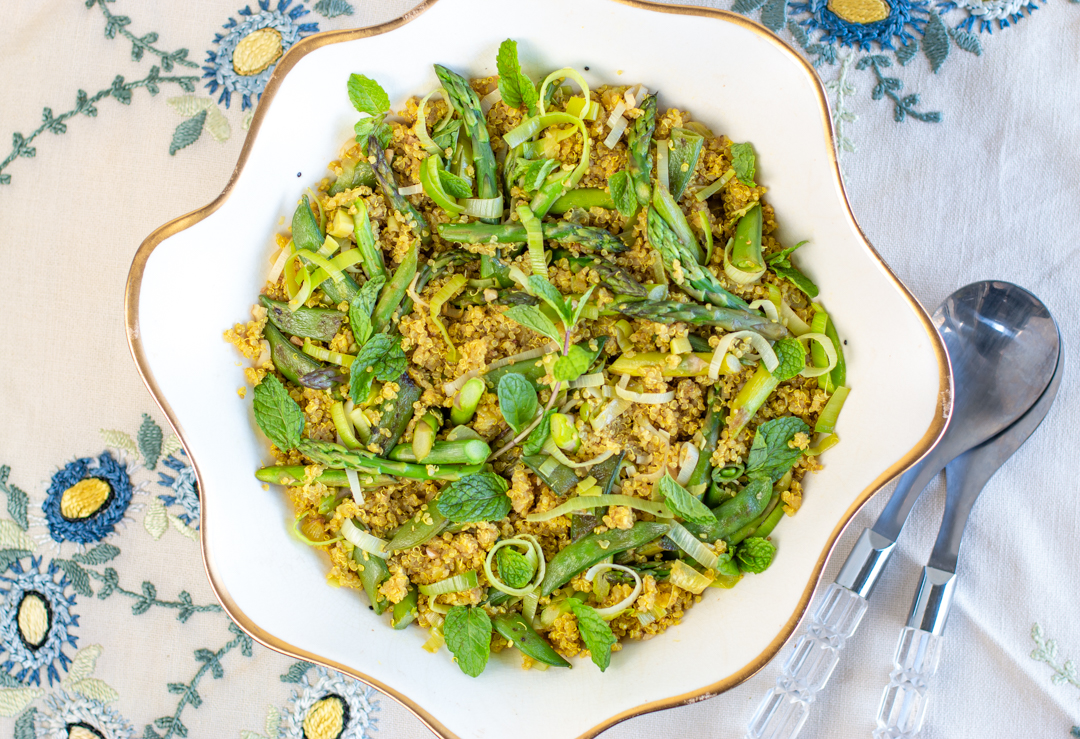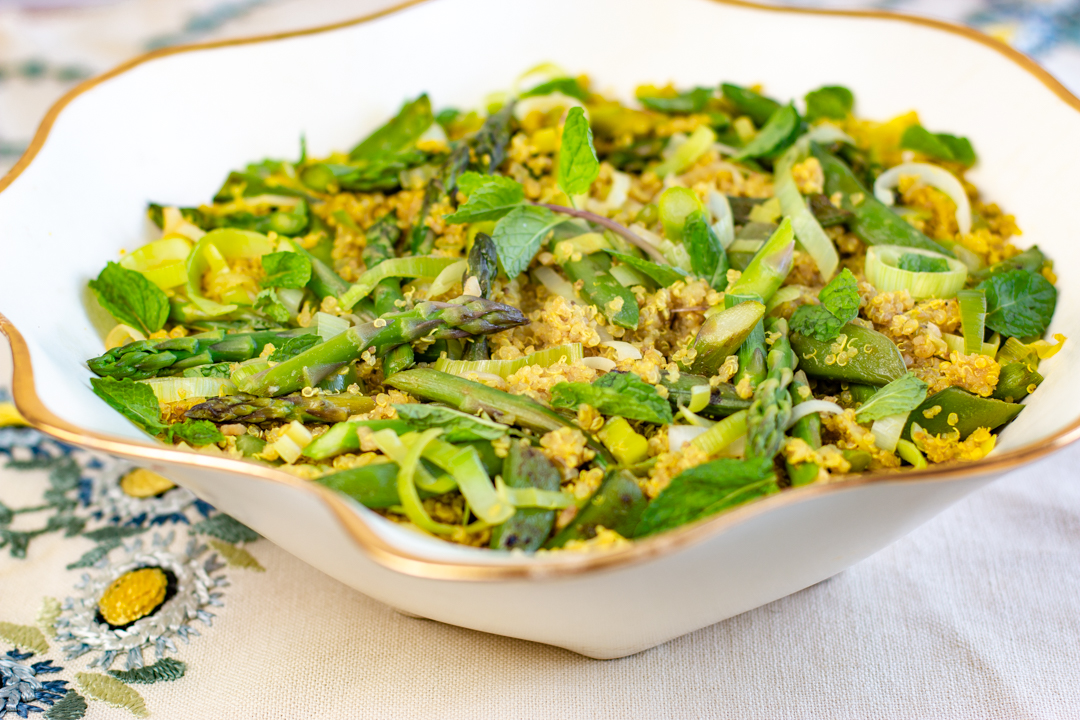 Add lots of mint leaves at the end… not just a garnish but part of the dish.
Quinoa for Passover… Why Not?
I always have had a Matzo-overload at Passover! First the Matzo Ball soup, next the Gefilte Fish, then some broken Matzo (especially at the Seder.) I've had enough! Guess that's why I do not care for Matzo kugels (don't even get me started on Toffee Matzo for dessert!)
Quinoa, the grain-like seed grown in South America, is Kosher for Passover when processed with special OU Passover supervision and bearing the OU-P symbol.
In 2015, for the first time, the Orthodox Union, the ultimate authority on kosher foods, has put its "kosher for Passover" symbol on certain brands of quinoa. Yea!
It's not a true grain – defined as growing on grasses.
Quinoa is Kosher l'Pesach and is not related to the five types of chometz grains, millet or rice.
And whether you are Ashkenazic or
Sephardic
, any quinoa would require
kosher
for Passover certification to ensure that it was carefully kept from contact with barley or other grains.
Today Quinoa that is Kosher for Passover is Pereg Natural foods sells Quinoa that is Kosher for Passover.
Sephardic Jews, whose roots trace back to the Iberian Peninsula, North Africa and the Middle East, have long considered these foods kosher for Passover. (Which makes sense, given that chickpeas and other legumes feature prominently in the Israeli diet.)
Then, add turmeric and Vegetable Broth then the Quinoa. Cook until the broth has absorbed and it is fluffy.
Sauté the veggies, add leeks and garlic until tender-crisp. Fold into the pilaf with fresh mint leaves and serve!
Recipe is adaptable – use other vegetables you love!
Enjoy this wonderful side-dish!
Karen
Passover Quinoa Pilaf with Asparagus, Sugar Snap Peas & Mint
The perfect Side-Dish for all you holiday main courses.
Print Recipe
Pin Recipe
Rate this Recipe
Ingredients
2

cups

white quinoa

Kosher for Passover if needed

1

tablespoons

extra virgin olive oil

1

whole

large onion

3 cups peeled and thinly sliced

1/4

teaspoon

ground turmeric

3 1/2

cups

vegetable broth*

1

tablespoon

extra virgin olive oil

3/4

pound

fresh asparagus

trimmed, cleaned and dried

1 1/2

cups

sugar snap peas

strung, cleaned and dried

1

cup

leeks

whites & light greens, cleaned well; thinly sliced

2

tablespoons

fresh garlic

peeled and minced

2

pinches

sea salt & pepper

1/4

cup

fresh mint leaves
Instructions
Make the Quinoa with Onions:
Rinse quinoa in a fine mesh colander, set aside. Add 1 T. evoo to a heavy 3 quart pot. Raise heat to medium low. Add the sliced onion and sauté until softened and just a touch golden; about 10 minutes. Add turmeric, stir in. Add the broth and bring to a boil.

Add the rinsed quinoa to the pot, give a big stir; cover and lower to a bare simmer. Cook until the broth is absorbed and the quinoa is tender, 12 - 15 minutes.
Cook the Vegetables for the Pilaf:
As the quinoa cooks - cut each asparagus spear into 3 even pieces - slice on the diagonal. Cut large sugar snap peas in half, leave smaller ones whole.

In a 12" skillet (I used ceramic non-stick) add 1 T. evoo and raise heat to medium. Add the asparagus and sugar snaps. Cook, stirring until they start to turn a brighter green, about 3 minutes. Add the leeks, garlic, salt & pepper and stir in and cook 1 minute more. Add 1 tablespoon water and cover the pan. Cover for just 2 minutes until the vegetables are cooked through, yet still bright green and tender-crisp. Uncover immediately.

Fluff the quinoa and uncover.

Add quinoa to a large serving bowl or casserole dish to fit. Add the vegetables and all the mint. Give a stir and serve. Garnish with sprigs of mint if desired.
Notes
*Use homemade vegetable broth or try Better than Bouillon Organic Vegetable Base.
The Pilaf can be gently reheated in a microwave oven on "reheat setting", or in a 350 degree oven, covered, until just warmed. Add extra mint on top when serving.  
This recipe can not be reproduced without the consent of its author, Karen Sheer.
Nutrition Facts
Passover Quinoa Pilaf with Asparagus, Sugar Snap Peas & Mint
Amount per Serving
% Daily Value*
* Percent Daily Values are based on a 2000 calorie diet.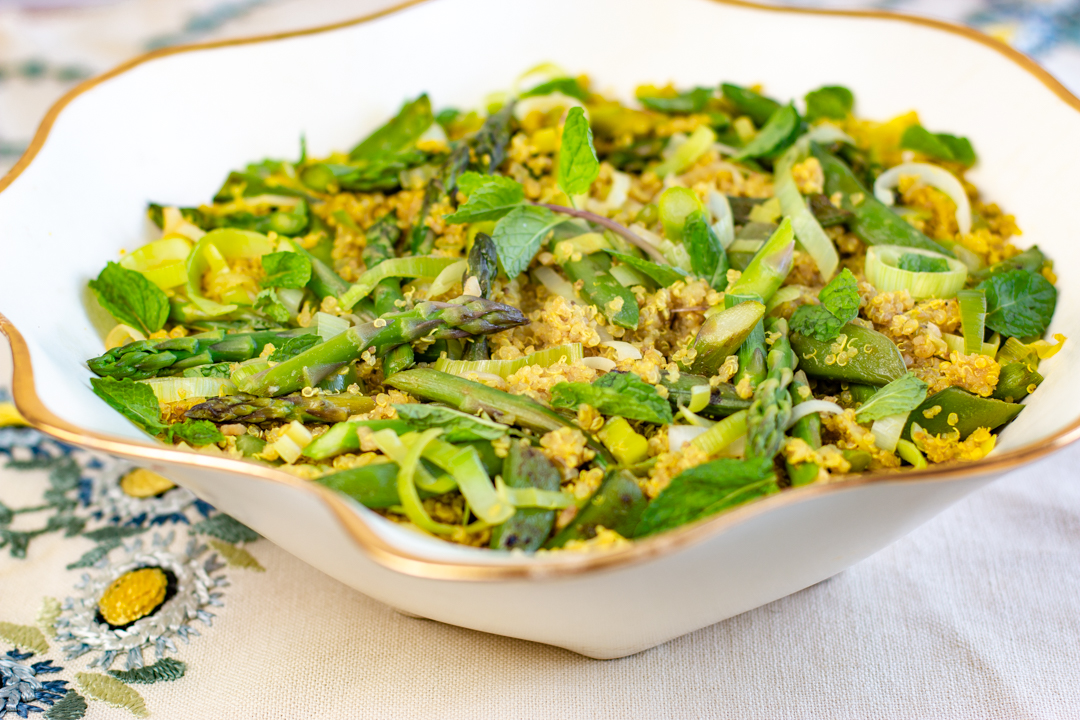 Karen Sheer