Healthy Side: Butternut Squash Purée with Ginger and Browned Butter
Delicious and creamy – chock full of nutrients  Simple to prepare, just 3 main ingredients! – plus salt & pepper and parsley.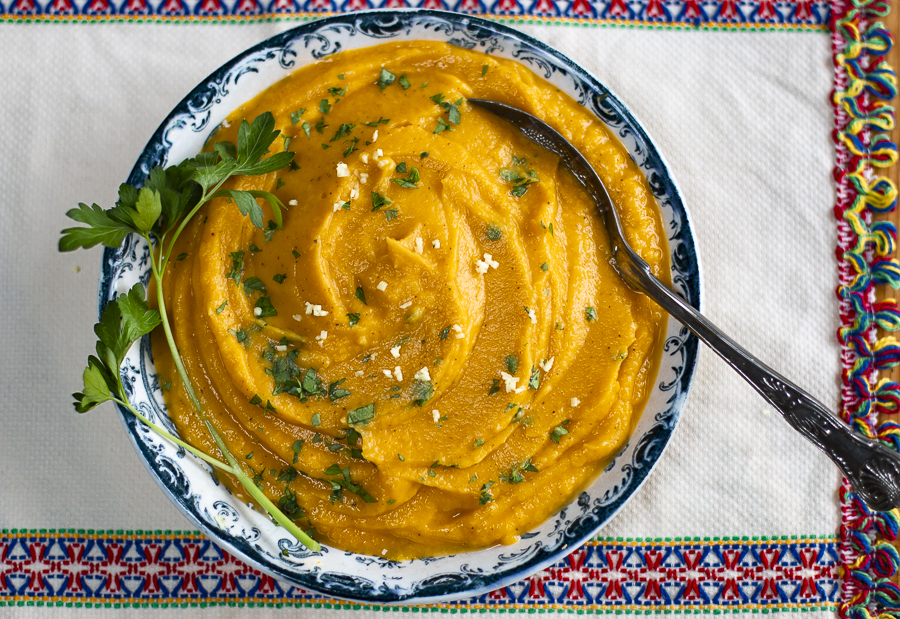 Browned Butter – also called beurre noisette, named because it smells like hazelnuts and has a similar nutty color, plus a nutty, toasted flavor. It enhances the flavor of almost everything!
Ingredients
2 ½  pound butternut squash
1 teaspoon neutral oil*
¼ teaspoon each: sea salt and freshly ground pepper
3 tablespoons unsalted butter, preferably organic
4 teaspoons fresh ginger, peeled and finely chopped
1 tablespoon fresh parsley, cleaned, dried and chopped  
Instructions
1
Roasting Butternut Squash:
Preheat oven to 375 degrees. Cut the squash in half lengthwise. Add to a rimmed baking pan to fit. Rub cut side with oil, salt & pepper.
Cook, cut side down for 45 minutes – or until the squash feels softened, and the cut side has achieved a golden color.
2
In the meantime, make Browned Butter with Ginger:
Heat the butter in a small skillet (I use a 6″enamel coated cast iron one) over LOW heat.
Leave until light brown bits form (from the butter's milk solids.) The butter will splatter a bit, and take up to 5 minutes to achieve brown butter.
Remove from heat – after one minute add the ginger, stir in. Set aside.
3
Finish the Purée: Remove the squash from the oven. Set aside for 5 minutes, or until easy enough to handle. Scoop out the flesh of the squash, leaving the skin behind.
4
Add to a food processor and purée until smooth. (this can be done as well in a 4 cup small food processor in 2 batches.)
Add the browned butter with ginger, pulse in.
5
Done! taste for seasonings – add a pinch more salt & pepper if desired, can add just a pinch of cayenne pepper too.
6
Serve on individual plates or in a serving bowl. Top with chopped parsley.
Want to make it 100% plant based? Use Extra Virgin Olive Oil or Organic Coconut Oil instead of butter.
* with concerns about gmo's and processing of oils, use a vegetable oil which has not been chemically treated, this is called "expeller pressed."
This recipe may not be reproduced without the consent of its author, Karen Sheer
See BLOG for many photos and information.
Karen Sheer