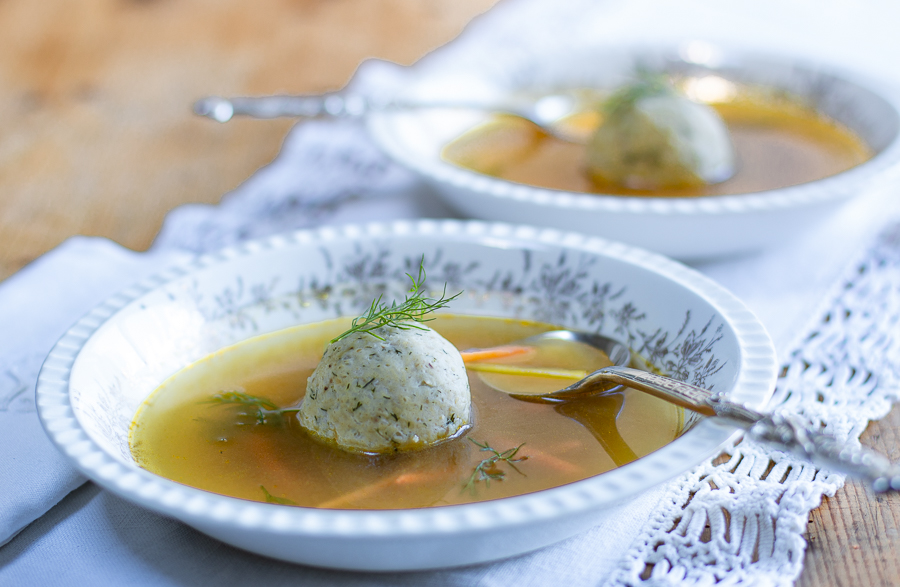 Karen's Best Matzo Balls with Dill
My foolproof recipe for tender and tasty Matzo Balls for Passover or anytime!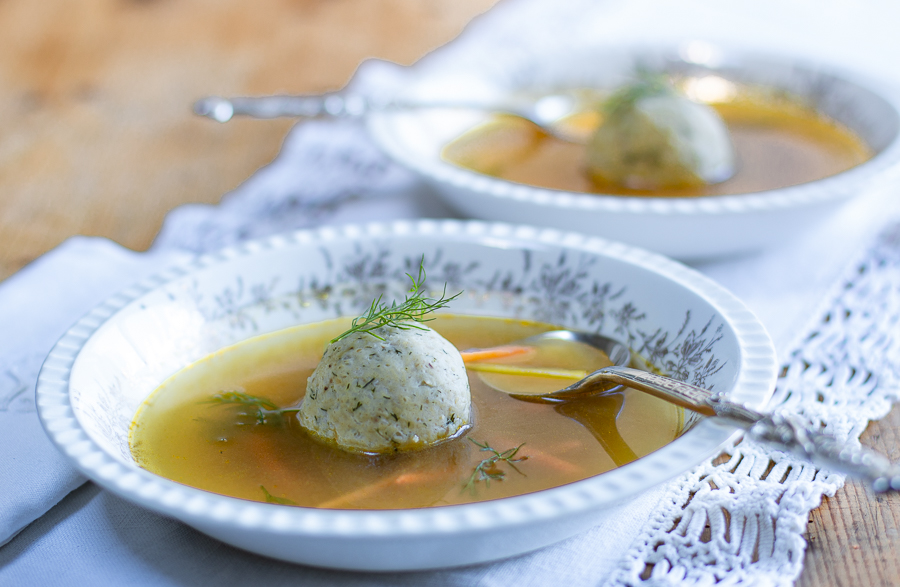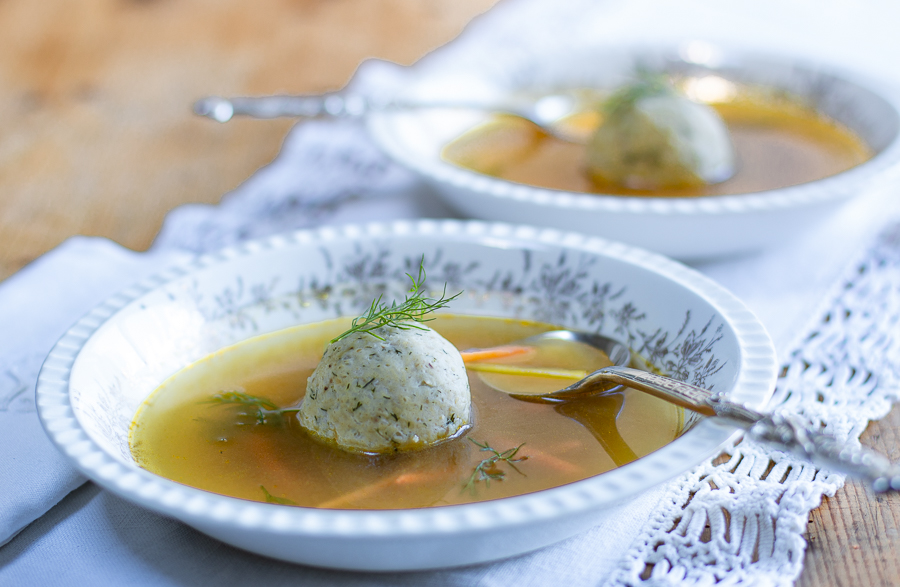 Ingredients
4 large eggs, room temperature
½ teaspoon salt, Kosher or sea salt
4 tablespoons seltzer water
3 tablespoons chicken fat, or neutral oil
1 cup Matzo meal (I used Manischewitz non gmo)
4 tablespoons fresh dill, cleaned, dried and minced (thick stems removed
Instructions
1
Separated eggs.
Add yolks, salt, seltzer water and chicken fat (or oil) in a medium sized bowl.
Add matzo meal, mix in.
2
Whip egg whites until soft and creamy white, not totally stiff. I add them my 4 cup food processor and press grind for 1 minute.
Or – whip by hand with a whisk.
3
Add the egg whites and dill – mix well until all is combined.
* See note below.
Cover the bowl with plastic wrap and refrigerate for 45 minutes until cold.
4
About 15 minutes before rolling the balls  – bring a large soup pot with water 3/4 the way full to a boil.
When boils add 1 teaspoon of salt.
5
To Roll Matzo Balls:
Have a wax paper lined tray ready – using a 1 1/2″ cookie scoop, lightly oil hands (or with chicken fat) and roll onto 1 1/2″ balls.
HINT: lightly roll, do not overwork the mixture.
Continue with all the mixture lightly oiling hands, and place all the matzo balls on the tray.
6
Add the matzo balls to the boiling water and cover tightly.
Boil the balls until fully cooked through and tender – about 60 minutes.
Try not to open the cover, this will reduce the water temperature.
Test one matzo ball by cutting into it with a knife to determine doneness.
7
If matzo balls are slightly under cooked: Turn off heat, keep the cover on and let matzo balls stay in the hot water for 15 minutes (they will sink.)
8
Remove matzo ball with a slotted spoon to a large bowl of col water to cool.
|Can be made a day ahead. Store in an airtight container and refrigerate.
9
*Note: For very light matzo balls use seltzer and add anywhere from 1/4 teaspoon Kosher baking powder (baking powder will yield increasingly light matzo balls.)
This recipe may not be reproduced without the consent of it's author, Karen Sheer.
See BLOG for major photos and instructions.
Karen Sheer