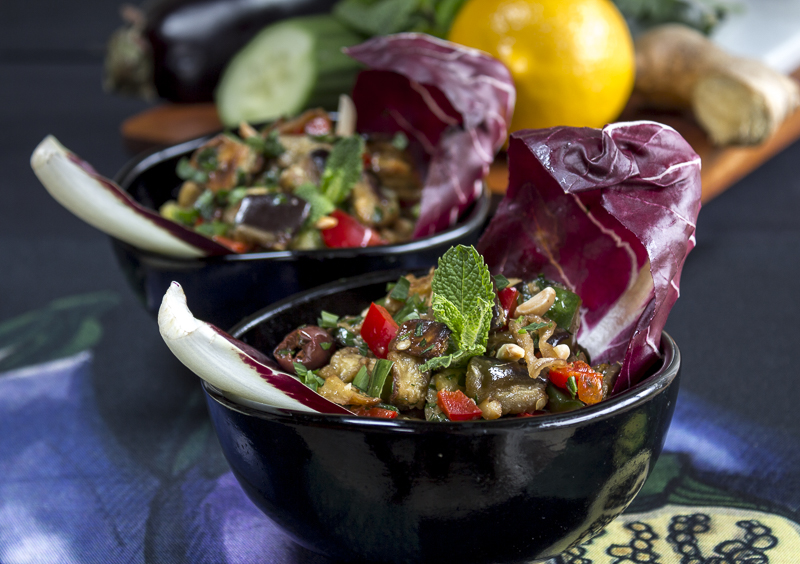 Roasted Eggplant Salad with a Meyer Lemon-Ginger Dressing
Caramelized Roasted Eggplant teams up with Peppers, Cucumbers, Olives, Parsley, Mint, Toasted Almonds, Crispy Shallot Rings and a Zesty Meyer Lemon-Ginger Dressing – A Healthy Mediterranean Twist!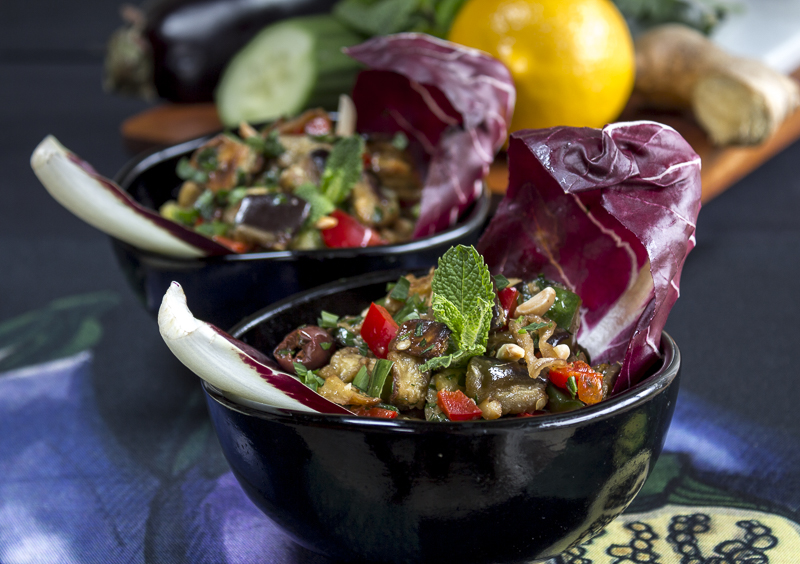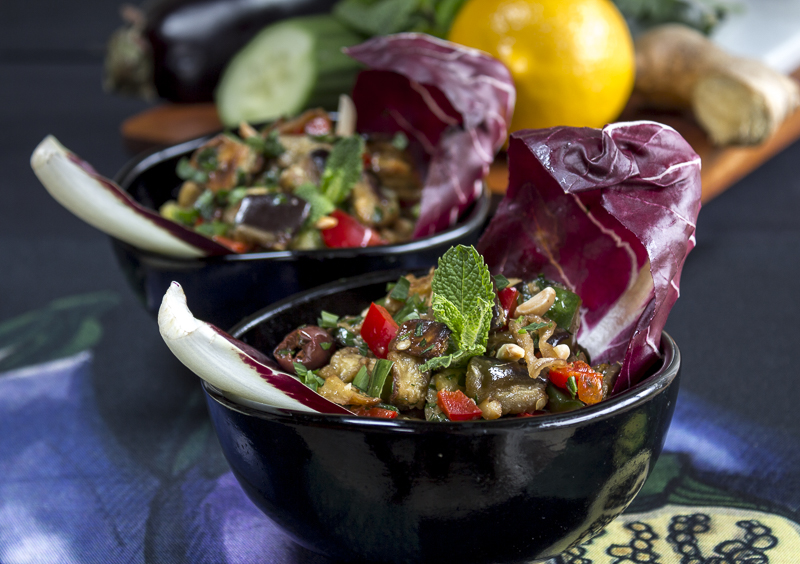 Ingredients
2 large eggplants, about 1 ¼ pound each
2 teaspoons sea salt
2 tablespoons extra virgin olive oil 
½ cup red bell pepper, cleaned, ½ dice 
½ cup fresh cucumbers, cleaned, ½" dice
¼ cup pitted mediterranean olives
½ cup flat leaf parsley, cleaned, dried and coarsely chopped
¼ cup fresh mint, cleaned, dried and coarsely chopped
¼ cup slivered almonds, toasted until golden
1 large shallot*, peeled (see below)
1 recipe Meyer Lemon-Ginger Dressing
Instructions
1
Make the Meyer Lemon-Ginger Dressing, set aside.
2
Peel the eggplant in long strips, taking off about half of the skin. Cut into even 1 inch cubes.
Place them in a large colander, toss with 2 teaspoons of salt. Top with a paper towel and a weight (a filled tea kettle works great) and put into a clean sink to drain for 30 minutes.
Preheat the oven to 400 degrees. Place half of the eggplant in a clean tea towel (or paper towels) and gently squeeze excess moisture. Repeat with the rest of the eggplant.
3
Add the eggplant to a large rimmed baking pan, add 2 tablespoons of extra virgin olive oil, and rub in to coat. Roast for 20 minutes, then toss with a spatula, and continue baking until nice and golden, another 20 – 25 minutes.
4
Make the shallot rings: fry or roast. See below.
5
Cool eggplant slightly, then toss with 4 tablespoons of the dressing.
Add the vegetables and herbs, toss well. The salad's flavor will improve when the dressing sinks in.
Taste, add more dressing if desired.
6
To serve, top with the toasted almonds and shallot rings.
Garnish with mint and parsley sprigs.
7
Add-in options:
Grains, any steamed type you love… freekeh, farro, brown rice or short cut pasta.
A little heat, add some crushed red peppers to the salad with the dressing, or your favorite fresh minced chiles.
8
Shallots:
I love fried shallot rings on top of the salad:
Cut shallots into 1/4″slices, separate into rings, toss in rice flour to combine. Heat a few tablespoons of neutral oil in a small skillet.
Dust off excess flour and fry in hot oil, in two batches – until golden and crispy. Drain on paper towels.
Top the salad with the crispy shallot rings before serving.
9
Alternately: Roast the shallots in the oven. While the eggplant has roasted half way,
Toss the shallot rings in a small amount of oil, and add to the eggplant pan until they are golden.
Watch so they do not burn.
10
Serve the salad warm, room temperature or chilled.
Karen Sheer