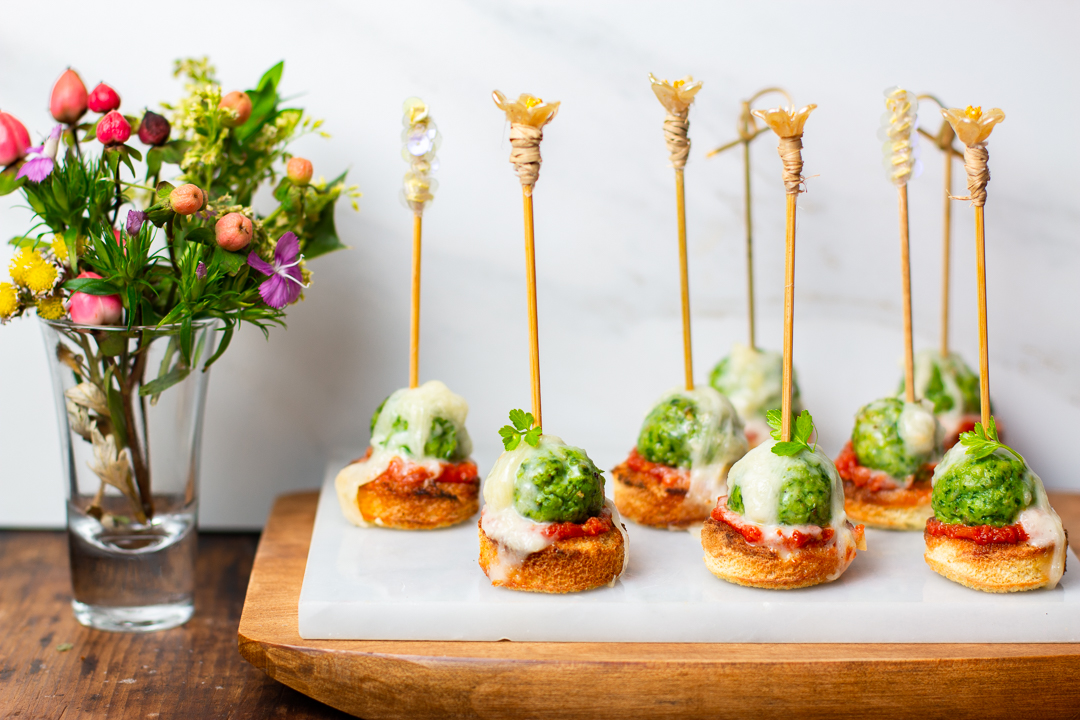 Holiday Hors D'Oeuvres , Pick-Up Appetizers & Nibbles
Stress free entertaining: Christmas, New Years Eve and New Year's Day.
Get cooking with these Well-Tested Recipes.
Creative, Healthy and Inspiring. The holiday season continues as we ring in the new 2022 year!
16 Must-Make Crave-Worthy Appetizers for People Who Love Party Food!
Let's start with a CHEESY selection – recipes that incorporate cheese in various ways.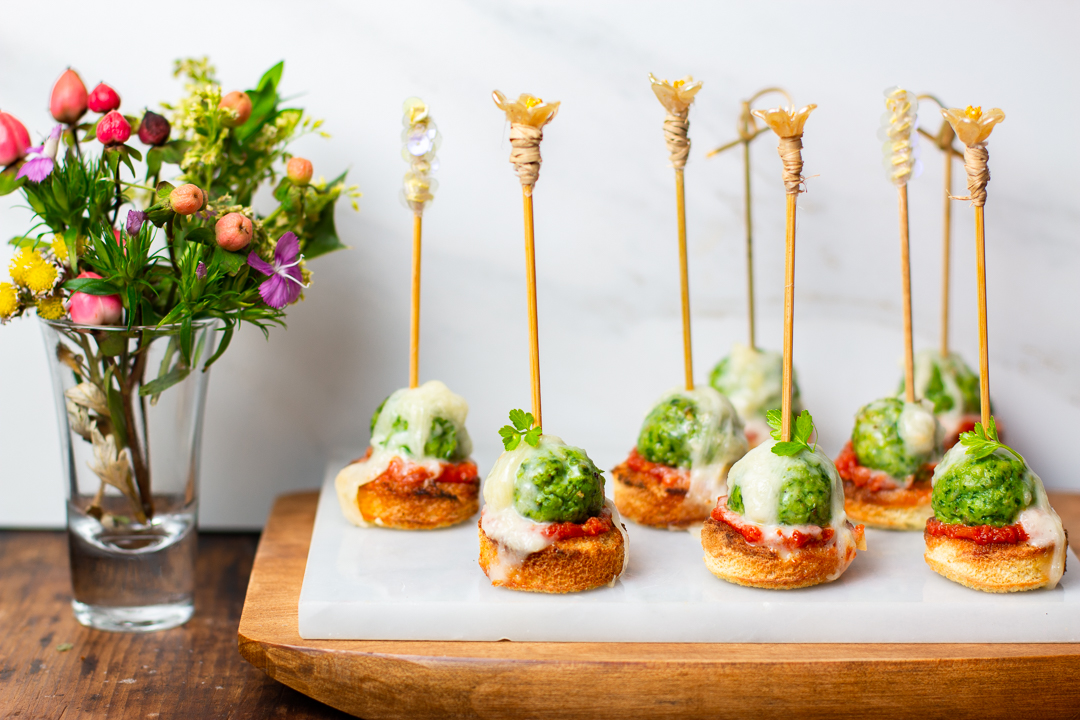 I could eat a dozen of these guys and be very happy!  The perfect pick-up appetizer with flavors all will devour.
To assemble: cut bread rounds  – gluten free or regular, give them a quick toast, then top with marinara, a warm spinach chicken mini meat ball and top off with fontina cheese fondue. Add a skewer and serve.
Loads of Spinach mixed in to Freshly Ground Chicken – that you grind! This makes the most delicious and nutritious meatballs with an amazing texture.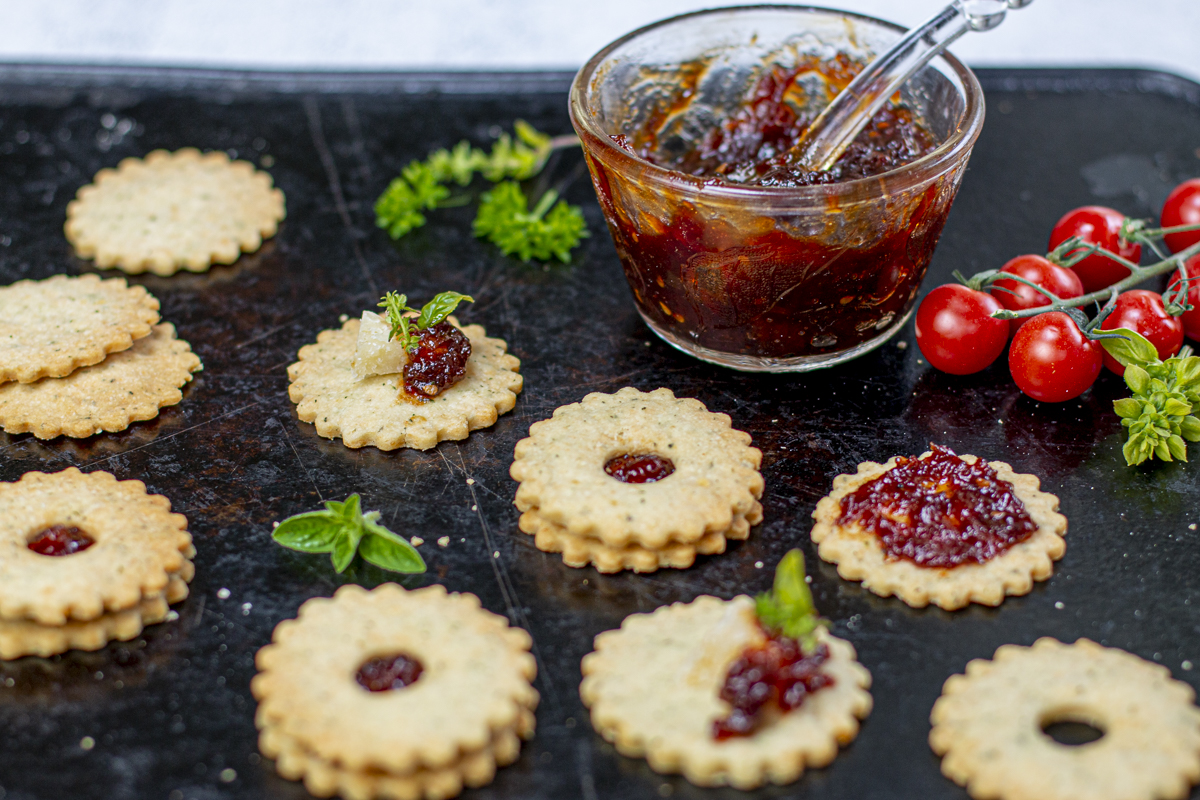 A creative play on the beloved "Linzer Cookie"  – savory, cheesy melt-in-your-mouth shortbread sandwiched with Tomato Jam!
Your company will be amazed! Makes a spectacular and inventive hors d'oeuvre for you next gathering or party.
Also serve the thins open-faced – with a dollop of jam and a chunk of your favorite cheese.
I'm turning the Linzer Cookie upside down – what is traditionally a sweet cookie is now a savory upscale treat!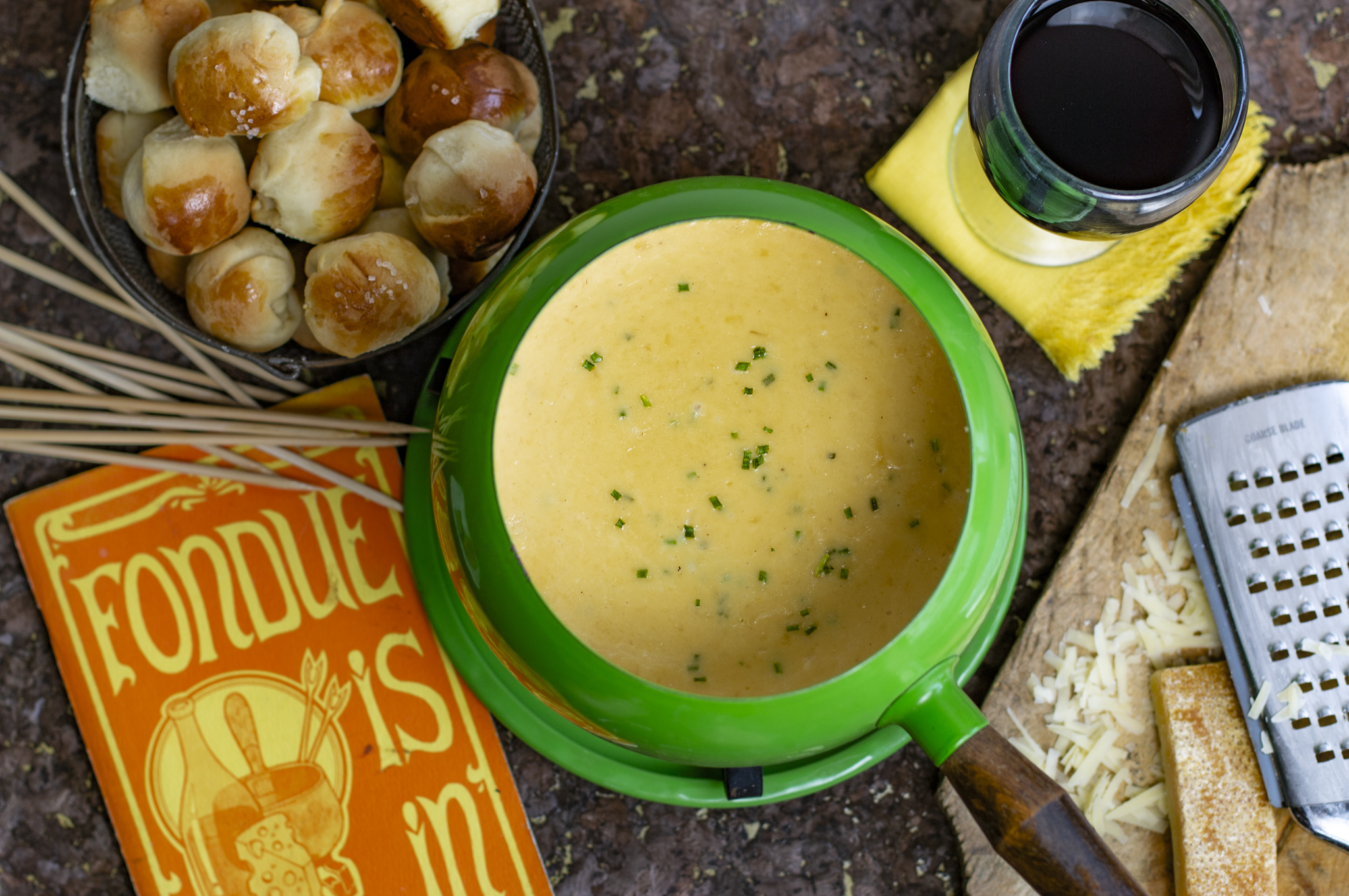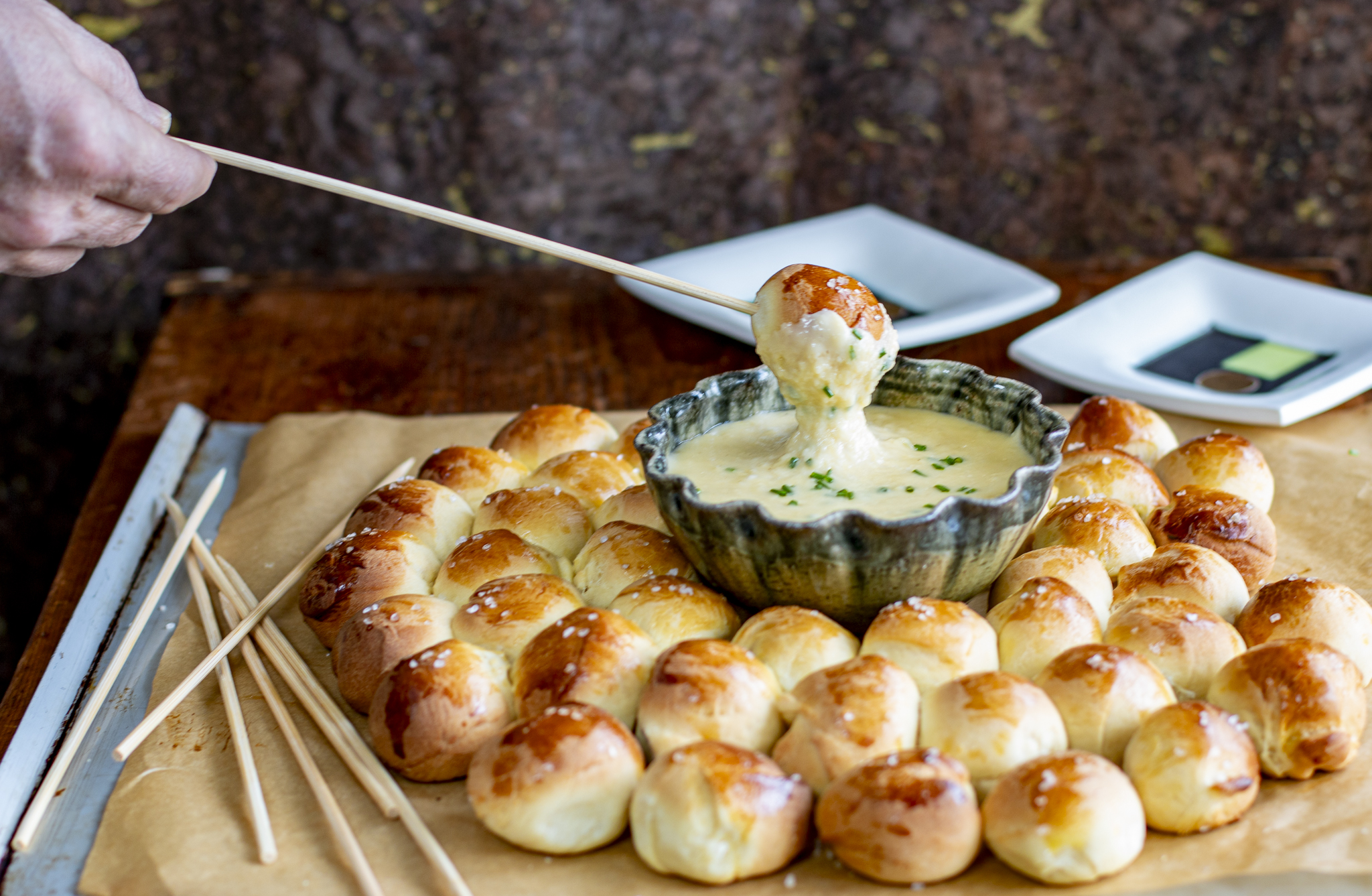 Softened Garlic and Fresh Chives makes this Classic Fondue special!
While fondue might be the ultimate party food- I'm in the mood for it's silky, stingy texture and assertive flavor, and have decided to have a fondue night at home. Indulgent, okay just a little, but it only sounds fancy – it's incredible simple to make!
I really got into the idea and decided to make these mini dinner rolls for dunking (bread cubes will do too!)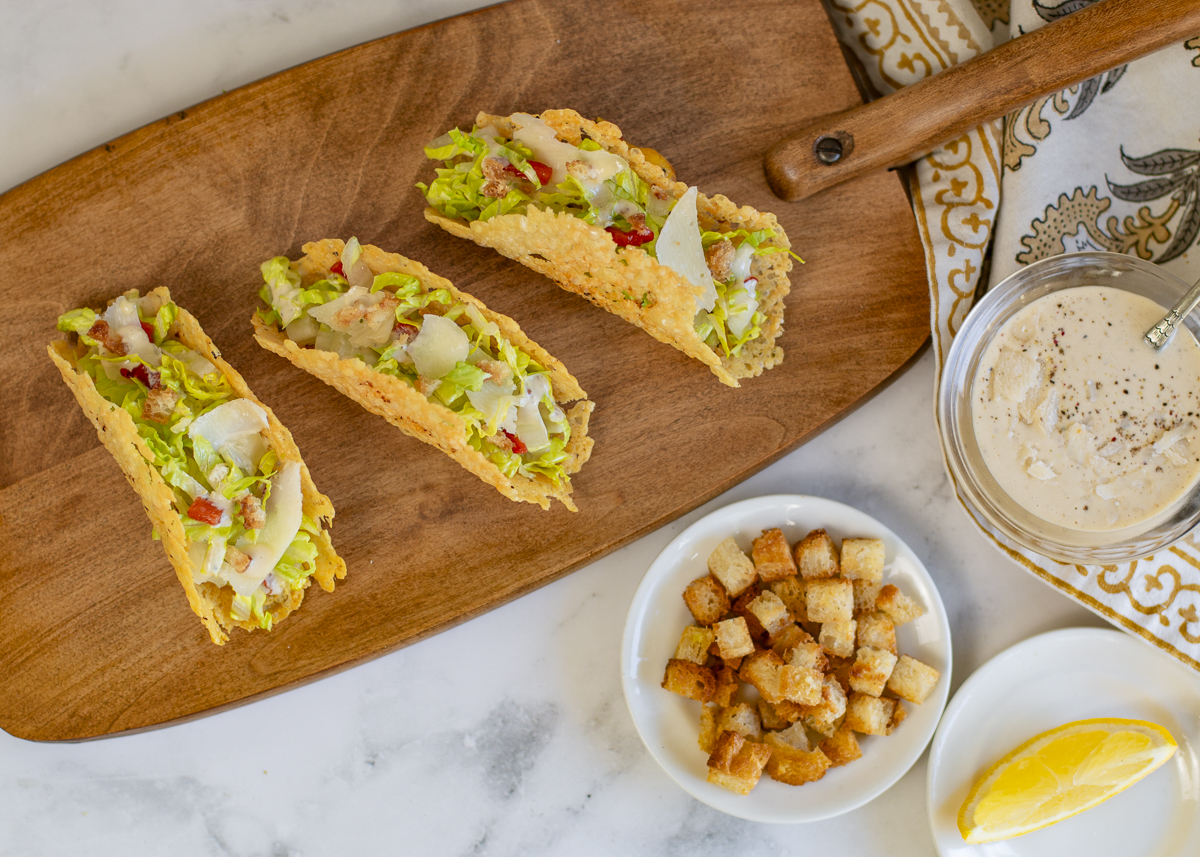 I'm serving the tacos on a vintage serving board with extra Caesar dressing on the side for drizzling.
Ready for a Umami-rich treat? A creative genius recipe that is so delicious and low in carbs!All your favorite Caesar Salad Ingredients – I love to add roasted red peppers too.
Gluten Free – no problem! I have used gluten free bread for the garlic croutons. Eat these immediately after preparing!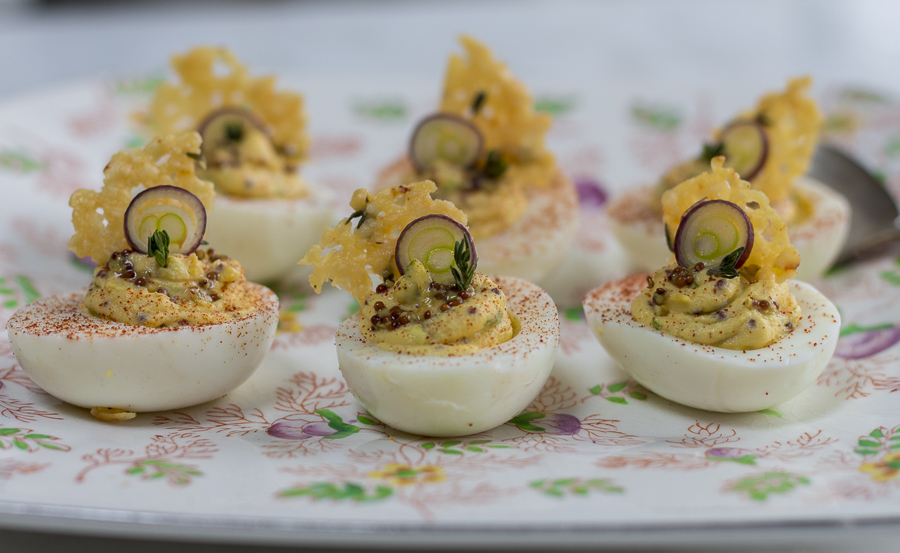 My Favorite Deviled Eggs: Grainy Mustard, Purple Scallions, Thyme and a Crisp and Lacy Baked Cheese Frico Makes Them Pungent and Zesty. Learn how to make the perfect hard boiled eggs – don't boil them… steam them!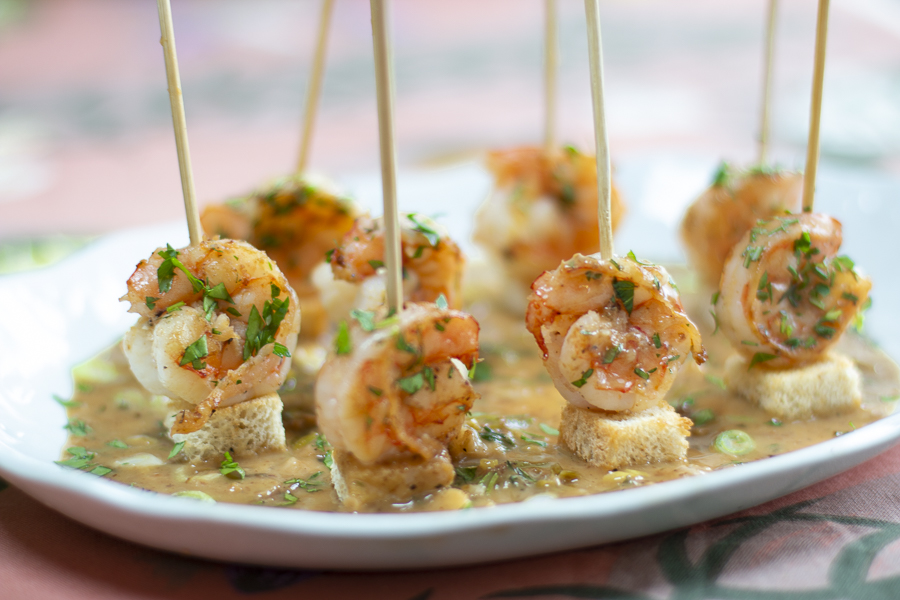 Shrimp is always a party pleaser! Cooks quickly – Sautéed Shrimp in a Hearty Garlic Herbal Butter Sauce Skewered with a Cube of Sourdough Bread to Soak up the Flavors.
I've added a boost of flavor with fresh herbs, scallions and jalapeño.
The perfect Holiday or Party Appetizer!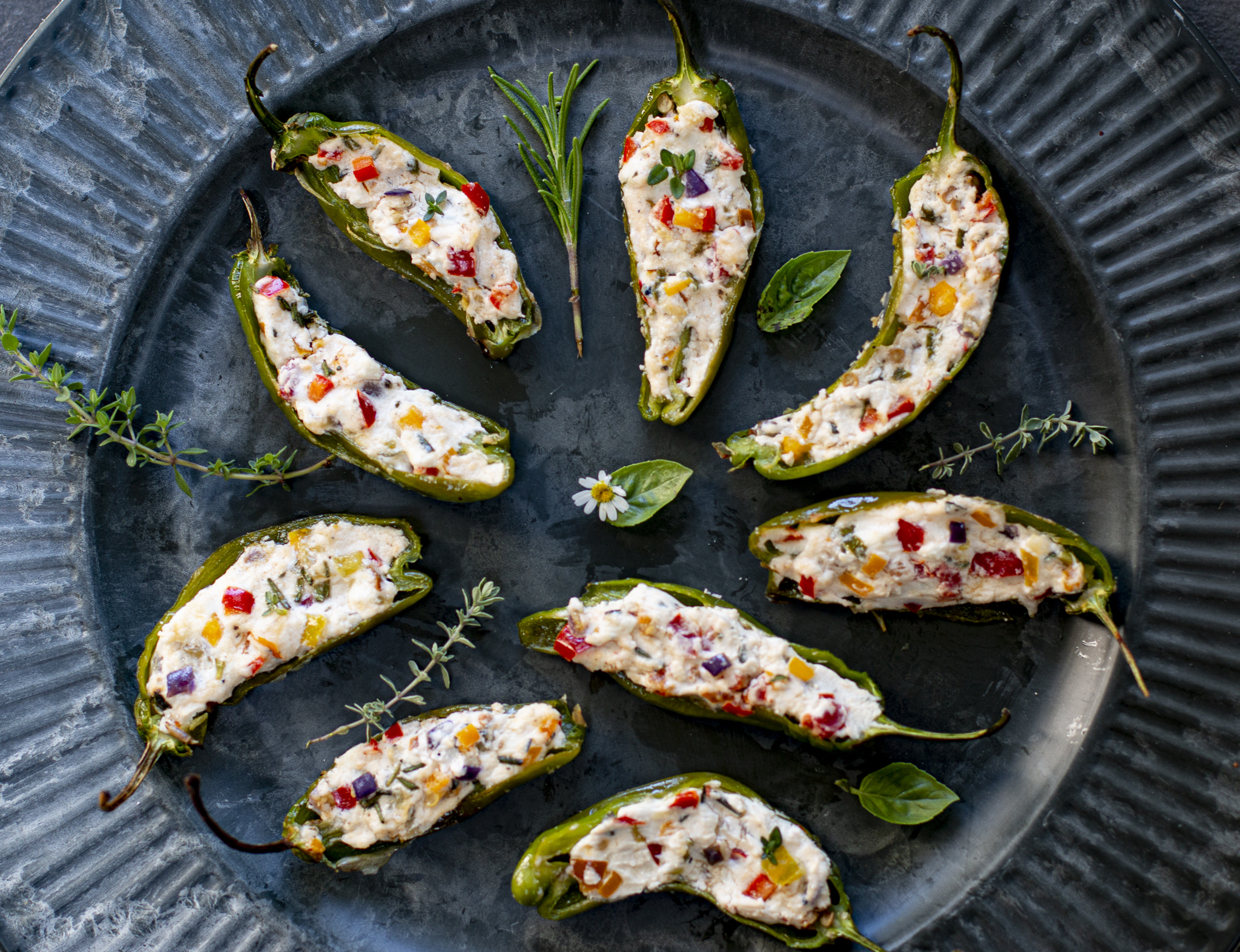 Blistered Shishito Peppers are cut in half and stuffed with a medley of Mediterranean ingredients for an addictive appetizer. Shishito Peppers are now widely available – perfect vegetarian pick- up appetizer!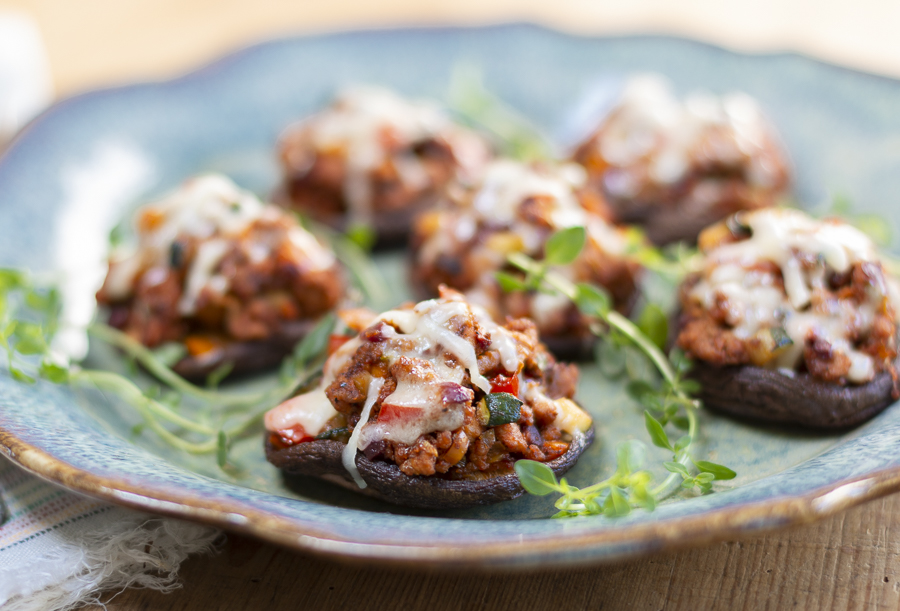 Delectable with Mexican Spices – these caps are stuffed with flavor! Lots of colorful vegetables and ground turkey. A healthy approach to stuffed mushrooms ~ serve with a dollop of sour cream and tomatillo salsa. A delicious meal, snack or appetizer.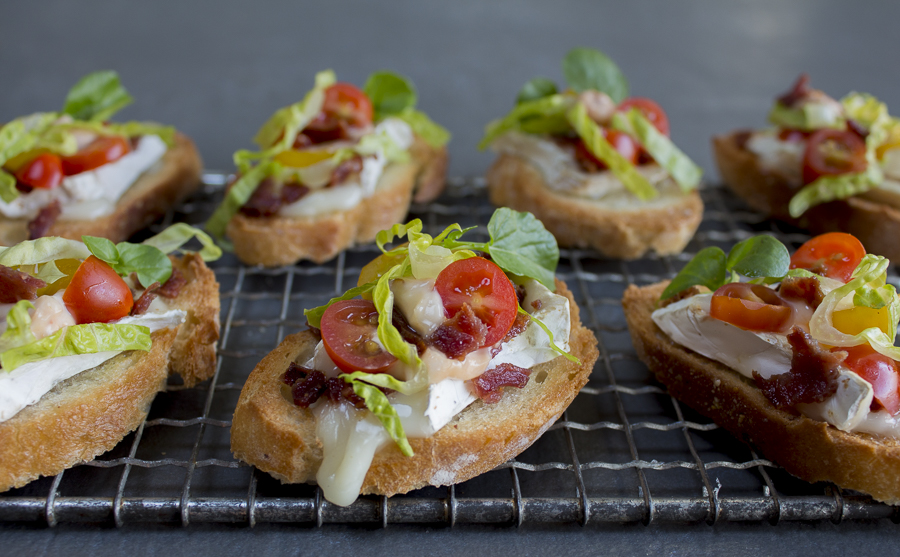 The ultimate healthy appetizer – a crisp garlicky baguette slice covered with oozing brie cheese, bacon, lettuce, tomato and a touch of spiked mayo. Rich and satisfying – these crostini will disappear as quickly as they are served!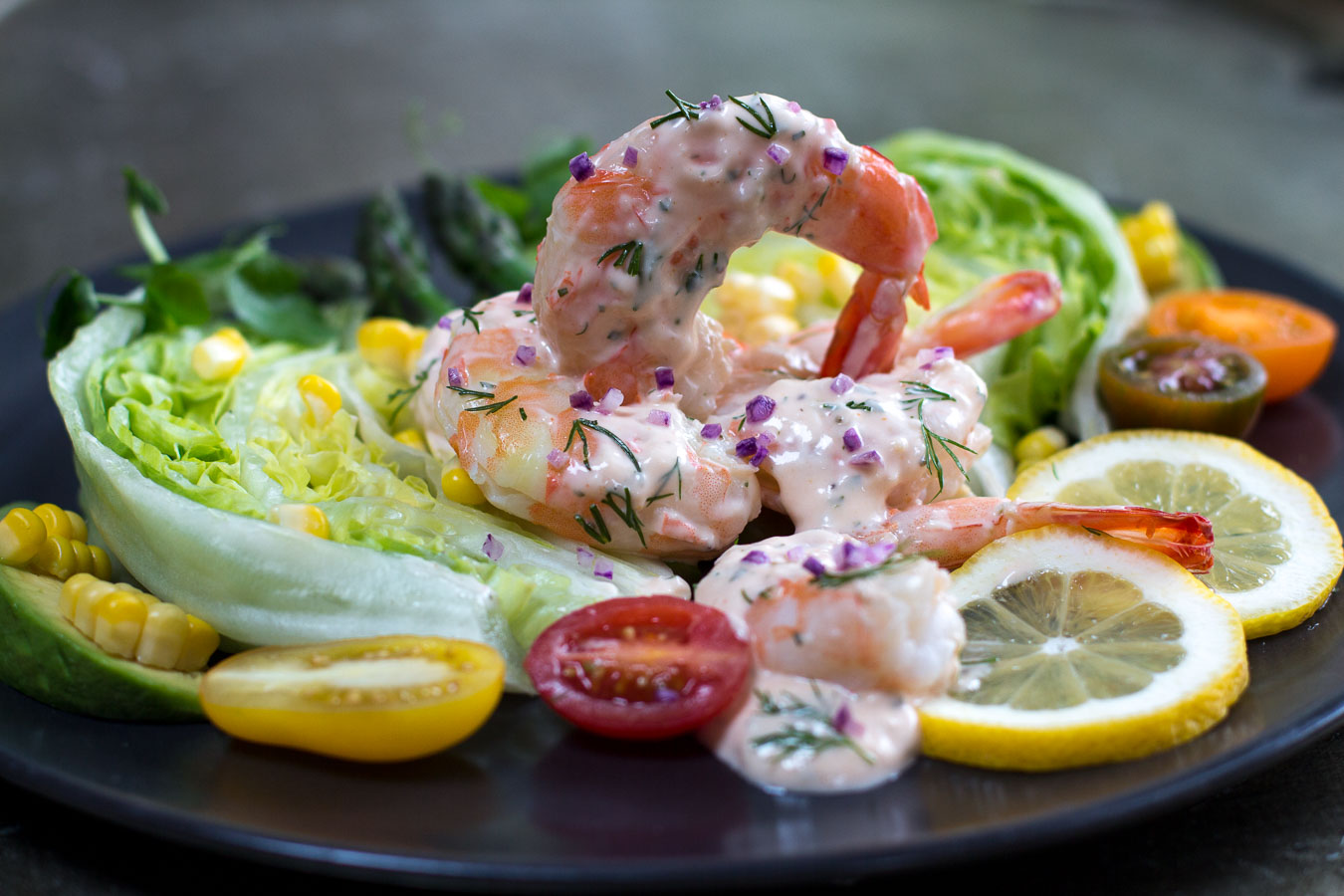 A Comeback for a Classic Dish! This fresh, seafood-rich trendsetter recipe of the early 20th century takes on a modern flair with Fresh (not frozen) Pink Shrimp and a zippy Louis Sauce.
Here I serve as a salad – for the Holidays ~ add shrimps and sauce on a platter – skewer them , and watch them disappear!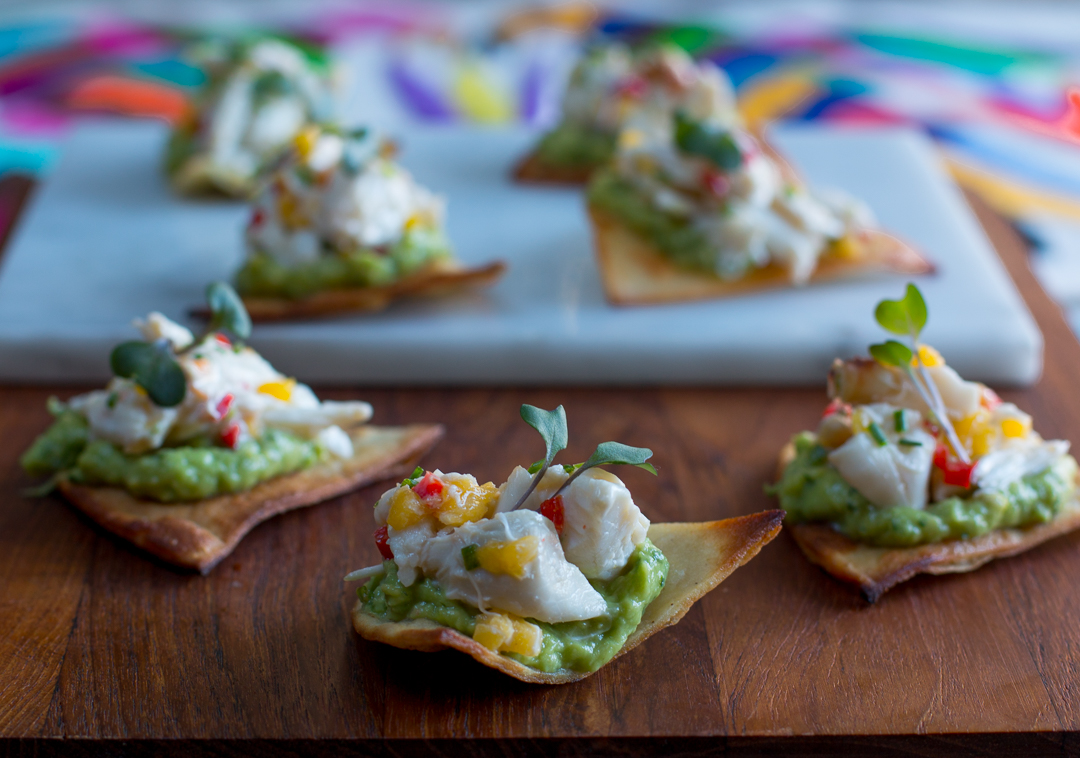 Another party-pleaser! An Irresistible Zesty Pick-Up Appetizer ~ Crispy, crunchy and creamy – all the textures come together; a special recipe for Holiday Entertaining… Gluten Free. A creative twist.
Jumbo Lump Crabmeat's flavor is left to shine… additions are bright and flavorful: mango, red pepper, chives,  jalapeño, lime juice and and the littlest bit of mayo to bind.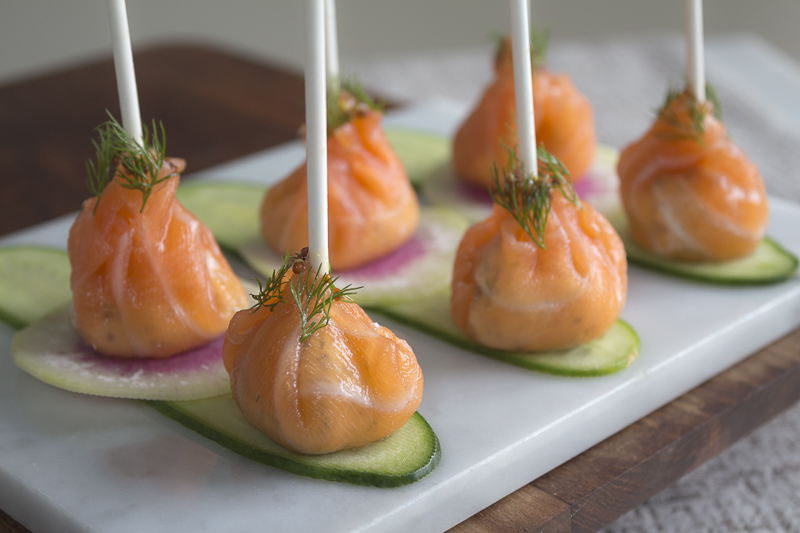 No one will be able to resist these savory lollipops. Thin sliced, luminous smoked salmon around zesty cream cheese – the perfect pick-up appetizer for New Year's Eve or New Year's Day.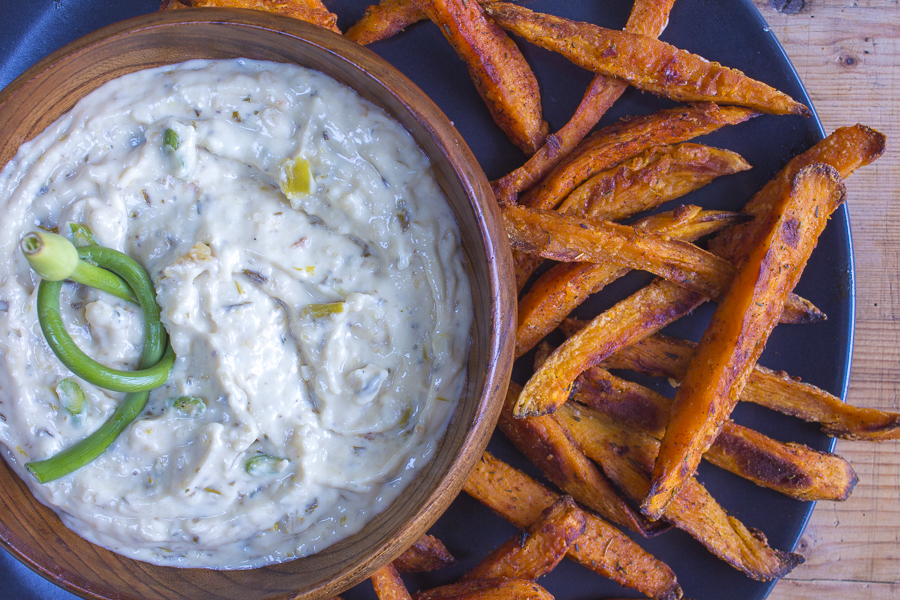 Dip Into This!  A Updated, Healthy Lightened-Up Roast Garlic and Onion Dip.
Need holiday dip that doesn't break the calorie bank?
A real crowd pleaser  – there won't be any leftovers! This is a REDUX recipe – a healthier version of Lipton Soup Mix Dip.
Serve with crudités as well.
Add some crunch to any gathering. Raw cashews are soaked for easier digestion and are cooked in a slow oven until golden and crispy. Coat with sweet and savory, addictive seasonings: curry powder, ginger, cinnamon, cumin, smoked paprika, pink sea salt, coconut nectar, coconut palm sugar and unsweetened shredded coconut.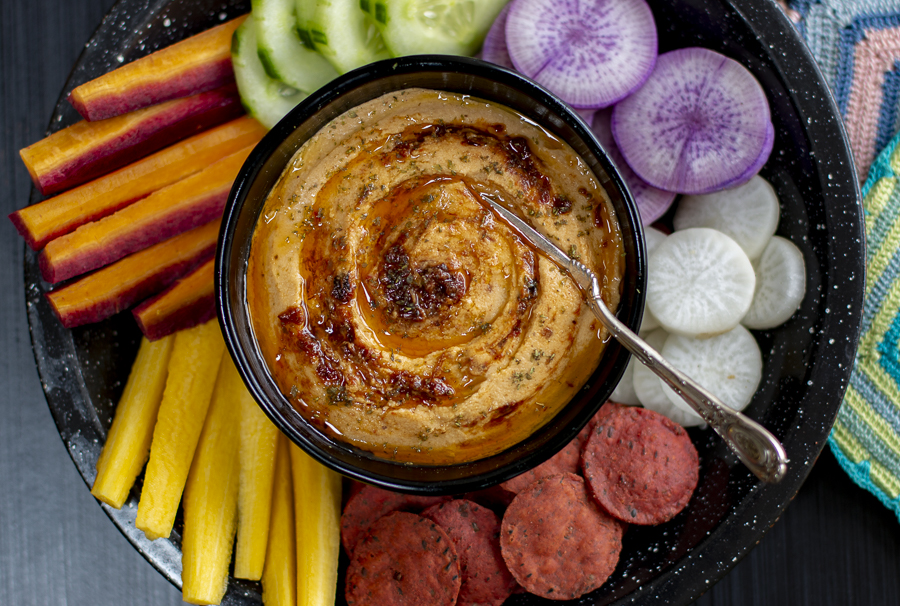 Hummus gets a flavor boost with aromatic and a bit fiery Harissa (an easy to make versatile condiment.) Harrisa is a flavor-bomb sauce/condiment and pairs wonderfully with mellow hummus – a North African spicy chili paste — the Sriracha of the Middle East. Serve with crudités, pita and interesting tortilla chips (mine are beet flavored.)
Spinach & Chicken Meatball Appetizer with Fontina Fondue
A killer appetizer!! These pop-in-your-mouth meatball~crostini~marinara bites are topped with a flowing, easy fontina cheese fondue. Spinach & Chicken Meatballs have a light texture and roast beautifully.
Print Recipe
Pin Recipe
Rate this Recipe
Ingredients
1/2

recipe

Totally Homemade Spinach & Chicken Meatballs

(see recipe)

1

cup

marinara sauce

warmed

8

slices

white bread

from approximately 10 slices bread. Can use gluten free bread 
Fontina Fondue:
1

cup

dry white wine

1

large

garlic clove

minced or finely grated

8

ounces

fontina cheese

shredded, can use half mozzarella

4

teaspoons

cornstarch
Instructions
Recipe makes 50 miniature Spinach & Chicken Meatball Appetizers with Fontina Fondue.

Can also freeze some mini meatballs for another use.

Make mini meatballs. Preheat oven to 350 degrees. (Reheat later before adding on top of toasted bread rounds.)

Cut bread using a 1 1/4 inch round biscuit cutter, making 50 rounds. Add them to a baking tray in a single layer. Cook until toasted and a deep golden brown, about 5 minutes. Set aside.
Fontina Fondue:
Make the fondue: Heat wine and garlic in a small 1 quart pot. Bring to a simmer. In a bowl to fit, add the shredded cheese and cornstarch, mix well with a fork. Add the cheese to the pot, stir well, turn off heat, Mix until well blended. Add back to heat if needed to melt the cheese.
Assemble the meatballs:
On a platter - add the toasted bread rounds. Add 1 teaspoon of warm marinara sauce on each, followed by a warm meatball. Add a teaspoon of cheese fondue on top of each. (Remelt fondue over very low heat if necessary.)

Add a skewer to each meatball appetizer and serve.
Nutrition Facts
Spinach & Chicken Meatball Appetizer with Fontina Fondue
Amount per Serving
% Daily Value*
* Percent Daily Values are based on a 2000 calorie diet.
Karen Sheer