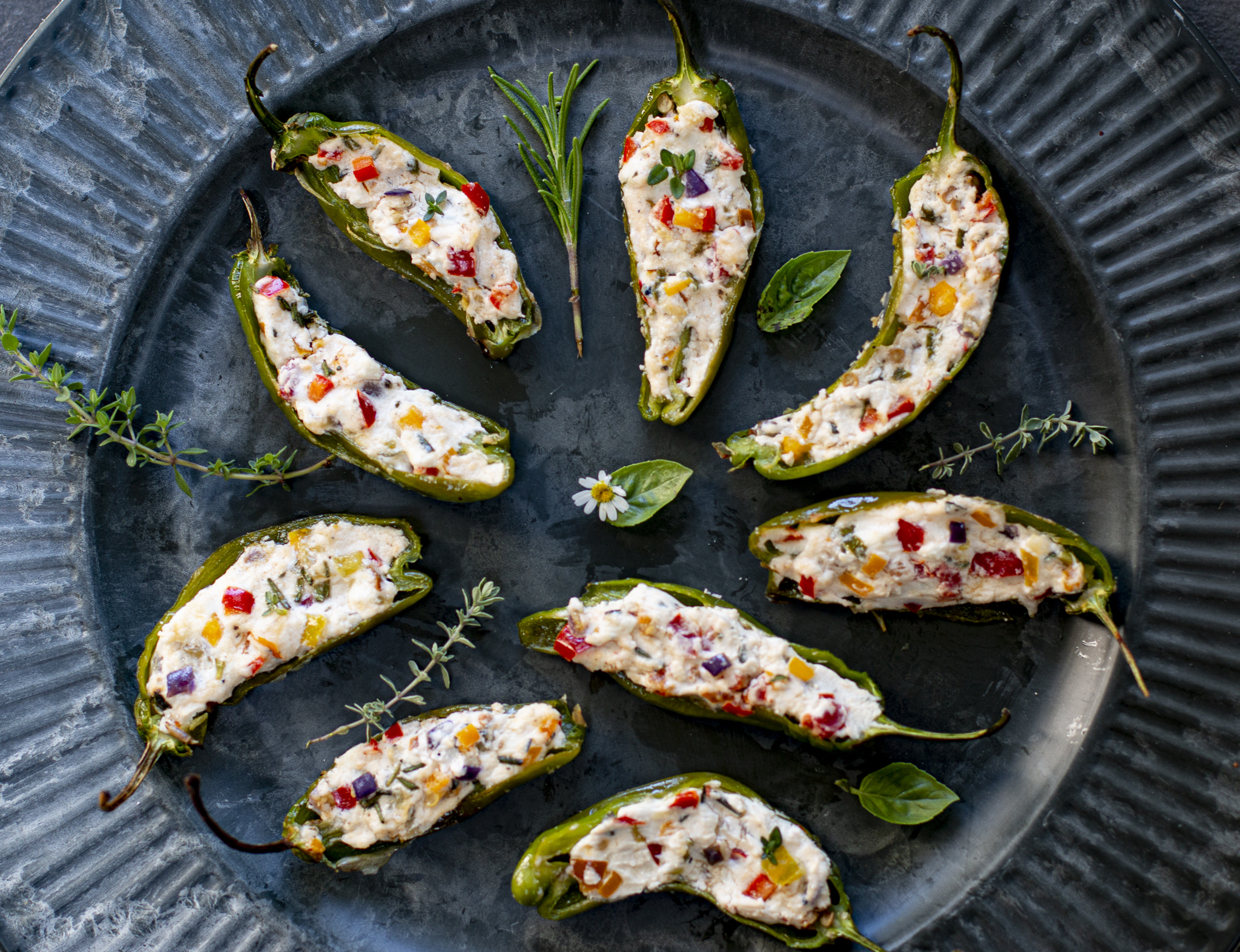 Mediterranean Stuffed Shishito Peppers
Blistered Shishito Peppers are cut in half and stuffed with a medley of Mediterranean ingredients for an addictive appetizer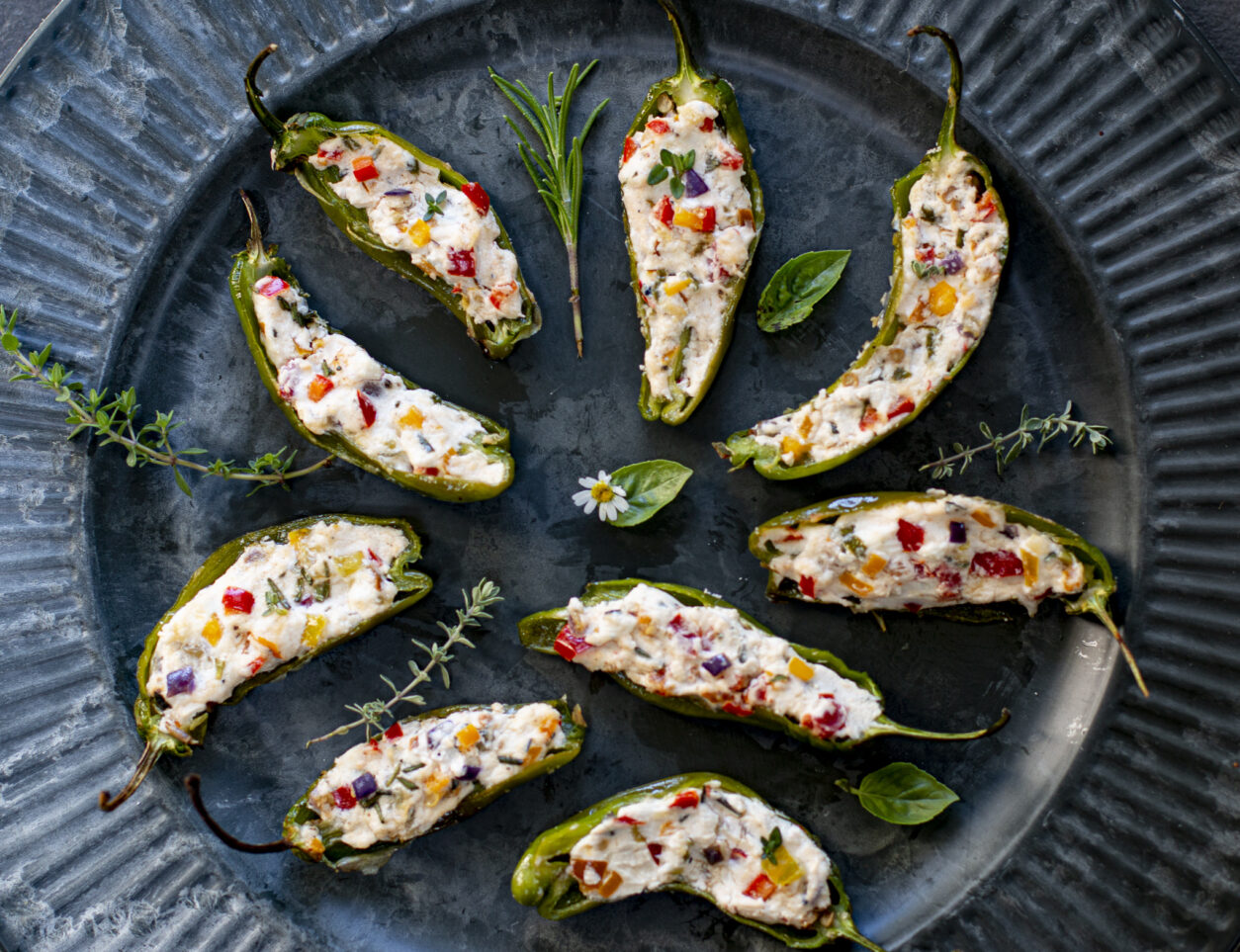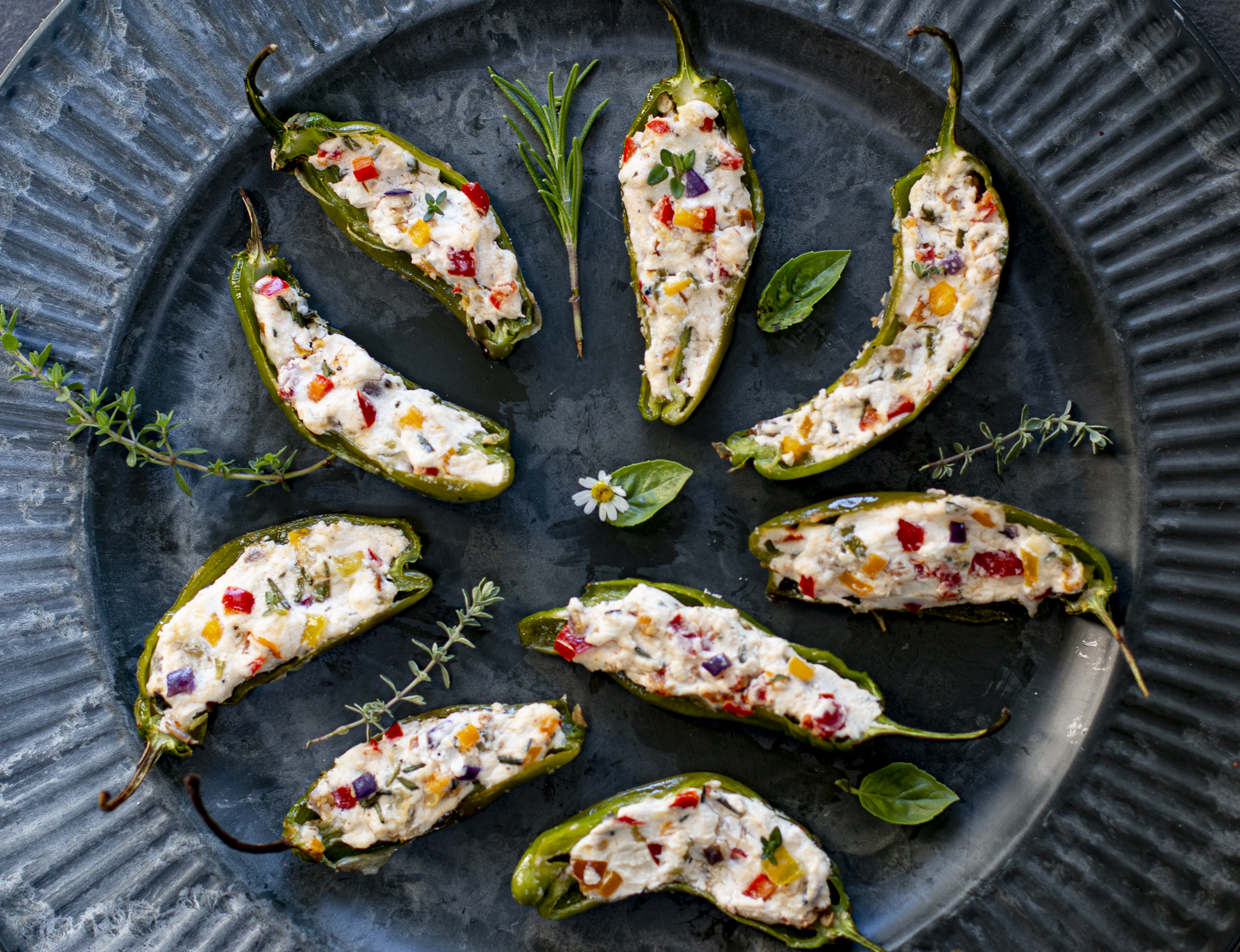 Stuffed with softened goat cheese, colorful peppers. tomatoes and herbs, then broiled one minute
Recipe makes 24 pick-up stuffed Shishitos
The ultimate pick-up tasty three bite little stuffed peppers!
The mild peppers are stuffed with an explosion of flavor.
These beauties are vegetarian, gluten free and light in calories.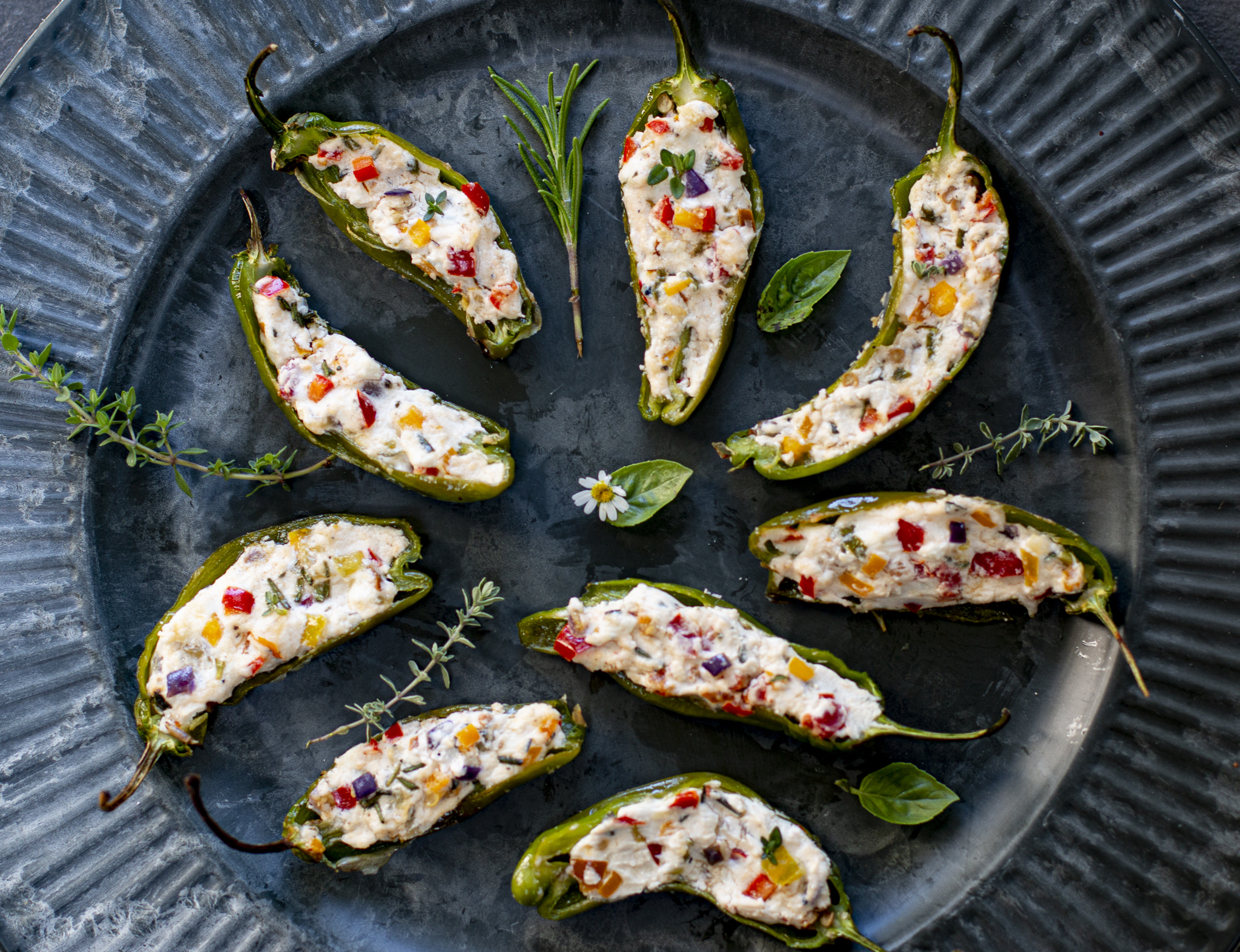 Ingredients
24 shishito peppers
2 teaspoons extra virgin olive oil, divided
6 ounces goat cheese, softened
⅓ cup colored bell peppers*, ¼" dice
1 tablespoon scallions, minced
¼ cup colored tomatoes,
2 teaspoons fresh herbs, chopped (I have used rosemary, basil, thyme and marjoram.)
Instructions
1
Blister the Shishito Peppers:
Wash and dry the peppers. Heat 1 teaspoon of oil in a large cast iron skillet. When very hot, add the shishitos and let them blister and blacken on the underneath, about 1 -2 minutes.
Turn over with tongs until the second side has colored – then remove immediately to a plate. Sprinkle with a pinch of sea salt.
When cool – cut each in half horizontally and place them, cut side up on a rimmed baking sheet to fit. (Keep the seeds inside – they are mild and edible.)
2
Make the Filling:
Add the goat cheese to a medium sized bowl.
Wipe out the skillet, add remaining teaspoon of oil. Set heat to medium-low.
Add the peppers and scallions and cook stirring 2 minutes to soften.
Add the herbs, mix in and remover from the heat.
3
Add the veggie & herb mixture and tomatoes to the goat cheese; mix well.
Add a pinch of cayenne pepper if you like.
4
Fill each Shishito with about 2 teaspoons of filling (depends on the size) and them to a rimmed baking pan to fit.
Heat the broiler and when very hot, broil 4 inches from the heat source for just 2 minutes.
Will be firm and a little bubbly. Do not cook longer, will dry out the cheese.
Enjoy!!
Can be made a day ahead of time in a the refrigerator stored in a tightly sealed container.
Simple reheat in a 350 degree oven until warmed through.
*I have used red, yellow, purple and chocolate colored peppers (from a Summer farmer's market.)
See BLOG for many more step-by-step photos and a information.
Also learn the difference between Shishito peppers and Padrón peppers.
This recipe may not be reproduced without the consent of its author, Karen Sheer.
Karen Sheer