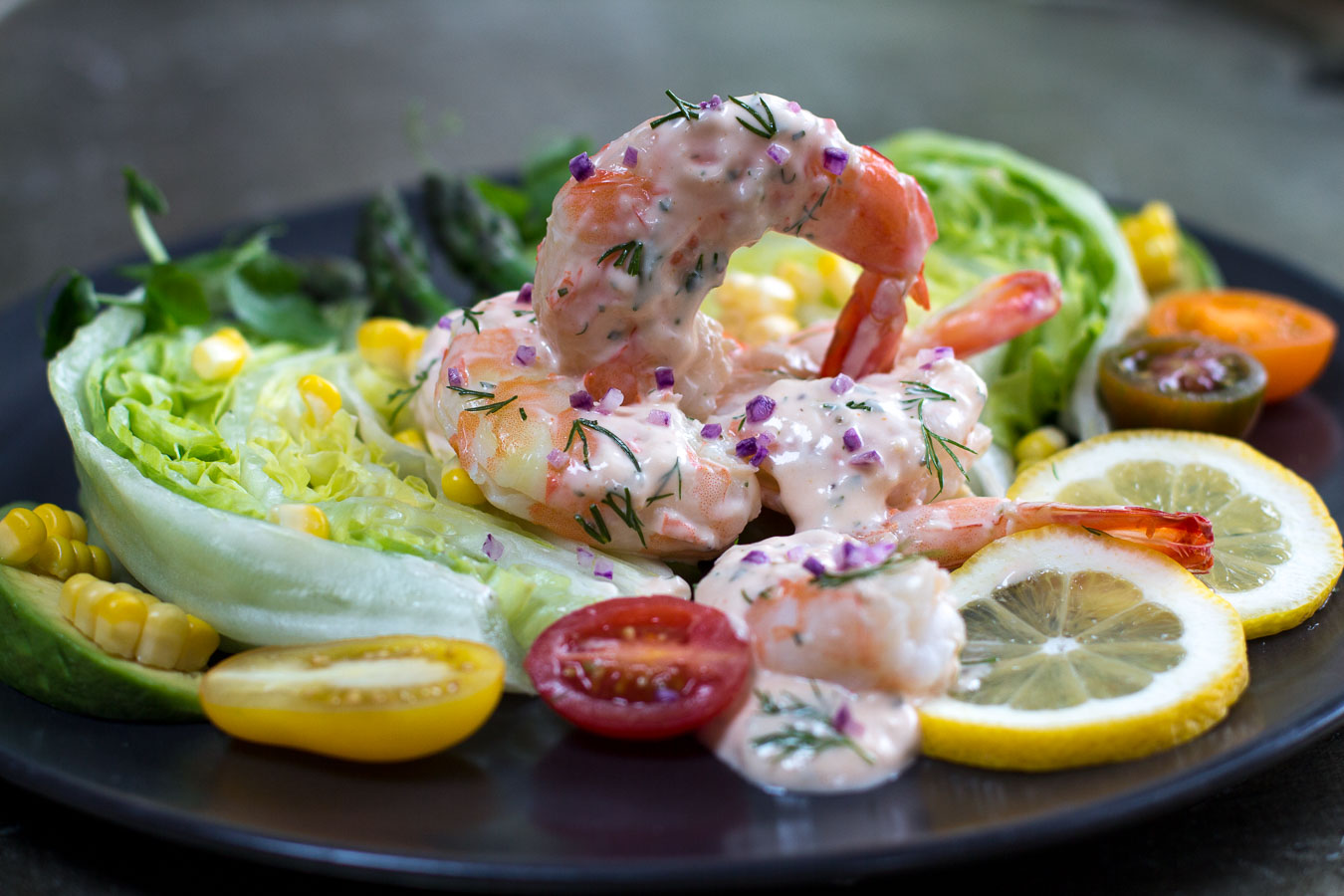 Modern Shrimp Louis Salad
A Comeback for a Classic Dish! This fresh, seafood-rich trendsetter recipe of the early 20th century takes on a modern flair with Fresh (not frozen) Pink Shrimp and a zippy Louis Sauce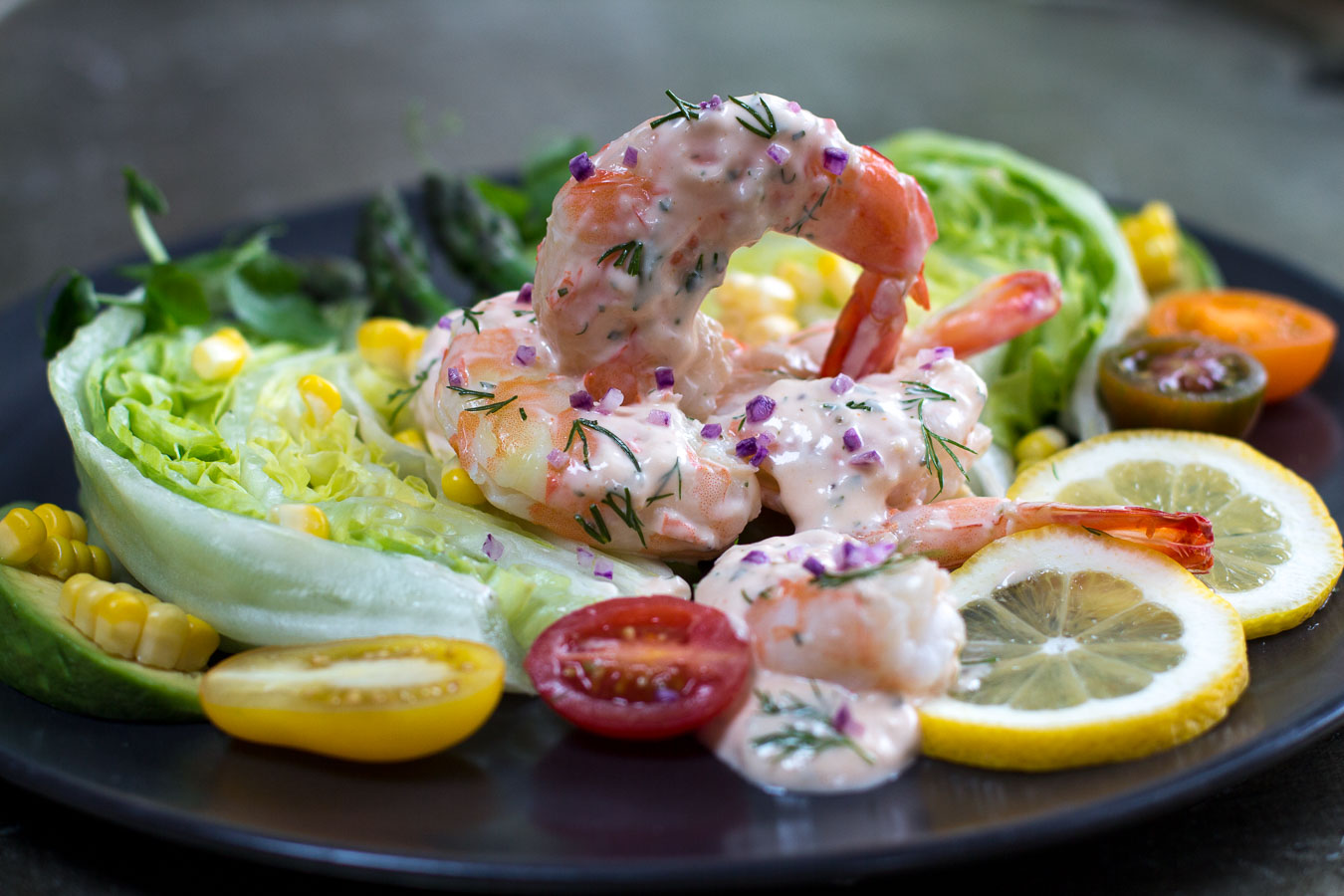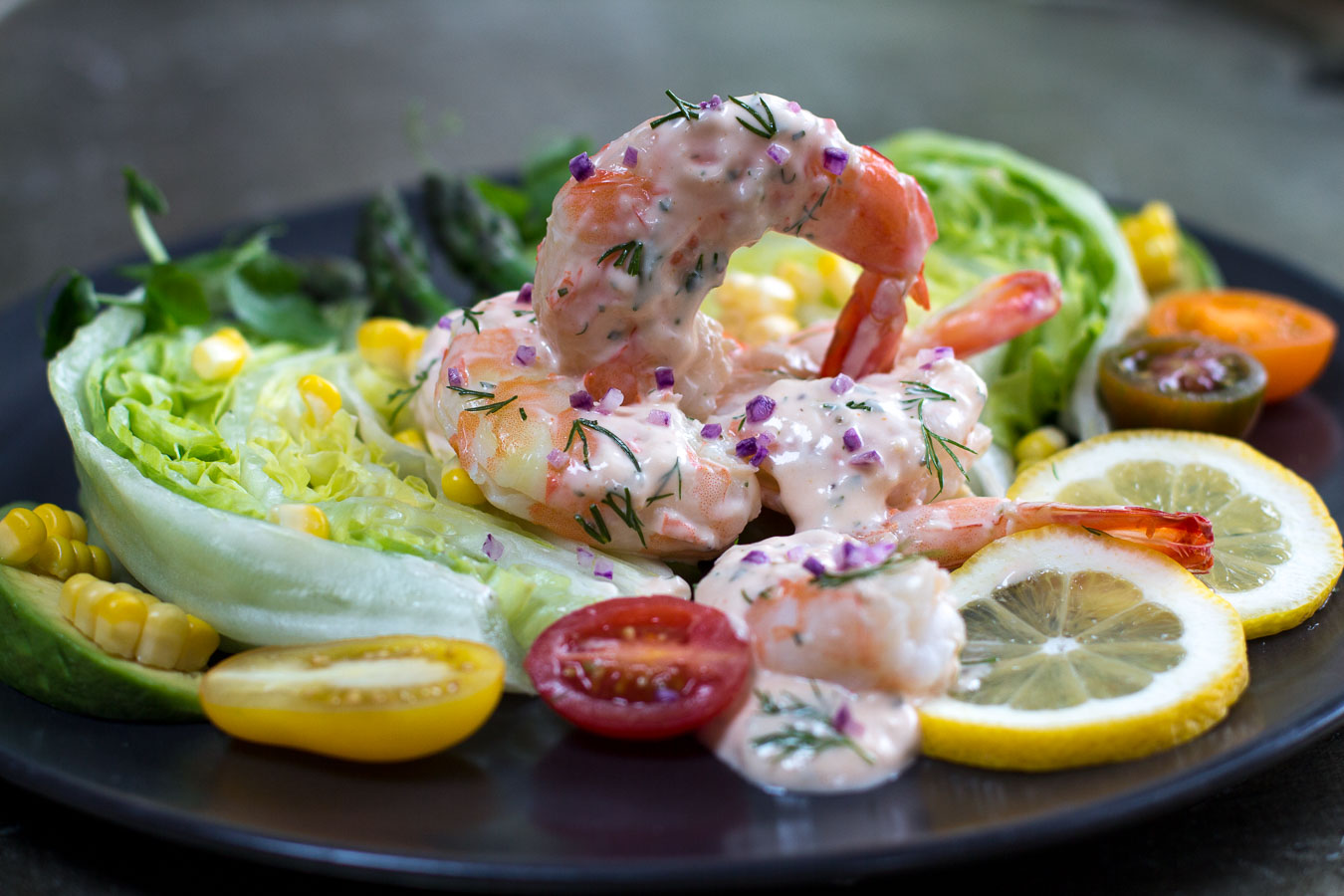 Ingredients
12 large pink shrimp , fresh, not frozen* (about ¾ #)
¼ cup rose wine, can use dry white wine as well
1 ½ cups cool filtered water
1 large bayleaf, or 2 small
1 teaspoon mixed peppercorns
2 strips lemon rind
4 cups ice**
½ head iceberg lettuce, preferably organic
½ large haas avocado, peeled, cut into 12 thin slices
16 small multi-colored tomatoes, halved 
⅓ cup fresh corn kernels, steamed 1 minute
12 medium asparagus spears, trimmed, peeled, steamed 2 minutes
2 teaspoon asian purple radish, very small dice (for garnish)
4 teaspoons fresh dill, chopped
1 recipe Modern Shrimp Louis Dressing (see recipe)
Instructions
1
Cook the Shrimp: Place unpeeled shrimp with wine, water, bayleaf, peppercorns and lemon rind in a non-reactive
2 quart pot. Bring to a boil, then cover and reduce heat to a simmer. Cook shrimp 2 – 3 minutes
until firm and cooked through. The flavor of the shrimp will benefit from cooling in its cooking liquid.
2
Remove from the stove, add 4 cups of ice to stop the shrimp from cooking further – will cool quickly.
When cool, peel and devein shrimp, leaving tail portion intact. Refrigerate until needed.
3
Prepare the salad: (I have used Organic Ingredients)
For Four Individual Servings – Cut the lettuce into 4 wedges, place one on each plate.
Add 2 avocado slices around the lettuce.
Dot with 8 tomato halves (from 4 tomatoes.)
Add 3 asparagus spears decoratively to the plate.
Top with a portion of cooled shrimp.
Scatter a portion of corn over all.
4
Serve Shrimp Louis Sauce on the side, or drizzle over the shrimp and salad.
Garnish with chopped dill and asian purple radish. Sliced Lemons are a nice garnish too.
Sprouts and Microgreens would also make a nice garnish.
5
* Pink Shrimp can be found seasonably from fish markets, I have used a variety from Florida.
** Ice will cool down the shrimp quickly, while the shrimp benefits from the flavorful liquid.
This recipe may not be reproduced without the consent of its author, Karen Sheer.
Karen Sheer