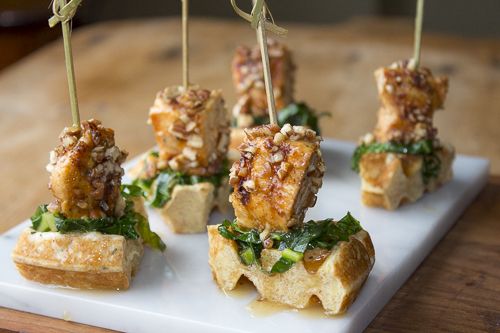 Pecan Chicken and Waffle Appetizer with Sautéed Collards and Maple-Bourbon Drizzle
The Ultimate Appetizer with Southern Charm ~ Grilled Chicken with Pecans and a Maple-Bourbon Glaze on top of crisp Buttermilk Waffles and Sweet and Sour Sautéed Collard Greens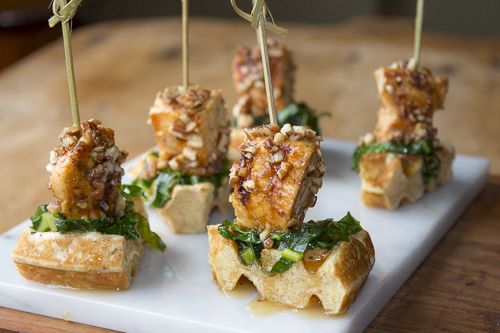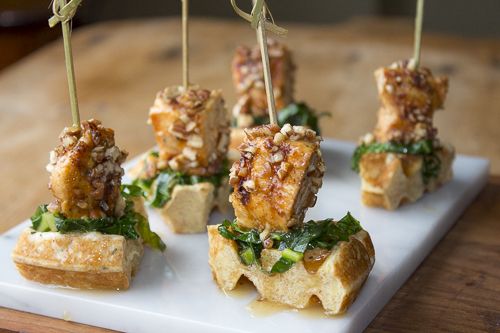 Ingredients
1 pound chicken breast halves, trimmed, washed and dried
1 tablespoon extra virgin olive oil, or neutral oil (expeller pressed)
1 teaspoon garlic, peeled, finely minced
2 teaspoons cajun seasoning, as spicy as you like
¼ cup pure maple syrup
1 tablespoon bourbon
1 pinch hot chile flakes
1 pinch sea salt
1 ½ tablespoons unsalted butter
⅓ cups pecans, tasted and coarsely chopped
1 recipe Karen's Buttermilk Waffles*
1 recipe Sautéed Collard Greens**
Instructions
1
Prepare:
Karen's Buttermilk Waffles
Sautéed Collard Greens
2
Cut each large chicken breast across the grain into 5 strips each. Marinate in the oil, garlic, cajun seasoning . Cover and refrigerate up to in day in advance.
Heat a cast irk skillet over high heat, oil a little bit and grill the chicken until strong grill marks form. Reduce heat to low, turn the pieces over,
and cook until just underdone – they will be reheated for this recipe. Add to a heatproof baking dish to fit.
3
Meanwhile, make the Maple-Bourbon Glaze:
Add the maple syrup, bourbon and a pinch of chile flakes to a small heatproof bowl. Microwave until warmed through.
Remove, and whisk in the cold butter to make a glaze.
4
Cut the chicken into bite sized appetizer pieces, approximately 24.
Add 3 tablespoons of glaze to the chicken, mix to coat. Heat the chicken until tender, and cooked through.
Place the chopped pecans in a small dish, add each chicken piece, turning to coat slightly.
5
Finish the appetizer:
1. Heat the wedges of waffles in a low over for a few minutes until just crisped. Place them on a platter.
2. Top each with a portion of sautéed collard greens.
3. Top with a piece of pecan chicken.
4. Drizzle with a little of remaining maple- bourbon glaze on each and serve.
Karen Sheer