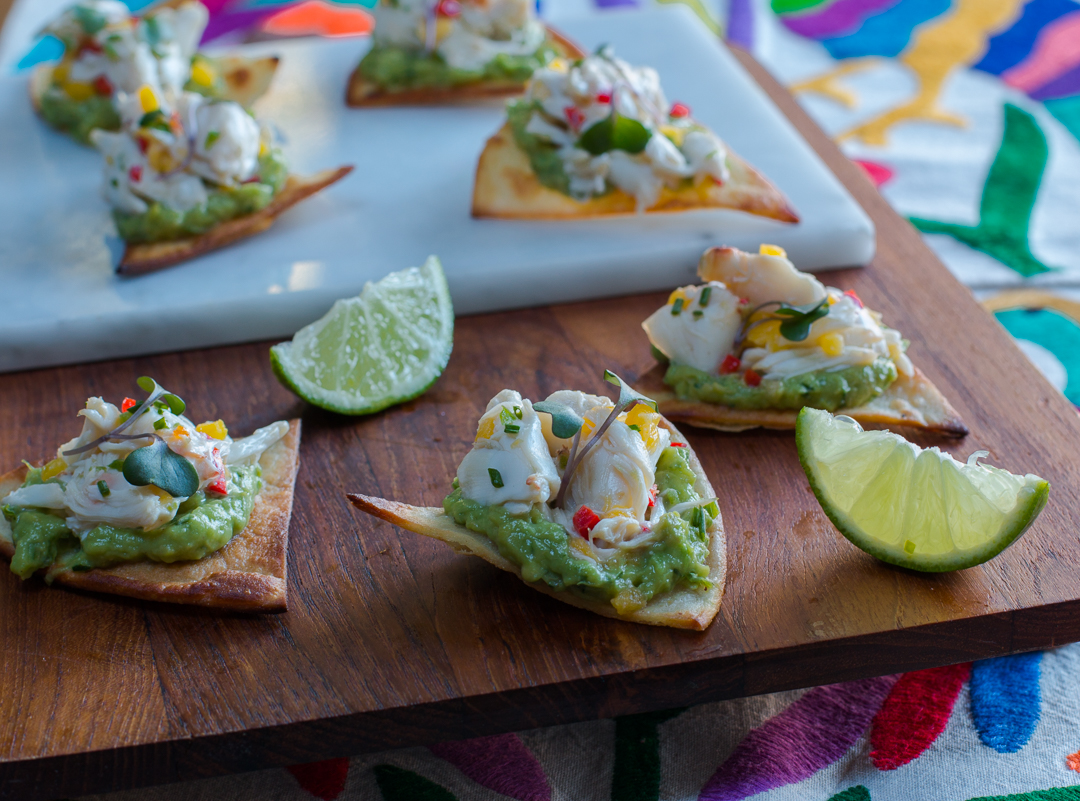 Crab Tostadas Bites with Avocado-Cucumber Mash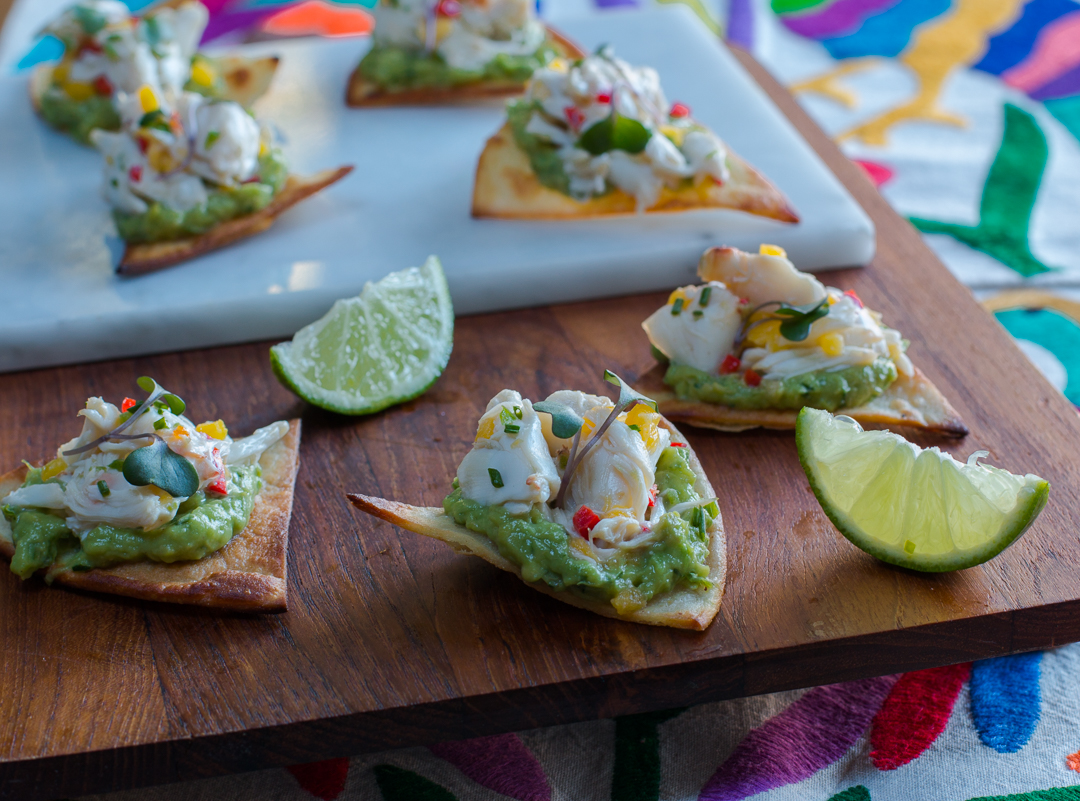 For the recipe: Make Crisp Corn Tortilla Triangles / Lump Crab Salad / Avocado-Cucumber Mash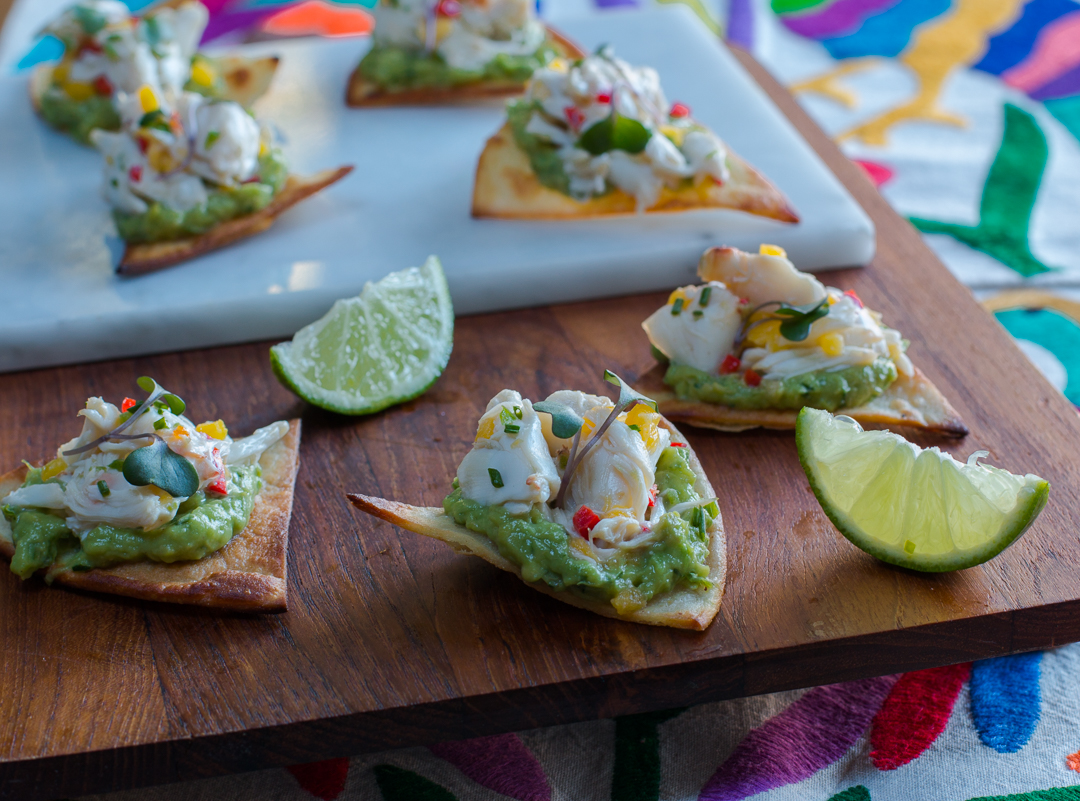 Ingredients
Lump Crab Salad
½ pound jumbo lump crabmeat, unpasteurized (if you can find it)
2 teaspoons red bell pepper, fine dice
2 tablespoons fresh mango, peeled, medium dice
1 teaspoon fresh chives, minced
1 teaspoon jalapeño, minced (or to taste)
¾ teaspoon sweet onion, peeled, minced
1 teaspoon flat leaf parsley, minced (could use cilantro)
1 ½ teaspoons fresh lime juice
1 tablespoon mayonnaise, I like "just mayo"
Avocado-Cucumber Salad
½ large haas avocado, firm but ripe
2 teaspoons fresh lime juice
2 tablespoons seedless cucumbers, coarsely grated and patted dry
¼ teaspoon jalapeño, minced
¾ teaspoon sweet onion, minced
1 teaspoon flat leaf parsley (can use cilantro)
¼ teaspoon sea salt, or to taste
4 Fresh Corn Tortillas – 6 "
Instructions
1
For the Crab Salad:
Add all ingredients to a non-reactive bowl. Gently toss all together not to break up the beautiful lump crab.
Taste for salt, add just a pinch.
Refrigerate until ready to use, up to one day ahead.
2
Avocado-Cucumber Mash:
Remove pit and skin of avocado. Place on a cutting board – slice coarsely and mash with the side of a knife until creamy and mashed.
Add avocado with remaining ingredients to a non-reactive bowl and mix well. Use within few hours. Place in the refrigerator with plastic wrap firmly down on the avocado mash if needed.
3
Crisp Corn Tortilla Triangles*:
Cut 4 fresh corn tortillas into triangles; each one will yield 6 triangles.
In a 8″skillet, add 1/4 cup neutral oil. Raise heat to medium.
When hot, add 8 triangles and cook, turning over when lightly golden and crisp throughout.
Place on a plate lined with a sheet of paper towel. Continue with remaining triangles, adding more oil if needed.
*Can use store bought tortillas (organic blue ones would be nice.)
4
To Put Together / Before Serving:
Place 1 teaspoon of Avocado Mash on each tortilla triangle.
Mound a portion of Crab Salad on top, about 1 tablespoon.
5
Garnish with micro greens or sprouts.
See BLOG for many photos of this recipe, and more information.
This recipe may not be reproduced without the consent of its author, Karen Sheer.
Karen Sheer