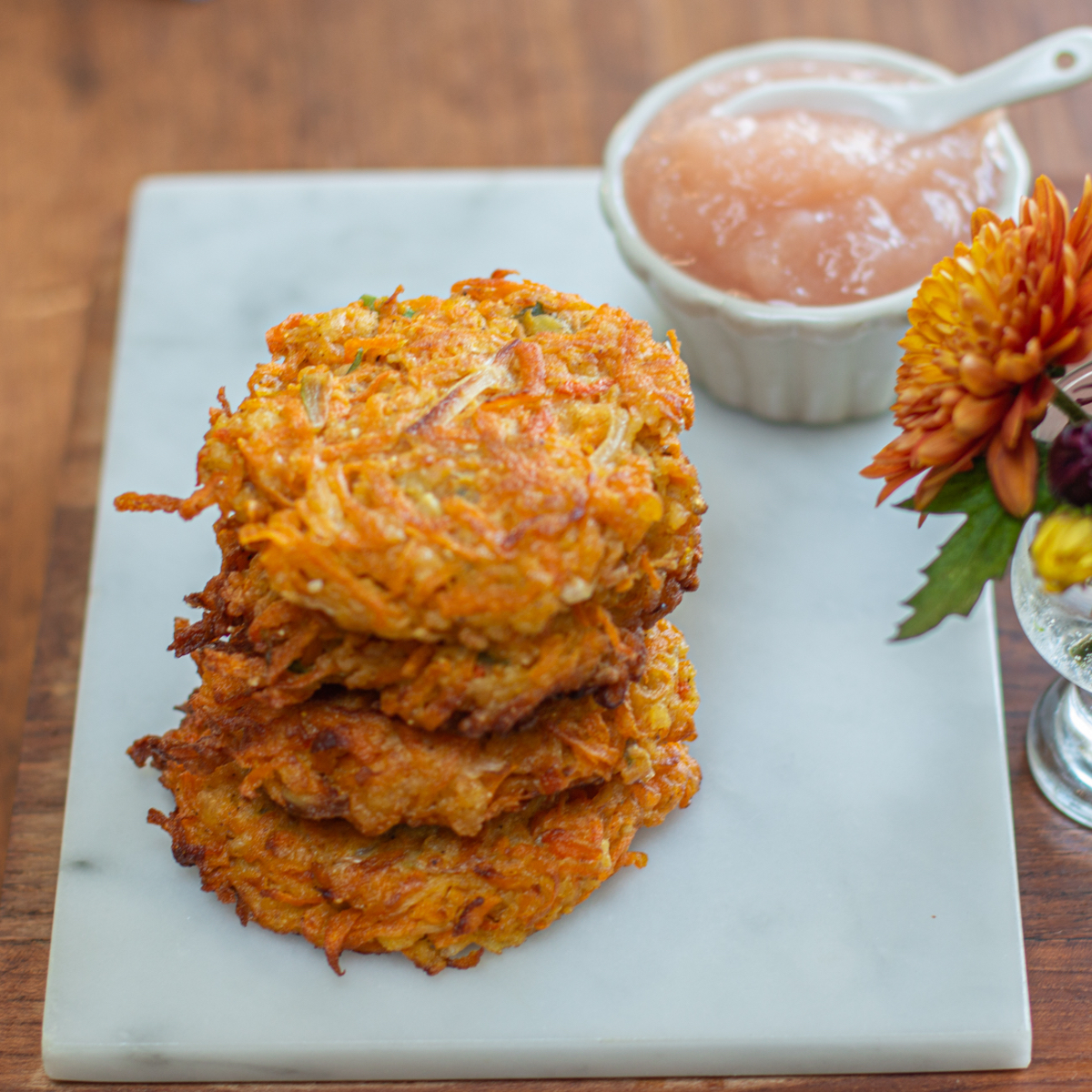 The Best Butternut Squash Latkes! (an updated "potato" pancake)
A new twist for your Potato Pancake repertoire.
Butternut squash with warm spices makes a delicious sweet latke that is perfect for Chanukah or anytime! Gluten Free adaptable.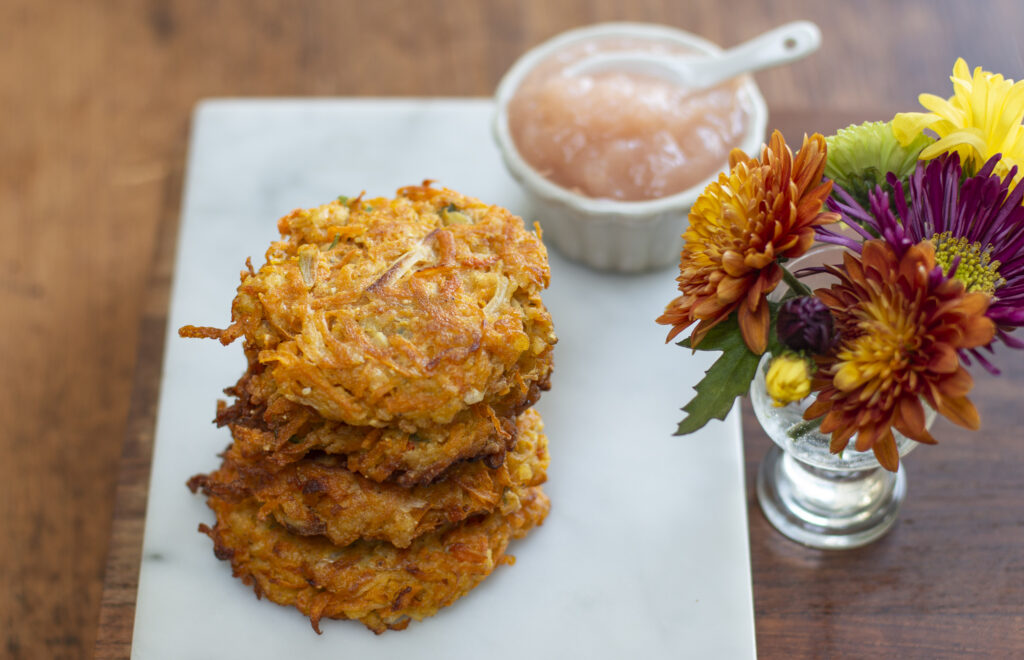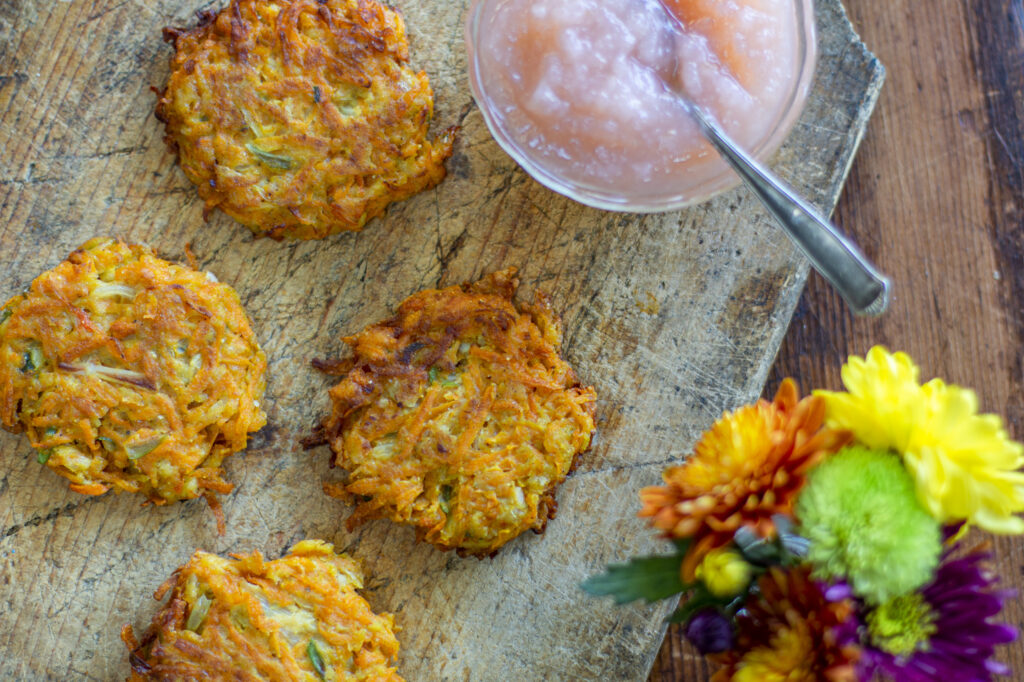 Latkes are that ethereal treat; a potato mixture made by dropping large tablespoons into a skillet of shimmering, hot oil. Enjoy year-round!
The trick for a perfect latke is twofold:
1. For Crispiness: Squeeze your potatoes in a tea towel (or paper towels) until very dry.
2. For Lightness: Separate the eggs; glossy egg whites will make a lightened latke, with a meringue-type batter.
For a Gluten-Free version, simply use a all-purpose gluten free flour blend in place of the flour for great results.
See the Blog for many more photos and other fantastic Latke recipes.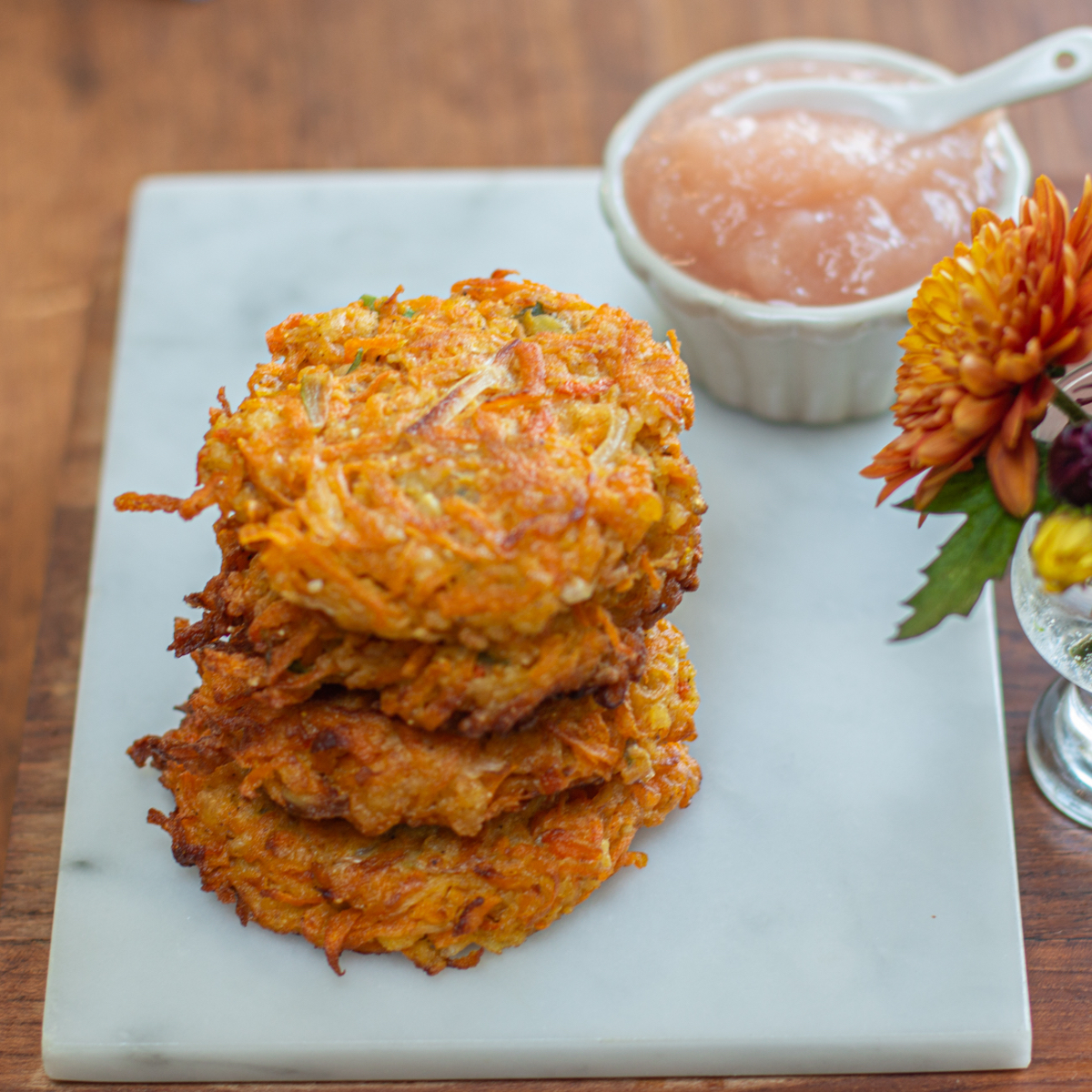 Ingredients
2
 pounds 
butternut squash (will have: 5 cups grated)
1
large macintosh apple, peeled (left whole)
1
medium onion, peeled (squeeze out excess water)
2
tablespoons
yellow cornmeal
2
large eggs, separated (I use pasture raised)
¼ teaspoon
nutmeg, freshly grated
½ cup
flour (can use a gluten free flour blend)
neutral oil* (I add ⅓ inch of oil in a 14″ skillet)
Instructions
1
For an extra special treat make my: Homemade Applesauce: My Favorite (see recipe below)
2
Peel butternut squash (vegetable peeler works best) and cut into four even large pieces.
Grate the butternut squash on the largest hole of the grater, and add to a large bowl.
3
Add to this bowl the onion (squeezed dry), cornmeal, egg yolks (place egg whites in a small bowl), cinnamon, nutmeg, sugar, salt, and the flour.
Mix well distributing all the ingredients.
4
Now is the time to heat the oil in the pan on the lowest heat.
5
Beat the egg whites until stiff but not dry – set aside a minute.
6
With a hand held grater, grate the peeled apple; turning the apple and discard the core.
Add the apple and 1/2 of beaten egg whites to the bowl.
(I grate the apple at the end – so it does not discolor.)
Gently mix in with a rubber spatula. Add the second 1/2 of egg whites and gently mix in. Time to fry!!
7
Heat 1/3″ of neutral oil* in a skillet (cast iron skillet works great) and set heat to medium-low.
Drop 3 tablespoons (about 3 1/2″) of mixture into the pan and cook until light brown.
Turn the pancakes over, reduce heat and cook until done (approx. 5 minutes.)
To make sure they are cooked through, flip them a few times. *Hint: If you have used more oil, you need to turn them less.
8
Place finished pancakes on a tray covered with paper towels.
Blot gently with paper towels if desired and serve hot with my Homemade Applesauce.
To reheat: Place latkes on a sheet pan and heat ay 350 degrees until just crisp and warmed through.
* with concerns about GMO's and processing of oils, use a vegetable oil which has not been chemically treated, this is called "expeller pressed."
I use Safflower or Sunflower Oil.
This recipe may not be reproduced in any form without the written consent of its author, Karen Sheer.
Karen Sheer