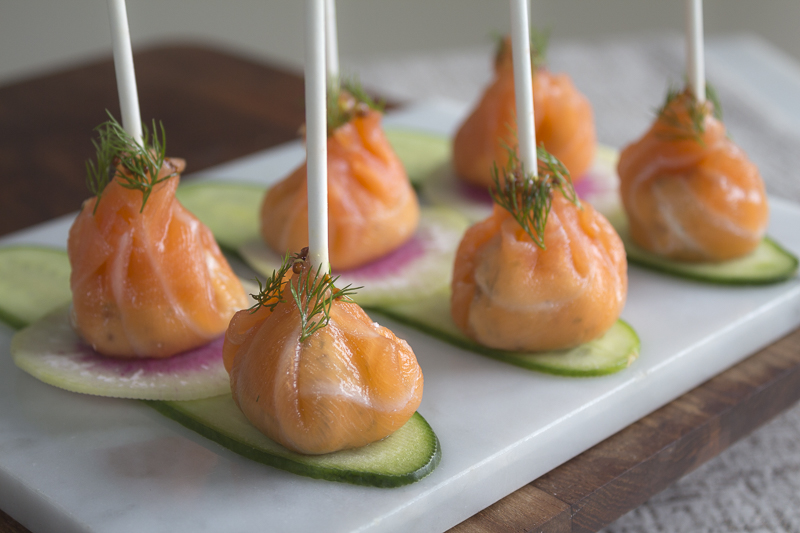 Smoked Salmon Lollipops
No one will be able to resist these savory lollipops. Thin sliced, luminous smoked salmon around zesty cream cheese – the perfect pick-up appetizer for New Year's Eve or New Year's Day.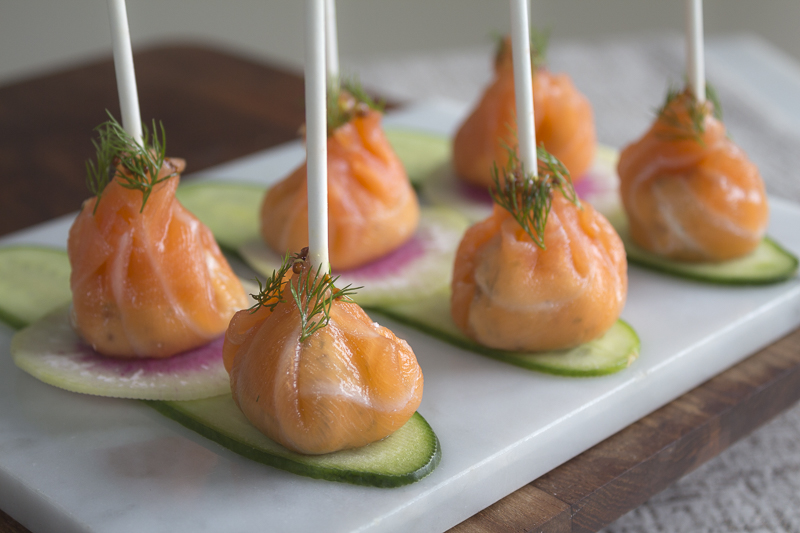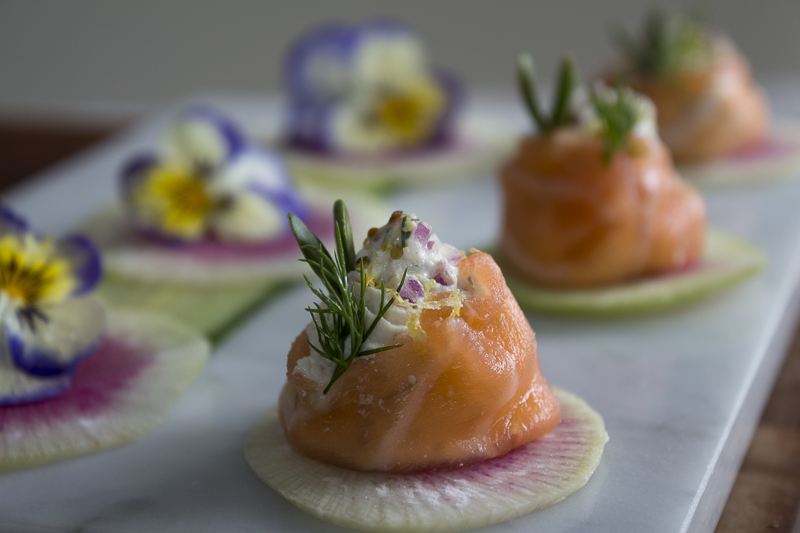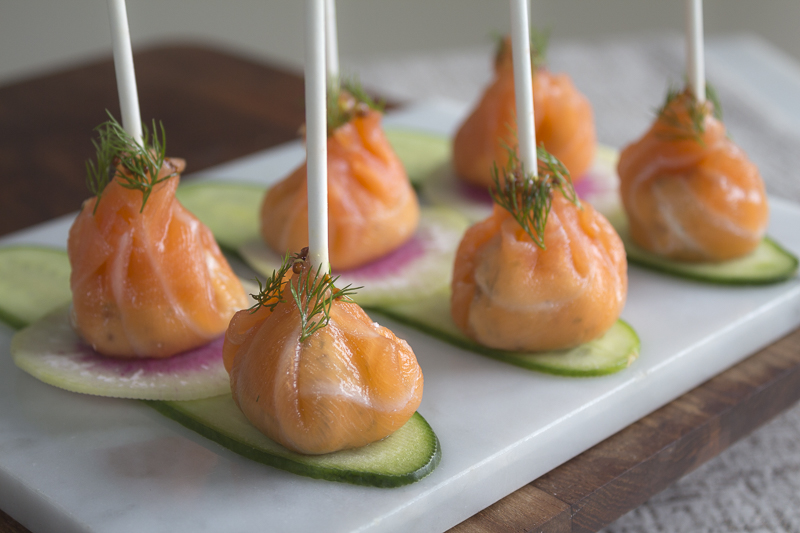 Ingredients
½ pound smoked salmon, sliced very thinly*
½ cup cream cheese, or Vegan Cream Cheese (see recipe)
3 teaspoons red onion, finely chopped, squeezed dry
4 teaspoons capers, finely chopped, squeezed dry
3 teaspoons fresh dill, finely chopped
2 teaspoons stone ground mustard
½ teaspoon lemon rind, finely grated
16 lolipop sticks, find at craft and party shops
Instructions
1
Make the flavored cream cheese:
In a small bowl, combine the cream cheese (or Vegan Cream Cheese) with the five flavoring ingredients.
Blend well to combine.
2
To make lollipops:
Scoop 2 t. portions of the flavored cream cheese onto a wax papered rimmed sheet pan, spacing them so they do not touch –
a small ice cream scoop works beautifully.
Add a lollipop stick into the center of each and freeze for 15 minutes.
3
Place the smoked salmon on a clean cutting board. Cut the fish into 3″ squares.
Top each square with a prepared cream cheese dollop with stick onto the the center.
Fold up to enclose, pinching the top, until the cream cheese in enclosed.
Patch with smoked salmon if needed.
4
Garnish each with three small sprigs of dill, and a few mustard seeds on top of the enclosed salmon lollipops, or top with caviar pearls if you like.
5
Place the finished lollipops on a platter. Cover with damp paper towels until ready to serve.
Or, place in wax papered lined container, and cover tightly – will stay fresh for one day.
6
For "open-faced" appetizer – Fill each salmon squares with 2 t. of the flavored cream cheese.
Shape the salmon, pinching to enclose the cream cheese to make a pretty round shape.
Garnish each with small dill sprigs and your favorite sprouts, such as sunflower sprouts.
7
See Recipe for Karen's Vegan Cream Cheese – a great alternative to dairy cream cheese.
This recipe may not be reproduced without the consent of it's author, Karen Sheer
Karen Sheer