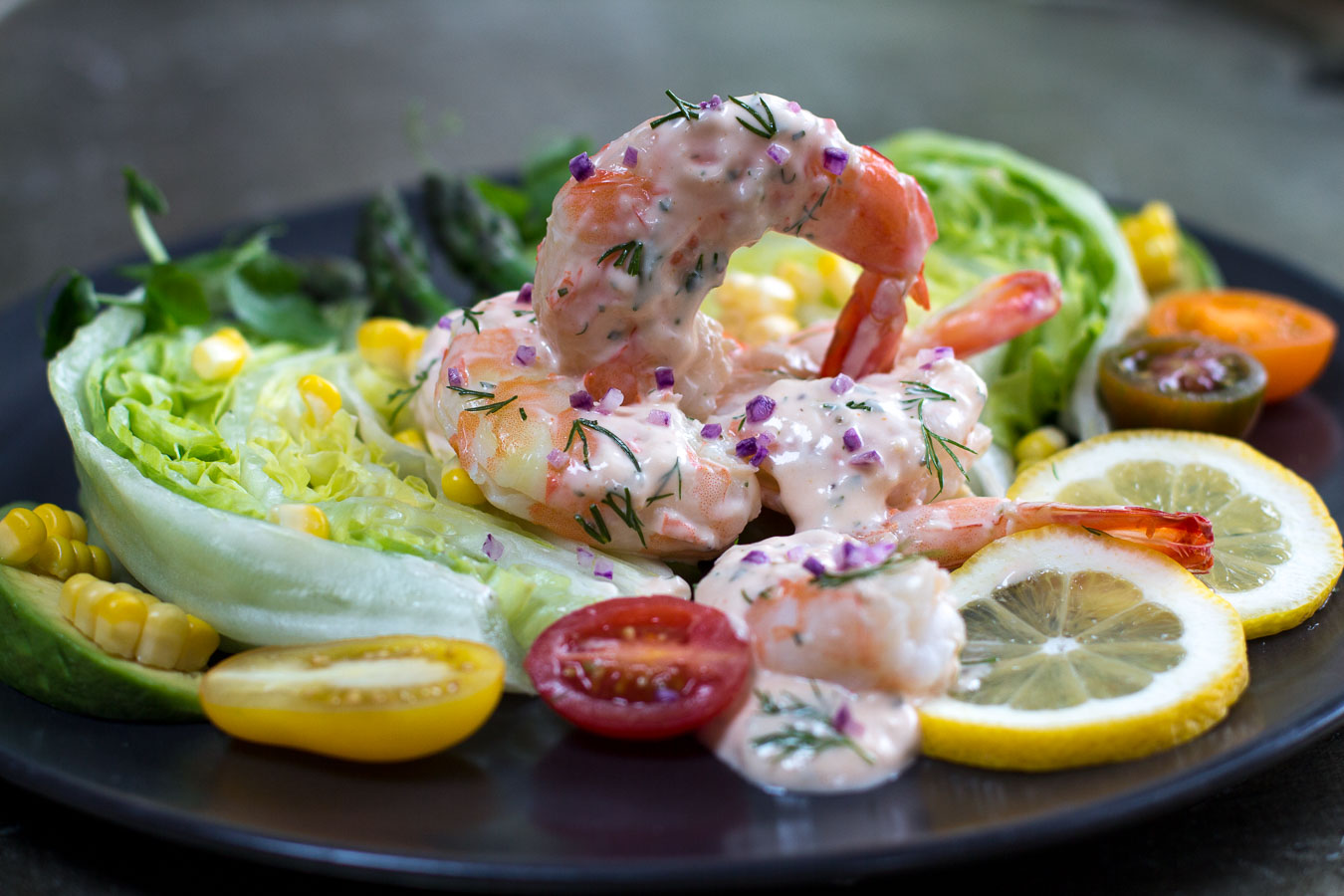 Mother's Day Recipes
This Mother's Day – Treat Mom to Some Healthy & Inspiring Home Cooking!
If you have been making the same recipes for years… have I got some tempting ideas for you!
Always healthy-forward, true ingredients & inventive.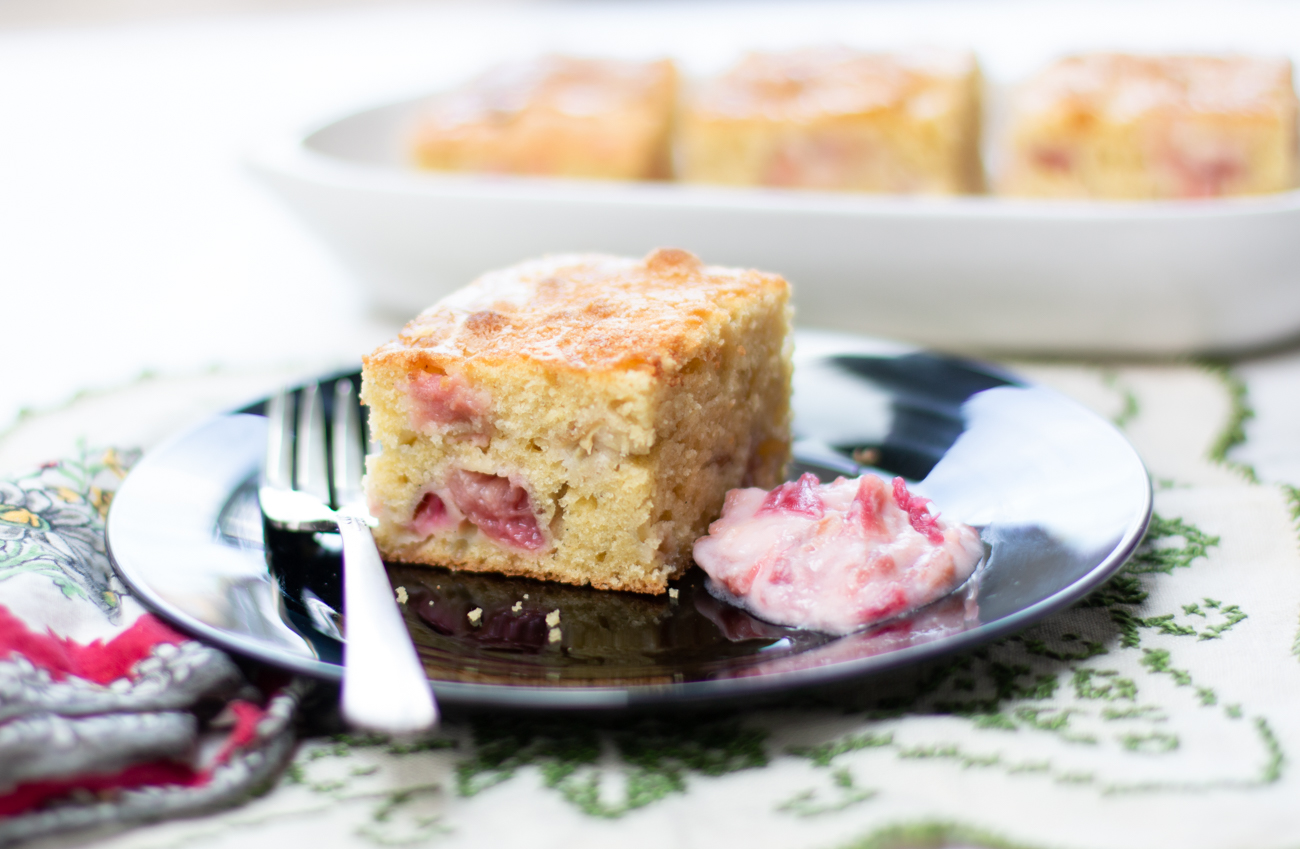 A super moist cake which rises high and dotted with seasonal rhubarb and warm spices. Easy to prepare! Whisk all in one bowl… irresistible!

I have compiled 22 RECIPES to temp you to cook for Mother's Day! Something for everyone.
Desserts, Salads, Shrimp Recipes, Asparagus Recipes & Desserts. Which will you make? 
SALADS: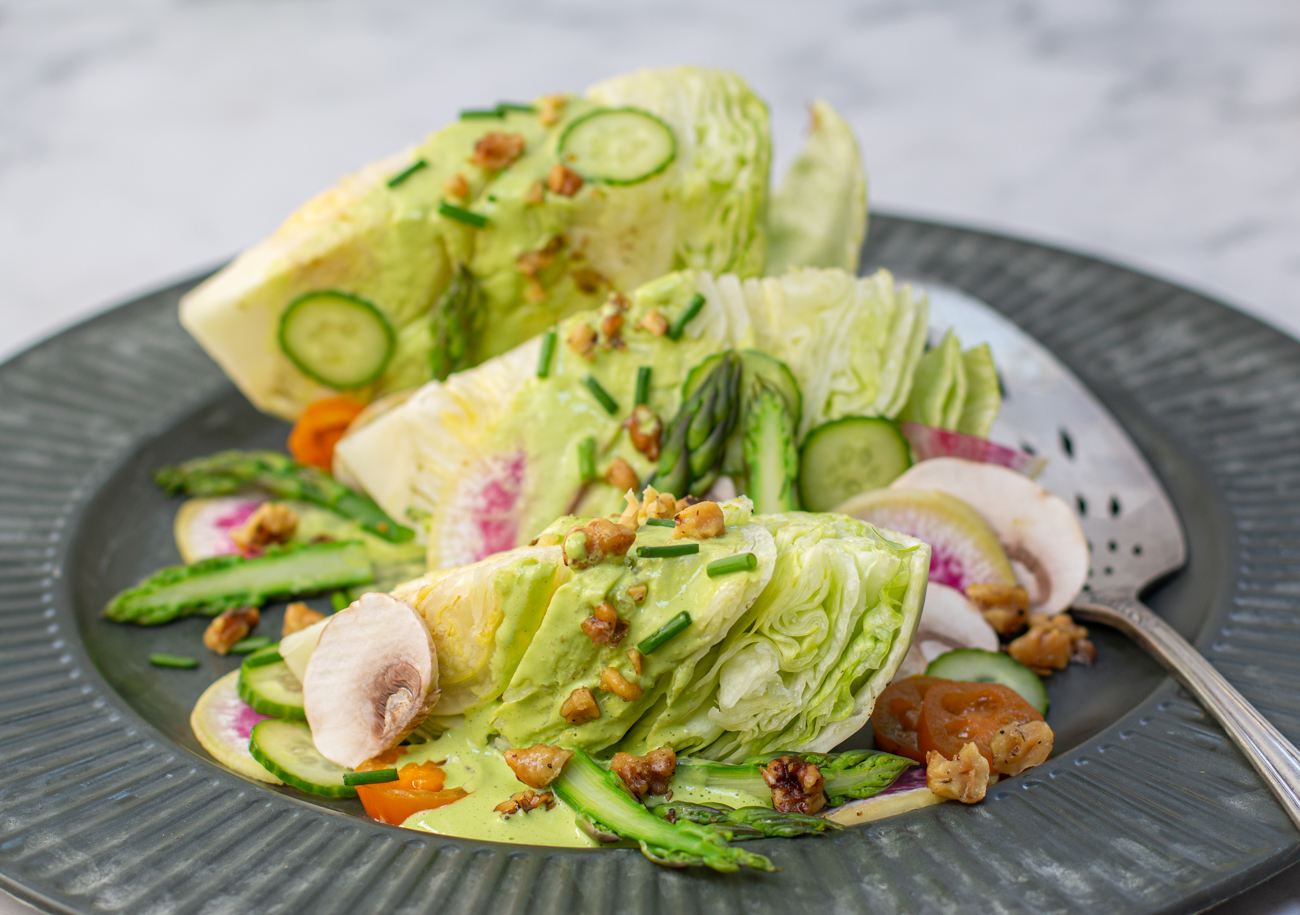 A Light and Flavorful Blender Dressing with a Gorgeous Green Hue! Uses Four Fresh Herbs; Thai Basil, Mint, Parsley & Dill.
Make ahead of time! To lettuce wedges add: Thinly sliced Watermelon Radishes (or any radishes), Mushrooms, and Persian Cucumbers – colorful Cherry Tomatoes and Asparagus Tips (I steam them one minute.) Garnish with the walnuts and a sprinkle of fresh chives.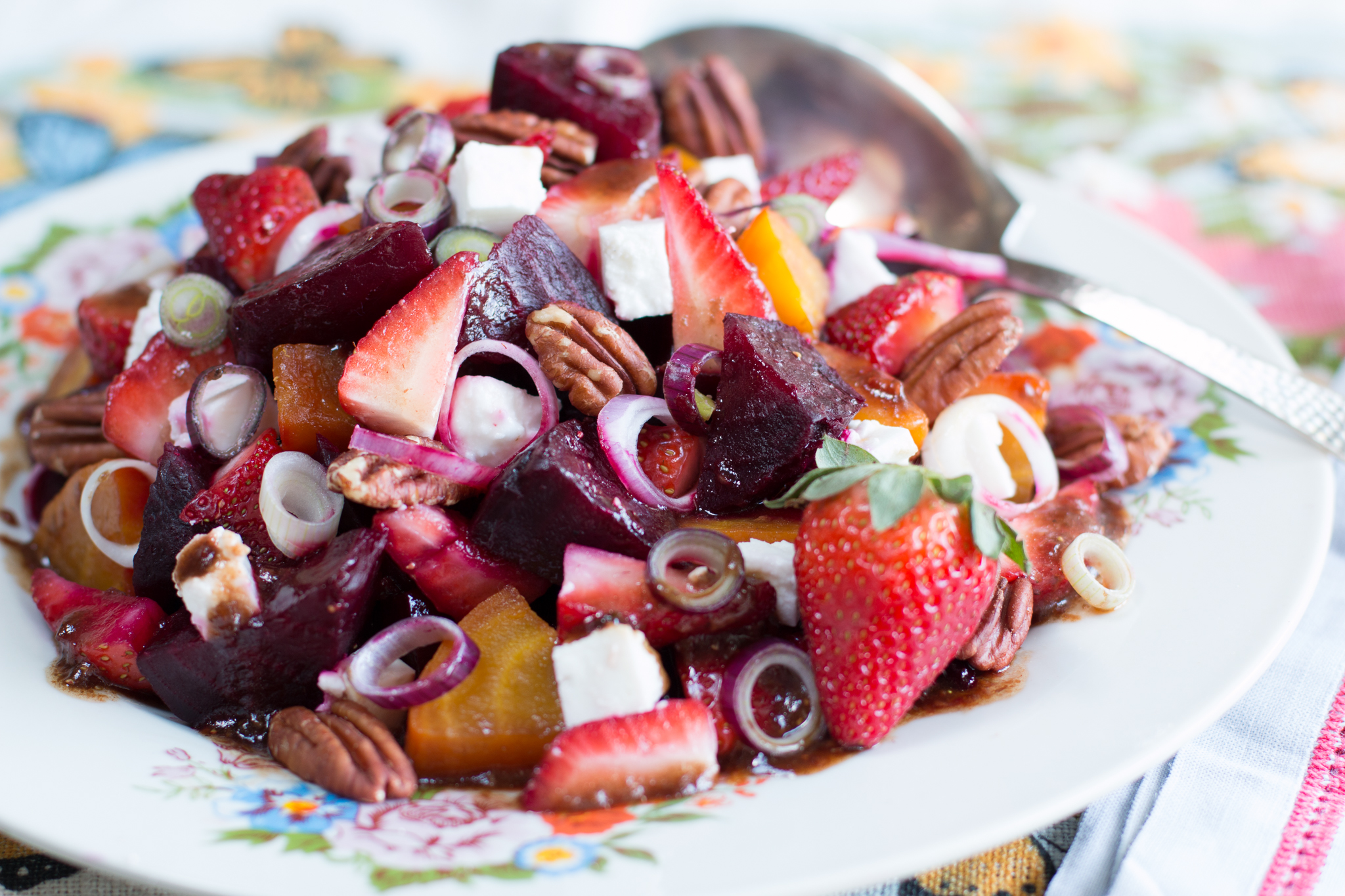 This vibrant salad is crave-worthy and perfect for entertaining! Ruby and Golden Beets team with Feta Cheese, Scallions & Pecans dressed with a Strawberry-Honey Balsamic Vinaigrette. Mom will love!
You'll love this creative Raspberry Crunch Salad with Raspberry-Almond Oil Vinaigrette. Crispy, Crunchy & Sweet ~ a brilliant, colorful, healthy salad.
Fresh Corn off the Cob (in stores now) teams with Heirloom Green Tomatoes and tossed with a Nutty & Toasted Brown Butter Vinaigrette. Fresh Zesty Flavors with Crunch! Learn how to brown butter – it's simple!!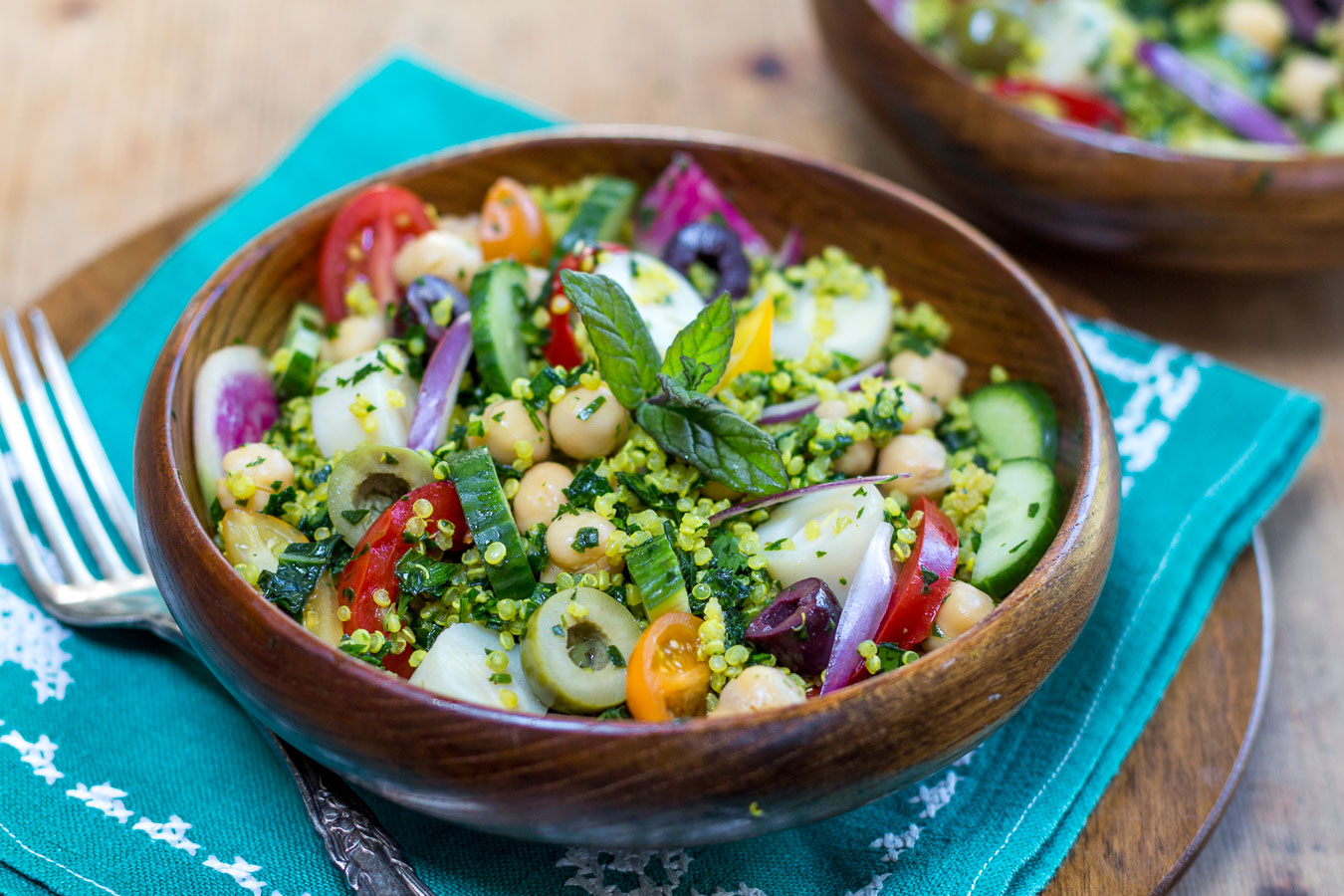 My version of they healthy Middle Eastern Salad spiked with a melange of Vegetables is tossed in a Zesty Lemony- Scallion Dressing. One of the healthiest salads you can eat. Refreshing and Addictive!
SHRIMP:
A skillet dish with an amazing flavor combination – healthful and colorful. Shiitake "Bacon" is a game changer – my tasters said taste just like the real thing… but vegan! Broccolini is an edible delight. It is equally suited for sautéing, steaming, boiling, or stir frying.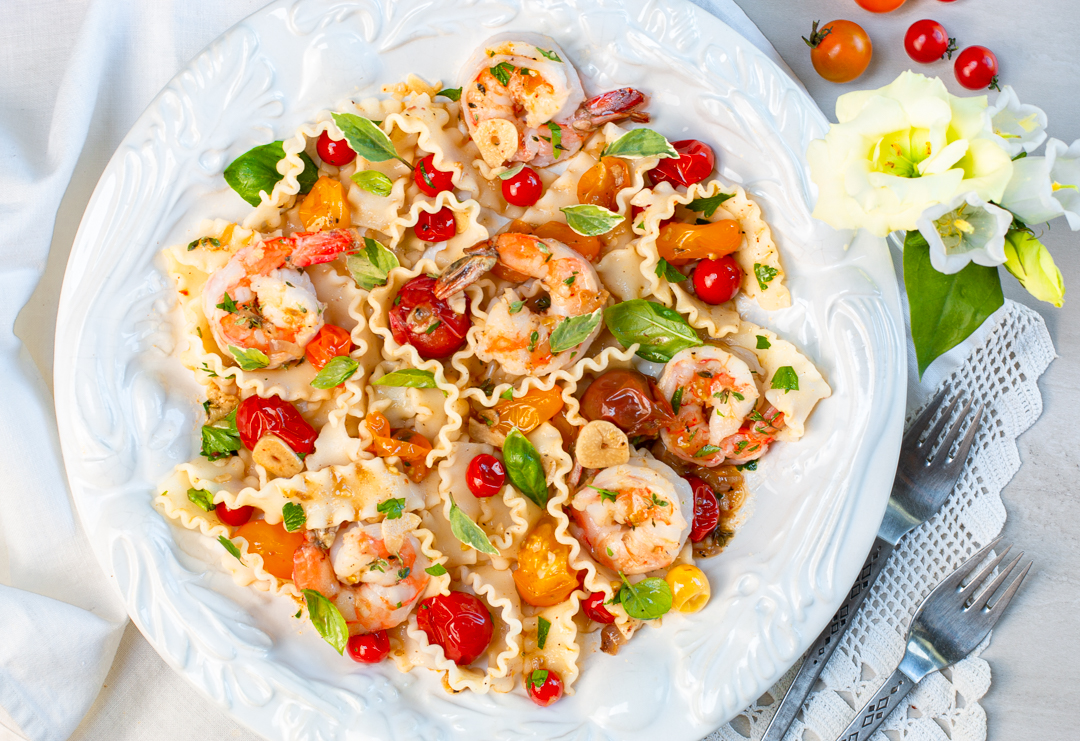 Create a Quick Sauce with Colorful Cherry Heirloom Tomatoes to Toss With Pasta and Shrimp.
Tomatoes "burst" – fall slightly apart with all of their natural sweet juices.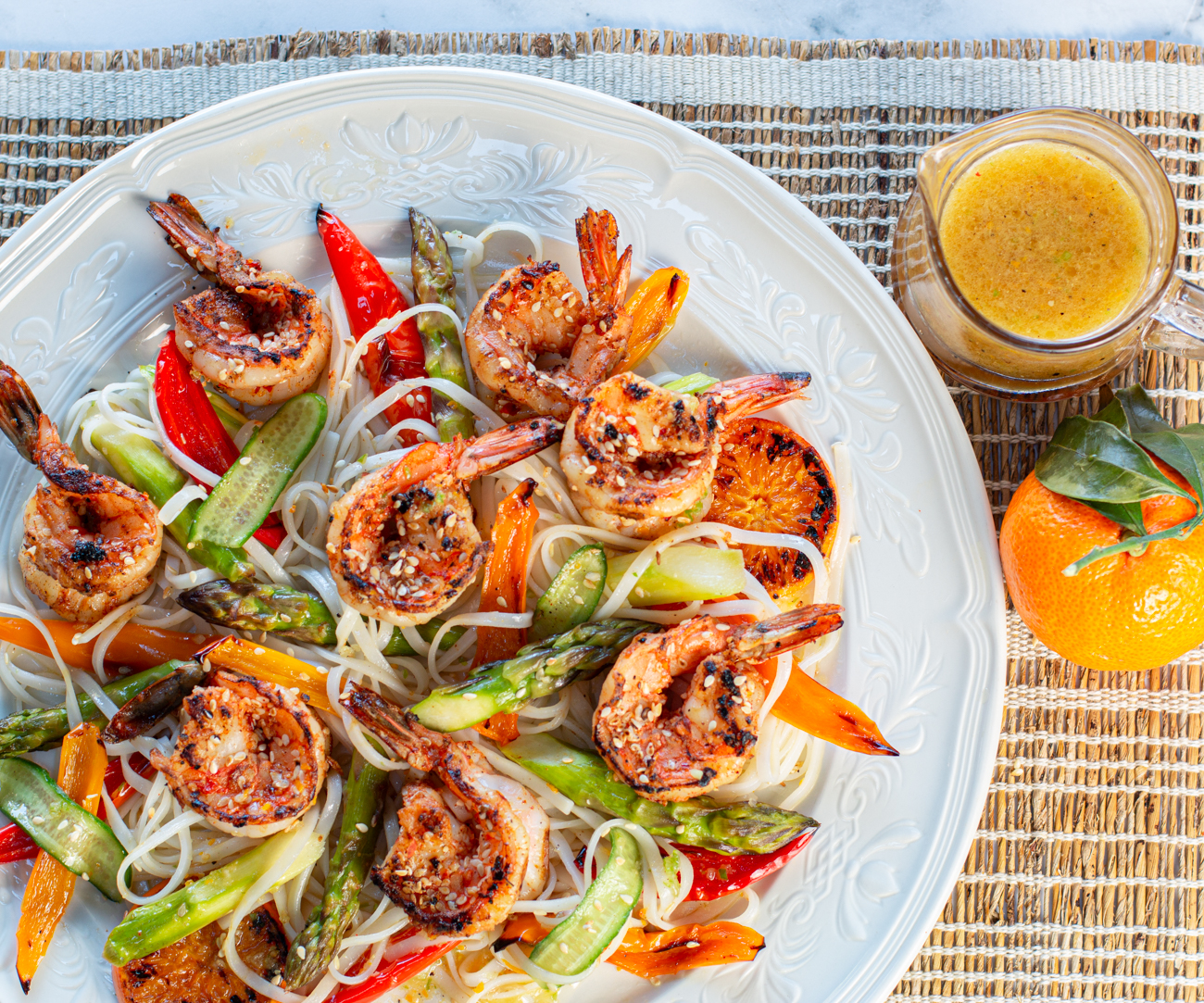 High on flavor…lower in calories! A very ZESTY Vinaigrette that can add flavor to so many composed salads, and – stands up great in a noodle salad with its vibrant citrusy flavor. SEE my: Spicy Citrus Chili Shrimp and What to Do With Them for method; Grilling Spicy Citrus Chili Shrimp in a cast iron skillet.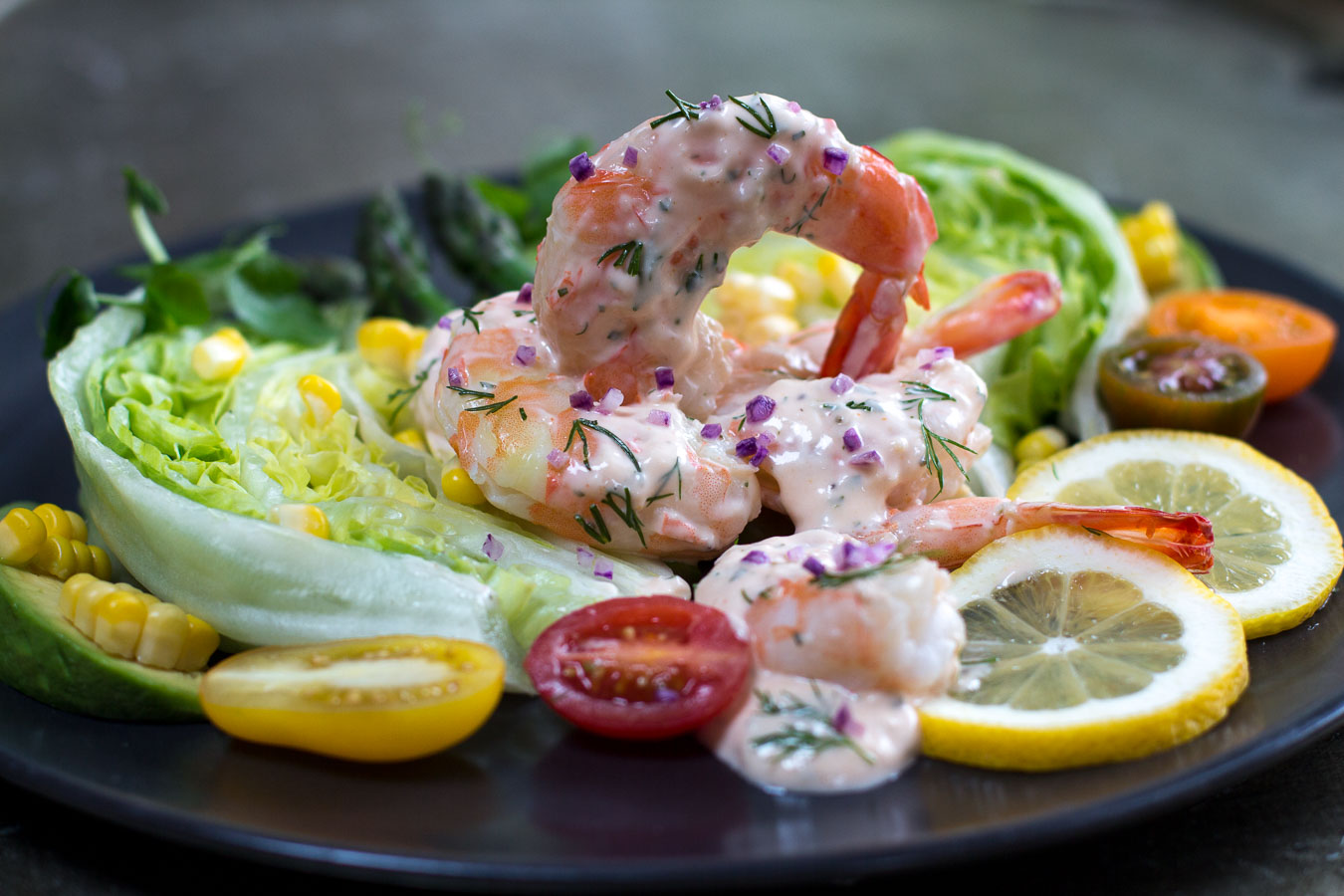 A Chilled Salad: A Comeback for a Classic Dish! This fresh, seafood-rich trendsetter recipe of the early 20th century takes on a modern flair with Fresh (not frozen) Pink Shrimp and a zippy Louis Sauce. The salad can either be assembled in a large serving bowl or in individual plates.
SKEWERED CHICKEN:

Add an Asian-Style Satay Sauce made with Sunflower Seed Butter for a nutty-sweet flavor, yet NUT FREE. Easy blended sauce for Noodles and Grilled Chicken Skewers. Top with Sunflower Seeds and Sunflower Sprouts! Perfectly marinated and Grilled Chicken Skewers with Sunflower Satay Sauce will be a hit! 
Marinate the chicken overnight for the best flavor.. don't forget to soak your bamboo skewers!
Serve with Coconut-Cashew Curry Sauce with Indian Flavors
A delicious and versatile sauce topped with a yogurt marinated grilled chicken kebob. Spice up your palate!
The sauce is Vegan.

ASPARAGUS SEASON: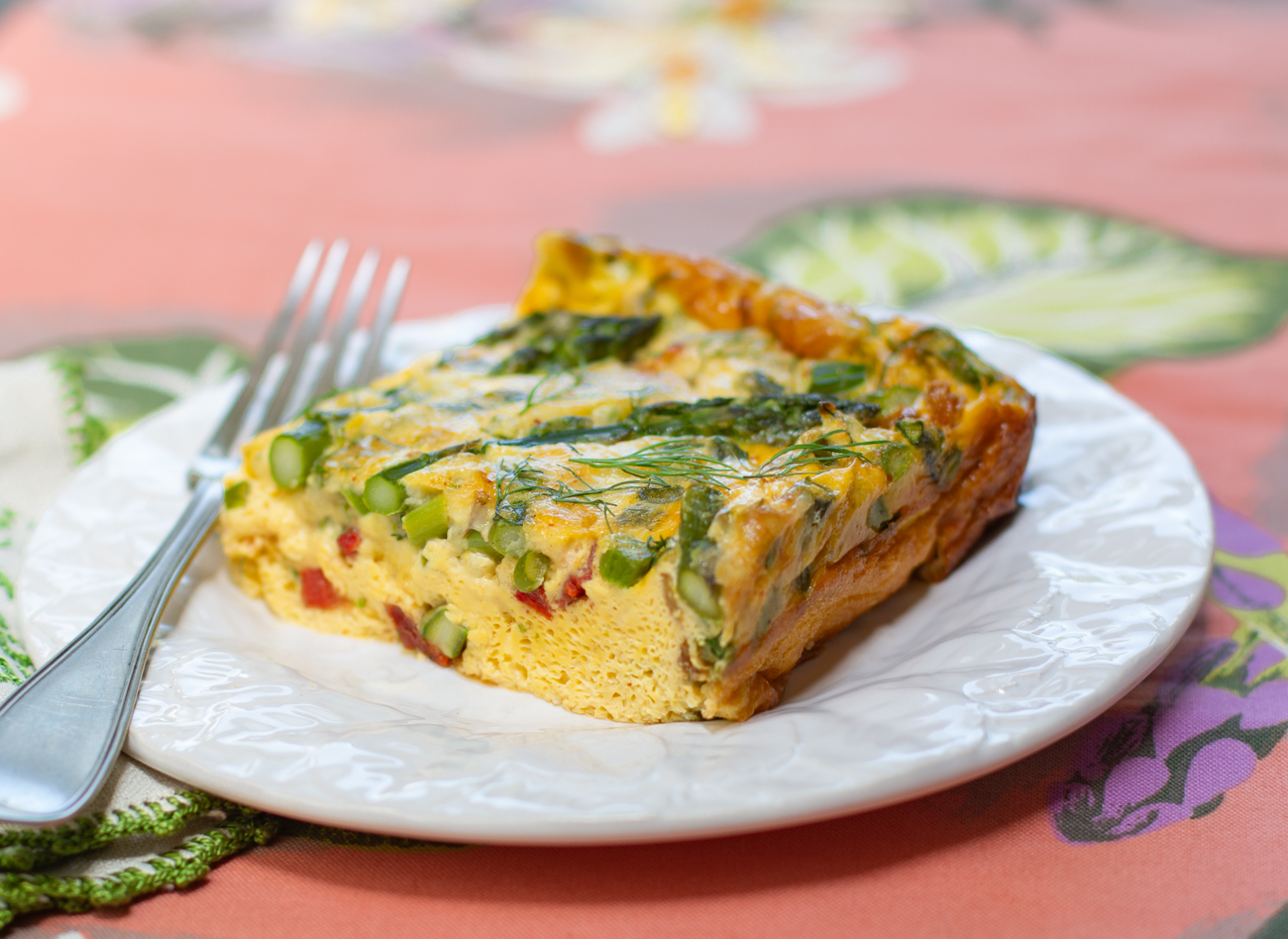 A light and flavorful casserole that is layered with vegetables, cheese, eggs & herbs.
Baked until puffy with a creamy-like texture – a meal in itself! A light dish – with a very creamy consistency with beautiful layers & color contrasts. Serve as a meal with a seasonal salad – for lunch – for brunch – for breakfast !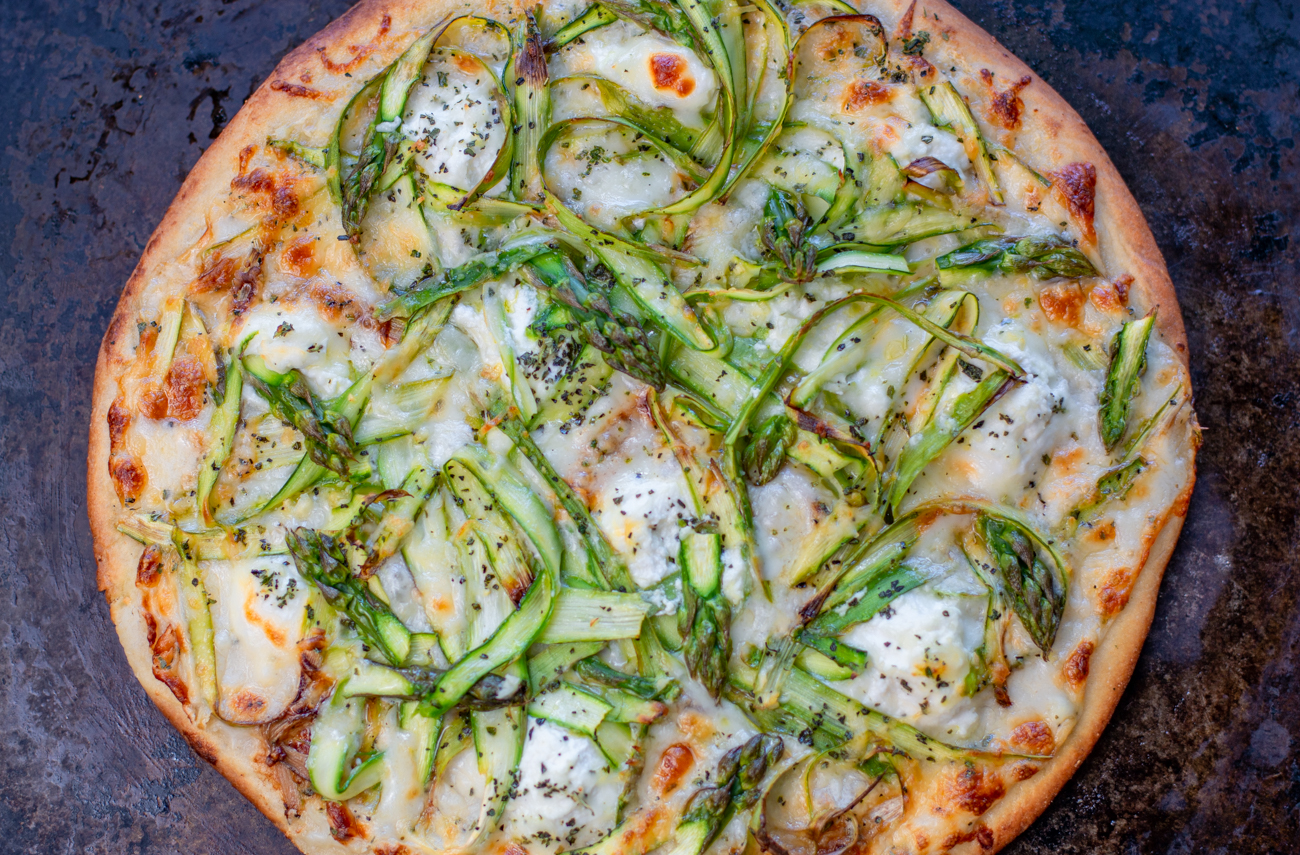 I love making Pizza! And my pizza dough recipe is easy! Asparagus adds a veggie element and texture to the Perfect White Pizza!
Make 2 pizzas loaded with flavor with wonderful Shaved Asparagus with Garlic, a White Sauce underneath and Three Cheeses.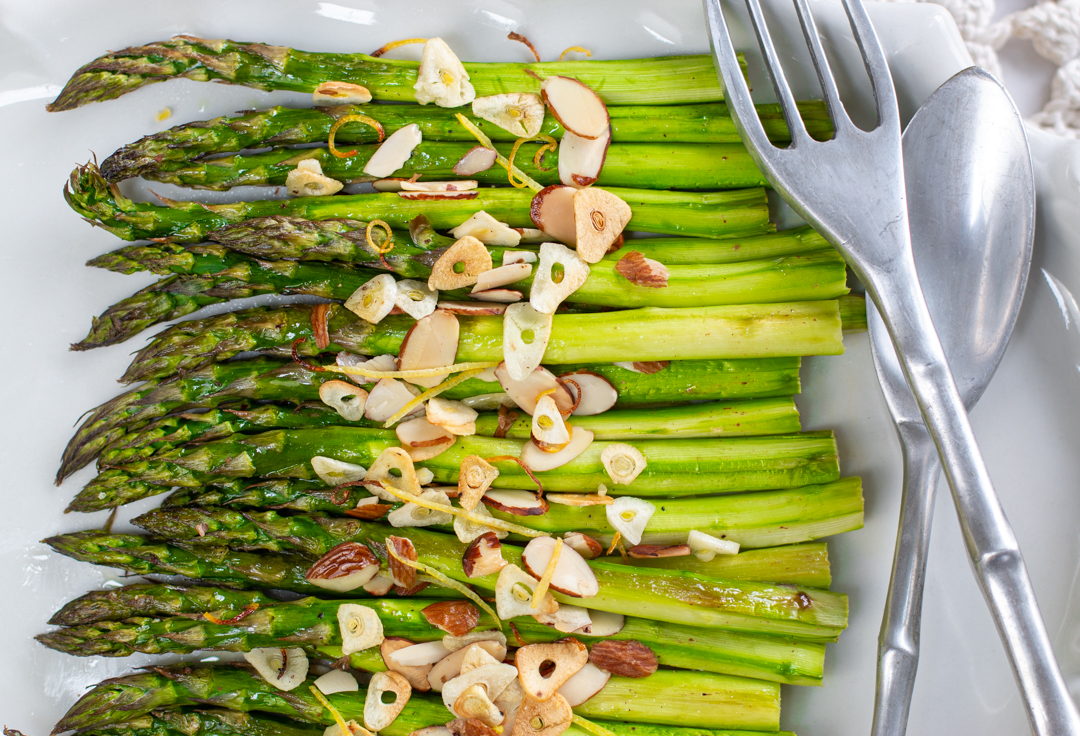 Spring has finally arrived. Local Asparagus is hitting markets!  Easy roasted asparagus is done in just 10 minutes. Roasting heightens the vegetable's flavor – and the toppings add a nice crunch and some nutty & zesty flavor!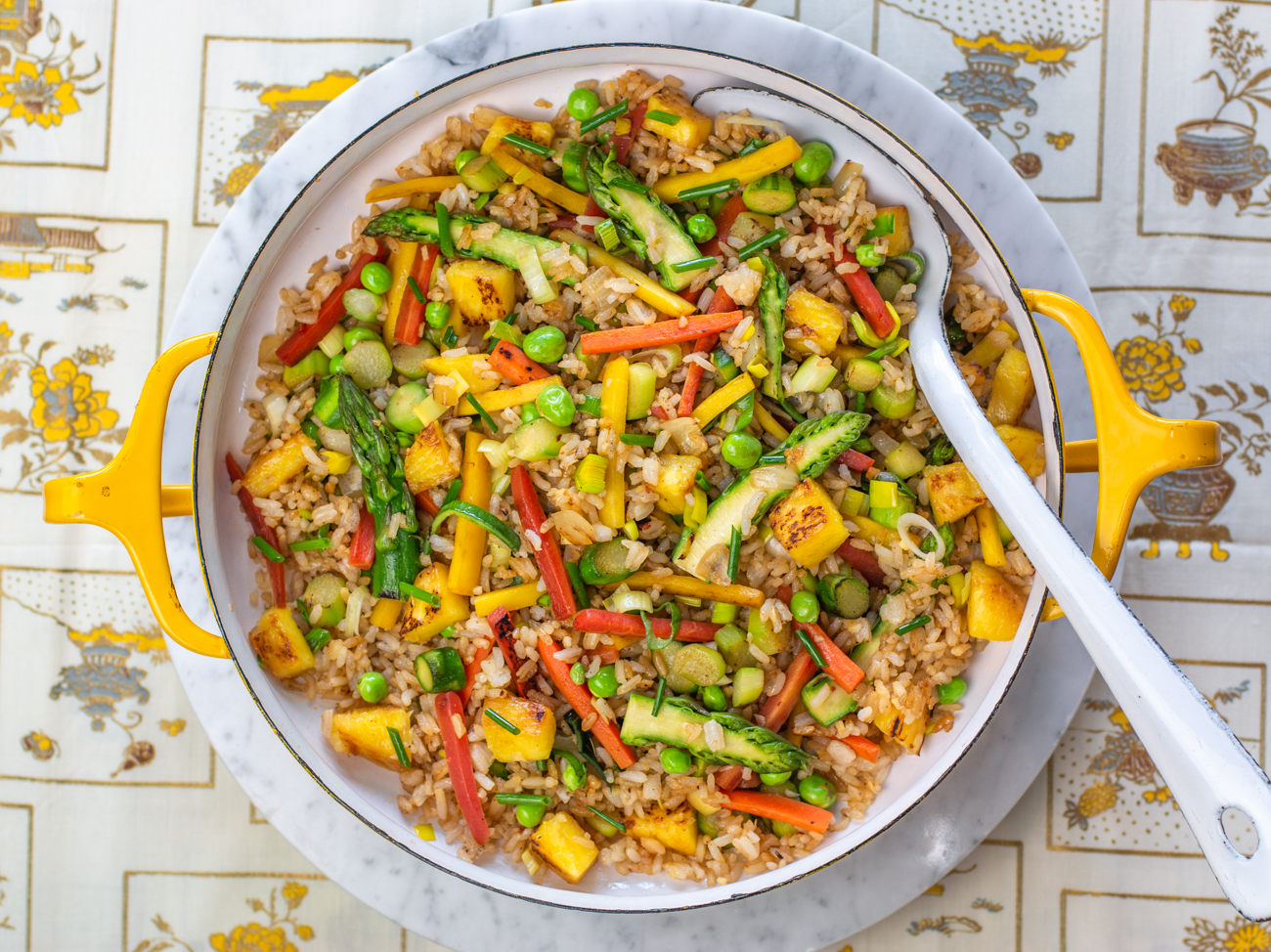 Tossed with my favorite in-season Spring Veggies (with plenty of asparagus!) for a wonderfully healthy dish that's delicious and fun to make. My method teaches the art of stir-frying – perfectly crisped rice with tender-crisp vegetables and Asian aromatics.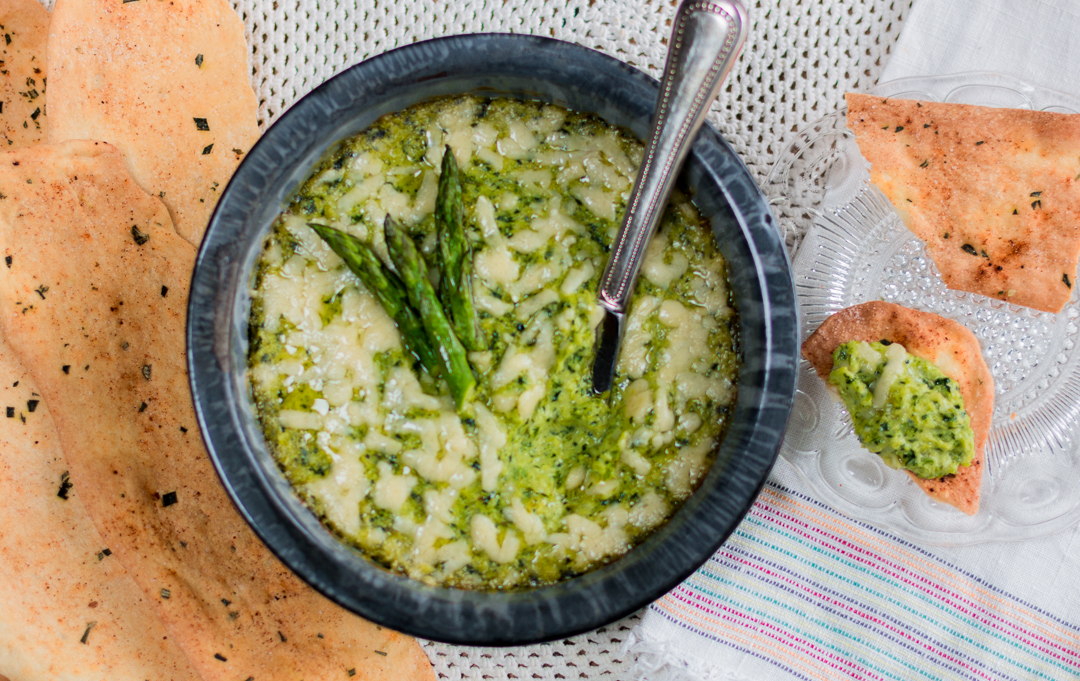 Comfort Food! This delicious warm dip is a perfect appetizer for game day! Asparagus replaces artichokes for a flavor-twist. A bevy of vegetables keeps the fat content at bay. A lightened-up recipe using these veggies: Asparagus, Leeks, Spinach and Garlic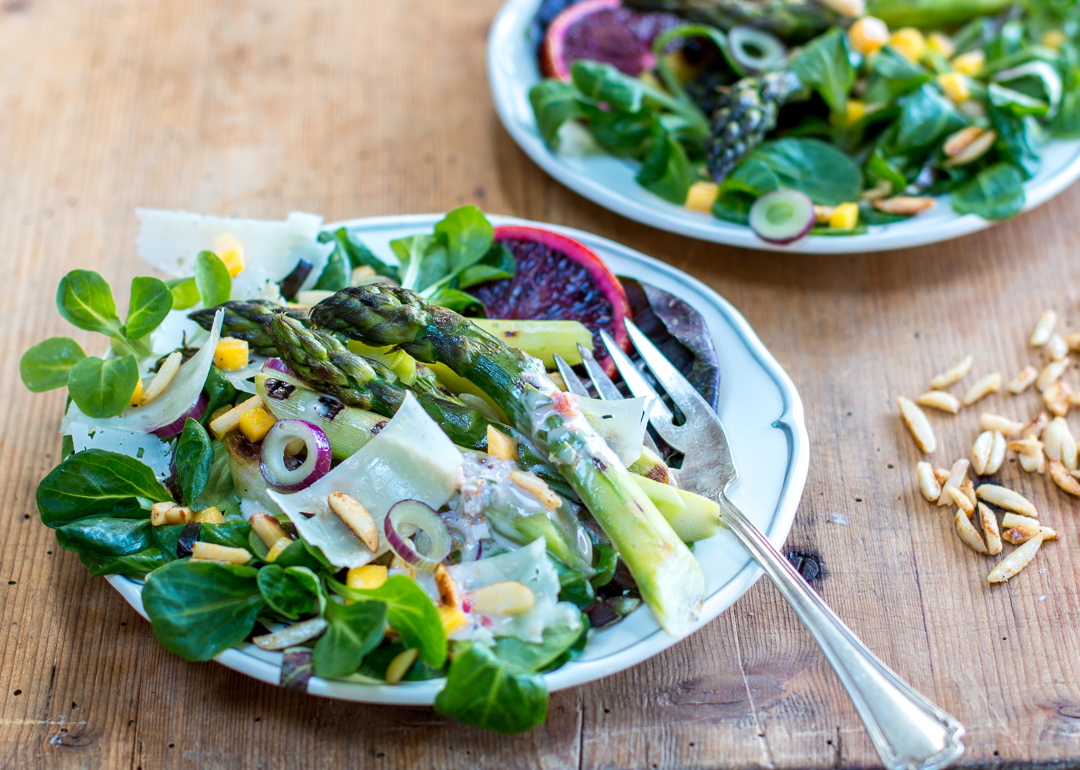 The perfect Restaurant Quality Spring Salad! Choose fat asparagus and cook indoors in a grill pan – or outdoors in warmer weather. A Blood Orange Buttermilk Dressing adds the perfect balance to the salad.
SWEETS: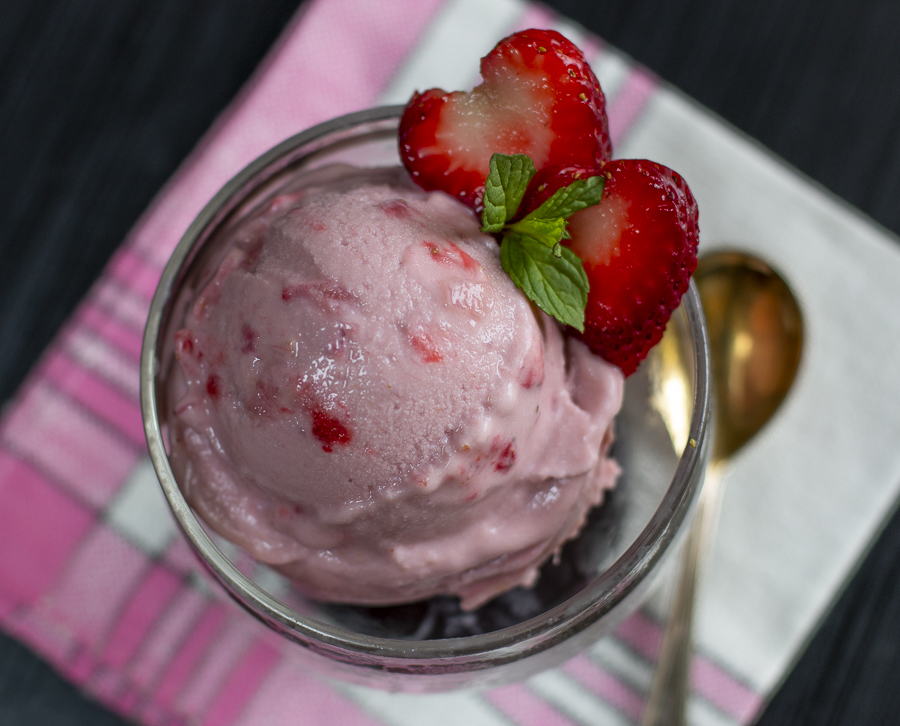 Well you all know How much I love Rhubarb!… Perfectly blended into a fabulous creamy dessert. It's sweet-tart flavor and gorgeous pinky hue sets off the sweeter strawberries.
Black Raspberries are not in season until summer – try fresh raspberries here… always in season! Raspberries lie under a buttery & flaky lattice crust. Perfection with every bite. You will not believe the crust is Gluten Free! Mom will love!

Something chocolatey ~ A cracked caramel-sugar top with a creamy chocolate dessert underneath.
Made entirely with milk, not a drop of heavy cream! Lightened-Up: Creamy, decadent and delicious… decadent but not too rich!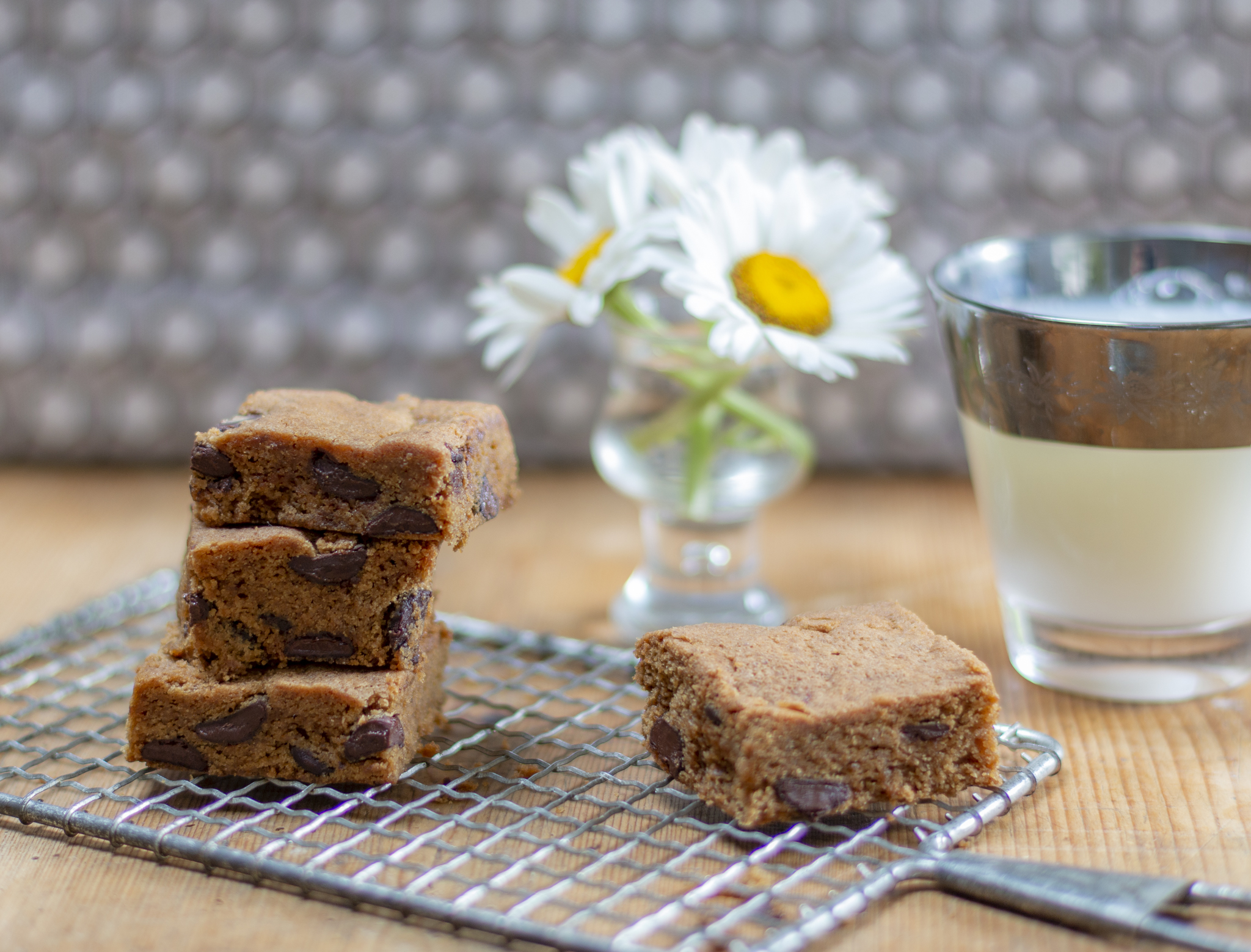 Can use regular flour too ~ easy and a crowd-pleaser! A "Blonde Brownie" with a rich caramel- butterscotch like flavor dotted with chocolate chips. Baked in a pan – you cut them into squares or rectangles. Simple to make and a family favorite of mine!
Happy Mother's Day to all – Have fun spoiling MOM!
Karen
Rhubarb Snack Cake with Cardamom & Ginger
A super moist cake which rises high and dotted with seasonal rhubarb and warm spices. Whisk all in one bowl... irresistible!
Servings:
18
large squares
Print Recipe
Pin Recipe
Rate this Recipe
Ingredients
2 1/2

cups

diced rhubarb

about 3/4 pound, cleaned, 1/2" dice

1

tablespoon

cake flour*

(see note to modify)
Sift Ingredients:
2 1/2

cups

all purpose flour

I use organic

1

teaspoon

baking soda

1/2

teaspoon

sea salt

3/4

teaspoon

ground cardamom

3/4

teaspoon

ground ginger
The Batter:
3/4

cups

unsalted butter

organic; 1 1/2 sticks

1

cup

pure cane sugar

organic

3

large eggs

room temperature

I use pastured raised

1

cup

low fat buttermilk

1

teaspoon

pure vanilla extract

1

tablespoon

pure cane sugar

(for topping the cake)
Instructions
In a bowl to fit - Add diced rhubarb with 1T. flour - toss to coat; set aside.

Sift 2 1/2 cups flour, baking soda, sea salt, cardamom and ginger into a medium sized bowl; set aside.

Preheat the oven to 350 degrees (I used convection-bake.) Add a piece of parchment to 9 " x 13" baking pan, add apiece of parchment to the bottom of the pan, grease with butter all around.

Cut butter into tablespoons, place in a microwaveable glass dish and microwave until just melted (or heat over the stove in a small skillet.)

Add the melted butter to a large bowl and let stand 5 minutes (to cool off.) Add the sugar - use a wire whisk to combine - whisk for 30 seconds until light and creamy. Add eggs, one at a time whisking in between; whisk all now for one minute until very creamy. Add vanilla and blend in.

Add 1/3 of the flour mixture; whisk in. Add 1/2 cup buttermilk: whisk in. Continue adding 1/3 flour - whisk in, then the remaining 1/2 cup buttermilk - whisk in, and the final 1/3 of flour mixture - USING a rubber spatula now to combine all in large strokes until just blended.

Add the diced rhubarb and fold in evenly. Add the batter to the prepared pan, smoothing the top. Sprinkle 1 tablespoon of sugar evenly on the top and bake 25 minutes until nicely risen, golden, and springy to the touch. See below **
To Serve:
Cool the cake on a wire rack. Cut into 18 squares with a serrated knife. (Parchment liner will make it very easy to remove from the pan!)

Serve with my Stewed Rhubarb Coconut Cream if desired.

Rhubarb snack cake can be kept out at room temperature for just 2 days or in the refrigerator for up to 5 days. To refrigerate, place it in an airtight container. Let come to room temperature for best flavor. Freezes great too!
Notes
*Cake Flour: For 2 1/2 cups - can use regular all purpose flour: take out 2 tablespoons and add 2 tablespoons cornstarch and sift = a nice cake flour!
**Baking the Cake: If not using convection-bake setting, cook cake about 5 - 7 minutes longer, until lightly golden, and springy to the touch. 
This recipe may not be reproduced without the consent of its author, Karen Sheer.
Nutrition Facts
Rhubarb Snack Cake with Cardamom & Ginger
Amount per Serving
% Daily Value*
* Percent Daily Values are based on a 2000 calorie diet.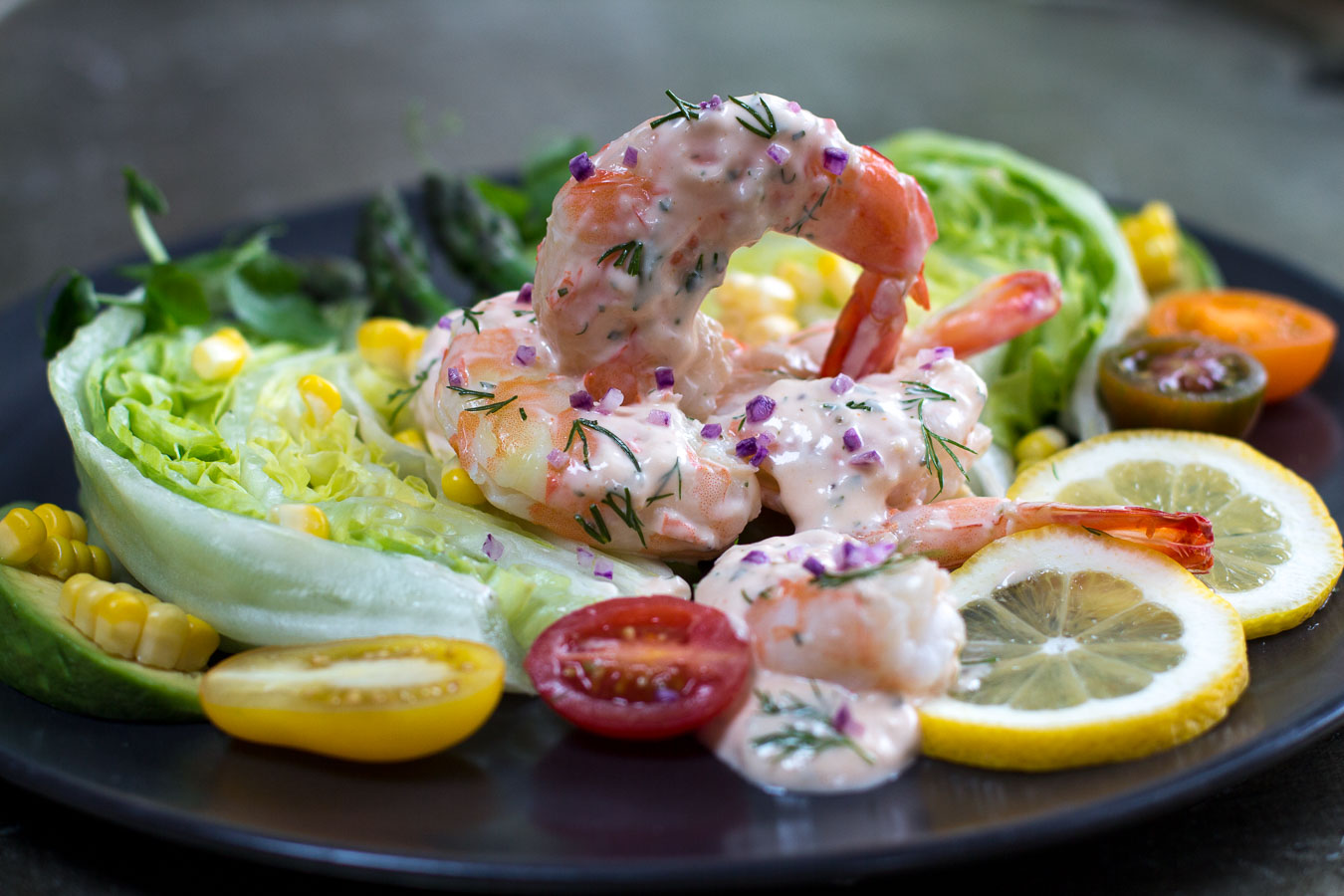 Karen Sheer